Among the many things that I usually manage to include during a sojourn in the Phoenix area is a trip to the Penske dealer complex that surrounds the eponymous Race Car Museum, just off the Scottsdale Road, and a convenient couple of blocks south of the 101 Loop. Although this vast area, packed with new inventory and a few pre-owned cars exists for the purpose of selling and servicing cars, I discovered some time ago that casual visitors are welcome. The ratio of staff to non-staff always seems very high, so it is extremely likely that in more than one of the showrooms, someone will want to talk at greater length beyond the "Hello, can I help you" sort of conversation, and I have on past visits been able to share a perspective on Europe with dealer staff, most of whom have rarely if ever left America. There's certainly no issue with taking photos of more or less anything that is on site, and with the constant arrival and moving of stock  there's always something fresh to see. Certainly in the six months since my last visit, there was more or complete churn of inventory, and there was also some building refurbishment work going on, suggesting that all will be different again for any future visits. I did not spend all that long onsite this time, as I was headed to the Jaguar North American Club Concours which was taking place a bit further down the Scottsdale Road, but even so I seem to have ended up with a  good number and very varied array of photos. And here they are:
ACURA
Acura is one those brands which I struggle to relate to. In their early days of the brand, it was clear that Honda intended their newly established marque to play the same sort role as Infiniti did to Nissan and Lexus to Toyota, but their products were aimed at more affordable sectors of the market and some of them had more of a sporting bias rather than one focused on luxury. It was a formula which seemed to find plenty of favour in the market, but then around 10 years ago, it all seemed to go wrong, with a series of cars which were, quite frankly, gratuitously ugly, and not particularly good to drive. Acura ended up in the ignominious place with two of the worst selling cars on the US market, the bizarre ZDX, a sort of crossover estate with no headroom and no space in it, and the RL executive saloon which was just unmemorable. More recent products have toned down the styling somewhat, and the cars have reviewed better, but they still are not front of mind for many people. I will confess that I did not actually go into their showroom, as there were examples of most of the current and recent ranges parked up outside, and that was enough, given my limited time. Most recent saloon is the TLX, a rival to the Infiniti Q50 and, so Acura would hope you would think, the 3 series BMW and C Class Mercedes. It is apparently a very competent car, but the market still remembers its gawky TL predecessor and is not buying it in significant quantity.
The TSX will look more familiar to Europeans, as this is a mildly modified version of the car that was offered as the Honda Accord. Sold in saloon and wagon guise, it sat under the TL in the range, but its "designed for Europe" DNA did not really help it against those European rivals. It was deleted from the range, to be replaced by the smaller Civic-based ILX in 2015.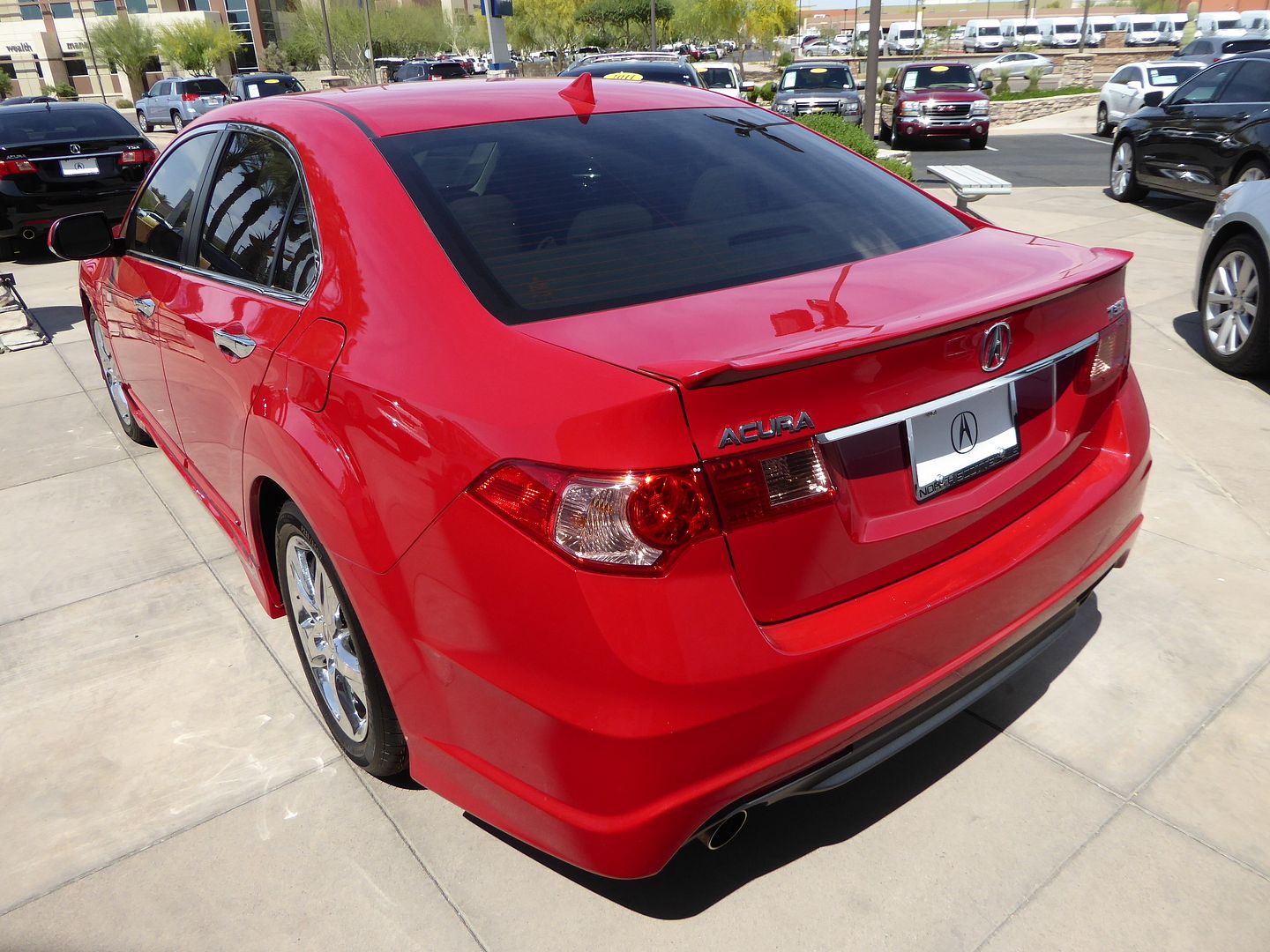 Acura have had more success with their SUV/Crossover vehicles. They have two, the MDX and slightly smaller RDX. Both have been through several iterations, and the current ones are hard to tell apart. I believe this one is the larger MDX.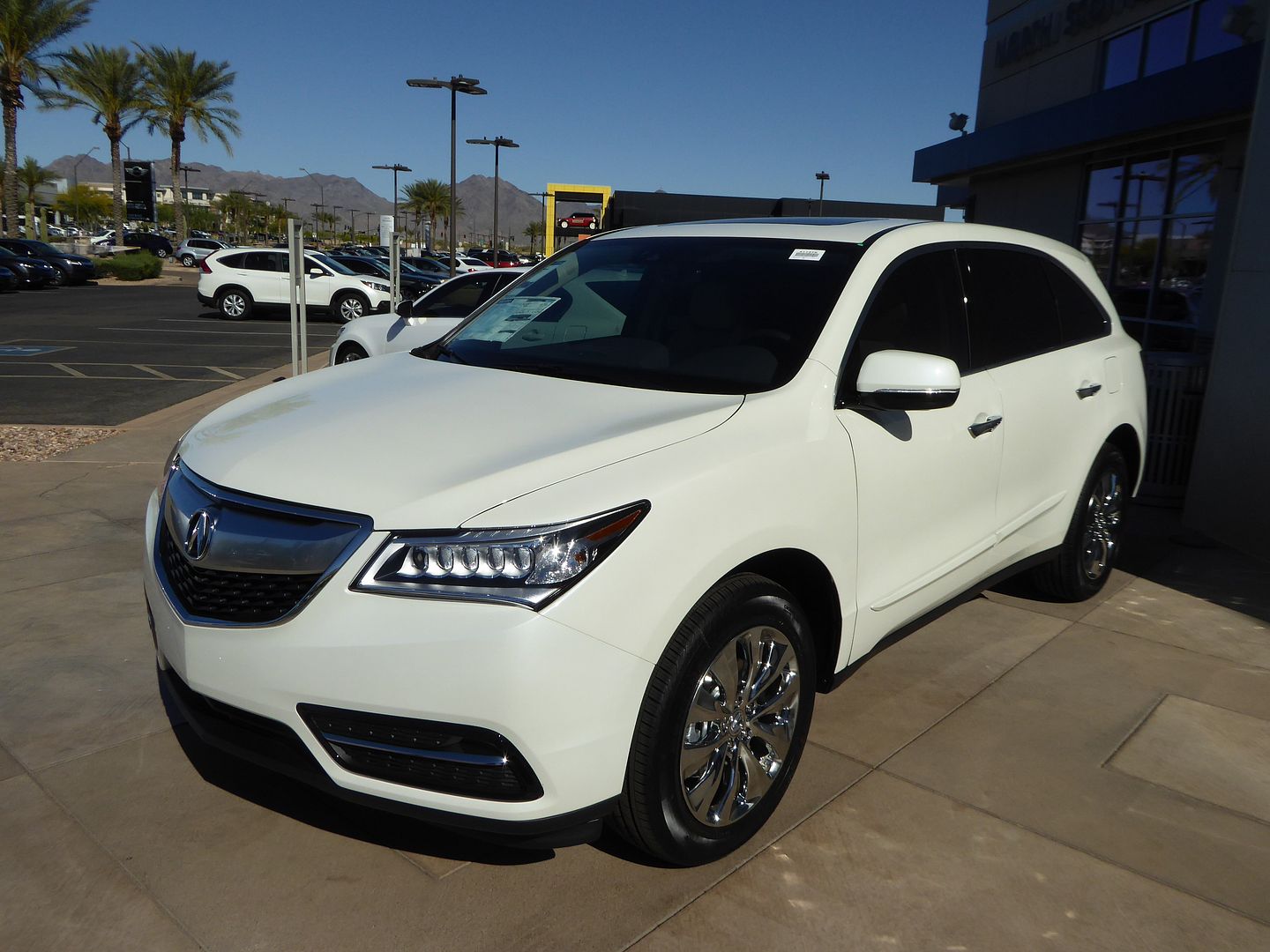 ASTON MARTIN
Notable Aston models were the latest Vanquish, seen here in Coupe version and the open-topped Volante.
AUDI
It is very easy to assume that once a new model has launched in Europe and the UK that it has gone on sale globally, but this is not always the case, as there can be a significant lag in getting the model to all markets where it will ultimately be sold. That is certainly the case for the third generation TT, which was only just reaching US buyers at the time of this April 2016 visit, so this was one of the first of the new models to reach the dealer, and as such, it was attracting lots of interest among the dealer staff.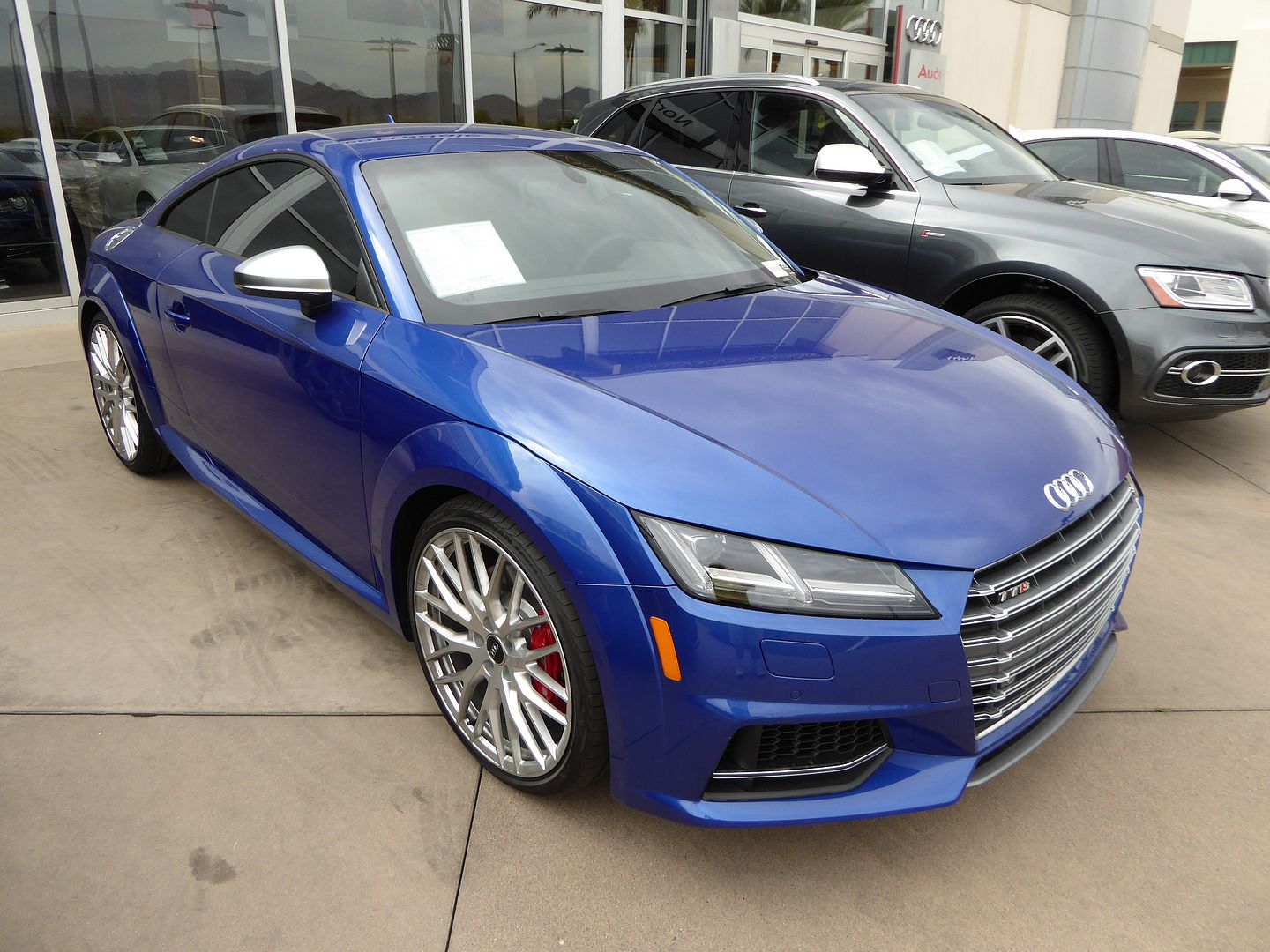 Whilst S and RS models of all the Audi cars constitute the range toppers in Europe that garner a single digit percentage of their respective model range's sales, in America, it is very different, with these versions playing a far more significant role. So, the S7 and RS7 seen here are nothing like as rare as they are in Europe. Relative to the regular A7 that is, as this is a range which does not sell in huge quantity in this market. I have to guess that without the American desire for cars like this, the business case for building them would probably be far harder to make add up. Lovely though they are, I cannot make the business case to afford one add up, so even the S7 will have to remain an object to look at and lust after.
Far more affordable are the A3 models. The previous generation was only sold in the US in 5 door Sportback form, which limited its appeal somewhat, as America seems almost allergic to hatchbacks. With the third generation model, there is now a Saloon, which was produced for markets like this, but which is actually selling more strongly in Europe than expected as well. There were lots of these cars on site, and I also came across some e-Tron Sportback cars. The only engine available to US buyers who want the Sportback body is this Hybrid version.
Parked up among the rows and rows of Audi cars around the back., this B5 generation S4 Avant was a nice find, a reminder of the Saloon version which was the first Audi I owned.
BENTLEY
There was a full complement of models from the current Bentley range both inside the showroom and outside, with several examples of the imposing Mulsanne as well as the Flying Spur and Continental GT Coupe and GTC Convertible all available for detailed inspection.
You do get older Bentleys here as well, either for sale or when booked in for servicing and there was a previous generation Flying Spur that I came across.
BMW
Just as with Audi, so the mix of BMW models that find in favour with American buyers is different. Diesel versions are gradually creeping into the range, Dieselgate worries notwithstanding, but it is the higher end petrol models that sell well. BMW also fear that the stigma of a low number in the badge would put buyers off, so they call the 320i that we see in Europe the 328i and the 320d is badge a 328d, which makes things even more confusing than BMW's policy of not reflecting engine size in their model names any more. Seen here were a number of current BMW models, including the X3, a 328i, 435i Convertible, an M235i Coupe and one of the latest 7 Series, in top spec 760i guise.
There is a large fleet of i3 models which are clearly used as what the Americans call "Loaners", and we would know as Courtesy Cars. Because they need to be recharged, you often seem them grouped together around the recharging points, a bit like animals at the oasis in the desert. There were fewer of them on site this time than I have sometime seen.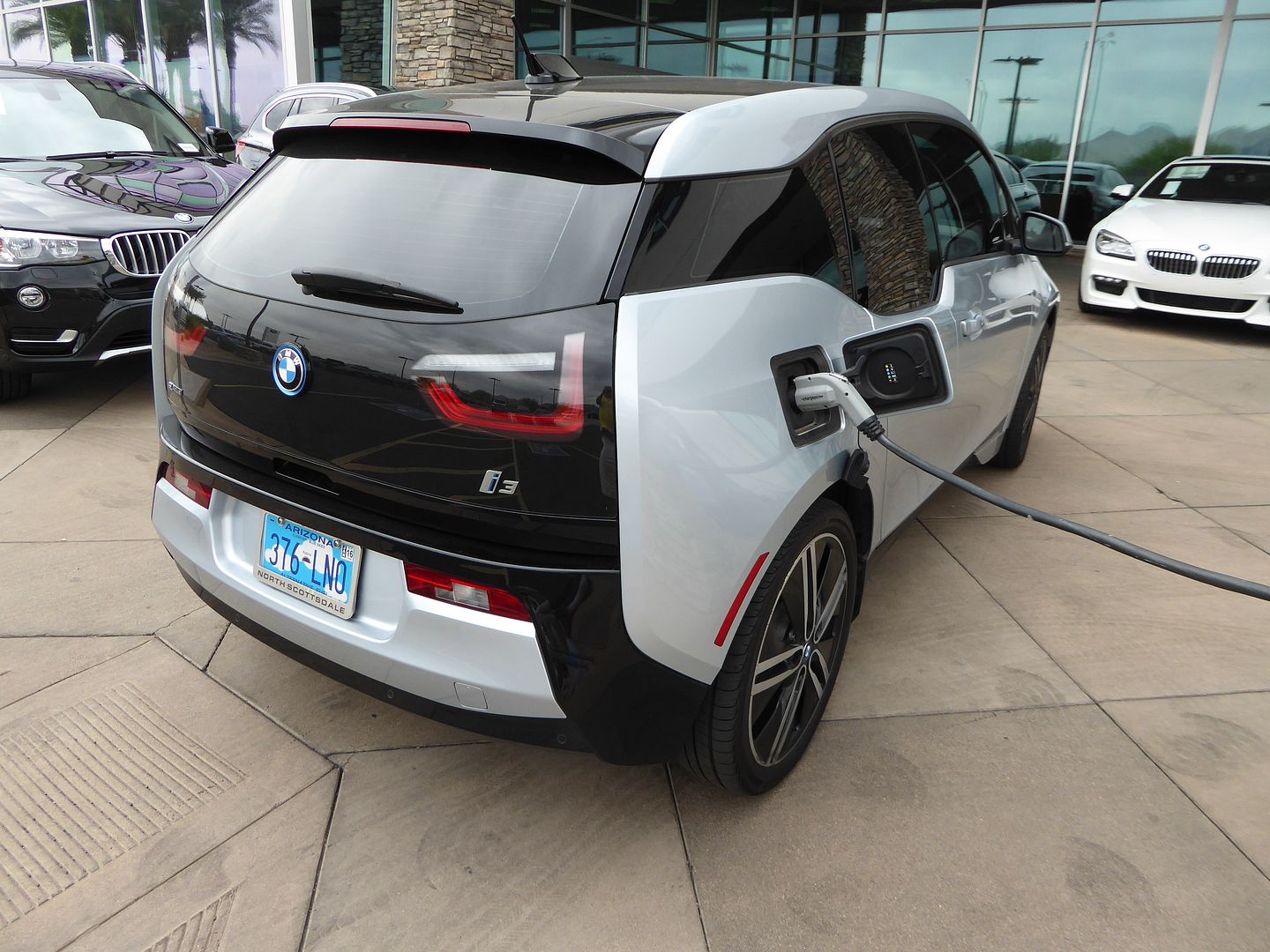 The striking i8 was also represented. Arizona is an important market for this hybrid-powered supercar.
Just as I walked back past the BMW area, returning to my car, this classic 2002 tii pulled in, a reminder of the car which layed the foundations for the modern BMW organisation that we know today.
DODGE
There is no new car sales representation for the Fiat-Chrysler Automotive Group on site, but you do see the odd used example on the campus. Most striking of the entire range is the Viper SRT/10, and there were a number of these, in Roadster and Coupe formats, in special display areas out the front of the site.
FERRARI
There are always plenty of Ferrari models on site. Brand new cars fill the showroom, a large area shared with Maserati, and which also contains a nice waiting/coffee area with an array of marque related books to read. On this occasion the 488GTB and Spider were here to look at, among the first to arrive in America, as well as an F12 Berlinetta and an FF.
Outside there were plenty of models from the back catalogue, most of them V8 cars, with an  F430, 458 Italia, Spider and Speciale as well as a California and a 612 Scaglietti
JAGUAR
I did go into the Jaguar showroom, but for some reason don't seem to have taken pictures. Maybe it was because I knew I was headed to an event which would be full of all sorts of Jaguars, so the only one to present here is an F Type Cabrio.
LAMBORGHINI
Lamborghini shares a showroom with Bentley, with the Italian exotics getting the most prominent placing, at the front. There were Aventador Coupe and Roadster models effectively "in the shop window".
The Huracan is now well established and selling strongly., It is only a matter of time, I am sure, before it becomes the biggest selling Lamborghini ever.
Outside there were more Lamboghini models, including several Gallardo among which was a rather nice Superleggera
LAND ROVER
Sharing a showroom with Jaguar is Land-Rover, as you would expect, and as well as the rows of new models parked out the back, there is a sort of "off-road display" area. The Discovery Sport has only recently gone on sale in the US, some months after its debut in Europe, and taking on the Discovery name even though Land-Rover had stopped using this calling the car the LR4 (and LR3 before that) and indeed the Sport's predecessor, the Freelander was known as the LR2. Is there any stigma associated with the name? Only time will tell.
Also here were plenty of examples of the Evoque, Range Rover and Sport
MASERATI
This is always a good place to see Maseratis, with long lines of the Ghibli and Quattroporte parked up outside, which means if you want to see any of the available colours, or wheel choices, chances are there will be one. And so it proved this time, once more. There were also a couple of examples of these saloon models in the showroom.
Joining them were the now well-established GranTurismo and GranCabrio
I also spied a couple of examples of the previous generation Quattroporte parked up. I still contend that this is one of the best looking saloons of all time. A really elegant machine indeed.
MERCEDES-BENZ
Although the Penske Group do sell Mercedes-Benz products, it is not from this site, as literally across the road is a large showroom operated by a rival. I usually wander over the road to see what they have in stock, but this time, the clock was against me and I did not do so, accordingly no pictures of their products here.
MINI
Huge numbers of MINI models are to be found parked up around the back of the showroom, in long lines by individual bodytype, so if you want to see one of these in a particular colour, you are also likely to be satisfied. A smaller number of cars can be outside the front of the showroom, and then a representative sample of the range are also on show indoors. I did not venture in this time, as time as a bit limited and it is always hard to photograph the cars indoors compared to those outside. Most notable were the new Clubman models which had only recently gone on sale in America, and there were several of these on prominent show.
Other models to catch the camera were the Countryman and the regular 3 door hatch, or Coupe in MINI USA speak.
PORSCHE
The Porsche showroom is at the end of the complex, and always contains some nice cars. Beyond it is a vast area stuffed full of new examples of every model in the range, and there tends to be a long line of cars between the Porsche showroom and the next one in the complex (BMW) with cars waiting for service or waiting to be collected, so you are not short of Porsches to look at. At the time of my visit, the two most spectacular ones were the duo of 918 Spyders, both of which seem to make fleeting visits to the showroom, so I was lucky to catch them.
Also not that common a sight is the latest 911 GT3 RS and there were a few of these instant classics on site.
There were far more of the more prosaic 991 models, of course, with a complete collection of everything from the top of the tree  GT3, Turbo S and Turbo,  to the Targa Carrera 4S being the ones I photographed.
There were plenty of older 991s as well. Among the hundred plus cars on site, I made a record of this 996 Cabrio, a 997 GT3 RS and 911 Turbos  of the 991 and 996 generations as well as some of the latest 911.2 cars.
I was a little surprised to come across 2 examples of the "Flat Nose" here, both for sale. One of them, the red one, had been here on my last visit some six month earlier. There had been two of these "Flat noses" here then, but the other car on that occasion was a black one, whereas now there was a white one with non pop-up headlights, a feature I had not seen before. The "Flat Nose" cars were offered by the factory, under the "Sonderwunschprogramm" (special order program) beginning in 1981. Known as the "Flachbau" ("flatnose" or "slantnose") , this was an otherwise normal 930 (ie a 911 Turbo) with a 935-style slantnose instead of the normal 911 front end. Each Flachbau unit was handcrafted by remodelling the front bumpers. So few were built that the slantnose units often commanded a high premium price, and an initial premium of up to 60 per cent (highly individualised cars even more) over the standard price. 948 units were built. The Flachbau units delivered in Europe usually featured the 330 hp  performance kit. You don't see them very often, so to come across two at the same time for a second time was particularly special.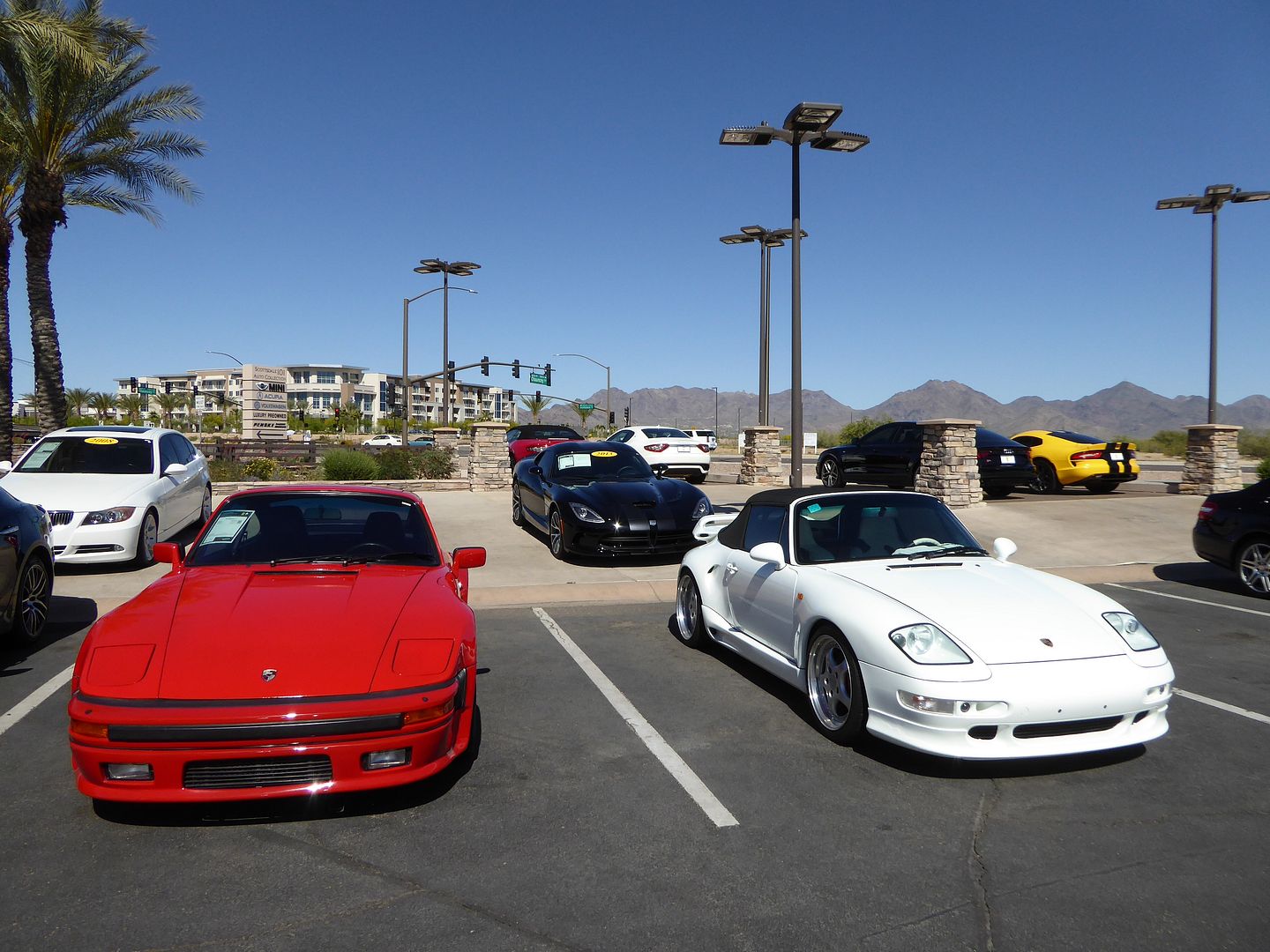 Among the smaller cars, this Boxster Spyder attracted my attention, along with a new Boxster GTS and so did these Cayman GT4 and regular models.
The Cayenne and Macan are the volume sellers at Porsche these days and there were vast numbers of these parked up waiting for their first owner.
There were also plenty of Panamera models.
To European eyes, this VW-Porsche 914 which was in for service was the rarity of the day. In fact Porsche sold over 100,000 of these cars in America between 1969 and 1975, so in their day they were not all that rare at all. Of course not all of them have survived, even in the sunny states like Arizona, but there are still a good number of this mid-engined classic around.
Inside this  911 Speedster was the star attraction. Having started as a design under Helmuth Bott in 1983, but not produced until many years later, the 911 Speedster was a two seat convertible with a low-swept windscreen version, based on the Cabriolet, and evocative of the Porsche 356 Speedster of the 1950s. It was produced in limited numbers (just 2,104 were made) from January to July 1989 as both a narrow body car and a Turbo-look. The narrow version production was just 171 cars. It was not that well reviewed when new but these days it is highly prized and values have been growing steadily in recent years.
ROLLS ROYCE
Rolls Royce models to capture my interest were the Ghost and its related coupe model, the Wraith.
VOLKSWAGEN
The VW showroom is at the far end from Porsche. I usually go in as it had half a dozen classic models in there, and although they have been the same, a mix of Beetle, Type 2 and a lovely bright orange 181 "Thing" for as long as I have been paying visits here, they bear repeated sightings, but this time I stayed outside, from where I could see some of the current range which include the model which is sold just as GTi, with no Golf badging, as well as the latest Golf and Wagon and the best selling VW in America, the Jetta, seen here in Hybrid guise.
MEANWHILE, IN CALIFORNIA
There are of course plenty of dealers in high-end cars in California, a State with a lot of very affluent people living in it. Of course things are much more spread out in the Los Angeles area than they are in Phoenix, and whilst I am sure you could spend an entire holiday visiting the many dealers in the area, I chose to spend my time doing other things. However, when you drive north and west on the 101 Freeway towards the coast at Ventura, you make quite a climb through Calabasas, and there on your right, high to the side of the Freeway is a dealership with lots of enticing looking cars parked up outside the showroom, and given the bright colours of several of them, the temptation to take the next turning, and go the few hundred yards down the street to take a closer look was just too great.
As I walked towards the forecourt, I could see a brand new McLaren 570S moving about on the forecourt. As this was one of the first I had seen out on the road, I quickly stabbed at the "on" button on the camera, especially as I realised that the car was heading out on a test drive. The chap driving it was with his son, but as this is a strict two seater, the son had to stay behind whilst the driver and salesman headed out for what turned out to be a rather brief test.
Leaving anyone with an interest in cars behind was hardly going to be a hardship given what else was on display. This is a McLaren dealership, and there were several of the 650S and earlier MP4 12C models on site as well, though their positioning relative to other cars, and the shadows from the bright sunshine, meant that photography was surprisingly difficult, which is why the only other McLaren shown here is an MP4 12C.
This is also a Maserati dealership, and there was an array of all the current models on show, with several new examples of each, as well as some secondhand ones. I was particularly keen on seeing the Ghibli, a car which it turned out the person who was testing the 570S also owned as his "daily driver". The Quattroporte,. GranTurismo and GranCabrio models all made an impressive sight, as well.
There were plenty of rather nice cars which it seems almost churlish to call "second-hand", as they appeared pretty much like new, so "pre-owned" has to be the phrase (and it is one that the trade uses sometimes!). Among those which attracted my attention in what is quite a small area were an Aston Martin DB9 Volante, a trio of Bentleys, namely a Flying Spur, Continental GT Coupe and GTC, as well as a Mercedes-Benz SLS Roadster and a couple of Porsche 911s, a recent Turbo and and older 996 Targa.
Looking rather dainty in comparison to these modern supercars was this R107 model Mercedes 500SL. These were seen as quite large cars when new, but compared to more modern machinery, are decidedly small in every dimension.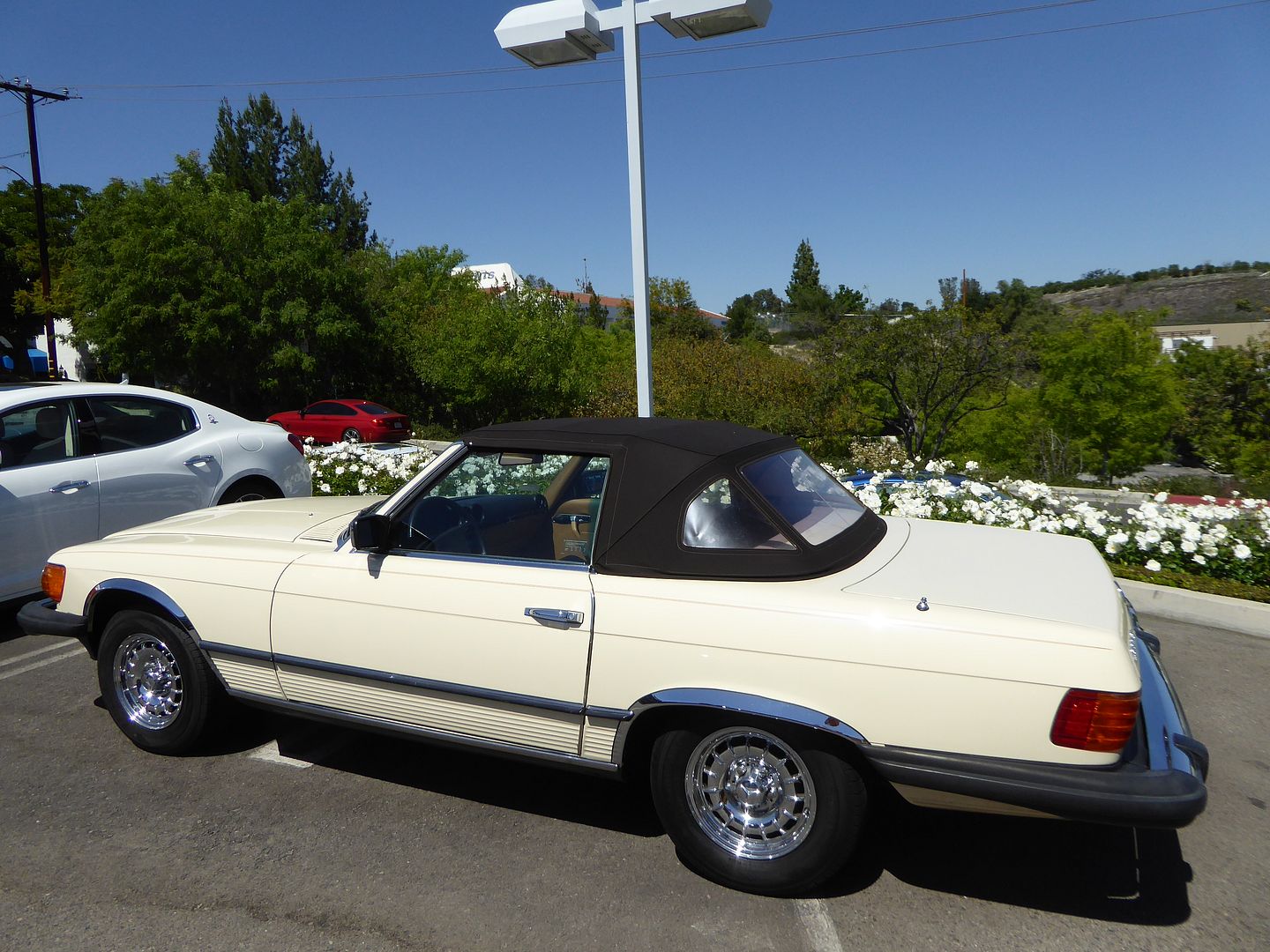 If you head a bit further down the street, to the end (it is a dead end), you get to Calabasas Luxury Cars. There is a showroom here, though it always appears closed whenever I have stopped to have a look, but there always seem to be plenty of interesting cars parked up outside. On the day that I stopped by, these included a Ferrari F430, a Lamborghini Gallardo and a Lotus Evora as well as a Mereceds G63 AMG
Final car parked up was a Fisker Karma, one of the ill-fated all-electric cars which looked stunning, but which had rather too many quality and reliability issues when first made available to customers. The Fisker Karma was revealed at the 2008 North American International Auto Show in Detroit, the first car from Fisker Automotive, a new auto maker based in Anaheim, California, founded on 5 September 2007. The Karma was a range-extended electric vehicle, driven by a pair of 120 kW (161 hp) electric motors that receive power from a 20.1 kWh lithium ion battery supplied by A123 Systems and/or an engine powered generator. The battery pack ran down the centre of the car, between the pairs of left-hand and right-hand seats, preventing a rear bench and seating four rather than five passengers. Once the battery is depleted, or when the driver presses the "Sport" mode button, the front-mounted 260 bhp, 2.0-litre  Ecotec four-cylinder direct-injection turbocharged petrol engine powers a generator that sends electricity directly to the drive motors. The engine was sourced from General Motors. The battery can also be charged from the grid, making the vehicle a type of plug-in hybrid electric vehicle (PHEV). The Karma's engine is mated with a generator to provide an electrical connection to the motors and also recharge the batteries, and as such the electric motors are the only mechanical driving force connected to the wheels. However, in all-electric mode, the Karma is around half as efficient as the Chevrolet Volt. The proprietary Q-Drive hybrid drive train was supplied by Quantum Technologies, operating in a joint venture with Fisker Coachbuild known as Fisker Automotive. The Karma's curb weight was 5,300 lb (2,400 kg).The Karma includes as standard a solar panelled roof manufactured by Asola Advanced and Automotive Solar Systems GmbH, a Quantum Technologies affiliate, to aid the cabin climate control system. The solar roof is capable of generating a half kilowatt-hour a day and was estimated to provide up to 4 to 5 miles of additional range a week assuming continuously sunny days; however, the solar panels as delivered only recharge the 12-volt lead-acid accessory battery. The base model featured an 'eco-friendly interior', including salvaged/reclaimed lumber. Optional leather seating was available, and it used much more of the cow hide than would customarily be found on luxury models; hides with scratches and other marks (which should not affect functionality) were used. There was much enthusiasm for the car when it was first shown. Fisker Automotive and Valmet Automotive reached agreement in 2008 to manufacture the Karma in Uusikaupunki, Finland, with the final assembly contract signed by both parties on 13 November 2008. In 2008 Fisker Automotive began accepting pre-orders in the US, and Europe and initially scheduled sales of its Karma PHEV by the fourth quarter of 2009 in the US, and starting in 2010 in Europe.  In 2009 Henrik Fisker reported 1,300 orders for the Karma. The first production model Karma was shown at the 2010 Paris Motor Show. In July 2011, Fisker stated that it had received 3,000 pre-orders and that the plug-in hybrid was sold out until early 2012. After re-scheduling the Karma market launch to September 2010, and missing its target to build 70 to 100 test cars in 2010, production began in July 2011, and the two first deliveries took place in the United States during the same month.  The first US market vehicles were sold for US$95,900 for the basic model, and US$109,850 for the top model. In December 2011 prices were raised to US$102,000 for the basic model, and US$116,000 for the top model. The Valmet plant in Finland began production with five cars a week. By December 2011 the production rate was 25 units a day. Production was suspended in November 2012 due to financial difficulties. As a result of flash floods caused by Hurricane Sandy in October 2012, 16 Karmas caught fire and another 330 units were lost when an entire shipment from Europe was flooded while being parked at Port Newark-Elizabeth Marine Terminal. Over 2,000 Karmas were delivered to customers in North America and Europe through December 2012, of which, around 200 were delivered in 2011 and approximately 1,800 in 2012. About 1,600 units were sold in the United States through December 2013.  A total of 533 units were sold in Europe through December 2014. The Netherlands is the top selling European market for the Karma, with 166 units sold through June 2013. A total of 55 Karmas were sold in Switzerland through June 2013, 52 in Belgium through November 2012, and 44 in France through December 2014.
There are lots of great driving roads in the LA area. Whilst the traffic jams get much of the publicity, if you know where to go, there are plenty of places with not much traffic, swooping bends and fun to be had. One of the more popular is the Mulholland Drive, which starts up in the Hollywood Hills and meanders up above Beverley Hills due west ending up on the Pacific Coast Highway between Malibu and Oxnard. I was driving along a section of this, finding a new part of the road I had not been on before, when I came across a bit with some very interesting bends as the road climbed up out of the valley to the west of the Topanga State Park area, when I suddenly came across a couple of rather interesting cars parked up (along with plenty of bikes) in an area which seems to double up as the parking for a view point and an assembly and pause point for local enthusiasts who enjoy simply driving the road. When I got there, there was a (replica) Ford GT40 parked on the side of the road. Special enough, it has to be said.
There was another car with it, and I confess I had no idea as to what it might be. With just a "5" badge on the nose, there were not many clues. I now believe it to be a Factory Five GTM. Conceived as an affordable rival to Ferrari and other costly super cars, but aimed at being affordable for enthusiasts who actually drive their cars, this dramatically styled machine is a self-build (ie a kit), with a mid-engine. Based in Massachusets, GTM was founded in 1995, and has been producing kit cars ever since, with their Cobra-style vehicle being the best selling kit in America. The GTM sits at the top of their range. It is a V-8 powered, mid-engined rear wheel drive car with a composite body shell and an aluminium and a unique proprietary steel tube frame chassis. The car uses GM high performance parts such as engine, drivetrain, suspension components with four-corner coil-over shocks, performance brakes and a transaxle from the C5 generation Corvette. The GTM is light and aerodynamic, with excellent weight distribution and precise race-car handling/braking developed at the Bondurant circuit in Arizona. It is GTM's highest performance envelope vehicle, with 0 – 60 achieved in a claimed 3.2 seconds and an ability to clear the quarter-mile in 11.0 seconds at 132 miles per hour.  The car, chassis and all components are engineered in-house, and can be assembled to the finished completed car by the customer. Items such as A/C, power windows, and a complete interior are available and make the vehicle suitable for general use as a daily driver on public roads in the United States, where the vehicle can be regularly registered.