In the UK, the outdoor car events season runs from April til some time in October, and during these months, the car enthusiast is definitely spoilt for choice, with diary clashes every weekend causing a need to decide between some of the big national gatherings and the often equally enjoyable local things, which frequently have greater elements of surprise among their attributes. There are, of course, some meets and events outside that period, but vastly reduced in number, as the vagaries of the British weather worry organisers even more than they do in the summer months, and also because of the vastly reduced amount of daylight, so apart from big shows like the NEC Classic in November, and the various New Year's Day meets, the reality is there is not a lot for those who like to spend at least a part of their weekends seeing other people's interesting cars and talking to their owners. But in fact, there's no real reason to be that reticent at putting on an event, as long as you can be flexible enough to cancel should the weather turn out to be truly wintery, and those gatherings which are organised, such as a growing number of New Year's Day meets are generally well supported. I tested the interest levels of Abarth Owners by registering the Club for the Bicester Heritage Sunday Scramble, in early January, and although the day started rather damp and murky, over 20 cars came, and everyone enjoyed it. That persuaded me that it was worth setting up an Abarth Owners Club specific event in February, as I guessed – correctly as it turned out – that there were would be plenty of people only too keen to meet up with their Abarth friends, have a look at any recent modifications or newly acquired cars, catch up on news and enjoy an interesting venue.
I picked the RAF Museum at Cosford, a place I last visited in 2011 at one of the Breakfast Clubs that used to be held there. They are no more, which it was sad to learn, as the one I went to proved most enjoyable, but I did recall that Cosford is an easy location to get to, situated just a couple of miles off the M54, north west of Birmingham, and the site contains a vast array of hangars and museum space populated with all manner of fascinating content ranging from the early days of flying to war-time planes and an interesting collection from the Cold War period of the 1950s and 1960s. My thinking was that if it got too cold for people standing around outside, then they could easily head indoors for as long as they wanted to stay. I also knew that the location is very Car Club-friendly, something confirmed when I rang them up to book Abarth Owners Club in. They offered us our own private parking area, right between two of the hangars, and with no admission charges for the museum, all that attendees would have to pay would be a nominal fee for parking, on arrival. The third weekend of February was one of those sort of rather grey unmemorable days, weather-wise, but it was dry, and so that meant a great turn out. Over 50 cars, in fact, which pleased and delighted me, and gave all those who did come, plenty of Abarthness to see, plenty of people to talk to, and indeed a Great Day Out. Here are the highlights:
For the first part of the morning, I stood on the entrance road, some way off the Abarth parking area, directing cars toward it, to ensure no-one headed to the public parking area by mistake. I appointed a couple of early arrivals to ensure that there was some semblance of order as to where our cars were parked. When I returned to the cars, I saw that they had grouped cars together by model type
124 SPIDER
Centre-piece of the display was the single 124 Spider present. That there was only one was perhaps not a surprise, as the model finally reached customers in the UK at the end of September, and although it was claimed that the first shipment of cars had all been pre-sold, the reality is that open-topped sports cars tend to sell better in the summer months, than in winter. The Abarth 124 Spider was developed in parallel with the Fiat model. It does cost a lot more, and there are those who think you don't get enough extra for your money, but those who have driven it will tell you otherwise. You certainly get more power. The 1.4 MultiAir turbo unit jumps up from 138bhp to 168bhp, while torque also increases by a modest 10Nm to 250Nm, which gives it a  0-62mph time of  6.8 seconds, which is half a second quicker than the 2.0-litre Mazda MX-5. The top speed is 143mph. It weighs just 1060kg meaning a power-to-weight ratio of 158bhp-per-tonne, and with the new Record Monza exhaust system it sounds great even at idle, as the Abarth UK staff demonstrated many times during the evening. The Abarth version gets a stiffer suspension setup than the regular Fiat 124 Spider, with Bilstein dampers and beefed-up anti-roll bars. Bigger Brembo brakes also feature, with aluminium calipers. It can be had with a six-speed manual or six-speed automatic transmission with paddles, and the latter gets a Sport mode for quicker shifts. The car seen here was sporting the 'Heritage Look' pack, which is a no-cost option. It brings a matt black bonnet and bootlid, plus red exterior trim detailing and is likely to be popular. The £29,565 starting price gets you standard equipment such as cruise control, climate control, Bluetooth, a DAB radio and satnav, plus Alcantara black and red (or pure black) seat trim. The automatic gearbox is a £2,035 extra, while an optional visibility pack brings LED DRLs, auto lights and wipers and rear parking sensors. There will be more powerful versions to come, including a monstrous 300bhp Abarth 124 Rally which was shown at Geneva earlier this year.
500, 595 and 695   
Far more numerous were the Series 4 versions of the 595. These have been available since about June 2016, and with Abarth sales have increased massively during the past 12 months, thanks largely to the appointment of a considerably larger number of new dealers, it was no surprise to find that a significant number of these latest models were here. Some belong to owners new to the brand, and others are the latest upgrade from people who have had one or in some cases, more than one Abarth before. The most significant changes with the Series 4 are visual, with a couple of new colours, including the much asked for Modena Yellow and a different red, called Abarth Red, which replaces both the non-metallic Officina and – slightly surprisingly – the tri-coat pearlescent Cordolo Red. as well as styling changes front and rear. When first shown, plenty of people, me included, were unsure as to whether the new look was a Good Thing or not, but as the cars become more evident, then familiarity does help get used to the alterations.  At the front, the new air intake allows around 15 – 20 % more air in and out, which will be welcome, as these cars do generate quite a lot of heat under the bonnet. Competizione models for the UK retain the old style headlights, as they have Xenon lights as standard, whereas the Custom and Turismo cars have reshaped units. At the back, there are new light clusters and a new rear bumper and diffuser. Inside, the most notable change is the replacement of the Blue & Me system with a more modern uConnect Audio set up, which brings a new colour screen to the dash. Mechanically, there is an additional 5 bhp on the Custom (now 145) and Turismo (now 165 bhp) and the option of a Limited Slip Diff for the Competizione, which is likely to prove a popular option. Details of the interior trim have changed, with a filled-in glovebox like the US market cars have always had, and electric windows switches that are like the US ones, as well as a part Alcantara trim to the steering wheel in Competizione cars. Certainly the new red colour looked good, and is expected to be a popular option, and Modena Yellow seem to have taken over as the most popular colour of the lot, displacing the still-available, and still popular Podium Blue. Needless to say, these cars created a lot of interest throughout the day.
The majority of cars present were earlier versions of the 500 and 595. Marque experts will know that these can be categorised in three Series, though visually, there are only very small details to tell them apart. When the model was first launched, there was only version as shipped ex-works called the 500. It had a 135 bhp 1.4 litre turbo-charged engine coupled to a five speed manual gearbox, with 16″ alloys as standard, and the option of 17″ wheels, and a colour palette comprising of two whites (BossaNova White, the standard colour, or the pearlescent Funk White), Red (Pasadoble), Pale Grey (Campovolo) or Black. If you wanted more power – 160 bhp – then you could order an Esseesse kit, which came in a large wooden crate, containing new wheels, springs, an ECU upgrade, the Monza exhaust system and badging. It was dealer fitted and could be applied at any time within the first 12 months or 10,000 miles from registration. Needless to say, it proved popular. As were many of the optional extras, with stickers for the sides, a large scorpion for the bonnet and even a chequered pattern for the roof among the personalisation options offered. Several of the original style of cars were here, including Salv Trapani's much loved car with the chequered roof, which looks like new even though it is a matter of weeks away from its 7th birthday.
Whilst a sliding glass sunroof (Skydome in Fiat/Abarth parlance) was an option from inception, fans of open air motoring had to wait until Geneva 2010 for the launch of the 500C models. For the first few months these cars only came with the robotised manual gearbox, which limited the appeal in the eyes of some, but they also introduced us to the "bi-colore", a series of two tone cars, with upper and lower halves of the body painted in different colours. It took us a while to get used to this, as no other production road cars had been painted like this for some time, but now this is seen as yet another of those marque defining attributes, and (perhaps with the exception of the rarely seen Rally Beige and Officina Red combination that would come for 2014) in the eyes of many this distinctive look enhances the appeal of the cars still further.
Having used the legendary 695 badging from the 1960s on the Tributo cars, at the 2012 Geneva Show, Abarth dusted off the 595 name that had been used on the less powerful of the Nuova 500 based cars of the same generation, and created two new versions which we should think of as Series 2 cars, the 595 Turismo and Competizione, both of which could be bought in either closed or open top C guise, with either the 5 speed manual or robotised automated gearshifts. Both models had the 160 bhp engine as standard. Effectively they were a replacement for the Esseesse kit, and it meant that the cars were produced complete at the factory, rather than needing the dealer to undertake the upgrade (and the associated paperwork), though Abarth did not withdraw the Esseesse kits from the market for some while. Turismo, as the name suggests was aimed slightly less extreme in intent, featuring standard leather upholstery, upgraded dampers and climate control, Xenon headlights and Alutex interior details. The sportier Abarth 595 Competizione replaced the leather seats with Sabelt cloth sport seats and Alutex with aluminium, while adding p-cross-drilled brakes and the Record Monza dual-mode exhaust.
Some new colours were introduced, and very soon one of those, Record Grey, frequently combined with a tan interior became one of the most popular choices. Some of the other new ones proved to be more of an acquired taste. Legends Blue, a very pale colour was moderately successful, though there were no cars in that shade present on this occasion. Rally Beige, a sort of weak cappuccino colour remained one that few selected, and that was also unrepresented here. The standard "no charge" colour has changed over the years, from Bossa Nova White to Campovolo Grey, to Pasadoble Red and now Circuit Grey, and this does also have an impact on which colours become more or less popular.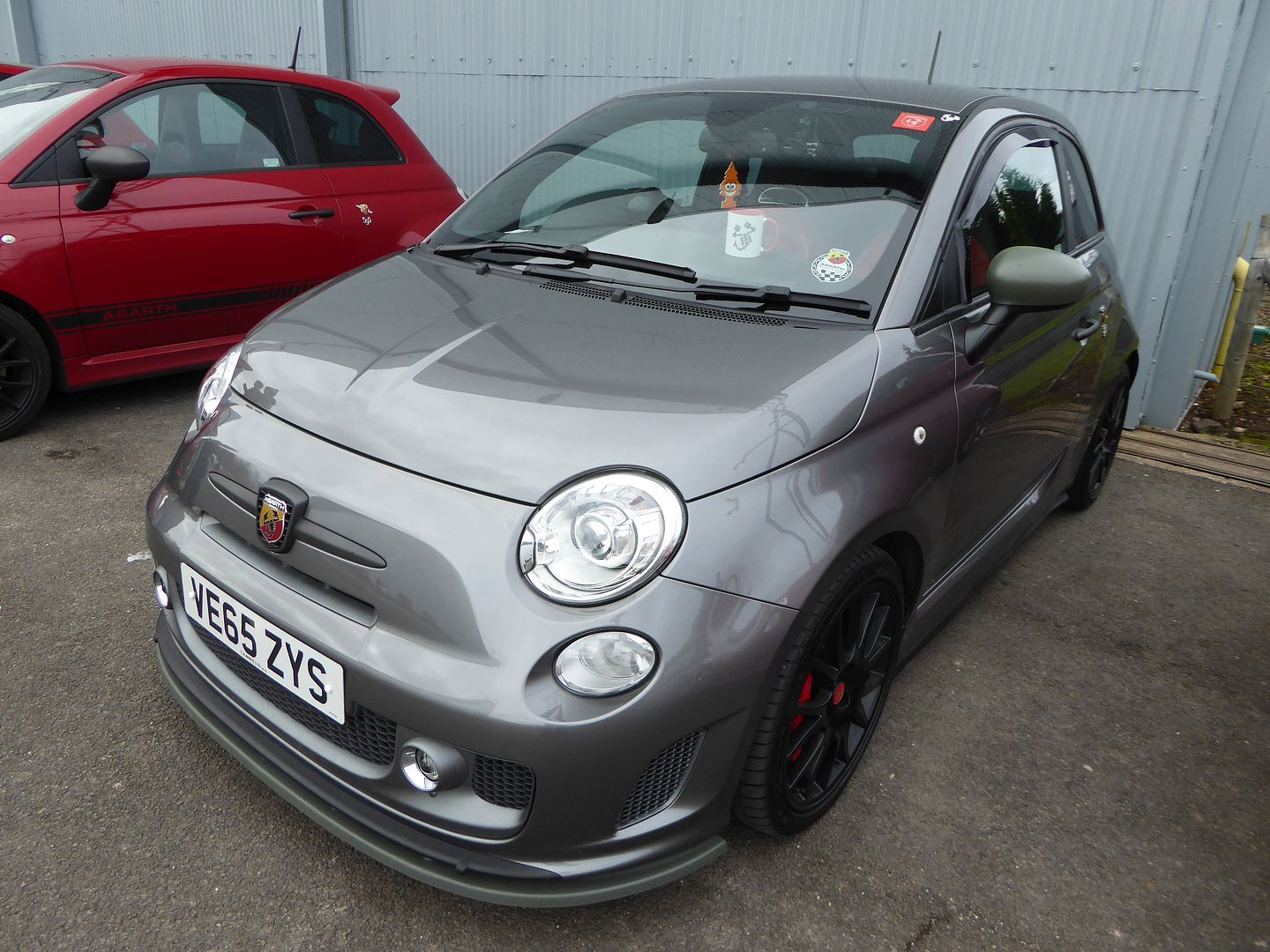 Rumours started to circulate towards the end of 2014 that Abarth were going to upgrade the Competizione model, so as better to bridge the gap between the Turismo and the 190 bhp 695 Biposto that had been added to the range earlier in the year. It was Geneva 2015 when the result was finally shown to an expectant fan base. Most exciting news was that thanks to a bigger Garrett Turbo, the engine had been tweaked to 180 bhp, and with reduced CO2 emissions. A standard spec that included Koni Dampers, Brembo brakes, Xenon lights, Sabelt seats, Climate Control, parking sensors as well as other refinements that had been added like the TFT instrument display all proved very compelling, so not long after the first cars reached the UK  in June of 2015, I found temptation too hard to resist, and as is well documented here, swapped my 2010 car for one of these. At the time I ordered it, Cordolo Red, a tri-coat pearlescent paint which shimmers in bright sunlight looked set to become one of the most popular colours of the lot, even though it is a cost option. Indeed, the Launch Edition models were all offered either in this colour or Scorpion Black, with black wheels. Surprisingly, the colour has not been carried over to the Series 4 cars.
A new colour was announced with the new Competizione cars, called Podium Blue, but it was not going to be immediately available, and there were no accurate representations of exactly what shade it would be. Rumours circulated on Abarth forums and Facebook Groups all summer, with lots of guessing and no real facts, although we had been assured that it was not the same as the Abu Dhabi Blue that had featured on a very small number of 695 Tributo Ferrari models in 2011. It was October when the first cars reached the UK and those who had taken the gamble could see for themselves whether they had got it right. Common consent is this is a stunning colour. A rich blue, it changes shade in different lights. I think it looks fantastic, and many clearly agreed, as in 2016. it became the most popular colour. Long time Abarth owner and enthusiast, Ed Tan, clearly thought so, as when he ordered his fourth example of the marque, he selected this colour for his 595C Competizione, which was here for everyone to admire.
Top of the 500-based range is the 695 Biposto and there were a couple of examples of this model here. Jerry and Carla Rigden have brought their example to many an event since they bought it last summer. It is what you might call the "standard" car, in Performance Grey and there was also an example of the  later Record Edition here in the striking colour of Modena Yellow. First shown at the 2014 Geneva Show, this 2 seater (that's what Biposto means in Italian) is nothing other than a road legal version of the 695 Assetto Corse Racing car, a vehicle which has its own race series in Europe. Although the car is road legal, it was envisaged that the majority of people who buy one of these cars will use it on the track and quite frequently. So it was conceived accordingly. That means upgrades to all the important bits – engine, brakes, suspension, gearbox – and some fairly drastic measures to save weight which resulted in a car which generates 190 bhp and 199 lb/ft or 250 Nm of torque with a kerb weight of just 997kg. That's enough to give a 0 – 60 time that is under 6 seconds, and a top speed of 143 mph. Those are supercar figures produced by a city car. There's more to it than that, though, as the changes that go to make a Biposto are extensive, and they have been well thought through, so this is a long-way from being a hastily conceived or tuned up special. Ignoring the limited edition cars which arrived during 2015, the "regular" Biposto is only offered in Matt Performance Grey paint, and the car is visually distinctive, with a new front bumper, rear diffuser, wider arches, new skirts and bigger roof spoiler. Although the engine is still the same 1.4 T-jet that features in the lesser 500 and 595 cars, it has been reworked here, with a new Garrett turbocharger, larger intercooler, altered fuel rail and an Akrapovic exhaust system. Buyers can choose between the standard five speed gearbox or an optional race-bred dog-ring unit mated to a mechanical limited slip diff. The standard car's MacPherson strut and torsion beam suspension has been reworked, too, with altered springs, wider tracks adjustable ride height and dampers with more resilient bushings, using Extreme Shox technology shock absorbers. The brakes are upgraded in line with the extra power, featuring  305mm Brembo discs and four pot calipers up front and 240mm discs with single pot calipers at the rear. The wheels are lightened 18″ OZ and attached via a titanium hub, shod with bespoke 215/35 Goodyear tyres. In the interest of weight saving, a number of standard trim items are removed, including the regular door trims, air conditioning, the rear seats and some of the sound deadening material. Even the standard air vents have been changed so they are covered by a simple mesh. In their place is plenty of polished carbon fibre, a titanium strut brace, racing seats and harness, as well as special trim features such as new pedals, tread plates and a race inspired digital display on the dash where the radio usually sits. Only a small number have been sold in the UK, and of these quite few were bought for export, so this is and is likely to remain a rare car.
Although many of the cars to be seen here did look standard, several have received a range of modifications from their owners. Some of the changes are quite subtle, but others are very significant indeed. None more so than Laura Croft's car. What started out as a regular white 595 Competizione has been changed both in appearance and mechanically. And she continues to alter things. Last year the distinctive large orange side stickers went and the car reappeared, having had a wrap in a very distinctive shade of greeny-blue. As if that is not sufficient to draw attention to it, the air suspension, when demonstrated is always a crowd puller and the sound system she has put in would wake the dead from 100 miles. Laura announced that this would be one of the car's last events in its current livery, as she is sending it away for a complete rewrap in a different colour. What that would be, she refused to say.
By contrast, the modifications that Paul Hatton (the red 500) and Jack Slade (the black one, known affectionately as "Black Betty") seem quite minor, though the reality is that both have made a series of changes over the years, as they come up with new inspiration (and budget!).
PUNTO
The Punto was the first car to appear in Abarth guise, but once the 500 came on stream, it was always somewhat over-shadowed, certainly in sales terms, with around 10 times as many 500s finding buyers as Punto models. And with production having ceased at the end of 2014, and sales of the 500/595 cars having increased, that ratio now tends to appear even wider when you get Abarths gathered together. In fact, 6 Punto models here is a better percentage than that of those registered to UK roads. One was a Grande Punto, and the others, not entirely unsurprisingly, were the later Punto Evo cars.  The Abarth Grande Punto debuted at the 2007 Frankfurt IAA Show, going on sale in the UK in late summer of 2008. Offering 155 bhp from its 1.4 litre T-Jet engine, coupled to a six speed gearbox, and riding on 45 profile 17″ alloys, the standard car got rave reviews from the journalists when they first tried it, and they were even more impressed by the changes wrought by the optional Esseesse kit. This increased power to 177 bhp, brought 18″ OZ lower profile wheels, whilst new springs lowered the ride height by 15-20mm, and high-performance front brake pads and cross-drilled front disc brakes helped the car to stop more quickly. The most distinctive feature of the car were the white alloy wheels, though, as owners found, keeping these clean is not a job for the uncommitted, and many have a second set of wheels that they use for grubbier conditions. Despite the positive press at launch, the car entered a very competitive sector of the market, and the combination of being relatively unknown, a limited number of dealers and the existence of established rivals from Renault and others meant that this always remained a left-field choice. The owners loved them, though, and they still do. The oldest cars have now had their 8th birthdays, and some have amassed relatively big mileages, but they are still a car for the cognoscenti.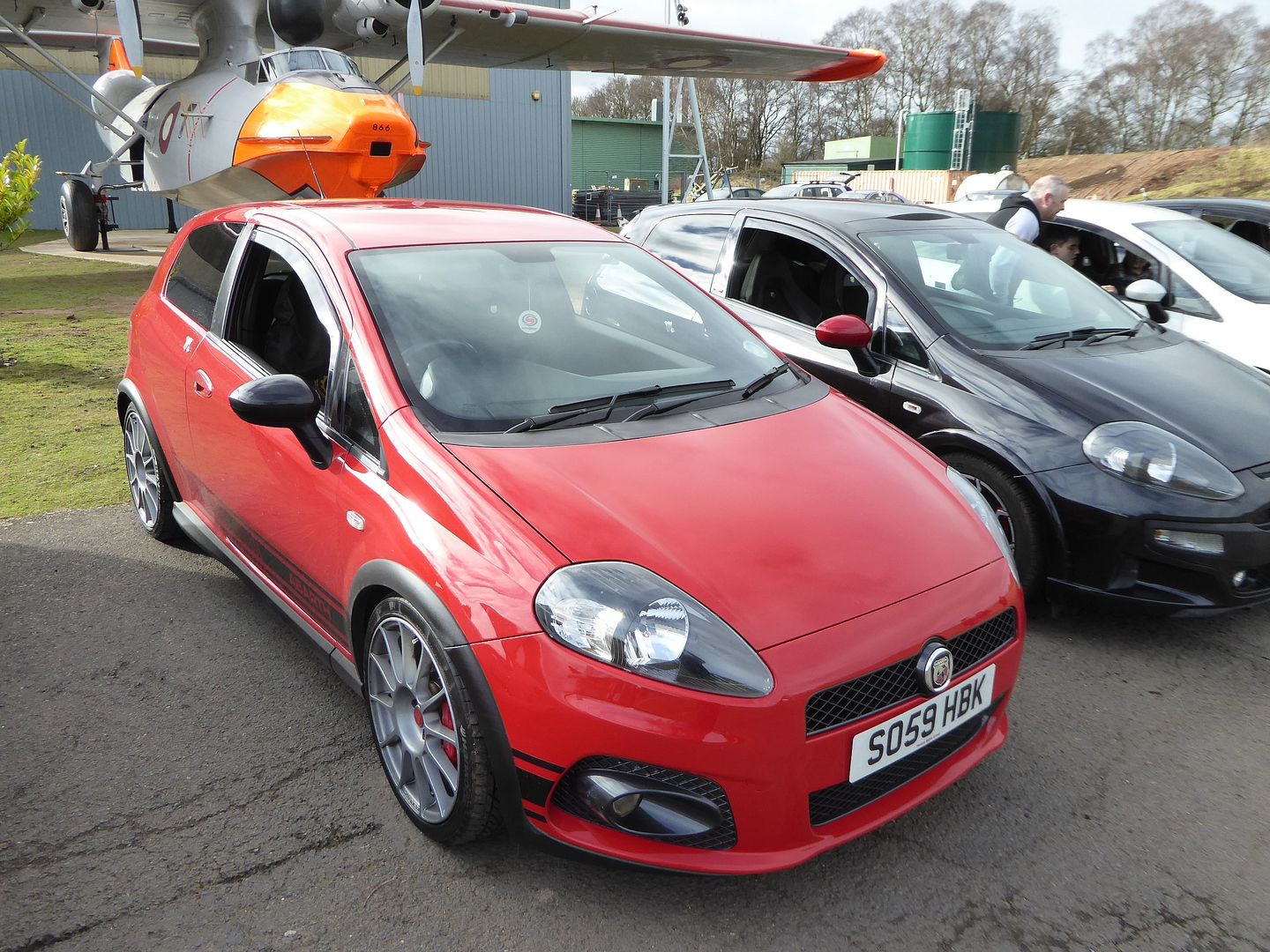 The Punto Evo was launched at the 2010 Geneva Show, with the cars reaching UK buyers in the summer of that year, and it incorporated many of the changes which had been seen a few months earlier on the associated Fiat models, the visual alterations being the most obvious, with the car taking on the nose of the associated Fiat, but adapted to make it distinctively Abarth, new rear lights and new badging. There was more to it than this, though, as under the bonnet, the T-Jet unit was swapped for the 1.4 litre Multi-Air, coupled to a 6 speed gearbox, which meant that the car now had 165 bhp at its disposal. Eventually, Abarth offered an Esseesse kit for these cars, though these are exceedingly rare. For those in the know – which never seemed to be that many people – this was a really capable and desirable car, and the owners love them, lamenting the fact that the model had quite a short production life and has not been replaced.
To create more interest in the model, in 2012 Abarth introduced a limited edition version called the SuperSport. Easily identified by the distinctive black bonnet, just 199 of these were built, of which around 120 are registered on UK roads. These cars had many of the options from the Punto Evo included as standard. Power came from the the 1.4-litre MultiAir turbo engine, tuned to produce 178bhp and 199lb ft of torque, up from 165 of the standard Punto Evo, giving the SuperSport  a 0-62 time of  7.5 seconds and a  top speed of over 132mph. To help put the power down, the SuperSport was fitted with wider 18″ wheels and optional Koni FSD dampers. Standard equipment included the Blue&Me infotainment system with steering wheel controls, automatic climate control and a popular option was the  'Abarth Corsa by Sabelt' sports leather seats. The SuperSport was available in the same colours as the regular Punto Evo, which means white, grey, black and red. The last of these is the rarest by some measure, so it was good to get one those as well as the Campovolo Grey car for the event.
OTHER CARS
This is not an Abarth. But apparently, it was going to be, until very late in the day when it was decided that Abarths should not be 5 door cars, and the model ended up being born with Fiat badges instead. Spiritually, it belongs here, though, which is why this Panda 100HP was welcome as part of the Group. The second generation Panda, codenamed Tipo 169, first appeared in 2003. In its development phase, the new Panda was originally intended to be called "Gingo". However, this name was considered to be too similar to the Renault Twingo, so Fiat decided to continue with the Panda name, although it has almost no direct engineering link to the original 1980 car. Successor to the Fiat Seicento, the new model also effectively replaced the old Panda after 23 years of production, although the Seicento itself proved still popular and remained in production. Like the Seicento, the Panda was manufactured only in Tychy, Poland, by Fiat Auto Poland. The high-bodied Panda took clear styling cues from mini MPVs and mini SUVs, especially the second generation Fiat Multipla. Its long high positioned vertical tail lights are in particular reminiscent of much larger cars (especially estate cars) from the likes of Volvo, although Fiat started using smaller versions of this style of lights on the 1994 Italdesign Giugiaro Fiat Punto. The Panda won the European Car of the Year award in 2004. The financially troubled Fiat needed the new Panda to be a success, and indeed it was, selling half a million units by October 2005. It sold particularly well in Italy (over half of the cars produced were sold in Italy), being seen as closer to a spiritual successor to the Fiat 500 than a replacement for either the Seicento or the old Panda. Fiat expanded  the range with diesel and 4X4 versions, and the decided to add a sporting model. The Panda 100 HP was launched in 2004, a few months after the debut of the second generation Panda, and it was the sporty model in the range, with its 1.4-litre 16-valve FIRE petrol engine tuned to develop 100 PS (99 bhp) through a six-speed manual transmission. It differs from other Pandas by being equipped with 4-wheel disc brakes, tinted windows, and sports styled front and rear bumpers. The Panda 100 HP features a unique suspension setup with modified springs, dampers, bushes and compliance giving a considerably firmer ride. Performance was far livelier than the other models in the range, with 0–100 km/h acceleration in 9.5 secs and a maximum speed of 185 km/h (115 mph), fuel consumption at 6.5 L/100 km (43.5 mpg) in the EU combined cycle and 154 g/km of CO2 emissions. It was available in black, white, red, metallic blue, and metallic gray while a "Pandamonium Pack" which added red disc brakes, decals and colour-coded wing mirrors was an optional extra. Due to tightening emissions regulations, Fiat halted all Panda 100HP production in July 2010.
And this one is definitely not an Abarth, either. And it was never going to be. This is the Ferrari 360 Challenge Stradale belonging to David Morris. He lives locally, and as the organiser of a couple of excellent Italian Car events for the IAMC – the Bristol Italian Auto Moto Festival (BIAMF) and a new similar but smaller one in Bridgnorth – as well as numerous other things, a huge Italian car fan, and a good friend, it seemed only fitting to welcome him as an honoured guest. The 360 Challenge Stradale was a low production track day focused car based on the 360 Modena. From a handling and braking performance perspective was the equivalent of adding a FHP (Fiorano Handling Pack) to the 360, which was available for V12 models such as the 550, 575 or F599 but never separately for the V8's. It was inspired by the 360 Modena Challenge racing car series so the focus was primarily on improving its track lapping performance credentials by concentrating on handling, braking and weight reduction characteristics, which are essential in pure racing cars. Ferrari engineers designed the car from the outset with a goal of 20% track day use in mind and 80% road use. With only a small 20 bhp improvement in engine power from the Modena (and boasting an improved power-to-weight ratio) the Challenge Stradale accelerates from 0 to 100 km/h (62 mph) in 4.1 seconds according to Ferrari, four tenths faster than a Modena, but bald figures do not paint the full picture. For the enthusiastic driver the differences are truly staggering; genuine systematic improvements were achieved to the setup and feel of the whole car. Throttle response from the digital throttle was ratcheted up and feedback through the steering wheel was enhanced. The responsiveness of the controls, the balance of the chassis, the braking performance and the driver feedback all contribute greatly to the overall driving experience. Thanks to CCM brakes borrowed from the Enzo, some lower weight parts and a FHP handling pack, the Challenge Stradale was able to claim an impressive 3.5 seconds improvement per lap of its Fiorano circuit compared to the Modena (the target was 2.5 seconds). In total, the Challenge Stradale is up to 110 kg (243 lb) lighter than the standard Modena if all the lightweight options are specified such as deleted radio, lexan (plexiglass) door window and Alcantara fabric (instead of the leather option). As much as 74 kilograms (207 lb) was taken off on the car by lightening the bumpers, stripping the interior of its sound deadening and carbon mirrors and making the optional Modena carbon seats standard. Resin Transfer Moulding was utilised for the bumpers and skirts, a carry over from the Challenge cars which resulted in lighter bumpers than on the Modena. The engine and transmission weight was slimmed down 11 kg (24 lb) through the use of a smaller, lighter weight sports (yet still stainless steel) exhaust back box and valved exit pipes. The Challenge Stradale also got Brembo carbon ceramic brakes as standard (which later became standard fitment on the F430) which shaved 16 kg off the curb weight and improved handling by reducing unsprung weight and completely eliminating brake fade. Cars fitted with the centre console stereo option, sub speaker box behind the seats and glass side windows re-gained approximately 30 kg over the best selected options (from a weight perspective). Challenge Stradale models are much sought after these days, and when they do come up for sale, they command a huge premium over the regular 360 Modena cars. David's car attracted lots of attention when just parked up, but as soon as he fired the engine, the crowds all rushed up close. Abarths may have a wondrous soundtrack to them, even with their standard exhausts, but even the most enthusiastic owner would have to admit that there are some cars with which they cannot compete, and that is is one of them.
THE MUSEUM
And what of the Cosford museum itself? Unlike the day at Duxford last September, I made sure that I did actually get a look around some of the exhibits here. And excellent they proved to be, too. There are over 75 aircraft on display, including some rare Japanese and German planes from the Second World War. RAF Cosford's web site provides a short description of everything that is on show and in their collection, and is well worth studying.  I am including a few pictures here, as I am sure that plenty of car enthusiasts will also be interested in these planes, just like I was. Located in the "War in the Air" hangar are some from the early days of the RAF, an institution which celebrates its centenary next year, 2018, such as this Bristol M1c, one of the oldest planes on display. In the spring of 1916 casualties among Royal Flying Corps' aircrew began to mount as their aircraft were no match for the Fokker monoplanes used by the Germans. Better fighting machines were desperately needed. To meet this demand Captain F.S. BarnwelI at the Bristol Aeroplane Co. designed a new single-seat monoplane incorporating much of the experience gained from earlier machines including the large low drag spinner first used experimentally on the Bristol Scout D. The new aircraft had a sparkling performance and manoeuvrability. It was, in many respects, superior in all round performance to much later types such as the SE5 and Sopwith Snipe. Great things were expected of the M1 but a combination of prejudice against monoplanes, a dislike for its high landing speed and poor downward view meant it found little favour in the War Office and only 125 were ordered. Only five squadrons were partly equipped with the M1 for operational use although a number were issued to flying schools where they were prized by instructors as personal mounts.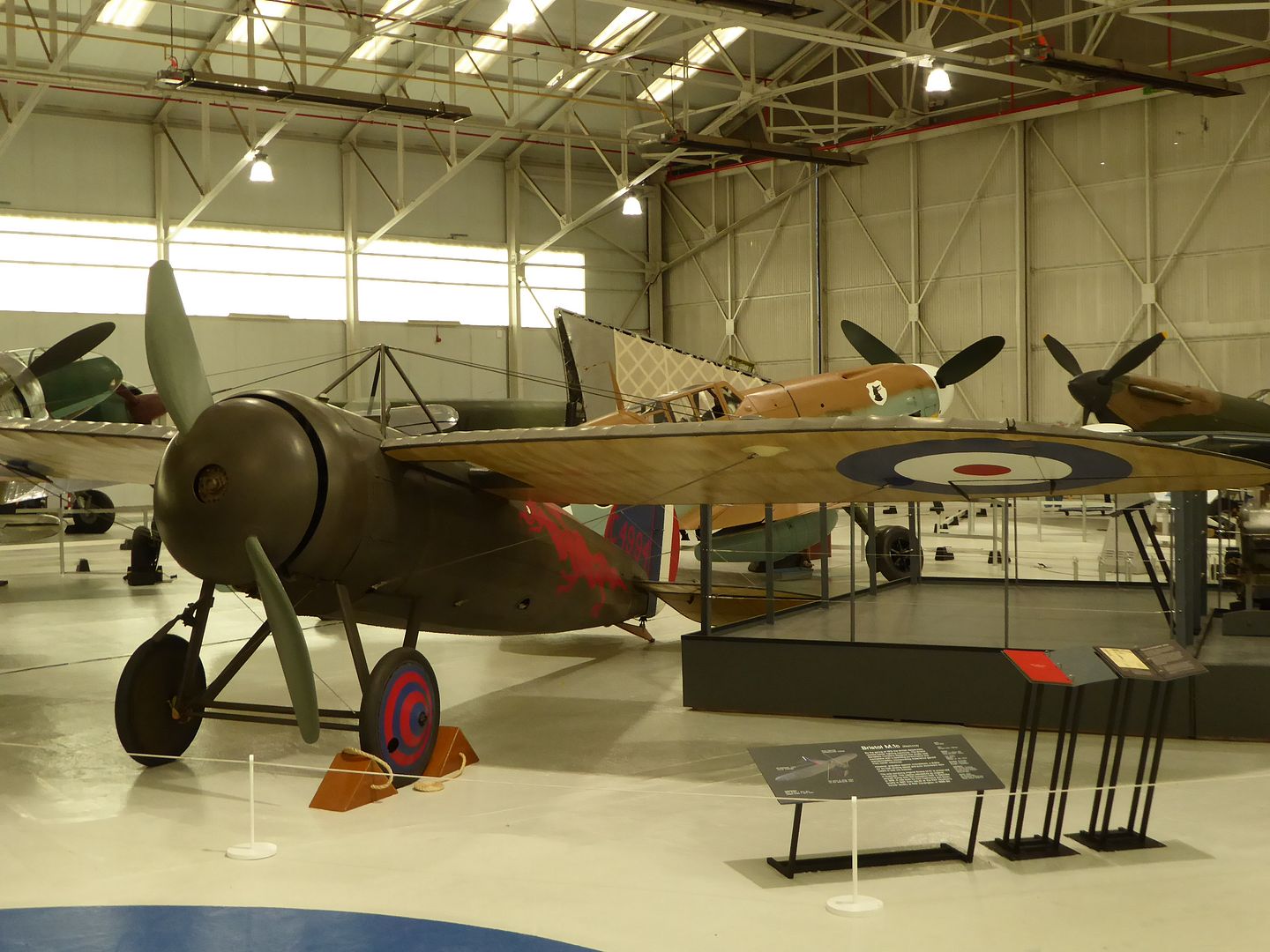 The "War in the Air" Hangar contains many more exhibits from the Second World War, some more familiar than others. The Spitfire surely needs no introduction, whereas the Yokosuka single-seat rocket-powered suicide aircraft from 1944 will probably be rather less familiar. There are also Messerschmitt and Mitsubishi planes from this era as well.
The Cold War hangar includes not just planes from a wider range of countries, including the USA, Russia and Korea, but also a history of the Cold War itself, and plenty of other display material ranging from engines and weapons to much smaller artefacts.
The "Test flight" hangar contains all manner of intriguing planes, many of which were somewhat experimental in nature as engineers looked to try out new concepts, some of which were clearly more successful than others.
As with all previous Abarth-specific events, this one proved to be a Big Hit with those who attended. It proved that there is definite demand for full events even in the closed season, and if you choose a venue that is accessible to people from a large part of the country, with fewer rival attractions in the diary, you can expect a good turn out. Cosford is an excellent venue: welcoming for the Car Club, easy to deal with, minimal admin overhead, a good display area, and an interesting museum which would take all day fully appreciate. My next visit is for the legendary Air Show in June, but I am sure that I will be back for a car event there as well, before long.