Although recent years have seen quite a few new car museums open up that contain the heritage of a single manufacturer, with the likes of Ferrari, Porsche, Lamborghini, Audi and Alfa Romeo having joined the ranks of the refurbished BMW and Mercedes collections, for example, the traditional motor museum has had a far harder time. Many of these, the eclectic collections of a single enthusiast have been forced to shut as growing costs of everything from premises to local taxes and insurance have made them financially unviable. That's a real shame, as there are still large numbers of people out there who have amassed fascinating collections of cars, which tend to be hidden from public view. In 2010, a new museum opened up in Malaga, going against this trend.  It contains the private collection of Portuguese car fanatic Joao Magalhaes, and with around 90 cars included within it, is worth around 25 million euros, which makes it one of the more important vintage car collections in the world. The collection has been built up over many years. You may think it odd that a Portuguese man has to go to Spain to house his collection, but one of the reasons for this is that he started acquiring cars many many years ago, back in the 1960s. When things started getting politically hot in Portugal in the mid 1970s, with civil unrest leading to the end of military rule, he managed to secrete his precious cars over the Spanish border, and there they stayed, safely out of harm's way. Finally, several decades later, he was able to acquire somewhere which could be opened to the public. This museum is housed in one of Malaga´s most architecturally stunning buildings,  the old tobacco factory (Fabrica de Tabacos), about 3 km to the west of the city centre. Constructed in 1927, the 6000m2 space, with high ceilings and long thin windows has been carefully transformed so that now it houses this fabulous collection of more than 90 vintage and classic cars, alongside travel memorabilia from the 20s, 30s 40s and 50s. There are several different connected rooms, dedicated to various eras and themes, such as Belle Epoque, Art Deco 30s, Dolce Vita 50s and English Tradition, plus the more contemporary Alternative Engines and Tuning. As if that were not enough, the museum also includes the Maga Sublime Collection of fashion items, including "From Mariano Fortuny to Galliano", "Trilogy". "Cocktail in the Forest" and a spectacular collection of hats "from Balenciaga to Schiaparelli", along with an overview of the artistic evolution of the 20th Century: Chanel, Yves Saint Laurent . Lanvin, Oleg Cassini and Dior.
Even before you enter, you come across a car, and you are likely to be intrigued, as it is not easy to identify. Luckily, there is an information plaque alongside to enlighten you. This is called "La Bomba", and it was inspired by 50s competition cars. It has a potent 530 bhp engine.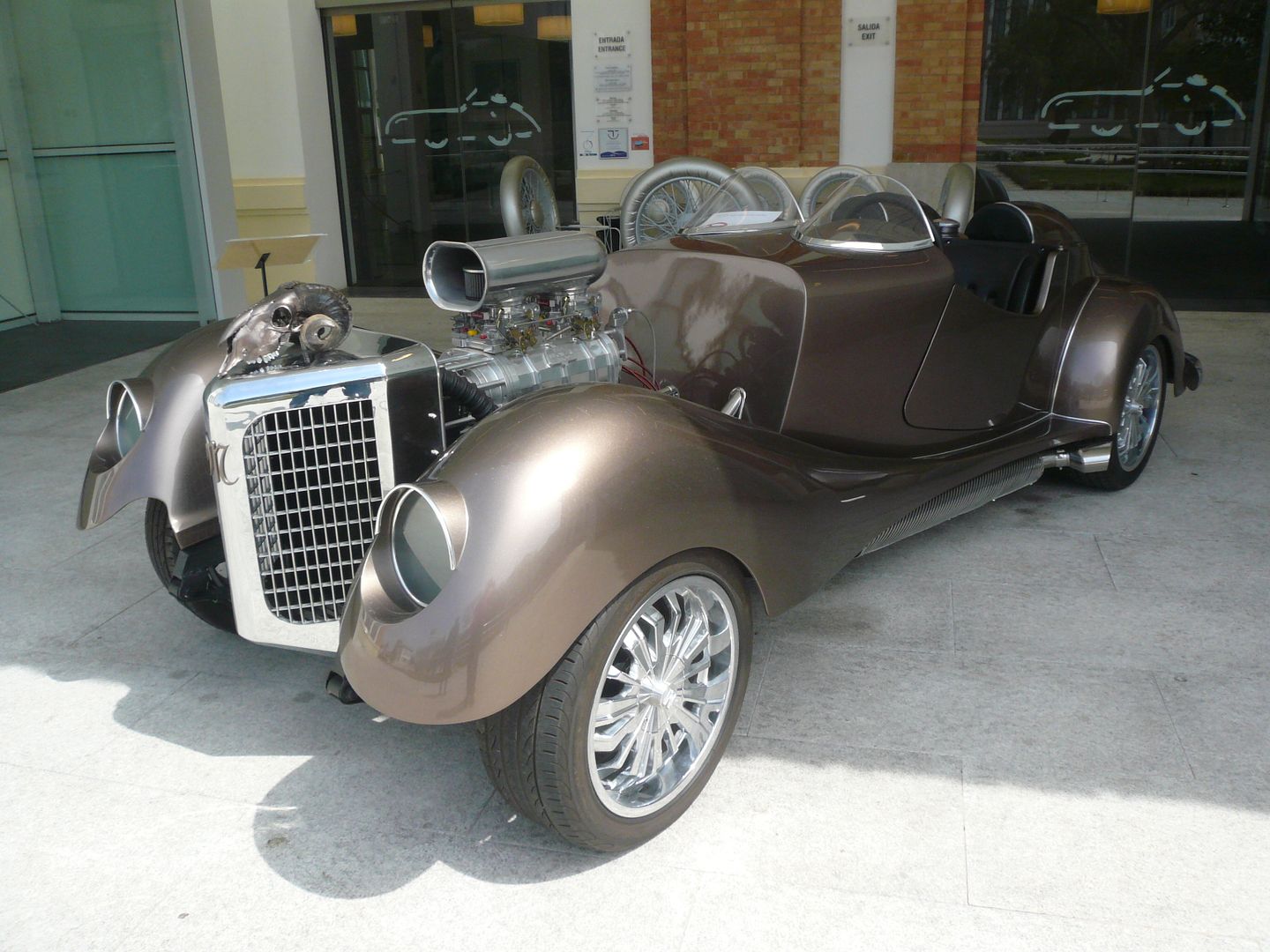 EARLY MOTORING – BELLE EPOQUE
This period covers the late 19th century to the beginning of World War I 1914. In its early days, the car was a continuation of its predecessor, the horse-drawn carriages. It was a hard competition for the car because very few people believed in the evolution of this means of transport. However, these rudimentary pioneers of the road progressed rapidly. At the end of this period, there were 30,000 vehicles in Paris alone. After a few years, style and comfort features were incorporated to meet the demand of the first customers: the aristocracy and the upper classes. It was becoming common to see these first cars and their drivers waiting at the entrance of prestigious venues, such as the Moulin Rouge.
This Winner, from the USA, shows how there was a transition to the car from the horseless carriage
This 1904 Minervette was the smallest car made by this Belgian marque. It was used by King Carlos I of Portugal for a trip to Vidago. It was found there 60 years later. Charles Royce had the concession for selling Minerva cars in the UK.
1903 De Dion Bouton – known as "The Popular". it had a 700cc, 1 cylinder and generated 6 bhp
1908 Richmond, USA. 4 cyl 22 bhp. A typical sort of American car of the period, only 2 survivors are known, the other is in Richmond, VA
1910 Delage 4 cyl 1400cc 14HP. The Delage company was founded in 1905. This was marketed as a family car complete with dickie seat
1906 Jackson. USA. 4 cyl. 45 HP 6400cc. Rolls-Royce designed one for King Abak This one came from the USA, full of spiders
1908 Charron. 4 cyl 28 HP. The make was well known for its reliability and power.  It participated in a historical race event; winning the first Gordon Bennet Cup This was the personal car of Santos-Dumont, an aviation pioneer who used it to transport his plane to Reims in 1909.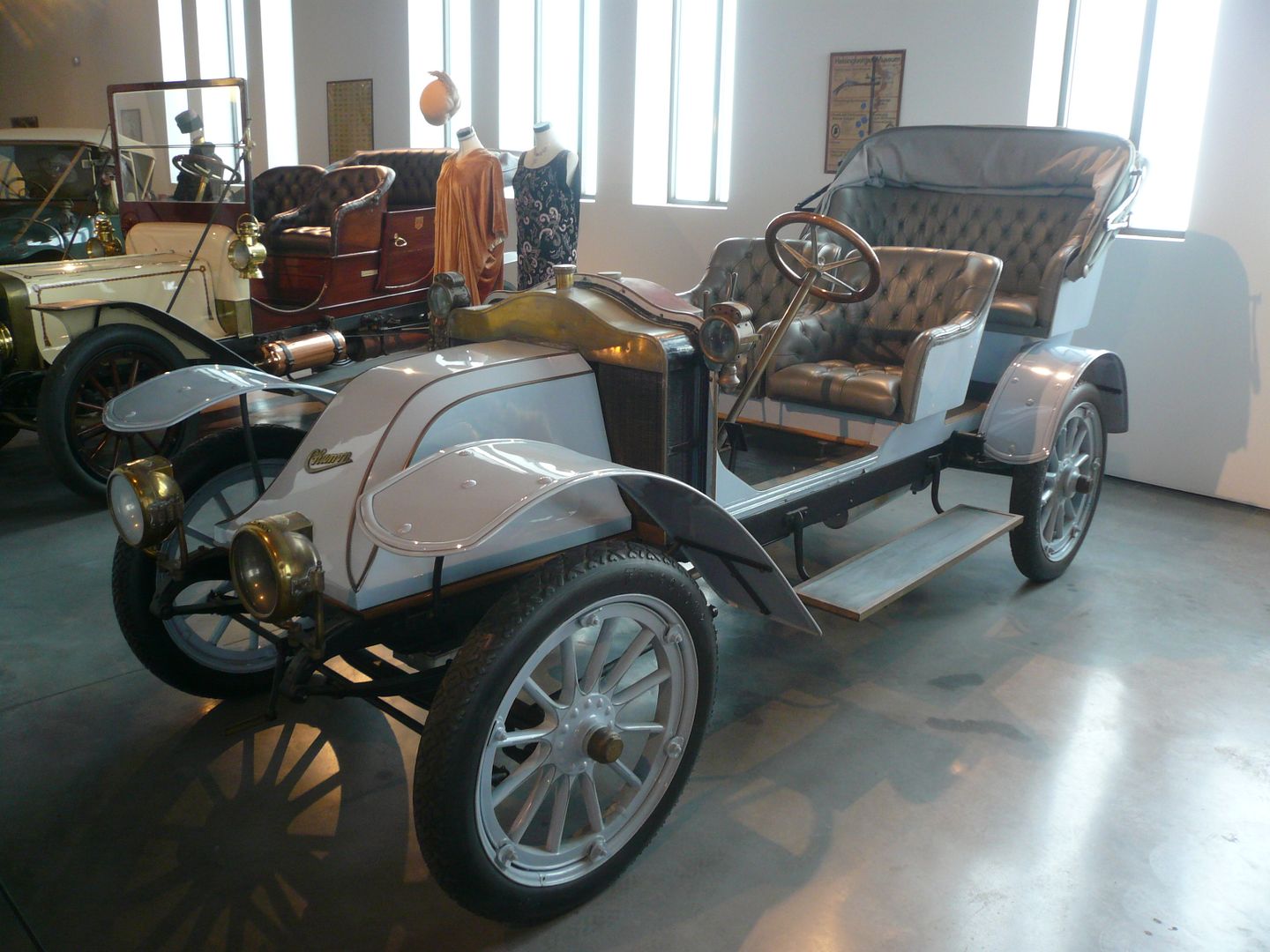 1916 Buick. 6 cyl 23 HP 3700cc. Buick had been founded in 1903 and joined  the General Motors organisation in 1907.
1911 Renault AX Coupe de Ville. 4 cyl 16 HP 2400cc
1928 Ballot. 6 cyl 11HP. The company made cars from 1911 – 32 and  then bought by Hispano Suiza.
1912 Barcon Acroyd. This was a British car, designed by an RAF pilot, who was later killed by the Red Baron during the First World War. It was nicknamed " El Pampero", a reference to Argentina, which was a fashionable country at the time.
1912 Hupmobile. 4 cyl 16HP 1800cc. It cost $750 when new, which was a lot of money.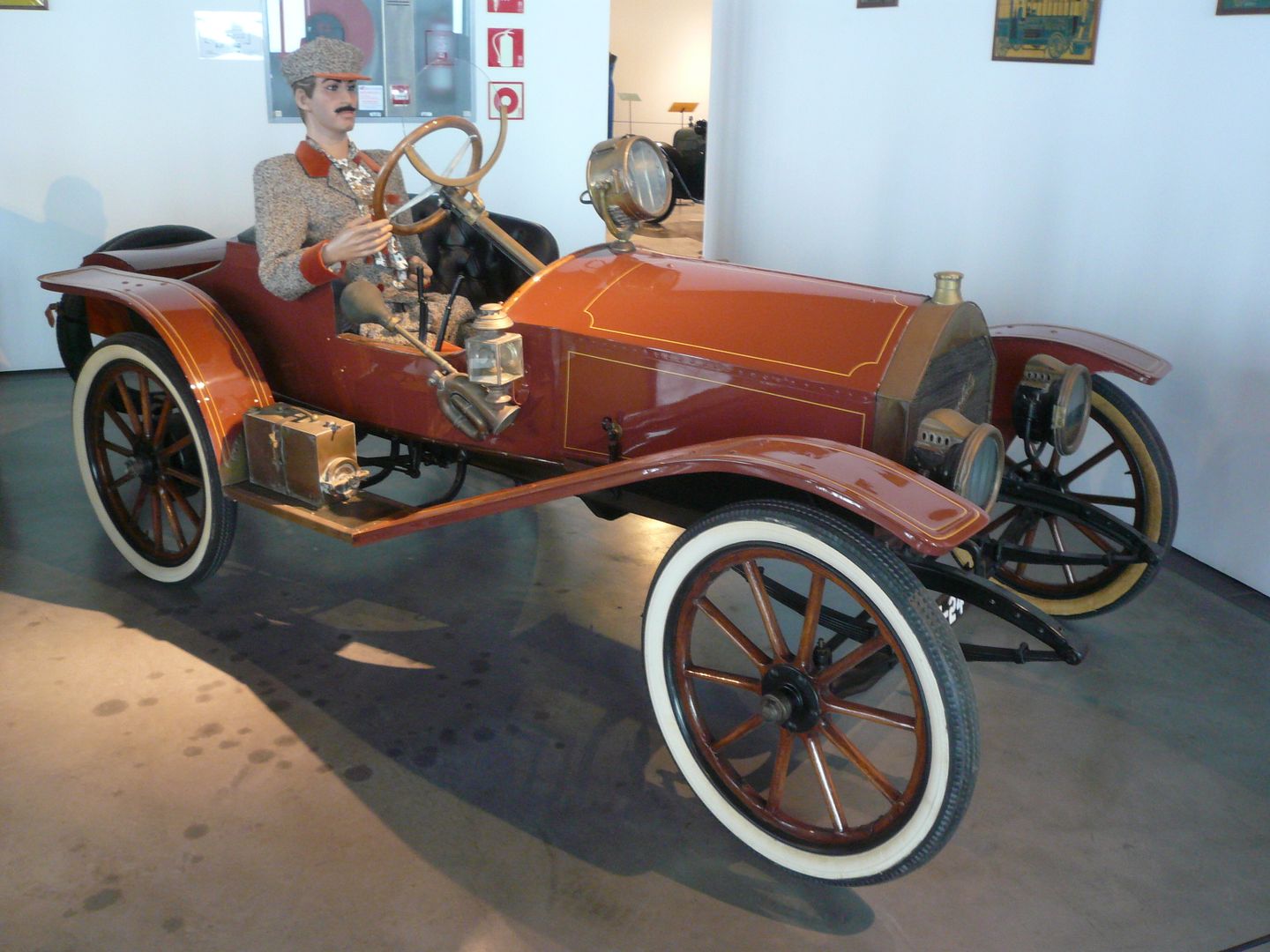 GOLDEN 20s
This period is also known as 'The Roaring 20s' because of the euphoria caused by the end of World War I and the remarkable economic prosperity that followed. This decade brought about behavioural changes such as the liberalisation of fashion and the increasing emancipation of women. There was also a burgeoning interest in modifying car designs to make them more elegant and attractive. 25th October 1929, known as 'Black Friday', marked the end of this period.
1927 Paige. 6 cyl 38 bhp, 4100cc. Graham Bros purchased and made Graham-Paige cars. Won many elegance contests.
1917 Hispano-Suiza Torpedo Barcelona Tourer. 4 cyl, 50 bhp 2000cc
1930 Nash Ambassador. 8 cyl 100 bhp, 4900cc. Nash was President of GM.when he decided to start his own company in 1917. Nash survived the Great Depression thanks to the excellence of its cars, and would go on until the 1950s when it merged with Rambler to form the American Motors Corporation, a conglomerate which was intended to rival GM, but which in reality never stood a chance.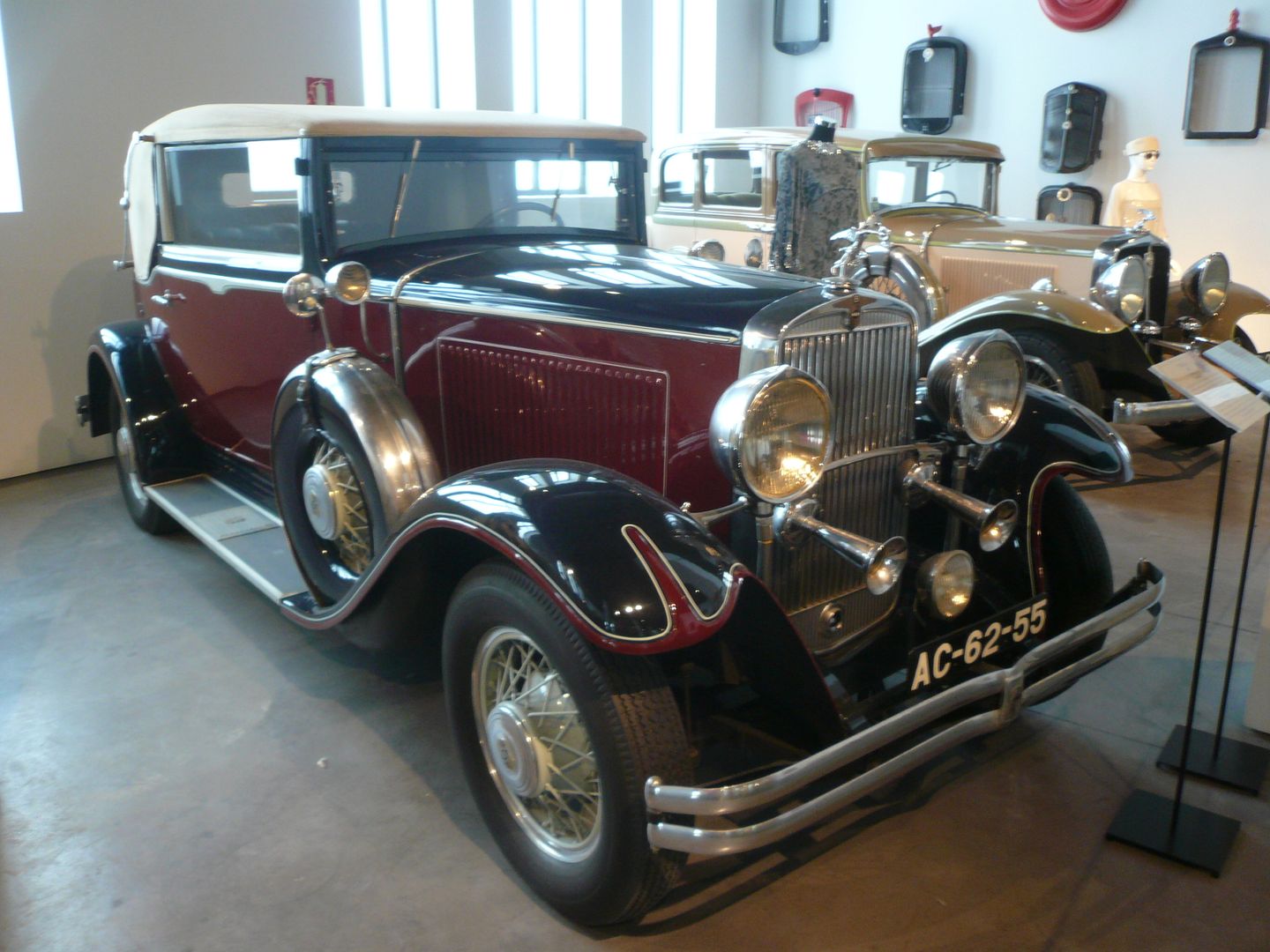 1931 Studebaker President. 8 cyl 122  bhp, 5500cc. Studebaker cars became very popular. Sales of 45k units in 1915 had grown to reach 239k by 1949.
This is a 1920 Unic. It had 4 cylinders and produced 25 bhp from its 2600cc engine. It is presented as a tribute to Sonia Delaunay. a French-Ukrainian artist who was the first woman to have her work exhibited at the Louvre during her own lifetime, and who was a leader in the art of customising. Sonia painted cars in bold, colourful designs inspired by cubism, providing customised models for BMW, Renault and Bugatti.
1926 Lancia DiKappa. 4 cyl, 70 bhp and 4900cc. One novel feature here was an intercom between the passengers and the driver.
This 1916 Minerva, with a 3800cc engine, was a casualty of the First World War. It is displayed here, as found, complete with bullet holes in the rear bodywork.
This 1930 FN, a Belgian marque, is an example of the first car to cross Africa from North to South,  in 1928. It had a 1300cc 4 cylinder engine.
POPULAR CARS
The urban and middle classes and professionals like doctors, chemists and the parish priest began to demand practical, more affordable car models, and manufacturers responded, starting with cars like the British Austin Seven of 1922, the Citroen 5CV and Italy's Fiat 500 Topolino. Such cars were designed to meet this demand for cheaper cars and were also simpler to manufacture during the post-war shortages. During the 1940s and 1950s, there was lots of demand for the very cheapest form of mobility, and some very tiny cars were produced, a couple of examples of which were included in the display.
There were two examples of the Austin Seven. here, both of them dating from 1928, showing two of the different bodywork options that were available on Herbert Austin's baby car. This diminutive machine had a 4 cylinder 750cc engine.
The 1931 Morris Minor was produced as a direct competitor to the Austin Seven, and it was extremely successful, at one point capturing a massive 51% of the UK market.
The 1922 Citroen 5CV was the car that started to put France on wheels. It had a 4 cylinder 900cc engine which generated 11 bhp. Over 80,000 were made.
This 1928 Morgan is typical of the three-wheeled cars that this British brand had been making since 1909. This one has a 2 cylinder 1100cc engine generating 28bhp.
The 1955 Fuldamobile was a 1 cylinder  9 bhp, 200cc economy car designed in Germany. It was sometimes called "The Egg", in recognition of its rather ovoid styling. The car was assembled in a number of countries. ranging from Greece to Chile.
Although the market for these very small and rather crude cars largely disappeared by the end of the 50s, thanks to the launch of cars like the Mini, they continued to be made into the next decade. This Velorex dates from 1963. Made in Czechoslavakia, it had a canvas body surrounding the  2 cyl, 300cc engine. It generated a rather feeble 16 bhp, which gave it a top speed of a heady 19 mph. Despite this, 120 a month were made. By the end of the twentieth century, over 60% of the cars produced were still around.
ART DECO 30s
In many ways, this was the golden age of the car. The 1930s are associated with the art form known as Art Deco, a term that was first used at the 'International Exhibition of Modern Decorative and Industrial Arts' in Paris. This highly reformist, creative and innovative art style was used by the finest artists and can also be seen in car design, creating luxurious, elegant, masterpieces as a result. This was quality of a different standard never before seen in automobile design.
Although somewhat earlier than the other cars in this hall, the Belgian 1923 Minerva Coupe de Ville. with its 6 cylinder 120 bhp 5400cc engine epitomises the luxury car of the era.
The Mercedes 540K, launched at the 1936 Berlin Show, was one of the most expensive cars on sale at the time. It quickly found favour, though, not least with many of the leaders of the Nazi party. 447 were made, all of them different in some way, as the cars were built to special order. This one dates from 1937.
1936 Bugatti Type 57 Galibier
The innovation for the Rolls Royce Phantom III, of which this is a 1936 example, was the use of a V12 engine. Rolls Royce supplied the chassis, and the customer then selected a coachbuilder to create the body.
There are pictures of President Roosevelt in a car similar to this 1939 Packard V12 with body by Diederich. With its 175 bhp 7800cc V12 engine, this was the very pinnacle of US cars produced before the War.
This 1938 Delage 6 cylinder is special enough, but what makes it even more desirable is that it sports one of the fabulous Lalique grille mascots, called the Eagle.
1930 Pierce-Arrow. 8 cyl, 125 bhp, 6000cc. This had a special compartment on the side of the body for golf clubs.
The 1938 BMW 327 had a 2000cc 6 cylinder engine which generated  55 bhp.
DESIGN CARS
This is a rare collection of aesthetically advanced models. The best car designers created these models hoping to innovate, impress and surprise society by making something completely new. Some of these cars are true 'rolling sculptures'. Avant-garde, exotic, eccentric, extravagant, futuristic … all these cars have a common denominator: they were too advanced for their time.
This 1934 Lancia DiLambda, complete with a V8 which put out 100HP, was used as Mussolini's parade car.
1937 Talbot 3 position Roadster
The 1939 Lancia Astura was Vincenzo Lancia's last work. This one, with a Castagna body,  was customised for an Italian countess, and even includes a "boudoir" in the rear, with compartments for make-up and perfume jars. The Astura was the most expensive model in Lancia's range in the 1930s. It was powered by an 84 bhp V8 engine.
The 1934 DeSoto Airflow. with a 6 cylinder 100 bhp engine, was a brave effort, with very futuristic styling, but the market found it too radical, and the car was not a commercial success.
This 1937 Peugeot 402 Eclipse was buried, to protect, in WW2 and when subsequently recovered, proved somewhat hard to restore.
This splendid 1938 Panhard, which had a 6 cylinder 2.9 litre 100 bhp engine is known as the "Noon Devil", on account of its central driving position, with a seat either side of the driver, the suggestion being that the caddish male driver could have a lady on either side!  Very few were built.
There is no doubting how arresting this 1948 Tatra T87 is. Launched in 1936, and produced for 4 years, the Czechoslovakian car was praised by German officers in World War II for the superior speed and handling it offered for use on the Autobahn. It was powered by a rear-mounted 3.0-litre air-cooled 90-degree overhead cam V8 engine that produced 85 horsepower and could drive the car at nearly 100 mph (160 km/h). It is ranked among the fastest production cars of its time. Competing cars in this class, however, used engines with almost twice the volume, and fuel consumption of 20 litres per 100 km (11.8 mpg), but thanks to its aerodynamic shape, the Tatra has a consumption of just 12.5 litres per 100 km (18.8 mpg). The Nazi armaments and munitions minister Fritz Todt declared: "This 87 is the Autobahn car …" Much of this was down to the streamlined shape, which was designed by Hans Ledwinka and Erich Übelacker, and was based on the earlier Tatra 77, the first car designed for aerodynamic purposes. The body design was based on proposals submitted by Paul Jaray of Hungarian descent, who designed the famous German Graf Zeppelin dirigibles. A fin in the sloping rear of the Tatra helps to divide the air pressure on both sides of the car, a technique used in later aircraft. Tatra T87 had a drag coefficient of 0.36 as tested in the VW tunnel in 1979 as well as reading of 0.244 for a 1:5 model tested in 1941. Small sets of windows in the dividers between the passenger, luggage space and engine compartments, plus louvres providing air for the air-cooled engine, allowed limited rear visibility. Its entire rear segment could be opened, to service the engine. The front doors are "suicide doors" (i.e. rear-hinged doors), whereas the rear doors open in an orthodox manner. Many design elements of the Tatra 87, and the follow on Tatra V570 and later T97 were subsequently copied by other car manufacturers. Ferdinand Porsche was heavily influenced by the Tatra 87 and T97 and the flat-four-cylinder engine in his design of the Volkswagen Beetle, and was subsequently sued by Tatra. The price new (in 1940s) was 25,000 SFr., and now these cars are worth Big Money, fetching around $125,000 when they come up for sale.
The 1936 Auburn 851 Speedster, styled by designer Gordon Buehrig, who also was responsible for the Cord Model 810, proved to be the last new model from the Auburn company. It as not the first time the company had been in trouble, as in 1924, Auburn output was down to six cars a day. Errett Lobban Cord – a car salesman – took over the lacklustre company, and brought in James Crawford to design a new range. The first Auburn eight was launched in 1925, and renamed the 8-88 in 1926 with a 4.8-litre side-valve 68 bhp Lycoming engine. That remained in use until 1930, when it developed 115 bhp, hence the 'Speedster 115' model name. The rest of the car was straightforward. Suspension was by semi-elliptic springs all round, and after experiments with hydraulic brakes, Auburn opted for mechanical brakes. The three-speed gearbox was in unit with the engine. The impressive open two-seater body styled by Count Alexis de Sakhnoffsky featured a boat-tail and a vee windscreen. The '115' became the '125' in 1930, with a 'cabin speedster' among the models, advertised as a "racing car with comfort of a closed car" with a 125 bhp version of the Lycoming eight giving it a claimed top speed of over 100 mph. A V12 range, using a 6.4-litre engine designed by George Kublin and built by Lycoming, was a failure, and 1934 marked its demise. Yet Auburn was to enjoy a memorable final fling with the '851 speedster'. This was introduced in 1931 with masterly bodywork by Gordon Buehrig that was ingeniously and cheaply built. The car was simple enough. The flat-head eight was strong, reliable and it was not overly stressed. Those sweeping lines concealed some interesting technical features such as the Columbia dual-ratio rear axle that was achieved by interposing an epicyclic gear train between the axle and the crown wheel. When it was engaged, the final drive ratio became a 'fast' 4.5:1. It was disengaged by moving a steering-wheel mounted lever and dipping the clutch, whereupon the ratio became a more leisurely 3:1. The three-speed synchromesh gearbox along with that dual ratio axle gave a six-speed transmission. In 1936 came the 852, identical to the earlier models with the exception of the '852' on its radiator grille. The end however, was not far off, and Auburn ceased car production in 1937.
From the same stable were this duo of Cord cars, a 1937 810 Sportsman and a 1937 Westchester. With desperate company executives wondering how they could rescue the Auburn Automobile Company, they contemplated introducing a "baby Duesenberg". Renowned designer Gordon Buehrig was hired in the summer of 1934 to work on a prototype. As work progressed the concept changed to a technically advanced car with front wheel drive, independent suspension and front wheel drive and a radical new shape. The goal was to launch the car at the New York Auto Show in November 1935, as time was of the essence as the Auburn Automobile Company was on the verge of bankruptcy. The car took the Cord name, and was called the 810, It was a sensation, and orders poured in. Sadly, problems with the car and its manufacture meant that production did not get underway until into 1936 with the result that many customers withdrew their orders. Those who persisted soon fond that they had bought a car with more than a few teething problems For the 1937 model year there was a supercharged engine, which boosted power from 125 bhp to 170, making the car a 100 mph cruiser. The Custom series had a longer wheelbase in response to customer demand for more space, but despite this and other running improvements, sales languished and the last production cars were made in August 1937. Barely 3000 of the 810 and 812 cars had been made. Many of the innovative features of the Cord would reappear in years to come in other cars. These days, these Cord models are well regarded as among the most stunning products of their era and it was good to see the duo of them here.
This is a 1949 Allard M. The M was made by the British Allard Motor Company between 1947 and 1950, and s considered the first civilised sports car by Allard. The M was a two-door, four-seater convertible, marketed at the time as a Drophead Coupé. It is powered by a Ford 3.6 litre (3622 cc) engine. Later models were equipped with a Ford Pilot sourced column shift. Production reached approximately 500.
This is a 1930 Renault Nervastella, a large car that Renault made between 1930 and 1937. It was used as a state car and pictures of the President of the French Republic sitting in a Nervastella can therefore be seen in newsreels from the mid-1930s. The car was a smaller brother to the Renault Reinastella which had been launched a year earlier, but the Nervastella was technically more advanced, and with a 131.9″ wheelbase it was still, by the standards of the time and place, large. Offered with a variety of different body styles, it had an 8 cylinder 4200cc engine. This particular car was ordered by a Mr Astor of New York City, owner of the Waldorf Astoria hotel, who used it as a hunting car, and the colour scheme is apparently inspired by the works of Salvador Dali.
1963 Citroen DS21 Convertible
Dating from 1954, the Kaiser Darrin, also known as the Kaiser Darrin 161 or in short as the Darrin, was an American sports car designed by Howard "Dutch" Darrin and built by Kaiser Motors. Essentially a revamp of Kaiser's Henry J compact, the Kaiser Darrin was one of its designer's final achievements and was noted for being the first American car equipped with a fibreglass body and doors that slid on tracks into the front fender wells. The car was named both for Henry J. Kaiser, head of Kaiser Motors, and Darrin. The Darrin was conceived as part of a movement in Detroit to compete head-to-head with European roadsters being imported to and sold in the United States in the post-World-War-II period. Among other products developed were the Ford Thunderbird in its initial two-seat form and Chevrolet Corvette. While the Darrin was designed attractively, it was also underpowered and, while a good performer overall, did not measure up to foreign vehicles such as the Nash-Healey or Triumph TR2. The Darrin's high price tag, lack of consumer confidence in Kaiser's viability and practical challenges with the car's design resulted in low sales, though sports cars at the time were generally not fast sellers. Only 435 production Darrins and six prototypes were built. Crumbling corporate finances, pending loss of assembly facilities and a freak snowstorm that reportedly ruined 50 of the cars all conspired to terminate the program. Darrin bought those 50 vehicles and whatever others Kaiser had left in storage and sold those from his Hollywood, California showroom. Many of the cars' engines were retrofitted with superchargers and multiple carburation to improve performance. Six were re-engined with Cadillac Eldorado V-8 units; one of these was reportedly raced.
DREAM CARS
This 'Hollywood-esque' collection contains the most impressive American models. The highlight of this exhibit is the Cadillac collection. Fine examples of 1950s American culture, style, luxury and power. Celebrities, athletes and millionaires like Elvis Presley helped make these vehicles famous. The 'Eldorado' (1959) with its fins and aircraft-like fender, its panoramic windscreen and its chrome finishes, became a cult classic and a symbol of the American Dream. The cars in this collection are also available for short-term hire.
1956 Chrysler Imperial. 11 of these were made, for Heads of State. among them, General Craveiro Lopes, the President of Portugal. and the Prince of Monaco who used his for Grace Kelly to be driven to the church on her wedding day.
1947 Cadillac. The 8 cylinder 150 bhp car had a 5600cc engine and got through fuel at a staggering 30.1 litres/100km.
1956 Ford Thunderbird
This 1948 Cadillac would have cost $7000 when new
1959 Cadillac Eldorado Convertible
With the 1971  Cadillac Eldorado Convertible, Cadillac reached the largest engines that they would offer in their cars: 8200cc and 385 bhp.
This is a 1985 Excalibur, a retro-styled car, with looks not unlike the 1928 Mercedes-Benz SSK. The instigator was the struggling Studebaker company. Back in 1963, renowned stylist Raymond Loewy had just completed his styling work on the Avanti, and the car had caused a sensation when launched. This led the President of Studebaker, one Sherwood Egbert to decide that the way to draw attention to his struggling marque was to initiate some more special automobile projects; for exhibiting at the various motor shows to be held over the forthcoming year. Loewy was not available so the young Brooks Stevens got the job and the outcome of this was a trio of Studebaker Larks, a black and pink convertible known as "Mademoiselle", a vehicle called "Yachtman", and a "Town Car" featuring central roll-over hoop and a vinyl half-roof. Stevens also dressed up a Hawk Gran Turismo for the display but not one of these cars made any worthwhile impression at the Chicago Motor Show at the start of the season. The next show was to be the New York in April and for this one it was imperative that he find something a little more explosive, to attract people to the stand. Without a real eye-catcher they would likely walk straight past and not even glance in the right direction. Stevens decided to create something very different, and requested a Daytona chassis- the best chassis around at the time, and one which boasted special suspension. Its front axle was overloaded in the original design but Stevens figured that if he could find a way of moving the engine backwards to a certain extent then the assembly would become better balanced. In creating his design, Stevens tool a great deal of inspiration from the Mercedes SSK. as he loved Mercedes cars and personally owned a 1928 SS Phaeton. His idea was to create a vehicle along similar lines, using contemporary running gear and selling for a very competitive price. At the time, the idea of a "contemporary classic",  or a "new old car". was unknown, but Stevens was given the freedom to proceed with his ideas. The chassis that Stevens received at Milwaukee was from a heavy-duty Studebaker Lark Daytona convertible, with 109 inch wheelbase, assisted disc brakes and the supercharged 289 cu in. (4,750 cc) 290 hp power unit used by Studebaker up until the advent of the Avanti. Although the chassis had nothing particularly modern or innovative about it, it was well suited to the narrow bodywork of the vintage roadster-style car that Stevens had in mind. The engine was moved back by about 29 inches, which put the driver almost in the back seat of the Lark Coupe, so it was also necessary to move the steering and pedals back and modify the suspension geometry and spring and damper rates at the same time. The flexible exhaust sections had been bought in Germany from Mercedes' own supplier, the seats were modified Studebaker items, the dashboard instruments were from the Hawk GT and the radiator grille emblem was the famous cross in a circle which Brooks had used on his first competition Excalibur Js. It was christened "Mercebaker" because Studebaker had been a Mercedes distributor for some time, although the chromed badges at either side if the hood/bonnet read Studebaker SS. Built in six weeks with the help of friends and family, the result was a sensation. But, the new automobile had hardly left Milwaukee for New York when Studebaker changed their plans Three days before the show opened, Stevens received a phone call from the Director of Public Relations and was told that Studebaker could not display the car. The reason why was that the new boss, a Mr Burlingame had said that they could not make the public think this would be the sort of vehicle they would be manufacturing in the future, even if it was made clear that it's only a show car, it being risky to show the public a one-of exhibit that's would never be mass-produced. Stevens phoned Jerry Allen, the Show organizer and was told to bring the car along anyhow. It ended up on a stand on the second floor, right in front of a hot dog stall (which helped get the visitors in) and the Mercebaker was unloaded from the transporter. As it was wheeled in, people made Stevens stop every ten yards or so in order to shoot photos. It was too late to remove the 'Studebaker SS' badges so it was clearly labelled as a "Special Project' of Brooks Stevens Design Associates'. It was the star of the show and so many people wanted to buy it, cash, there and then. The designer and his two sons were inundated with enquiries. People kept asking the price and the unashamed answer was "6,000 dollars", thereby acknowledging the six weeks spent building it and dreaming that $1,000 a week would be a tidy future income. As well as being the show organiser, Jerry Allen was also a Chevrolet concessionaire in the Big Apple, and Stevens managed to convince him to be the sole concessionaire for the East Coast. Twelve firm orders had been taken at the Show, and Allen sold the first cars like the proverbial hot cakes as he had an absolutely prime location in New York, including a sumptuous showroom right next to the Coliseum. But, he was also rather worried about something which eventually caused the first modification to be carried out to our car. The problem was the Studebaker chassis, as he realised that he could not sell cars powered by Studebaker engines from a showroom that's on the ground floor of a General Motors building. He feared that one a director would stop off, out of curiosity and find out that it had a rival marque's underpinnings, so he asked Stevens if he could put a Chevrolet engine in it, which is what was done, so the first Excalibur is the only one with a Studebaker engine; all subsequent machines received Chevrolet power. News of the car spread, with favourable articles in the US automotive press, which led to the foundation of the Excalibur company. Now all they had to do was build cars. The Stevens decided firstly that the cars would be built slowly and with the greatest care and attention, and that they would manufacture as many components as possible themselves to avoid dependence on outside suppliers. It was decided to use the Chevrolet V-8 327 cu. inch 300 hp Corvette engine, which could be optioned with a Paxton supercharger producing 435 hp which was remarkable for a 2100 lb car. They would make the body panels from glass fibre rather than aluminium, whilst the radiator grilles would be aluminium castings rather than copper as on the prototype. In the first year of production the chassis were transported by truck to Milwaukee, where the bodywork was fabricated and the Excaliburs were assembled. In January 1966 the firm moved to the West Allis Industrial zone. The Excalibur S1 was initially available only in a two-seater Roadster version (without doors and cycle fenders) as designed by Brooks Stevens. But by mid 1966 the company had built 56 automobiles and introduced two more models: an elaborated Roadster with longer mudguards and running boards (with doors), and a convertible four-seater (with doors) known as the Phaeton. Excalibur built exactly 90 cars during 1966 and production didn't reach 100 units in a year until 1969 – the same year that S1 production was stopped. By 1970, Excalibur were well established but their success had engendered the birth of numerous imitators who were helping satisfy the demands of a market that the limited Excalibur production alone could not. The Stevens brothers didn't want to increase their production rate for fear it would adversely affect the impeccable build quality that they wanted the public to enjoy. So they launched the Excalibur Series II, an all new car despite the fact that it perpetuated the S1 styling. As the old Studebaker Lark chassis was no longer built, the S2 featured a new ladder chassis which had a two inch longer wheelbase. The suspension components were borrowed from the Corvette, as was the four-disc braking system. Tyre size went up and the rubbers were mounted on wheels especially designed for the car. The 327 ci. inch (5400 cc) V-8 engine bowed down to the new 350 cu. inch (5700 cc) unit which, with its anti-pollution equipment still managed to develop a healthy 300 hp. The "Muncie" four-speed manual transmission became standard, with a Turbo-Hydramatic three-speed unit available as an option. From a price of $6000-$7250 for the S1, the Excalibur SII went up to $12,000 -$13,000 but justified that extra cost with its supplementary equipment, which included air conditioning, variable ratio power steering, adjustable steering column, servoed brakes, "Positraction" differential, chromed wire wheels, stereo radio, two spare tyres mounted in the front fenders, driving lamps, air horns and constant level rear shock absorbers. Despite the added mass of this luxurious equipment, the Excalibur Series II was capable of really sporting performance: 0-60 mph in under 7 seconds and a top speed of 149 mph! Unfortunately the production figures showed a steep decline at first with only 37 cars in 1970 and none whatsoever in 1971, but then the figure rose to 122 in 1972. Even so, the Excalibur Series II remains the rarest of all Excaliburs, with a total production number of only 342 against the Series I's 359. It was the Excalibur Series III, introduced in 1975, that really caused the production figures to shoot up and the selling price also. This was fundamentally a Series II car that had been modified to conform with new homologation requirements and thus it retained the traditional style but featured more enveloping wings. The chassis was a new one, although still a ladder-type affair, reinforced by a central 'X'-shaped member and featuring a removable bolt-on front section. the wheelbase had once more been stretched to 112 inches and the whole new chassis assembly housed an equally new engine…a Chevy Mk IV 454 cu. inch (7500 cc) big-block V8 which, despite its generous cylinder capacity, produced only a humble 215 hp SAE due to the stifling anti-pollution equipment fitted. The "Phaeton" version continued to sell in greater numbers than the "Roadster", as had indeed been the case since 1969, and even though production did remain restricted (even by a specialist manufacturer's standards) Excalibur broke a new sales record in 1977 with 237 units, followed by an encouraging increase of from 263 cars in 1978 to 367 in 1979. This impressive figure related to a production rate of more than one automobile per working day and at this rate, the firm struggled to maintain the standards of build quality that they wanted, which led to them scaling production back to 4.5 cars per week. 1980 saw the arrival of the Excalibur Series IV, the car that brought about the first real change in appearance of the marque's products. It was also the first Excalibur to have glass side windows, a  boot integrated within the bodywork and an electrically operated soft-top for Roadster as well as Phaeton models. The chassis, especially unchanged relative to the SIII's, was stretched again, this time by 13 inches; and the Roadster became a four-seater with rear electrically operated rumble-seat. The styling had also evolved a little. It still undeniably evoked vintage Mercedes, but this time emulated the 500/540K series rather than the SS/SSK. The series IV was obliged (by even more rigorous anti-pollution regulators) to take on yet another engine, a GM 5.0-litre (305 cu. in.) equipped with automatic transmission and a locking torque converter. Once more the performance suffered, although the buying public seemed to be resigned to this and appeared more concerned with comfort and appointments than out-and-out dynamics. With the galloping inflation of the early 80s, though, Excalibur were building seven cars a week but not showing any profits for it. They decided to try to increase the price a lot, justified by  increasing the spec, so the Series IV equipment comprised electric windows, central locking, cruise control, electrically operated front seats, Blaupunkt AM/FM stereo radio/cassettes and a removable hardtop. To celebrate its 20th birthday, Excalibur built a limited edition Series IV of which 50 examples were built. Painted white and grey, these cars have a chromed waistline trim strip which separates the two colours, a small plaque bearing the Stevens brother's signatures, and the Series number of the car. The interior is harmonized with the bodywork colours and these are the first Excalibur models to be trimmed with Connolly hide.  In order to respect the tradition of changing models every five years, Excalibur introduced its Series V in 1985, a yet more luxurious vehicle offering a choice of more powerful engines for the European market, the most potent one developing over 300 hp SAE. They only managed to sell 97 cars in that year and 68 in 1986, although four Excalibur Royales were also completed as well as the new fixed-head coupe- the first (and last) fixed roof Excalibur (Limited, not to be confused with the later Limited 100). With the bigger and heavier Excalibur performing below customers' expectations, plus the start of a severe recession and lofty new inflation-fuelled prices—now near $40,000—Excalibur sales nosedived. The Stevens family also faced burdensome new overhead costs from a heavy revamping of their suburban Milwaukee plant to improve quality. The result was a steadily worsening situation that forced the brothers to file for Chapter 11 bankruptcy in mid-1986. Help came in the form of Henry Warner, president of Acquisition Company of Wisconsin, who bought the Stevens family's interests and reorganized the firm as Excalibur Marketing Corporation. By early 1987, Series IV roadsters and phaetons were again trickling out of Milwaukee as Series V models. Their main difference was a more-potent 350 Chevy V-8 option that partly redressed the weak performance of the standard 305. At midyear, EMC revealed a whopping four-door Touring Sedan on a 144-inch-wheelbase chassis (essentially a 20-inch stretch of the phaeton's square-tube ladder frame). Measuring 224 inches long and weighing 4400 pounds, the Touring Sedan was optimistically priced at the same $65,650 figure applied to both open Series Vs, with which it shared frontal styling. Interiors were opulent. A front bench replaced the phaeton's buckets, and the long wheelbase made for a rear compartment worthy of a '30s Cadillac Sixteen. Also announced was an even-more-extravagant 204-inch-wheelbase "grand limousine." But none of this served to boost sales and thus did not attract needed capital to offset mounting debts in an economy again gone slack. Nor did a three-year, $9-million lease deal with a Chicago concern involving some 150 cars. As a result, Excalibur went bankrupt again, production ceasing in June 1990. But Excalibur wasn't quite dead. In November 1991, German Michael Timmer bought the firm for $1.33 million amid charges that the Warner regime engaged in odometer fraud, installed some used parts, failed to meet federal passive-restraint rules, and generally did its best to "kill" the company. Timmer seemed bent on saving it, putting $1 million toward plant improvements with an eye to resuming production by April 1992. There would be four models: Series V roadster, phaeton and sedan, plus, surprisingly, a revived Series III roadster. Prices were targeted for the $50,000-$75,000 range. Unfortunately, Timmer ran out of money before he could build any cars, so Excalibur was again bankrupt by early '92. But it was still alive, thanks to a new rescue by the German father-and-son team of Udo and Jens Geitlinger, who'd made a fortune in real estate. With help from production boss Scott Dennison and some 33 other employees still hanging on from prior regimes, Jens picked up where Timmer left off, issuing an updated Series III roadster called the "Limited Edition 100." Besides design changes for all the latest safety and emissions standards, including a driver-side air bag, the Geitlinger Series III carried the new 300-bhp Corvette LT1 V-8 teamed with a four-speed automatic or optional six-speed ZF manual. Price was set at $89,842. At the same time, the big limo was to get a new dash and GM suspension to sell for a staggering $124,774. The other Series V cars weren't forgotten, being muscled up to L98 Corvette power and starting prices of $74,986 for the roadster and $77,691 for the phaeton. The Geitlingers eyed total first-year production of 60-80 units, and Dennison predicted 120 Excaliburs per year starting in 1993, with some two-thirds earmarked for export. But the world market had also changed dramatically, and Excalibur could no longer do business as usual. Accordingly, the firm diversified in 1993, first by adding a replica Shelby-Cobra with some interesting deviations from the original, then by becoming a contract supplier of various "accessories" like luggage racks and "aero" cab extensions for trucks. Motorcycle trailers were also built. Car production ended in 1997, but accessory production continued until the early 2000s when Excalibur once again went into receivership. In 2003, Alice Preston of Camelot Classic Cars Inc., Milwaukee, Wisconsin,who had worked with Brooks Stevens since 1963, purchased the assets of Excalibur Automobile Corp. The company continues selling parts and performing restorations and repairs on the 3500 Excaliburs produced and there are hopes someday to resume auto production using its former body styles.
ENGLISH TRADITION
This section of the museum contains a series of cars from three of Britain's most prestigious brands: Rolls-Royce, Bentley and Jaguar
This 1985 Rolls Royce Silver Spirit has been adorned with a vast number of Swarowski crystals.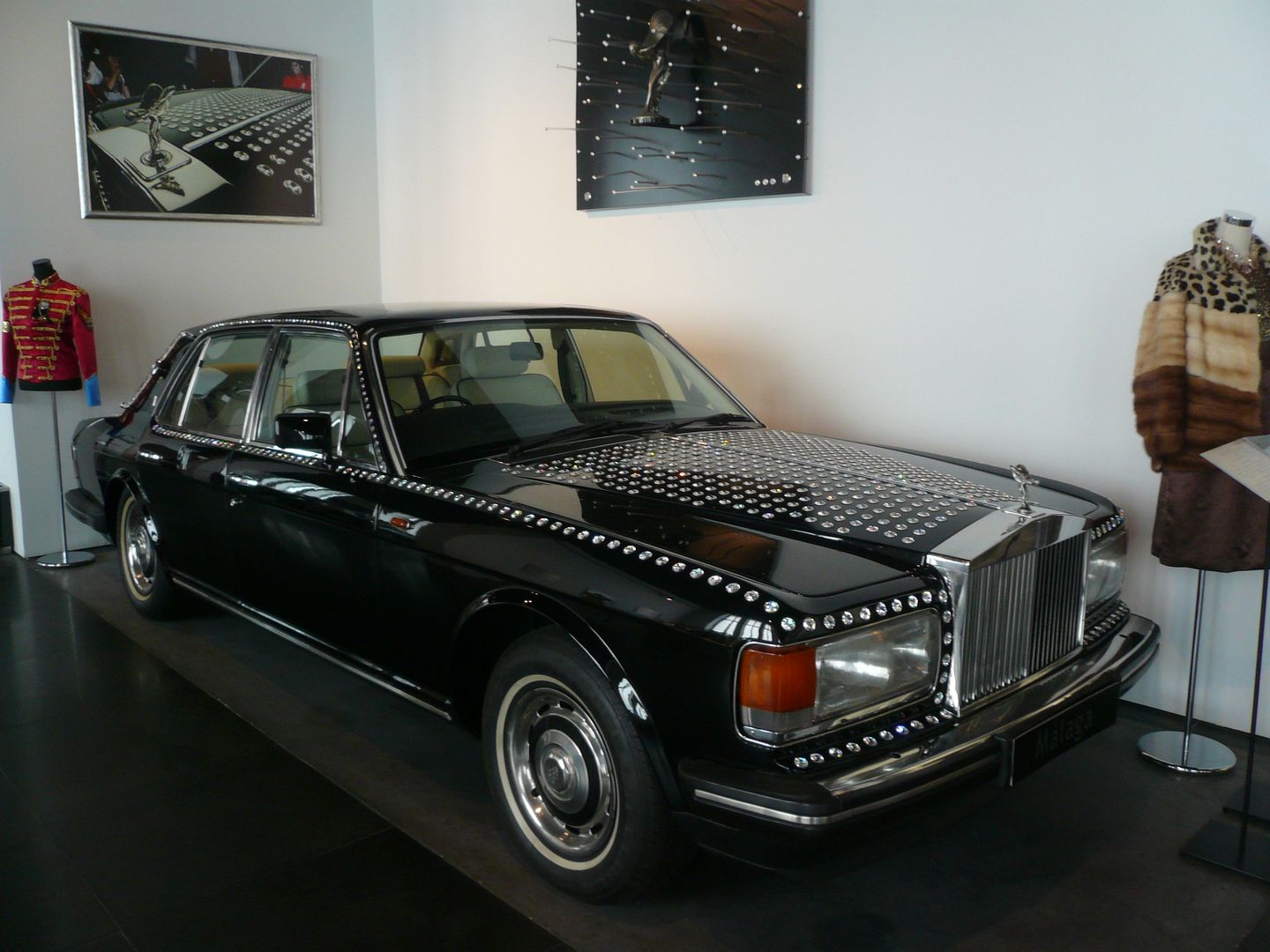 1923 Rolls Royce Silver Ghost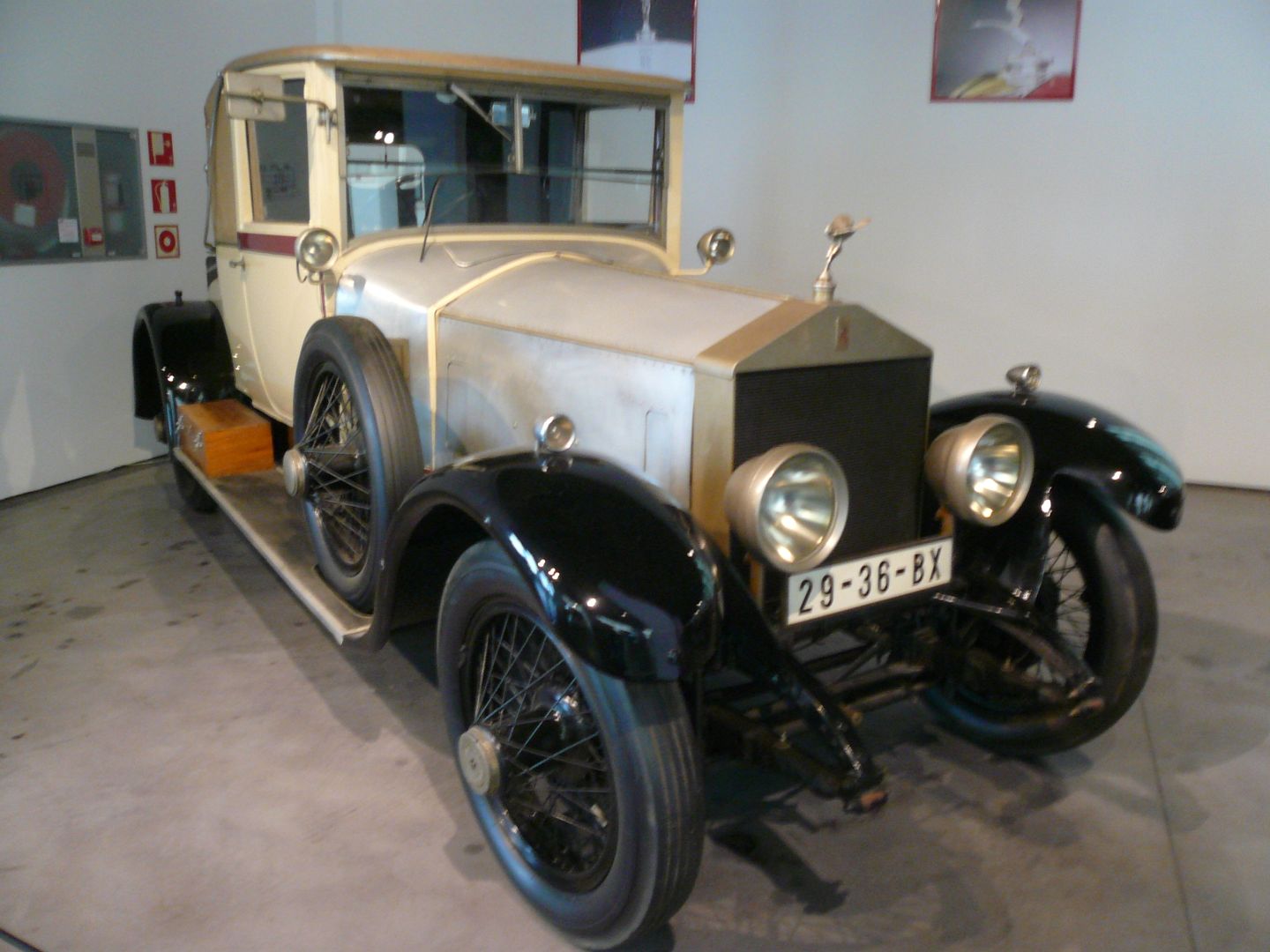 1924 Rolls Royce 40/50HP
This 1963 Rolls Royce Phantom VI bears the same sort of decor as the car which was famously owned by John Lennon.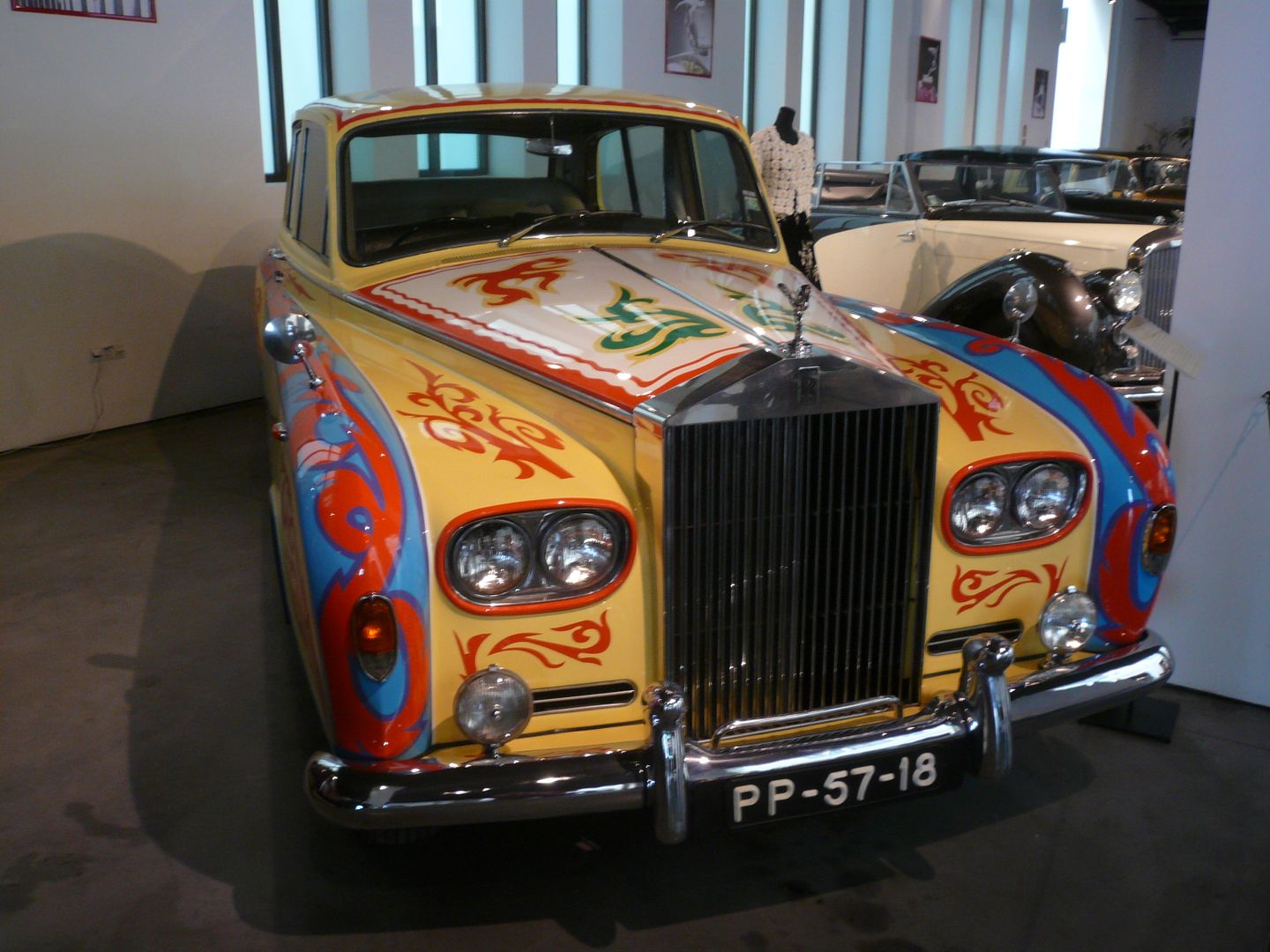 1948 Bentley Mark VI
1936 Bentley 4.5 litre with Freestone & Webb body known as the "Top Hat" thanks to the very rectangular styling of the rear roofline
It's not just the gold paint of this 1950 Bentley Mark VI which will cause you to stop in your tracks. Look inside and you will see leopard skin upholstery – not quite what you expect from a Bentley, and certainly not one from this era.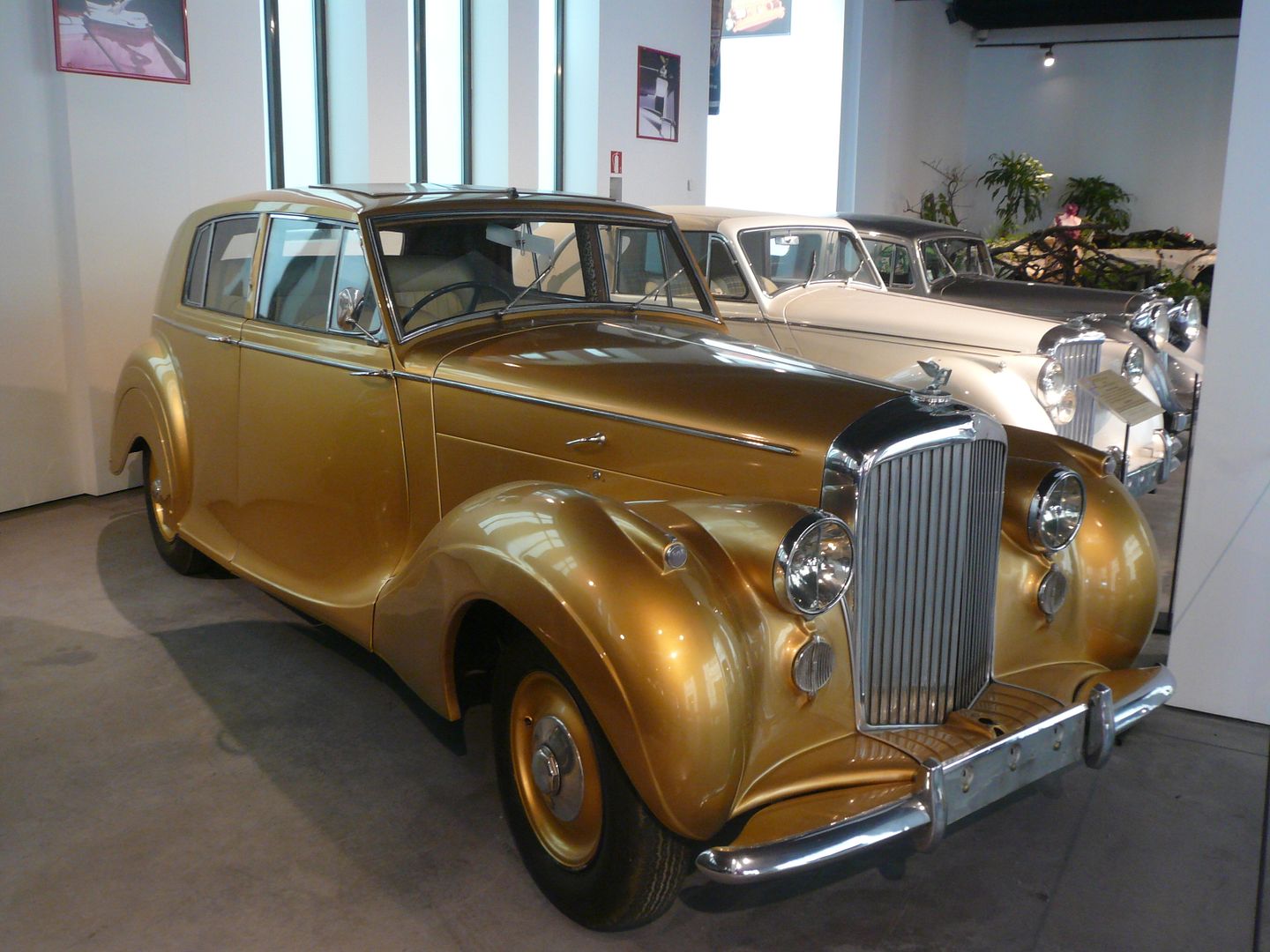 This is a Mark V 3.5 litre Drophead Coupe dating from 1949. The origin of the Mark V name is somewhat mysterious as there had been no Mk I to IV Jaguars and the MK IV designation was only given to its predecessor after the launch of the Mk V. It was perhaps a nod to Bentley who built 11 advanced Mark V saloons in 1939, resuming with the Mark VI in 1946-52 and who then dropped the "Mark" naming thereafter, while Jaguars continued with the Mark VII to X. The Mark V was launched at the 1948 London Motor Show at the same time as the XK120, with which it shared a stand. However, the Mark V vastly outsold the XK120 by roughly 5,000 cars per year as compared to 2,000 per year for the XK120. While the XK120 had a new overhead-camshaft XK engine, the Mark V retained the 1936 driveline including the "Jaguar" overhead-valve pushrod straight-6,  2½ litre and 3½ litre units for which the company was renamed after the war. No 1½ litre version was offered. Claimed power output in this application was 104 bhp for the 2664 cc Mark V and 126 bhp for its more popular 3486 cc sibling. The chassis was new with independent front suspension by double wishbones and torsion bar, an arrangement that would be used by Jaguar for many future vehicles. It also had hydraulic brakes, which Jaguar had been slow to adopt compared to other manufacturers, and an all pressed steel body. The styling of the car followed prewar SS-Jaguar lines with upright chrome grille and the leaping Jaguar radiator cap mascot became available as an option. There is a distinct hint of the recently modernised Bentley look in the style of the front grille. The wheels were 16-inch steel-disc type, significantly smaller than the 18-inch ones on the MK IV. From the side, a distinctive styling touch was a "tuck in" curve at the base of the rear window following the curved profile of the side glass. Rear-wheel spats (fender skirts) were standard. Production ran through to 1951, and although the majority of Mark Vs were Saloon models, around 1000 Drophead Coupés were made as well, and these are now highly sought after.
We know this model now as the Mark IV, though this is a label which was applied retrospectively, to distinguish the cars from their successor, the Mark V. When new, the cars were sold as the Jaguar 1½ litre, Jaguar 2½ litre and Jaguar 3½ litre. Sold between 1945 and 1949, the range was a return to production of the SS Jaguar 1½ litre, 2½ litre and 3½ litre models produced by SS Cars from 1935 to 1940. SS clearly had connotations which the Coventry firm wished to avoid, hence in March 1945, the company name was changed to Jaguar Cars Ltd, and the SS moniker disappeared. All the Mark IVs were built on a separate chassis frame with suspension by semi-elliptic leaf springs on rigid axles front and rear. Biggest seller, with 10,980 examples made if you add the pre- and post war totals together, was the smallest engined model of the range, called 1½ litre. It originally featured a 1608 cc side valve Standard engine which from 1938 was replaced by a 1776 cc overhead-valve unit still from Standard who also supplied the four-speed manual transmission. Pre-war the car was available as a saloon or drophead coupé but post war only the closed model was made. Up to 1938 body construction on all the models was by the traditional steel on wood method but in that year it changed to all steel. Performance was not a strong point but 70 mph was possible: the car featured the same cabin dimensions and well-appointed interior as its longer-engined brothers. Despite its lack of out-and-out performance, a report of the time, comparing the 4-cylinder 1½-litre with its 6-cylinder siblings, opined that the smallest-engined version of the car was "as is often the case … the sweetest running car" with a "big car cruising gait in the sixties". 6281 examples of the  2½ Litre were made. Again the engine was sourced from Standard but had the cylinder head reworked by SS to give 105 bhp. Unlike the 1½ Litre there were some drophead models made post-war. The chassis was originally of 119 in but grew by an inch in 1938 to 120 in. The extra length over the 1½ Litre was used for the six-cylinder engine as the passenger accommodation was the same size. The 3½ Litre, introduced in 1938, was essentially the same body and chassis as the 2½ Litre but its larger 125 bhp engine gave better performance but at the expense of economy. The rear axle ratio was 4.25:1 as opposed to the 4.5:1 on the 2½ Litre. 3621 of these were made. The car seen here dates from 1948.
ALTERNATIVE ENERGY
The cars in this section of the museum all show how the research for alternative sources of energy are not as new as we might think. Whilst some are recent, there are cars going back almost to the dawn of motoring.
Dating from 2010, the Alien, created for the museum in Germany, is powered by a motor fed by batteries which release hydrogen fed from an external source, leaving the only emission as water.
This 2011 car, inspired by Star Wars, uses compressed air to provide traction to the rear wheels.
This Solar powered car was made in Bochum in 2009, as a copy of the Solar World One car which was awarded the prize of "most beautiful solar-powered car" in Australia in 2007. The body is covered with solar panels, which charge batteries to propel it.
This 1932 Helicron 2 was  made by Leyat. Following the end of the First World War, there was a surfeit of airplane engines, and inventive minds applied much thought as to how to recycle these for other purposes. Although Leyat created a number of other designs with front propellors, only 2 examples of this particular exist, the other being in the Lane Museum in Tennessee.
The 1916 Milburn Electric. with a 4 speed transmission, an 80 km range and a  top speed of 62 mph was very popular when new, especially with lady drivers, with around 4000 of them being made. There was no steering wheel, you changed direction using handle-bar style levers. Production continued until 1923, and then the company was acquired by General Motors.
The American firm of Stanley made a whole range of steam-powered cars in the first 20 years of the twentieth century. This one, which generates 10HP, dates from 1910.
DOLCE VITA 50s
In the 1950s, powerful sports cars with beautiful streamlines became fashionable. They illustrate the post-war economic prosperity and the dramatic improvement in living standards. They became the 'toys' of successful actors and actresses, celebrities, playboys and wealthy youth. The film director Federico Fellini, after the premiere of his film, said: 'The Dolce Vita only means that, despite everything, life has a deep sweetness that you cannot deny'. The eleven cars in here were among the most covetable of the whole museum
Of all the cars on display, this 1950 Maserati A6G 1500. whose first owner Prince Vittorio Massimale Roccasecca, was the car that I most wanted to take away with me. The A6 1500  was Maserati's first production road car. Development was started in 1941 by the Maserati brothers, but it was halted as priority shifted to wartime production, and was completed after the war. The first chassis, bodied by Pininfarina, debuted at the Geneva Salon International de l'Auto in March 1947. This first prototype was a two-door, two-seat, three window berlinetta with triple square portholes on its fully integrated front wings, a tapered cabin and futuristic hidden headlamps. The car was put into low volume production, and most received Pininfarina coachwork. For production Pininfarina toned down the prototype's design, switching to conventional headlamps; soon after a second side window was added. Later cars received a different 2+2 fastback body style. A Pininfarina Convertibile was shown at the 1948 Salone dell'automobile di Torino, and two were made; one car was also given a distinctive coupé Panoramica body by Zagato in 1949, featuring an extended greenhouse. Sixty-one A6 1500s were built between 1947 and 1950, when it began to be gradually replaced by the A6G 2000. The A6 1500 was powered by a 1,488cc inline six, with a single overhead camshaft and a single Weber carburettor, producing 65 hp. Starting from 1949 some cars were fitted with triple carburettors. Top speed varied from 146 to 154 km/h (91 to 96 mph). The chassis was built out of tubular and sheet steel sections. Suspension was by double wishbones at the front and solid axle at the rear, with Houdaille hydraulic dampers and coil springs on all four corners. Sixty-one A6 1500s were built between 1947 and 1950, when it began to be gradually replaced by the A6G 2000.
1955 Porsche Speedster
1952 Jaguar XK120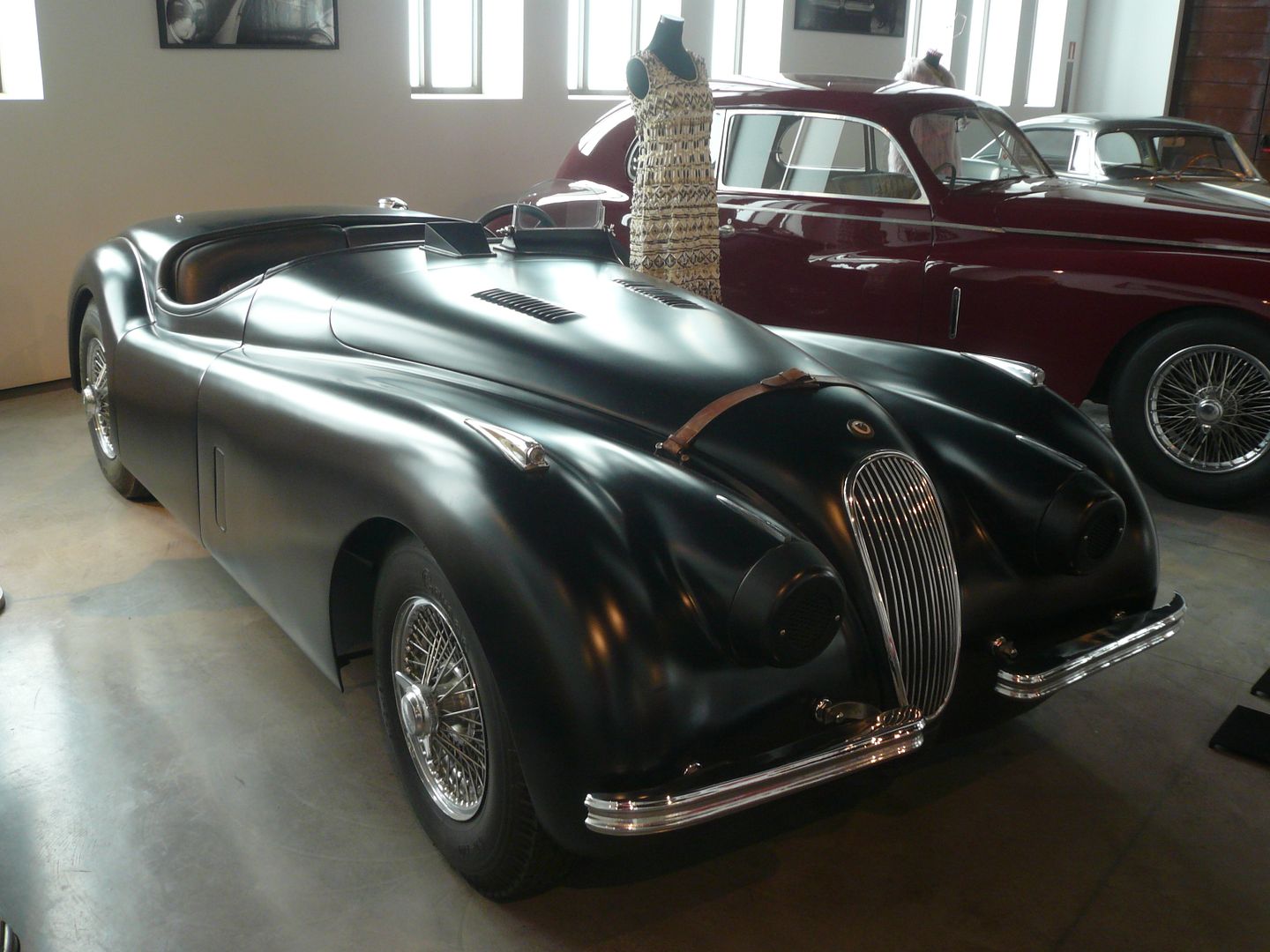 1946 Alfa Romeo 6C2500
This 1956 Ferrari 250 GT Speciale has a Pininfarina body, similar into style to the SuperAmerica, but with a shorter chassis. Just 4 were made and none are quite the same.
1956 Mercedes 300SL
1956 Delahaye 235M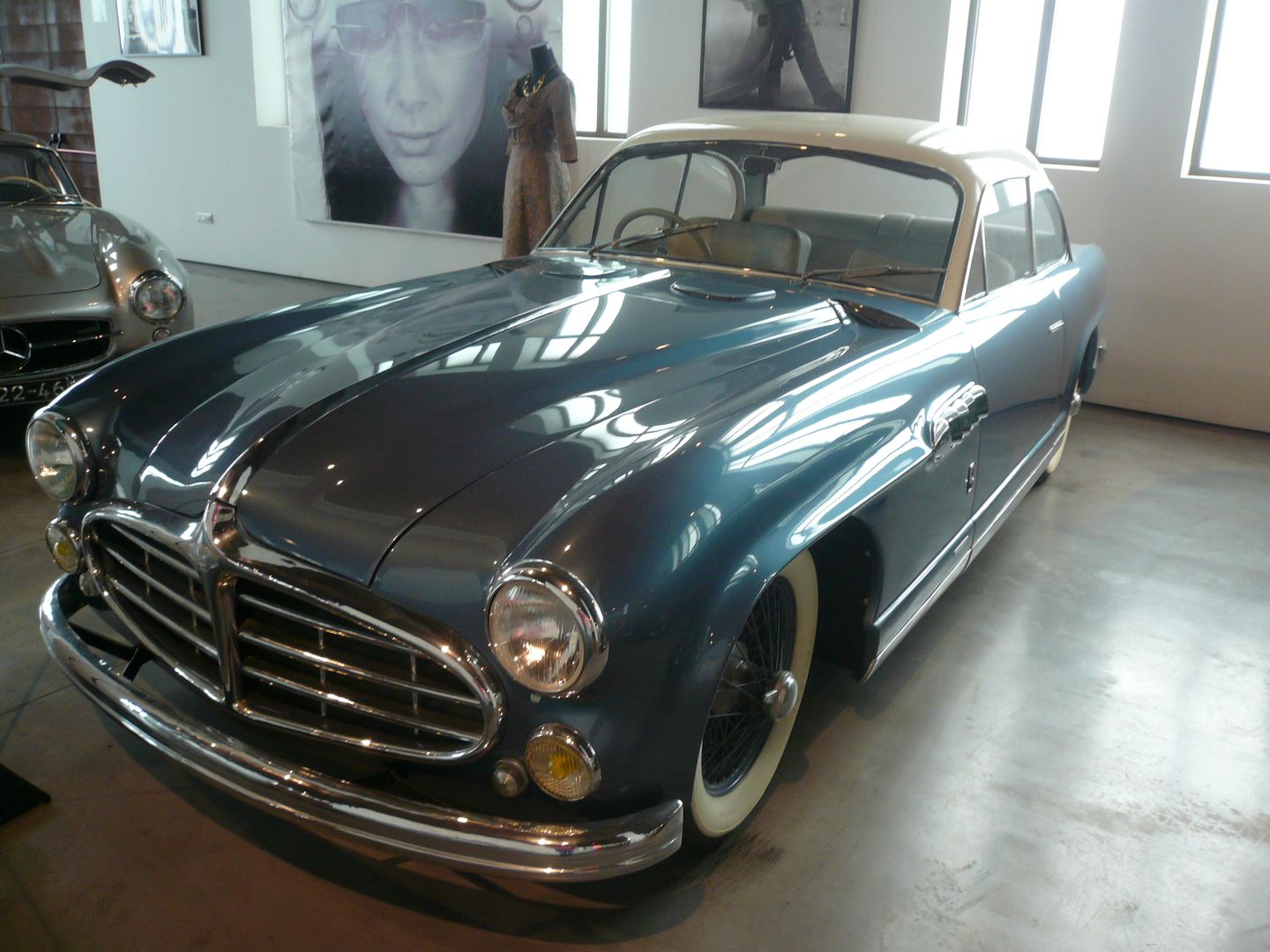 1952 Aston Martin DB2
1954 Jaguar XK140 Coupe
1962 Jaguar E Type
TUNING and CUSTOMISATION
Car tuning is a recent art form that originated in the USA. Today, this practice is common worldwide. It is very popular among young creative types to transform old and rusted cars into spectacular mechanical and artistic creations. Most of their creations are more innovative and, for sure, more attractive than the original itself. Body widening, spectacular tyres, fabulous paintings are some of the trademarks of car tuning. Flames and skulls are almost mandatory symbols used in car tuning and this art form has a huge following and is appreciated by numerous fans worldwide. Intricate and detailed these 'monsters' are highly original works of contemporary art. Including La Bomba which is displayed outside, there are six examples of the customiser's art here.
This 1929 Ford Model A is called the "Golden Skull". Inspired by the work of Mike Lavalle, the car is designed by Paolo Rosa. The grille mascot, designed by Susanna Martin, features large numbers of  tiny Swarowski crystals.
This one, known as "The Visionary", is also Ford based. In this case, the start point was a 1936 Ford V8 Coupe. This one was also created by the staff at the museum. Among the special details are the transparent side covers of the engine, allowing people to see the V8 engine in all its splendour at all times.
For this 1961 Cadillac, the decor is supposed to refer to the American way of life, with the wide open spaces of the Texas deserts.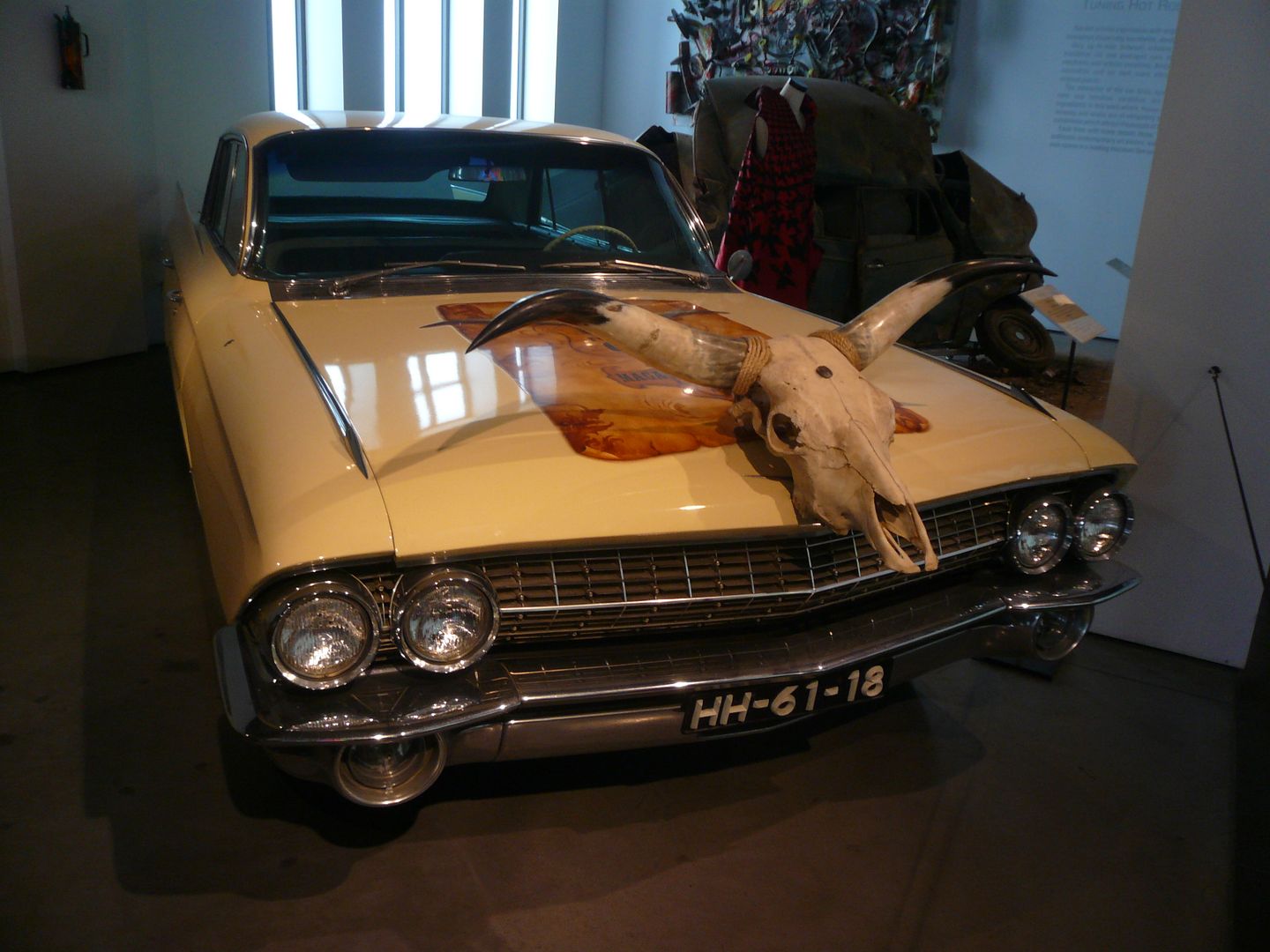 This 1938 Lincoln Zephyr-based car was a customised tribute, created by the museum, to tuning legend Boyd Coddington.
The museum is generally open from Tuesday to Sunday, and is easy to reach by car, with a free car park outside, or by bus from the city centre. More details are available on the museum's own website: www.museoautomovilmalaga.com