With so many static shows on offer throughout the year, it is easy to spend all your car event time simply driving to an event, admiring the cars that are there – whether it is indoors or outside – and coming home again. But doing that would be to miss out, quite significantly, as a lot of the fun from a car – almost any car – comes from driving it, especially when the journey or destination involves interesting roads and great scenery. And despite what we might think when sat in seemingly endless traffic jams on featureless motorways, Britain is indeed blessed with lots of roads that really can deliver on the true joys of motoring. And so, when Nick Grange, who runs the Bristol and South West area of the Alfa Romeo Owners Club suggested an excellent start to the 2017 motoring year would be a drive into the Brecon Beacons, followed by a late Sunday lunch at a pub with a roaring fire to thaw everyone out,  for as many Italian car owners as wanted to come along, I was keen to sign up. The day was January 2nd, and it dawned exceedingly cold but also very sunny. My only concern was whether some of the roads that we were likely to be using would be more than a little slippery, as minor roads are not always treated to the covering of grit that is all our local councils thinking is necessary to keep Britain moving in the winter. It took some minutes to defrost the car sufficiently so I could see out of the windows, and I set off to the rendez-vous point, which was just the other side of the (old) Severn Bridge, in Chepstow. It is about 15 miles from home, and when I pulled into the car park of the Two Rivers, the bonnet of my Ghbili was still white, covered with a thick layer of ice which had yet to melt. The idea was that this was a place not just for everyone to assemble, and get a first look at the cars, but also for those who wanted it to have a hearty breakfast. Having eaten at home, I decided not to do this last thing, but when I saw the plates loaded with tempting looking bacon, sausages and the rest of the traditional English, I rather regretted the decision. All told, there were about 20 cars signed up, with a few other drivers whom I knew and plenty of people whom I did not.
Those 20 cars comprised quite a mix. Although Alfa Romeo was the most numerous marque, there were several other Italian cars here, and a couple of Japanese interlopers, a Mazda MX5 and a Honda S2000, belonging to those whose Italian cars were not quite available for the day out. There was plenty of variety among the Alfa models, ranging from Daryl Staddon's fabulous 164 Q4, through a number of 939 series cars, namely the 159 in Saloon and SportWagon guises as well as the Brera and Spider, as well as a 916 Series GTV and Spider, a 147 GTA, a 156 V6 in that ravishing Nuvola Blue that appears to change colour with the light, and from the current range, the  MiTo, Giulietta hatch and 4C were all represented.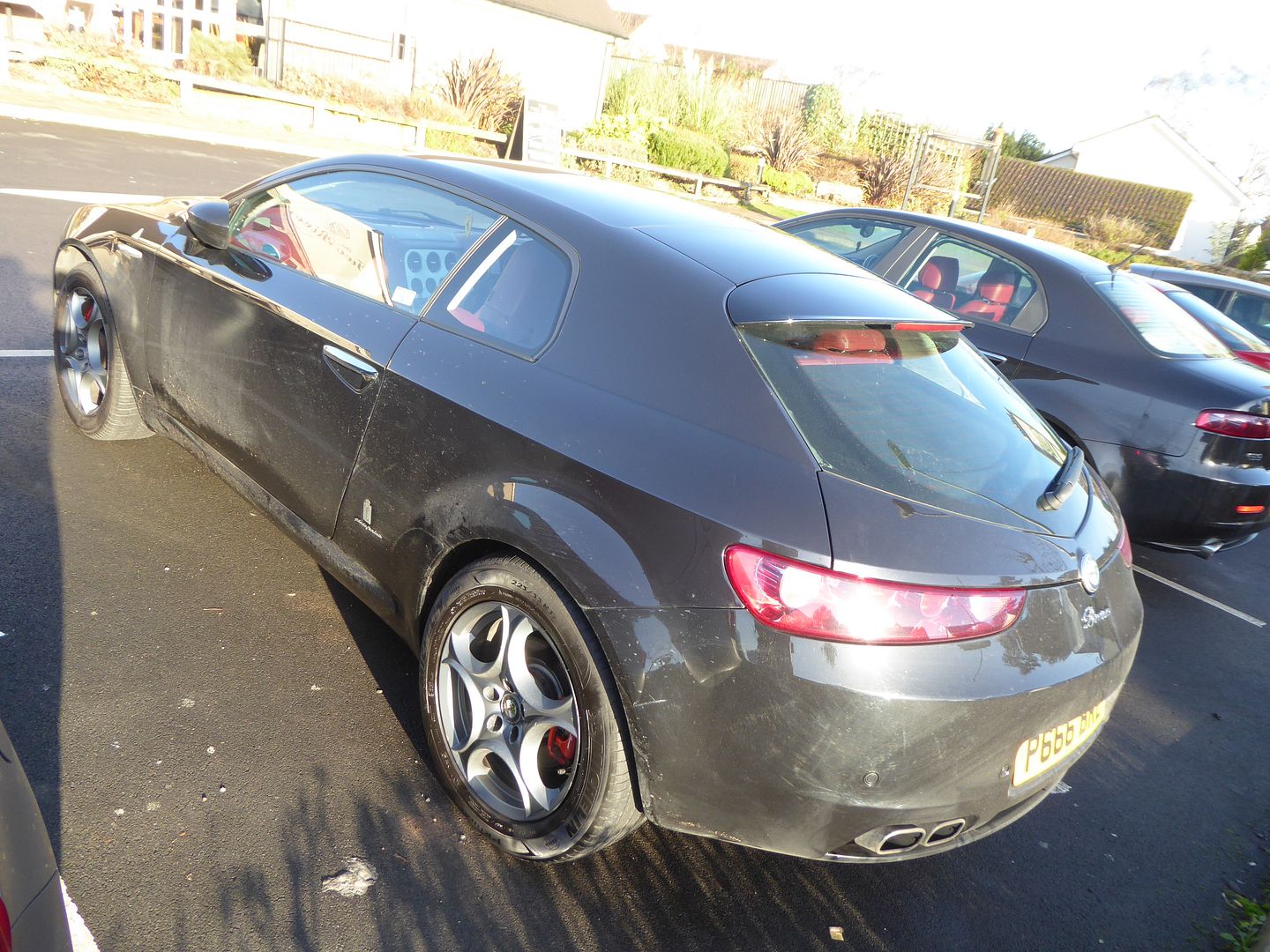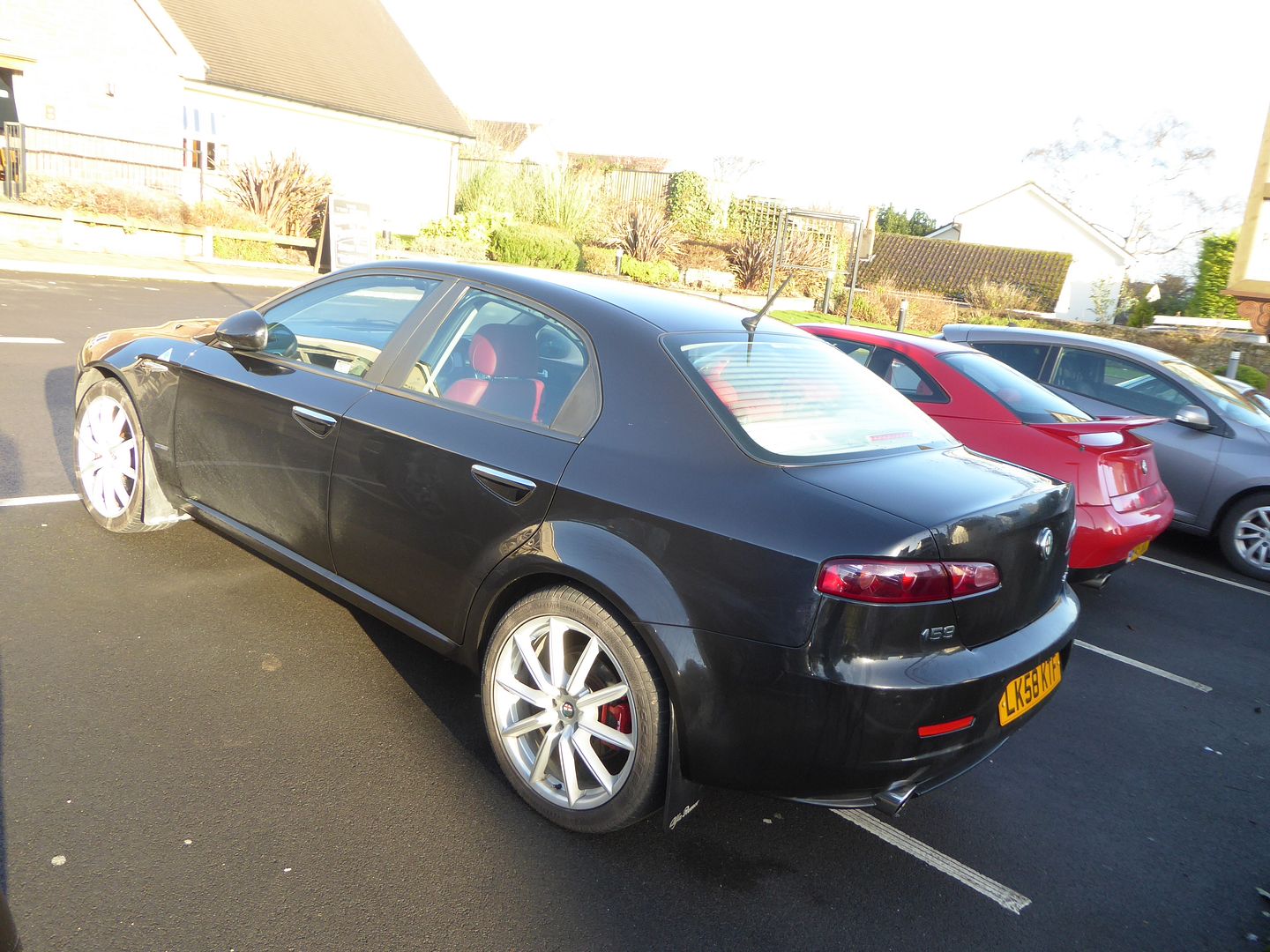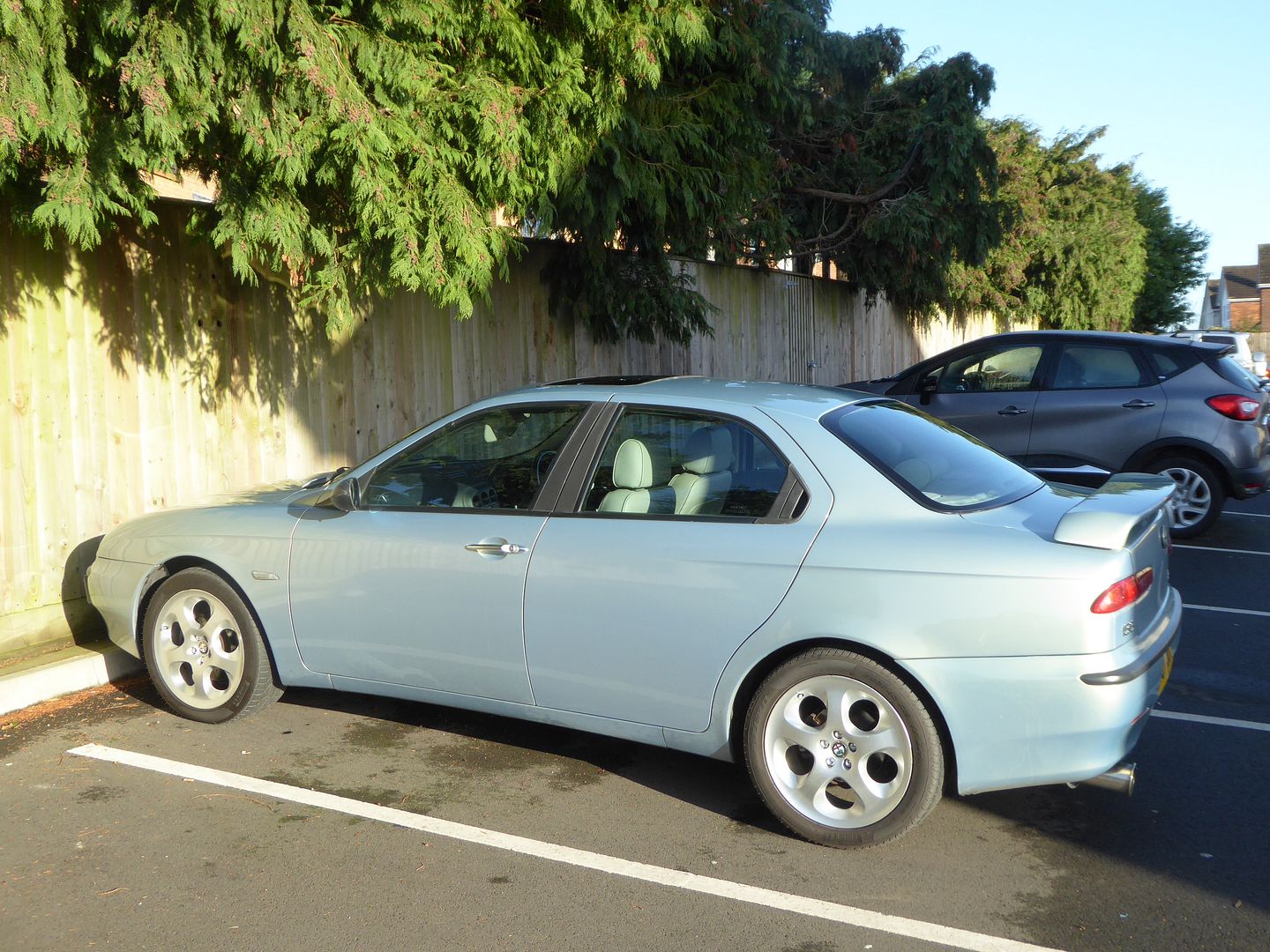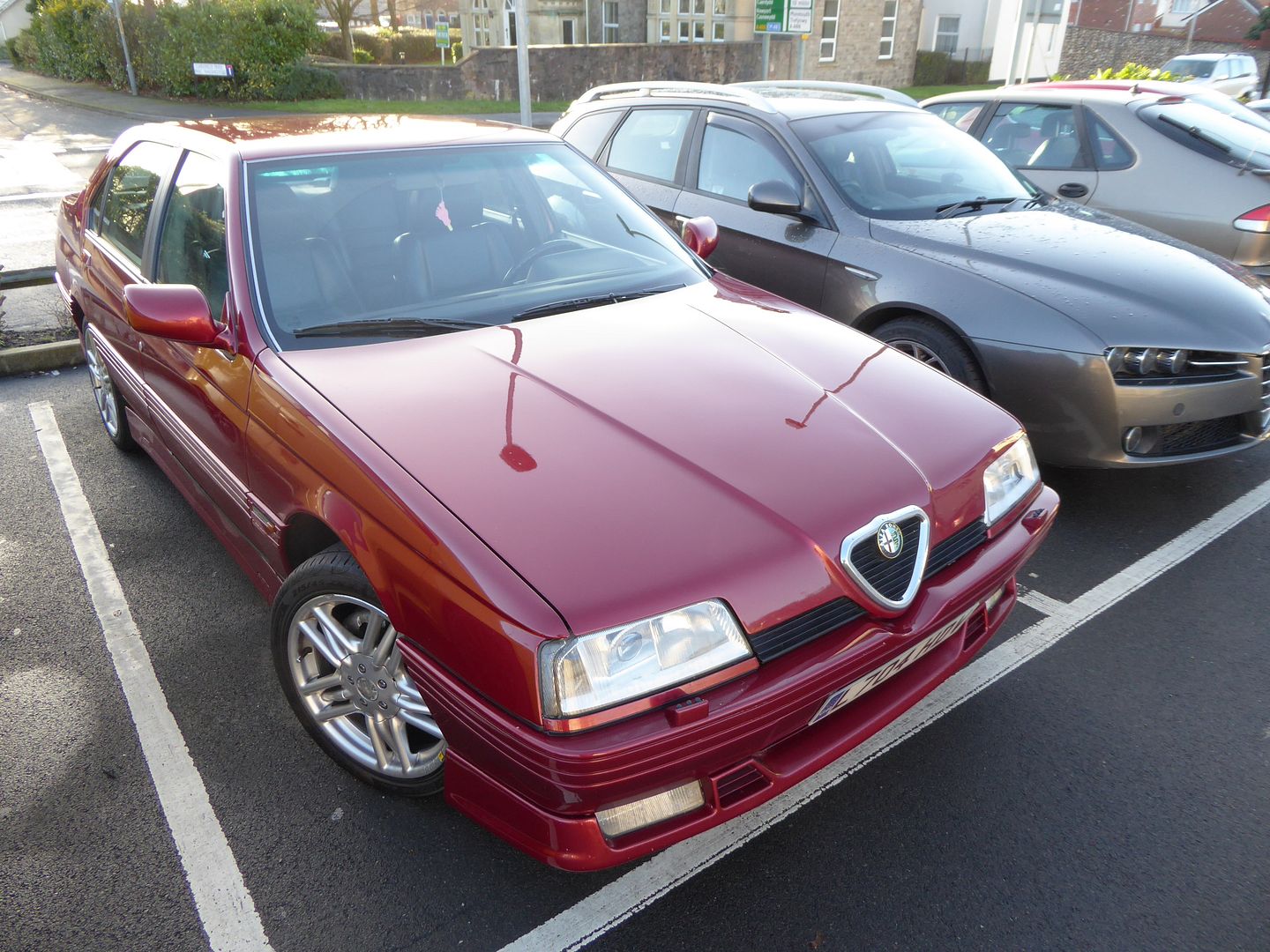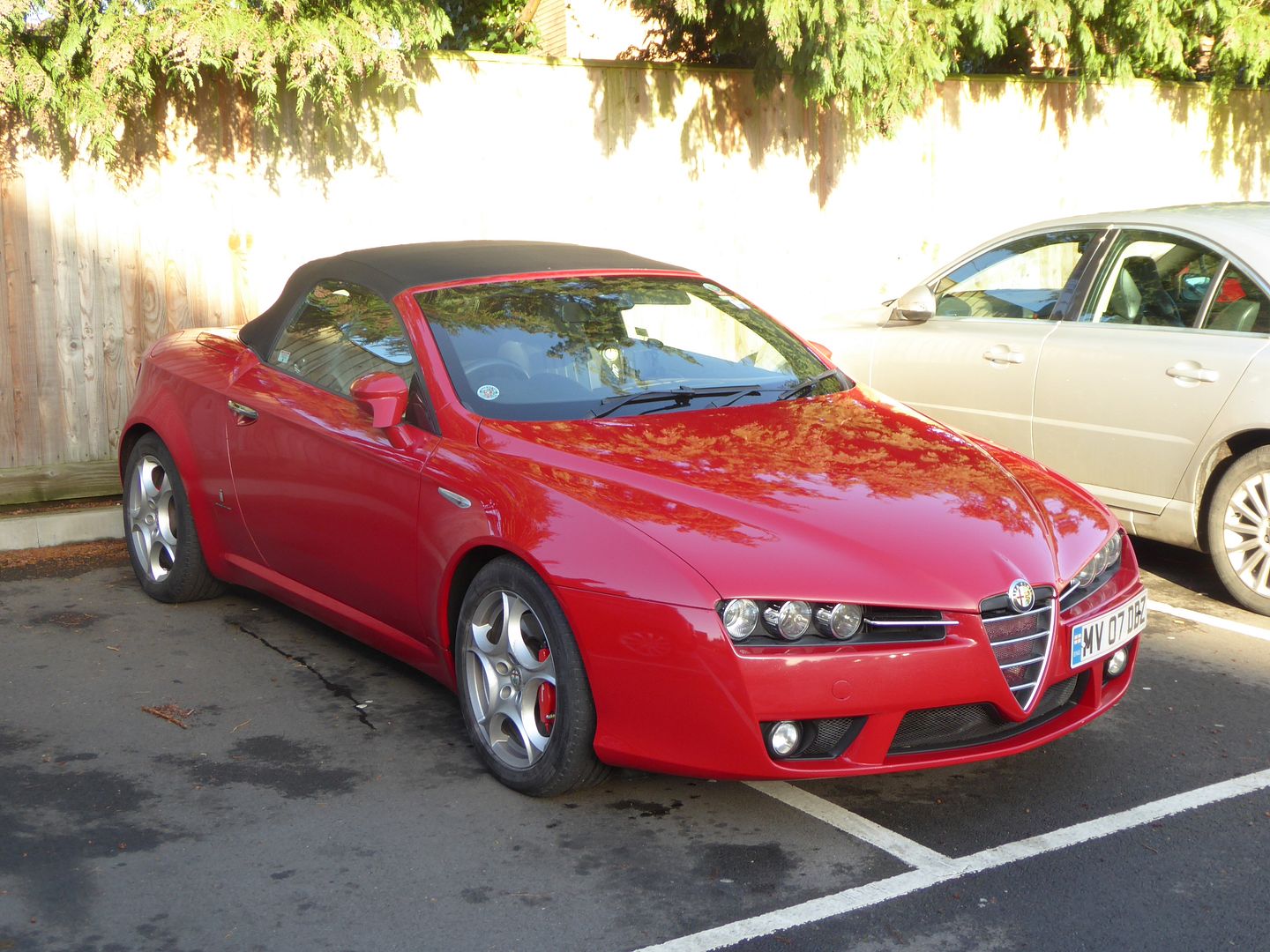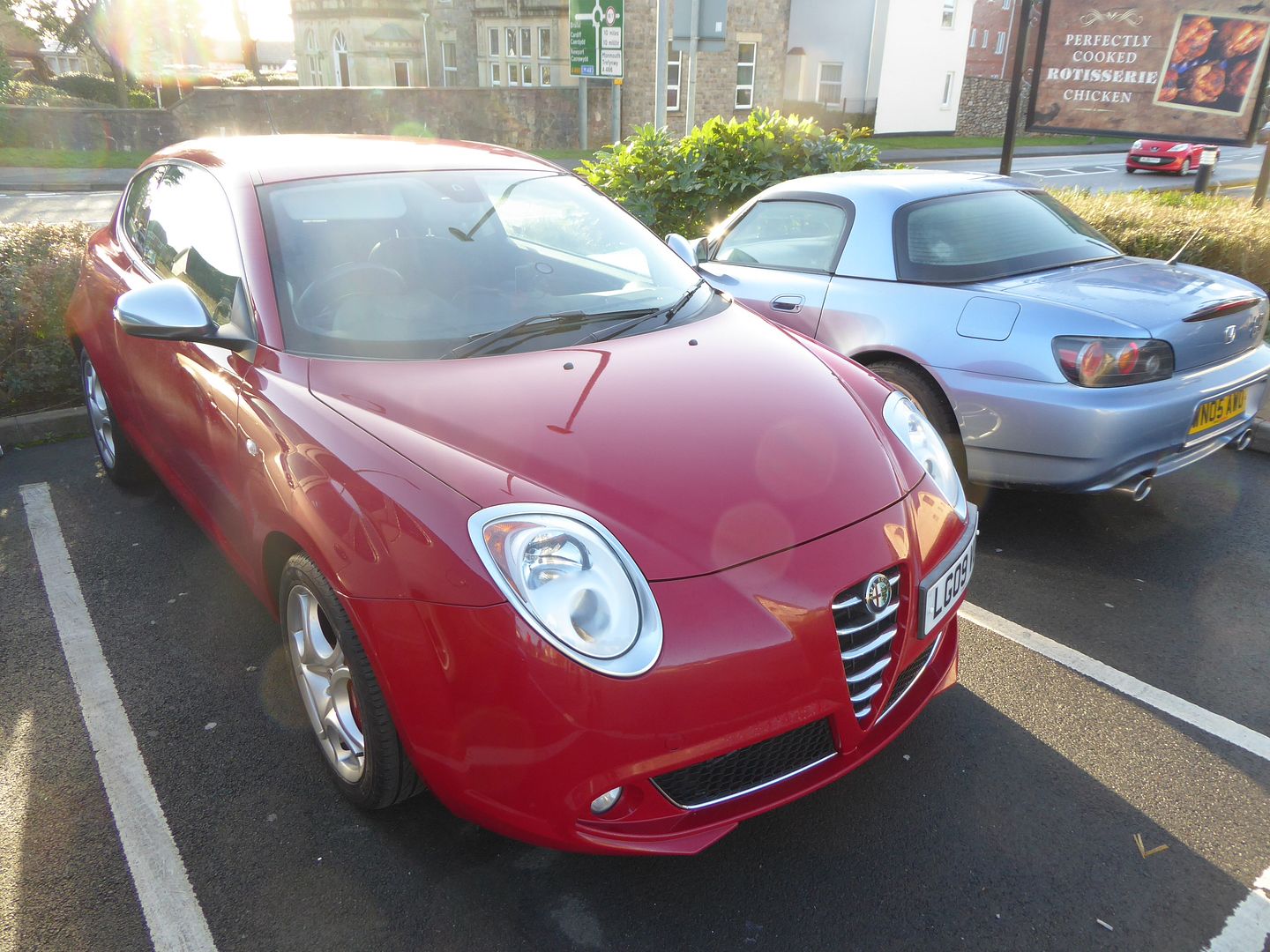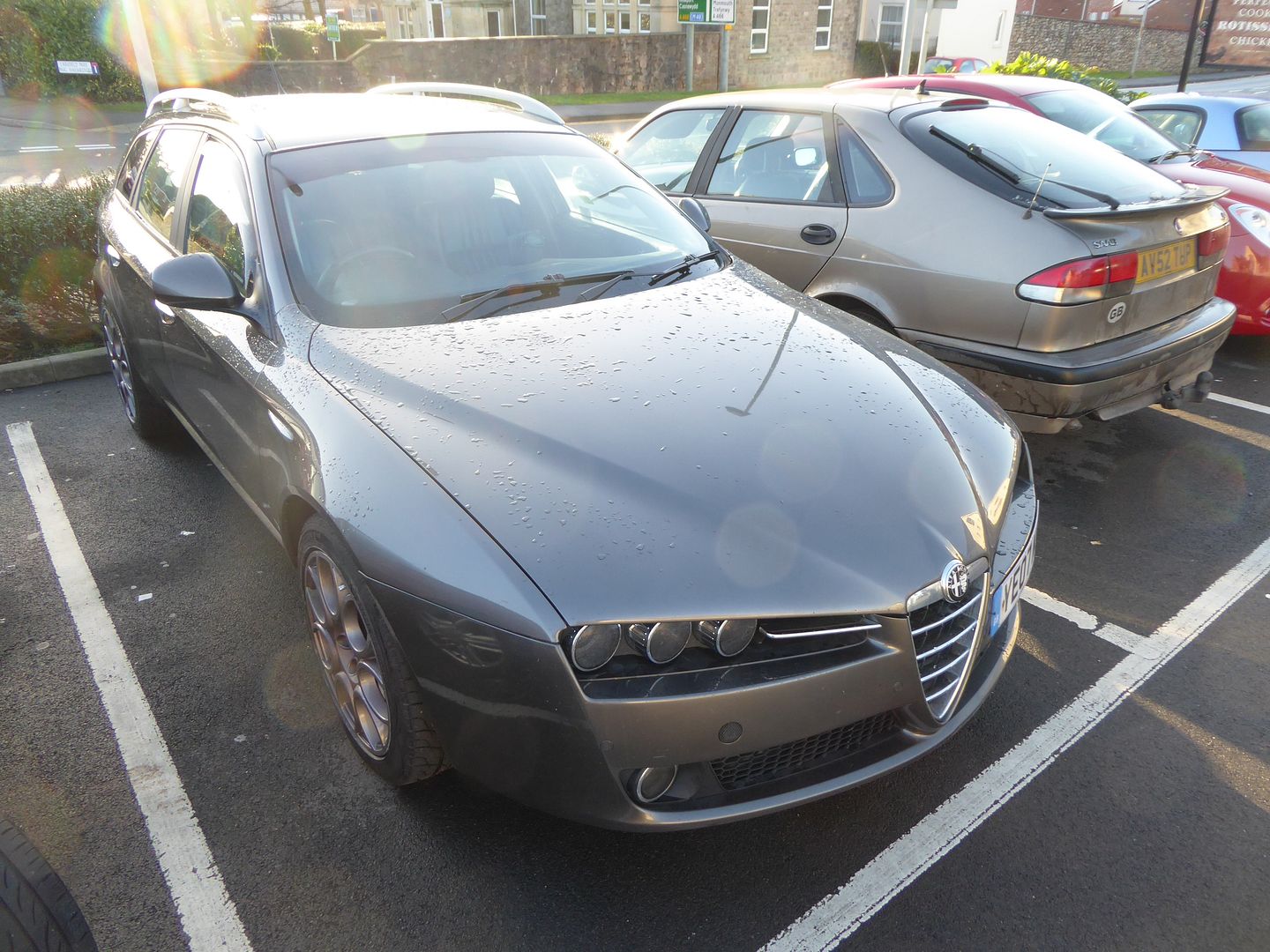 Loudest cars of the day, without question, were the Maserati models. That does not mean mine, though there were plenty of people who were seeing it for he first time, and who complimented me not only the choice of  car but also the colour outside and in, but rather the GranTurismo and earlier 4200GT.
There was one Lancia in the group, and it was not Mike and Tania's much loved Delta Integrale, but rather the much rarer Dedra Turbo belonging to Paul Talbot.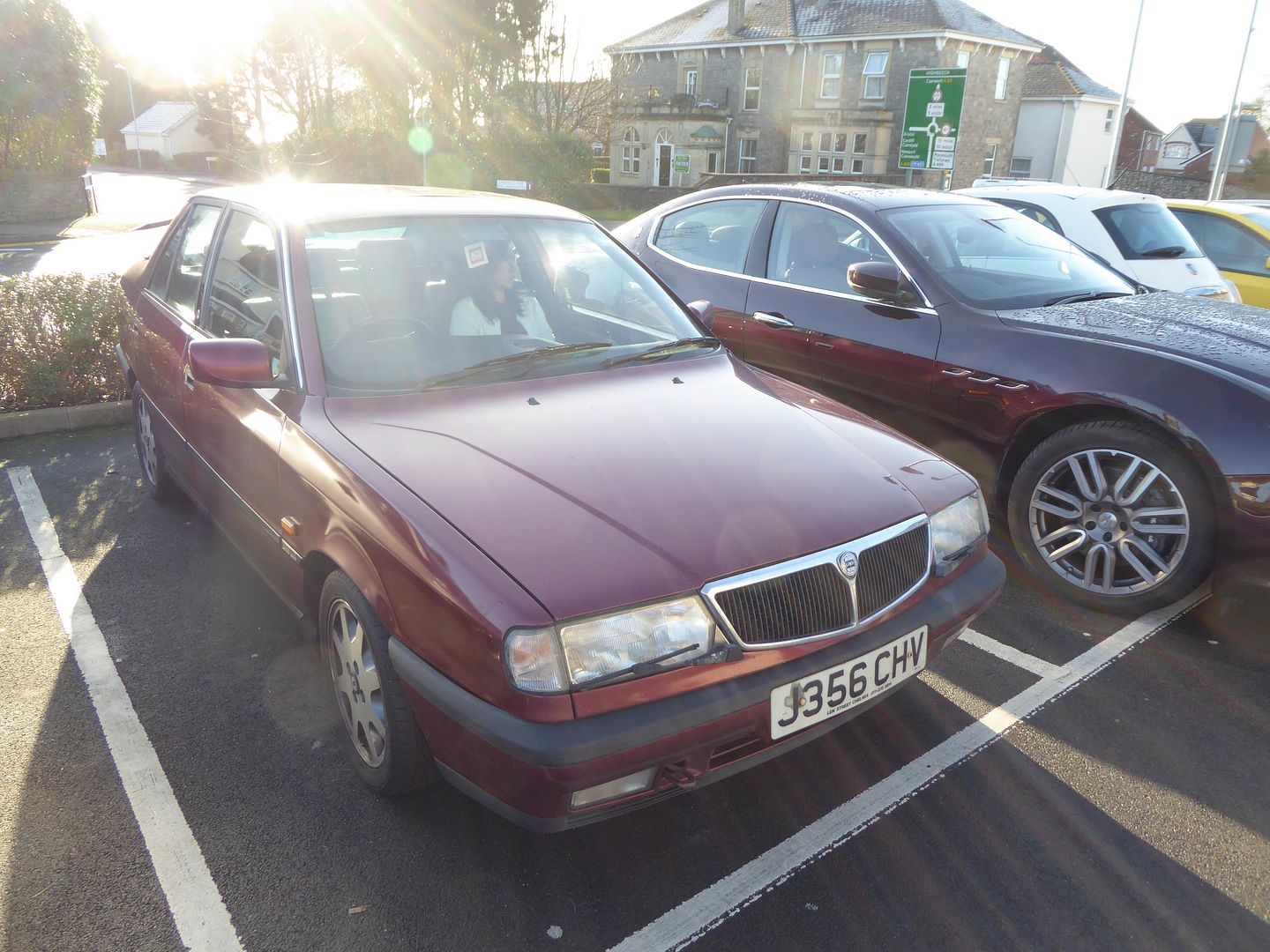 And Fiat was represented by this Stilo. These are getting rare now, though the 3 door model, as seen here, is the one you are most likely come across.
With the morning ticking by, it was decided we should set off. The route looked simple on paper, but as keeping 20 cars in some form of convoy was likely to proved difficult, then the key piece of information was the location of the lunch in Crickhowell. It is just as well that we did not plan to have one large convoy, as the first step of the route was to turn right out of the pub car park, and with traffic having built up, this proved quite difficult, with cars having to wait as much as a minute or two for a gap in the traffic which rarely allowed more than one exit at a time. I was towards the back of the line waiting to get out, so assumed that many would be several minutes ahead of me even before I had left the car park. But as was to be proved and reproved many times during the morning, that it is not anything to worry about. Less than a mile down the road, by now on the A48 heading north from Chepstow, I was surprised to see a convoy of familiar looking Italian cars in a side road waiting to turn left, clearly having taken a turning too early off this road and ended up down a residential road rather than the B4235 towards Usk that was on our directions sheet. Not that I should feel too smug, as when It came to that turning, I got it wrong, too and missed it – my excuse being that there are two roads within yards of each other and the signage was not that clear. That meant a U turn and so when I took the correct road to Usk, I was now behind a convoy of cars, so I could concentrate on the road and the view rather than where to go at each junction. This road follows the Usk valley and is very picturesque. It is also quite sheltered, so there were some bits that still glistened with the ice, the sun not having to high enough in the sky to warm them through. From Usk, the route headed towards Abergavenny, again on backroads, and then just before reaching this town, joined the A40 and then the Heads of the Valleys road. The scenery had changed from the undulating hills around Chepstow and Usk to something much more mountainous, the edge of the Brecon Beacons, and I could begin to guess at exactly which one was our target, the Llangynidr Mountain Road.
But we still had to get there. Just before reaching Crickhowell, the instructions told us to turn left and head up the narrow road which would take us up the mountain. As I was still in the convoy, with cars in front and behind me, I simply took the turning that everyone else did. The village soon ended and the road got a lot narrower as he headed towards the mountain. Luckily, we did not meet any oncoming traffic, as it was by now very much a single track road, and I started to regret having brought a big and wide car. After a couple of miles, clearly heading in the right sort of direction, we had to pause and the cars in front of me got away, not to be seen again for some time. So now I was the leader of the convoy. But as there was only one road, this was no great issue, it was a case of keeping going. We met one more car, a BMW X5, and I managed to get the driver to understand that there were a lot of cars behind me and he really needed to wait beyond letting me through. About halfway up the mountain, we came across a hamlet, with a few houses and then then road started to head downhill again. A few minutes later and we were back on the road we had started off on, and we met an Alfa Giulietta coming towards us. That was Martin Dyer, clearly trailing us somewhat, so we all stopped, had a good look at the map and scratched our heads as to where to go now. We'd just done a loop on a very narrow road which I was not that keen to repeat, so we needed a new plan. At this point, a lady on a horse appeared, so we asked her, and she suggested that there was in fact a turning closer to the village, by the church that we had all clearly missed which might have been the road we were looking for. We headed back to the village and missed it again, finding ourselves back on the main road. Just before it reaches Crickhowell, it bends around sharply to the right, as it crosses the river, and this is where the lunch destination, the Bridge Inn, was to be found. It was tempting to stop there and get an early lunch, but we don't like to be defeated, so having spotted a sign to Llangynidr, decided to follow that instead. This road gradually got narrower, as it followed the river valley. I spotted a left turn a little too late, so had to come to a stop just beyond it, and turn around again, deciding this could be the one we were looking for. By this time, I had lost most of the convoy behind me, but I then spotted some other familiar looking cars just approaching. These were cars I had last seen in Chepstow as they left some minutes before me. Following  a brief chat, we decided to give it a go. Sure enough, this road was headed for the mountains, as you can guess once you go over a cattle grid. A couple of miles climbing still further and I came to a bend in the road, just by a turn on the left, and parked up were a lot of Italian cars. We'd made it. That turn on the left was the one we could have emerged from, though actually, the road we'd just drive up, with swooping bends and plenty of width was probably ore fun. Chatting with everyone who'd made it (and a few had gone direct to the pub!), it was clear we'd all struggled to get here without some unplanned stoppage and need for a U turn or two.
Although we were now running late for lunch, it would have been an opportunity missed not to test out a bit more of the road. The most interesting bit, with lots of fast bends and open view was before us, and everyone headed off to play, going back and forth, with the most serious hazard on a day where there was little other traffic being the fact that there are wild ponies and some sheep up here. The scenery looked a tad familiar and certainly you will find that this a road that motoring journalists know about, as it features in quite a few articles where they bring their test cars to Wales, as well as being on the door step of one Chris Harris who lives in the Chepstow area and Andrew Frankel who also lives nearby. As well as being a fun road, the views on a clear and sunny day like this one were just awesome. Rarely will you see Wales looking any more magnificent than this, and it seemed a shame to cut short the enjoyment, but it was well past lunchtime, and everyone was hungry. Well, perhaps not those who'd have that sizeable breakfast, though they did a good job of hiding that fact!
It was only a few minutes back down the mountain to get to the lunch destination, The Bridge Inn. When I pulled in, the rather small car park was full, mostly with Italian cars, but fortunately, there is an overflow area, in the adjoining field, and the fact that it was frosty meant that the ground was solid enough to be able to take the remaining cars in there. There was indeed a roaring fire in the pub, and plenty of choice of tempting warming food which we were glad to avail ourselves of, before regrouping in the car park, to say our farewells. Taking A roads, there are faster routes back to the M4 and home, making me realise that this fantastic destination is only just over an hour from home.
And that got me thinking. Abarth Owners Club members like taking their cars out on challenging roads, too. And whilst things like the London to Brighton drive have proved very popular, perhaps we should offer somewhere different as part of the 2017 events plan. With the Italian Passion For Speed event in the diary for mid June, I decided that perhaps we should schedule a day on roads like the ones I had just been one, the day before, so people could have a complete weekend in South Wales. I duly announced this as a plan and got lots of interest, which meant that the event was a go-er, so needed to do a recce in advance. This I did, a couple of weekends before, deciding that the route that we should have taken with the AROC day would suffice for the morning, and give us a lunch stop. I then dusted off my memories of other interesting roads in the area, selecting the road across Hay Bluff that goes from Hay on Wye over to Llanvihangel Crucorney for the afternoon. There's a pub at the end of that road, too, and doing it this way, people could do a morning, an afternoon, or both.
The chosen day dawned almost cloudless, and it stayed that way all day. I could not have asked for better weather, though I did worry if that would make the roads exceedingly busy. All that was needed now were some drivers. Enrolments for the Cardiff event were surprisingly few in number and several people also said that they could not do both days, so my assumption that this would boost the numbers proved to be wrong. What I should have done, when it became clear that there were only going to be a few of us, was reciprocated the offer that AROC had made, and offered our event to them. Ah, hindsight! And so, when I arrived at the Two Rivers pub for the morning rendez-vous, there were just two other Abarths there: Pete and Teresa Burgess' Modena Yellow 595 and Gavin Jenkinson's much loved Punto Evo. We were just about to set off when a familiar black Alfa Spider pulled into the car park. It was Tania Wightman, who lives nearby and had decided at thre last minute to see if she could join us, as it was perfect Spider weather. That gave us 4 cars – much easier to keep in a convoy.
Knowing the route now, it was easy to lead the convoy and avoid the need to any unplanned u-turns. So we made it all the way up the mountain road before making a first stop to admire the views. And splendid they were, with visibility for miles and miles. Apart from the remaining bit of a cycle race that had been taking place over the mountain, there were surprisingly few people around, and we had the parking places more or less to ourselves, with just sheep and their lambs and some mountain ponies for company.
We made a number of stops on the mountain, again allowing everyone to go and blat along the road and back again, before deciding that it was time to head to our lunch stop. This had been originally timed for 12:30, but we were about an hour later than that, and it was just possible that others would have decided to join us from this point. With negligible mobile phone on the mountain top, it was not possible to put out a message to advise of our lateness, but as it turned out, there was no-one waiting for us there anyway. Lunch was at least as good as I had remembered from earlier in the year. By the time we were done, though, it was late, and Gavin was worried that he would run out of time, as he had arranged to pick his wife up from work at 6pm. We took the decision to alter the planned afternoon route. so instead of heading up to Brecon and Hay on Wye, would instead go back to Abergavenny, and up the A40, and the just do a part of the route over Hay Bluff.
This is a single track road, with high hedges at the side of the road on the lower parts of it, at either end, before it opens out on the moors. There was more traffic here, and we had a couple of moments when a convoy met a convoy, meaning a certain amount of reversing to and fro, to get everyone passed. But patience and persistence proved worth it, when we finally emerged onto the open road and were able to pull in and admire the stunning views. I used to come up here most summers as a child, so I know just how lovely it can be, but I don't think I've ever seen it as bathed in such sunshine as this. It was hard to tear ourselves away, but Gavin knew he had to do so, which meant he left before the rest of us decided to head on a little further, to take in more of the scenery.
This proved to be an excellent day out. The Abarth is definitely a better companion for roads like this than the Maserati as it is so much narrower. My only regret to this brilliant day out is that so few Abarth Owners got to enjoy it. I may just try to lure them there in 2018!