It's become almost a tradition that whenever I visit Paris, I take a stroll down the Champs-Élysées, and spend some time taking in the various car showrooms that are to be found on the sides of this rather prestigious avenue. My visits have usually been on a Sunday morning following a visit to some other show, in alternate Octobers for the Mondial de l'Automobile Auto Show, and every February having spent a day at Rétromobile. Plenty of other people meander in and out of the showrooms as well, which are largely there more for brand awareness and promotion rather than actually to sell cars. And that, as I was to find out on this trip, could well be quite significant. Having enjoyed a very sunny early February Saturday, when I was inside the exhibition halls at the Porte de Versailles, for Rétromobile, the Sunday dawned grey and cold, and much more like a typical February day. I set off on the RER train from my Charles de Gaulle hotel, knowing that the showrooms open at different times, so the best option would be to go to the station by the Arc de Triomphe, and to walk east down the Avenue, taking in each showroom as I came to it. That meant, starting with Peugeot, and then taking in Mercedes, Citroen, crossing the road and getting to Renault and Toyota before arriving at the bottom of the area lined wit buildings to see the Motor Village for the Fiat Chrysler Automotive Group which does not open until 11am. That was the plan, but not quite what happened.
PEUGEOT
This is the smallest showroom, with space only for three or four cars, as well as an area towards the back of the area where people can take a selfie with a Peugeot background, and a brand shop which sells everything from some beautifully produced models of Peugeots from the brand's history as well as all manner of other merchandise including Peugeot pepper mills (significant as the company started out making these long before they made cars).
I immediately gravitated to the car on a plinth to the right of the door. This is a 205 Turbo 16 Grand Raid. This is an evolution of the car which was originally developed as a Group B rally car, produced after that series was ended in 1986 following the death of Henri Toivonen. Peugeot looked for other ways that they could use their car, and concluded that the Paris Dakar was one option. To be able to compete successfully, the 205 Turbo 16 needed some modifications. The chassis was extended by 12 inches, which created the space for the addition of an extra 350 litre fuel tank, as well as endowing the car with greater stability. No longer constrained by Group B limitations, the engine was enlarged a little to 1905cc. Engine power was limited to 360 bhp, with the car tuned such that it could cope with the anticipated poorer quality African fuels, as well as trying to improve overall fuel economy. The suspension was beefed up somewhat, and two additional spare tyres were added. This all  increased the weight, making it up to 1360 kg (3000 lb) with a full tank of fuel, and up to 1600kg with driver and co-driver onboard. Over 4000km of testing was undertaken in the autumn of 1986, both in France and in Niger. The rally started on 1st January from Versailles, with Ari Vatanen the driver, seconded by Shekhtar Mehta and Andrea Zanussi. Vatanen had a bad start, tearing a wheel off whilst still in France, and dropping to 274th place, but the team did not give up,. Whilst Zanussi had to retire, Mehta finished 5th and with more than 10 stage wins to their credit, Peugeot won the event. It would be the start of Peugeot's dominance of the event. The decision was taken to build a new car for 1988, based on the 405, but the 205 was not retired completely, and was entered again in 1088, with a new livery. The 405s were not lucky that year, with Vatanen's car being stolen, but the 205s saved the day and ensure that Peugeot still won overall once more, thanks to Juha Kankunnen. For 1989 and 1990, Peugeot continued with both cars, but with far more focus on the newer and larger car. In 1989, Guy Frequelin scored fourth overall, and Philppe Wambergue was eighth, and in 1990, Alain Ambrosino was third and Wambergue was twelfth. The cars were officially retired for 1991, when Peugeot decided to concentrate on the World Sports Car Championship with their new 905.
Fresh from victory in the 2018 Dakar Rally was this 3008 DKR Maxi, a development of the car which won the event 12 months earlier. Although based on that successful car, every aspect was carefully rethought, and rigorously tested. The 3008 DKR Maxi is – as the name suggests – bigger: with a wider track designed to help it better conquer the gravel roads, dunes and mountains of the most famous endurance rallies in the world. The 2018 car is 20 centimetres wider than its illustrious predecessor, due to the suspension track on each side being increased by 10 centimetres. To achieve this, the upper and lower wishbones are new, as well as front and rear track rod ends and driveshafts. As a result, the stability and dynamics of the car are improved, leading to increased performance. This latest evolution designed by Peugeot Sport's engineers made its debut on the 2017 Silk Way Rally in the hands of nine-time world rally champion Sébastien Loeb. Carlos Sainz has also helped to develop Peugeot's newest offroad challenger, with the Spaniard's experience proving to be crucial. There's a 3 litre 24 valve V6 engine, generating 340 bhp mounted in the back of the car, coupled to a six speed manual sequential gearbox, and two wheel drive., mounted in a tubular chassis. The body is carbon-fibre. The 3008 DKR was the victor of the event once again.
The one Peugeot that you can buy that was on show here was a 3008. This car has proved to be something of a hit for the marque. It won the 2017 Car of the Year award, although a look at the list of previous winners shows that this is far from a guarantee of a "good" car or even of market success. But this is definitely a car that ticks the boxes for what many buyers are looking for, with its cutting edge style, and long equipment list. I've not driven one yet, and am not sure that I would enjoy the experience, as the 3008 follows recent Peugeot practice in having a very small diameter steering wheel that is mounted very low, so you peer over it to see the instruments, a set-up which generally does not work for me, as the dials end up only partially visible. I'm not a particular fan of the look outside, or in, either, but clearly plenty of people disagree with me, as this is one of the best-selling cars in France, and it is doing pretty well in other markets as well.
CITROEN
Walking down the street, probably more attentive to the cars on the street – many of which are exotic or unusual, among the sea of grey painted Crossovers which constitute everyday transport in Paris these days, ti seems – I found myself outside the distinctive C-42 building which is home to Citroen. Or rather, which was home to Citroen, as the building was very clearly empty, with a pile of post having been stuffed through the letterbox a sign that non-one had been in it for a while. Rather surprised, I reached for my phone, to see if I could find out what had happened. It seems that Citroen closed the facility on 31st December, having given very little notice and with only the briefest of statements. It would appear that the lease on the building had expired and they had taken the decision not to renew it. So, no Citroen showroom to enjoy, sadly.,
RENAULT
The Atelier Renault is more or less opposite the now ex-Citroen showroom, so I crossed the road, to see that this was indeed still very much open. There's a rather good brasserie upstairs and the downstairs floor, which extends back quite a long way from the street has space for plenty of cars, as well as a small boutique and some entertainment areas which are largely aimed at entertaining the younger generation.
There was a sporting theme to the displays this time, with two racing cars occupying the front spots that are visible from outside the building. To the left was a car built out of Lego, presenting a pretty faithful and life-size representation of an RS17 car. It must have taken someone quite a while to build, and, if it ever does get dismantled, will not be quick to reduce to a pile (a very large pile!) of bricks!
On the right was the latest Z.E17, Renault's entry in the fourth season of the Formula E championship and which was unveiled in its latest livery in September 2017. The Z.E 17 is a single seater consisting of a SPARK SRT_01E chassis and the Z.E.17 powertrain developed by Renault Sport Racing at its engine operations base in Viry-Chatillon, France. It has a single motor with a high grade permanent magnet and a single inverter integrated with the motor, which generates a maximum power output of: 200 kW (270 bhp), though in race mode, this is down to 170 kW (230 bhp), as regulated by the FIA. Braking regeneration power is 150 kW, regulated by FIA. The electronics are a combination of an ECU developed by MAT (McLaren Applied Technology) and control software developed by Renault. The chassis comes from Spark, which is used by all series entrants. The tub is carbon-fibre, as are the front and rear wing including the spoiler, whilst the bodywork is a mix of  carbon-fibre and Kevlar. Michelin bespoke 18-inch treaded tyres are fitted. The front suspension is a mix of steel wishbones and pushrods. The batteries, bespoke for all manufacturers, weigh: 350kg, generate 600 Volts with a capacity of  28 kWh ( FIA rules), giving a range of approximately 25 minutes in race conditions.
Further back in the showroom, there was another racer, this one with a conventional petrol engine, an R.S.18., the Renault Sport Formula One Team's third chassis since its return to Formula 1 as a full works' entry in 2016. The car is a progression and refinement of the concepts developed during the 2017 season. It includes an improved suspension concept and greater aerodynamic downforce. Noticeably, the R.S.18 also features the mandatory new-for-2018 cockpit protection known as the 'halo' and a re-profiled engine cover to comply with the 2018 technical regulations. The 1.6-litre turbocharged V6 Renault R.E.18 power unit power the R.S.18. This unit has delivered well on the dyno in Viry-Châtillon and with 740 bhp promises to maximise performance and improve reliability in preparation for the reduction to just three internal combustion engines (ICE) and two MGÚ-K and energy stores per season. The R.S.18 is developed jointly by the teams in Enstone, ÚK, and Viry, France. Significant improvements have been made to the Enstone facility over the past year, wîth enhancements to the CFD supercomputer, wind tunnel, race team operations room, gearbox dyno, machine shop and an expanded design office. The upgrades have already translated into on-track performance, with Renault Sport Formula One Team finishing the season sixth in the Constructors' Championship, improving from ninth in 2016. The car will be driven by Nico Hulkenberg and Carlos Sainz, with Jack Aitken as third and reserve driver.
Directly opposite was something very different, an 1898 Model A, the very first Renault ever made, and a car that we will probably be seeing quite frequently as Renault celebrate their 120th Anniversary this year.  Though it became the foundation stone for a huge industrial empire, the very first voiturette, designed and built by Louis Renault in person, was not originally intended for sale. In 1897, nineteen-year-old Louis Renault was working as a draughtsman with Delaunay-Belleville. This keen amateur mechanic, fascinated by the emergence of motor transport, set up a little workshop in a garden shed at the family home in Boulogne-Billancourt, and set about building a simple little car, of his own design, for his own personal use. By Christmas 1898 the voiturette was finished, and Louis invited a few friends round to see how it would tackle the steep Rue Lepic in the Montmartre district of Paris. Impressed by how easy it was to drive the car, several of his friends were keen to get one for themselves, and some even made a down payment on the spot! Two months later, the automobile manufacturing company Renault Frères was founded, marking the start of a great adventure. The lightweight, well-designed voiturette already showed many of the features of modern automobile engineering, with a front-mounted engine, transmission by shaft with universal joint, and a direct-drive gearbox patented by Louis Renault. It was unveiled to the public in June 1899. Then on 27 August, Louis and his brother Marcel took part in the Amateur Drivers' Cup event from Paris to Trouville, finishing first and second.
Reflecting the effort that Renault has put into electric cars were examples of two of their current range, both now familiar, as they have been available for a few years. There were were several Twizy models, including one mounted on the wall and another one set up for a little competition where by jumping up and down on the platform on which it was mounted, you could charge it up. There was also the larger and more practical Zoe here.
The back of the showroom contained a couple of sporting road cars, the Clio RS and smaller Twingo GT. Although worthy enough, it is unfortunately the case that neither of these hit quite the proverbial bull's eye, lacking a certain something compared to their rivals. Sitting in both, you might conclude that something was interior quality, which is some way short of what the opposition deliver, but it would take a Road Test to find out where the true disappointments really lie.
TOYOTA
The Toyota showrooms is on the same side of the street as Renault. I walked towards it, and stopped. Pretty sure I was at the place where it was, but rather than having cars in the building, it seemed to be selling childrens' toys. Time for a quick Google, to find that Toyota had also pulled out of this location in the past few months, a bit earlier than Citroen, it would seem. The Toyota website simply recorded thanks for the 20 million visitors who have visited. Further research suggested that the lease had ended, and with a massive increase in a renewal, Toyota had decided to quit.
MERCEDES-BENZ
And so before walking back over the road to Mercedes, I decided to Google that one, as l was pretty sure that I had walked past their site, and not spotted any cars. And yes, that one had closed as well, and was now a shop selling ladies' underwear. So that's three of the six that have closed in the past few months. What's going on? Well, look up and down the road and you spot a lot of building work. It would seem that much of the freehold of the sites has been bought by overseas investors (many of them  from Qatar or Kuwait) and there will be quite a program of redevelopment, and with it a massive increase in the rents charged. It would seem clear that the character of the Champs-Élysées is going to change in the coming months and years.
FIAT-CHRYSLER AUTOMOTIVE
By this time, it was past 11am, so when I got to the Motor Village, which I was relieved to find was still a car showroom, it was open. This is a multi-storey showroom with a small footprint per floor, and spiral staircases that go down a couple of floors and up a couple. The top floor contains a restaurant. There is a central display area with space for one car on each floor, some encased by glass, which makes life difficult for the photographer, as well as cars open for inspection on the ground floor and in the basement. Displays are changed fairly frequently, each having a theme, which gives the site the opportunity to indulge in some creativity, Theme on my visit was the Carnival of Venice, and there were some elaborate carnival costumes alongside each of the cars.
Before looking at the special display in the centre of the floor, I spotted this rather chic Abarth 695 Rivale. This is the latest special edition and has been created to celebrate Fiat Group's partnership with Riva. There's already been a Riva version of the Fiat 500, which is finished to a very high standard with rich leather upholstery and a wonderful mahogany-finished dashboard. Now there is an Abarth version, called the Abarth 695 Rivale. It will be offered, on a strictly limited basis, with both the hatch and the cabrio bodies. Both of them feature a two-tone Riva Sera Blue and Shark Grey paintwork. The new Abarth is also adorned with an aquamarine double stripe, satin chrome finish on the door handles and satin chrome moulding on the tailgate, various aesthetic elements inspired by the Riva 56 Rivale yachts and '695 Rivale' logos, joined by Brembo Brakes, Koni suspension, and 17-inch Supersport alloy wheels. Enhancing the nautical theme the new 695 Rivale features either a carbon fibre or mahogany dashboard, black mats with blue inserts, blue leather seats and door panels, carbon fibre kick plates, special steering wheel wrapped in blue and black leather and with a mahogany badge, blue leather instrument panel cover, and mahogany gear lever knob and kick plate. These are joined by the standard Uconnect infotainment with a 7-inch display, which is compatible with Android Auto and Apple CarPlay, and there is also a hand-written numbered plate that can be customised with the mane of the customer's yacht on request. Powering the new Abarth 695 Rivale is the 1.4 litre  turbo engine from the Competizione that makes 180PS (177hp) and 250Nm (184lb-ft) of torque, allowing it to go from rest to 100km/h (62mph) in 6.7 seconds and up to a top speed of 225km/h (140mph). Unveiled alongside the 695 Rivale was the Abarth 695 Rivale 175 Anniversary, created to celebrate 175 years of the Riva brand. There will be 350 of these, half of them hatches and the other half cabriolets.This features 17-inch alloy wheels with a special pattern, celebratory badge on the outside, hand-crafted details such as the two-tone colour – blue and black hand-stitched leather seats with a celebratory logo stitched onto the headrest, carbon dashboard silk screen printed with special logo, numbered plate, and other details that should attract the attention of Abarth enthusiasts.
There was another Rivale parked up outside the showroom when I emerged.
The attractive 124 Spider was the centrepiece of the ground floor.
Three Alfa Romeo models were on show. The Giulia was on the ground floor and impossible to photograph with a combination of pillars and stray reflections completely defeating me, but I was able to sit in and remind myself how appealing the car is from the inside. I could not sit in the 4C as this was in one of those display areas and behind glass, whereas the new Stelvio was in the basement and open for inspection. I drove one of these a few weeks ago and was very favourably impressed.
On the ground floor, the special car in the themed display was a lovely 500 Topolino. This one was not completely encased, so it was possible to get a good look, and some decent photos. Known for being the car which really put Italy on wheels, the Topolino was one of the smallest cars in the world at the time of its production. Launched in 1937, three versions were produced until 1955, all with only minor mechanical and cosmetic changes. It was equipped with a 569 cc four-cylinder, side-valve, water-cooled engine mounted in front of the front axle, which meant that it was a full-scale car rather than a cyclecar. The radiator was located behind the engine which made possible a lowered aerodynamic nose profile at a time when competitors had a flat, nearly vertical grille. The shape of the car's front allowed exceptional forward visibility. The rear suspension initially used quarter-elliptic rear springs, but buyers frequently squeezed four or five people into the nominally two-seater car, and in later models the chassis was extended at the rear to allow for more robust semi-elliptic springs. With horsepower of about 13 bhp, its top speed was about 53 mph and it could achieve about 48 mpg. The target price given when the car was planned was 5,000 lire. In the event the price at launch was 9,750 lire, though the decade was one of falling prices in several part of Europe and later in the 1930s the Topolino was sold for about 8,900 lire. Despite being more expensive than first envisioned, the car was competitively priced and nearly 520,000 were sold. Nowadays the car seen here is known as the 500A, and this shares its body with the later 500 Model B, but the later car had more power, a heady 16 hp. It was made between 1948 and 1949. The Model A was offered as a 2-door coupé, 2-door cabriolet and a 2-door van, while the Model B also introduced a 3-door estate under the name 500 B Giardinetta ("estate car"). The Model C was introduced in 1949 with a restyled body and the same engine as Model B, and was offered in 2-door coupé, 2-door cabriolet, 3-door estate and 2-door van  versions. In 1952, the Giardinetta was renamed the  Belvedere ("A turret or other raised structure offering a pleasant view of the surrounding area", referring to its sunroof). The Model C was produced until 1955. The Fiat also formed the basis for a French-built Simca model, so the car is fondly remembered in France as well.
On the restaurant level was a Fiat 600, a car which is sometimes forgotten these days with all the attention focused on its smaller and slightly younger Nuova 500 brother but in its day this was probably the more significant car. Codenamed Progetto 100 ("Project 100"), the Fiat 600 mirrored the layout of the Volkswagen Beetle and Renault 4CV of its era. Aimed at being an economical but capable vehicle, its design parameters stipulated a weight of around 450 kg with the ability to carry 4 people and luggage plus a cruising speed of no less than 85 km/h. A total of 5 prototypes were built between 1952 and 1954, which all differed from one another. Chassis number 000001 with engine number 000002 is believed to be the sole remaining example. It was powered by an innovative single-cam V2-cylinder engine designed to simplify maintenance and did not feature a clutch pedal. At the official launch in 1955, FIAT engineer, Dante Giacosa declared that the aim had been to create something new, both in the interest of progress and simplification. This prototype, however, did not become the chosen design. When the car made it to production, with a launch at the 1955 Geneva Show, it was christened the 600. It had hydraulic drum brakes on all four wheels. Suspension was a unique single double-mounted leafspring—which acts as a stabiliser—between the front wheels coupled to gas-charged shock absorbers, and an independent coil-over-shock absorber setup coupled to semi-trailing arms at the rear. All 600 models had 3-synchro (no synchro on 1st) 4-speed transaxles. Unlike the Volkswagen Beetle or Fiat 500, the Fiat 600 was water-cooled with an ample cabin heater and, while cooling is generally adequate, for high-power modified versions a front-mounted radiator or oil cooler is needed to complement the rear-mounted radiator. All models of the 600 had generators with mechanical external regulators. The first cars had a 633 cc inline-four cylinder engine which max-ed out at 59 mph. Sales were brisk, as it was just the right size for a market still recovering from the war of the previous decade. A year after its debut, in 1956, a soft-top version was introduced, and it was followed by a six-seater variant—the Fiat 600 Multipla, the very definite precursor of current multi-purpose vehicles. By 1957, assembly started in Spain, where the car would go on to become a legend, and where you can still see large numbers of them certainly at classic car events. Production was also undertaken by Steyr Puch in Austria, and in Yugoslavia and Argentina. The millionth 600 was produced in February 1961, less than six years after the car's launch, and at the time when the millionth car was produced, the manufacturer reported it was producing the car at the then remarkable rate of 1,000 a day. Italian production ceased in 1969, but the model continued to made in other countries, and a grand total of nearly 3 million examples were eventually made.
Also on show on the ground floor, and open for inspection were a Fiat 500X and the latest Abarth 595 Competizione.
AND FINALLY
As I walked back up the Champs-Élysées, towards a Metro station, I finally managed to get a photo of one of the interesting cars that I had seen. This Aston Martin DB6 was on British plates, and the driver had to pause at some lights, conveniently just as I approached so I could get a photo of what is still a stunning looking car.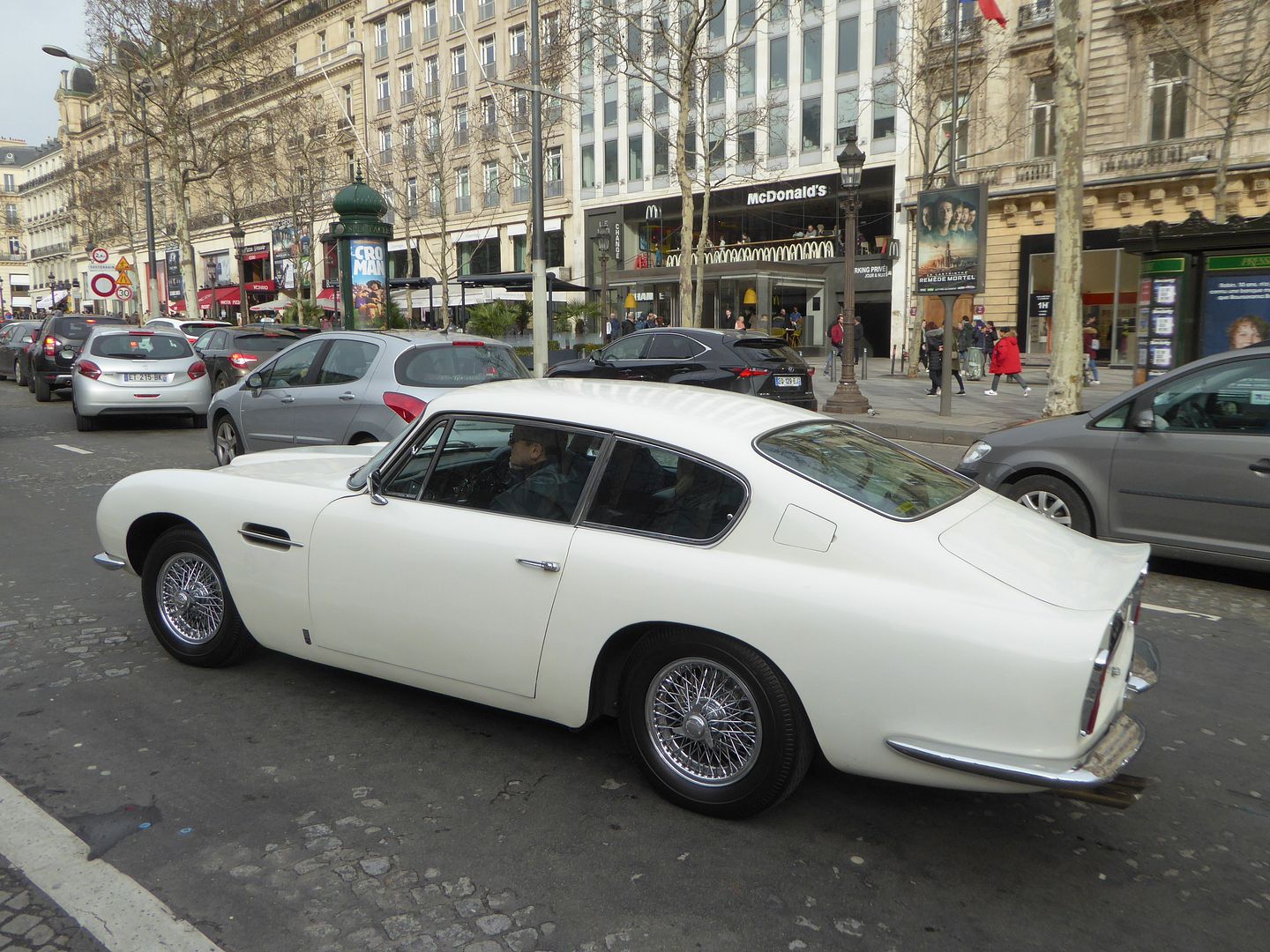 And so, whilst this was an interesting morning, there was rather less to see than had been the case in the past. It will still be worth coming, provided the remaining showrooms stay, of course, and in any case, there is so much else to see in Paris, it just may have less of an automotive theme.