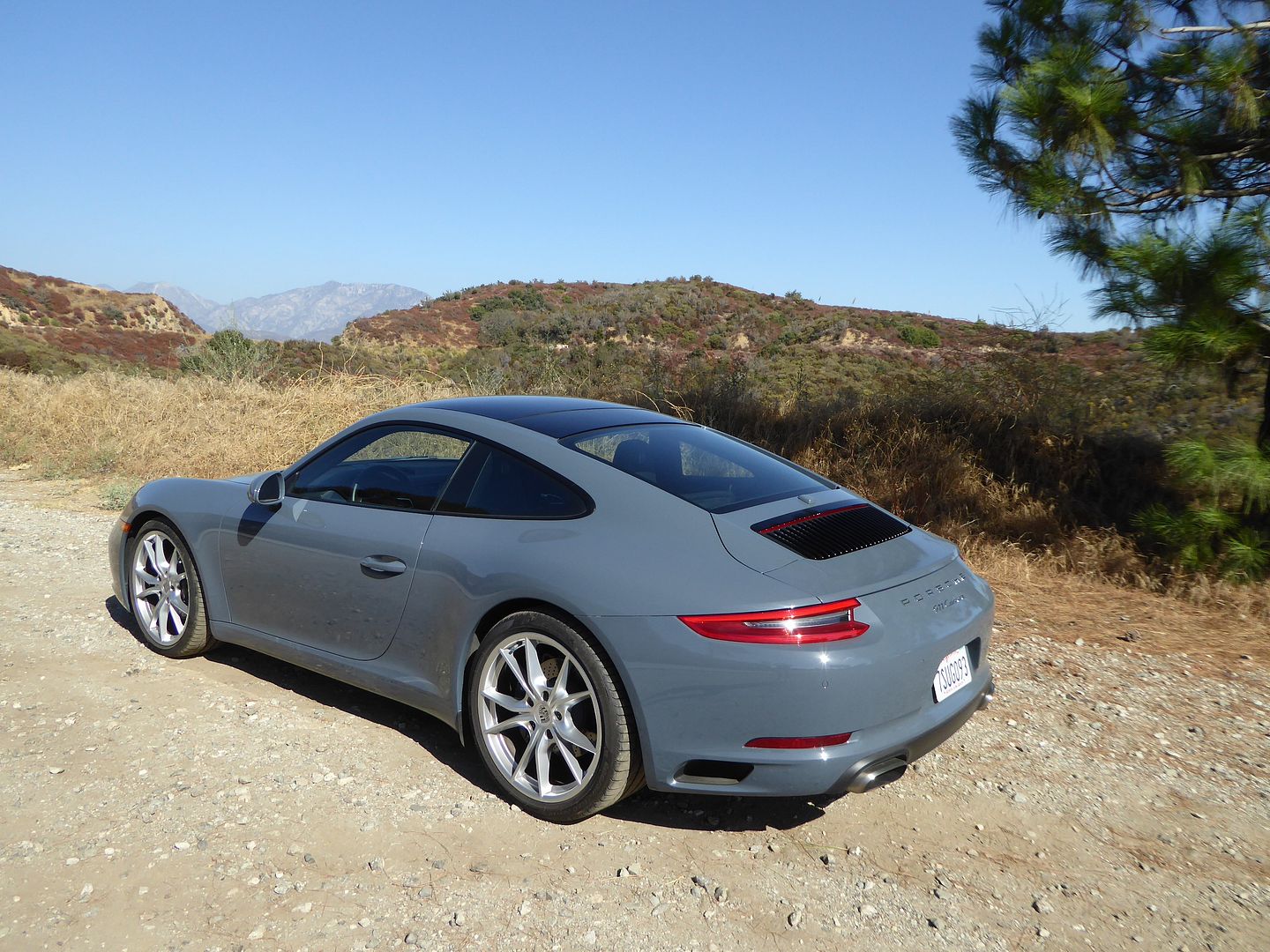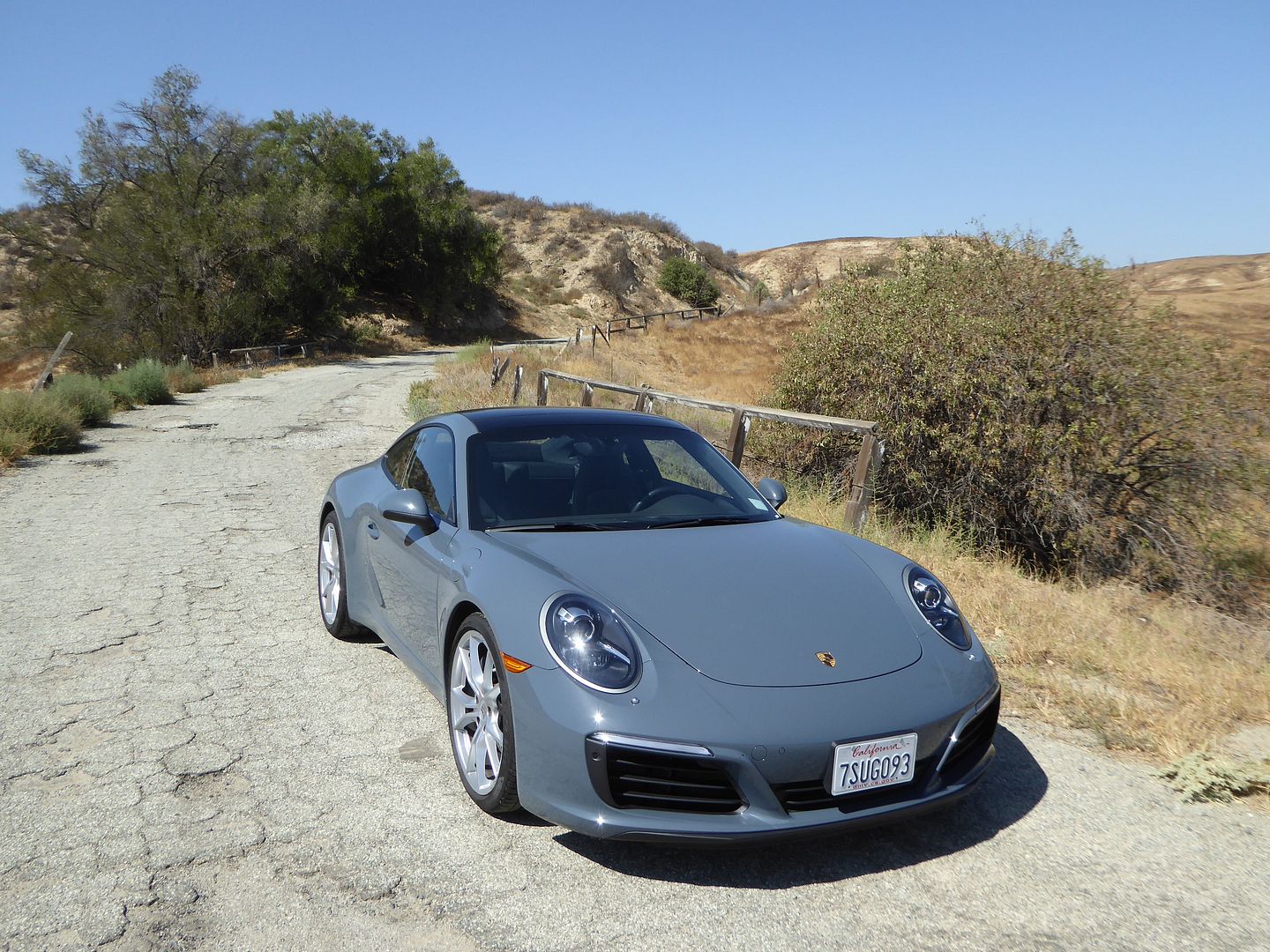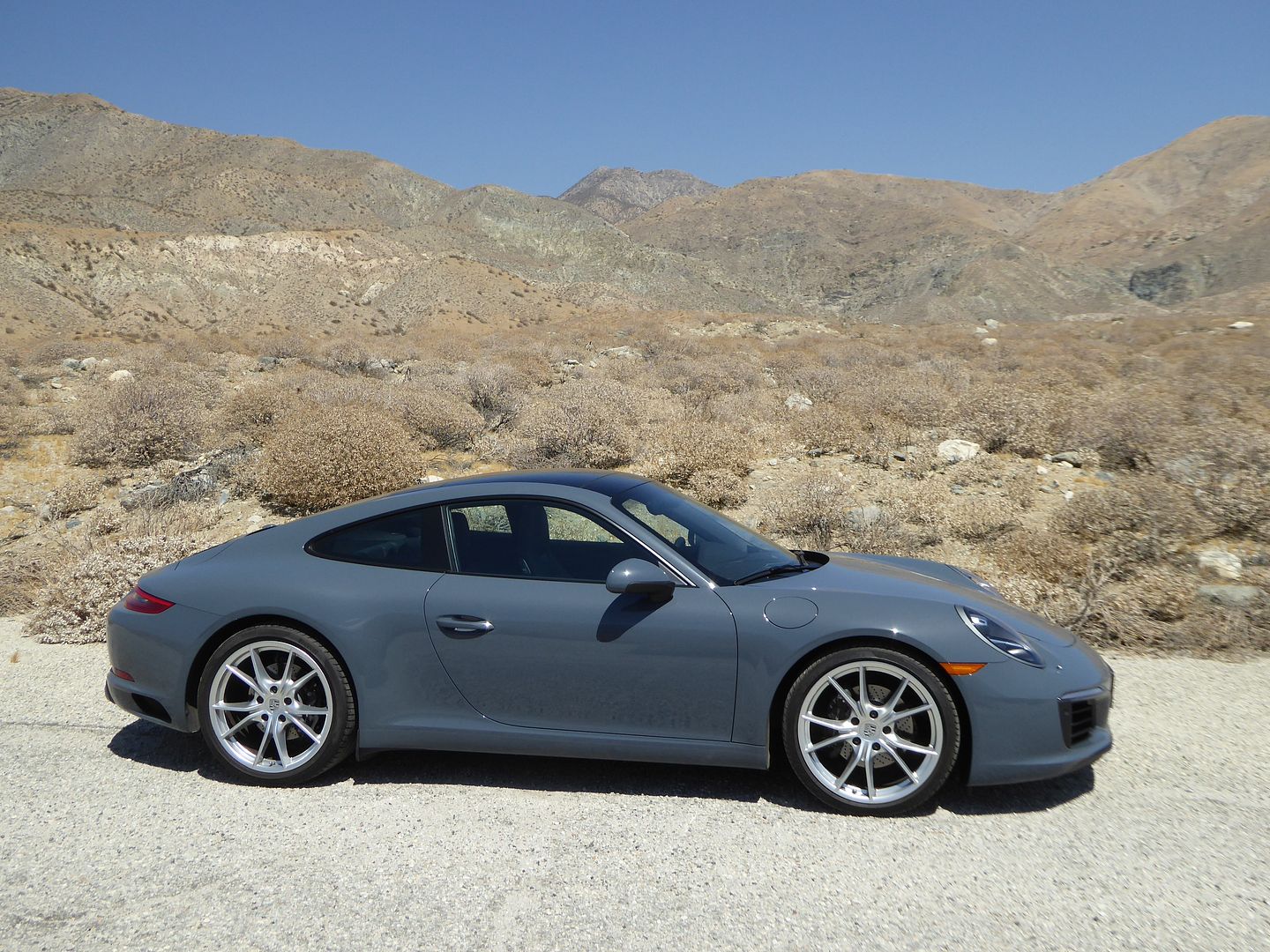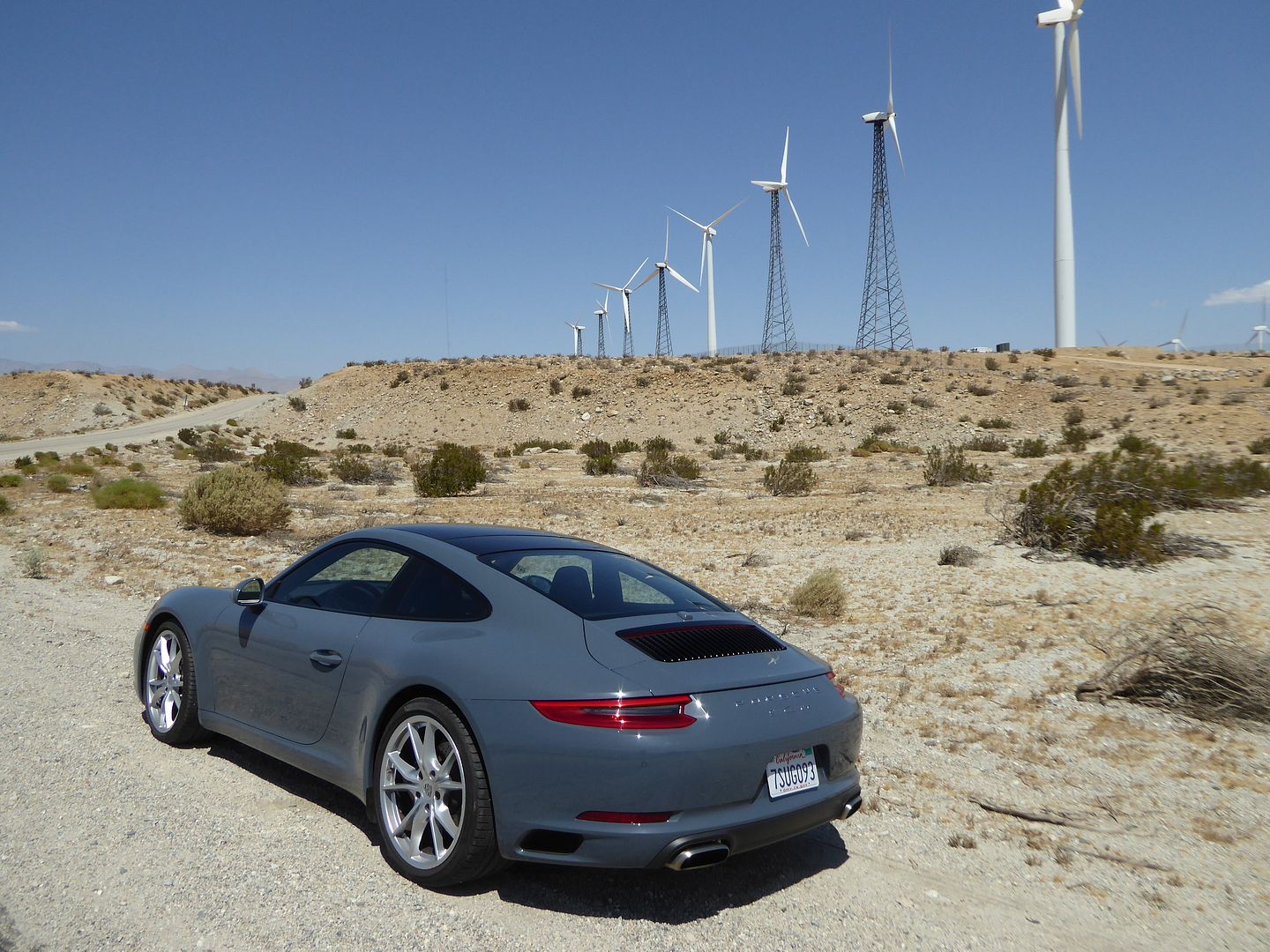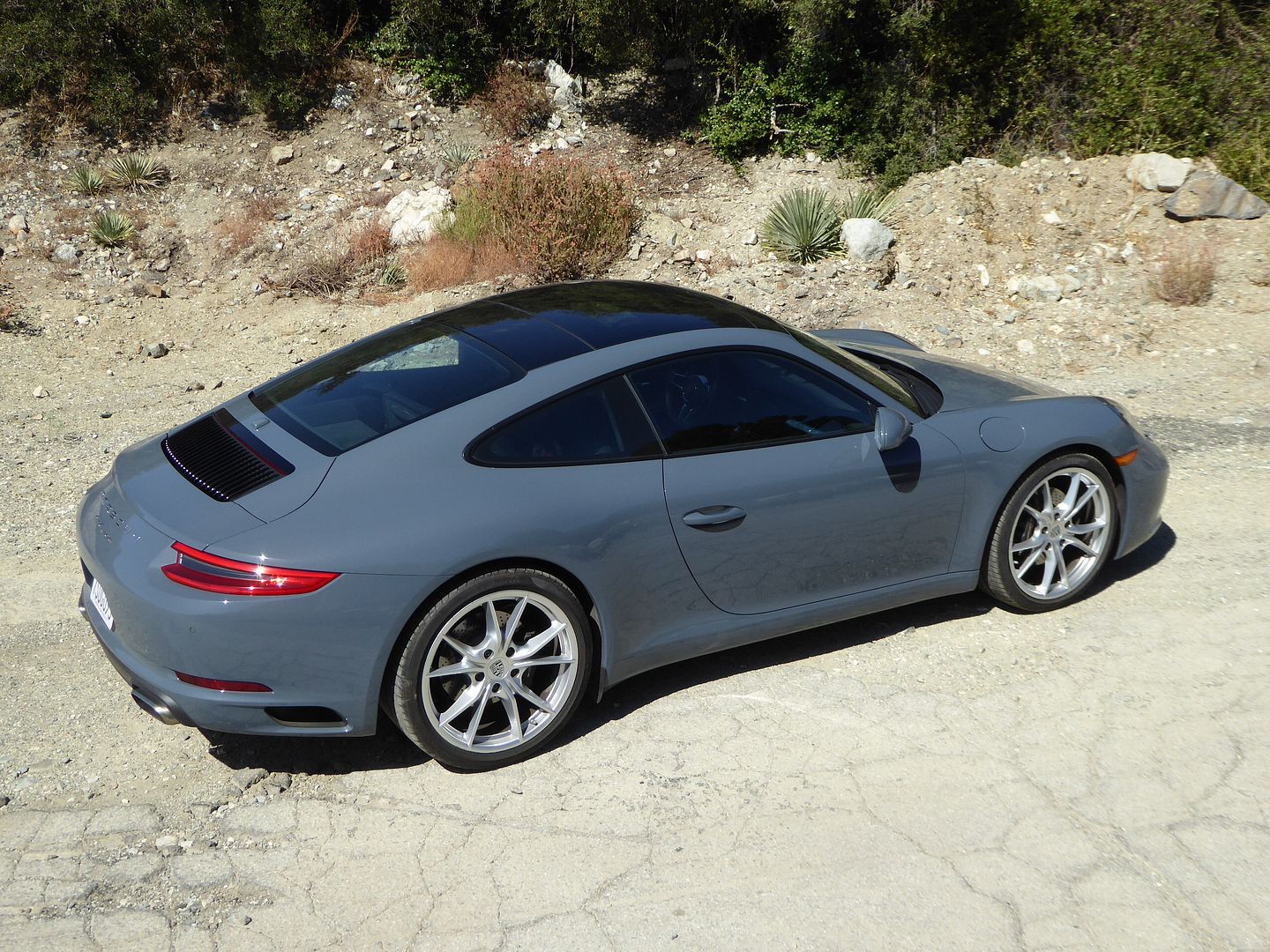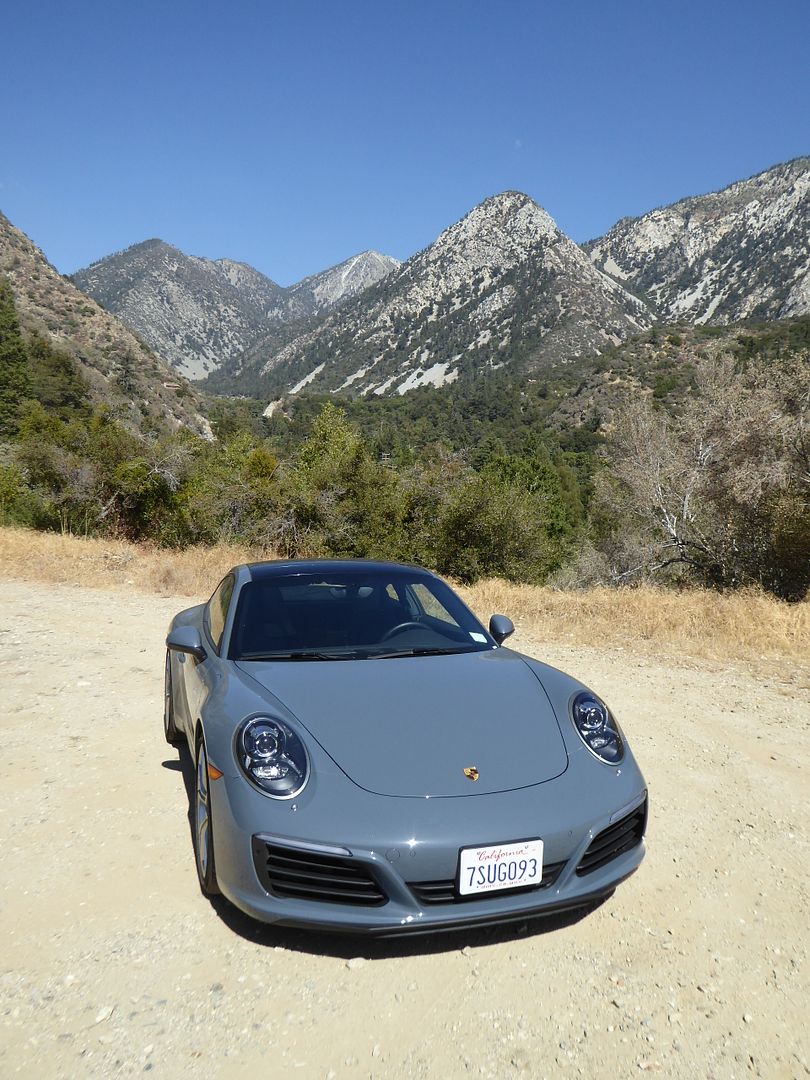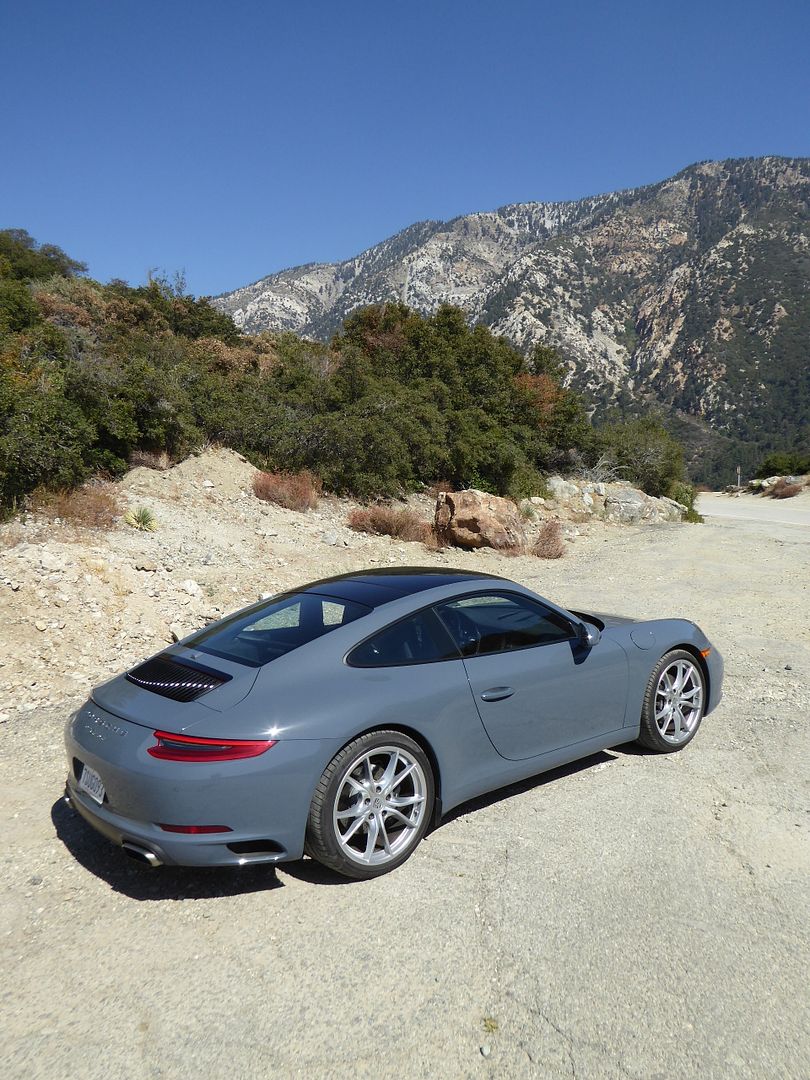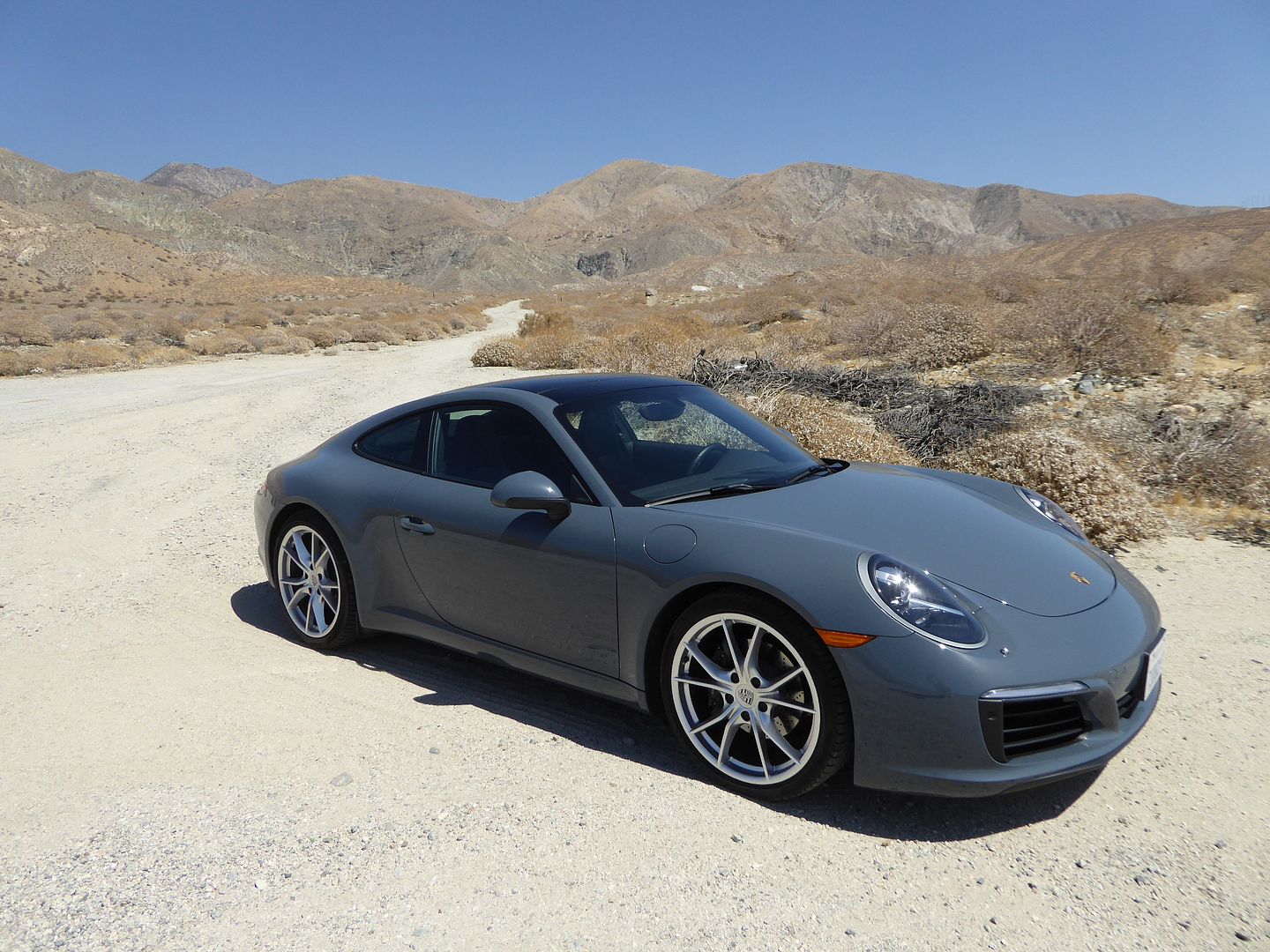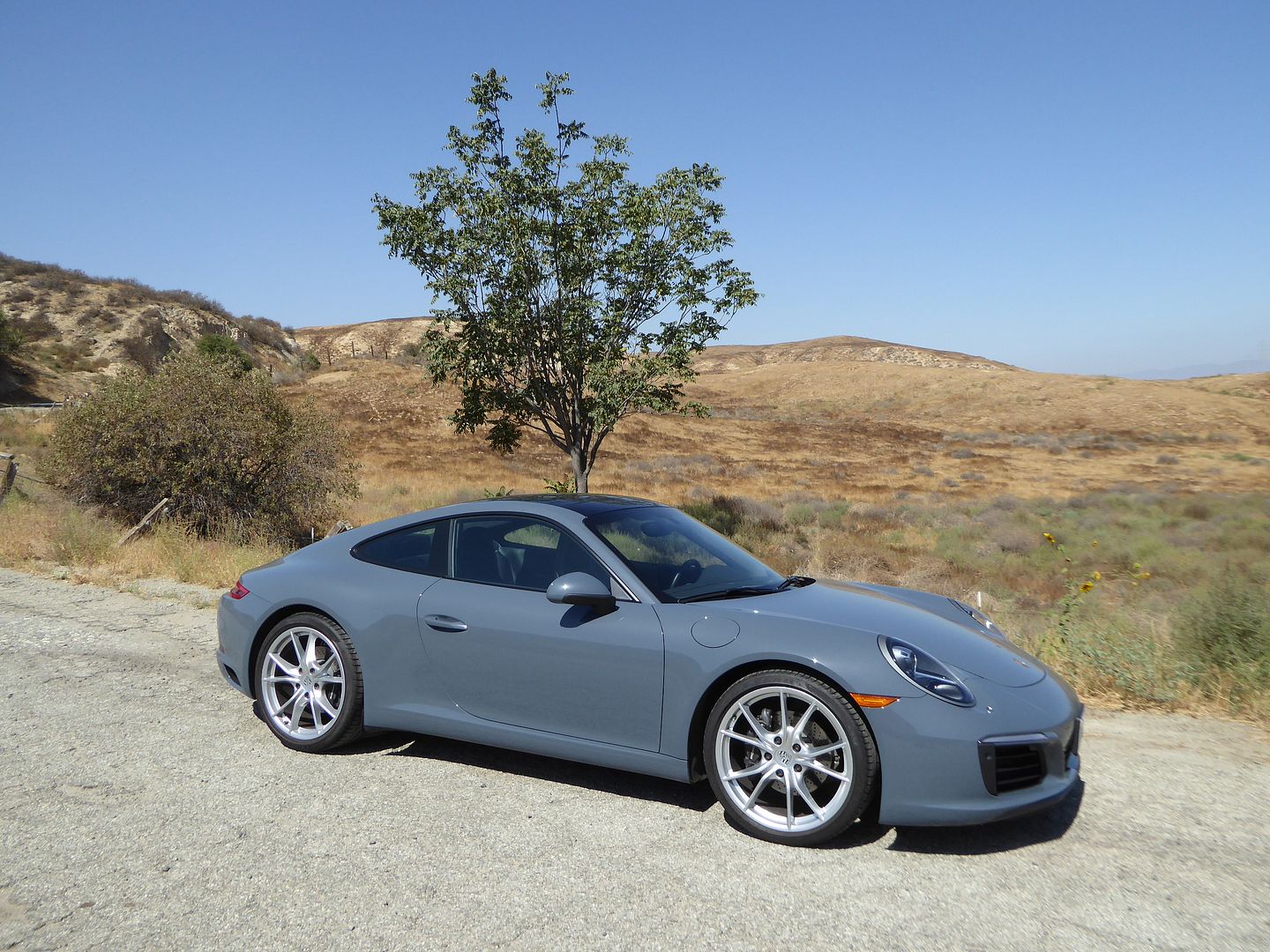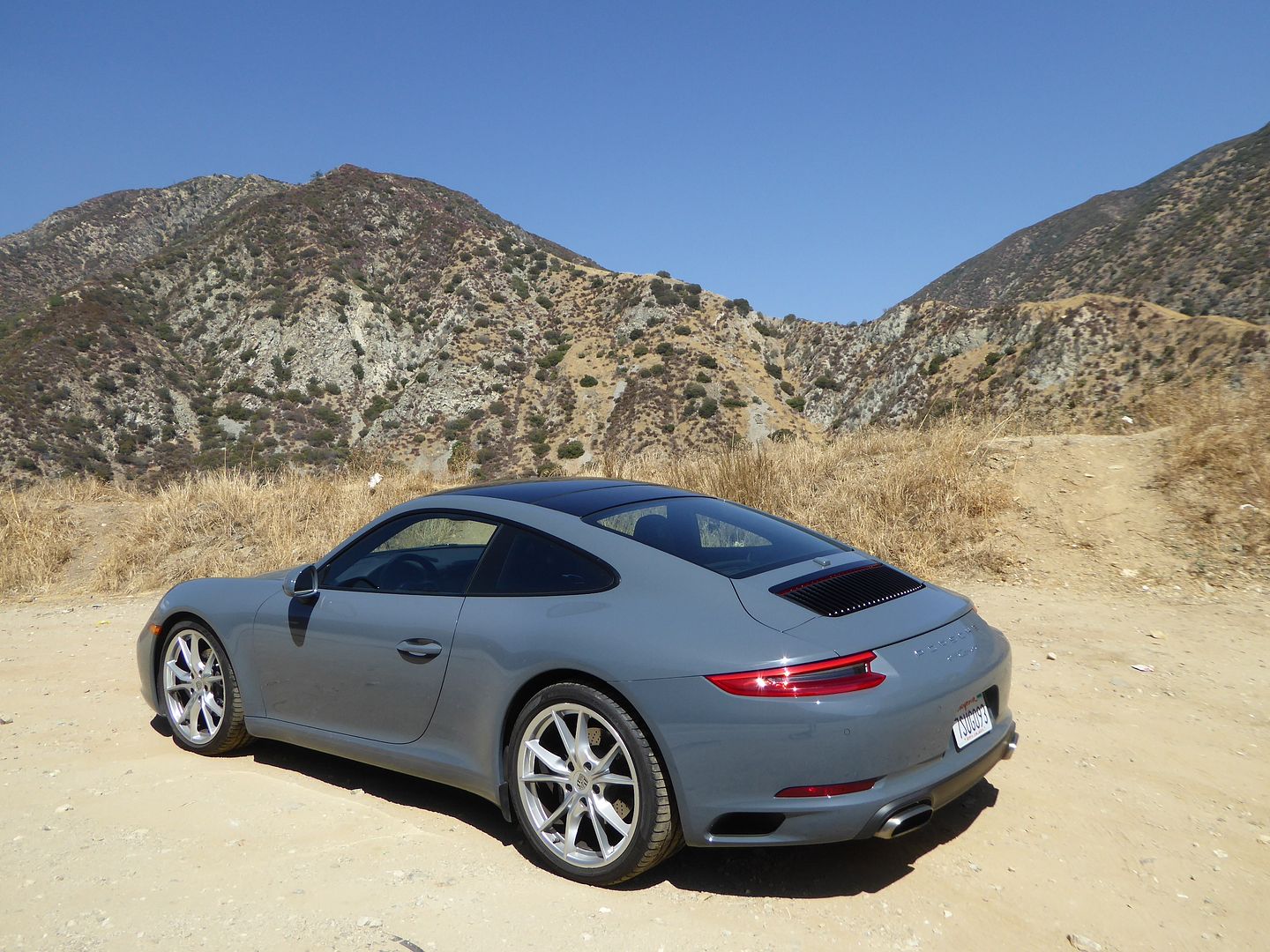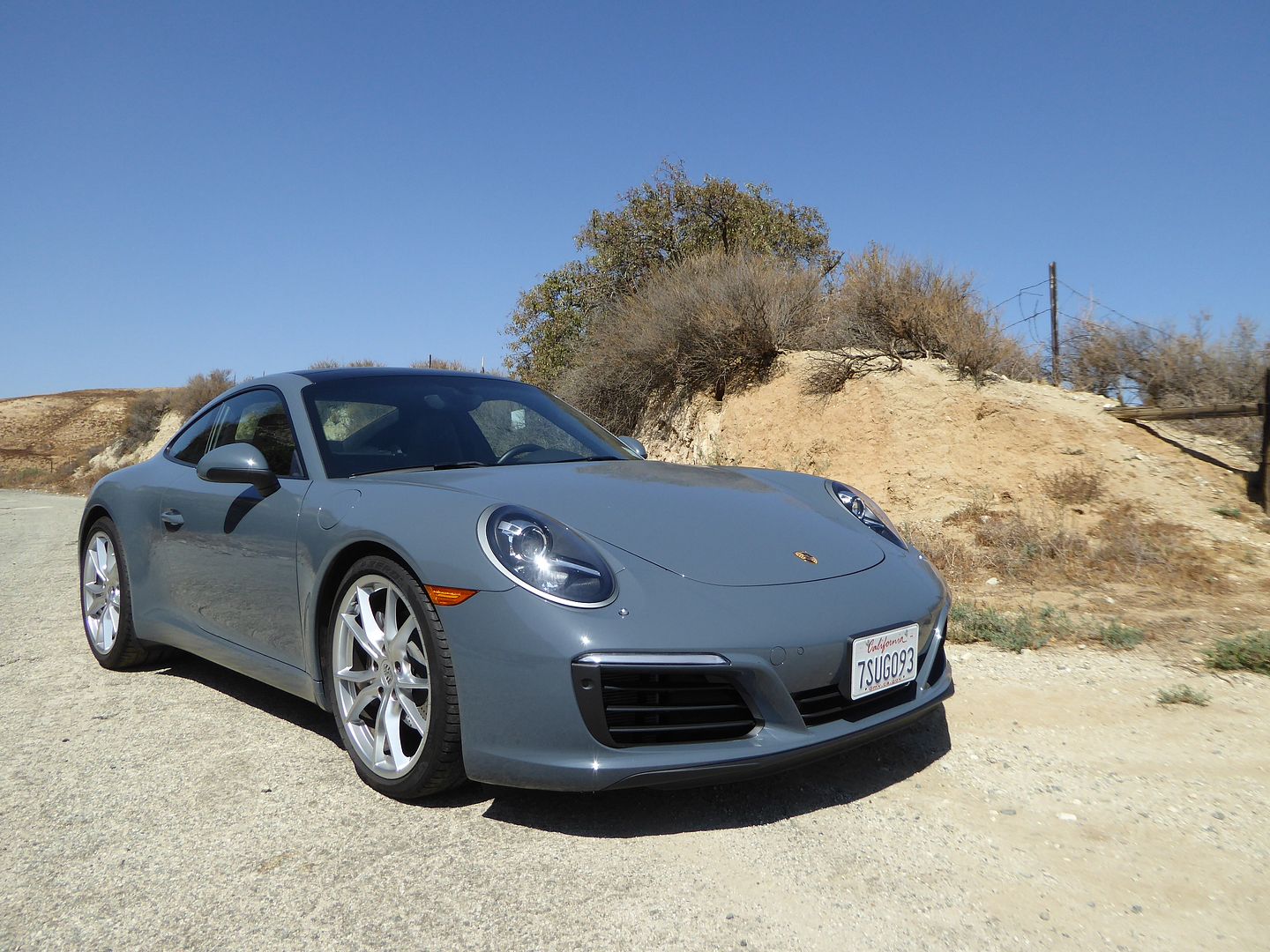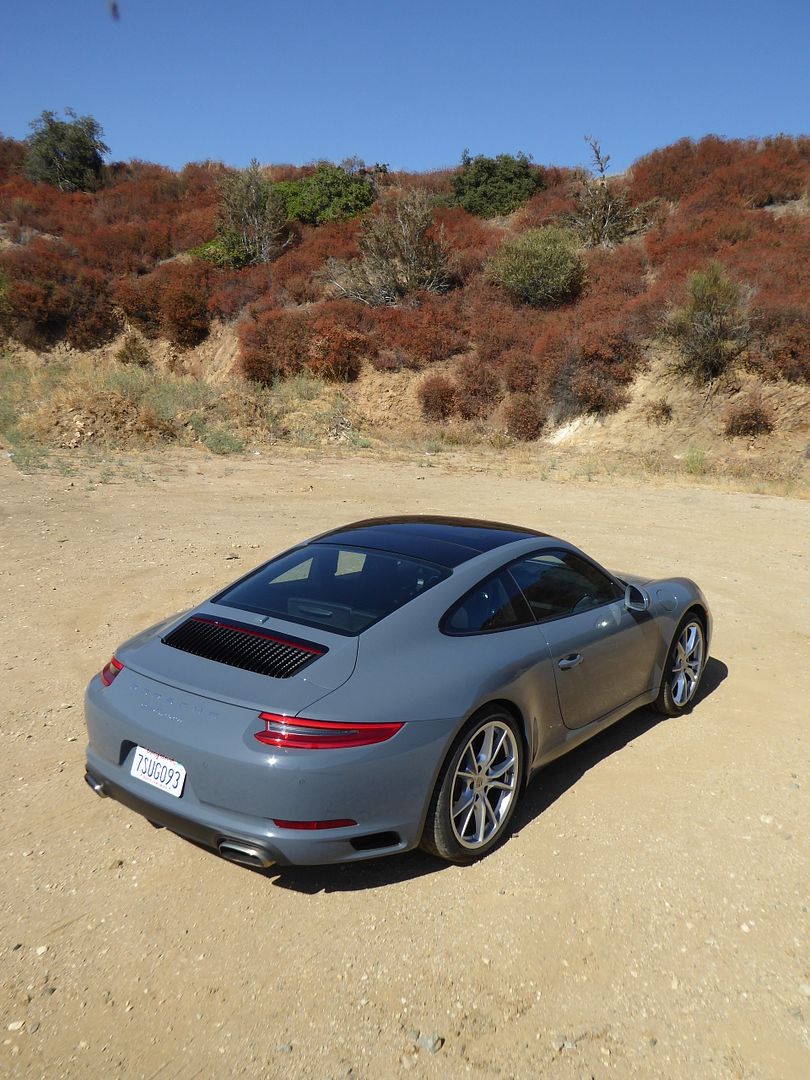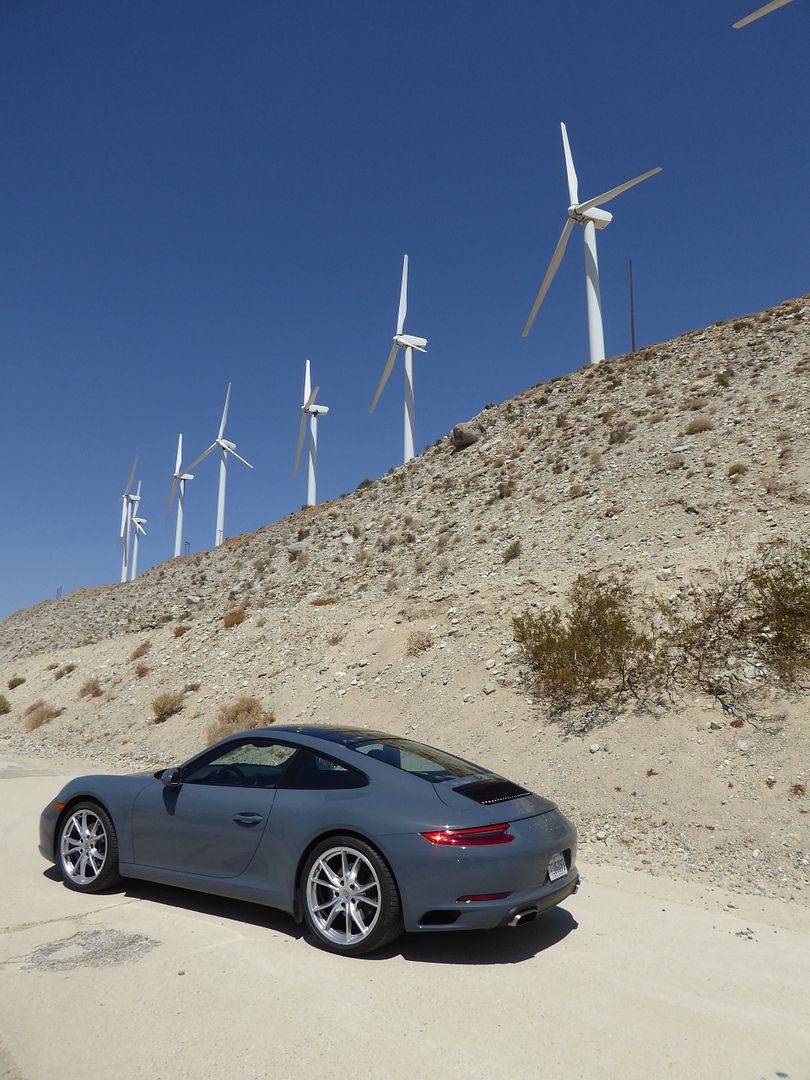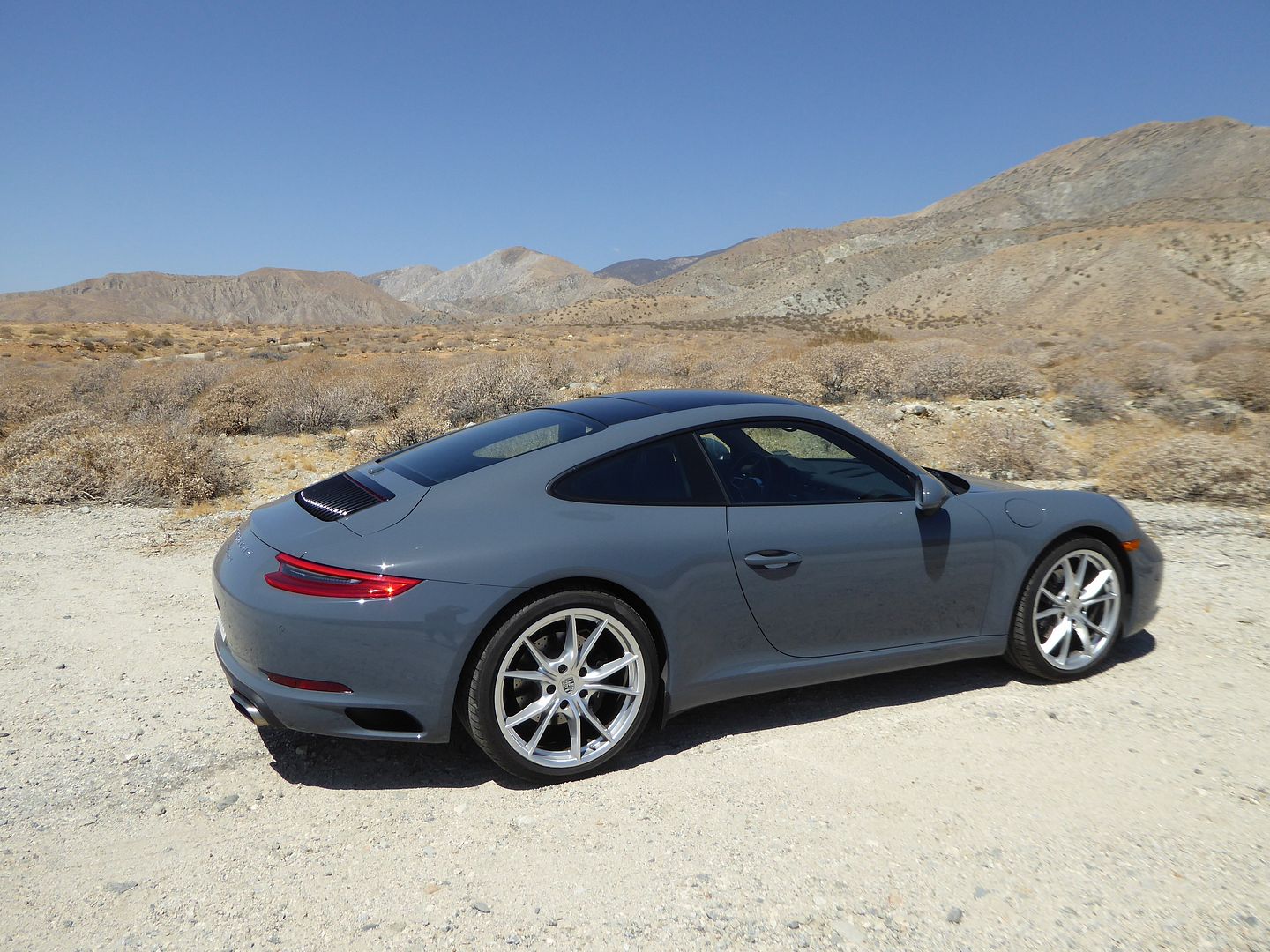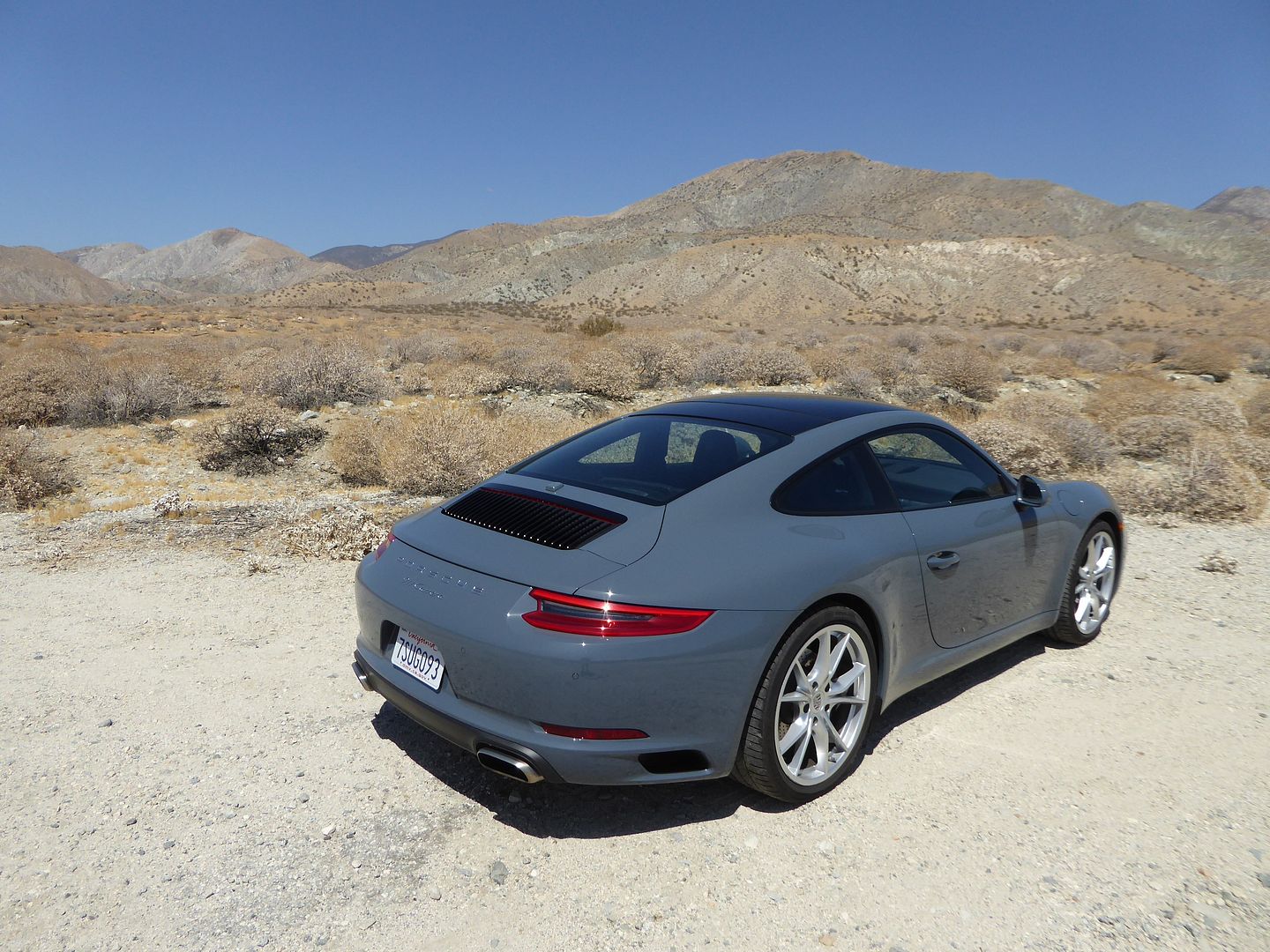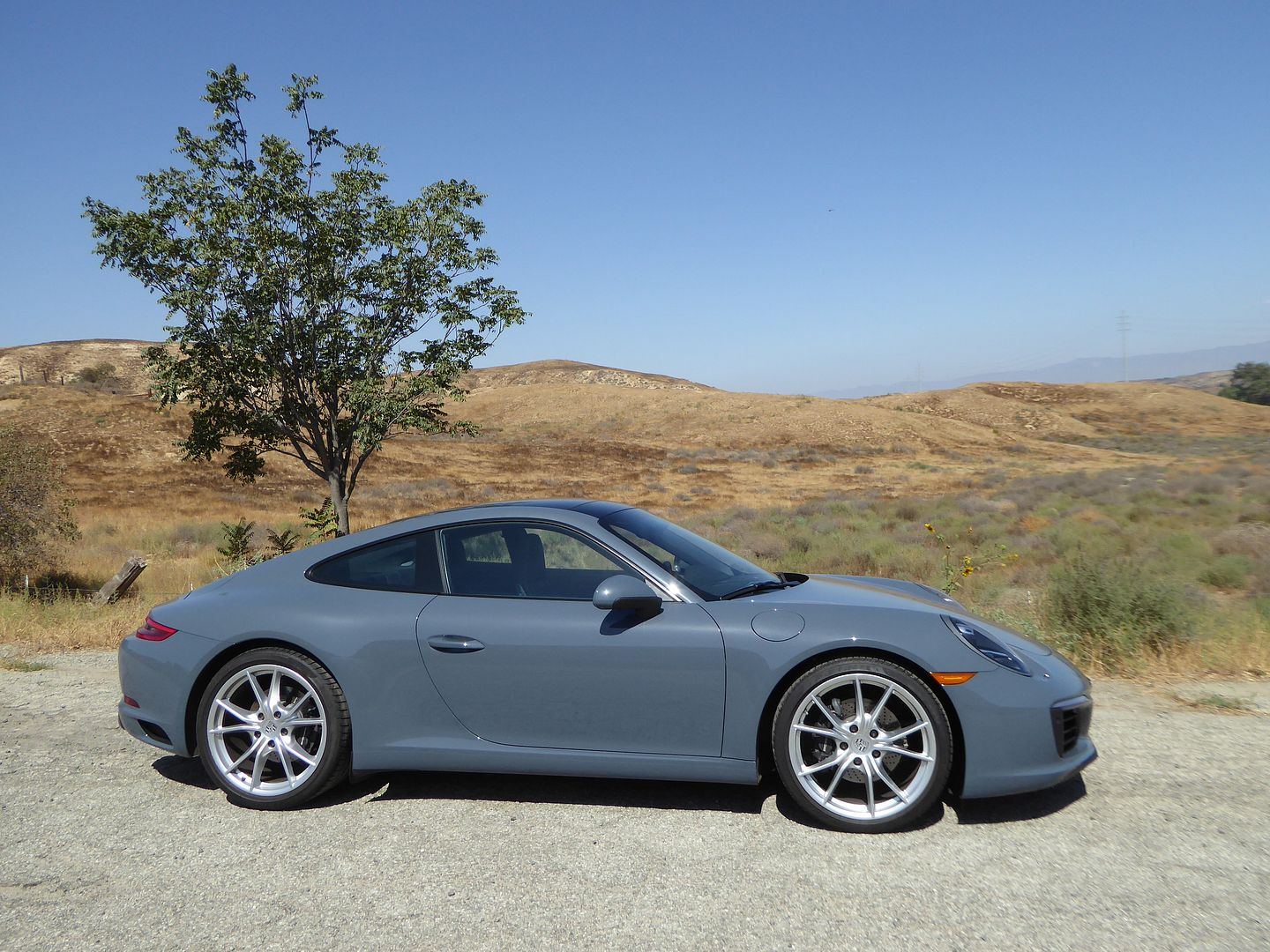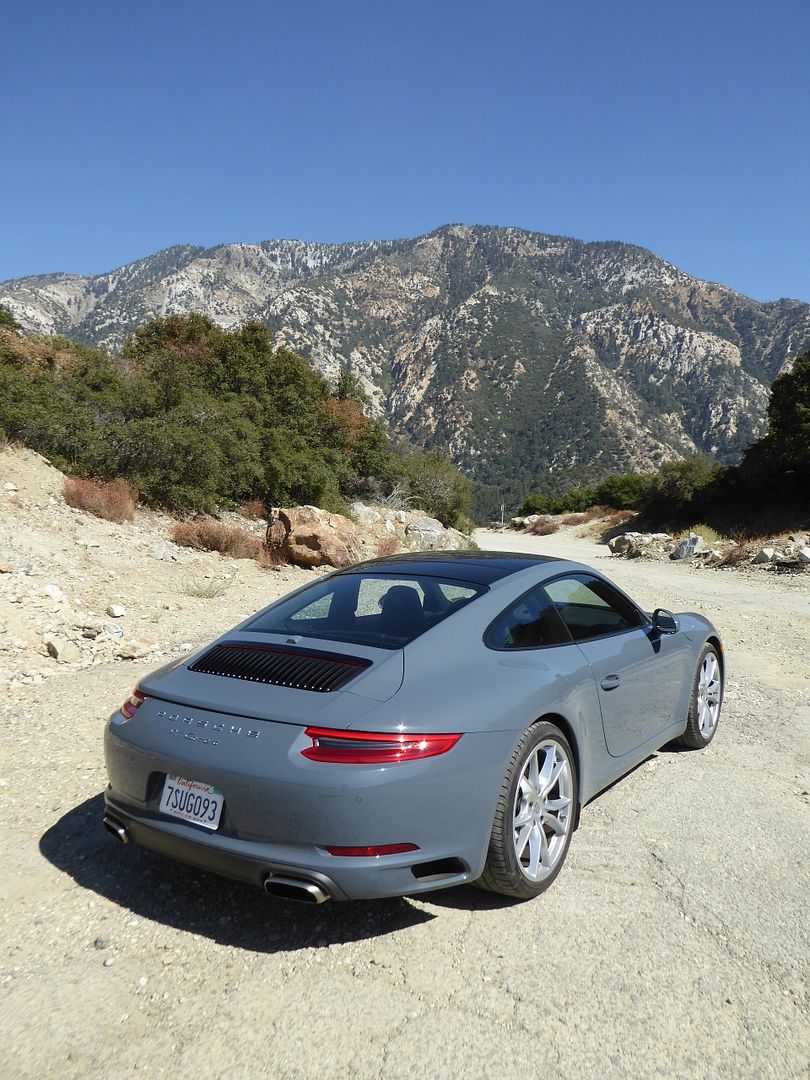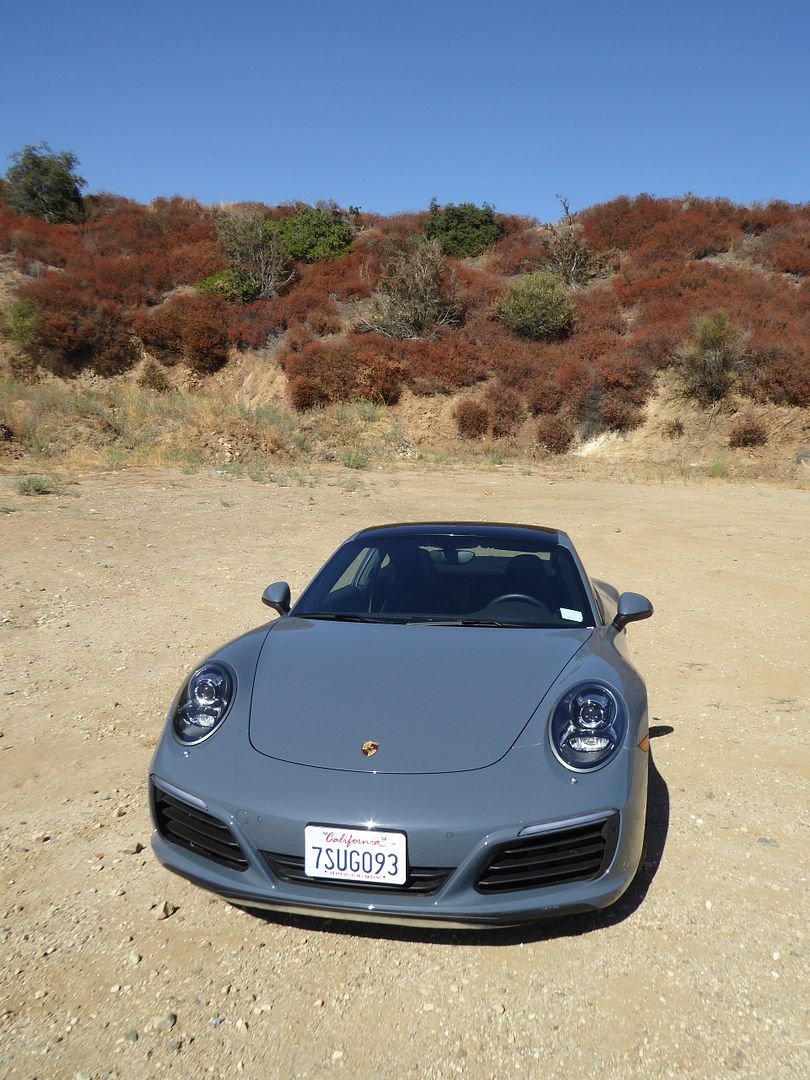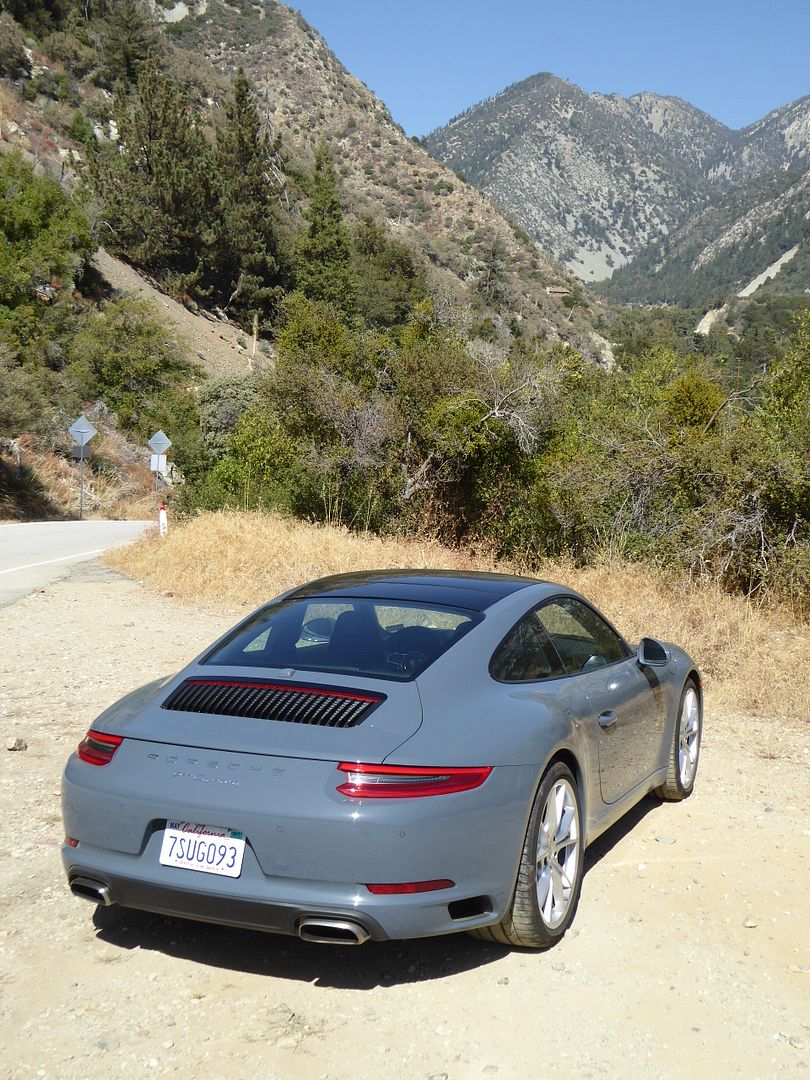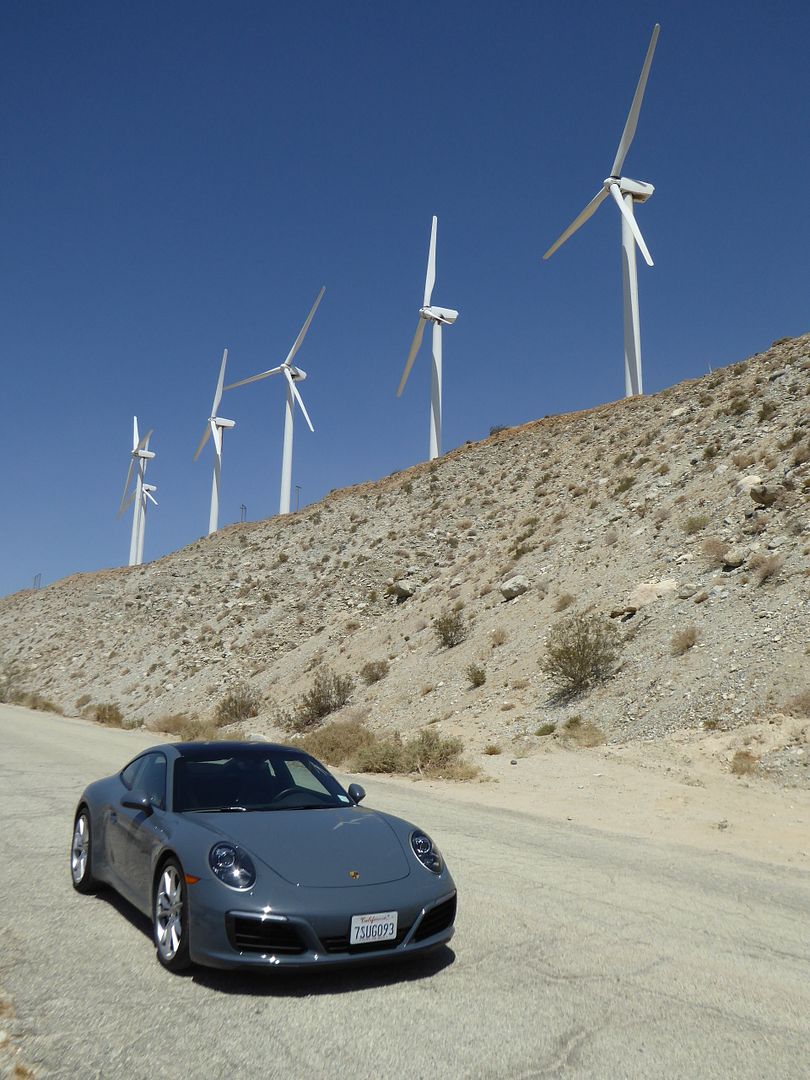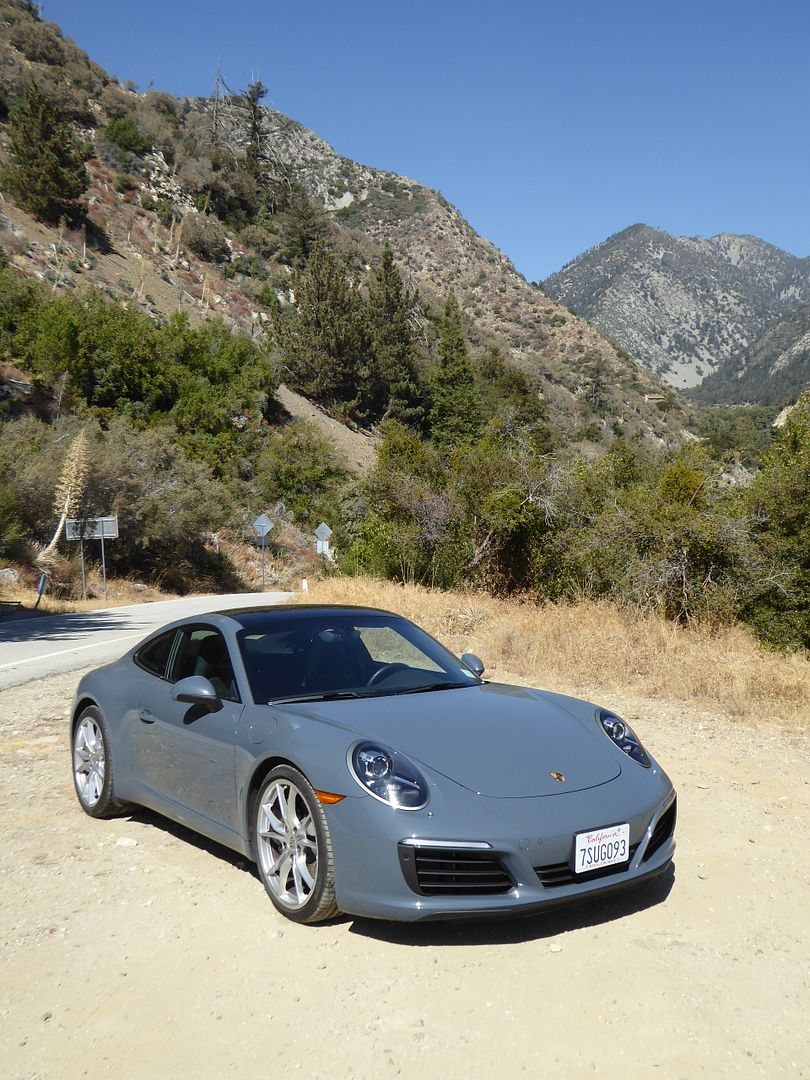 One of the topics which has generated almost more column inches and web pages from the motoring journalist community in recent months than any other has been the decision by Porsche to replace the familiar engines in their sports cars with new smaller capacity turbo units. Although I don't recall seeing any of them use the word "sacrilege", the general tenour of their comments, and their feedback having driven the new cars suggests that this is what they have been thinking. And yet, it is not as if Porsche are the only manufacturer to go down this path. Far from it, indeed, as just about everyone looks to find engineering solutions to meet the impositions of the legislators around the world, who whilst not quite mandating ever greater levels of efficiency, are certainly making the fiscal consequences of not reducing emissions a burden too painful for many prospective owners to contemplate. So in recent years we have seen a whole load of improbably small-capacity engines, such as the 1 litre three cylinder units that Ford and VW Group have developed, in cars as big as a Mondeo or a Skoda Octavia, and provided there is no overt badging to alienate those who still play Top Trumps based engine capacity, many are none the wiser. As well as less in the way of emissions, the down-sized engines also promise incredible levels of fuel economy. The problem here is that the word "incredible" would seem to apply in the true sense of the word, as in "defying credulity" as although the official consumption figures are indeed very impressive, the reality is that these new engines rarely turn out any more frugal than the bigger ones they replaced when it comes to real world motoring. Porsche, of course, could be different. Thoroughness of their engineering is almost a by-word at Zuffenhausen, and you can be sure that they do not introduce a change, any change, lightly. The new engines, all Turbo charged, but still a flat six for the 911 model, even if the Boxster and Cayman found themselves with two fewer cylinders as well, came as part of mid-life facelifts for both ranges of cars, which gave the journalists all the excuse that they needed – not that they seem to need excuses, as they luxuriate in their existence of being wooed by every manufacturer to indulges their every whim – to spend several hours behind the wheel of the new cars. And their conclusions were that the cars – 911, Boxster and Cayman – are all brilliant. Objectively, probably a little more brilliant than they were before, but something has been lost. And that something would seem mainly to be the noise that came from high revving normally aspirated engines. Regrettable, but not exactly the end of the world especially for people who, having paid over really money, drive almost all the time on public roads and in traffic, and subject to the laws of the land, which means that they rarely get to rev their cars to the red line many times a day. A "real world test" would seem called for. Having driven one of Hertz' Dream Collection 911 Carrera models late in 2014, when I spotted that the fleet had been updated with new 2017 models (in US speak these are the first of the facelifted cars), I decided to try to rent a new one for a day to see for myself what all the fuss is about. There were three models parked up next to each other, and as I had driven a Guards Red car last time, I decided that I should have one of the others, so I picked the one in a very attractive shade of what looked like grey, but which Hertz described as blue on the paperwork and which Porsche themselves call Graphite Blue Metallic.
First, a quick reminder of what has changed. The key things are those you can't see, starting with the engine. Out has gone the old 3.6 litre unit to be replaced by a bi-turbo 2981cc flat-six, which in entry level guise develops 369 bhp, an increase of 19 bhp over its predecessor. To help put the power down effectively and in a controllable manner, there are even wider rear tyres than before, there are standard PASM adjustable dampers with a 10mm lowered ride height, and there are clever front air intakes that automatically open and close. From a distance, you will see the outline of the latest 911, or Typ 991 in Porsche speak, and think nothing apart from a few new colours, such as the Graphite Blue Metallic, but look more closely and you will realise that there are alterations to the look. Some of them are a consequence of the engineering changes, which necessitate getting more air into cool things down, so there is a new and larger grille across the rear, whilst other differences are the sort of tweaks that only the marque aficionado can spot, like new daytime running lights and redesigned tail-lights. Inside the most notable change is the used of Porsche's brand new PCM infotainment system, which has a new 7.0 inch screen offering higher resolution than before and which responds to swipe and pinch functions more quickly. There's also more smartphone integration – such as Apple's CarPlay – and the standard navigation system now runs using Google's much-loved mapping.
One thing that is no different is that you still need to put a key in a slot on the dashboard to start it. To the left of the wheel, which apparently is a Porsche tradition, established many years ago at the race tracks, when it was found that valuable seconds could be saved by a driver using one hand to start the engine and the other putting it in gear at the same time. The key only goes in one way round, so you would have to get this right or all advantage would be lost. These days, it seems a little archaic when so many cars have a Start/Stop button and the car goes as long as the key is in proximity. I duly twisted the key for the first time to fire the engine, and listened. It sounded just like a Porsche 911. The red line is still marked 7500rpm, so if you can find somewhere where you can get even close to this – and in an urban area, that will be a challenge! – then you can listen out for the changed noises that come from the back of the car. A direct comparison would have been useful, but was never going to happen, but I can report that the new car is, in general driving, simply quieter. A lot quieter, I think. This was really emphasised when driving with either the window or the sunroof open. Gone is the wail of the old engine, and what you get now is simply, well, almost too refined, and definitely a complete contrast to the rude noises from the Shelby Mustang I had been driving immediately before this test car. Porsche do sell a sports exhaust system, and maybe that will restore some of the glorious soundtrack that was there before.
Other than the relative lack of noise, though, there are few complaints. Or rather: there are NO complaints. The engine is smooth and flexible, and if there is any turbo lag, I certainly did not experience it. The test car came with Porsche's renowned 7 speed PDK automatic gearbox. It is a happy combination with the engine, as no matter what speed you are doing, or what revs, the car just pulls, and pulls, and pulls. It can be nice and docile if you want it to be – such as in crawling on the freeway in rush hour LA traffic – but find an open space, and this engine will rocket you forward to a conversation with the California Highway Patrol faster than you could think of the story to defend yourself. The officially quoted 0 – 62 time is now 4.6 seconds, which makes this quick. And remember this is the entry level model. There are paddles on the steering column, and these are new, replacing the previous shape design with new ones – which reflected in the instruments in a way the old ones did not – but in every day motoring, you probably won't bother, as the gearbox is very capable of making super smooth and lightning fast changes all by itself. I never once caught it out. To be honest, if I had, the prodigious amount of torque would probably have concealed the fact anyway. The journalists may have bemoaned the change in character at the very top end of the rev range, but out on the public road, there is nothing to fear and everything to appreciate here.
What really impressed me about the last 911 I drove, though, was not so much the raw performance, but how much fun the car was on twisty roads. So I made sure that my itinerary included some. My favourite, the Little Tujunga Canyon road is sadly closed, following the Sand Fire in July, and likely to be for some time, but there are plenty of other roads with the same combination of swooping bends, tighter bends, inclines up and down, and dramatic scenery. Having done a freeway trip out to just west of Palm Springs, I decided on the way back to head up towards Mount Baldy and then follow the Glendora Ridge Road and Glendora Mountain Road, which give around 20 miles of perfect 911 driving pleasure. The number of replacement sections of barrier, and white crosses by the side of the road remind you that if you get it wrong up here, the consequences could be fatal, with sheer drops over the edge, but get it just right, and this road – with hardly any traffic on it, as it was a weekday – was just perfect to enjoy the 911 at its best. The steering is excellent. So well judged, with perfect weighting. It is the handling that makes it, though. Long gone are the days when 911s and "tail happy" went together in the same sentence. At the risk of citing another cliche, this one really does corner as if on rails. There is no body roll, and there is grip aplenty, so you can power the car out of corners as fast as you dare, knowing, at least in my case, that the 911 is capable of far more than I am. On the Glendora Mountain road, with 10 miles of bends that scythe across the top of the mountain, before finally descending down into the town of Glendora, there can be few cars that would be more fun to drive. Had it not been relatively late in the afternoon, the temptation  would have been to turn round and do it all again, in the opposite direction. The test car was on the standard 19″ wheels. These are very different front and back. Front ones are 235/40 ZR19s, whereas the back there are much bulkier and lower profile 295/35 ZR19s. Larger 20″ wheels are an option. Carrera S models have the option of 4 wheel steer, but that is not offered on the standard car.
Of course, you can't drive on roads like this all the time, as the reality of motoring in 2016 is traffic, speed limits, and a mix of urban and freeway driving. And here the 911 reminds you why it is so popular. There are no real compromises, unlike the price tag you would have to pay in any other supercar. For a start, you can see out of it. Easily. There is a generous glasshouse, and the mirrors give a good field of view. All around parking sensors, and a monitoring system plus the reversing camera image projected on the display screen all made it very easy to see where you were going, when going forwards, backwards or even sideways as in pulling out to overtake. Noise levels on the freeway were generally low, with road noise the most obvious, which is hardly surprising given the vast tyres fitted to the car. It event rides well. Mostly. There are some very rough roads in the LA area, and there are all manner of surfaces, so testing a car here is a fairly stern thing to do. On the concrete ridges of the 405 freeway, the car was not particularly comfortable, but then plenty of other, less impressive machines, fail here, too. But on smoother surfaces, the ride was good, making the comfortable to pilot at a steady speed. It will stop well, too, with vast disc brakes there for that very purpose. I did not have occasion to test them in anything other than normal use, but you can be sure that Porsche will not have engineered a car as fast as this without making sure it can stop when the need is there. There is an electric parking brake, and it is operated by a switch mounted in the lower left of the dashboard just above your left knee. It is well hidden, and in a PDK car, this matters not a jot, but in a manual, I think it would be an irritation, as you would need to use it, and it is awkwardly placed.
Open the door and look inside the 911, and nothing appears to have changed. It was only when I compared this car with photos from the previous test that I could see that it is not only the new Infotainment screen, which actually looks little different from the old one, but that there is a new design of steering wheel and new paddles for the transmission. Otherwise, all is as before. First you have to get in. A moderate degree of athleticism is called for here, as the 911 is relatively low, and then once installed, you need to make yourself comfortable. There is electric adjustment for the steering column and the seat. The latter has movement in all the axes you might expect. Having set it perfectly for me, I was a little peeved when the next time I got out and back in the car, I could see the seat power itself back several inches. Experimenting with the memory settings on the door panel allowed me to store my driving position as 1 of the two, so this does not happen again. Once in, I surveyed the dashboard. Although your first impression is that there are quite a lot of buttons in the centre console – though far fewer than you get in a Panamera – it is all very logical and intuitive. It is also very neatly presented and beautifully finished, with the highest quality materials used throughout. A curved top of the dash in front of the driver covers the instruments. Central of these is a large rev counter, which dominates the display. To the left is a slightly overlapping but rather smaller circular dial which contains the speedometer. Unusually, the speed increments are every 25 mph all the way up to 200 mph. However, I suspect that Porsche think you probably won't really read this dial, as they helpfully provide a digital repeater in the lower part of the rev counter, and this is certainly what I used. There is a matching dial to the right of the rev counter and this is used for a series of user selected functions, which can range from showing the audio selection to a small navigation map repeater or various display lists from distance and consumption statistics to tyre pressures. You cycle through the various menus with a small stubby stalk on the lower right of the column that matches the cruise control one on the left. Each side of the instrument display then has two further smaller gauges, stacked one above the other. One the left are oil temperature and pressure and on the right, water temperature and fuel level. All the instruments are very clearly marked and easy to read. There are two column stalks on each side of the wheel. the main ones operating indicators on the left and wipers on the right, with shorter ones lower down for cruise control on the left and that info centre selection on the right. Annoyingly, the new gearshift paddles reflect in these outer gauges in a way that the previous paddles did not. Lights are operated via a rotary switch on the dash to the left of the wheel. Unusually these days, there are no switches on the steering wheel itself. The centre of the dash contains a pair of air vents and the new display screen which combines audio unit functions with navigation and other settings. It is now haptic (ie responds to some gestures) as well as touch sensitive, and proved easy to use. The menus and options were all different from what went before, but I am not persuaded that it is really any better, or indeed had any more capabilities that you would want than were already present  There are number of buttons and knobs below the screen for things such as audio volume and on/off as well as some of the other tuning functions. The dual zone climate control switches are exactly as they were before, comprising a number of individual buttons, as opposed to the more commonly seen rotary dials, some of which are a little awkward to reach around the gear lever. What really frustrated me was that the system reverted to one setting, not Auto, and not the temperatures I had selected, every time the car was restarted.  Consultation with the voluminous handbook suggested that you can store settings for climate control, but only if this feature is fitted. It did not appear to be on the test car. The gear selector is in a separate area all of its own and then behind this are a twin bank of switches which operate things like the Stop/Start system, the Sport setting and to raise and lower the rear spoiler. A further bank of three switches sits in the middle of these and are there to retract the cover for the glass sun roof, to tilt it or to slide it right back.
There are rear seats in the 911, though I know from past experience that these are only really for occasional use and for small children at that. Entry is not that easy as only the seat backrest slides forward, and once installed, you discover that headroom is the limiting factor. I could not sit upright, but by tilting my head towards the centre of the car, I could just about sit there, though it would not be comfortable, and you would not want to be there for long. So, space for small children, yes. Two of them, as there are only two bucket seats and a big centre console, but not really usable by adults beyond a short journey.
The rear seat backrests can be folded forward to create a luggage platform which then includes the shelf behind the seats, and this is a far better use of the space. The folded backrest does not sit on the seat cushion, so you could even tuck a few things under the folded backrest as well. You may have to, as the boot is not that big. It is a nice regular shape and it is quite deep, but you would not get two regular suitcases in here. As I was mid trip, I did not have to get even one in, but I suspect it would have fitted. Inside the cabin, there is a modest glove box, a shallow cubby under the centre armrest and there are pockets on the doors with a flap which slides inwards so you can access them. As a concession to the Americans, there are even a pair of cup holders. Press the silver trim strip above the glovebox and you can then pop out a pair of them, if you really must.
Porsche list 16 different models in the 911 range at present, and the I tested was the entry level car. It starts from £75, 074 in the UK, or $89,400 in the US, though I doubt many will ever order a car that costs that little, as there are pages and pages of options to consider, almost all if which come at extra cost. First you have to decide on the bodywork: Closed Coupe or Cabriolet. With the exception of the special 911R and GT3 RS models at the top of the range, all the other engine choices are available in these two body styles. There is also a Targa, with its opening roof that is pure theatre to watch but that is effectively a model in its own right now, with only a choice of rear or 4 wheel drive. Indeed, the number of driven wheels is the next decision, with four wheel drive a popular option, costing $6900 dollars. If you want more power, then you need to specify the Carrera S, which gives you a 414 bhp version of the same 3 litre turbo unit, using modified turbocharger compressors, a unique exhaust system and different engine management tuning in order to achieve its greater outputs.  If that's not enough, then there are still the Turbo, and the Turbo S to consider. You're looking at $159,000 for the first of these, so this is – as has always been the case – a big hike up the price brackets, in return for which you get  540 or in the case of the Turbo S, 580 bhp. Oh, and you also need to decide on the transmission. Manual or PDK? The latter costs, but has lower emissions, which will offset tax and give better fuel economy. That was the easy bit. Now you get to the options pages. And more pages, and more pages. It starts with easy things like colour – but even there if the 4 non-metallic, 8 metallic and 4 "special" shades don't take your fancy, Porsche will offer you a Custom Colour, which can be just about any shade you like. Carrera models have a choice of 6 different wheel trims. and 11 different interior trim colours, ranging from all black to some multi-tone options, so you can personalise the look of your car, as if you go through the permutations of just these variables, you get a very big number of possible combinations. But that's only the beginning, as the configurator now takes you through choices on seats (do you want the standard Sports Seats or Sports Seats Plus?), interior trim features, with various piece of leather, aluminium, wood, alcantara and/or carbon fibre all available, and audio equipment upgrades. And so it goes on. No wonder there are a trio of pre-configured options on the Porsche.com website, which combine popular options, as well as one which is pretty much a standard car.
Even an entry level Carrera comes decently well equipped, as you would indeed hope for the money, with the standard features including: Porsche Active Suspension Management (PASM); Enhanced Porsche Stability Management (PSM) with ABS, ASR, ABD and EDTC as well as pre-filling of brake system and brake assist; 4-piston, aluminium fixed monobloc calipers front and rear with 2.99 in. diameter discs front and rear, internally vented and cross-drilled; Pad wear sensor on every brake pad; Brake calipers in Black; an automatically extending rear spoiler; Side cooling air intakes in front fascia with active cooling air flaps and air blades; aluminium luggage compartment lid, front wings, doors, roof panel and rear lid; door brakes with 3 rest positions; water-repellent coating on door windows; power windows front with one-touch operation; rain-sensing wipers with aerodynamic wiper blades, 2 wiper speeds, and adjustable intermittent wipe; electrically adjustable and heated side mirrors on door panels; heated rear glass window; Porsche Communication Management* (PCM) including Connect Plus module featuring online navigation, mobile phone preparation, audio interface, Apple CarPlay®, and wireless internet access; SiriusXM® Satellite Radio and HD Radio™ Receiver; Porsche Car Connect* including Carfinder, Remote Vehicle Status, Remote Services, and Porsche Vehicle Tracking System (PVTS); Sound Package Plus sound system featuring 8 Speakers and 150 Watt output; Audio interfaces: CD/DVD drive, 11 GB internal jukebox storage, 2 USB slots and 2 SD card slots; Universal audio interface (AUX-IN, USB, iPod®) in the glove compartment for connection of external audio sources, operated through external device or on PCM (depending on device and connection used); Bluetooth® hands-free mobile phone connection, using Hands Free Profile (HFP); HomeLink® programmable garage door opener; unified interior lighting design for the entire cabin in white with variable dimming Reading lights, orientation lights, ignition lock, and vanity mirrors lighting in LED, as well as footwell, glove compartment, luggage compartment, and exit lighting; three 12-volt plugs (passenger side footwell, glove compartment, enclosed centre console storage compartment); power release button for front and rear lid; cruise control; ParkAssist (front and rear) with reversing camera; Bi-Xenon™ headlights with four-point LED daytime running lights and dynamic headlight levelling; separate auxiliary light modules in front fascia with sidelights and turn signals in LED; three-dimensional tail lights including back-up light, rear fog light, and turn signals as well as the high-level third brake light and license plate illumination in LED; Auto on/off headlights including "Welcome home" lighting; 2-zone automatic climate control with separate temperature controls for driver and front passenger side, automatic air circulation control including an air quality sensor, and residual heat function; active carbon filter; Green tinted heat-insulating glass; Sport Seats with 4-way electric adjustment of backrest and seat height, as well as mechanical fore/aft adjustment; split folding rear seat backrests with additional storage behind; sport steering wheel with manual fore/aft and height adjustment; partial leather front seats with seat centres, side bolsters, and headrests upholstered in grained leather; steering wheel rim, gearshift lever, door handles, door armrests, and centre console storage compartment cover in smooth-finish leather; dual cupholders integrated behind decorative dashboard trim above glove compartment. Phew! Quite a list. Missing from it, but clearly on the test car were the metallic paint ($710), the PDK gearbox ($3200) and the large glass tilt/slide sunroof ($1990). There may well have been other items, but detecting them would require a lengthy perusal of spec lists which I did not have time for. I can certainly say that there was nothing that made me go "I wish this particular feature was included and it appears not to be".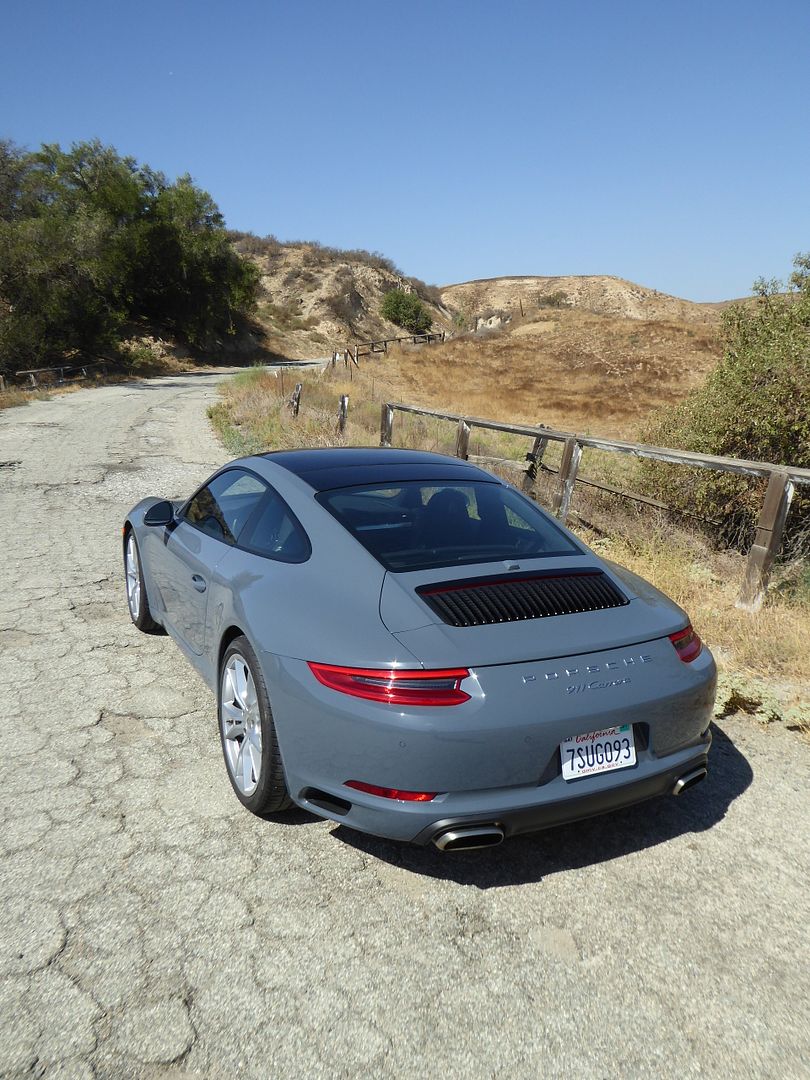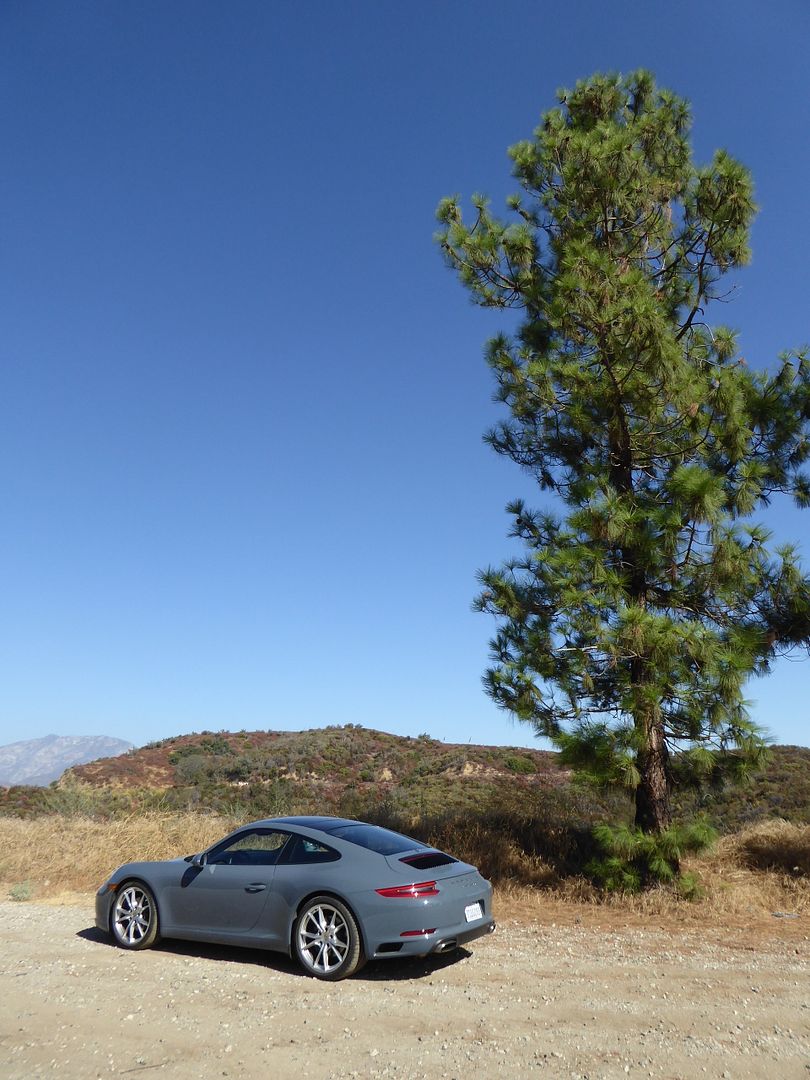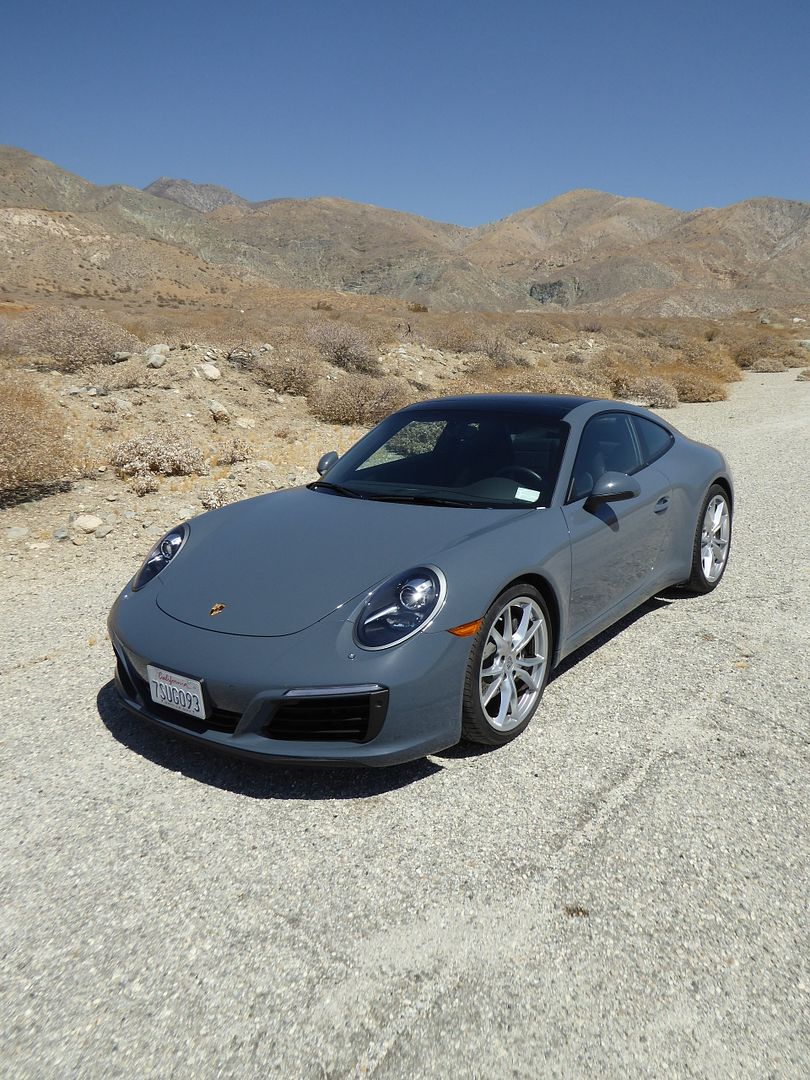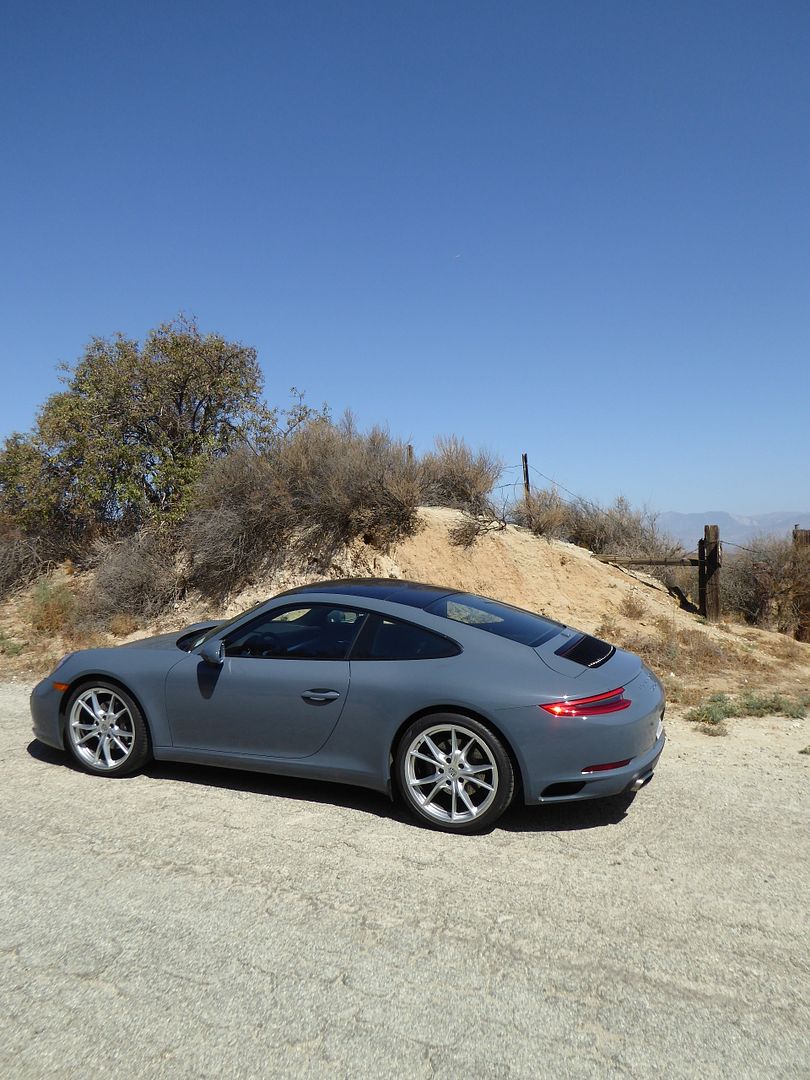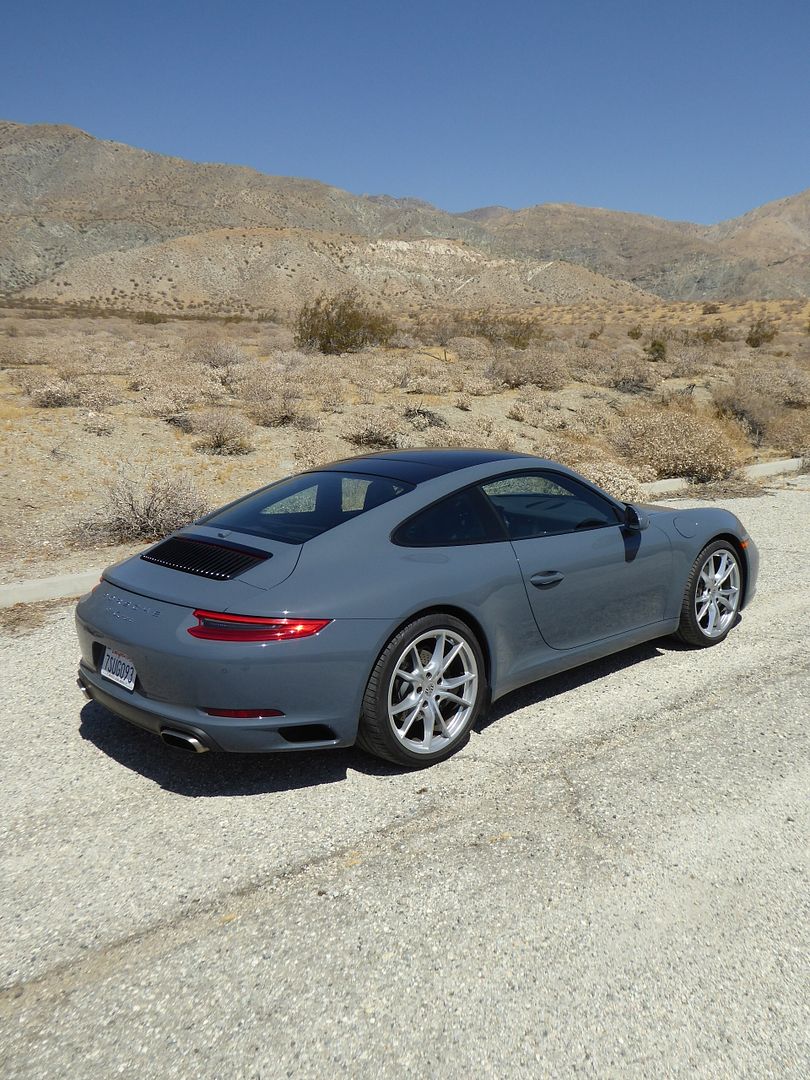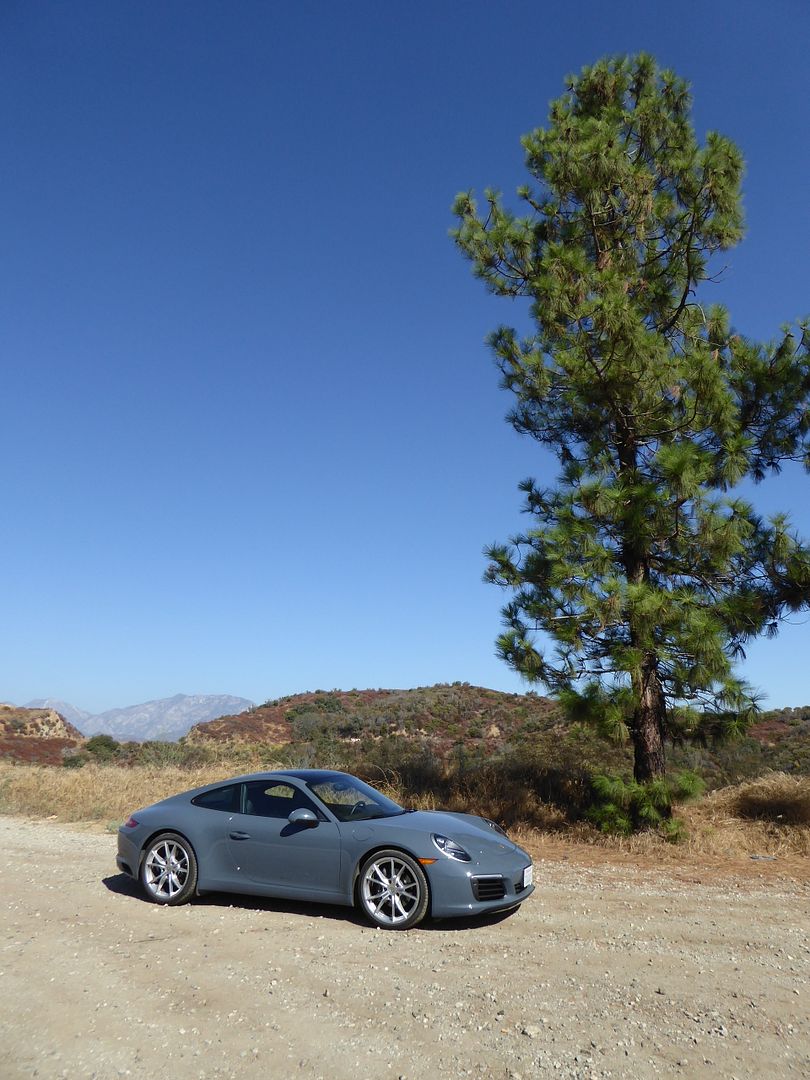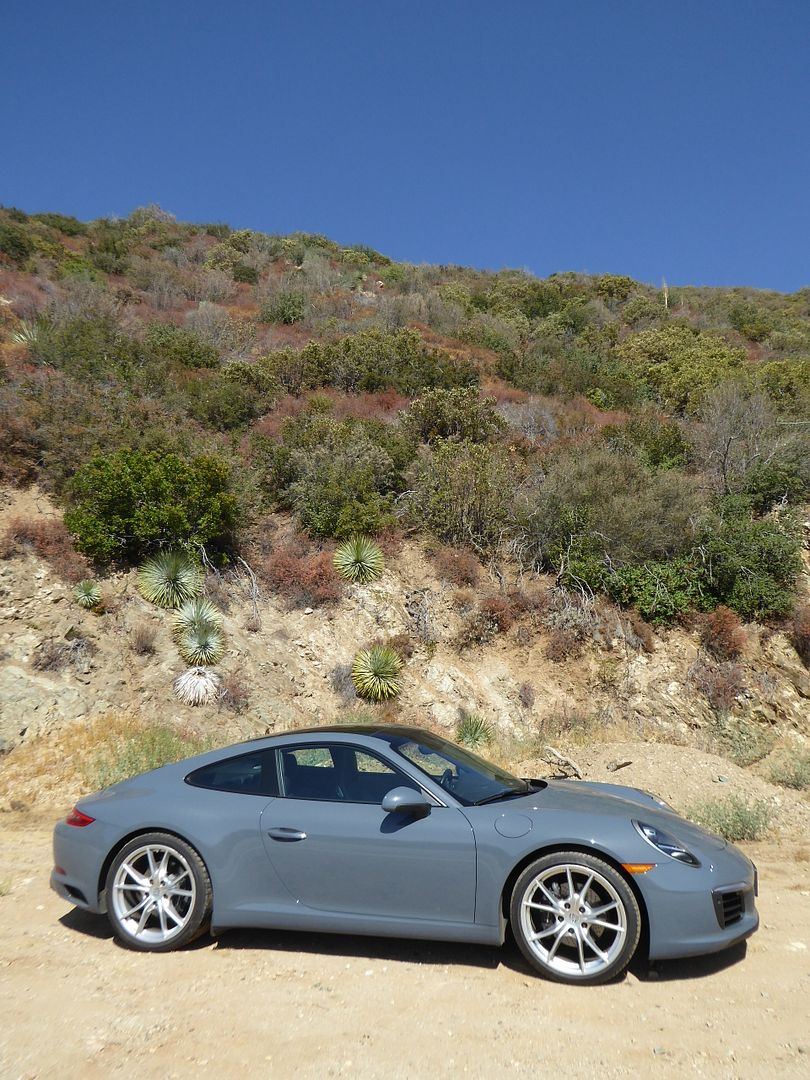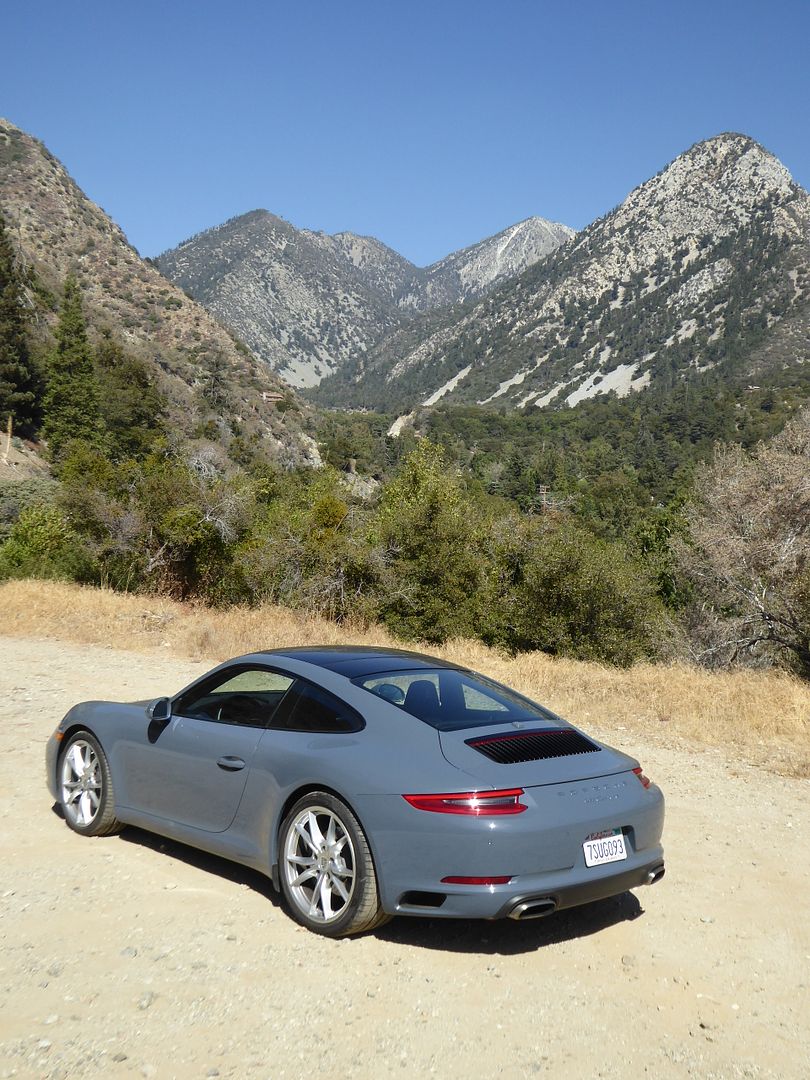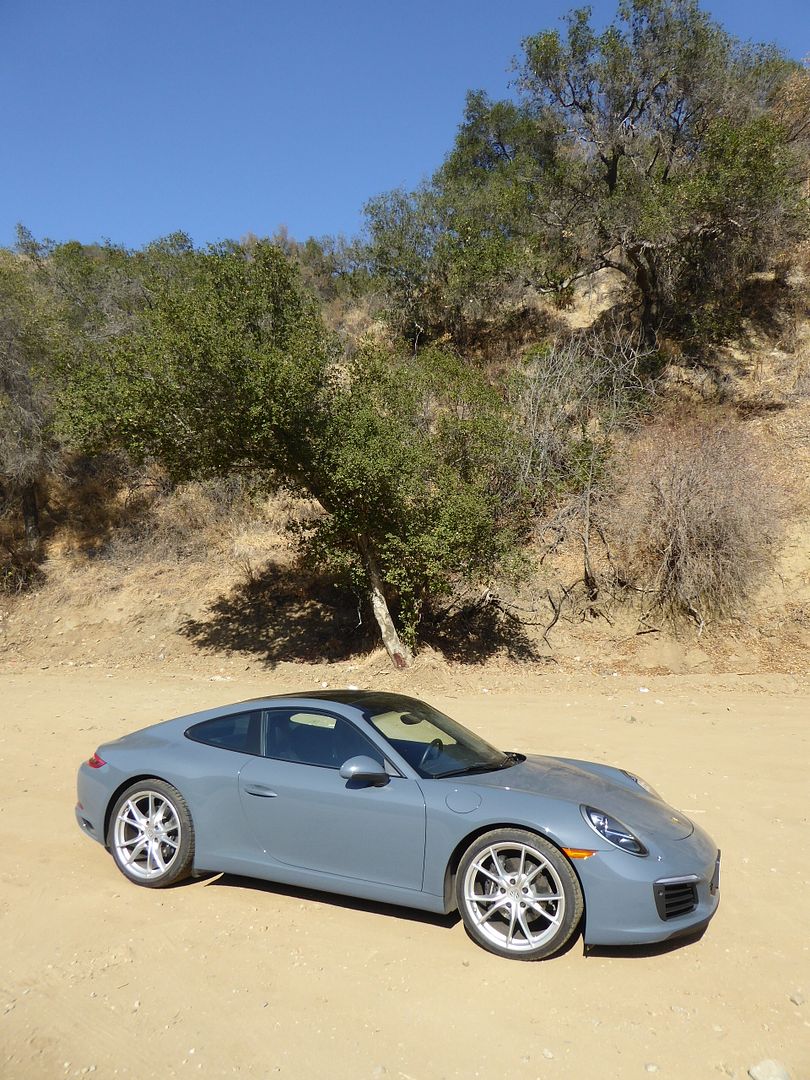 "
At the end of the test, I put in exactly 10 US gallons, having driven the car 289 miles, which gives an average consumption of 28.9 mpg (US). This is slightly less than the car told me, as it reported 29.4 mpg and an average speed of 40 mph for the day (canyon roads and LA traffic are such that you are never going to have a high average!), and the difference could be accounted for by how full the car was on collection relative to return. Still, 28.9 mpg US is 34.5 mpg Imperial, which is an impressive figure indeed. The Start/Stop system will have played its part in the morning and evening rush hour traffic, but it won't have made that much of a difference, so you have to say that Porsche has achieved their objective of making a 911 that can be (depending on how it is driven) economical. Looking back at my last test, I note that the old non-Turbo car averaged 24.8 mpg US, over a similar test distance, and similar (but different) roads, so it would seem on this evidence that the new engine is more frugal than the old.
If you'd not driven, or even heard a 911 before, you would get out of this one thinking it is just sensational. And indeed it is. The Americans would say "awesome", and although that is a much over-used and abused word, in this case it really does apply. But the burning question is how it compares to the pre-facelift non-Turbo car. It really does seem that some of the characteristic, and pleasing noise has gone, even at modest speeds, and whilst quieter cars have their appeal to some people, for the sort of enthusiast who would buy and enjoy a car like this, that is indeed regrettable. But that is the only thing to regret, In all other respects, you are getting one of the very best cars that money can buy, that you can pootle to the shops in, that you can take on a long journey and emerge fresh and unruffled at the other end, but when the chances are there, that you can take out just for the fun of driving it. The UK starting price of £76,000 means that it is out of reach for many of us (me included!), but for those who can afford it (or those who wait til depreciation helps out a bit), you will not regret your decision. And for those who can't afford one, well, Hertz have them in their Dream Collection at major US airports. I've been asked not to quote the price I paid, but let's just say that they are often prepared to do a deal on the day so there are ways of fulfilling your dream and driving one for a while, and any car enthusiast who does so will think it was rental money well spent.