It's some time since major Auto Shows have been held in the UK and Italy meaning that there are only really three truly Big Shows now in Europe. Geneva is the one that takes place annually, and the Frankfurt and Paris Shows alternate, as they have done for some considerable time. All are truly international in scope, ambition and indeed attendance, the Swiss one because there is no domestic motor industry to speak of, and the other two, although typically reflecting a strong bias to the home products because they are the only major show of their type in the second half of any calendar year. But even these very long-standing shows are facing an uncertain future. Major manufacturers are questioning whether there is a sufficient return on investment from the huge costs they incur in attending, especially in an era where digital and social media channels allow you to get new product news out to a much larger audience whenever you want, rather than having to share your air-time with everyone else launching a new car at a major Show. And so, in recent years, we've seen a number of major brands declare that they will scale back their presence, and will be more selective in what they attend, especially if they have nothing new and significant to premier at the time. I was a little surprised to find Opel were absent from the 2018 Geneva Show, along with few smaller brands, but that was nothing compared to the list of those who opted out of Paris 2018. Indeed, with launches and unveilings in the days leading up to the show's early October opening in very short supply, there were almost more column inches on who was not going to be there and why than coverage of what would be on show, or so it seemed. All this came rather late for me, as, having attended the Paris Show several times in the past, and always enjoyed it, I had already committed myself to a flight, and a hotel, and a long weekend "en France". I had learned that it makes for a less crowded experience to attend this Show on a weekday, so duly booked a day off work and planned to attend on the final Friday. All I can say is that if this was the less crowded option, it must have been truly frustrating over the weekend, as I spent a day – and yes, I really was there from soon after the doors opened at 10am until they closed at 10pm – trying to get close to the cars, to get to sit in them and to get some decent photos. Because this was a late night opening, as those who had been there since earl headed off, at least as many people arrived, so it remained impossibly busy all day. That, along with the fact that at least 15 brands that you would expect to see were conspicuous by their absence – including Ford, Volkswagen, Fiat, Alfa, Volvo, Mazda and many others – means that there are rather few photos in this report than I usually present from a major International Auto Show, but there's still plenty to see.
AIXAM
With Abarth and Alfa Romeo not at the show, this is the first marque alphabetically, and as this was in France, something so quintessentially French as this established maker of diminutive little cars that can be driven with a full driving licence seems an apposite place to start. Aixam is one of a number of brands that cater for this market sector, but they were the only one present here on this occasion. And they had quite a sizeable stand with lots of different vehicles on display. Many of them taking their styling inspiration from well-known "proper" cars, with the dimensions then reduced to meet the size limitations of this class, giving some almost cartoon-ish looks.
ASPARK
No, I'd not heard of this one, either. It occupied a corner in the Supercar part of the Show, with a single car on display, and a prominent sign behind it, to tell us all what it was. It turned out to be from a little-known Japanese automaker, who has apparently been developing the Owl for quite some time. The promise is that they will deliver a vehicle to customers that can accelerate to 62 mph (100 km/h) in just 1.99 seconds with street-legal tyres. In February, an Owl with racing slicks clocked a 1.89 second sprint to 62 mph. The reason behind the Owl's mind-blowing performance is its all-electric powertrain that delivers the equivalent of 1150 hp and 652 lb-ft (885 Nm) of torque. The car also makes use of carbon fibre throughout its construction and has a dry weight of roughly 1500 kg (3306 lbs). Beyond the Owl's potent acceleration abilities, it will allegedly be able to accelerate up to 280 km/h (173 mph) and travel 300 km (186 miles) on a single charge.  Pre-orders have just opened and all it will take to secure one is a casual deposit of $1.15 million. Yes, seriously. The final price also comes out at $3.6 million. Moreover, the $1.15 million deposit is non-refundable and budding owners won't be able to test drive one for at least another year. Despite all of this, Aspark expects to find 50 customers willing to take the risk. Aspark may be able to find 50 customers if it had the electric hypercar market all to itself. However, it doesn't. Instead, vehicles from the likes of Rimac and Pininfarina are all promising better performance than the Owl for less money. The next-generation Tesla Roadster is also expected to have a performance advantage over the Aspark. It will be interesting to see what happens next.
ASTON MARTIN
Three cars represented Aston Martin. They were parked very close together in what I would hesitate to call "a stand". At least they were on the edge of the supercar area and so the general public could see them, but this was a far cry from the expansive Aston presence that there has been in Geneva in recent years. Those three cars comprised the new DBS Superleggera, the recently launched Vantage and the still fresh DB11.
AUDI
The Audi stand at any show tends to be one of the busiest, and this was no exception, Although it was also one of the largest, and the cars were pretty well spaced out, it was always very busy, and often even seeing what the car was  that everyone was crowding around was hard enough, let alone being able to get in it, or get a clear photo or two. I did return many times, as there were lots of Audi models which had been launched since Geneva and which are yet to go on sale which I did want to see.
There was one car which seemed barely to be attracting any crowds at all, and that was the PB18 e-tron concept. This made its world debut during the Monterey Car Week, and was making its European premiere here. The battery-electric supercar study is reportedly previewing the replacement of the Audi R8, featuring three electric motors with a combined output of 671hp and 612lb-ft of torque. The front axle is powered by a single 201hp electric motor while the rear axle gets the other two, complete with 604hp. Audi claims that the PB18 E-Tron's electric powertrain is able to deliver peak power of 764hp for short bursts, making it capable of a 0-62mph (100km/h) in less than two seconds. The highlight of Audi's electric supercar concept lies in the battery pack; the German company says that the PB18 E-Tron uses an innovative and relatively light solid-state battery pack with 95kWh in capacity, contributing in a total weight of less than 1,550kg (3,417lbs). The design is unsurprisingly rather sharp, featuring a long roof line that resembles that of a shooting brake concept, widely extended wheel arches and a pretty large interpretation of Audi's Singleframe front grille. The interior adopts a variable layout, meaning it can be converted from a regular two-seater to a single-seater with the driver sitting in the middle. This was made possible thanks to the adoption of fully electronic steering, throttle and braking operations. The long roof line also gives the PB18 E-Tron a rather large boot capacity, with 470 litres on offer.
On a raised display at the back of the stand was the most hardcore model Audi makes, he R8 LMS, the GT3 racing version of Ingolstadt's mid-engined supercar. A new version was being revealed here. A  further evolution of the customer racing car Audi Sport has been making since 2015, the updated R8 LMS features a wide range of enhancements aimed to keep it out ahead of the competition on tracks around the world. That includes substantial aerodynamic improvements aimed not only at increasing downforce and decreasing drag, but also providing better cooling to the brakes. The small design changes up front are expected to be featured in the road-going version of the Audi R8 facelift as well, as the German company has been out testing a few prototypes for quite some time now. The engine remains essentially unchanged: a 5.2-litre naturally aspirated V10 capable of producing as much as 585 bhp and upwards of 405 lb-ft (550 Nm) of torque. Such are the strict standards with which the R8 LMS and its competitors have to comply. But the six-speed sequential transmission, three-plate racing clutch, and locking differential have been extensively revised to provide increased performance while reducing the effects of wear over the course of the gruelling endurance races to which these vehicles are often subjected. Safety has also been increased surpass the level mandated by the FIA for GT3 racing and meet the standards for Le Mans prototypes (like the R18 that Audi fielded at the top level until 2016). And despite all the improved equipment, the new R8 LMS is actually 55 pounds (25 kilograms) lighter than the first-generation model employed until now – all the while increasing torsional stiffness by an impressive 39 percent. Want to get your hands on one? It'll cost you a substantial €398,000, before taxes. But teams already in possession of the existing model for €28,000. Deliveries will commence in January once homologation is completed, after which you can expect to see the evolved R8 LMS challenging for checkered flags and podiums in series like the FIA GT World Cup, ADAC GT Masters, Blancpain GT Series, and IMSA WeatherTech SportsCar Championship, to name just a few of the racing series in which it will be eligible to compete next year.
With one of the pair of examples on the other raised display area at the back of the stand I could at least get a good look at the outside of the most recent of Audi's many mid-year production car launches, the  e-Tron. Audi only took the covers off the e-tron SUV for its online premiere a couple of weeks ago so this would have been the first time most members of the press and the public would have seen it live. To say it makes the Tesla Model X look fat would be an understatement. The Audi e-tron SUV utilises a pair of asynchronous motors working alongside a 95 kWh battery pack. These motors incorporate an energy recuperation system that kicks in whenever the driver releases the accelerator and when the brake pedal is depressed. This recuperation system is responsible for as much as 30 per cent of the vehicle's range, depending on driving conditions. While Audi has yet to confirm exactly how far the e-tron SUV will travel on a single charge, reports expect it to sit at roughly 250 miles (402 km). What we do know is that the SUV will accelerate from 0-60 mph (96 km/h) in 5.5 seconds and continue through to a 124 mph (200 km/h) top speed. While it may have the advantage over the Model X in the looks department, it's not as accelerative. Elsewhere, the vehicle features electric all-wheel drive that offers advanced torque vectoring and an innovative traction control system which regulates wheel slip by the millisecond. The e-tron SUV also supports DC fast charging of up to 150 kW meaning it can be topped up to 80 per cent capacity in just 30 minutes. Sales start next spring, and it is not going to come cheap – but then no are its direct all-electric rivals, the Jaguar I-Pace and Tesla Model X.
The second generation A1 was premiered a little earlier in the summer, though it has yet to go on sale, and first drives have not yet been published. There were a couple of examples on the stand, giving me a chance to see the new and rather more angular and aggressive styling for the first time. You certainly aren't going to struggle to tell this apart from the model it replaces, with a a wide front grille backed up by three stilts just above, which Audi say pays homage to the Sport Quattro homologation special. The aggressive theme continues at the back, where the rear bumper gets a pair of -probably fake- air outlets and a small diffuser and the taillights adopt a distinctive LED signature. Compared to its predecessor, the new Audi A1 Sportback is now longer by 56mm (2.2in), at 4.03 metres (13.2 ft). Width its the same as before, at 1.74 metres (5.7 ft), while height is 1.41 metres (4.6 ft). The interior gets a driver-oriented dashboard that features a 10.1-inch glass-surfaced MMI infotainment system with Android Auto and Apple CarPlay in its range-topping version. All models will come with Audi's 10.25-inch digital instrument cluster as standard. Audi claims that interior space has been improved in the new A1, as is the luggage capacity (335 litres with the rear seats in their normal position). Other onboard features include wireless charging for compatible smartphones, a premium B&O audio system and more. As you would expect, the range of driver assistance systems is pretty impressive; the 2019 Audi A1 Sportback will offer everything from Audi's Pre Sense Front, which uses a radar sensor in front to recognise critical situations, to Adaptive Speed Assist and a new parking assistant, among others. The engine range includes three- and four-cylinder petrol engines, ranging from 93 bhp to 197 bhp. As before, customers will be offered both a manual or a dual-clutch automatic transmission. The new Audi A1 will also be offered with two different dynamic packages, which according to the company are individually configured for each engine. The 'Basis' pack will be offered for the base petrol versions and includes a sport suspension, red brake calipers, and larger brake rotors. Other engine options will be offered with the 'Performance' pack, that also includes bigger brakes with red calipers but adds adjustable dampers, a sound actuator and Audi Drive Select. I have to say that I was not entirely convinced by the new look, and the interior quality was also a bit suspect. When I did get in the car, I heard someone alongside tap the door panels, and utter "Peugeot", suggesting he thought the plastics were now down to the sort you would find in one of those cars, and I was inclined to agree. Sales start late this year.
Due on sale at around the same time is the second generation Q3, which was also unveiled in the summer, a few weeks before the A1. With far more rivals now than when the first generation Q3 was launched, Audi has worked hard to address the perceived weaknesses of the outgoing car, and also applied its latest styling philosophy to what should be one of its biggest selling models. It does indeed look different from the old model, with a more aggressive appearance. The vertical grille bars at the front seem to come straight from the new Q8, and there is a "sportier front bumper and a more muscular profile" as well as new lighting units on both ends with LED tech, and different alloy wheels available in different sizes and patterns. The interior of the 2019 Q3 is dominated by the 8.8-inch infotainment system (a 10-inch display is optional) and the 12.3-inch Virtual Cockpit. Other features include a Wi-Fi hotspot, four USB ports, Connect portfolio and plenty of colour combinations to choose from. The car on display was a 45 TFSI. This means it's powered by a turbocharged 2.0-litre four-cylinder engine that's good for 230 PS (226 hp) and 350 Nm (258 lb-ft) of torque. It's mated to a seven-speed dual-clutch gearbox and comes with Audi's Quattro all-wheel drive system. Sales start in late 2018.
Next up was the performance version of the smallest Crossover in Audi's lineup, called the SQ2. Essentially a Q2 that has received a vitamin supplement from the S3 hot hatch, the SQ2 features a 2.0-litre turbo-four, lowered S sports suspension, and sporty exterior and interior tweaks. At the heart of the SQ2 resides the 2.0-litre turbocharged four-cylinder gasoline engine that pumps out 300 PS (296 hp) and 400 Nm (295 lb-ft) of torque between 2,000 and 5,200 rpm. Thanks to the seven-speed S tronic dual-clutch transmission and standard quattro AWD system, the SQ2 sprints from 0 to 100 km/h (0-62 mph) in 4.8 seconds and reaches an electronically limited top speed of 250 km/h (155 mph). And if the front wheels run out of grip, the quattro system can distribute up to 100 percent of torque to the rear wheels in milliseconds. The S sports suspension lowers the body by 20 mm (0.78 in) and features a more dynamic set-up than the Q2's standard suspension. Furthermore, the standard progressive steering has S-specific power assistance characteristic to improve agility. The Audi SQ2 also comes standard with the Audi drive select dynamic handling system which offers five driving modes: auto, comfort, dynamic, efficiency, and individual. Each of the settings alters the response of the steering, transmission and additional systems. On the outside, the SQ2 is easy to recognise thanks to the more aggressive bumpers with bigger air intakes at the front and quad exhausts at the rear, special grille, sharper side skirts, "quattro" trim strip on the doors, and a roof spoiler. There are 10 different alloy wheel designs to choose from, ranging from 18 to 19 inches, as well as 10 exterior colours. The performance SUV is also better equipped than lesser Q2 models, featuring standard LED headlights and taillights. Speaking of equipment, the cabin offers standard sport seats trimmed in leather and fabric, front center armrest, automatic air conditioning, multifunction sports steering wheel, and a colour driver information system. The 12.3-inch Audi virtual cockpit is optional. The Audi SQ2 will arrive on European markets in early 2019.
With so many new cars on show, it is understandable if people missed the fact that this one was also making its first appearance, the Avant version of the all-new A6 that was launched at Geneva back in March. Audi talk about how it looks sportier than its predecessor thanks to the more muscular wheel arches, short overhangs, and the roofline than gently slopes towards the rear end. Initially, the A6 Avant will be offered with a choice of three turbocharged engines, all of the diesel. The entry-level power plant is a 2.0-litre TDI with 204 PS (201 hp), labelled as A6 Avant 40 TDI. Next up is a 3.0-litre TDI V6 with 231 PS (228 hp), which you'll recognise by the 45 TDI quattro badge. Finally, another 3.0-litre TDI rated at 286 PS (282 hp) will top the range as the 50 TDI quattro. The four-cylinder unit is mated to a seven-speed S tronic dual-clutch automatic transmission, while the six-cylinder engines are hooked to an eight-speed tiptronic torque-converter auto. V6 models also get standard quattro all-wheel drive (optional on the 2.0 TDI) and a self-locking centre differential. Available for the 3.0 TDI models is a sport differential that actively distributes the torque between the rear wheels during sporty cornering. The most economical model is the base A6 Avant 40 TDI, with a claimed average fuel economy of 4.9-4.5 l/100 km and corresponding CO2 emissions of 129-119 g/km. The increased fuel efficiency is partly due to the mild-hybrid technology (MHEV) fitted as standard to all engines. With the V6 units, MHEV operates with 48 volts, while the four-cylinder engine uses a 12-volt electrical system. In real-world driving, Audi claims the mild-hybrid system helps reduce fuel consumption by up to 0.7 l/100 km, thanks in part to a coasting function that deactivates the engine at speeds between 55 and 160 km/h (34 and 99 mph). Later on, Audi will introduce petrol engines as well, including the 45 TFSI 2.0-litre turbo-four rated at 245 PS (242 hp). There is a choice of four suspension set-ups available: the standard steel-spring suspension, sport suspension, suspension with damper control, and adaptive air suspension. A dynamic-all-wheel steering system is optional, helping reduce the 4.94-metre (16.2-ft) long A6 Avant's turning circle by as much as one metre (3.3 ft) to 11.1 metres (36.4 ft). Rear-wheel steering also makes the big wagon more agile on winding roads and more stable when changing lanes at high speeds. The new A6 Avant is already available to order across Europe in standard, sport and design trim levels.
After quite so much all-new stuff, the mid-cycle updates that have been made to the A4 range would likely pass almost un-noticed. There was an A4 Avant here, complete with the new naming convention, which start to make sense now it is applied across most of the range. The updates here are subtle, but all of them worthwhile.
There were examples of the rest of the range on show, too, ranging from a mildly updated TT to the recently refreshed A7 and Q5, the still relatively new Q7 and the established A3, but all seem to have escaped the camera.
BMW
BMW had one of the larger stands of the show, upstairs in Hall 5, and it was very busy, so, just like at Audi, it was very hard to get to see much properly. They also had what was surely the most important show launch of all, with the release of the G20 generation 3 series, so I was expecting a rather special display. But instead, they simply put a couple of examples in among the rest of what was on their stand, and whilst did mean that you could – in theory – get a good look, it also meant that you could easily simply walk past the crowds surrounding them, and miss then altogether! The new 3-Series goes on sale in March of 2019, priced from £33,610 in the UK, where the entry-level model will be a 320d. A lot more will doubtless be written before that on-sale date, but there's quite a lot that can be said now. First things first though, let's talk size. The new 3er is 85 mm (3.34 in) longer than its predecessor, measuring 4,709 mm (185.7 inches) in length. It's also wider by 16 mm (now 1,827 mm / 71.9 in) and just 1 mm taller. Meanwhile, its wheelbase has grown by 41 mm to 2,851 mm (112.2 inches) – the largest in its class. Visually, the G20 is also more "imposing"  than the F30, thanks in part to the four contour lines leading to the massive kidney grille, as well as the character lines that rise to the rear and wheel arches. From launch, customers will be able to choose between two non-metallic colours and ten metallic shades, including Vermont Bronze metallic and the new Portimao Blue metallic, the latter unique to the M Sport version. I have to say that I thought that whilst the shape is fine, like most recent BMWs, it has been brushed several times over with the fussy stick, with lots of superfluous detailing none of which contributes to any semblance of elegance. Since the 3-Series is now the newest premium sports sedan entry, it's only natural for it to have some type of upper hand in terms of available on-board technology, at least on paper. With that in mind, even entry-level variants such as the SE (in Europe) feature the likes of Extended LED headlights with cornering light and eyebrow indicators, BMW Light Carpet, interior Ambient Lighting with up to 11 colours settings, reversing camera, electric folding rear view mirrors, three-zone air conditioning and enhanced acoustic glazing. There's even a leather Sport steering wheel to go with the BMW Live Cockpit and its 8.8-inch central instrument cluster. Speaking of the SE model, it gets a line-specific front and rear bumper design, exclusive 17-inch alloys (or optional 18-inch ones), bespoke door sill strips and LED front fog lights. The Sport version adds BMW Individual high-gloss Shadow Line trim for the side window surrounds, kidney grille bars and air intake elements, and 18-inch alloys, while its interior comes with high-gloss black trim, sports/heated seats and Vernasca leather. Last but not least is the M Sport model, which in Europe features the previously-mentioned Shadow Line trim and gloss black accents, Sports seats, an M leather steering wheel, anthracite-colored BMW Individual headliner, Aluminium Tetragon trim strips, heated leather seats and the new BMW Live Cockpit Professional with the 12.3-inch digital instrument cluster as standard, next to the 10.3-inch central instrument cluster and BMW's new ID7 operating system. As for U.S. spec models, there's the entry-level Sport Line, the Luxury Line and the M Sport to choose from. The Sport Line packs 18-inch wheels, bespoke door sill strips and LED front fog lamps, while inside it comes with high-gloss black trim and sports seats out front. Luxury Line models use chrome applications for the BMW kidney grille, front air intakes and rear apron, while Vernasca leather trim can be found inside. As for the M Sport, is rocks a standard M Sport Suspension (optional Adaptive M Suspension), variable sport steering, larger air intakes, BMW Individual high-gloss Shadow Line trim and elements, sports seats with M-specific upholstery, an M leather steering wheel and the same headliner as the Euro-spec M Sport version. There is lots of new tech introduced with the G20 cars. The Active Guard Plus system comes standard on all new 2019 3-Series models, and includes speed limit information, lane departure warning, Collision and Pedestrian warning with City Braking, plus Cruise Control with braking function. Swing for the Driving Assistant Professional package and you'll also enjoy the likes of Active Cruise Control with Stop & Go, Steering and Lane Control Assistant, Lane Keeping Assistant with active side collision protection, Priority Warning and Wrong-way warning systems and Cross-Traffic Alert. The latest generation of BMW's head-up display is an optional extra and available as part of a Technology package. The system is said to boast a projection area 70% larger than in the outgoing 3-Series, plus enhanced graphics and additional display readings. As for the car's Intelligent Personal Assistant, you can activate it by saying 'Hey BMW', from which point the system can learn your routines and habits, helping you with your seat heating, sat-nav destinations and so on. What's interesting is that BMW will allow you to give the system a name (for example Charlie or Joy) in order to create even greater individuality and personality. Other things you can say include: "Hey BMW, I'm cold" ; "How does the High Beam Assistant work?" ; "Is the oil level okay?" "What messages do I have?" and plenty more. The assistant will the benefit from constant technical upgrades, learning more along the way. The 3-Series wouldn't be a proper BMW if it didn't drive like one, and you can argue that this nameplate is actually the quintessential Bimmer – a mid-size family car that drives in a very engaging manner. BMW certainly claim that it should now lead the class again in this regard, a position it lost to the Jaguar XE and Alfa Romeo Giulia in recent years. Helping it get to where it needs to go is a range of upgraded four-cylinder units, used in the 320d and 330i models to begin with. The former packs TwinPower Turbo 2.0-litre four-pots producing 190 PS (187 HP) and 400 Nm (295 lb-ft) of torque and does zero to 62 mph (100 km/h) in 6.8 seconds (7.1 manual). The 330i on the other hand has 258 PS (255 HP) and the same 400 Nm (295 lb-ft) of torque, and will do the previously-mentioned sprint in 5.8 seconds. The likes of the M340i and M340i xDrive M Performance will arrive in the Spring of 2019, boasting a straight-six engine with 382 HP (387 PS) and 369 lb-ft (500 Nm) of torque, getting you to 60 mph (96 km/h) in around 4.2 seconds. The line-up will later expand to include M Performance and iPerformance plug-in hybrid models, as well as other bodystyles.
There were three models in a roped-off area across the front of the stand.  All contain some form of electric propulsion, something to which BMW is very committed, as indeed are most manufacturers these days. Two of them you can buy now. These are the i8 Roadster and the mild hybrid version of the 7 series, the 740e.
The most significant of them is the one you can't buy yet, the iX3 concept. This is BMW's response to the Mercedes-Benz EQC and Audi E-Tron, both of which were unveiled recently in production form. On the outside, it is immediately obvious that the EV is based on the latest X3. Closed off air intakes at the front, a new grille and several other cues are an attempt at giving it a futuristic look in order to differentiate it from the rest of the X3 range. The electric powertrain packs 270 PS (266 hp / 199 kW) and is backed up by a 70 kWh battery. The latter can be charged in just 30 minutes via a 150 kW quick charger, and a maximum range of 400 km (249 mi), as per WLTP standards. These specs are thought to be maintained in the production model, which is already being tested on public roads. BMW hasn't announced when it plans to launch the finished item, but it could arrive as early as next year.
At one end of the stand were a couple of the latest M cars, the M2 Competition and the M5 Competition. The M2 Competition model here included a number of M Performance upgrades. Among them were the carbon fibre-made diffuser, grille, side blades, mirrors, wing vents, diffuser, boot-mounted wing and roof. Elsewhere, the exterior of the car is adorned with the M specific colours that give it a racier vibe.
In base form, without the aforementioned parts, pricing starts at €61,900 in Germany and £49,805 in the United Kingdom. For the money, customers get a lot of car, starting with the biggest change over the pre-facelifted version:  a new engine. Shared with the bigger M3 and M4 models, the twin-turbo 3.0-litre straight-six produces 410 PS (405 hp) and 550 Nm (406 lb-ft) of torque. BMW says the M2 Competition goes from rest to 100 km/h (0-62 mph) in 4.0 seconds, and maxes out at 250 km/h (155 mph). Top speed can be increased to 280 km/h (174 mph) with the optional M Driver's Package.
The M5 Competition was unveiled earlier in the year, hot on the heels of the "regular" M5. The standard M5 is a formidable beast as it packs all-wheel drive and 600 PS (592 hp) but that is clearly not enough for everyone, so BMW decided to up the ante by adding the M5 Competition to the range. Starting under the bonnet, this model's twin-turbo 4.4-litre V8 engine now produces 625 PS (617 hp), an increase of 25 PS (24 hp) but the torque figure remains unchanged at 750 Nm (553 lb-ft). Thanks to the extra power, the M5 Competition runs from 0-100 km/h (0-62 mph) in 3.3 seconds and 0-200 km/h (0-124 mph) in 10.8 seconds. Compared to the standard model, these are improvements of 0.1 and 0.3 seconds. Like the standard M5, the M5 Competition is equipped with an eight-speed automatic transmission and a rear-biased all-wheel drive system which works in conjunction with the car's Active M Differential. While some of the powertrain components carryover, the M5 Competition has special engine mounts with an increased spring rate. BMW says this helps to deliver an "even more direct engine response and immediate transmission of its power to the drivetrain." The modifications don't stop there as engineers fine-tuned the chassis and suspension. They made a host of changes including reducing the ride height by 7mm (0.27 inches) and using toe links with ball joints instead of rubber mounts. BMW says the latter change results in "even more precise wheel guidance at the rear axle." Speaking of the suspension, the model has been equipped with 10 percent stiffer springs and a firmer rear anti-roll bar. The dampers have also been tweaked and BMW says the Sport Plus setting "lends itself to ultra-dynamic driving on grand prix tracks." Since the Competition is mainly focused on performance, the styling changes are relatively subtle. That being said, the car has high-gloss black accents on the grille, rear bumper and mirror caps. The model also features Competition badging, exclusive 20-inch forged lightweight wheels and a model-specific sports exhaust system that "generates a strikingly prominent soundtrack." Moving into the cabin, drivers will find special seat belts and unique floor mats with an "M5" logo. The car's instrument cluster also shows an "M Competition" graphic at start up. None of this comes cheap, on a car which is already seriously expensive. By the time you've chosen a paint finish and added a couple of extras, as you surely will, there is no change out of £100,000.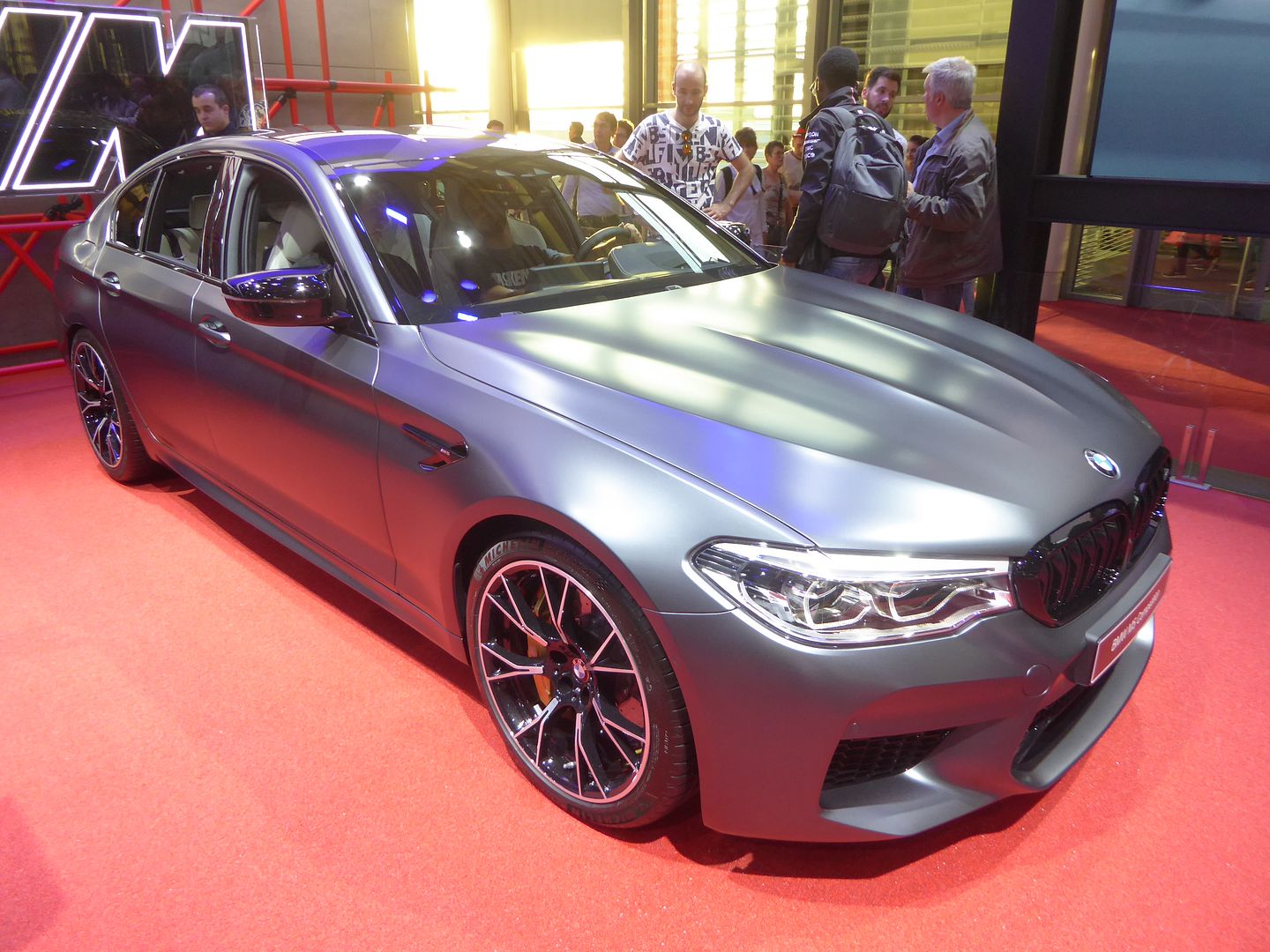 Also making its debut here was the next generation X5, but I failed to get even close to this, so pictures, sadly.
Representative examples of most of the rest of the range featured across the stand, ranging from the 1 Series hatch to the latest 5 series saloon, and examples of each of the SUVs, including the recently released second generation X4.
There was just one example of the eagerly-awaited Z4 on the stand, and again this was on the main floor, among all the other sea of production saloons and SUVs. This may have been its show premier, but eager customers will have to wait until March 2019 for sales to start, when it will be available with a range of three engine options: sDrive20i with a 197hp 2.0-litre four-cylinder unit, sDrive30i with a 258hp 2.0-litre four-cylinder unit and the range-topping M40i with a 340hp 3.0-litre six-cylinder unit. All three engines are bolted to an eight-speed automatic transmission as standard. The new generation of the BMW Z4 features an "extremely rigid body structure and chassis mountings", as BMW claims that the focus for their new roadster was to offer maximum agility, steering precision and overall a dynamic driving character. Based on the same platform as the upcoming Toyota Supra, the Z4 features new axle designs front and back, variable sport steering and mixed-size tires as standard across the range. The fabric soft top can be operated at speeds of up to 31mph (50km/h), taking just 10 seconds to open or close. Boot capacity has also been increased by over 50 percent, compared to its predecessor, to 281 litres. Being a modern BMW, the Z4's list of driver assistance systems includes pretty much you could ask, including Collision and Pedestrian Warning with City Braking function, Lane Departure Warning, Active Cruise Control with Stop & Go, Rear Collision Prevention and Cross-Traffic Alert, Active Park Distance Control and more. The dashboard also features the new Operating System 7.0 infotainment system and a configurable digital instrument cluster, with both screens measuring 10.25 inches in diameter. It's bound to be one of the most keenly awaited launches of the coming months.
Tucked away at the back of the stand, and with lighting which made it hard to get a true impression of the car (that may be deliberate, given all the over-wrought detailing which I think really spoils the basic shape) was the new 8 Series Coupe. Although it is nearly four months since BMW first revealed the new 8 Series online, this is actually the first time it's been shown at a major motor show. Hiding it at the back was perhaps to ensure that it did not distract unduly from the much more commercially significant 3 Series, but it was a shame it did not have more prominence, as it does have an important role in BMW's vast range, sitting near the top, as a flagship model, with its 4.4-litre twin-turbo V8 kicking out 523 horsepower and 553 lb-ft (750 Nm) of torque – nearly twice as potent as even the 330i that will, for the time being, serve as the top version of the new sports sedan. It also gives the marque beloved by so many enthusiasts the world over a proper challenger to the likes of the Mercedes S-Class Coupe, the Lexus LC, and even (we dare say) the Aston Martin DB11. And that's some heady territory, to be sure. But more than all that is the spirit which the new flagship coupe evokes. While it essentially replaces the outgoing 6 Series, the new 8 Series revives a nameplate (and position in BMW's lineup) we haven't seen since the 1990s when the famously shark-nosed E31 model was last produced.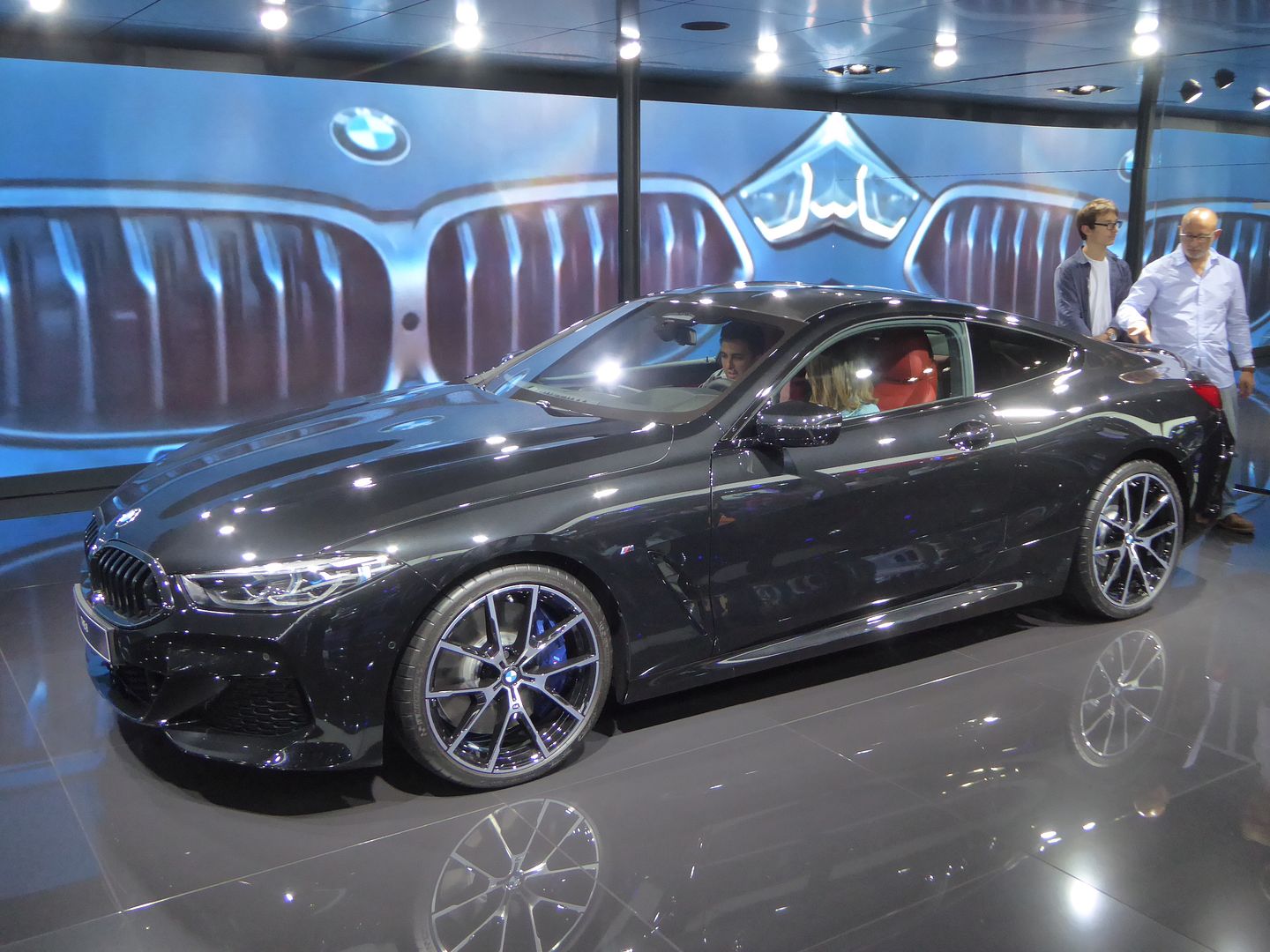 BUGATTI
There was a Chiron here, but unless you had access to the whole of the supercar area, you were not going to see it. But Bugatti did put the even more exclusive Divo in a place around the perimeter of this area so we could all take a look. Revealed in Europe for the first time, after it debuted at Pebble Beach Concours d'Elegance back in August, the hypercar builds upon the Chiron, to which it adds a lot of improvements. Be it the sharp exterior design, interior enhancements or modified chassis, all of them come together to create a mind-blowing price for a production model: nearly $6 million. But with only 40 units to be produced, all of them were spoken for long before its official unveiling. Some of the technical upgrades include revisions made to the steering and suspension. Also, thanks to weight saving measures, the Bugatti Divo is 35 kg (77 lbs) lighter than the Chiron, which tips the scales at nearly 2 tons (4,400 lbs). Located behind the seats is the same quad-turbo'd 8.0-litre W16 engine that powers the Chiron. It hasn't been massaged in any way, but with 1,500 PS (1,479 hp) and 1,600 Nm (1,180 lb-ft) of torque available, just like in its more mainstream sibling, it's not like it needs more power. Moreover, since this is a modern Bugatti we're looking at, its top speed is hard to beat, even if it's electronically limited, as the number to go for is 380 km/h (236 mph). I do wonder if I will ever see one again.
CITROEN
Citroen had a big stand, with lots of colour and this was one of the few were there were live routines taking place giving it some of the atmosphere that was so absent from most of the rest of the show. Newest car here was the C5 AirCross, with several examples of this family-sized Crossover on display, among them the C5 Aircross SUV Hybrid Concept, a pre-production study for the brand's first plug-in hybrid model. On sale from 2020, the plug-in hybrid version of the C5 Aircross compact SUV will feature the same powertrain as the concept, consisting of a 180PS (178hp) PureTech 1.6-litre petrol engine and an 80kW (109PS/108hp) electric motor for a total system power of 225 PS (222 hp). It's the same front-wheel-drive hybrid set-up found on Peugeot's 508 Hybrid and 508 SW Hybrid, including the 13.2kWh lithium-ion battery. In Hybrid mode, both the internal combustion engine and the electric motor combine their power to transmit 225 PS to the front wheels, with 337 Nm (248 lb-ft) of instant torque from the motor also available. Citroën claims the SUV averages 2 l/100 km (141.2 mpg) and emits less than 50 g/km CO2, thanks in part to the i-booster system that recovers the energy produced during braking and deceleration and feeds it into the battery. Finally, the drivetrain includes an eight-speed EAT8 automatic transmission that has been upgraded with optimised shifting and the addition of a brake mode that allows deceleration without pressing the brake pedal. In electric mode (ZEV), the C5 Aircross Hybrid SUV can cover up to 50 km (31 miles) daily, at speeds of up to 135 km/h (84 mph). There is also a Sport mode for when the driver needs maximum performance from the powertrain. Charging the battery from an external source takes between 4 hours (14A) and eight hours on a standard socket, depending on the model of the socket. With a 32A wall box, the battery gets replenished in 2 hours. The C5 Aircross SUV Hybrid Concept on display featured a special livery including White, Deep Blue, anodised Electric Blue accents, and graphic motifs suggesting electrification. The SUV rides on 19-inch Anthracite alloy wheels. The two-tone white and blue theme carries over inside on the Advanced Comfort seats trimmed with beige leather and fabric, the dashboard strip in beige leather-effect fabric with electric blue highlight, and electric blue accents on the seat backs.
The third generation C3 was launched at the Paris Show two years ago, and it has found its own market niche, where is distinctive looks are a fundamental part of its appeal. Seen here was a new limited edition version, called the C3 JCC+. It was created by French designer Jean-Charles de Castelbajac who wanted to turn the hatchback into a "fashion car." As Citroën puts it, the C3 JCC+ combines the elegance of a black dress with Castelbajac's signature colours: red, blue, and yellow. Exterior highlights include the Perla Nera Black body, Aden Red roof, tinted windows, Black Airbumps, and 17-inch Cross Black alloy wheels. The colourful treatment of the special edition model continues with the blue fog light covers and Airbump details, as well as the yellow wheel cap surrounds and mirror caps. The roof capsule features a special chevron decoration, while the rear quarter panels incorporate the Blue JCC+ monogram. Jean-Charles de Castelbajac experimented with the same colours inside, where red, blue, and yellow accents cheer up the ambiance. The designer's signature can be found on the sun-visor mirror in the form of a JCC+ sticker, as well as on the front mats that feature the JCC+ monogram. Finally, a numbered metal plate located at the base of the gearlever will attest to the vehicle's limited edition status. Based on the high-end Shine trim level, the C3 JCC+ offers a generous standard equipment including the Safety Pack 2 bundle of driving assistance tech, Citroën ConnectedCAM, Citroën 3D Connect Nav, reversing camera, and blind-spot monitoring system. Power comes from the PureTech 110 S&S petrol engine mated to the EAT6 automatic transmission. Citroën will only build 99 units of the C3 JCC+ and will sell it exclusively online via its French website. The limited edition model goes on sale in November.
Also on show were the little C1, the C3 AirCross, the facelifted C4 Cactus, as well as the commodious SpaceTourer and the C4-based models which have shed their Picasso branding to be known as the C4 Spacetourer and Grand SpaceTourer.
Mounted up high was an e-Mehari.
Representing Citroen's heritage was a restored 2CV Van, which was parked up vertically across the back of the stand.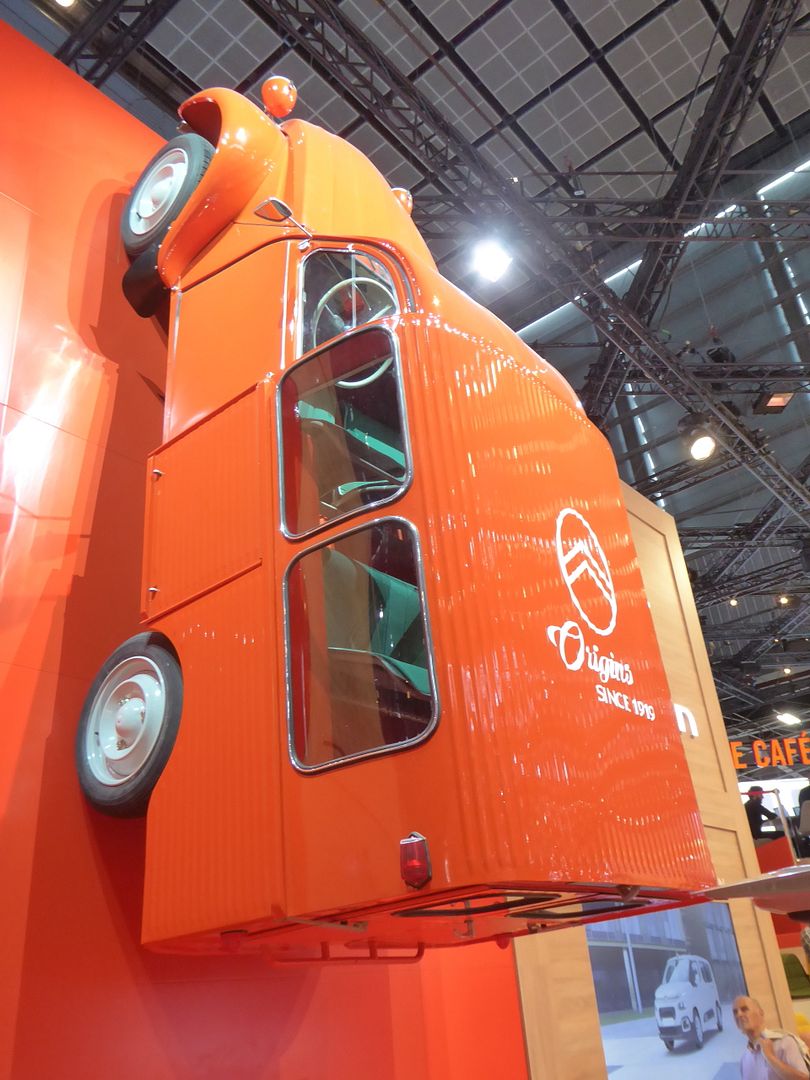 Displayed at a more conventional angle, was Citroen's current WRC car.
DACIA
Following its premiere at the 2017 Frankfurt Motor Show, the new generation Dacia Duster was showing some further important updates here. The big news is under the bonnet, as this Romanian SUV will soon be available for order with the new Renault-Nissan-Daimler-developed 1.3-litre petrol engines. The unit, which benefits from a gasoline particulate filter and powers different cars from all three automakers, is offered with two outputs in the new Dacia Duster. The first one makes 130 PS (128 hp) and 240 Nm (177 lb-ft) of torque, and the other one pushes out 150 PS (148 hp) and 250 Nm (184 lb-ft) of torque. Dacia says the front-wheel drive versions of the car, powered by the new engine, will be available for order in the next few weeks, depending on the market. Subsequently, they will launch all-wheel drive variants too, from mid-2019. Dacia's infotainment system, the MediaNav Evolution, will gain a new version by the end of the year. It will be compatible with Apple CarPlay and Android Auto, while enriching the on-board experience will be other apps, including Waze, WhatsApp and Spotify. Pricing will remain unchanged.
Three different Dacia Sandero Stepways are on display in Paris, called the 'New Very Limited Series'. Each of them carries a different design theme, and they're the finalists of a competition launched by the Romanian car brand this summer. The second leg of the competition takes place from October 2 to 13, with the designs being submitted to the vote of those visiting Dacia's stand in Paris, as well as web surfers at dacia.fr. The winning design will see their creation embodied into the production version of the model, which will be offered in a limited number. The stand also featured the established Lodgy and Dokker models.
DS
The DS stand adjoined that of parent company Citroen, but whereas this latter was all bright and jolly, the DS stand was very dark and somewhat devoid of light, making it hard to see the cars properly. And there was plenty here that was new and worth a closer look. Most significant newcomer on the stand was the new DS3 Crossback. This small premium crossover will hit the market next year, but this was its public debut following an online launch a couple of weeks ago. The funky styling will ensure that no one mistakes it for any other car and the luxury sub-brand's designers opted to go with diamond patterns in as many places as possible. Outside, this is mostly evident in the huge, single-frame grille, while inside, the DS3 Crossback has diamond-shaped almost everywhere you look, from the door and dashboard trim to the HVAC controls, the air vents and the switches in the centre console. The new subcompact SUV features a 10.3-inch, floating-style infotainment system, head-up display, flat-bottomed steering wheel, 12-speaker Focal audio system, Alcantara accents, chrome trim, Nappa leather upholstery and others. Customers will get to choose between petrol and diesel engines, whose outputs range between 100 PS (98 hp) and 155 PS (152 hp). The biggest news, however, is the electric version, named the E-Tense, which has a 50 kWh lithium-ion battery and an electric motor with 136 PS (134 hp / 100 kW) and 260 Nm (191 lb-ft) of torque. It helps the all-electric DS3 Crossback accelerate to 100 km/h (62 mph) in a very respectable 8.7 seconds, and has a range of more than 300 km (186 mi), in the new WLTP cycle.
The DS7 Crossback arrived in dealer showrooms earlier in the year, and whilst worthy enough, it has not made much of a sales impression, as its pricing means that it competes directly with established premium brands. Maybe that will change with the latest version was being shown along with the existing models, the DS7 Crossback E-Tense. This is powered by a plug-in hybrid powertrain that combines a turbocharged 1.6-litre petrol four-cylinder engine with two electric motors, with one of them mounted on the rear axle giving the DS7 all-wheel drive. The petrol engine produces 197hp (200PS) while the electric motors offer 107hp (109PS) each. According to DS, the combined output is 296hp (300PS) and 331lb-ft (450Nm). The battery pack has a capacity of 13.2kWh, enabling the new DS7 Crossback E-Tense to travel 31 miles (50km) on electric power only in the latest WLTP cycle. In addition, the new plug-in hybrid DS can reach speeds of up to 83mph (135km/h) in its pure electric driving mode. Speaking of modes, the new DS7 Crossback E-Tense defaults on the Zero Emission (EV) mode but also offers Sport, Hybrid and 4WD for the driver to choose from. 0-62mph (100km/h) comes in 6.5 seconds, while CO2 emissions are expected to be less than 50g/km on the WLTP cycle. The new variant of the DS7 Crossback will feature PHEV-specific functions, such as the 'E-Save' which allows the driver to save enough energy to drive in pure electric mode for the last 6 or 12 miles of a journey. DS says that the battery pack can be charged in 2 hours using a 32A wall terminal or a 6.6kW charger, while plug it into a traditional socket and the charging time will be 8 hours. Despite hosting a battery pack, the DS7 Crossback E-Tense claims to offer "the same spaciousness and a maximum boot space" with its conventional ICE siblings. The plug-in hybrid E-Tense also features newly-designed 19-inch wheels and a new colour called Crystal Grey.
A special display, surrounded by curtains, contained the DS X E Tense. This is a forecast of what the French automaker could be making 17 years from now. That is, if the year 2035 holds the promise of performance EVs running amok on our city streets. This concept certainly looks quite sporting but that is due in no small part to the fact that it is based on the E-Tense FE 19 electric racing car that DS Virgin Racing will field in the Formula E championship next season. There are two versions: one with a closed cabin and another with a offset open single-seat cockpit. It is a truly futuristic concept car in the way that few are these days. Arguably the most advanced aspect of the DS X E-Tense is its eccentric design. The headline feature of this is the asymmetric cockpit, which seats the driver further forward than the passenger, who occupies a separate area. This design cue ensures a low-slung sports-car aesthetic that clearly punctuates the whole design, from the flared wheelarches and angular doors to the aggressive rear diffuser. Ingress to the driver compartment is via a gullwing door, which when lifted reveals a reclined bucket seat. The interior surfaces of both cabin areas are trimmed with a mixture of leather, wood and metal. Keeping up the futuristic theme is the electrochromic glass floor that can provide a view to the road below. Explaining the thinking that led to this concept, Eric Apode, DS's vice president of products, said the brand 'wanted the opportunity to dream about 2035', the year it will mark the 80th anniversary of the classic Citroën DS.
The DS4 and DS5 models ceased production over the summer, and so were not on show. The smaller DS3 was here, tucked away in a corner, though this model will also disappear from the range in 2019 when the new DS3 Crossback comes on stream.
FERRARI
Ferrari had a large stand. As ever, you have to get luck to be allowed onto it, and because it was on the edge of the large supercar area, access to which was definitely by special invite only, you could not even readily go and ask, so it was a case of admiring from the perimeter. But even so, when I went, early in the day, you could get a decent view of the cars on display.
Following their debut last month, I was particularly looking forward to seeing the Ferrari Monza SP1 and SP2 limited-run specials. Inspired by the barchettas of the 1950s, such as the 750 Monza and 860 Monza, the Monza SP1 and SP2 adopt a single- and two-seater configuration, respectively. Both are equipped with Ferrari's most powerful naturally-aspirated V12 ever made, the 812 Superfast's 6.5-litre unit. In the SP cars, the 12-cylinder engine makes 810 PS (799 hp) at 8,500 rpm and 719 Nm (530 lb-ft) of torque at 7,000 rpm — 10 PS and 1 Nm more than in the donor car. The Monza SP1 and SP2 make extensive use of carbon fibre, and that contributes to their dry weights of 1,500 kg (3,307 lbs) and 1,520 kg (3,351 lbs), respectively. None of them has a physical windscreen, but Ferrari says owners need not worry about that. The tiny "Virtual Wind Shield" integrated into the fairing ahead of the instrument panel is apparently enough to deflect airflow over the driver's head. In the SP2, there's a tiny motorcycle-style physical windshield in front of the passenger seat. Despite the aerodynamic challenges a car with no windshield or roof pose, the Monza SP1 and SP2 are as quick as the 812 Superfast. 0-100 km/h (0-62 mph) takes 2.9 seconds and 0-200 km/h (0-124 mph) is dispatched in 7.9 seconds. However, the two barchettas lose a little when it comes to top speed, which is rated at over 300 km/h (186 mph). Sadly, only one of the pair was on show – so whilst it was good to see Monza SP1, I have to wonder if/when/where I will get to see its brother.
One that a few more lucky people will be able buy is the new 488 Pista Spider. Following its unexpected world premiere at the Pebble Beach Concours d'Elegance, the Ferrari 488 Pista Spider now mades its European debut here. With a weight-to-power ratio of 1.92 kg/PS, the 488 Pista Spider sources its engine, dynamics, and aerodynamics from two track cars: the 488 Challenge and the 488 GTE. The 3.9-litre twin-turbo V8 produces 720 PS (710 hp) at 8,000 rpm and 770 Nm (568 lb-ft) of torque from 3,000 rpm. Therefore, it is 50PS (39hp) more powerful than the regular 488 Spider and has 115PS (113hp) more than its predecessor, the 458 Speciale Aperta. Mated to an F1 seven-speed dual-clutch transmission that shifts gears 30 milliseconds quicker than in the 488 Pista, the V8 engine allows the hardcore roadster to achieve stellar performance. 0-100 km/h (0-62 mph) takes 2.85 seconds and 0-200 km/h (0-124 mph) is dispatched in just 8 seconds. The top speed is 340 km/h (211 mph), and the 488 Pista Spider laps the Fiorano track in just 1 minute 21.5 seconds. That makes it the quickest spider ever built by the Prancing Horse. The 488 Pista Spider is quick when it comes to stopping as well. It brakes from 100 km/h (62 mph) in 29.5 meters (96.8 ft), and from 200 km/h (124 mph) in 116 meters (380.6 ft) — improving the 488 Spider's 200-0 km/h braking distance by one metre. As you can imagine, vehicle dynamics are at a high level, thanks in part to the Ferrari Dynamic Enhancer (FDE) lateral dynamics control system, the Side Slip Control System (SSC 6.0), the improved braking system, and the new Michelin Sport Cup 2 tyres. Add to that the recalibrated SCM-E dampers and the 10 percent stiffer springs and you start to understand how the Pista manages to offer a 13 percent higher longitudinal acceleration than the 488 Spider. Furthermore, the aerodynamic efficiency of the 488 Spider has been improved by 20 percent, for higher absolute speed and lap times on medium-fast tracks as well as "sheer fun" behind the wheel. Like the Coupe version, officially, this is a limited edition car, but Ferrari will build it until the successor to the 458 arrives, so you can expect to see them at events in the coming years, as opposed to it being so rare that you might never see one again.
The stand also contained an example of the rest of the range. The Portofino is now reaching dealers, and when you look closely, you will realise that it is more different from the California T than you first thought.
It was joined by a 812 Superfast and a GTC4 Lusso.
GAC
There have been a number of Chinese brands who have shown cars at European shows in the past, some of them for several years running, but none have really made any significant progress in getting their cars on sale, in any number, across Europe. And here was the latest one looking ready to have a go, GAC. They had a large stand, with several vehicles on it, all of which looked acceptable enough, though hardly distinctive, or even that memorable.  The GAC range will not be familiar to Europeans (it was not to me), but one of the many cars on their stand is apparently a new model, the GAC's new GS5 crossover is a stylish offering that follows in the footsteps of its smaller GS3 and GS4 siblings. Developed by GAC's R&D centres in Guangzhou, Shanghai and in the United States, the GS5 is said to be designed with young working class drivers and families in mind. At the same time, its modern styling and robust safety features are meant to give it a widely-appreciated premium feel.  Helping the GS5 stand out are design features such as its full-LED headlights with three diamond cuts on the side, the taillights made from 190 LED particles for a bright three-dimensional lighting experience, but also the dynamic shoulder line that stretches from the front fender of the vehicle all the way to the rear. Other styling cues include the tailgate-mounted spoiler and the 'floating-roof' aesthetic for the C-pillar, not unlike that of the GS4. As for power, the GS5 is equipped with the automaker's third-generation 1.5-litre turbocharged petrol unit, mated to an Aisin 6-speed automatic gearbox. According to GAC, their newest crossover also has an upgraded chassis, good steering feel and "sports-car-level" braking power, although we assume that last part is a bit hyperbole.
Also on display were examples of the GS4, GS8, GM8 and GA4 cars.
GFG
GFG Style, together with Envison Energy, brought a highly efficient and fast sedan concept to the Show. The concept is over 5 meters (16.4 ft) long and stands 1.48 meters (4.85 ft) tall, boasting electric propulsion and a surprisingly accessible, well lit cockpit, with a panoramic view. In order to get in, the driver has to slide the windscreen forward by 750 mm (29.5 in), which then closes automatically along with the doors once the occupants are seated. Aside from the large dome roof and missing A-pillars, other standout features include the large 22-inch wheels, sharp horizontal headlights with a distinctive illuminated pattern, two spoilers and two air intakes on either side of the grille, plus an additional spoiler right underneath. One of the Sibylla's most interesting features though is its front stop light – yes, you read that correctly. Although no vehicle is obligated by law to feature such a thing, the Sibylla does, and can give pedestrians a sort of assurance when crossing the road, as they receive visual confirmation that the approaching car is indeed braking/slowing down. The interactive front grille can also share information regarding battery charge status, and not just movement alerts for braking or turning. Inside, there are multiple displays powered by Envision's EnOS platform, allowing this concept to provide its four passengers with outside environment info, such as the weather report, driving conditions, the location of the nearest charging point and so on. Now, if you think the steering wheel looks a bit weird, that's because it actually comes with aircraft-style yoke commands, while touch pads are positioned at thumb level to help the driver keep his or her eyes fixed on the road. The cabin is finished in Poltrona Frau leather, while the inside of the backrests comes with an innovative sensor, programmed to detect sudden changes in passengers' physical condition, such as variations in blood pressure and heart rate. Finally, in a straight line, the all-wheel drive, full electric Sibylla can hit 100 km/h (62 mph) in just 4.5 seconds thanks to its total power output of 400 kW (536 HP), aided by its four electric motors and 100 kWh battery. The all electric range is rated at 450 km (280 miles), whereas the maximum speed is simply said to be over 200 km/h (124 mph).
HONDA
Star of the rather low-key Honda stand was the new CR-V. Though "new" seems a slightly odd choice of word, as this generation of CR-V was actually launched in 2016 and has been on sale in other markets since then. Finally, it seems Europe will also get the car. Initially, it will be available with a single engine option, the 1.5-litre VTEC Turbo petrol unit known from the Civic and of course the US-spec CR-V. Customers in Europe will be offered the choice of either a manual front- or all-wheel drive version, as well as a CVT automatic that's only available with the latter. When fitted with the six-speed manual, the 2018 Honda CR-V offers 170hp (173PS) and 162lb-ft (220Nm) of torque. Go for the CVT and the figures go up by a little, at 190hp (193PS) and 179lb-ft (243Nm). Despite the increased horsepower, it's the manual Honda CR-V that offers the better acceleration; Honda claims a 0-62mph (100km/h) in 9.2 seconds and a top speed of 130mph (210km/h) for the FWD model, with the automatic CR-V AWD offering 10 seconds and 124mph (200km/h) respectively. Fuel economy goes as low as 44.8 mpg combined, while CO2 emissions are rated at 143g/km for the manual front-drive CR-V. Honda has already confirmed that they won't offer a diesel derivative of the CR-V in the region. Instead, they plan to launch a new hybrid version early next year, featuring a 2.0-litre i-VTEC paired to an electric motor and a separate electric generator motor. The fourth-generation Honda CR-V is the first one to be offered with seven seats as an option. Honda claims that the new CR-V also offers class-leading interior space thanks to its longer wheelbase. In addition, the Japanese company says that the body of their new SUV offers the best rigidity and stiffness in the segment while the Honda Sensing suite of active safety technologies is fitted as standard. This apparently results into a solid five-star rating at the Euro NCAP safety assessment. Ground clearance has been increased by 35mm over its predecessor, with 191mm for the front-drive models and 201mm for all-wheel drive models. The AWD system can send up to 60percent of the torque to the rear wheels if required. The all-new chassis features a MacPherson strut suspension at the front and a multi-link setup at the rear, with both axles getting hydraulic suspension bushings for greater ride isolation as standard across the range.

The rest of the regular range was also here: the HR-V crossover, the Jazz supermini and the controversially-styled Civic.
A reminder of Honda's commitment to motorsport came from the presence – rather stuffed away at the back of the stand – of a Formula 1 car.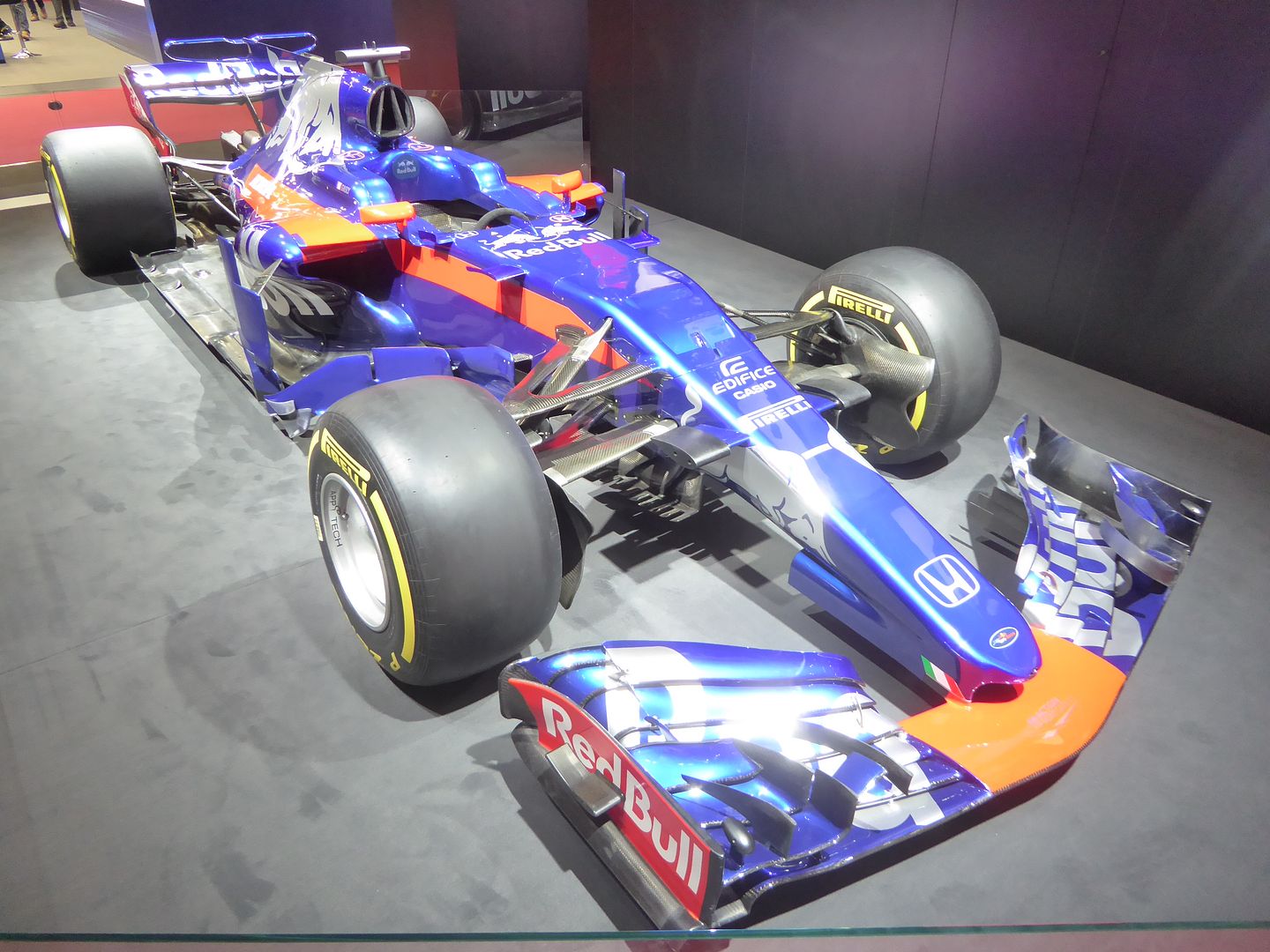 In the supercar area, there was an NSX GT3 on show.
HYUNDAI
Hyundai is making a big thing of their new N division now, and a new model was launched here, the i30 Fastback N. A combination of the i30 N hot hatch and the i30 Fastback this one is aimed at hot hatch drivers who are happy to sacrifice a little practicality in favour of a more stylish design. Up front sits a 2.0-litre turbo four kicking out 271 horsepower and 260 lb-ft (353 Nm) of torque – 275 lb-ft (373 Nm) on overboost – sent to the front wheels through a six-speed manual. Further back, an elegantly slanting roofline, lending it a rather more rakish, coupe-like silhouette. Sort of like, say, the Mercedes-AMG CLA45 or CLS63, but positioned at an altogether more accessible price point and market position. The result is a five-door slantback that'll run to 62 mph (100 km/h) in just 6.1 seconds on its way to a top speed quoted at 155 mph (250 km/h). And with 13.5-inch (345-mm) brake discs up front and 11.8" (300-mm) discs at the back, it has the stopping power to keep its forward momentum in check. Plus it'll carry you and three or four of your best friends (or family members), along with 47 cubic feet of stuff in the back, all the while looking the part with similarly sporty touches to the i30 N hatchback.
There were plenty of other examples of the i30 here, including the Fastback and the N-Line. Less than two years after their launch, Hyundai's i30 5-door and Wagon get their first significant update. The compact models gain a new Smartstream 1.6-litre diesel engine that complies with Euro 6d Temp emission standards, as well as a subtle design update and new connectivity features. Thanks to the powertrain upgrade, Hyundai says the entire i30 family (i30 five-door, i30 Wagon, i30 Fastback and i30 N) is now compliant with the latest emission standards. The newly-developed Smartstream 1.6-litre four-cylinder turbo diesel engine is available in three states of tune: 96 PS (95 hp), 116 PS (114 hp), and 136 PS (134 hp). The entry-level version is matched with a six-speed manual transmission while the mid- and top-range engines also offer the option of a seven-speed dual-clutch automatic (7DCT). The most economical of them all is the base engine which returns 3.9-3.8 l/100 km (104-99 g/km CO2). All Smartstream engines get exhaust fluid after-treatment systems, which contribute to decreasing nitrogen oxide emissions. Conversely, all petrol engines of the i30 family now come with a particulate filter as standard. New engine aside, the i30 five-door and i30 Wagon get a subtle design update for the 2019MY consisting of a new front bumper. If it looks familiar to you, it's because it's the same bumper from the i30 Fastback. Hyundai says it adopted the new element to harmonise the design of the i30 family. Furthermore, the automaker has introduced two new paints for the i30 five-door and i30 Wagon: Stellar Blue and Olivine Grey. Finally, the Hyundai i30 family now offers the 8-inch Display Audio infotainment system, which includes Android Auto and Apple CarPlay. Drivers can access the interface via the touchscreen, voice control or the buttons on the steering wheel.
Also here was the new N Option version. Hyundai has, by all accounts, done a remarkable job in transforming the i30 budget hatchback into the i30 N hot hatch. But those looking for a little extra attitude and customization may be even more enticed by the new N Option range. Showcased on this show car, the N Option framework will allow buyers to further spec-out their Korean hot hatch with new components, giving it even more of an edge while adding a personal touch. The i30 N Option concept packs no fewer than 25 additional components inide and out. There's a carbon-fibre rear wing, for example, along with a carbon hood, quad exhaust tips, and special 20-inch alloys with semi-slick tires – perfect for running at the track. Inside, the show car features black carbon accents, an Alcantara-wrapped steering wheel, red trim, and sports pedals. "With our N portfolio we are shaking up the competition, and bringing new performance and emotions for our customers," said Hyundai executive vice president Thomas Schemera. "The development of our N vehicles is grounded in Motorsport and our engagement there is the pinnacle of N. The new i30 N Line and our i30 N 'N Option' show car illustrate our dual approach to customisation, making N available to a wider audience." It's a page taken almost directly out of the BMW M playbook, which similarly offers a full range of optional extras for its performance models. Hyundai doing the same is no surprise, seen as how the Korean automaker tapped BMW's former M chief Albert Biermann to steer its N sub-brand. Also, we can expect similar options to follow for other performance models in Hyundai's lineup, like the i30 Fastback N and the Veloster N being offered in the US.
Making another appearance here, following a premiere at Geneva earlier in the year was the 'Le Fil Rouge' concept. This striking design is an attempt to unify its past, present and future designs all at once. The new concept introduces the brand's Sensuous Sportiness theme, which will be embodied by all future Hyundai vehicles, from sedans to SUVs. The goal, aesthetically, is to create "emotional value and desirability" while achieving harmony between proportions, architecture, styling and technology. "Le Fil Rouge is a reinterpretation of Hyundai's design DNA that originated from the brand's historical Hyundai Coupe Concept in 1974," stated Hyundai design boss, Luc Donckerwolke. "Building on our long history of creating distinctive and sporty character in vehicles, we will open a new era for Hyundai design." This concept is said to have a proportional character based on the golden ratio – a mathematical ratio found in nature. This is achieved through a long wheelbase design, large wheels and short overhangs. Meanwhile, the dash-to-axle distance provides a comfortable driving position, whereas the high belt line completes the overall aesthetic. Other notable exterior features include how the front and rear pillars, as well as the roof, blend into the silhouette of the concept, whereas the interior design mirrors what you see on the outside thanks to what Hyundai calls 'Tube Architecture'. The cabin design differentiates between the needs of the driver and passenger. Where the front passenger seat is meant to maximise comfort and offer sufficient leg room, the driver's seat is designed with optimised ergonomics in mind. Also worth pointing out is how the wrap-around architecture of the cabin emphasises depth, in turn creating a calm and spacious environment for passengers, according to the Korean automaker. As for what type of technologies one might find on-board the Le Fil Rouge concept, there is a two-way air ventilation system, high-tech fabrics and a panoramic floating display with haptic feedback.
There was a line of Hyundai's electric vehicles across the front of the stand, with the established Ioniq joined by the newly released Kona EV.
Also here was the Nexo, the second generation fuel-cell car that takes over from the old Tucson-based model.
Completing Hyundai's presence here were the i10, the supermini i20 including one in Active spec and the Crossovers including the standard Kona.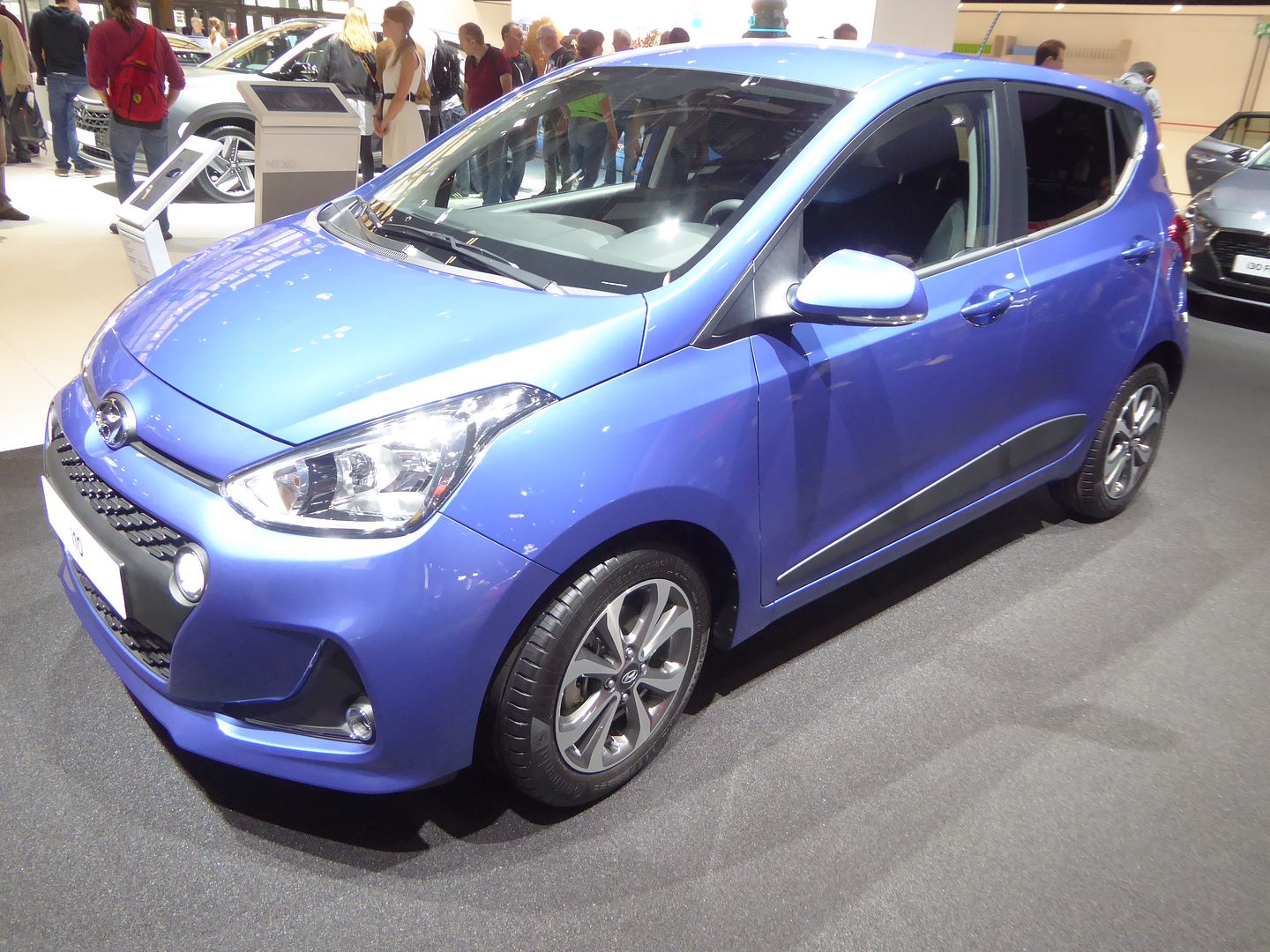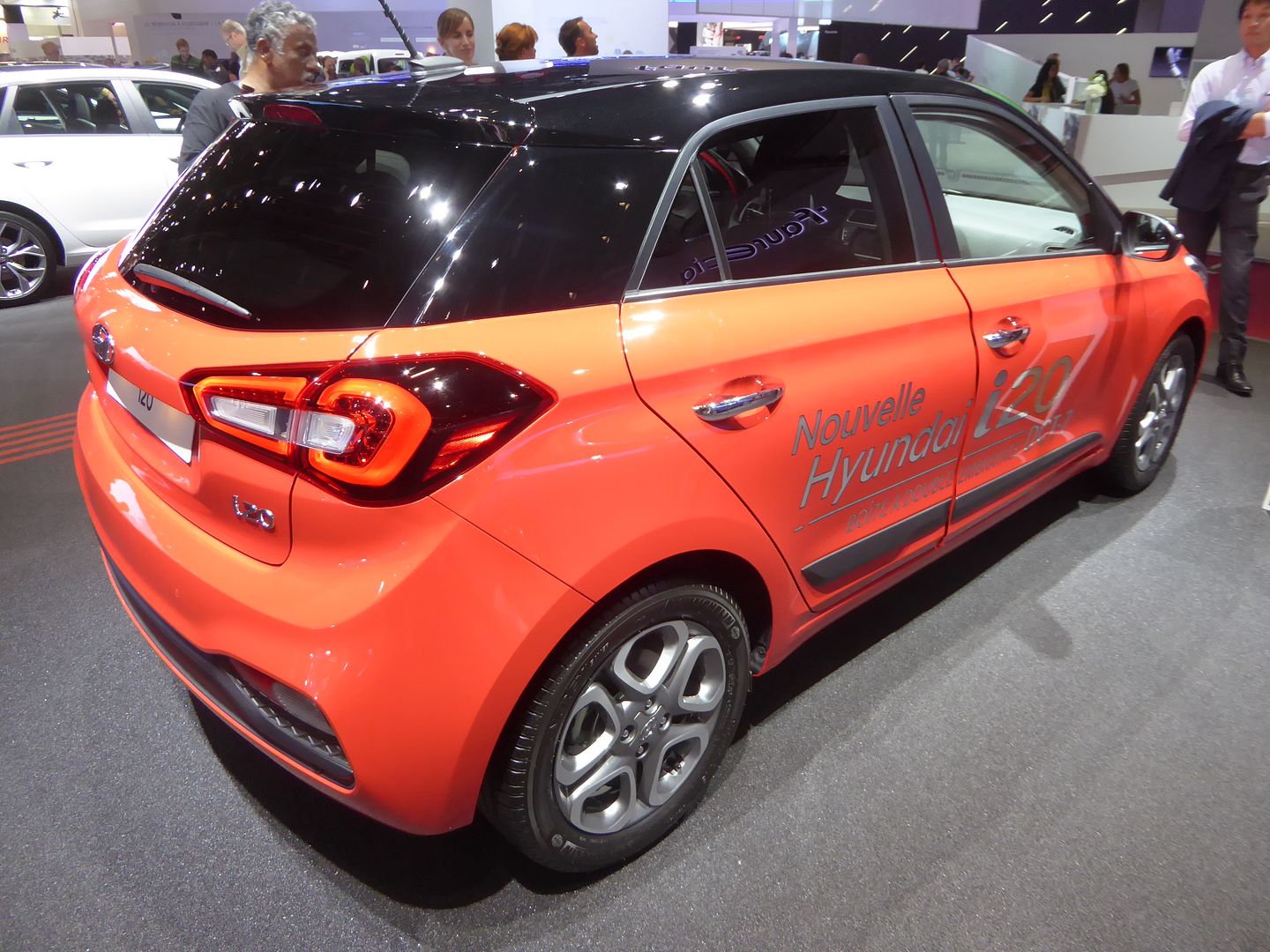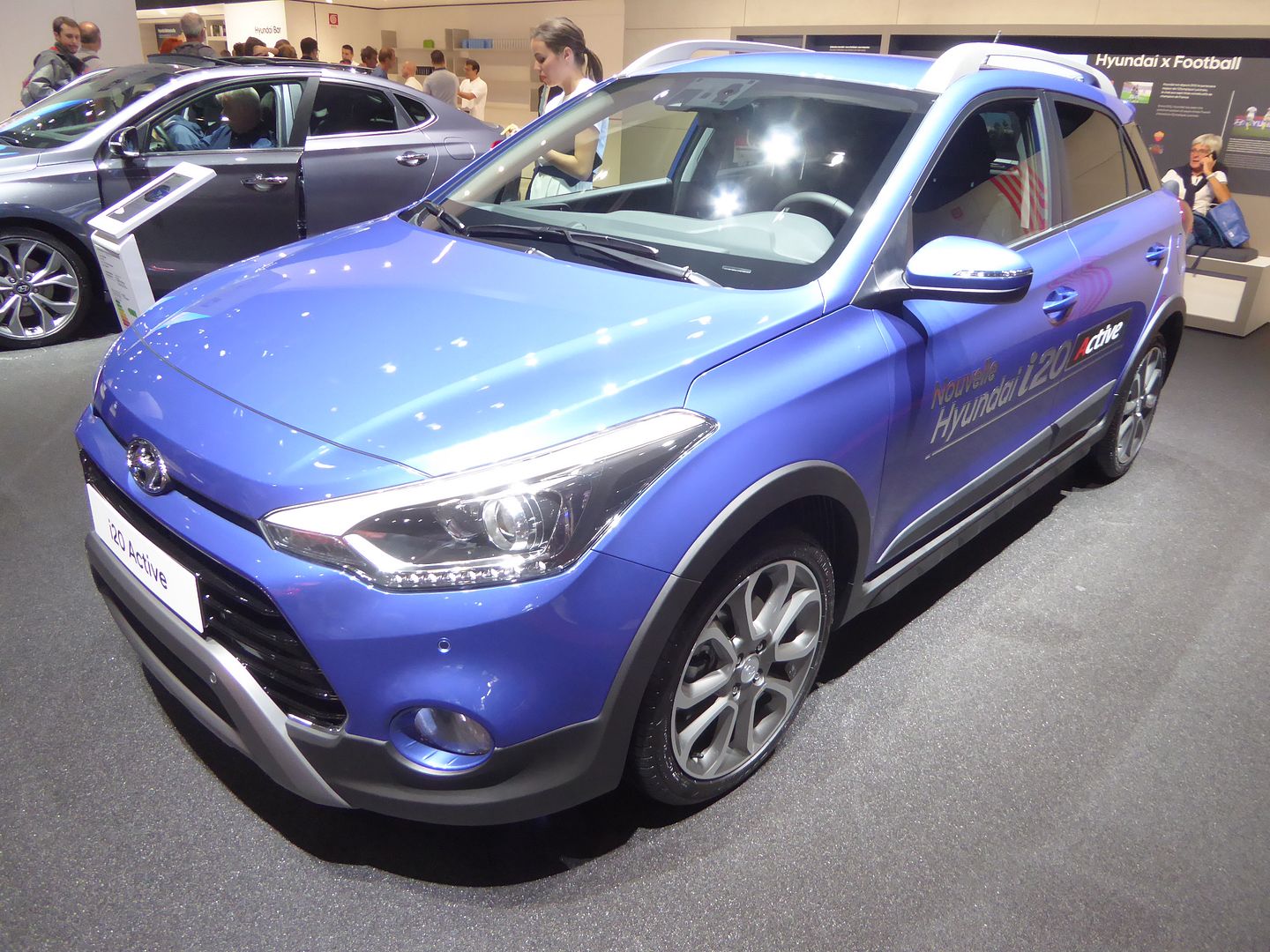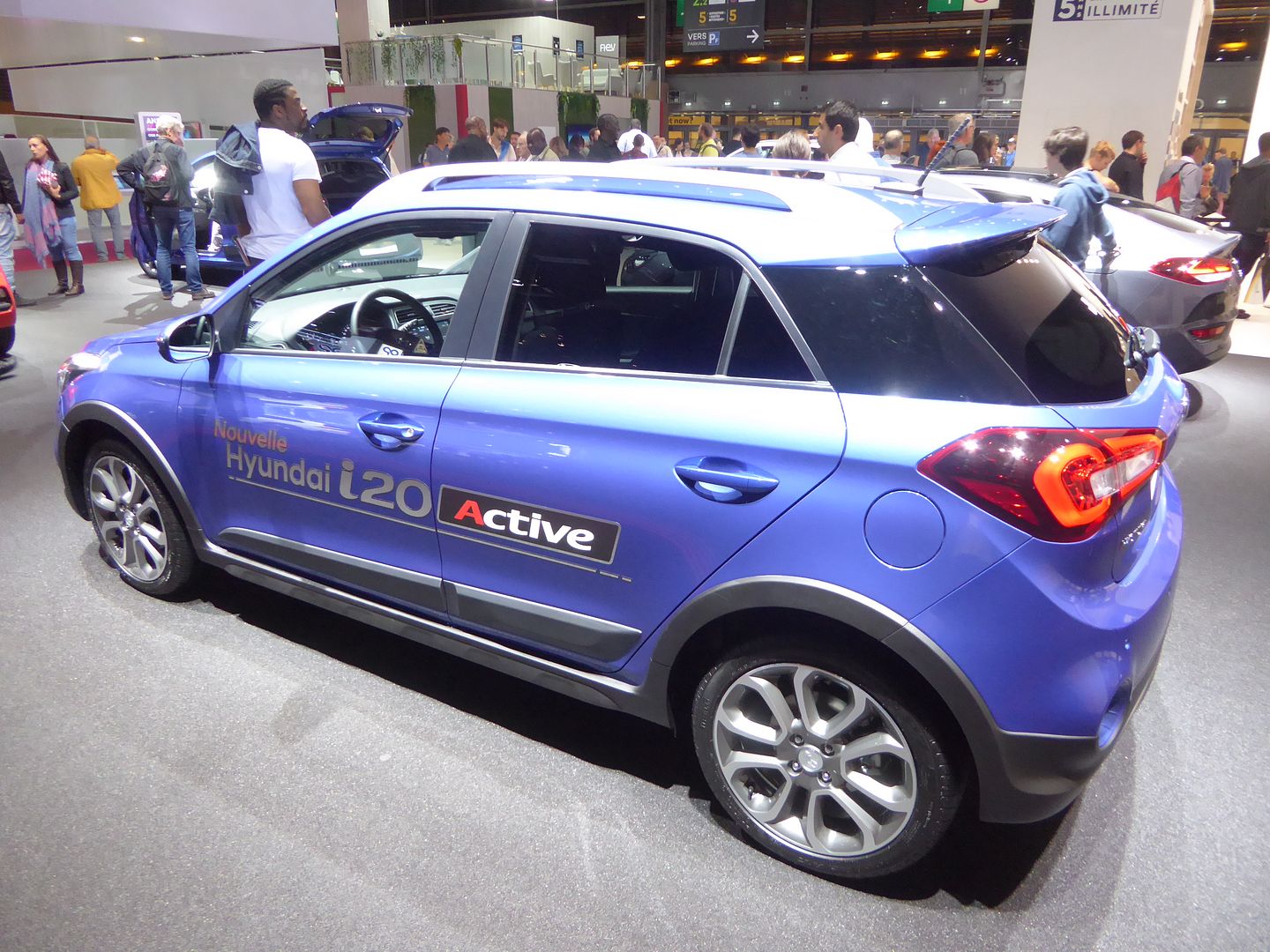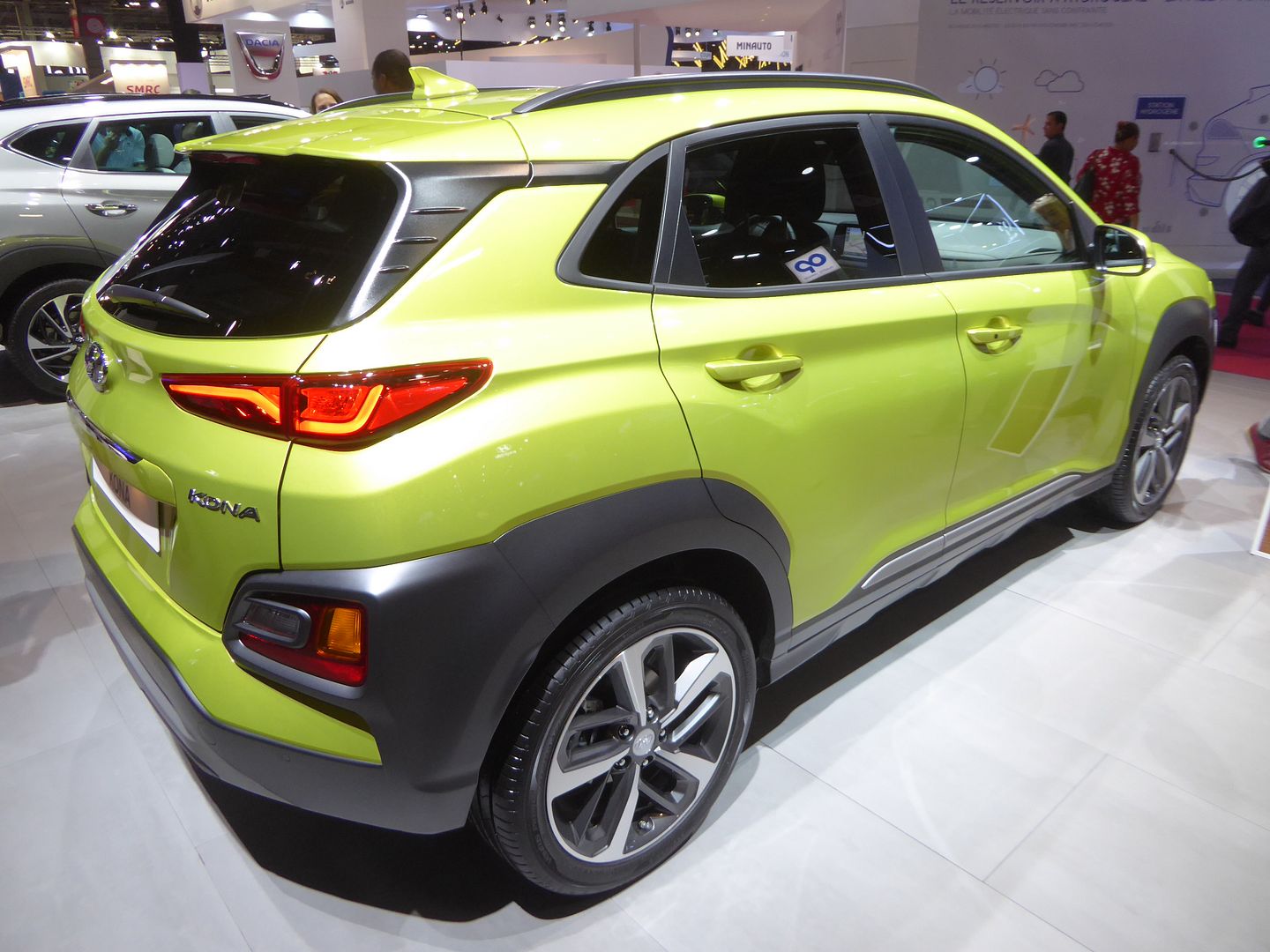 INFINITI
I'd received a number of emails declaring that Inifiniti were going to be premiering an exciting new addition to their range. So I was quite surprised to find that the brand did not have a proper stand, but simply a place where two cars were parked in the line of cars around the perimeter of the supercar area. There did not appear to be anyone associated with the cars, to answer any questions. So this was a very half-hearted effort indeed, even though the car that was being shown, a working prototype of the Project Black S concept that gets an F1-style KERS hybrid system, is potentially pretty significant. Originally unveiled at the 2017 Geneva Motor Show, the updated concept was jointly developed by Infiniti and the Renault Sport Formula One Team. As a result, the car is an "engineering testbed" that explores how Renault's dual-hybrid powertrain technology could be used in a road-going model. The concept is based on the Q60 Red Sport 400 and features a twin-turbo 3.0-litre V6 engine that produces 400 hp and 350 lb-ft (475 Nm) of torque. It is backed up by a hybrid system which has a 4.4 kWh lithium-ion battery and three electric motor generator units. Billed as "energy harvesting systems," the motors generate electricity under acceleration and braking. The electricity is used to spool up the e-turbos and power an electric motor that is integrated into the rear axle. The latter produces 160 hp and it helps the concept to produce a combined maximum output of a 563 hp. Infiniti declined to release detailed performance specifications, but the company said the car should be able to accelerate from 0-62 mph (0-100 km/h) in less than four seconds. It's also worth noting the model has 163 hp more than the standard Q60 Red Sport 400. Besides the high-tech powertrain, the Project Black S has a carbon-ceramic braking system with ventilated and drilled discs that measure 15 inches (380 mm) up front and 14.1 inches (360 mm) out back. The car also has a sportier suspension, adjustable anti-lock braking and traction control systems as well as three different drive modes which control how the electric motor is used. The car's styling has been refined by the Renault Sport Formula One Team which used "computational fluid dynamics software to deliver more effective powertrain cooling and enhanced downforce." In particular, Infiniti says the concept has been equipped with larger air intakes, a ventilated hood and improved aerodynamics which are designed to cool the rear electric motor. The concept also features a massive rear wing which provides a "fine-tuned compromise between maximum straight-line stability and high-traction under cornering." Since the hybrid powertrain adds approximately 441 lbs (200 kg) of weight, engineers put the model on a massive diet. As a result, the concept has a number of carbon fibre components including the hood, roof and fenders. The moonroof and rear seats have also been removed. Thanks to all these changes, the concept weighs 3,915 lbs (1,775 kg) which is just 53 lbs (24 kg) more than the Q60 Red Sport 400. Infiniti also says the concept has a lower center of gravity and better driving characteristics. Infiniti will continue developing the car and there's a chance we could eventually see a road-going version of the concept. As the automaker explained, they're exploring a "potential new model grade" above the Red Sport 400 that would offer better performance, a unique design and a sportier chassis. Such a model would offer Infiniti a direct rival to several German high-performance models like BMW's M4 and Audi's RS5 coupes.
Alongside it was the Formula 1 car from which the technology has been derived.
JAGUAR
There was nothing new on the Jaguar stand, and it would seem that the special display to mark 50 years of the XJ6 saloon was for the press only, as there was no sign of this by the time of my visit. That means that the focus was on the new I-Pace, first customer examples of which are now being made available.
Two examples of Jaguar's activities in motorsport were a Formula E racer and the  I-Pace eTrophy, a high-performance electric vehicle which features an aggressive front fascia with large air intakes and a prominent splitter. The car has also been equipped with front fender vents, aerodynamic side skirts, and flush-mounted door handles. The hardcore treatment continues at the rear as designers installed a massive rear wing, a boot-mounted spoiler, and a large diffuser. Other notable features include a ventilated hood and lightweight alloy wheels which are backed up by a high-performance braking system. The pictures give us a few glimpses of the cabin and we can see the I-Pace eTrophy will come with a roll cage and a mesh window net. There only appears to be one seat. Performance specifications remain unknown but the original I-Pace concept had a 90 kWh battery and an electric motor that powered each axle. The motors produced a combined output of 400 hp and 516 lb-ft (700 Nm) of torque and allowed the concept to travel up to 500 km (310 miles) on a single charge. This is intended for a one-make Formula E racing series from late 2018.
A central display contained the yet to go on-sale F-Pace SVR as well as the top of the line F Type SVR. The former of these was premiered at the New York Show back in April. It packs the same supercharged 5.0-litre V8 utilised in numerous other high-end performance models in the Jaguar-Land Rover group, including the F-Type and Range Rover Sport SVR. In this application, it's good for 542hp (550PS) and 680Nm (501.5 lb/ft) of torque. Paired to a standard all-wheel drive system and an eight-speed automatic transmission, it catapults the F-Pace SVR to 60mph in 4.1 sec (100km/h in 4.3 sec) and on to a top speed of 176mph (283 km/h). It also promises to sound the part as the V8 gets Jaguar's Variable Valve Active Exhaust System that's 6.6kg (14.5 lbs) lighter than the standard exhaust. Jaguar says that's not all, as it has performed numerous tweaks to the chassis to go with the extra power. "The F-Pace SVR delivers the handling and agility to match its performance," said Mike Cross, Chief Engineer at Jaguar Land Rover. "Everything from the steering to the bespoke suspension set-up has been tuned specifically for our performance SUV and the result is a vehicle that lives up to the promise of both the F-Pace and SVR. Among other changes are stiffer springs, lightweight forged 21- and optional 22-inch alloy wheels that are wider at the rear by 25mm compared to the front, and uprated 395mm front and 396mm rear brake discs. It also gets a rear Electronic Active Differential (EAD), while Jaguar optimised the all-wheel drive, adaptive dynamics and electronic-powered steering system for the SVR. Beyond the chunkier wheels, Jaguar's Special Vehicle Operations (SVO) team gave the performance F-Pace a host of aerodynamic enhancements, though the design remains clean. Up front, there's a new bumper with massive air intakes, while the exclusive bonnet and front wings also gain vents, as does the rear bumper. The lower body mouldings are new, with other features including a unique roof spoiler and quad exhaust pipes. Moving on to the interior, the F-Pace SVR features slimline performance front seats with 'lozenge quilting' that provide increased support and sport an embossed SVR logo. The rear seats mimic the sculpted design found up front. There's also a Sport Shift Selector on the lower console and an SVR branded steering wheel with tactile aluminium paddle shifters along with a standard Touch Pro infotainment system with 10-inch touchscreen and a 12.3-inch HD instrument cluster. Sales were originally announced as starting in the summer, but that has been and gone, and the car is not yet available. When it is, then in the UK it will cost from £74,835 OTR.
The stand also contained examples of the F Type, the XE and XF and the regular E-Pace and F-Pace crossovers.
KIA
Star of the large Kia stand was the new ProCeed. Unlike the model it replaces, the Pro_Cee'd (complete with awkward and superfluous punctuation), which was a three door hatch, this is another 5 door model. Do Kia need that? They already offer both a classic five-door hatchback and a classic wagon version of the Ceed, so taking the decision to add another long-roof version in the form of the new ProCeed is bold, to say the least. The new Kia ProCeed poses as the most dynamic member of the range, featuring a very attractive design and much more pleasing-to-look-at proportions than the other two Ceed bodystyles. Compared to the Sportswagon, the new ProCeed sits 43mm lower and is 5mm longer while the boot capacity is only slightly smaller, at 594lt over the Sportswagon's 625lt. The engine range includes three engine options for the GT-Line versions of the ProCeed, starting with the 118hp 1.0-litre T-GDI petrol, the 138hp 1.4-litre T-GDI petrol and an all-new 134hp 1.6-litre CRDi Smartstream diesel unit. Transmission options include a six-speed manual as standard and an optional seven-speed dual-clutch automatic. The range-topper is the Kia ProCeed GT, which is powered by the 1.6-litre T-GDI petrol unit and offers the same 201hp (204PS) and 195lb-ft (265Nm) of torque with the Ceed GT. Unlike the rest of the range, there's no manual option here, only the seven-speed dual-clutch automatic transmission with steering paddles made out of metal alloy. The chassis also features model-specific suspension geometry, stiffer springs and softer anti-roll bars in order to make the new ProCeed offer better agility and faster responses as a proper Gran Turismo, which is how Kia wants you to see it. Sales of the new Kia ProCeed will begin across Europe during the first quarter of 2019. Kia has also confirmed that they will sell the new ProCeed exclusively in Europe – at least for now, so the rest of the world can stop asking questions like when or if. You can only ask why.
The third generation Ceed hatch and SportsWagon were also on the stand.  These were launched at Geneva earlier in the year, and have just gone on sale. Now the range is growing with some new versions added here. Kia's popular Ceed range continues to expand, with the Ceed GT warm hatch. The recipe doesn't change dramatically compared to the previous-generation model. There's still a 1.6-litre T-GDi engine under the bonnet, only now it has been slightly de-tuned to 204 PS (201 hp) and 265 Nm (195 lb-ft) of torque, presumably due to WLTP requirements. For the first time however, the Ceed GT gets a seven-speed dual-clutch transmission as an option alongside the standard six-speed manual. "The all-new Ceed GT occupies a unique position in the mid-size family car segment, and doesn't simply chase the highest top speed or fastest straight-line acceleration. It offers greater agility and grip on winding roads, maximum confidence and comfort at a cruise, and fast-revving turbocharged power perfectly matched to European tastes," stated Kia Motors Europe exec, Emilio Herrera. Both the Ceed GT and the ProCeed GT will go into production this November at the automaker's Žilina production facility in Slovakia, where Kia also builds the regular Ceed, ProCeed and Ceed Sportswagon. The way to tell this isn't your regular Ceed hatchback is by noticing all the sporty visual cues, such as the new front bumper with larger air intakes and gloss black trim along the base. Meanwhile, the tiger-nose grille gains a dark chrome surround, a subtle 'GT' logo and some red highlights for its honeycomb pattern. Move along to the side of the car and you'll see the gloss chrome window surrounds, more substantial side sills, standard 18-inch alloys, red brake calipers and a ride height that's been reduced by 135 mm (5.3 inches). As for the rear, there are unique GT bumpers to complement those as the front, a gloss black diffuser and more 'GT' badging. Finally, there's the small roof spoiler to help channel air cleanly off the top of the car. There will also be a total of eight paint finishes available for customers across Europe. Compared to other Ceed models' interiors, the all-new GT gains a black roofliner instead of the grey cloth one, a D-shaped steering wheel with the 'GT' logo, aluminium driver pedals, black leather and suede sports seats and new metal alloy shift paddles on versions equipped with the 7-speed double-clutch transmission. Meanwhile, features commonly shared with the rest of the Ceed range include the 60:40 split-fold rear seats (fitted as standard), high-quality soft-touch materials for the dashboard and the automaker's 'floating' touchscreen infotainment system with either a 7.0-inch or an 8.0-inch display. Kia wanted their all-new Ceed GT to handle better than a regular model, which is why they lowered the suspension, added stiffer front and rear springs, improved the steering input, fitted standard Michelin Pilot Sport 4 tires, re-tuned the Electronic Stability Control system, and added larger brakes. In a straight line, the Ceed GT makes use of a 1.6-litre T-GDi engine, sending its wheels 204 PS (201 HP) and 265 Nm (195 lb-ft) of torque, the latter available across a wide 1,500-to-4,500 rpm range. While the six-speed manual is standard, customer demand led to Kia fitting the car with its seven-speed Dual-Clutch automatic – available for the first time in the Korean automaker's performance hatch. Acceleration and emissions figures will however be released closer to the car's 2019 on-sale date, so as of right now, it's difficult to say just how fast the Ceed GT is. What we do know is that it should sound pretty sporty thanks to the electronic sound generator which feeds the cabin a "characterful GT engine note". Then there's the matter of active safety, where the Ceed GT benefits from standard tech such as High Beam Assist, Driver Attention Warning, Lane Keeping Assist with Forward Collision-Avoidance Assist. Additional systems will include Smart Cruise Control with Stop & Go, Blind Spot Collision Warning, Rear Cross-Traffic Collision Warning, Smart Parking Assist, and pedestrian recognition for the Forward Collision-Avoidance Assist system. The all-new Kia Ceed GT will be sold exclusively in Europe starting from Q1 of 2019. Pricing will be announced at a later date.
Examples of the rest of the range were all on the stand. The crowds were around the much-praised Stinger, not surprisingly.
Other cars, whose photos I did capture were the Stonic and Sportage crossovers.
As well as the established Niro, there was a new electric version, the e-Niro, also known as the Niro EV. The headline figures are of course about the driving range of the new Kia e-Niro, which manages to travel up to 301 miles (485km) on a full charge, according to the latest WLTP cycle. Kia also adds that the e-Niro's range raises to 382 miles (615km) on the WLTP urban cycle. These figures apply to the range-topping version with the 64kWh battery pack. Customers will be offered a smaller 39.2kWh battery pack option as well, which comes with a range of up to 193 miles (312km), again on the latest WLTP cycle. Both versions of the Kia e-Niro will feature a range of technologies to help drivers maximize battery efficiency. Apart from the necessary regenerative brakes, the Kia e-Niro will feature the Eco Driving Assistant System (Eco DAS) system, which guides the driver on how to drive more efficiently. The Eco DAS includes Coasting Guide Control (CGC) and Predictive Energy Control (PEC). The CGC system lets the driver know when it's the best time to lift off the throttle and coast towards a junction, with the system operating at certain speeds and when a navigation destination has been set. Drivers also get to choose between three levels of energy recuperation via the paddles on the steering wheel. Other specific features include a battery heating system and an advanced heat pump. The latter draws heat energy from the air-conditioning and electrical systems, instead of relying solely on battery power to heat the cabin. Long-distance 64kWh versions of the Kia e-Niro are powered by an electric motor with 201hp (204PS) and 291lb-ft (395Nm) of torque, making them capable of a 0-62mph (100km/h) in 7.8 seconds. The smaller 39.2kWh models use a 134hp electric motor with the same torque output, offering a 0-62mph in 9.8 seconds. The new Kia e-Niro will go on sale in Europe towards the end of the year, backed by a seven-year, 100,000-mile warranty that also covers the battery pack and electric motor.
LAMBORGHINI
The Lamborghini display adjoined the Ferrari one, though it was quite a contrast, with far less space. And yet, the cars were well worthy of more prominence. Star of the quartet was undoubtedly the Aventador SV-J. First seen at Pebble Beach, and then at a number of events such as the Blenheim Palace Supercar event in August, this was the time it was being seeing at a major motor show. The ultimate version of the Raging Bull marque's twelve-cylinder supercar, the Aventador SVJ is easily one of the fastest, most powerful vehicles on display at the Show. It packs a 6.5-litre V12 – completely naturally aspirated – capable of producing 759 horsepower and 531 lb-ft (720 Nm) of torque. Sent to all four wheels, it'll reach 62 mph (100 km/h) from a standstill in just 2.8 seconds, 124 mph (200 km/h) in 8.6, and top out at over 217 mph (349 km/h). More to the point, it'll lap the Nürburgring Nordschleife in under 6 minutes and 45 seconds, knocking the 911 GT2 RS built by sister-company Porsche off its perch. The engine is only part of the equation, though. That blistering performance is further enabled by active aerodynamics, which increases downforce by a whopping 40 percent while actually decreasing drag over the "standard" Aventador. Of course the four-wheel steering system helps as well, as do the super-sticky, semi-slick Pirelli P Zero Corsa tyres, which help overcome the weak point that is Lamborghini's seven-speed, single-clutch, independent shift-rod transmission. Unfortunately, as you might have guessed, it's rather expensive. Over half a million, to US customers. And only 900 examples will be made, which is more than the 600 examples of the previous SuperVeloce that the factory in Sant'Agata Bolognese made between 2015 and 2017.
Joining it was a Huracan Performante Spider, the Huracan GT3 race car and the Urus SUV.
LAND ROVER
Sharing a stand with Jaguar, and positioned directly opposite BMW, there were plenty of Land Rover models on show, and there was lots of interest in all of them. I was pleased to see that these included the SV Coupe, as this model had been removed from the Geneva Show stand as soon as the press departed. Production of the Range Rover SV Coupe will be limited to 999 units globally, with each one hand-crafted by SVO. Developed by Land Rover Design and SVO (Special Vehicle Operations), the new Range Rover SV Coupe is the company's new flagship model. Customers will get to choose between seven design packs featuring exterior paint, bespoke badges, and interior materials specially selected by the Jaguar Land Rover Design team. Power comes from a supercharged 5.0-litre V8 that produces 557hp, making the SV Coupe not only the most powerful full-size Range Rover but also the fastest one as the top speed is now 165mph. I do wonder if I will see one again.
The rest of the range was here, too: the Evoque, doubtless making one of its last major European show appearances before being replaced by the much-awaited next generation car, as well as the Discovery Sport, the Velar, Discovery, Range-Rover Sport SVR and the Range-Rover.
LEXUS
Making another appearance here was the LF-1 Limitless Concept, first seen at the Detroit Show in January. Lexus plans to launch a new flagship model to sit above its existing range-topper, the LX, and the new LF-1 Limitless concept previews how it'll look. The SUV has the footprint of a Range Rover but sits much lower, suggesting it could be a rival to the future Road Rover, which is due next year. It mixes familiar Lexus design traits, such as a large front grille that stretches to the car's lowest section, with new parts. These include a full-length light bar at the back and smooth door panels. Inside, the car places its infotainment system into a section of the dashboard and the instrument display is hexagonal in shape with a digital screen. Notwithstanding controls on the multi-function steering wheel, the cabin is free of buttons and switches and relies on its digital technology for auxiliary control adjustments. 4D satellite navigation and haptic control technology also star, showing the advanced level of cabin infotainment Lexus intends to put into its future production models. Lexus said the production car that will be derived from the LF-1 concept could use fuel-cell, hybrid, plug-in hybrid, petrol or even all-electric powertrains, suggesting it would be built in several variants to cater to different global markets. The LF-1 is labelled as a crossover with a heavy road bias, as evident from its low ride and profile. The concept, designed by Lexus's California design team, is described as a flagship model, hinting that it would be an SUV coupé to sit above the range-topping LX, much like the positioning of the Audi Q8 in comparison with the Q7.
A production model you will be able to buy very soon as is the new UX. You don't have to be an industry expert to acknowledge the fact that crossovers of all sizes are quickly beginning to dominate new car sales in most markets. Perhaps one of the most competitive segments is that of small premium SUVs, which includes the likes of the BMW X1 and X2, Mercedes GLA, Audi Q2/Q3, the Volvo XC40, Jaguar E-Pace and Infiniti QX30. Lexus actually unveiled the UX earlier this year, but we knew that we would have to wait until now for the small crossover to go into production. As for sales, those are starting at the end of this year in the U.S., while European buyers need to wait until 2019. With that wait in mind, the Japanese automaker brought the UX to the 2018 Paris Motor Show in order to give visitors and media alike a taste of what to expect. The UX 200 is powered by a new 2.0-litre inline four-pot, putting down 171 PS (168 HP) and 205 Nm (151 lb-ft) of torque with the help of a CVT transmission and front wheel drive. As you probably deduced, this is the entry level model. Customers can also opt for the UX 250h, which features a new hybrid powertrain with a combined output of 178 PS (176 hp) and all-wheel drive thanks to an electric motor at the rear axle. The interior is typical Lexus, as far as overall design goes, while materials seem, let's say, sufficiently premium. The show car boasts white leather seats front and back, plus contrast stitching on the upper dash, gear lever and steering wheel. According to the automaker, all UX models come standard with Apple CarPlay, while available active safety features include Lane Tracing Assist, Dynamic Radar Cruise Control, Automatic High Beams, Road Sign Assist and a Pre-Collision System. Only you can decide whether you like the looks or not, but the one thing you should check out is whether there is enough space in it. I thought the rear legroom was particularly lacking compared to its rivals.
In America, there have been two similarly-sized Lexus saloons for some time, the front wheel drive ES and the rear-wheel drive GS. European customers have been offered the latter of these since its inception over 25 years ago, but sales have never amounted to much, with the latest generation struggling even more than its predecessors, despite the presence of the GS-F range topper. For the next generation, Lexus has decided to offer Europeans the ES model instead as their mid-range offering.  Lexus brought multiple new ES 300h saloons to the Show, showcasing different specs, with the main attraction showing off its chrome Spindle grille plus other chrome inserts, both at the front as well as at the rear fascia. Powering the ES 300h is the Japanese automaker's fourth-generation hybrid powertrain, pairing a 2.5-litre four-cylinder petrol unit with an electric motor. Peak horsepower is said to be 215 (218 PS), while its combined fuel economy is rated at a very impressive 60.1 mpg.  Sales start in Jauary 2019, with prices from £35,150. Can the new ES succeed in a segment dominated by the likes of the BMW 5-Series, Audi A6, Mercedes E-Class, Jaguar XF and the Volvo S90? As long as Lexus' expectations aren't to actually move more volume than their rivals in Europe, it just might. Besides, the starting price for the 300h is less than that of a diesel-powered entry-level Mercedes E-Class – although on paper, their fuel consumption figures are very similar. Still, pushing its diesel-powered rivals out of the way could be a solid strategy, seen as how both the industry as well as governments have started leaning more towards petrol, hybrid and EV models. It will be interesting to see.
There were examples of the rest of the now very extensive range here, too. The CT continues for now, and it was joined by the IS saloon and the recently launched LS executive saloon.
It is the SUVs which achieve the bulk of Lexus' European sales, and the NX and RX are now joined by a new 7 seater RX-L.
Coupe models comprise the RC and LC, and both of these were on show, too.
LEGO
Ultimately, as far as toy cars go, this is probably the most spectacular one ever built, easily surpassing the 1:1 scale McLaren 720S, which also required a great number of individual LEGO bricks – approximately 280,000 of them. Over 13,000 man-hours were needed in order to complete this project, using 2,304 little motors from the Lego Power Function series, plus 4,032 Technic gear wheels. The end result is a Bugatti Chiron replica weighing 1.5 metric tons. According to the Danish toy company, the LEGO Chiron produces 5.3 horsepower (4 kW) and 68 lb-ft (92 Nm) of torque, allowing you to hit a top speed of just over 12 mph (20 km/h), a little over half as fast as Usain Bolt. Altogether, more than a million LEGOs were used, of which 339 were different types of pieces. Still, as if that wasn't enough of a "stunt", the car was even put to the test by former Le Mans winner Andy Wallace, on location where the real Chiron set its 0-400-0 km/h (248 mph) record last year. As a 2018 Paris Motor Show participant, the LEGO Chiron has to be among the event's brightest stars, despite its seriously underwhelming performance figures. Look at it this way – with so many absentees from this year's show, visitors were seriously lacking in true blue hypercars to admire, and this one did a sort of job at filling the gap.
LOTUS
There three Lotus models here. Like many of the other low volume brands, these were just parked in a line in what you would struggle to call "a stand", though there did seem to be a a couple of staff associated with the cars, and at one point when I walked by, they were busy talking to someone and showing them the cars. On display were an Evora 410, an Exige 430 and a Elise 220.
MASERATI
Yet another of the brands who were present, but on a very low profile basis. The latest Ghibli and Quattroporte models were parked up next to the Infiniti cars, and again, seemed to be unhosted, as if the brand really did not know why they were even there.
MERCEDES-BENZ
Like its arch-rivals, Mercedes had a large stand, and it was packed all day. I struggled even more than with Audi and BMW to get near most of what was on here, so comments and photos are limited.
I did get to the A Class Saloon, being seen for the first time at a major show. This represents yet another addition to Mercedes' already vast range of models, and has been conceived to capitalise om the ever-growing demand for premier and compact sized offerings. Sitting alongside the CLA four-door coupe, GLA crossover, and the A-Class hatchback, the new compact sedan occupies a place once held by the C-Class that has, in typical style, grown larger and more upscale with each iteration. That's left room at the bottom end of the range for an even smaller sedan that packs all the luxury amenities and latest technologies into its minuscule footprint. That includes Benz's trick new MBUX infotainment system that, contrary to convention, has debuted in the German automaker's smallest model before making its way up-market to larger and more expensive offerings. It incorporates a wide screen bridging from the instrument panel across the dashboard and features voice control, a touchpad, and even a head-up display, turning the new A-Class into a rolling technological showcase – all packed into a right-sized form just 179.1 inches (4,549 mm) long. The car will be offered the same engines as featured in the A Class hatchback. Sales start around the end of the year.
Another model based off the same platform is the third generation B Class, a car released only days before the Show opened. Mercedes-Benz's compact vehicle family has just gotten bigger, with the introduction of the all-new B-Class. The German firm's rival to the likes of the BMW 2-Series Active/Gran Tourer, the new B Class carries Mercedes' latest design language and looks more mature than the car it replaces. Said to have been designed to "stand out visually from the world of minivans", it has shorter overhangs, a lowered roofline, more muscular body and, of course, redesigned front and rear ends. These features are joined by the optional LED headlights with LED DRLs, a large roof spoiler and wheel choices that span between 16 and 19 inches. Thanks to the new design, the 2019 Mercedes-Benz B-Class has best-in-class airflow, claims the automaker, with aerodynamics engineers said to have reduce wind noise too, thanks to some extensive detail work. Once inside, drivers will sit 90 mm (3.5 in) higher than in the latest A-Class. This results in good all-round visibility, enhanced by the optimized cross-sections of the roof pillars, which obscure less of the surroundings. The dashboard panel is almost identical to the one found in the compact hatchback and sedan, with the dual-screen layout, five round air vents and ambient lighting. Front elbow width, rear headroom and legroom have been increased thanks to the car's slightly larger footprint and 30 mm (1.18 in) longer wheelbase. Boot space has also gone up a bit, varying between 16.07 and 24.9 cu-ft with the rear seats up, and 54.4 cu-ft with the rear seats folded down. The multi-contour seats with massage, heating and ventilation functions are on the options list, alongside other equipment that will be detailed later this year for every trim level. Some of the functions of the S-Class flagship have been brought to the B-Class too, with Mercedes claiming the minivan can drive semi-autonomously in certain situations. Powering the new B-Class is a new/updated range of engines, all of which comply with the Euro 6d-TEMP limits. The 1.5-litre dCi is still here, making 115 PS (114 hp) and 260 Nm (192 lb-ft) of torque, joined by a 2.0-litre diesel with two outputs: 150 PS (147 hp) and 190PS (188 hp). Two four-cylinder petrol engines are also available, both of them with 1.33 litres in displacement, making 136 PS (134 hp) and 163 PS (161 hp), respectively. The larger diesel can be had with a new dual-clutch eight-speed automatic transmission, and Mercedes-Benz says other engines will follow, as well as a 4Matic all-wheel drive system variant. Sales of the new B-Class will start on December 3, with the first customer deliveries due two months later.
There were plenty of other new Mercedes models on show, but I failed to get even close. These included the AMG A35 version of the small A Class hatch, the all-new next generation GLE and entry level (it's a relative term) for the AMG GT43 saloon.
Representing the previous generation of small Mercedes models was this CLA Shooting Brake. It is widely expected that a new generation model will arrive in 2019, some months after a new CLA Saloon.
Established models that I could actually photograph included the GLC and GLC Coupe crossovers as well as the SLC sports car.
The back of the stand contained a display with the latest hybrid models on show, which included the S560e and the E300de.
Just parked up among the other models was the EQC, Merecdes' rival to the Audi e-Tron and the Jaguar I-Pace. The EQC was previewed by the Generation EQ concept and the production version is very similar. It features a "large black-panel surface enclosing the headlamps and grille. While it's not as distinctive as the front fascia used on the concept, it has fibre optic lights which effectively connect the LED headlights.  This promises to give the model an unmistakable appearance at night. Moving further back, the EQC has flowing bodywork and front wing vents with a high-gloss black finish. Other notable features include a dynamic roofline, high-gloss aluminium window surrounds and a charging port which is located just ahead of the taillight on the passenger side. While most crossovers have roof rails, Mercedes says they were "deliberately" omitted from the EQC to improve aerodynamics. The wheels are also aerodynamically optimised and the lightweight alloy units are available in sizes ranging from 19- to 21-inches. The rear of the EQC is a tad plain as only major styling features are a tailgate-mounted spoiler and slender taillights which are connected by a thin strip which emphasises the vehicle's width. Further below, there's a black plastic bumper with chrome accents that appear to replicate exhaust tips. Moving into the cabin, there's an "avant-garde electro-look" which should be familiar to current Mercedes owners. Drivers sit behind a three-spoke steering wheel and find themselves facing two 10.25-inch displays. While much of the cabin is familiar, there are a handful of unique touches which separate from the EQC from more mainstream models. One of the most noticeable design elements is the rosé-gold colours louvres in the air vents. Another unique feature is the metallic ribs which are reminiscent of those found on "high-quality music amplifiers." The ribbed pattern wraps around the entire dashboard and continues onto the doors. Elsewhere, designers installed an ambient lighting system and unique seats which feature indigo blue or beige centres with "Sunnyvale" upholstery that is constructed from recycled material. An assortment of different options will be available including wood trim and a Burmester audio system. Speaking of options, Mercedes will offer three different styling packages. The AMG Line Exterior features a single bar grille, a sportier front bumper and a unique rear end with an integrated diffuser. Customers can also amplify the AMG look by ordering 20- or 21-inch AMG wheels. The AMG Line Interior package brings sporty styling features into the cabin as it includes a flat-bottom steering wheel and brushed stainless steel pedals. The package also adds faux-leather / microfibre seats and AMG floor mats. Customers will also have the option of ordering real leather seats and faux carbon fibre trim. Last but not least, there's an Electric Art package which adds additional rosé-gold accents to the interior. Electric vehicles are all about the powertrain and the EQC has electric motors that power each axle. They produce a combined output of 402 hp (300 kW / 407 PS) and 564 lb-ft (765 Nm) of torque. This enables the all-wheel drive crossover to accelerate from 0-62 mph (0-100 km/h) in 5.1 seconds before hitting a limited top speed of 111 mph (180 km/h). More importantly, the EQC has an 80 kWh lithium-ion battery pack which enables the model to travel more than 279 miles (450 km) in the New European Driving Cycle (NEDC). While the EQC has all-wheel drive, Mercedes says the crossover is primarily front-wheel drive. In an effort to improve efficiency, only the front electric motor is used during low and medium demand conditions. When it comes to charging, the EQC is equipped with a water-cooled onboard charger that has a capacity of 7.4 kW. Owners looking for a faster charge can use the Mercedes-Benz Wallbox which is three times faster than a domestic power socket. Mercedes didn't go into specifics, but said the battery can be charged from 10 – 80 percent in approximately 40 minutes. Mercedes is currently gearing up to produce the EQC in Bremen, Germany and the Beijing Benz Automotive plant in China. There's no word on pricing or launch details, but we're likely hear more in the coming months.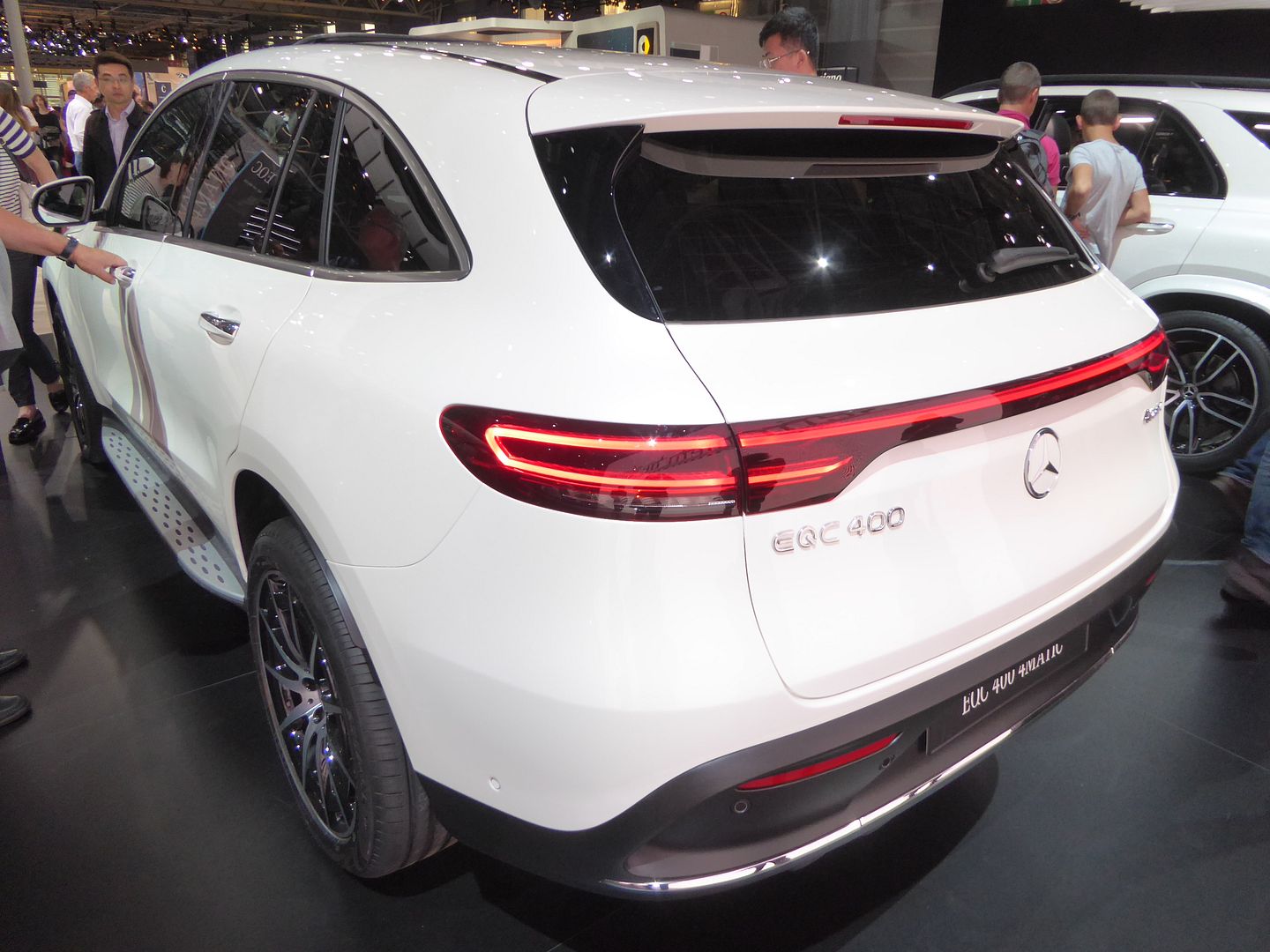 Whilst the EQC was the company's most important electric vehicle at the Show, but it hardly stood out next to the Vision EQ Silver Arrow concept. Originally unveiled during Monterey Car Week, the Silver Arrow concept pays tribute to the 1937 W125 which averaged 268.8 mph (432.7 km/h) travelling between Frankfurt and Darmstadt. The car was so fast that its speed record on public roads wasn't broken until the Koenigsegg Agera RS topped it last November. While the original car featured a twelve-cylinder engine, the Silver Arrow concept is another beast entirely. Mercedes hasn't released detailed specifications, but the car has an electric powertrain that produces 740 hp. Powered by a roughly 80 kWh battery pack, the model can travel more than 248 miles (400 km) on a single charge according to the Worldwide Harmonized Light Vehicle Test Procedure. Despite the high-tech powertrain, the concept embraces old school styling and features an alubeam silver exterior which is reminiscent of the silver arrows from the 1930's. The single seater also has a carbon fibre front splitter, LED lighting units and massive aluminium wheels which each feature 168 spokes that are painted rose gold. Speaking of the wheels, Mercedes worked with Pirelli to develop a bespoke tread which has a star pattern. The unique styling continues in the cockpit as there's a brown leather seat with a blue four-point harness. The model also has a solid walnut floor, polished aluminium trim and suede grey accents. The high-tech design is also evident in the cabin as the steering wheel features an integrated touchscreen. The concept also has a panoramic screen which enables drivers to have a "virtual race against historic or present Silver Arrow racing cars."
Parked up outside, I came across a number of Mercedes models which included an AMG GT Roadster, one of the new A Class hatches and the very potent AMG E63S.
MORGAN
PEUGEOT
While mainstream sports coupes are practically a non-entity in the market right now, due to lack of customer demand, they do make an appearance as concepts in auto shows. A case in point is Peugeot's e-Legend that, by common consent, was one of the highlights of the Show. It's nothing more than a concept for now, and will probably remain one given that new car buyers tend to flock to crossovers and SUVs, but that doesn't make it any less interesting. Inspired by the 504, the e-Legend features double headlights at the front flanked by a classic-looking, and quite narrow, grille, muscular lines running across its length, and some sharp creases that create a rather futuristic effect. Things look unique at the back, too, with triple taillights stacked almost vertically and the manufacturer's name written in between. If you noticed that it has no exhaust pipes, that's because it uses a brawny electric powertrain that produces a total output of 463 PS (456 hp) and 800 Nm (590 lb-ft) of torque. The electric motors allow it to sprint to 100 km/h (62 mph) in less than 4 seconds, and max out at 220 km/h (137 mph). At the same time, the 100 kWh battery gives it a very impressive range of 600 km (373 mi). In all likelihood, it will remain just a concept, but we might see some of its styling cues, and maybe its electric powertrain, too, in future production Peugeots.
A model you will be able buy very soon is the new 508 SW, which joins the range following the launch of the second generation 508 saloon (hatch) model at the Geneva Show in March. It is aimed directly at the Opel Insignia Sports Tourer, the Ford Mondeo Estate, the VW Passat Variant and the Skoda Superb Combi, nd like most of them it tries to combine the levels of versatility that are expected with a does of style. The 508 SW is just 3 cm (1.18") longer than the hatch, but thanks to its longer roof offers more cargo space, at 18.7 cu.ft – and that's with the luggage cover closed. If you fold the rear seats down, you'll end up with a monster 63 cu.ft – nearly as much as you'd have in a Volkswagen Touareg. Another positive is the headroom for rear-seat passengers. Reviews of the 508 sedan have shown that it is not very generous with taller individuals sitting in the back. The SW version not only fixes that, but you can also tilt the seat back by 27 degrees. Potential customers who would rather not wait too long can already order the First Edition model that's based on the flagship 508 SW GT spec right now. Pricing has not been announced, but we suspect it won't come too cheap seen as how it has bespoke 19-inch two-tone alloys, ambient lighting, carbon effect trim, fine grade Nappa leather, Night Vision, a 10-inch HD capacitive touchscreen display and a high-fidelity Focal sound system with wireless headphones. As for the versions that made their way to the automaker's stand at the Show, they range from the Allure to the GT Line, and even the flagship GT. There's also a 508 SW Hybrid that is powered by a 1.6-litre PureTech petrol unit and an 80 kW electric motor for a total of 225 PS (222 HP). Meanwhile, its 11.8 kWh battery is said to offer an electric-only range of 40 km (25 miles).
Following parent company PSA's electrification announcement the week before the Show, Peugeot unveiled here its refreshed plug-in hybrid lineup that will go on sale in the second quarter of 2019. Three models will be available with the new Hybrid and Hybrid4 plug-in hybrid gasoline powertrains: the 508 sedan, 508 SW wagon, and 3008 crossover. Peugeot's new electrified models will be joined by a battery-electric version of the all-new 208 in 2019. The big news is the 3008 finally gets all-wheel drive thanks to the Hybrid4 powertrain which combines a 1.6-liter PureTech gasoline engine rated at 200 PS (197 hp) with two electric motors each producing 80 kW (109 PS/108 hp). One of the electric motors is located on the front axle and the other on the rear axle, giving the 3008 all-wheel-drive capability. Also part of the hybrid system is a 13.2-kWh battery pack that provides an all-electric driving range of 50 km (31 miles) WLTP. Combined CO2 emissions are projected to be less than 49 g/km WLTP. Thanks to a total system power of 300 PS (296 hp) the new powertrain also gives the 3008 Hybrid4 improved performance: the 0 to 100 km/h (0-62 mph) sprint takes 6.5 seconds. The Peugeot 3008 Hybrid4 will only be available in the range-topping GT grade combining Alcantara Greval Grey upholstery with authentic grey oak trim. The model will also offer driving assistance systems sourced from the 508, such as adaptive cruise control with stop & go function and lane keeping assist. Later on, the 3008 will also be available with the front-wheel-drive Hybrid powertrain that debuts on the 508 and 508 SW. The 508 sedan and 508 SW get a front-wheel-drive plug-in hybrid system that combines a 1.6-litre PureTech petrol unit rated at 180 PS (178 hp) with an 80-kW electric motor for a combined maximum power of 225 PS (222 hp). The system also includes an 11.8-kWh battery that allows the 508 and 508 SW to cover 40 km (25 miles) in EV mode. Customers will be able to order the 508 Hybrid and 508 SW Hybrid in three grades: Allure, GT Line, and GT. Both the Hybrid and Hybrid4 powertrains use a new electrified e-EAT8 eight-speed automatic transmission that is linked to the 80kW electric motor on the front axle. For seamless transitions between electrical and thermal, the e-EAT8 unit ditches the torque converter for a wet multiple-disc clutch. In addition to the e-EAT8 transmission, the Hybrid4 version also uses an inverter, an additional 80kW electric motor for 4WD capability, and a gearbox for four-wheel drive. Recharging the batteries takes between 1h45min with a 6.6kW 32A Wallbox and 7 hours with a standard plug.
The rest of the range was represented with examples of each of the hatch models: 108, 208 and 308, with the 308 SW also here, and there was a line of the Crossovers, the 2008, 3008 and 5008.
On one edge of the car was the Sebastien Loeb's 208 WRC car.
PORSCHE
In case you've missed it – and given the number of events and the publicity associated with it, I am not sure how you could have done! – this is the year of Porsche's 70th anniversary. And to mark the occasion, there was a line of some of the very special road cars that the Stuttgart firm has produced that featured across the centre of the stand. These included a 356, the latest 911 Speedster concept, a 959, a 911 GT1, the Carrera GT and the most recent hypercar, the  918 Spyder.
The rest of the stand was packed. You had to queue up to enter, and every time I went past, the queue seemed longer than ever before, so I never made it. There were examples of the facelifted Macan, as well as the latest Cayenne and Panamera, several 911s and the 718 Boxster and Cayman all on display.
RENAULT
French giant Renault also have a major anniversary this year, their 120th, and there were a number of cars from the marque's "Histoire et Collection" to celebrate this longevity. These included an 898 Model A, the very first car that Renault produced. Though it became the foundation stone for a huge industrial empire, the very first voiturette, designed and built by Louis Renault in person, was not originally intended for sale. In 1897, nineteen-year-old Louis Renault was working as a draughtsman with Delaunay-Belleville. This keen amateur mechanic, fascinated by the emergence of motor transport, set up a little workshop in a garden shed at the family home in Boulogne-Billancourt, and set about building a simple little car, of his own design, for his own personal use. By Christmas 1898 the voiturette was finished, and Louis invited a few friends round to see how it would tackle the steep Rue Lepic in the Montmartre district of Paris. Impressed by how easy it was to drive the car, several of his friends were keen to get one for themselves, and some even made a down payment on the spot! Two months later, the automobile manufacturing company Renault Frères was founded, marking the start of a great adventure. The lightweight, well-designed voiturette already showed many of the features of modern automobile engineering, with a front-mounted engine, transmission by shaft with universal joint, and a direct-drive gearbox patented by Louis Renault. It was unveiled to the public in June 1899. Then on 27 August, Louis and his brother Marcel took part in the Amateur Drivers' Cup event from Paris to Trouville, finishing first and second.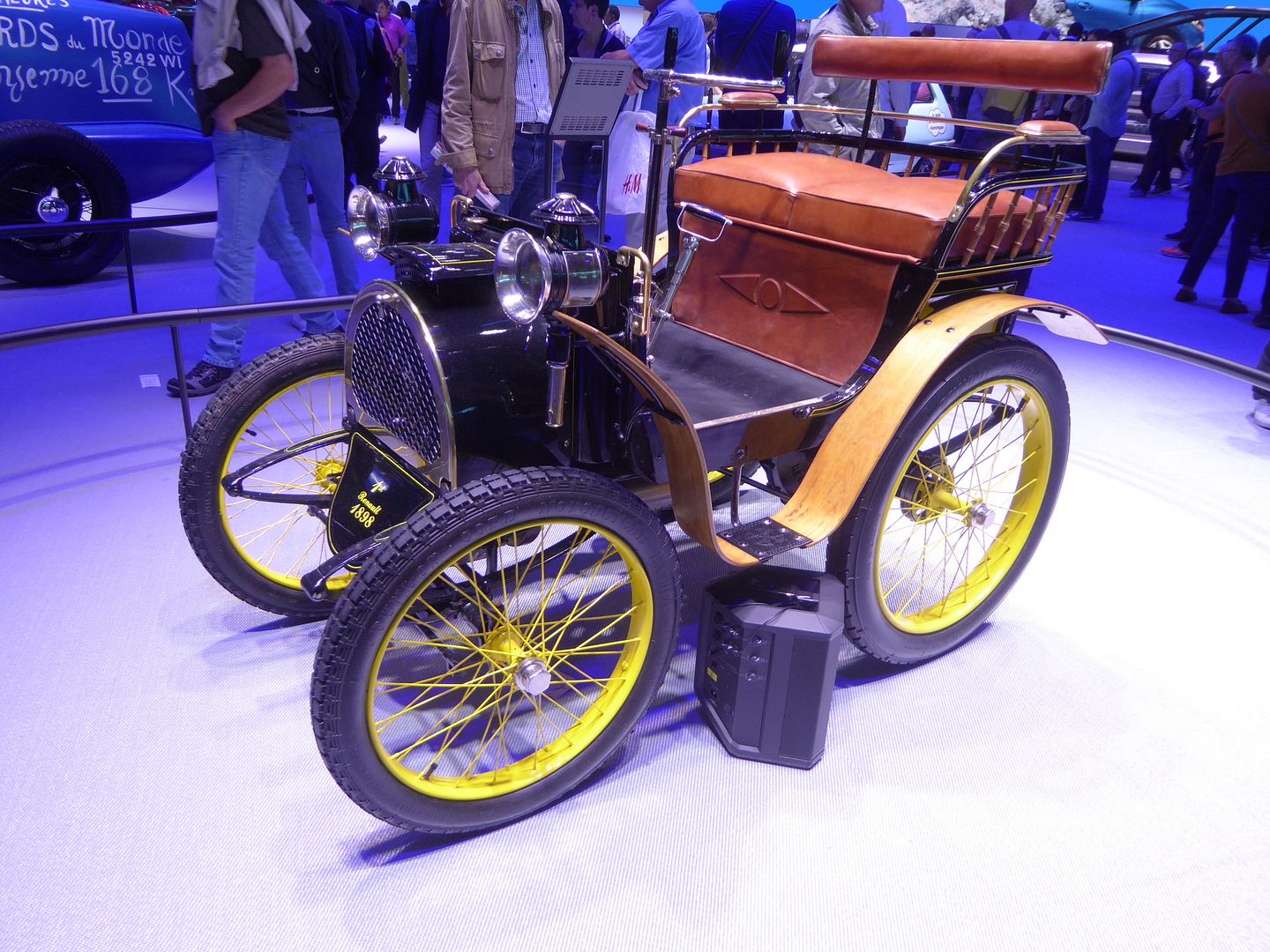 Something very different was this amazing-looking 40CV, which I've seen number of times before. With its pillar-box style windscreen, it must be more than mildly terrifying to drive! It is a Renault 40CV, which was launched in 1911 powered by a 7.6 litre straight six and was available with either an  11′ 9″ or a 12′ 9″ chassis. With the introduction of the 40CV Type HF in August 1920, the engine was upgraded to a 9.1-litre straight six. From 1920 to 1928, the Renault 40CV replaced the Panhard 20CV as the French Presidential vehicle of choice. François Repusseau drove a 40CV to victory in the 1925 Monte Carlo Rally and the following year a vehicle similar to this 40CV MN was modified and fitted with a single seat Coupé body and taken to the Montlhéry Oval outside Paris for a record breaking 24 hour run. Facilitated by a pit crew of 14 who could complete a pit stop including changing all four tyres in 50 seconds every hour and a team of unnamed drivers, the 40CV set a new 50 mile average speed record of 118 mph and a 24 hour record of 107.9 mph. By comparison, the fastest average speed on the road course at Le Mans for the 24 hours race in 1926 was just 66 mph set by Robert Bloch and André Rossignol in their 3.4 litre Lorraine-Dietrich B3-6. This is not the original car, but an exact replica.
This very original looking Renault R5 is not quite what you might imagine, as it turns out that it is an electric vehicle. It was created in 1972, when Renault and EDF worked together to create an electric Renault 5, with an electric motor powered by 34 lead batteries. It offered a range of between 68 and 108 miles and could travel at speeds of up to 50mph. Production was limited to 90 vehicles.
Three concepts of recent times made for a striking centrepiece of the stand. These were the EZ-Go, the EZ-Ultimo and the EZ-Pro. The EZ-Go is Renault's vision for the future of last-mile delivery solutions was first seen earlier in the year at the Hannover Motor Show. Styled to blend in the city landscape, EZ-Pro is the commercial alter-ego of the EZ-Go driverless passenger shuttle. It's an autonomous, electric, connected and shared robo-pod concept that doesn't completely give up on human control. According to Renault, people will remain at the heart of transport activities for the foreseeable future, which is why EZ-Pro comes with a leader pod that hosts a human concierge who supervises the delivery of goods and services as well as the fleet. The fleet of driverless robo-pods can either move independently or follow each other by platooning. For example, a convoy of pods managed by the same logistics operator can carry different types of goods and merchandise. Despite having their own paymaster, theme, clientele and delivery place, they are operated by the same electric and autonomous platform. Furthermore, a pod can deliver for many stores, contributing to help maximize productivity and save costs. The modules are customizable and can be tailored to meet a variety of business customer needs. As for the recipients, they will be able to choose a convenient delivery time and location, using a mobile phone app. EZ-Pro will allow them to receive parcels by the concierge or by accessing self-service lockers in the driverless robo-pods. Since last-mile delivery makes up to 30-percent of traffic in cities, Renault says EZ-Pro can help reduce congestion thanks to its shared shipping delivery solution, flexibility, and autonomous driving. Furthermore, connecting the robo-vehicle to city infrastructures like traffic lights and traffic control centre should also have a positive impact on traffic.
The latest of the trio and the last EZ-branded concept car, the autonomous, all-electric EZ-Ultimo is designed to offer "upscale ride-hailing for all,". This new study is described by Renault as an individual mobile lounge. Renault wants you to think of it as the extension of the premium experience offered by a hotel, resort or airline company. The robo-vehicle concept relies on flexibility: it can be used on demand, for a single trip, for an hour or for a day. Therefore, it is suitable for a private trip in a city, a premium tourist experience, or a business journey service. The thing to remember is that the EZ-Ultimo can adapt to the actual service provider. The concept is inspired by contemporary architecture and French style, with the passenger space designed like a personal lounge fitted with all the comfort and features needed for relaxation or concentration. Access to the cabin is provided by a wide automatic opening door, and passengers are welcomed by a rotating seat on a slide. Inspired by interior architecture, the cabin uses materials such as wood, marble, and leather. The vehicle also gives passengers the option of more privacy via glass facets on the upper part of the car. For a well-spent travel time, the concept car marks the debut of the Augmented Editorial Experience. Developed in collaboration with Groupe Challenges, AEX is a realist immersive experience that combines personalized premium content, multi-media experiences, and mobility. The goal is to turn travel time into a learning experience for future EZ-Ultimo passengers. Following in the footsteps of EZ-Go and EZ-Pro studies, the EZ-Ultimo is equipped with Level 4 autonomous driving technology and is able to adapt to an urban environment, to the motorway or to a shuttle service on dedicated roads.
Although there were lots of production cars on show, there was nothing that was completely new. There were mid-cycle updates to some of them though, of which the update to the mid-range Kadjar were probably the most significant. Renault's designers have given the Kadjar a C-shaped light signature for the headlights, as well as LED indicators, fog lamps, and taillights. A closer look also reveals a wider grille with new chrome inserts and bumpers that feature more body-coloured paintwork than before. Other updates include two different types of 17- and 19-inch alloys, as well as three new colours: Oural Green, Iron Blue, and Highland Grey. Moving on to the interior, the 2019 Kadjar sports a new 7-inch central touchscreen display for the R-Link 2 interface, new design for the climate control switchgear, new colour combinations, and satin chrome trim on the air vent surrounds, door handles, and centre console. The improvements are more significant than that, however. Renault says the Kadjar is now more comfortable than its predecessor thanks to the more ergonomic seats that offer better support and offer a sliding armrest at the front, the reworked door panels with larger bins, and the addition of air vents on the back of the centre console. Finally, the 2019 Kadjar sees major changes in the engine compartment, as it adopts new-generation gasoline and diesel power plants. There's the TCe GPF 1.3-litre four-cylinder turbocharged petrol unit developed with Daimler, available in 140 PS and 160 PS states of tune. Both versions can be had with manual or EDC dual-clutch automatic transmissions. Then there are two new diesel units labelled "Blue dCi" that featuring selective catalytic reduction (SCR). The Blue dCi 115 unit is a 1.5-litre four-cylinder producing 115 PS (113 hp) while the Blue dCi 150 designates a 1.7-litre four-pot that makes 150 PS (148 hp). The lower-powered unit can be had with a manual transmission and front-wheel drive, with a dual-clutch EDC gearbox to be available later. The larger engine is only offered with a manual, in FWD or AWD configurations.
The smaller and larger crossover models from the range were here, too: the Captur and Koleos.
As was the rest of the range starting with the Twingo, shown along with a number of versions of the big-selling Clio (the fifth generation car not being ready for an unveiling here), the Megane and the Talisman.
Final Renault model here was the Alaskan pick-up. This is a close relative of the Nissan Navara and Mercedes X Class, though with its own body style.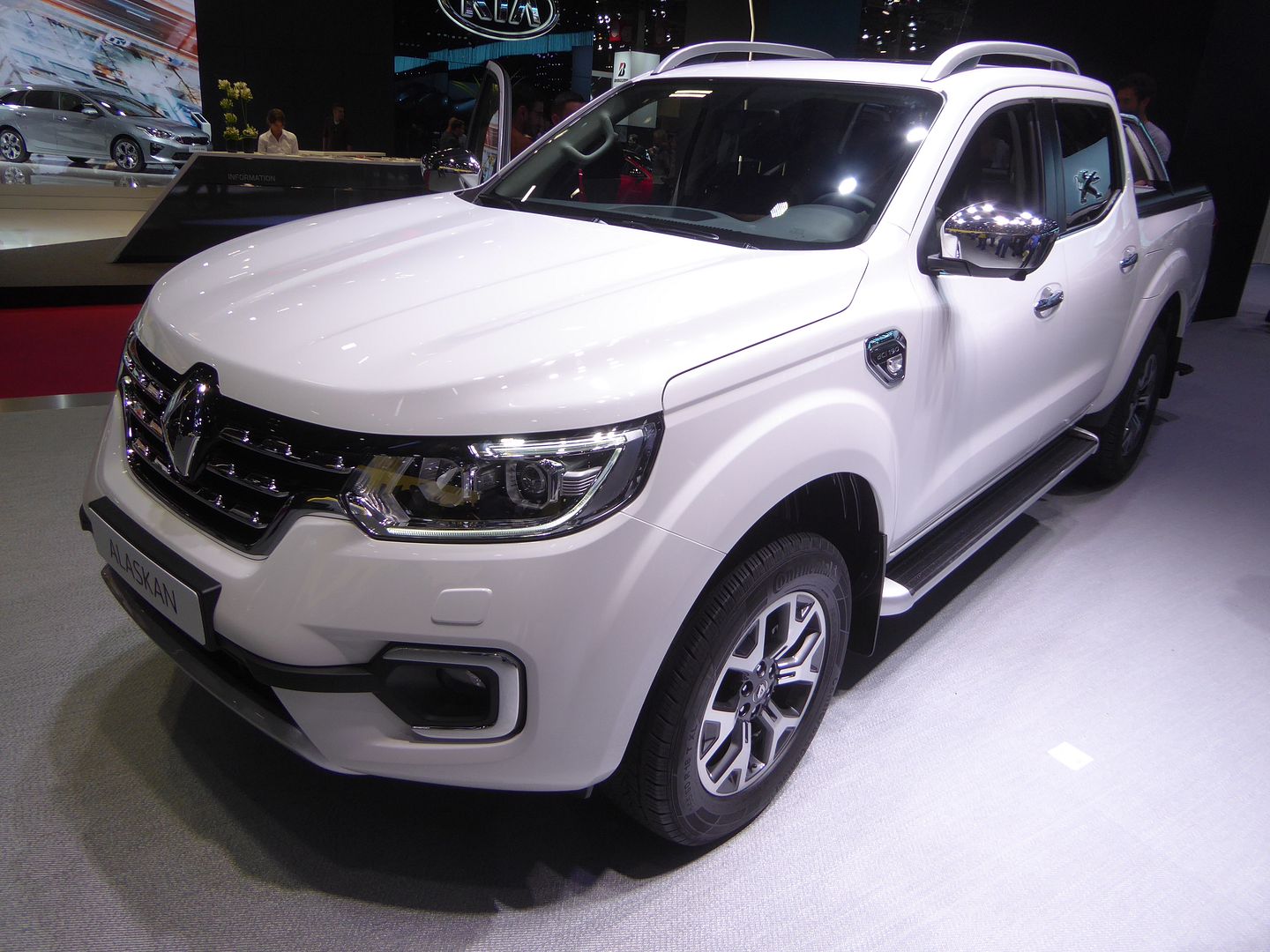 RENAULT-ALPINE
A relatively small stand contained several examples of the new A110, and it was always busy, which is hardly a surprise given the extremely positive reception that this car has had now that the press had the chance to drive it. There's a very long lead time for anyone who places an order now – not far off 2 years in the UK, I understand – so I would guess prospective purchasers would want to be very sure that it is worth the wait.
As well as the road cars, there was a GT4 race example here as well.
SEAT
Spanish brand SEAT did have a conventional stand in any of the halls, but rather had a stand-alone construction in the centre of the venue. It was large enough to accommodate just 4 cars. Two of them were the new Tarraco, the latest addition to the brand's growing portfolio of Crossovers. Designed to appeal to growing families, the 2019 Tarraco slots above the Ateca and features an evolutionary design which hints at the company's future styling language. Starting up front, the crossover has a prominent grille and LED headlights with distinctive daytime running lights. The model also features plastic body cladding, strong character lines and plenty of chrome trim. The cabin echoes the Skoda Kodiaq, but the Tarraco has a unique dashboard, a revised steering wheel and an 8-inch infotainment system with gesture control technology. Other highlights include a 10.25-inch digital instrument cluster and seating for up to seven people. Sticking with the technology theme, the Tarraco will come standard with an assortment of driver assistance systems including Front Assist and Lane Assist. Customers will also be able to order Adaptive Cruise Control, Blind Spot Detection, Traffic Sign Recognition and Traffic Jam Assist. Under the bonnet, there are three different engines. The entry-level petrol unit is a turbocharged 1.5-litre four-cylinder that produces 148 hp. It is connected to a six-speed manual transmission which sends power to the front wheels. The Tarraco can also be equipped with a turbocharged 2.0-litre four-cylinder which develops 187 hp. This particular engine is paired to a seven-speed DSG gearbox and a standard all-wheel drive system. On the diesel side, there's a 2.0-litre four-cylinder engine with outputs of 148 hp and 187 hp. The entry-level unit is available in front- and all-wheel drive configurations, while the more powerful engine is offered exclusively with the DSG gearbox and a 4Drive system. Later on, the Tarraco will be offered with "alternative powertrain technologies." The company has declined to elaborate, but we can likely expect a plug-in hybrid variant. The Tarraco rides on the long-wheelbase MQB-A architecture and features a Dynamic Chassis Control system which automatically adjusts itself depending on the road surface and driving style. While some may doubt the need for yet another crossover, SEAT was rather blunt about their reasoning. Besides bringing in new customers and boosting their image, the Tarraco will have an "important effect on profits" as the crossover will make a "high financial contribution" to the company's bottom line. The Tarraco will be launched early next year and pre-orders will begin in December.
Also making its debut here was a new version of SEAT's smallest crossover. This is the Arona, and the new version is a CNG-powered car which joins similarly fuelled versions of the Mii, Ibiza and Leon. It is described as "the first SUV worldwide to be equipped with a compressed natural gas powertrain". Power comes from a 1.0-litre three-cylinder engine rated at 90 PS (89 hp) and 160 Nm (118 lb-ft) of torque. It works in conjunction with a six-speed manual transmission and allows the subcompact crossover to complete the 0-100 km/h (0-62 mph) acceleration in 12.8 seconds, and hit a top speed of 172 km/h (107 mph). The total range of the car in CNG mode is 400 km (249 miles), and the automatic switch to petrol that happens when the gas tanks are empty gives it another 160 km (99 miles). SEAT says the three CNG tanks are located under a specific rear floor pan, and the filler cap is located next to the petrol one. Controlling the gas distribution to the TGI engine are stainless steel gas pipes, gas pressure sensors and electronic pressure regulator. The CNG-powered version of the Arona automatically starts the engine with petrol when the exterior temperature falls below -10C (14F). Subsequently, the system starts a heating process for the gas injectors, and when conditions allow it, the CNG circuit is being activated. The 2019 Arona TGI will be available in the Reference, Style, Xcellence and FR trim levels, with customers having to choose between 68 possible colour combinations.
Final SEAT model here was an Ateca.
SHELBY and AMERICAN CARS
American tuner Shelby brought along a wide range of products to the Show, most of them based on regular Ford models that have been turned into absolute straight-line monsters. Whilst buyers currently living in Europe have probably now got used to the idea of buying Mustangs, these tend to be regular 4 cylinder and V8 models, so may be unaware that these are just the tip of the performance iceberg, and that the sort of upgrades that Shelby offer are not confined to this one model, as the latest Super Snake or even the Baja Raptor truck evidence. You can argue that the sweetest ride here is the new Super Snake, based on the facelifted 2018 Ford Mustang. The car was unveiled this summer and showcased on video for the entire world to hear its growling supercharged 5.0-litre V8 engine, producing power in various stages of tune. You can have it with 710 horses or as much as 800 – the latter being sufficient so as to take you from zero to 60 mph (96 km/h) in 3.5 seconds. Other than the supercharger, it also comes with a bespoke radiator, heat exchanger and performance half shafts, to go with the Brembo brakes and their six-piston calipers at the front, four-piston at the rear. Visually, the SS features a revised front fascia with a custom grille, splitter, air intakes and hood, and there's also track suspension and a wide-body kit available.
There are plenty of off-road trails in Europe for something like the Baja Raptor to conquer. It's unlikely you'll see many on the Old Continent, but if you do happen to stumble onto one, know that it's been heavily revised both technically and visually. It packs off-road bumpers, a ram air hood, LED auxiliary lights, power retractable running boards, two spare tire mounts in the bed, a custom interior and most importantly, a 3-inch lift kit developed by FOX Racing and a custom engine tune for the 3.5-litre EcoBoost V6, bumping output to 525 HP (532 PS) and 610 lb-ft (826 Nm) of torque.
Other Shelby-tuned participants here included the F-150 Super Snake with a mighty 755 HP (765 PS) of its own, and also the GT-H Mustang, which is a special anniversary edition model originally based on the 2016 Mustang GT. This one though is based on the 2018 Mustang and features a more aggressive-looking exterior.
Other American vehicles included a standard looking GMC Acadia, a mid-sized crossover, an example of which I sampled in my recent US trip, as well as the latest RAM 1500 pickups.
SKODA
Star of the stand here was the Vision RS concept, which previews both the styling language of future RS models as well as one of those models from the compact class — rumoured to be a larger successor to the current Rapid. The five-door hatchback concept is 4,356-mm long, 1,431-mm high, 1,810-mm wide, and has a 2,650-mm wheelbase. It's a practical car with a 430-litre boot and space for four passengers — although the production model will likely accommodate five occupants. Design-wise, the Vision RS sports crisp edges and precise lines, as well as several motorsport-inspired features. At the front, highlights include the sculpted bonnet that features the Skoda logo made of illuminated crystal glass, the new radiator grille with high-gloss black carbon fibre slats (also illuminated), the angular LED headlights consisting of four glass stones, the carbon fibre spoiler, and the generous air intakes in the lower grille. Viewed from the side, the Vision RS looks sporty and practical at the same time. It features frameless side windows, a third lateral window, recessed door handles, small Czech flags on the carbon fibre side sills, and carbon fibre side mirrors with crystal-glass indicators. Finally, the lightweight 20-inch alloys have been optimised to reduce drag and feature carbon fibre detailing and a glass Skoda logo. The rear end is dominated by the massive diffuser and roof spoiler, both made of carbon fiber. The rear air vents are from the same material, while the L-shaped taillights are made of Bohemian crystal glass. There's also the identification mark of Skoda RS models, a light strip that spans the entire width of the car. Another interesting detail is the illuminated Skoda lettering on the rear screen. Moving on to the cabin, it looks quite production-ready and features a large central display, sports seats, colourful touches, as well as carbon fibre and crystal glass details — most of them illuminated. The centre console is made entirely of carbon fibre and integrates a minimalistic gearstick that uses shift by wire to operate the DSG transmission. While the door pull straps are a nod to motorsport, the elastic bands securing the door cards are a Simply Clever feature. The plug-in hybrid powertrain that combines a 150PS (148hp) 1.5-litre TSI turbocharged gasoline engine with a 75kW (102PS/101hp) electric motor for a total output of 180 kW (245 PS/242 hp). This translates into a 0-100 km/h (0-62 mph) sprint of 7.1 seconds and a top speed of 210 km/h (130 mph). The 80-120 km/h (50-75 mph) acceleration takes 8.9 seconds. To do that, drivers need to use the Sport mode, with the Vision RS also offering Normal and EV driving modes. Skoda claims the compact hot hatch emits only 33 g of CO2 per km and is able to drive up to 70 km (43.5 miles) in EV mode thanks to a lithium-ion battery with a capacity of 13 kWh (of which 9.9 kWh can be used). Charging the battery takes 2.5 hours at a household power socket or charging station at home. Obviously, the battery can also be charged on the move using energy recovery.
Launched in production spec was the much-rumoured Kodiaq vRS. There were no big surprises, really, when it comes to the design, as this looks like a regular Kodiaq fitted with an RS body kit on the outside and RS interior goodies. The exterior features standard 20-inch "Xtreme" alloys shod with 235/45 R20 tyres, LED headlights (also standard), and gloss black treatment for the front grille, a light strip spanning the entire width of the rear end, as well as more aggressive bumpers. Furthermore, the standard chrome trim of the regular Kodiaq is black on RS models. Inside, the fast seven-seat SUV gains new sports seats with integrated head restraints and suede upholstery, a flat-bottomed steering wheel, and aluminium pedals. The cabin is spiced up with red stitching on the seats, steering wheel, gearshift lever gaiter, and door panels. Other goodies that are standard on the Kodiaq RS include the virtual instrument cluster, which offers an additional Sport mode, and the Dynamic Sound Boost system which will trick the passengers into thinking the engine sounds better than it actually does. Speaking of the engine, it's the most powerful production diesel unit ever fitted to a Skoda. We're talking about the 2.0-litre TDI biturbo unit that makes 240 PS (237 hp) and 500 Nm (369 lb-ft) of torque. It's linked to a seven-speed DSG double-clutch automatic transmission and an all-wheel-drive system with rear axle coupling. Performance specs aren't available yet, but the VW Tiguan Allspace equipped with the same engine covers the 0 to 100 km/h (0-62 mph) sprint in 6.7 seconds and tops out at 228 km/h (142 mph). Similar numbers should apply to the Kodiaq RS as well. Skoda will start selling the performance SUV across Europe shortly after its Paris Auto Show debut.
The smaller Karoq arrived early this year, to take the place of the much-loved Yeti. The initial range is now being extended with a number of new variants and two of them were making their debut here. First of these is the Karoq Scout. Whilst some sport-utility vehicles veer closer to trucks, some are more like a car. As a unibody crossover, the Skoda Karoq is geared more towards the road than off it. But Skoda's taking it in an altogether more rugged direction with the launch of the new Karoq Scout. Similar to Subaru's XV/Outback, Volvo's Cross Country, or Audi's Allroad lines, Skoda's Scout trim adds a dose of the great outdoors to a variety of the Czech automaker's vehicles. And that's just what it's done with the compact crossover. Like the lower Octavia Scout and larger Kodiaq Scout, the new Karoq Scout is visually differentiated from other versions with contrasting lower body cladding, chrome and silver trim, beefier wheel arches, and its own unique set of 18-inch (or available 19-inch) wheels – all to give it a more rough-and-tumble appearance. It also comes with tinted windows, special badging (both inside and out), and an interior done up with its own dose of off-road styling. Inside you'll find black-brown upholstery with contrasting stitching, stainless-steel pedals, LED ambient lighting, and more. As befits its rugged appearance, the Skoda Karoq Scout is the only version that comes exclusively with the all-wheel drive system that's also available on other trims. But buyers (in markets where Skoda competes) will be able to choose between a 1.5-litre petrol inline-four rated at 150 bhp or a 2.0-litre turbodiesel good for 190 bhp. The former comes mated to a six-speed manual and can be had with the seven-speed dual-clutch transmission that comes standard on the latter.  Joining it was the new Sportline, where the changes are mostly cosmetic. But it does get a more powerful engine: a 2.0-litre turbo four reserved exclusively for this version, producing 190 bhp. That might not put it quite in RS territory, but it's not far off, either. And it gives us an idea, at any rate, of what a Karoq RS could look like, should Skoda ever choose to build one. The 2.0 TSI is not the only engine offered, though: buyers (in markets where Skoda competes) will also be able to specify a less potent 1.5-litre petrol engine rated at 150 bhp or a 2.0-litre turbodiesel offered at the same power increments as the petrols. Depending on the engine, power can be routed to just the front wheels or all four through a six-speed manual or seven-speed dual-clutch gearbox. Regardless of powertrain options, the Karoq Sportline packs sportier-looking bumpers, tinted windows, body-coloured and blacked-out trim, and 18- or 19-inch wheel choices. The interior's been worked over too, with black textile upholstery, contrasting stitching, black headliner and pillars, stainless-steel pedals, three-spoke sports steering wheel, and LED ambient lighting.
There were plenty of examples of the rest of the range here, from the Citigo to the recently refreshed Fabia, the soon to be replaced Rapid, the popular Octavia and the commodious Superb.
Completing the stand was an example of the Fabia-based WRC car. The Škoda Fabia R5 is built by Škoda Motorsport, based upon the Škoda Fabia road car and is built to Group R5 regulations. The car has proved to be very successful in the World Rally Championship-2 class, winning twenty-four events between 2015 and 2017. Esapekka Lappi won the 2016 World Rally Championship-2 drivers title with four victories and Pontus Tidemand won the 2017 championship. Škoda Motorsport won the FIA World Rally Championship-2 for Teams in 2015, 2016 and 2017.
SMART
Smart is celebrating its 20th anniversary and the company is marking the occasion with their ForEase concept. This is a two-seat roadster which pays tribute to other "pioneering" concepts such as the 2001 Crossblade and 2011 ForSpeed. Billed as "uncompromisingly open" and "reduced to the essential," the ForEase concept is based on the EQ ForTwo Cabrio and features a chopped windscreen and flush-mounted door handles.  The model also has a metallic white body that is contrasted by stream green accents and a matte silver Tridion safety cell. Designers also installed unique bumpers, a massive diffuser and two stylish roll bars. Other highlights include distinctive headlights, a revised grille and 3D taillights. The stylish design continues in the cabin as drivers are greeted by a unique steering wheel and two-tone seats with stream green accents. The multi-coloured theme is visible elsewhere as the white leather dashboard contrasts with black lower panels. Elsewhere, the concept has stainless steel pedals and green honeycomb inserts in the air vents. Speaking of the latter, two of the vents have been replaced by digital displays which can be used to show information from Smart's "ready to" app. Smart didn't mention technical specifications but, since the car is based on the EQ ForTwo Cabrio, the concept likely has a 17.6 lithium-ion battery and an electric motor that develops 80 hp and 118 lb-ft (160 Nm) of torque. This enables the standard model to accelerate from 0-62 mph (0-100 km/h) in 11.8 seconds, before hitting a top speed of 80 mph (130 km/h). According to Smart's incoming CEO, Katrin Adt, "The Smart ForEase embodies a refreshingly simple form of driving fun in the city, standing for urban electric mobility without compromise."
The stand also contained a number of the regular production ForTwo and ForFour models.
SUZUKI
Surprise hit of all the 2018 new cars would seem to be the new Jimny, which has received a hugely enthusiastic reception, and for which I gather there is now quite a waiting list. Part of the appeal, for sure, are the retro design cues, which even manage to make its predecessor look soft-edged by comparison. The new model has sharp angles wherever you look. But the biggest highlight of the new Suzuki Jimny is that it has resisted the modern SUV trends, sticking with a ladder-frame chassis, complete with a pair of rigid axles and a low-range transfer case. Customers will be offered a single engine option, in the form of a 1.5-litre four-cylinder petrol unit that pumps out 100hp and 95.8 lb-ft (130Nm). A five-speed manual gearbox is standard, with Suzuki also offering a four-speed automatic transmission in case you were interested. According to Suzuki, the new Jimny has a top speed of just 87mph (145km/h), and that's when fitted with the manual gearbox. CO2 emissions are rated at 178g/km on the WLTP, which could be a problem for some countries. It's pretty obvious that you are not buying a Suzuki Jimny for its performance on the highway, so here are some off-road stats: the approach angle is set at 37 degrees, the ramp breakover angle is 28 degrees while the departure angle is 49 degrees.
Displayed with the new car was an old LJ80, Suzuki's offering in this class some 40 years ago, and the first model that they exported to many European markets.
There was a large stand with plenty of other cars on it reflecting the fact that in recent years, Suzuki has successfully found a niche for itself wit value-priced cars with a bit of character to them. The Vitara and S-Cross crossovers were joined by the Celerio city car, the Swift supermini, shown in regular and Sport guises, as well as the distinctively styled Ignis and Baleno.
TOYOTA
A new family-sized hatch was shown at the Geneva Show earlier in the year, though we were told that it would be around 12 months before it would go on sale. It was back again, with rather more examples on display this time, and now it has a new name. Auris is dead, long live the Corolla! Toyota is revamping its iconic nameplate in Europe in two body styles, a five-door hatchback, and a wagon. The new Corolla lineup also marks the debut of Toyota's dual hybrid strategy, with both the hatch and the wagon offering a choice of two hybrid powertrains. In addition to those, the new compact models from Toyota will be available with just one conventional engine, a 116 PS (114 hp) 1.2-litre turbo petrol unit. The self-charging hybrid powertrains are a 122PS (120hp) 1.8-litre and a 180PS (178hp) 2.0-litre. The former places emphasis on fuel economy, with Toyota claiming "outstanding fuel economy and low CO2 emissions," as well as up to 50 percent all-electric driving on the everyday commute. The 1.8-litre petrol  engine delivers 122 PS (120 hp) and 142 Nm (105 lb-ft) of torque, with an electric motor adding 53 kW (72 PS/71 hp) and 163 Nm (120 lb-ft). The 2.0-litre hybrid system offers 180 PS (177 hp) and 192 Nm (142 lb-ft) of torque and is assisted by a nickel-metal hydride-powered electric motor. The 2.0-litre system targets buyers who want a more spirited drive, offering more power and even steering wheel-mounted paddles for a more engaging driving experience. Both Corollas are based on Toyota's TNGA GA-C platform which is said to offer a more rewarding driving experience thanks to a 10-mm (0.39-in) lower center of gravity, standard multi-link rear suspension, and 60-percent more rigid body shell. As a result, the Corolla is said to offer better handling and stability without compromising ride and comfort. Practicality-wise, the Corolla Touring Sports benefits from a 58-mm (2.3-in) longer body than the model it replaces. More importantly, the wheelbase is 100-mm (3.93-in) longer for a total of 2,700 mm (106.3 in), which helps the wagon provide "best-in-class rear seat passenger legroom," according to the automaker. Cargo volume capacity is 21.1 cu ft loaded up to the parcel shelf with all seats in place. There are still a few months to go before we find out if the Corolla is any less insipid to drive than the outgoing Auris.
Also first seen earlier in the year was a new generation RAV4 and there were lots of examples of this still-to go on sale vehicle here. The new generation RAV4 benefits greatly from the adoption of the TNGA-K platform, making also Toyota's first SUV to use the architecture. Thanks to the TNGA, the centre of gravity is much lower, the body rigidity is increased by 57 percent and the weight distribution is now 51 to 49 front to rear. The rear suspension is a double wishbone design, which offers better ride quality, agile handling and more precision. Powering the new Toyota RAV4 Hybrid is a new electrified powertrain that combines a 2.5-litre Dynamic Force petrol engine with two electric motors. Their combined output is rated at 219hp (222PS), compared to the outgoing model's 194hp. The fourth-generation self-charging hybrid powertrain features many improvements over the past, including a power control unit and a Nickel metal-hydride battery pack that are smaller and lighter than before and offer reduced electrical and mechanical losses. The CVT gearbox is still present but Toyota claims there are now improvements to its operation, without going into detail. The Hybrid version of the new Toyota RAV4 is also getting a "significantly enhanced" electric all-wheel drive system, which according to the company comes with no penalties. The level of torque that can be directed to the rear axle is also increased by 30 percent, with the front-rear split now ranging from 100:0 to 20:80, making the RAV4 more capable in different driving conditions. Toyota expects the new RAV4 Hybrid to continue the successful career of its predecessor, which accounted for 85 percent of the RAV4's total sales in Western Europe. Customers in the region will also be offered a 2.0-litre petrol version as well, with either a manual or an automatic transmission. The 2.0-litre petrol version of the new RAV4 will feature a mechanical all-wheel drive system, which on CVT-equipped models will come with torque vectoring on the rear axle.
With the demise of the Avensis, Toyota announced a few weeks ago that its place would be taken by a Europeanised version of the big-selling Camry, following a nearly 14 year long hiatus. The version o show here looks virtually identical to its North American counterpart. As a result, the sedan has a bold front fascia with a slender grille that resides above a massive air intake. The model also has blue Toyota logo which is flanked by Hi-LED headlights. The familiar styling continues further back as the sedan has flowing bodywork, a dynamic beltline and "protruding shoulders" over the rear wheel arches. Continuing to the rear, the Camry Hybrid has LED taillights and a spoiler which is integrated into the trunk. Moving into the cabin, drivers sit behind a three-spoke steering wheel and find themselves looking at stylish instrument cluster which features a seven-inch colour display. The model also has soft-touch plastics, piano black accents and an infotainment system with an 8-inch display. Rounding out the highlights are faux wood trim and a 10-inch head-up display. The standard model comes with 60:40 split folding rear seats, but the car can be equipped with power reclining rear seats. When the latter option is selected, customers can order a touchscreen which provides rear seat occupants with controls for the climate control and audio system. Speaking of technology, all Camry Hybrids will come standard with the Toyota Safety Sense suite of driver assistance systems. It includes Adaptive Cruise Control, Automatic High Beam Assist, Lane Departure Alert, Road Sign Assist and a Pre-Collision System which can detect pedestrians. The car can also be equipped with a Blind Spot Monitor with Rear Cross Traffic Alert. Power is provided by a hybridised 2.5-litre four-cylinder engine that develops 215 hp (218 PS). Toyota didn't go into a lot of specifics, but the US-spec model has the aforementioned engine as well as an electric motor that develops 118 hp (119 PS) and 149 lb-ft (202 Nm) of torque. However, the American Camry Hybrid has a combined output of 208 hp (210 PS) so the Euro-spec variant is slightly more powerful. While Toyota was tight-lipped on details, the automaker confirmed the car will have a fuel consumption rating of 4.2 L/100 km (67.2 mpg).  The Carmy will also have CO2 emissions as low as 98 g/km. It will be interesting to see how well the car does – Toyota are expecting taxi drivers to find it a compelling proposition.
Believe it or not, more Yaris models are built in France than any other car. The current model has been around since 2011, and during that time it has received a couple of facelifts, both of them visually questionable. Two new versions were making their debut here.  Toyota has revealed the Yaris GR Sport, a new version of the Japanese city car inspired by the limited GRMN hot hatch and the first member of the new GR Sport family to be launched in Europe. You could mistake the new Yaris GR Sport as the warm hatch of the range but Toyota describes it instead as a new grade to the range, albeit one that adds a lot of goodies. These include a series of enhancements on the suspension in order to give the Yaris "engaging handling and responsiveness". Toyota has added Sachs Performance dampers, similar to those fitted in the Yaris GRMN, as well as a solid anti-roll bar, instead of a hollow one, for extra rigidity. Compared to the standard Yaris, the new GR Sport sits 11mm closer to the ground, with Toyota pointing out that the gap between the wheel and the body has been reduced by 18mm. A set of 17-inch black alloy wheels are exclusive to the model and come fitted with the same Bridgestone Potenza RE50s you would find in the Yaris GRMN. The exterior has been updated with a black roof, a rear spoiler, piano-black door mouldings, a black honeycomb grille with matching door mirror housings and front fog lamp surrounds. The headlights are also darkened, as is the rear glasshouse. Red decals are offered as an option. Inside, the new Toyota Yaris GR Sport features GR-branded sports seats finished in Ultrasuede with contrast white stitching and white inserts. The three-spoke steering wheel is smaller in diameter and comes straight from the GT86 Coupe. By now you probably wonder what's hiding under the bonnet; Toyota will offer the new Yaris GR Sport only in conjunction with the hybrid 1.5-litre powertrain, meaning a combined output of 99hp and a CVT gearbox. In addition, Toyota also announced the new Yaris Y20, a new special version designed to celebrate the 20th anniversary of the best-selling city car. Toyota will offer a limited run of 1,998 Launch Edition Y20 units -as a nod to the year the original Yaris came out- featuring gold paintwork and a dark grey roof. These will be followed by regular production Yaris Y20 models that will be available through the 2019 model year. These will come with a two-tone bodywork featuring silver, white or black body colours with a dark grey roof. Other features of the new Yaris Y20 include a set of 16-inch 10-spoke alloy wheels, grey side mouldings with matching front grille, door mirrors and fog light surrounds. A new chequer-pattern fabric upholstery, along with satin chrome air vents, speakers and gear knob trim are just some of the Y20's special features.
Parked up on one side of the stand was the WRC Rally version of the Yaris. The Toyota Yaris WRC is a World Rally Car designed by Toyota Gazoo Racing WRT to compete in the World Rally Championship. The car is based on the Toyota Yaris, and is the first car Toyota have competed with in the WRC since withdrawing from the championship at the end of the 1999 season to focus on their Le Mans Prototype and Formula One programmes. The car entered its testing and development phase in March 2014, ahead of its début in the 2017 season. Development and operation of the cars is overseen by four-time World Drivers' Champion Tommi Mäkinen, and the cars are entered under the banner of Toyota Gazoo Racing WRT. The car made its first public appearance in May 2016 during testing in Palokka-Puuppola, with Mäkinen and Juho Hänninen driving. There were 3 Finnish drivers in the Toyota Gazoo Racing team during the 2017 WRC season – Juho Hänninen, Esapekka Lappi and Jari-Matti Latvala. Before the 2018 season,Sebastian Ogier evaluated the Yaris to replace the departing Juho Hänninen who was eventually replaced by Ott Tänak.
Among the established models on the stand were examples of the Aygo citycar and the C-HR.
VINFAST
Here's another brand you may well not have heard of. VinFast,  Vietnam's first volume automaker, came to the Show with two brand new models that are supposed to capture the country's natural beauty with their design. The LUX A2.0 sedan and LUX SA2.0 SUV will be sold worldwide as premium products, and will be manufactured at an all-new state-of-the-art 335-hectare plant in Hai Phong, northern Vietnam. Deliveries will commence locally in June of 2019. Visually, both vehicles sport a chrome V emblem at the centre of their grille, plus a horizontal chrome stripe that merges with the LED daytime running lights. The sedan is defined by its long bonnet, stretched out roofline, elongated C-pillar and overall balanced proportions. The SUV on the other hand is more muscular, featuring flowing lines and a contrasting matte black surround for the headlights, fog lights and air intakes. This, by the way, is a seven-seater SUV, making it a really practical choice for families. Inside, we're treated to a very clean and simple looking dashboard design, with very few buttons and a large 10.4-inch touchscreen display dominating the centre console. The operating system (OS) design is also said to be simple and elegant, as the homepage for example has just three icons for top level access, plus a display showing the climate control commands. Users can even swipe down for shortcuts the same way you would in an Android or iOS smartphone. Both the LUX A2.0 sedan and SA2.0 SUV will be powered by a turbocharged 2.0-litre inline four-cylinder petrol engine, available with two outputs: 176 PS and 300 Nm (221 lb-ft) and 231 PS and 350 Nm (258 lb-ft) – although the SUV will only be available with the higher output. Mated to the engine is an eight-speed automatic transmission and an optional four-wheel drive system as an upgrade over the standard rear-wheel drive setup. In a straight line, the LUX A2.0 sedan can accelerate from zero to 100km/h (62 mph) in 8.9 seconds with the 176 PS (173 HP) engine, and 7.1 seconds with the 231 PS (227 HP) unit. Meanwhile, the SUV can hit the mark in 8.9 seconds with RWD and 9.1 seconds with AWD. As for size, the sedan measures 4,973 mm (195.7 in) in length, 1,900 mm (74.8 in) in width, 1,464 mm (57.6 in) in height and has a 2,968 mm-long (116.8 in) wheelbase, whereas the SUV is 4,940 mm (194.4 in) long, 1,960 mm (77.1 in) wide, stands 1,773 mm (69.8 in) tall and its wheelbase measures 2,933 mm (115.4 in).
CITE de l' AUTOMOBILE
This was a special display in Hall 1, extending over quite an area. The "Cité de l'Automobile" is the name used these days for the fabulous collection in Mulhouse formerly known as the Schlumpf collection. A selection of 8 cars from this vast collection were on show on this stand, with 4 more in another display, presented later. These were the ones on the museum's own stand:
1965 Ferrari 250 LM
1952 Gordini 16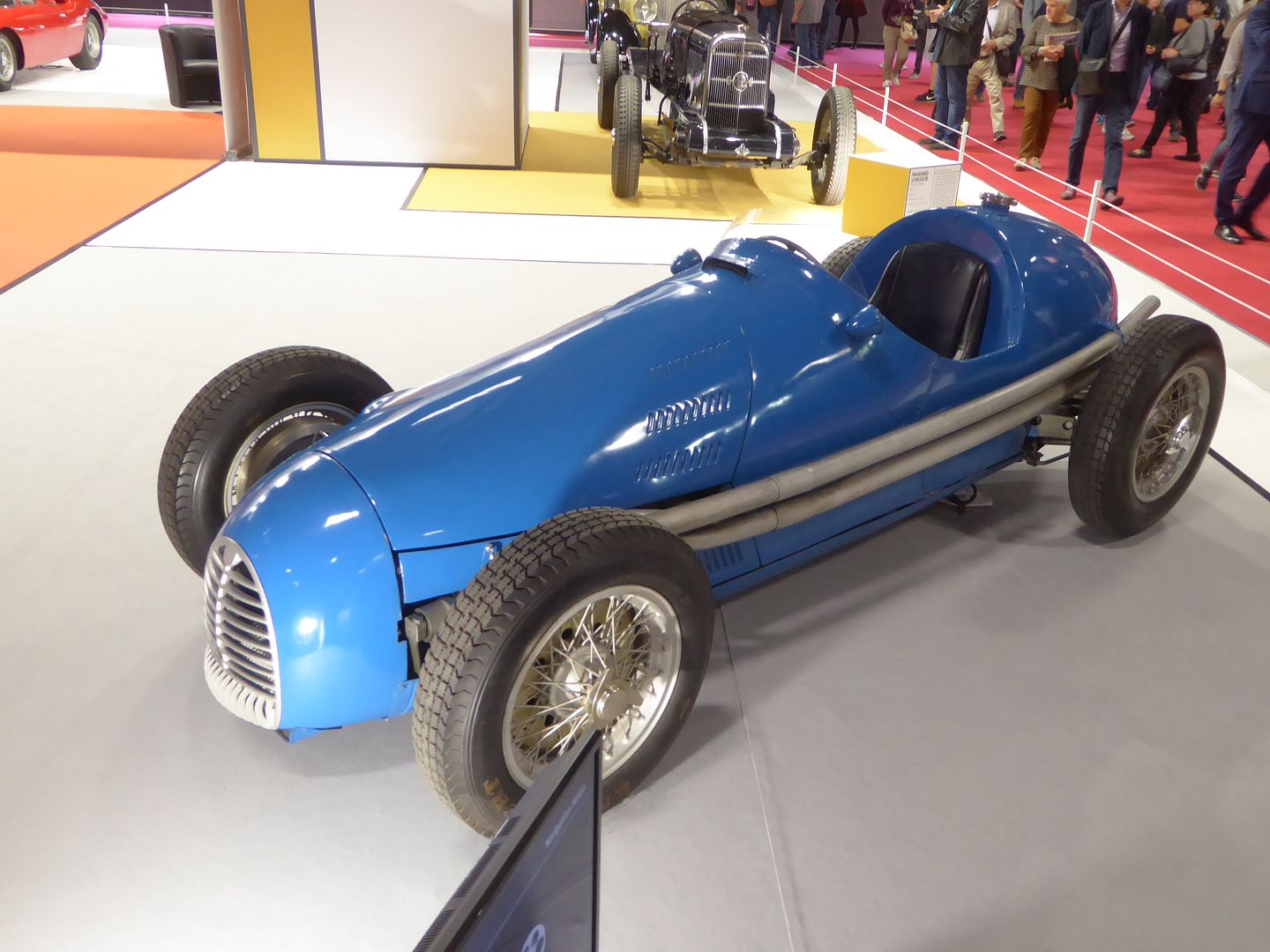 Hispano Suiza J6B
1963 Lotus 33
1954 Maserati 250F
1926 Panhard-Levassor 35CV
Renault 40CV
The eighth car here was a Peugeot Type 174, an imposing limousine. It was parked where I could not easily get direct pictures, but features in the background of those with the Hispano Suiza, depicted above.
OTHER MISC
Adjoining that stand was one for Exclusive Drive, a firm specialising in organising car tours and they had a Ford GT40 on their stand.
LES MYTHES de la ROUTE
The entire ground floor for Hall 5 was filled with a special display which was entitled "Les Mythes de la Route". Taking a meandering path around the hall, this comprised a splendid array of historic cars, dating from the dawn of motoring to some futuristic concepts. A simple display board, with text in French and English accompanied each car. The display was more or less choronological, and was split into a number of sub-themes, including: "La Renaissance de la Route"; "les Routes des annees folles"; "les Routes des vacances"; "Les Routes des Trentes glorieuses"; "Les Routes des annees 1970 – 1980"; "les Routes du Monde"; "On the Road Again"; "les Routes du Sport"; and "les Routes de l'Avenir". It was an interesting display, and although I am sure that this was conceived as a filler (this hall has previously been filled with new cars!) I was happy to spend time looking at all  the cars it contained, and here they all are.
1892 Panhard et Levassor Type P2D Wagonette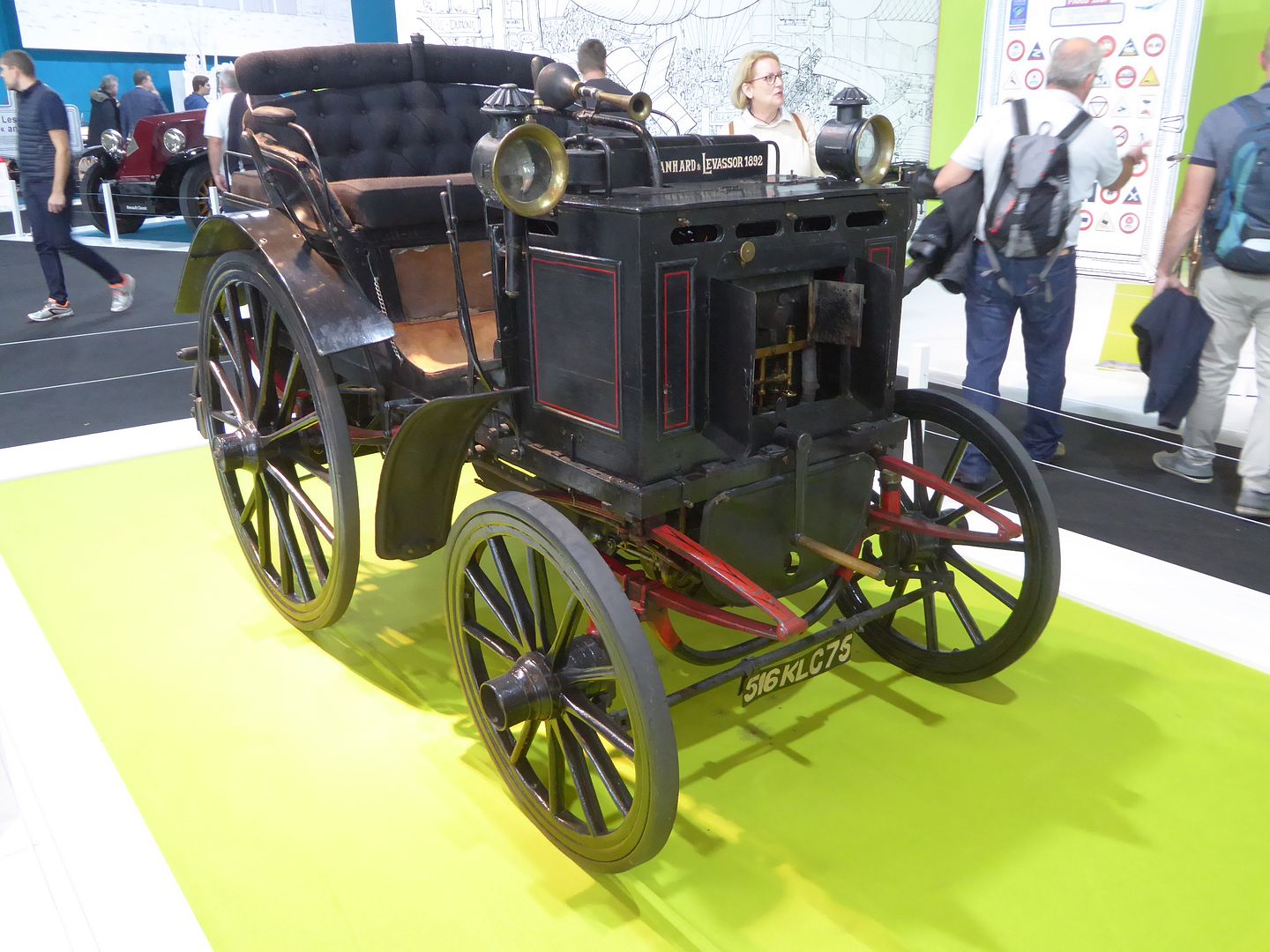 There was another example of the 1898 Renault Model A, the first model that the company made.
This is a replica of the 1899 La Jamais Contente (the original was destroyed a long time ago). La Jamais Contente (English: The Never Satisfied) was the first road vehicle to go over 100 kilometres per hour (62 mph). It was a Belgian electric vehicle with a light alloy torpedo shaped bodywork and batteries. The high position of the driver and the exposed chassis underneath spoiled much of the aerodynamics. The light alloy, called partinium, is an alloy of aluminium, tungsten and magnesium. The land speed record was established on April 29 or May 1, 1899 at Achères, Yvelines near Paris, France. The vehicle had two direct drive Postel-Vinay 25 kW motors, running at 200 V drawing 124 Amperes each for about 68 hp, and was equipped with Michelin tyres. Chassis number was n°25. The vehicle was driven by the Belgian driver Camille Jenatzy. Camille was the son of Constant Jenatzy, a manufacturer of rubber products (rubber was still a novelty at the time). Camille had studied as an engineer, with an interest in electric traction automobiles. He became known for his record-breaking speed runs, and was nicknamed Le Diable Rouge ("The Red Devil") for the colour of his beard. He died in 1913, after being shot in a hunting accident. Willing to carve a place in the then promising Parisian electric carriage market, Jenatzy started a manufacturing plant which would produce many electric carriages and trucks. He fiercely competed against carriage maker Jeantaud in publicity stunts to see which made the fastest vehicles. In order to assure the triumph of his company, Jenatzy built a bullet shaped prototype, conceived by the carriage maker Rothschild in partinium (an alloy of laminated aluminum, tungsten and magnesium). Jenatzy reached the speed of 105.882 kilometres per hour (65.792 mph), besting the previous record, held by Count Gaston de Chasseloup-Laubat driving a Jeantaud, who had attained 92.78 kilometres per hour (57.65 mph) on March 4, 1899. After this exploit the gasoline-fuelled combustion engine would increasingly supplant electric technology for the next century. The Jamais Contente is usually to be found on display at the automobile museum in Compiègne.
1905 Serpollet Type L Double Phaeton
1922 Renault 40CV Type JV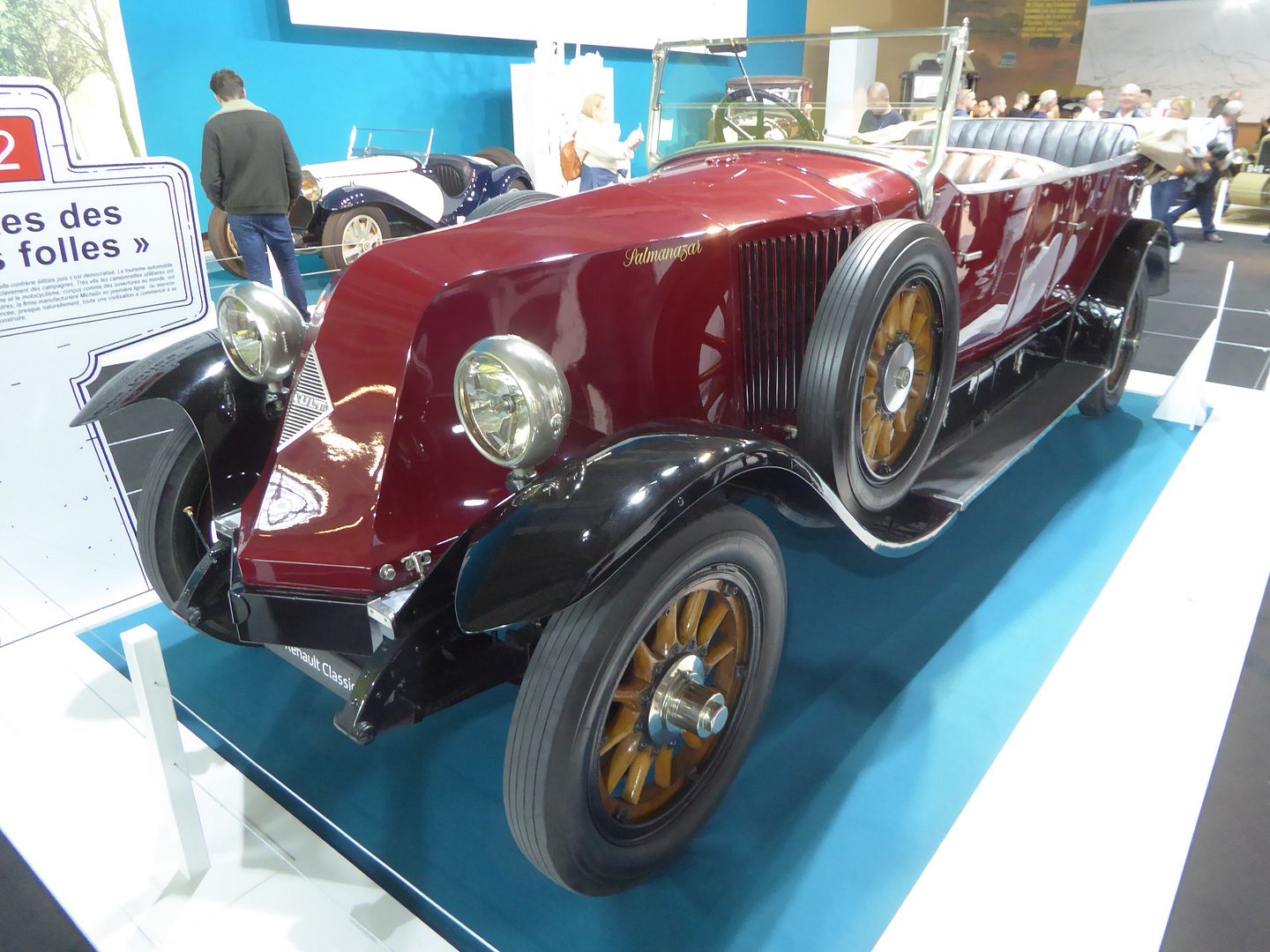 1932 Bugatti Type 55
1927 Hispano Suiza H6B Letourneau  et Marchand
1924 Renault Type MH  Bus
1950 Peugeot 203 Break "le Cap d'Alger"
This 1989 Porsche 928 is a very well-travelled car indeed. In 2011, it embarked on a 24,000km adventure across Europe and Asia. Then, in 2016, it set off from Paris bound for Russia, then to Japan, Canada and across America to the finish in New York. And you thought you had a long commute!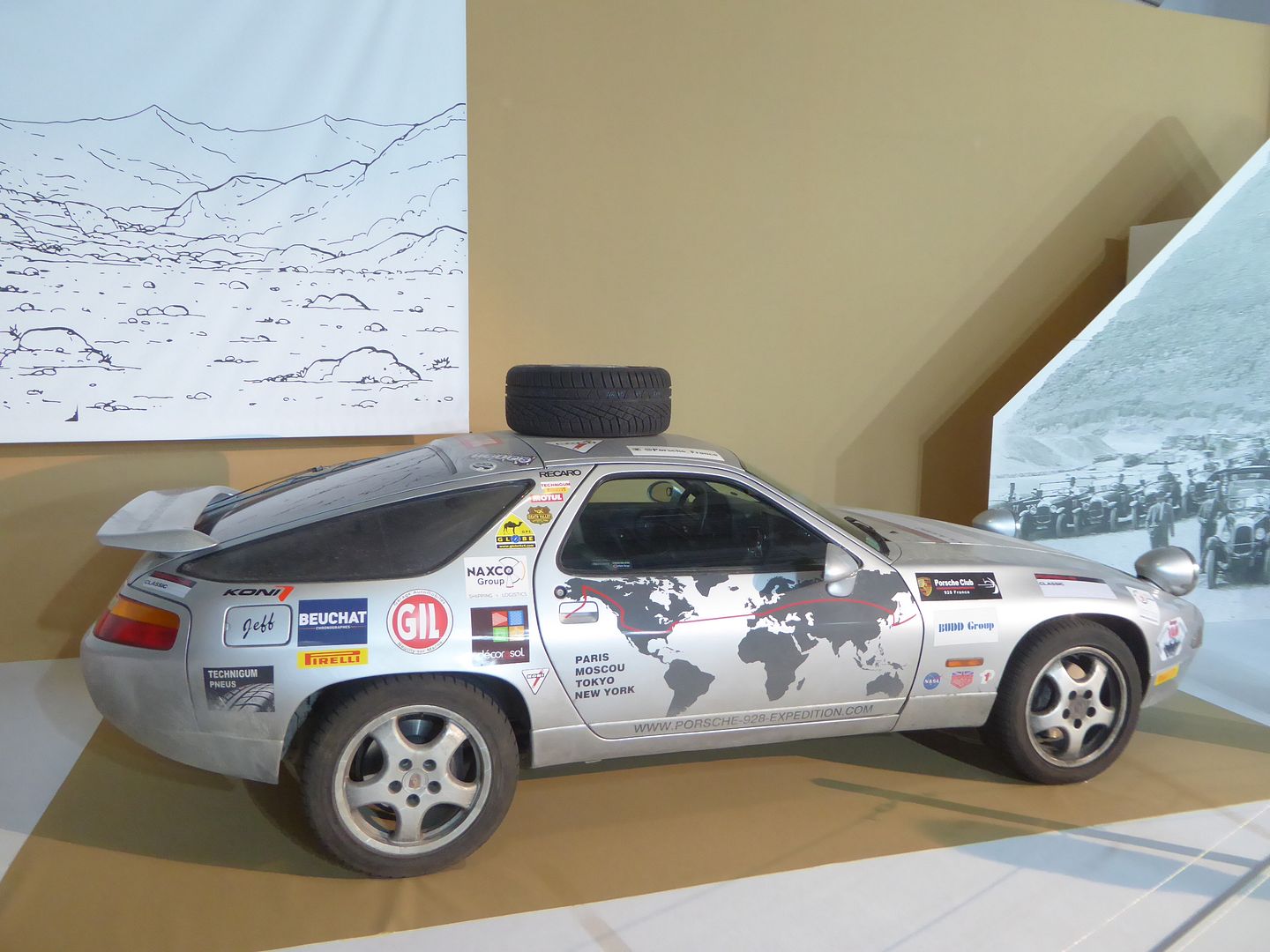 1990 Range Rover Trans Africa Challenge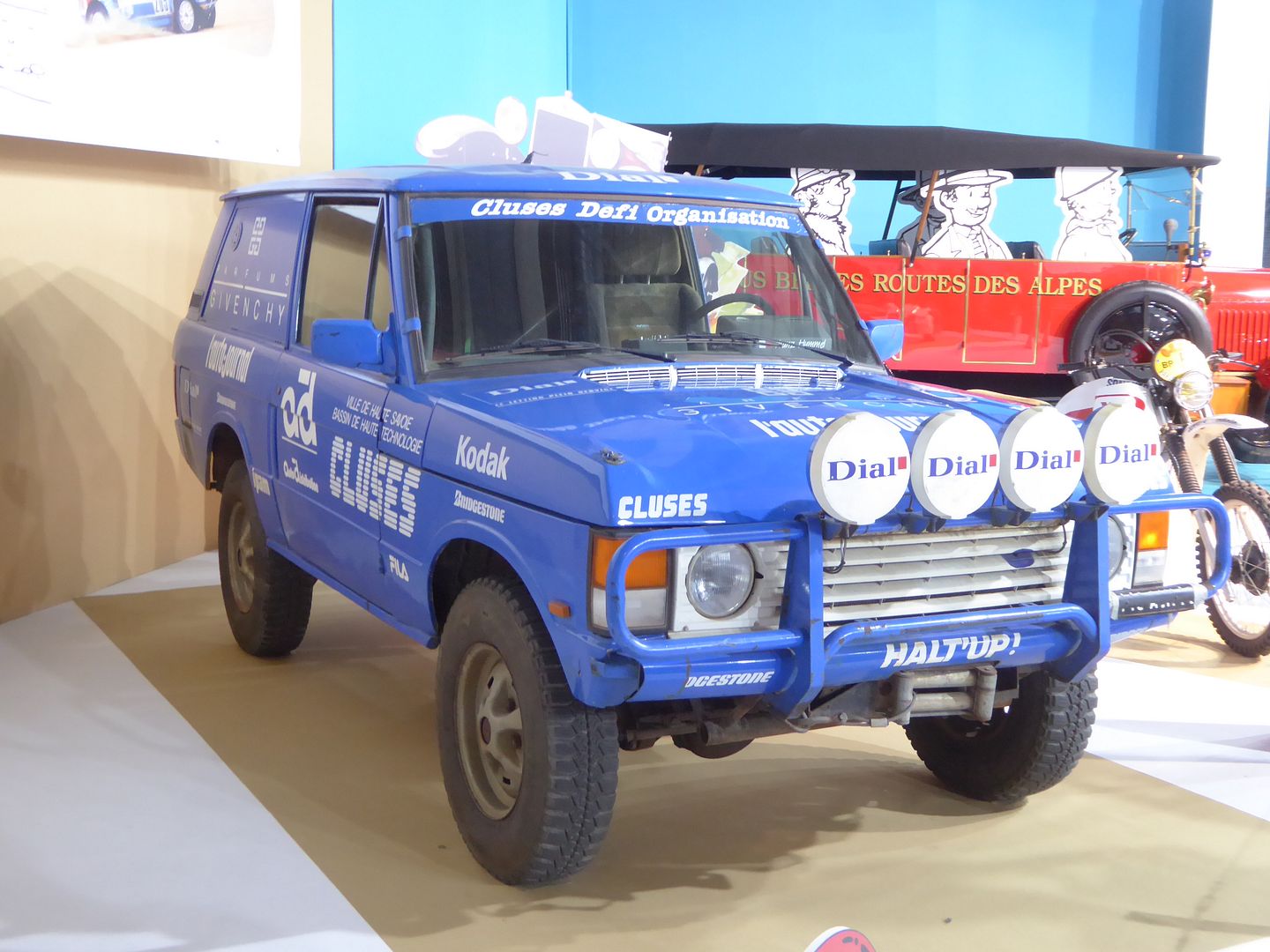 1931 Ford Model A
1927 Renault Autocar Type PR
1956 Renault 4CV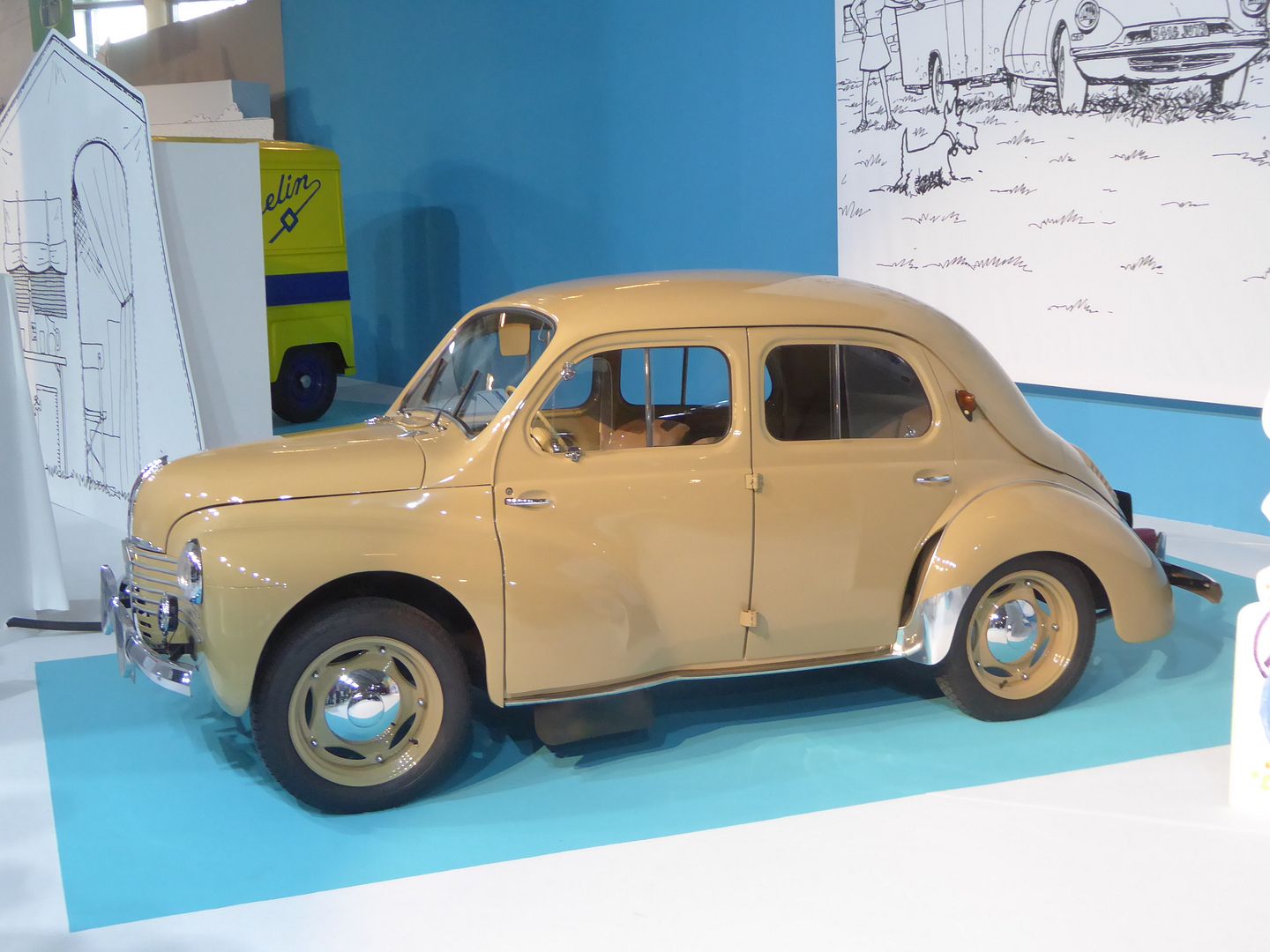 1958 Simca Chambord
1921 Berliet Type 1 CB Torpedo
1957 Facel Vega FV3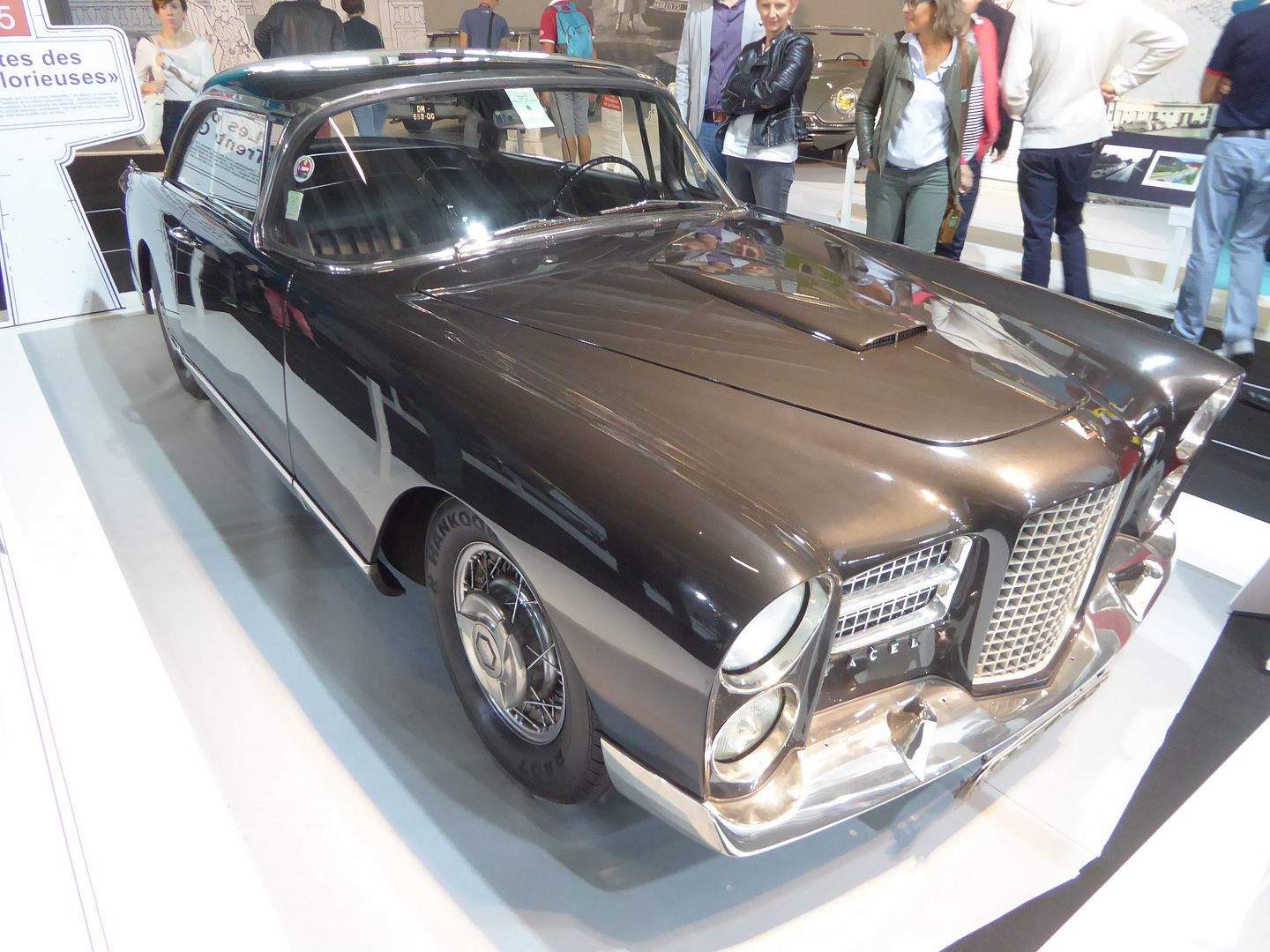 Citroen HY Michelin
1961 Citroen DS19 Chapron "Usine"
1959 Cadillac Type 62 Sedan de Ville
1969 Jaguar XJ6
1972 Renault-Alpine A310
1971 Citroen SM
1972 BMW 3.0 CSi
This 1972 Renault Torino is probably not that familiar to Europeans, but in it is native Argentina, it is an absolute legend and a highly prized car. It was born in 1966 as the Industrias Kaiser Argentina (IKA) Torino, and becoming an IKA-Renault when Regie assumed control of the brand. Famous Torino owners included Fidel Castro and Juan Manuel Fangio.
Also with a Latin American pedigree, this is not a Renault-Alpine A110, which is what it looks like, but the Brazilian-built version, the 1964 Willys Interlagos.
1957 Chevrolet 3100
1940 Buick Series 56 Convertible 6 seater
2013 Volkswagen Combi T2 "Last Edition"
1958 Cadillac Coupe de Ville Carrera da Panamerica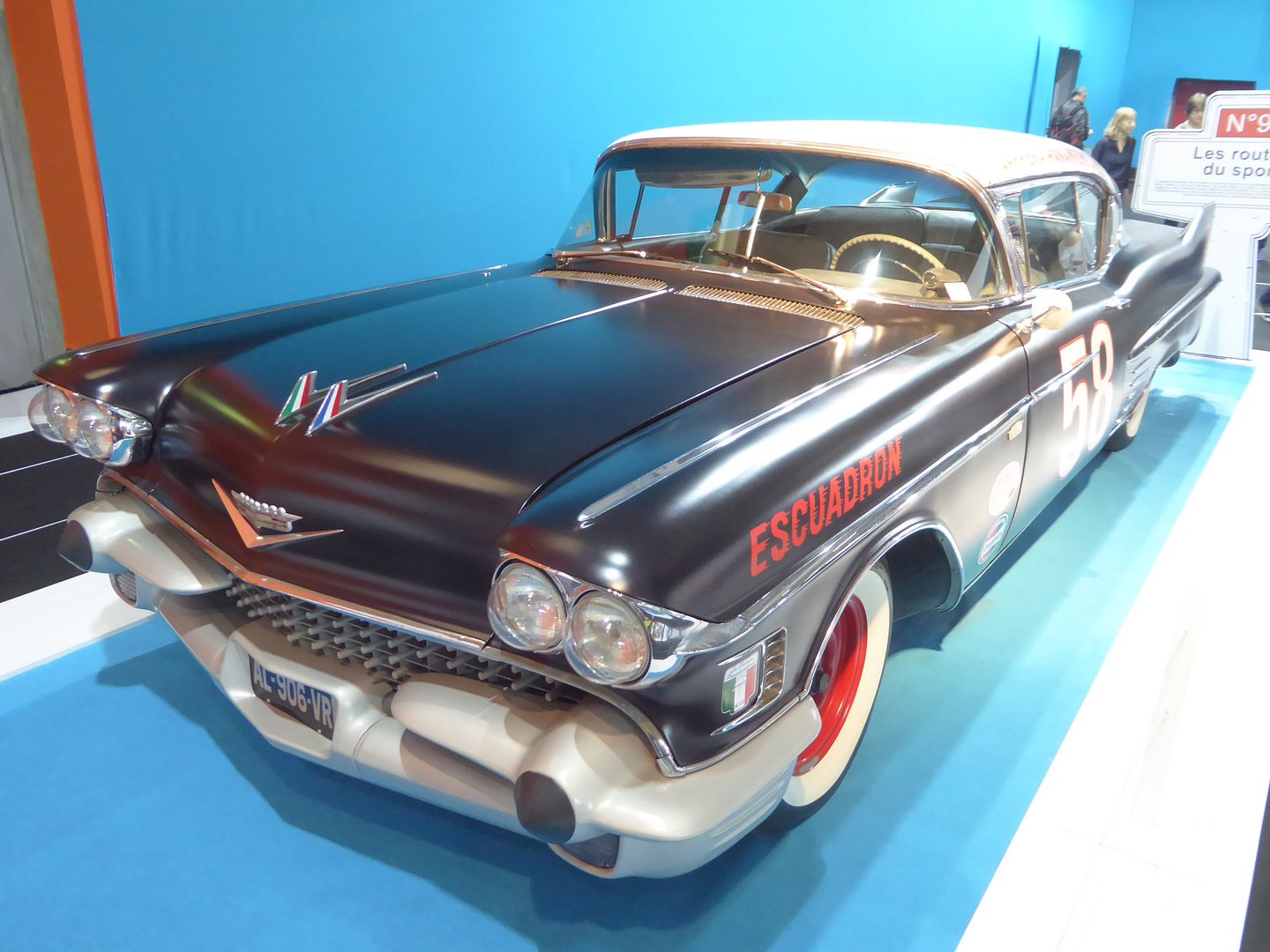 1929 Bentley 4.5 litre Supercharged
1956 Renault Etoile Filante, a purpose-designed fibreglass bodied machine aimed at record breaking efforts. Powered by a helicopter turbine generating 270 bhp, it was taken to the Bonneville Salt Flats and achieved 306 km/h over a 5 km distance, an impressive performance indeed.
This 1971 Rolls Royce Silver Shadow was converted so it could compete in the gruelling Paris-Dakar race. It now features a V8 Chevrolet engine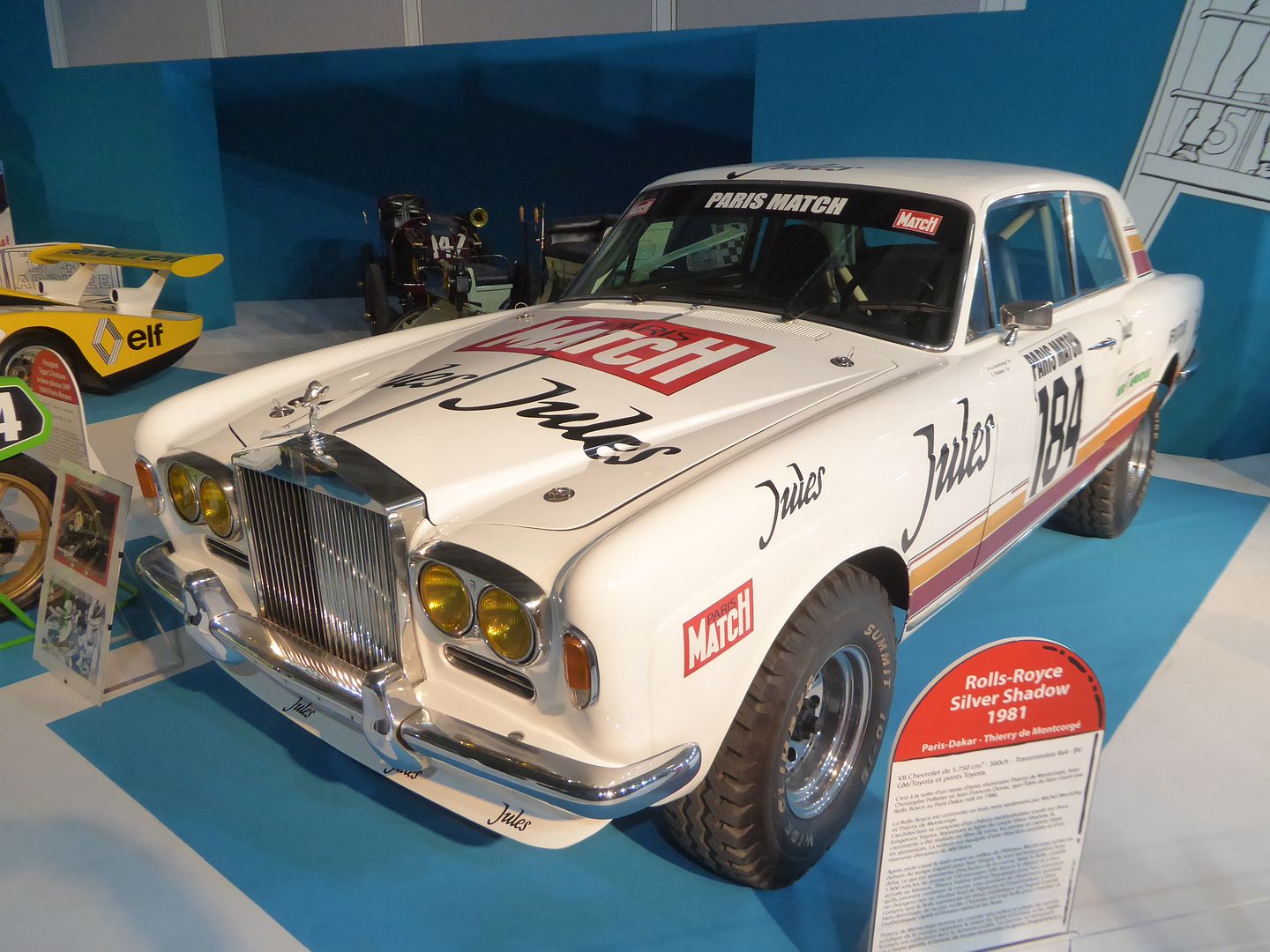 1978 Renault-Alpine A442B
1988 Peugeot 405 T16 Pikes Peak
2017 Peugeot Instinct
2017 Renault Symbioz
1930 Citroen C4 Autochenille "Croisiere Jaune"
In its day, this six-wheeled Citroen CX was part of the team responsible for looking after the roads and bridges in Lyon.
1935 Citroen Rosalie 7UB
2006 Toyota LandCruiser
1985 Lamborghini Countach 5000 Qv
1985 Peugeot 205 GTi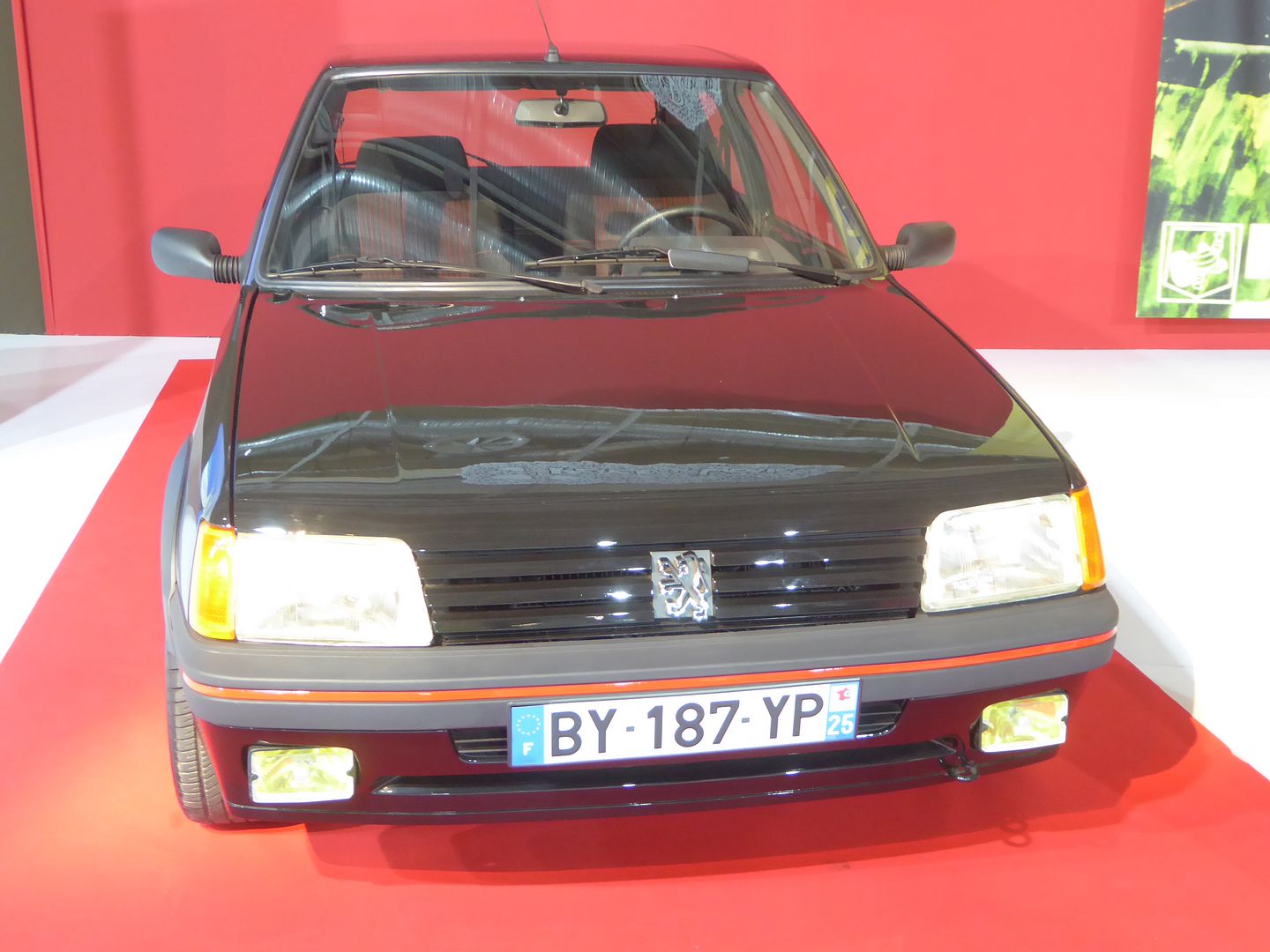 1984 Renault Espace 2000 TSE
In among all these static display cars were a couple of Citroen 2CVs, which looked like they were also part of the display. but at regular intervals, a team of well-practiced individuals were pressed into action to show just how quickly you can take a 2CV apart. Within a couple of minutes the complete car had been reduced to a pile of body panels. Needless to say, every show required a reassembly as well, but even this looked pretty straight-forward.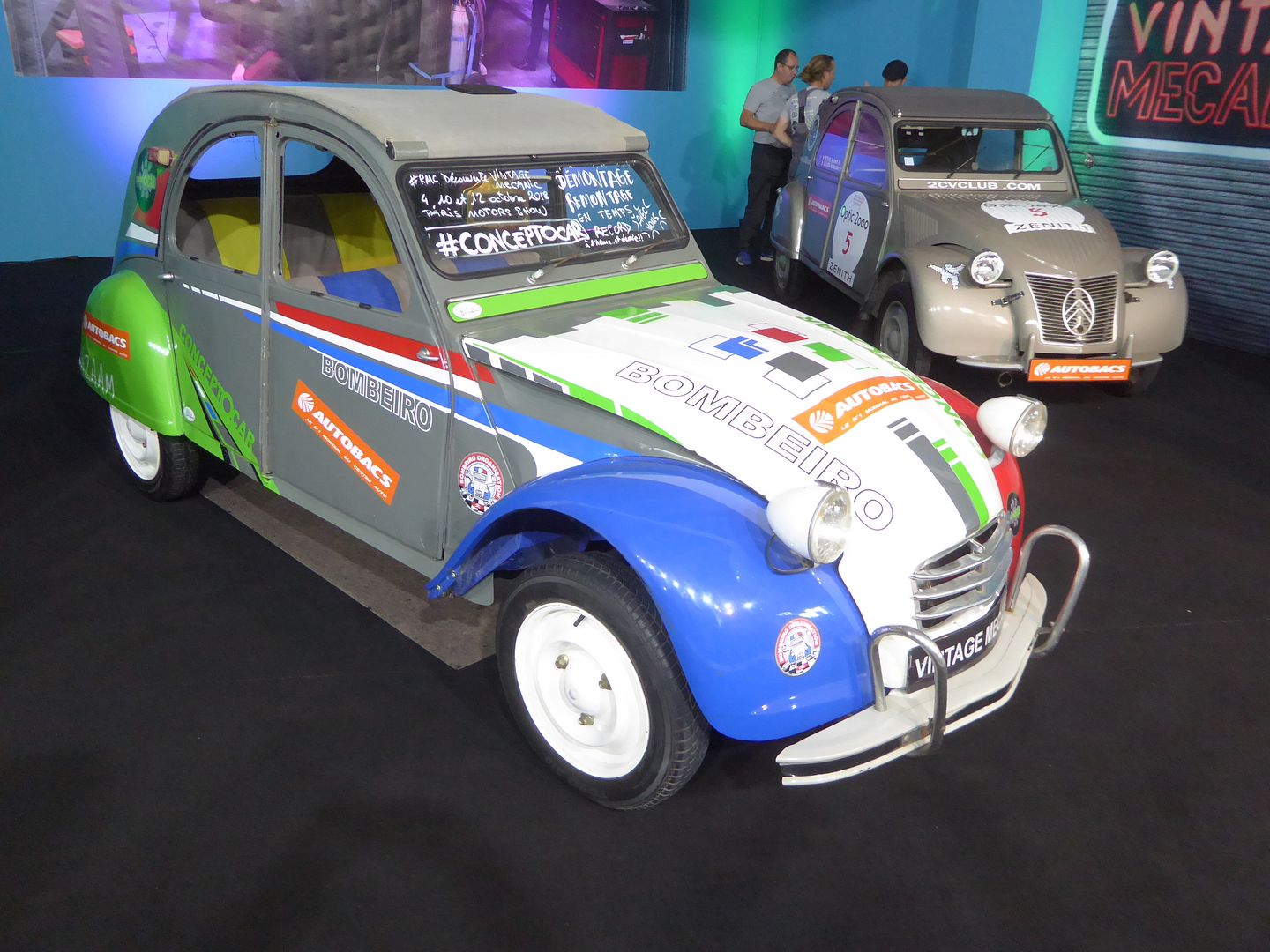 MOTOR BIKES
Hall 3 was dedicated to motorbikes. A whole hall. Again, this looked like filler for space which in the past had been occupied by a number of manufacturers of new cars. Much of the space was given over to trade stands, but there were also some extensive displays of historic and classic bikes. I don't pretend to know much about these, though some of the labelling at least helped me to understand which were recent and which were old (though mostly it is fairly obvious just by looking at them). I did take a few pics of some the lines of classic Japanese bikes – Honda, Yamaha, Suzuki and others – as well as others which included some of the many Italian brands, and others.
I have to say that I was very disappointed, overall, by this Show. Although the organisers had made a valiant effort to fill all the halls with something, it was pretty obvious, wandering around, that this was not really what had been envisaged, with lots more empty space than you usually get. Couple that with the crowding problem which persisted right up until show closing time, and it was hard to get a decent look at what was there. And what was there was displayed with far less razzmataz and glitz and glamour than you usually get. Most the stands seemed very ordinary, almost dull in their layout. And yet, a few days after the Show closed, I read that attendance had actually been significantly higher than both Frankfurt 2017 and Geneva 2018. This show drew over 1 million people in 9 days, whereas Geneva only achieved 660,000. That is going to mean that a lot of people are going to have some tough decisions to make about a potential 2020 Show. And that could well include me, who might take some persuading that it is worth the trip.