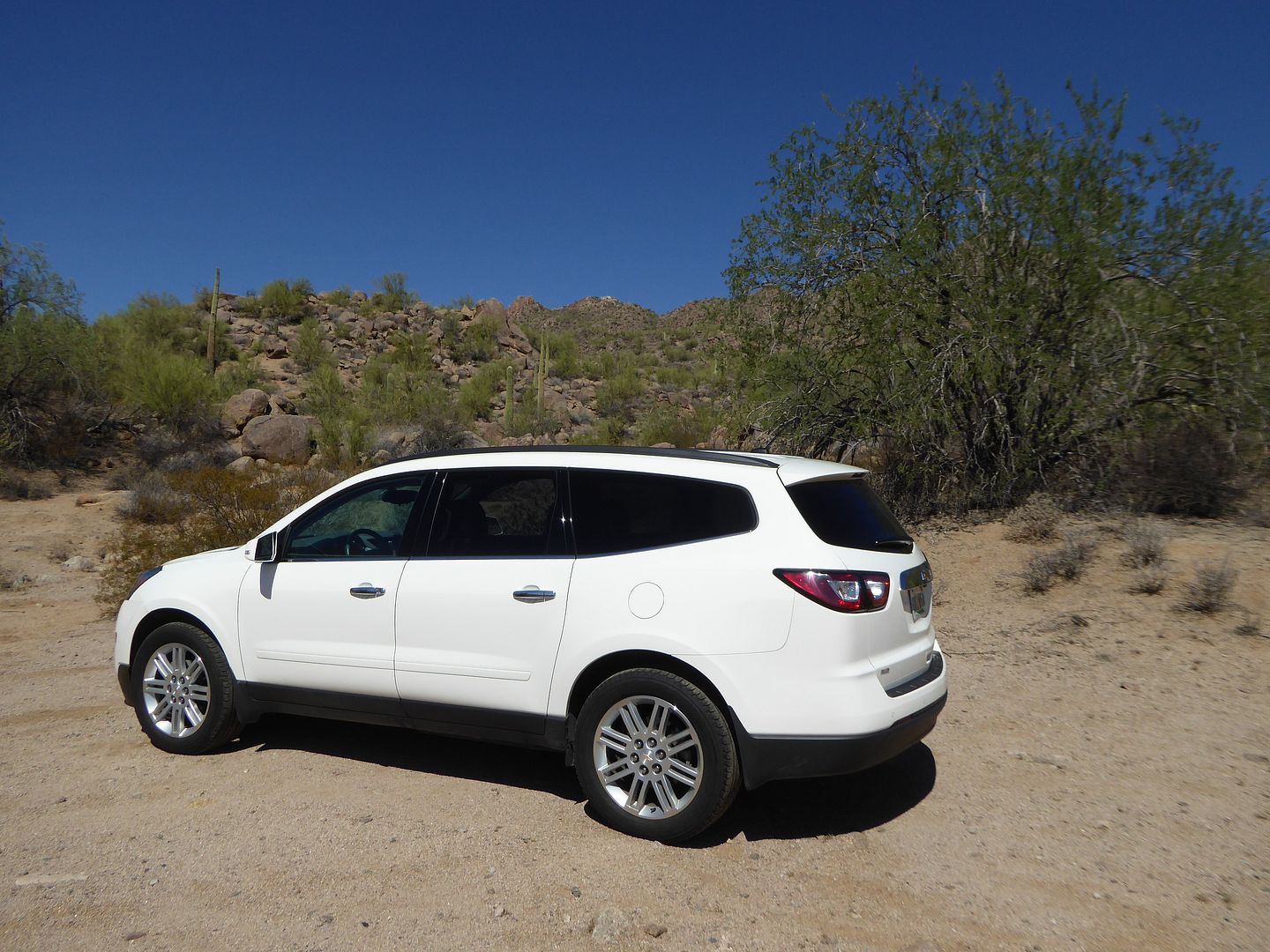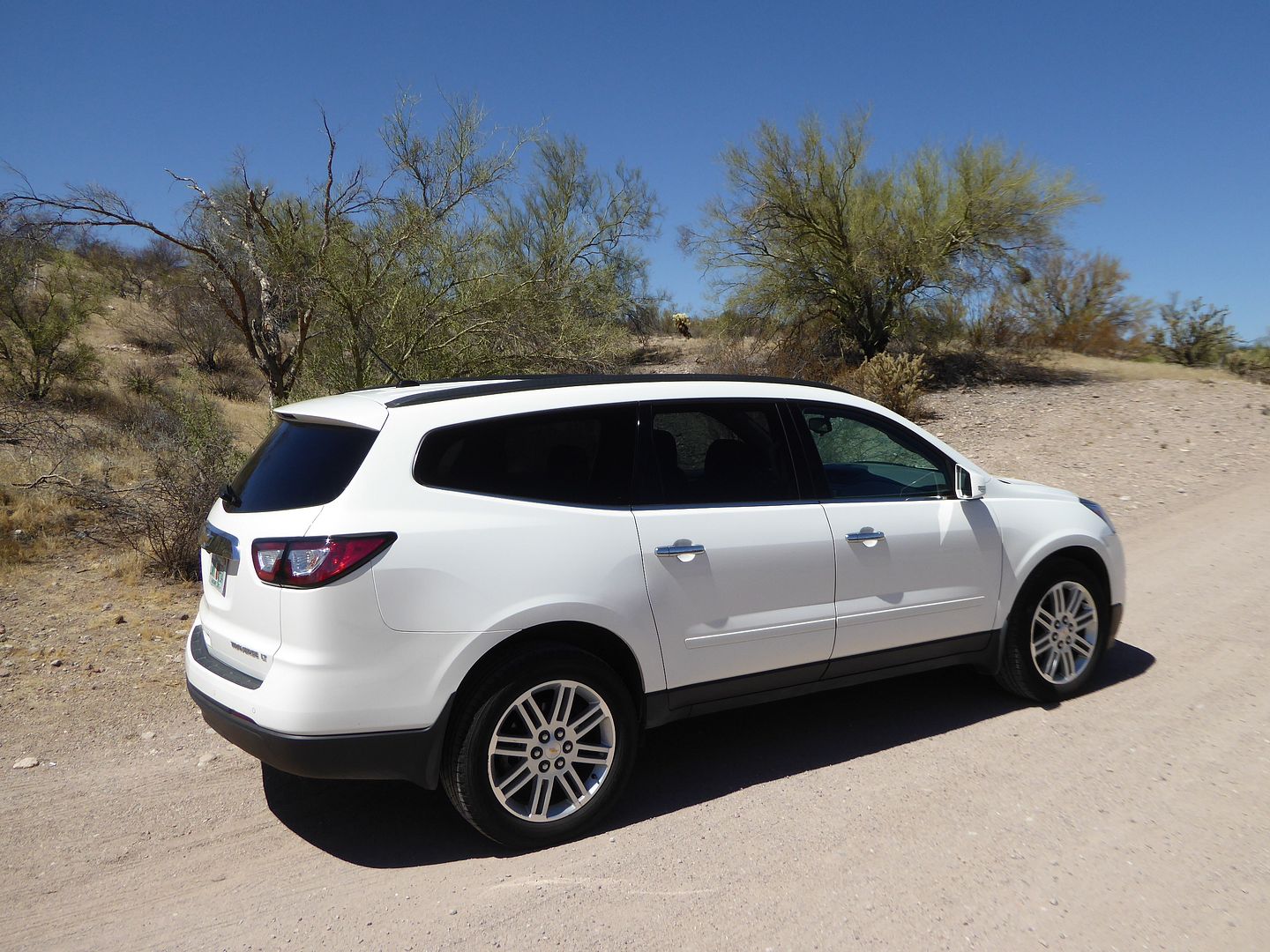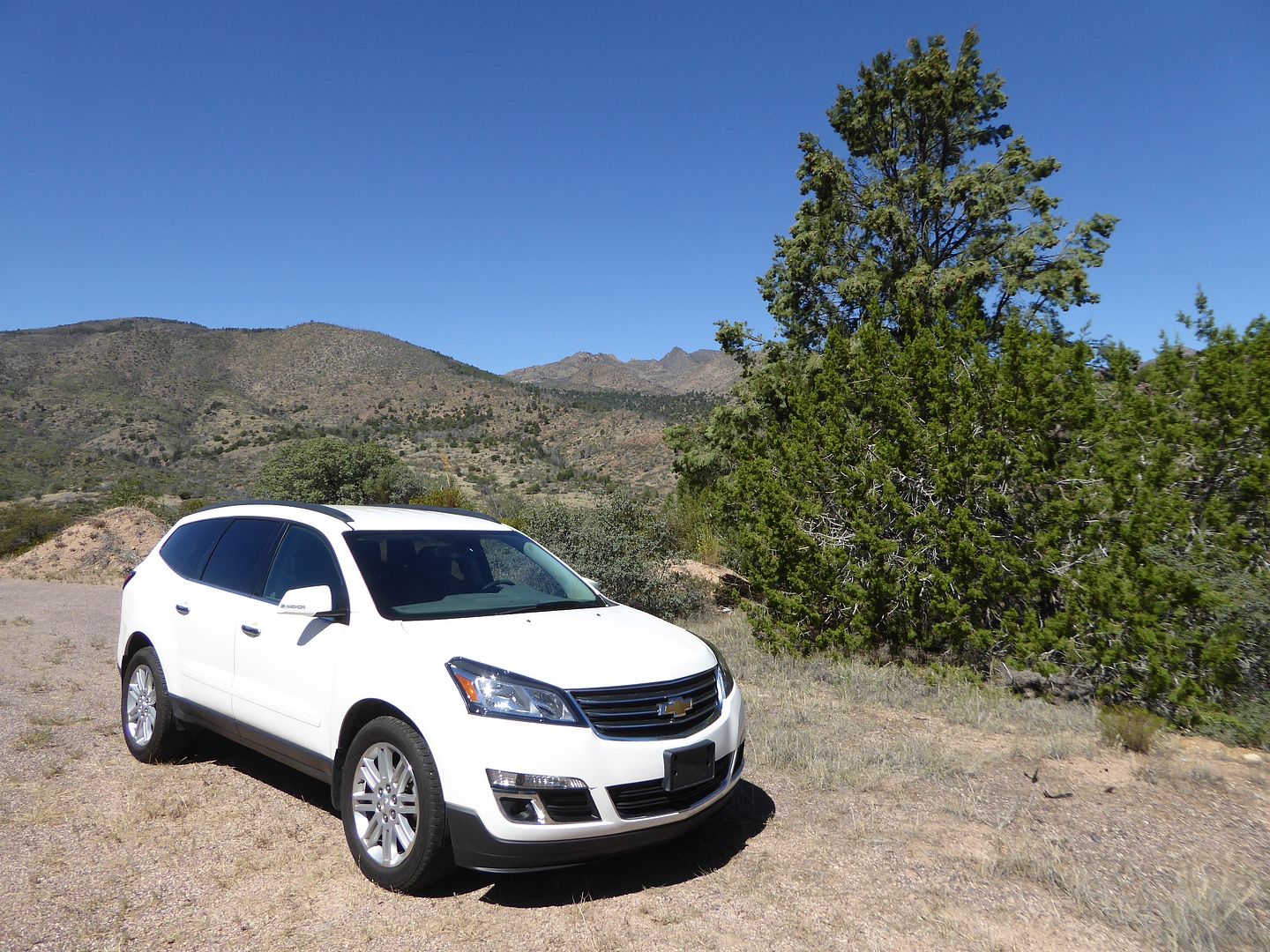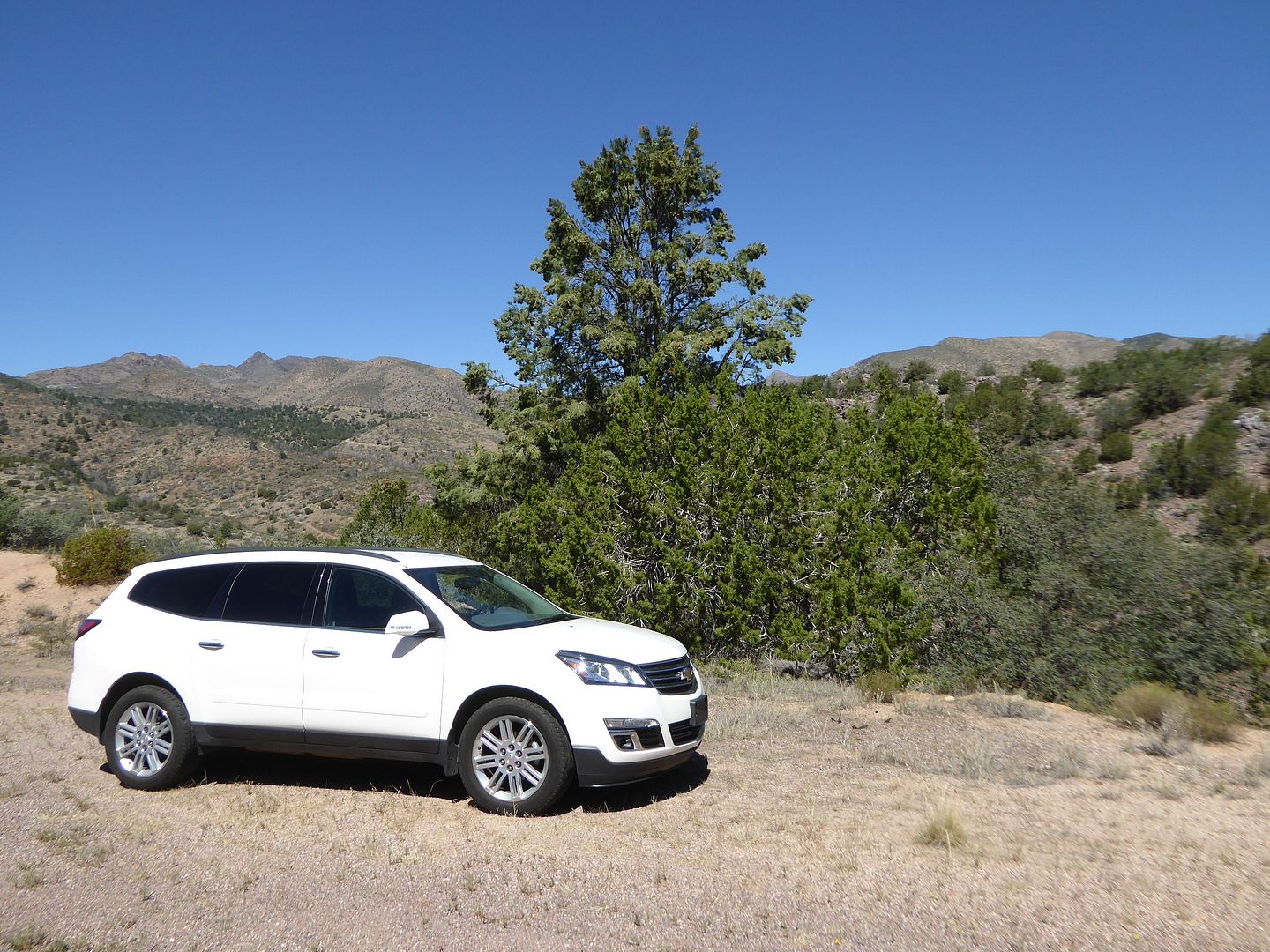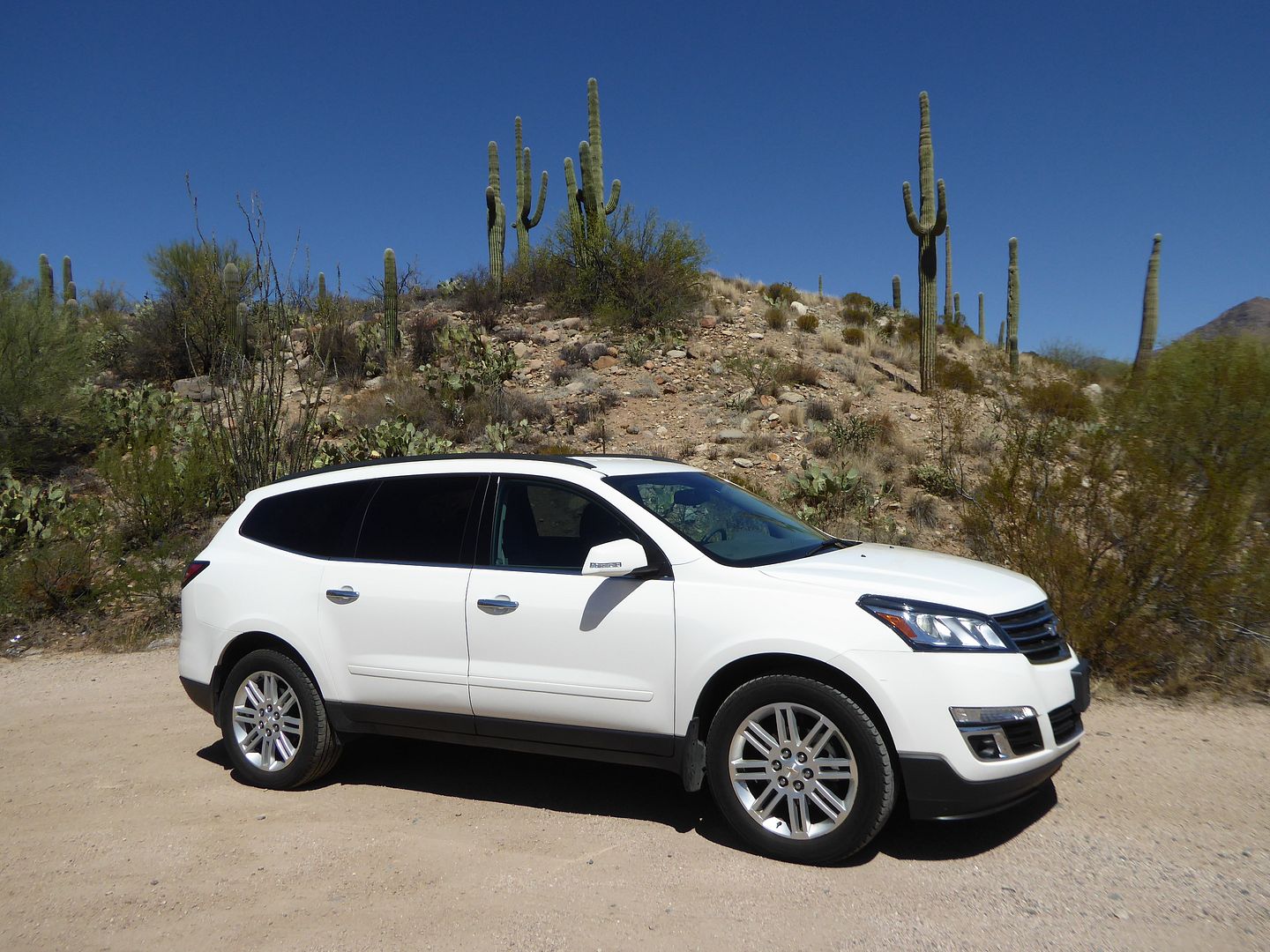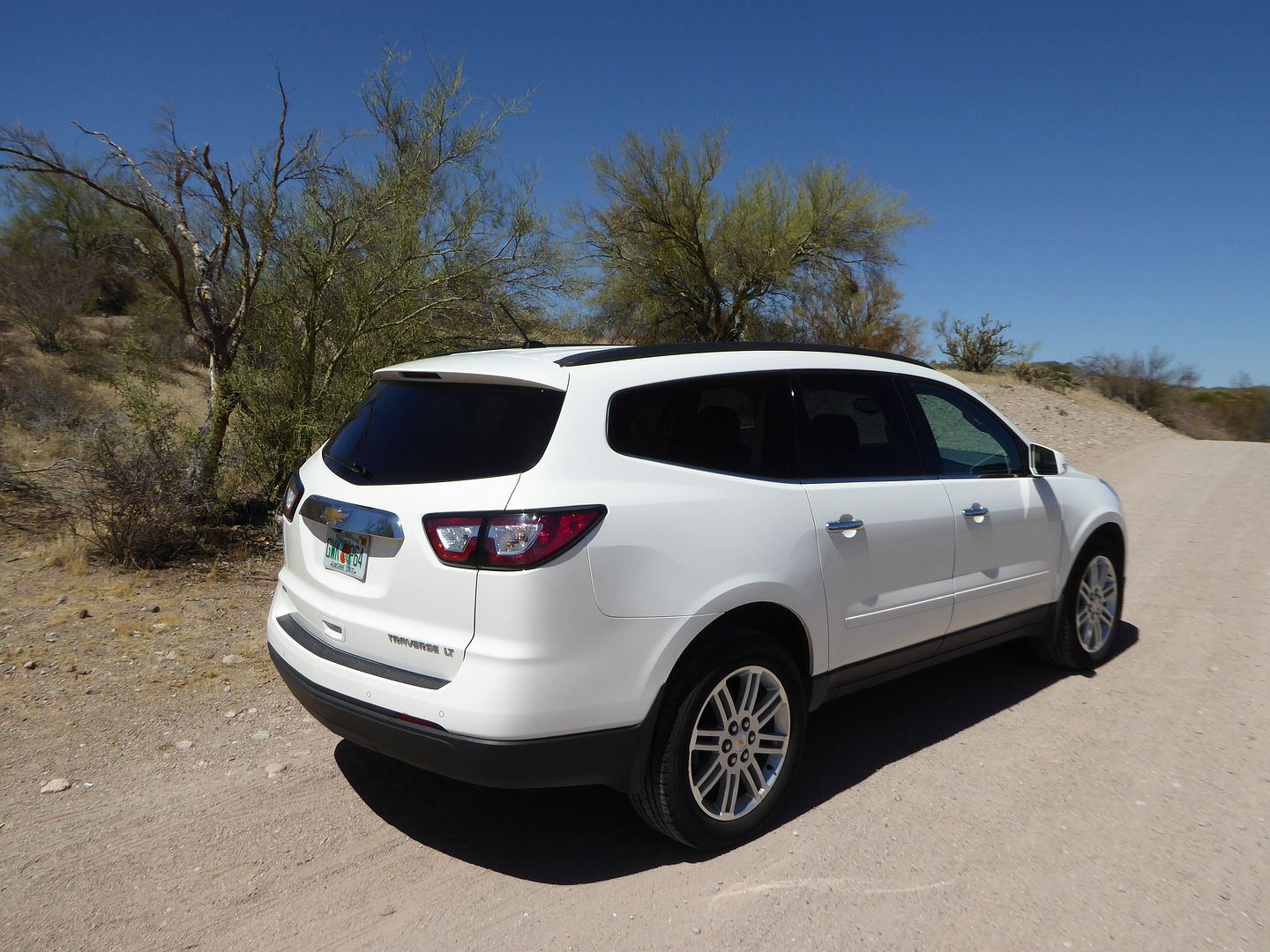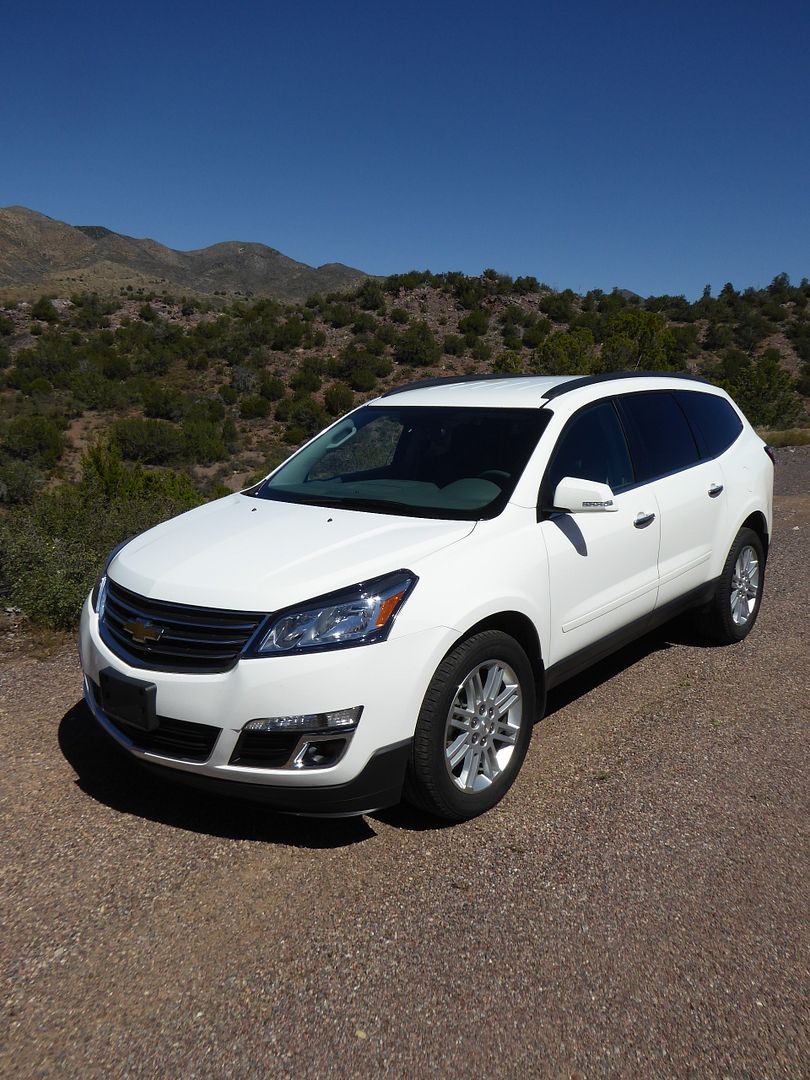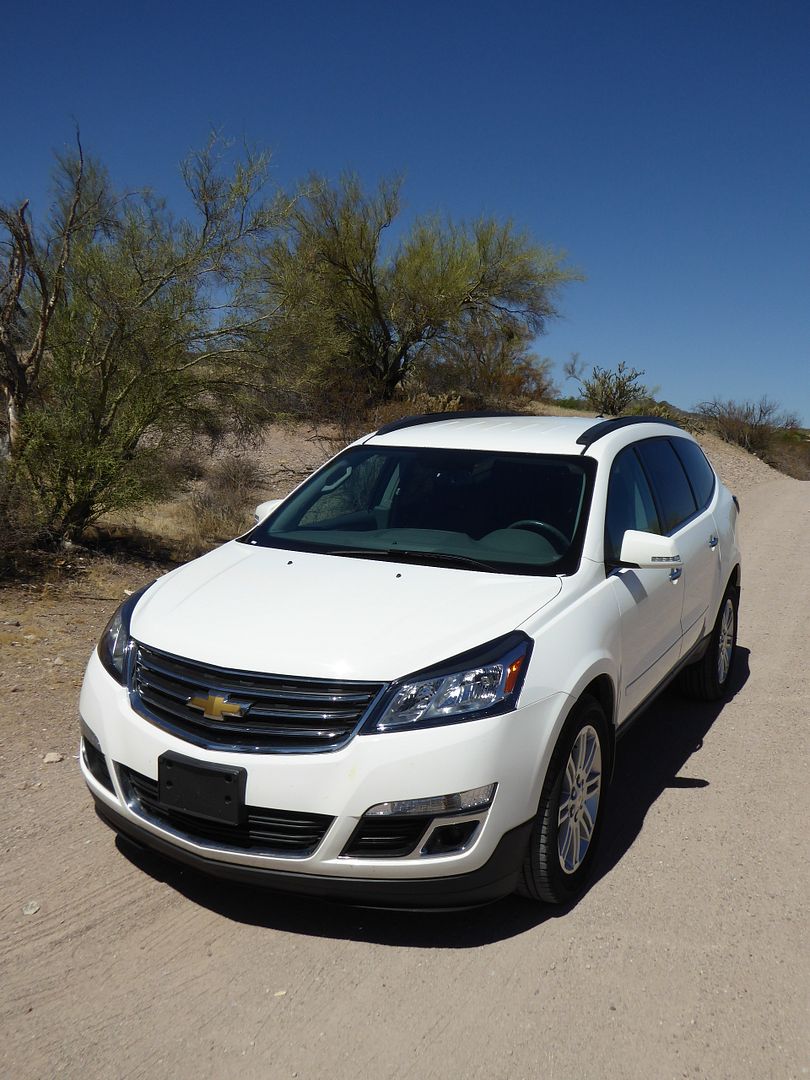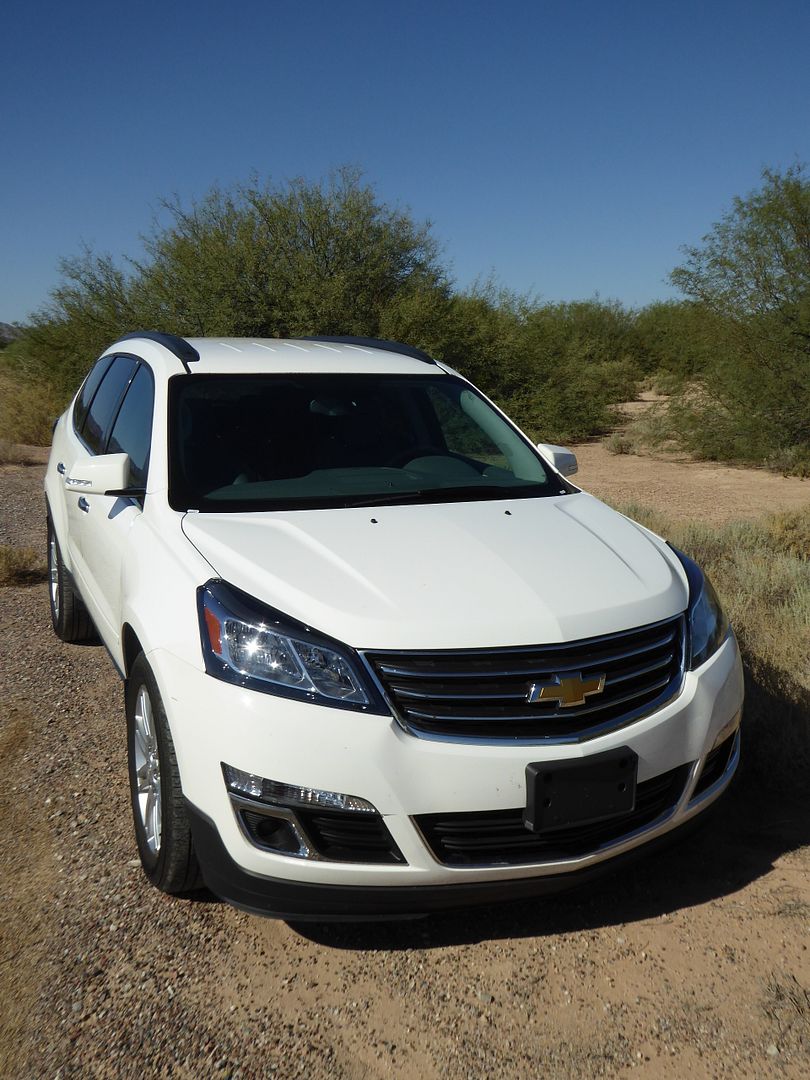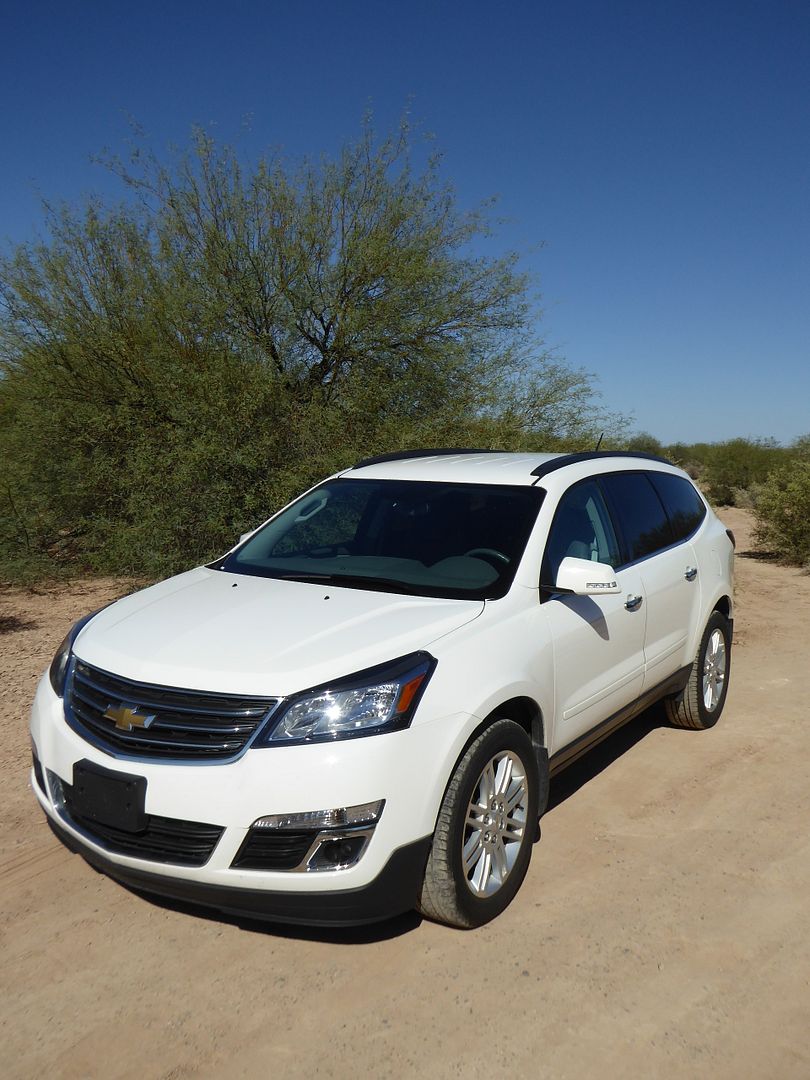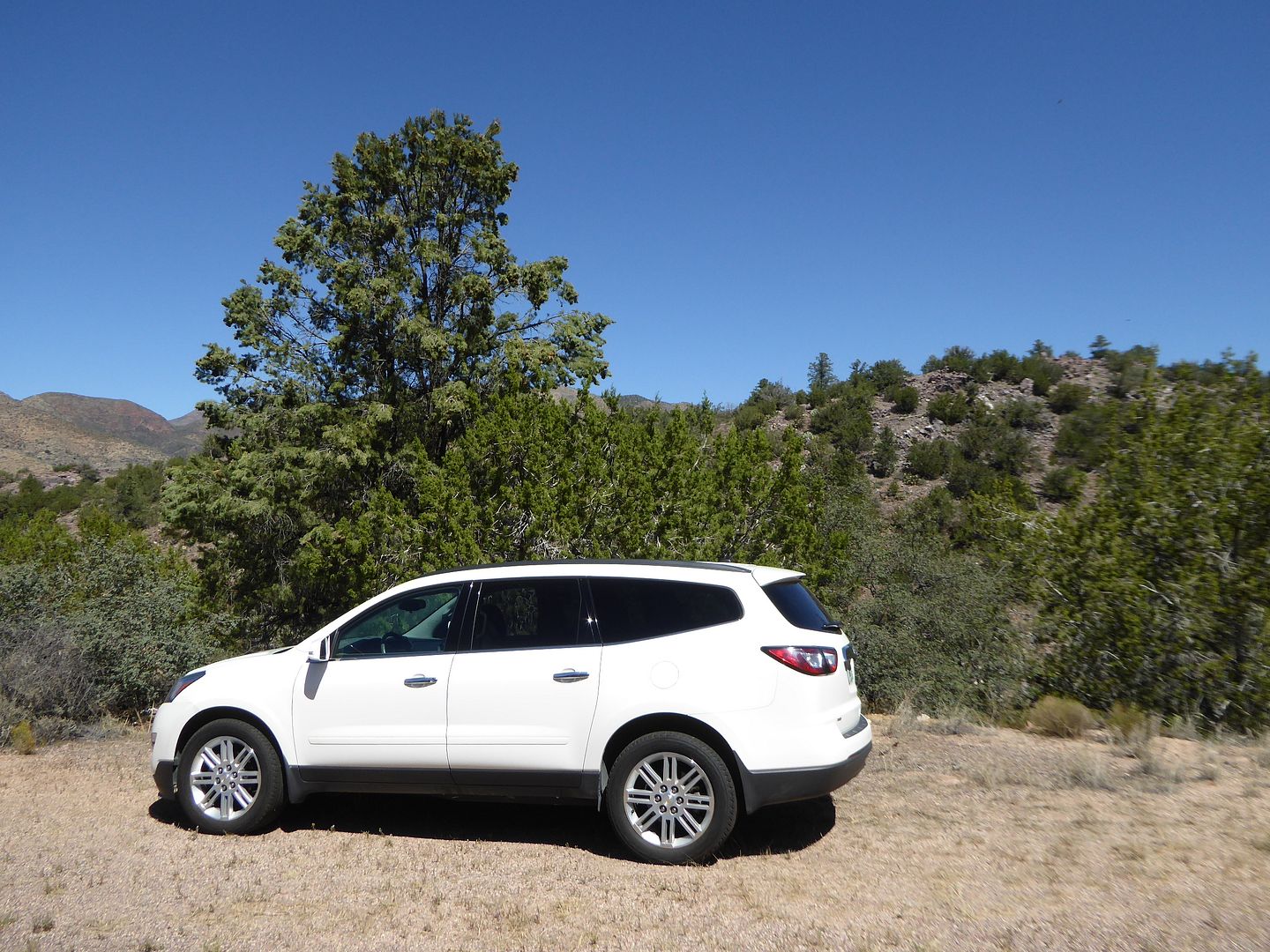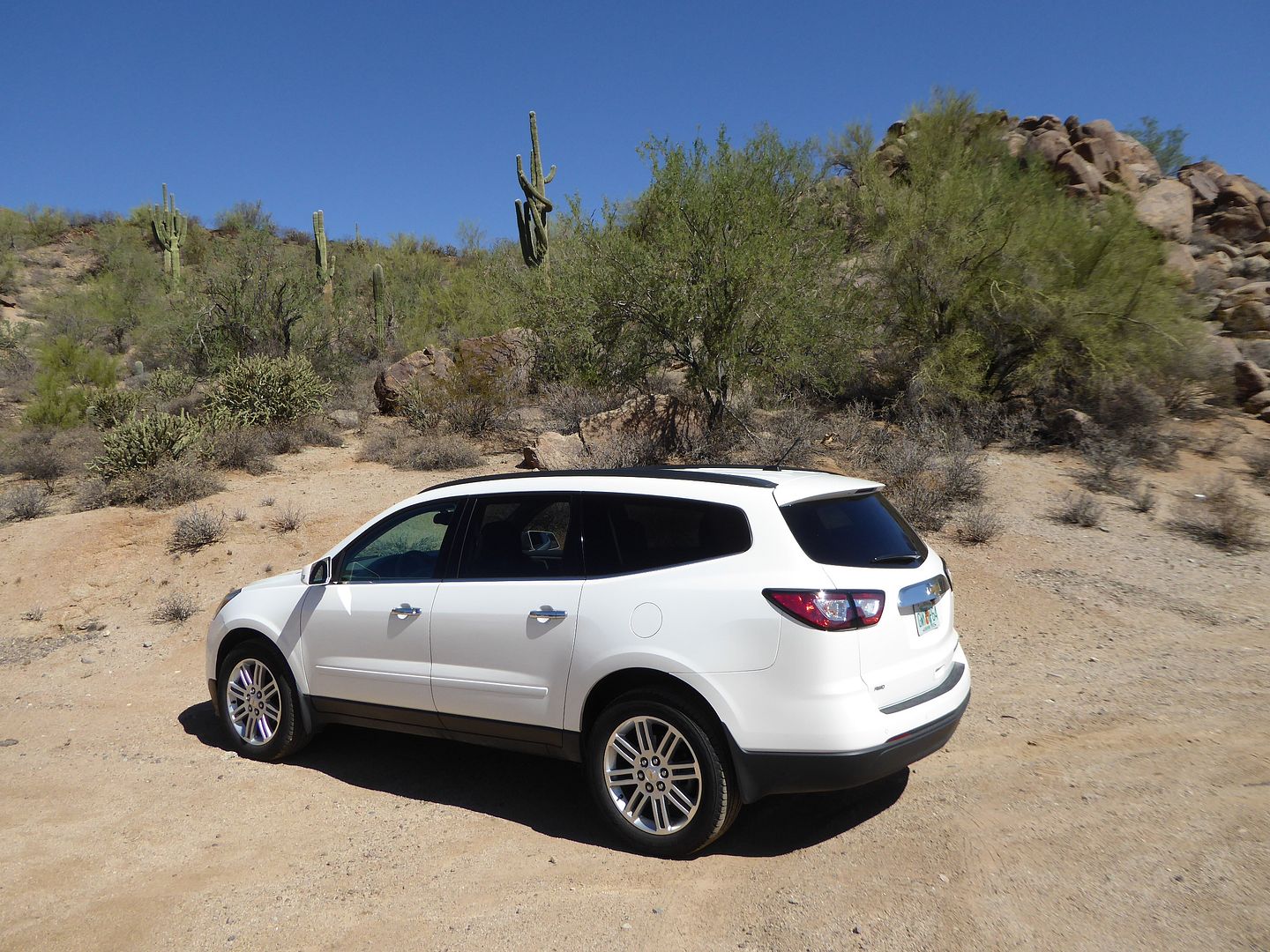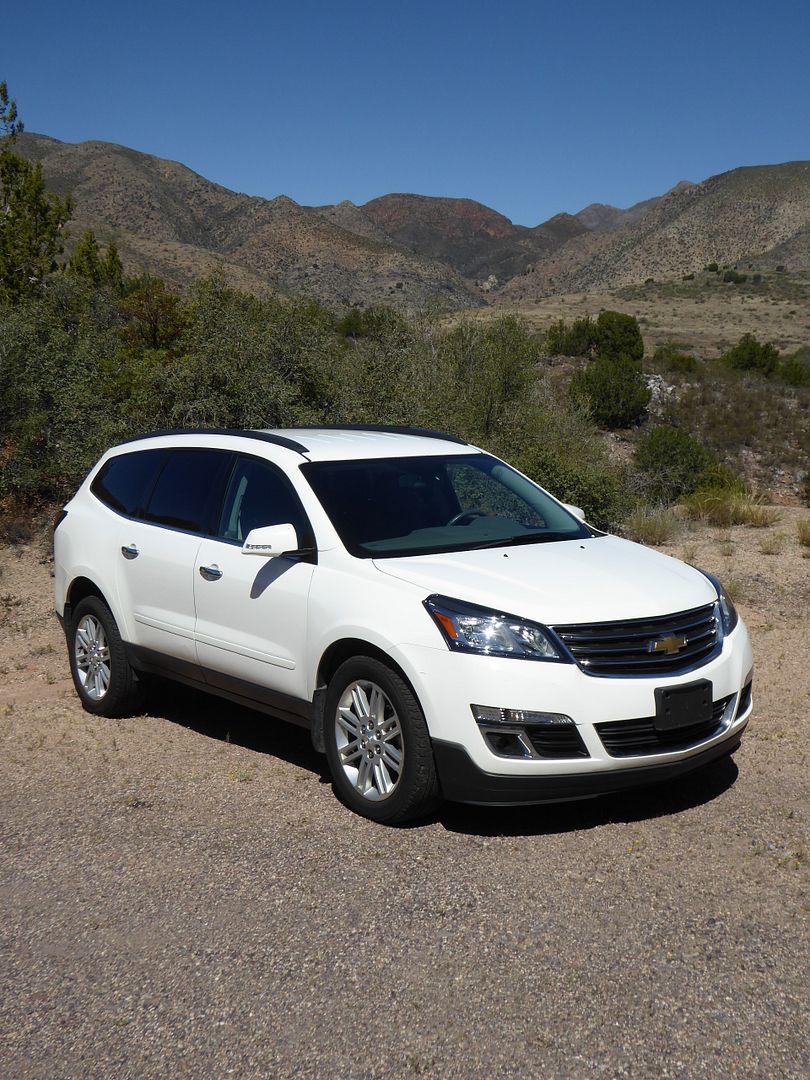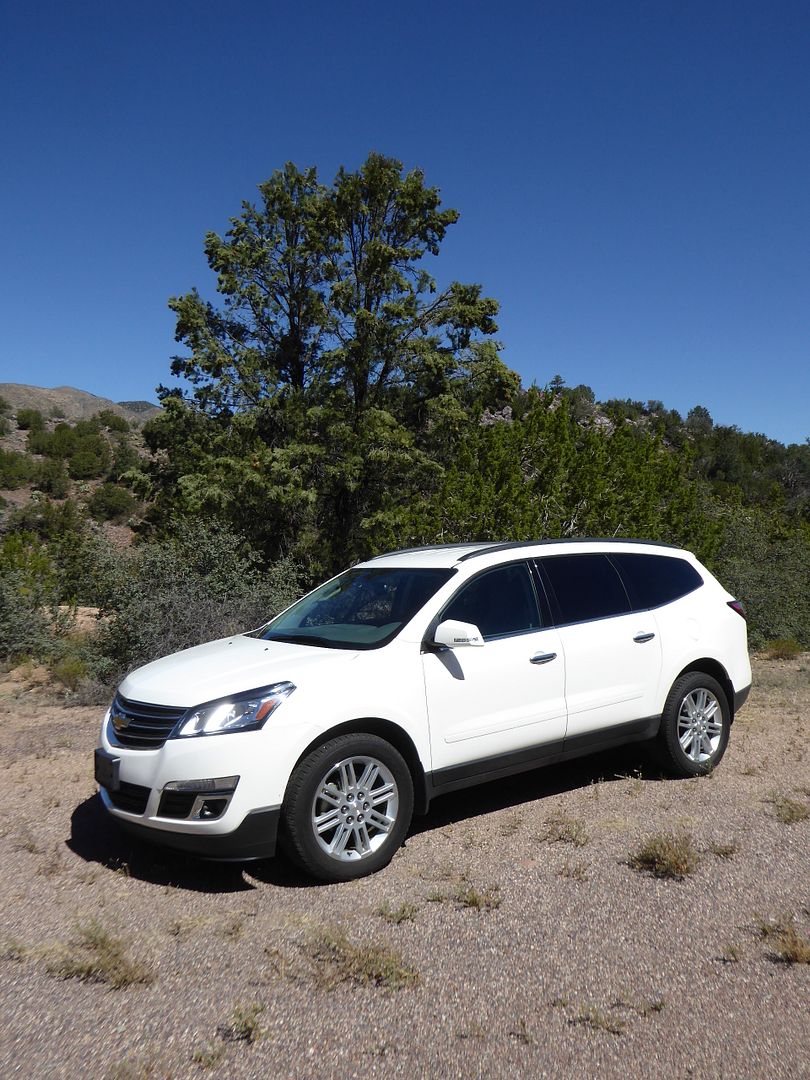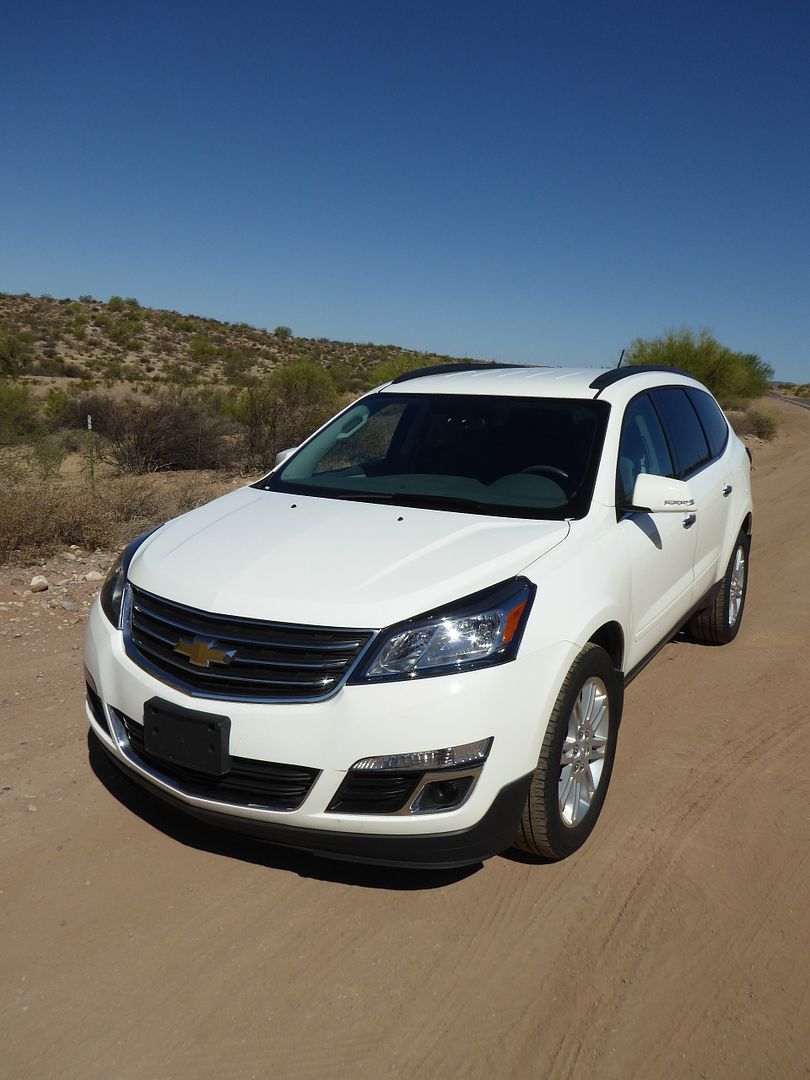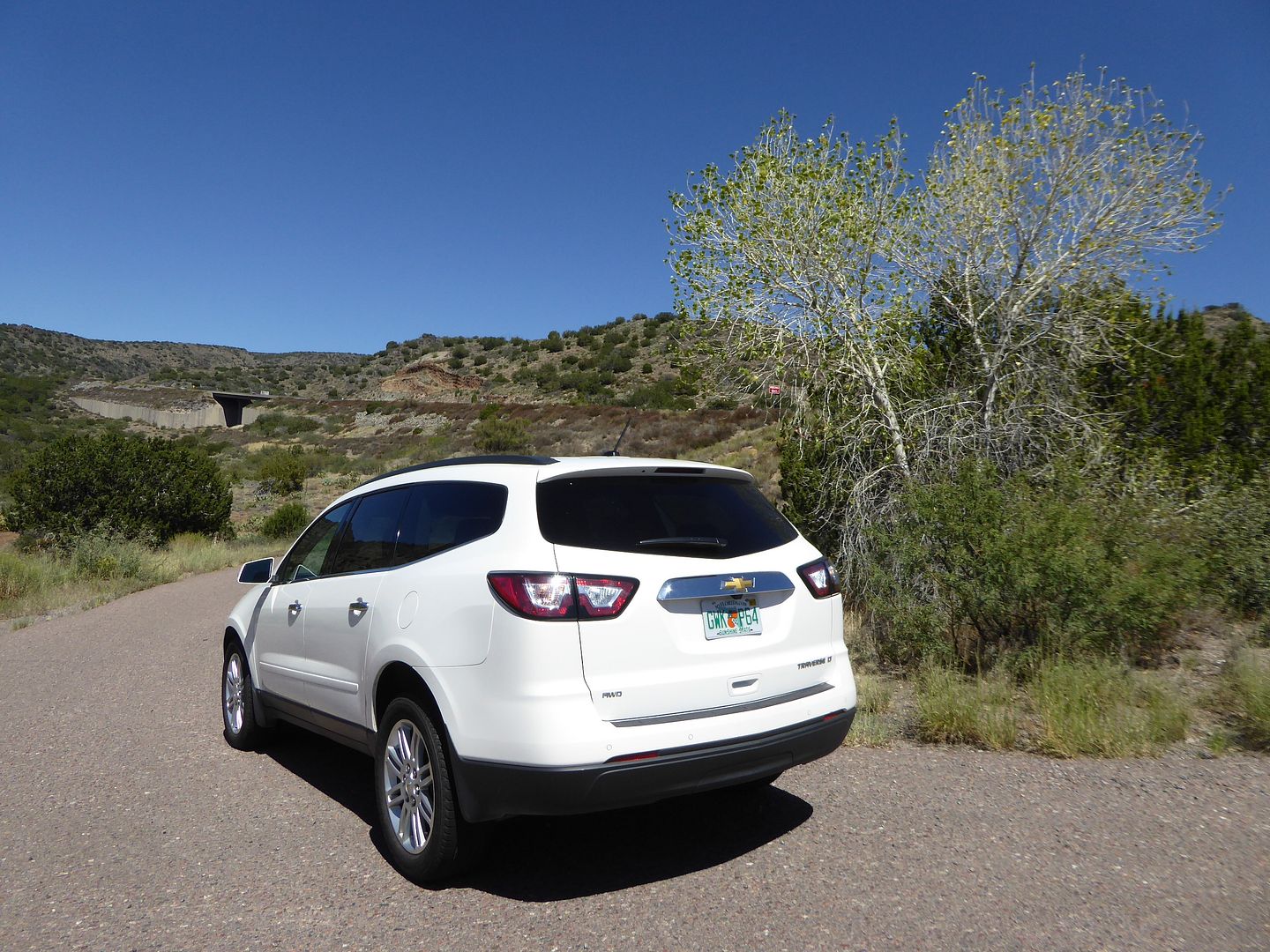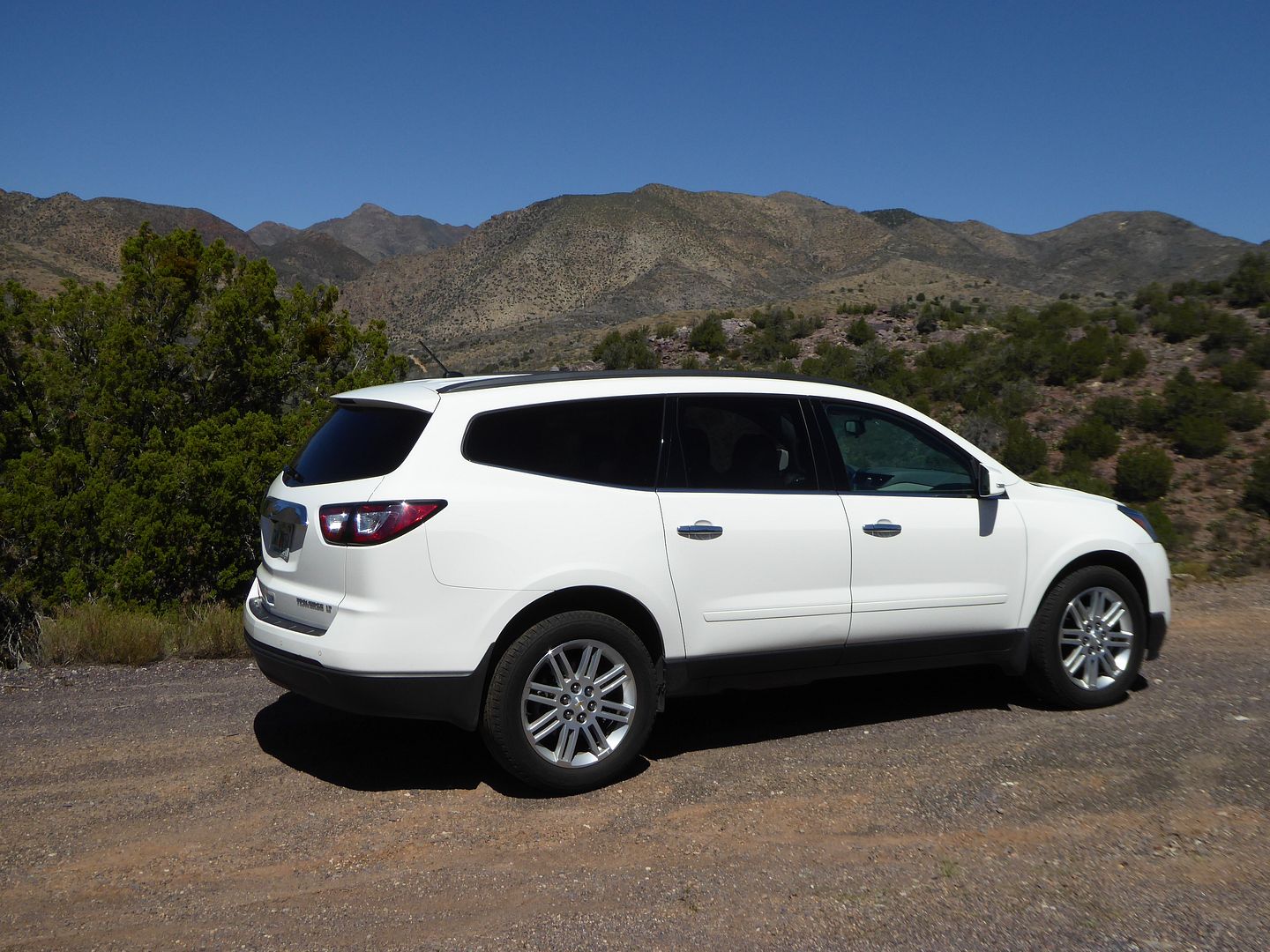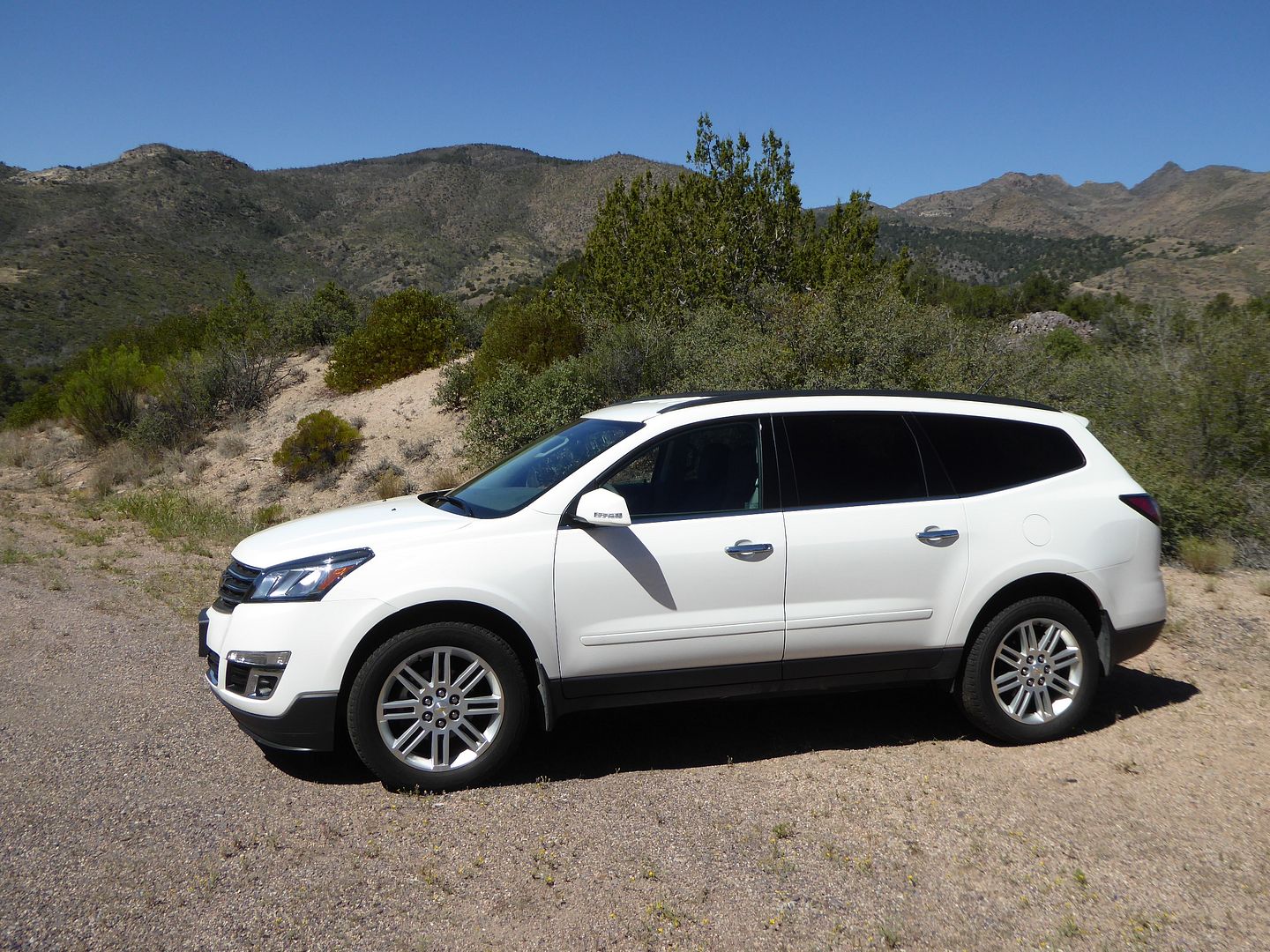 With a vast array of different models included in the Hertz US fleet, I usually prefer to sample something that I've not driven before rather than to take a rental car that I have tested, no matter how good it was. Sometimes, availability makes this difficult, and on occasion, more or less impossible, as there are times when even a large facility such as the Phoenix Sky Harbor airport, is very short on cars. It's no bad thing, of course, to return to a model that has been driven before as this gives the chance to see if the first one was representative, and also to experience some of the changes that inevitably will have been made, either as a result of running production changes or as minor facelifts and updates. So with a very limited choice on a mid-week booking, I found allocated a Chevrolet Traverse, one of GM's Lambda family of slightly bigger than mid-sized crossovers, and a vehicle which I had last sampled in November 2010. At that time, the Traverse was a relatively new product, having been on sale in its Chevrolet guise for a matter of months, though the other three versions of the family – the Buick Enclave, Saturn Outlook and GMC Acadia – had been around for a couple of years before that. I was suitably impressed with it, as I had been with the Saturn Outlook that I had driven earlier in the year. Since then, Chevrolet has made changes, though these are relatively modest. A new front end design, incorporating the same styling elements as was being applied to other Chevrolet products, in 2013, is the most obvious visual change. with the introduction of the MyLink infotainment system and a standard rear-view camera being notable technology additions, and then in 2014, forward collision alert and lane departure warning became available. In renewing my acquaintance with the Traverse, I wanted to see how it would stack up in late 2016, though I did note that my rather high mileage rental car was actually from the 2015 model year. Still, I was sure it would give me a 2016 perspective, so I took the allocated Florida-plated and Summit White painted car out for a 24 hour test.
Standard engine in all versions of the Traverse is the familiar 3.6 litre V6 GM unit, which puts out 281 bhp, as has always been the case. It is coupled to a six speed automatic gearbox, and it drives either the front wheels, or as in the case of the test car, all four wheels in the AWD models. This engine has been around for a few years now, and is a decent one, proving smooth and refined unless you push it really hard. And you probably won't be doing that, as this is not exactly a sports car, though there are over 2.5 tonnes of mass to shift, which is quite a lot. Driven as you would expect a large crossover to be, then the Traverse goes well enough. There's ample acceleration available when you need it, and the Chevrolet will cruise at steady speeds with low levels of noise. This is a big car, so you don't expect stellar fuel economy, and you don't get it. I covered 167 miles in my time with the Traverse and needed to put 8.18 gallons in it to refill it before returning the car. That computes to 20.42 mpg US or 24.4 mpg Imperial, which is about what you would expect for such a vehicle.
The other driving dynamics are perfectly acceptable. The steering is light, but not completely devoid of feel, so you do have some sensation of what the steered wheels are going to do. You can drive the Traverse with some enthusiasm down twisty roads, though you won't go anything like as fast as you would in a regular sedan, or even a rival like the Mazda CX-9, as the Traverse does roll a certain amount on corners, and understeer becomes evident as you apply more enthusiasm in the curves, though there seemed to be plenty of grip. The all-wheel drive system is permanent, so you can't change the settings, and this would doubtless come in useful on rough terrain and in adverse conditions. The last Traverse I sampled came on 18″ wheels, whilst I noticed that this one was on the 20″ wheels that had been the preserve of the top spec LTZ model in the past. They are relatively high profile being P255/55 R20 sized, and the result is still a comfortable ride, with the soft suspension showing there is a clear priority on comfort over driving finesse. There were no issues with the brakes. A foot operated parking brake features. Although the Traverse is a large vehicle, it is surprisingly easy to manoeuvre and to position. Visibility is generally good, with a large glass area, though the upswept third side windows do contribute to something of a blind spot over the shoulders. The previous Traverse that I tested had a separate anti-blind spot piece of glass in the door mirror, which helped, but that no longer features. A rear-view camera is fitted, in advance of these becoming a US-market legal requirement.
Chevrolet have certainly made an effort to make the interior quality look reasonable, with some use of leather on the dash, as well as this material being used to wrap the steering wheel and a number of soft-touch plastics. There is also a metal-effect inlay, which looks OK, and then they ruin it all with some rather nasty scored-looking plastic wood in the centre console and around the infotainment screen. I know that there are Americans who like this awful wood, but it just looks particularly cheap and nasty to me. Look a little closer, and you will find evidence of patchy build quality, or perhaps design, with a particularly bad feature being an exposed bolt in the trim not far from your left foot, and the alignment between the door casings and the dash is still not very good, something I remarked on in the 2010 test.
The dash design has changed only in detail since that 2010 test, largely as a result of the technology upgrade to the infotainment system, which has required a bit of reshaping and repositioning of the central air vents. The instrument binnacle is the same, with two large dials, for revs and speedometer that sit in a cluster where there are smaller dials outside them for water temperature and an ammeter, with a fuel gauge in the centre. Above this is what now looks like a very old-style dot matrix display used for the odometer and other trip computer data. You can select the particular display you want with a button below the audio unit. There is a single column stalk, for indicators and the front wash/wipe, with the lights operating from a dial on the dash to the left of the wheel. There are audio repeater and cruise control buttons on the steering wheel spokes. The centre of the dash now contains a 6.5″ colour touch screen for the infotainment system. This is the latest version of MyLink, and it includes the audio functions, with XM Satellite radio as well as AM and FM wavebands, as well as vehicle settings and the GM OnStar system. It is a bit lower down in the dash than is ideal, but otherwise proved easy enough to use, especially as I have come across it in a number of other Chevrolet models in recent years, and it seemed reasonably responsive to menu selections. Most of the buttons have now gone, so you will have to use the touch interface except for a few functions for which there is a sort of touch bar on either side of the screen. Beneath the unit are a row of switches for other functions such as the rear wiper, as well as three rotary dials for the climate control system. The overall impression is one that looks uncluttered, and it mostly proves user-friendly.
In the LT trim of the test car, you get cloth trim. Adjustment for the driver's seat is electric, and this includes lumbar support. The front passenger seat remains manually adjusted. Couple this with a telescoping feature on the steering column, with the wheel going in/out as well as up/down, and it was easy enough to get the optimum driving position. Sadly, I never quite managed to get totally comfortable, though. For one thing, the seat belt mounting was not really high enough, and there were also issues with the headrests, which pressed forward too much. The seat itself was fine. Both front seats benefit from seat heaters, though in somewhere as warm as Arizona, this was a feature I did not need to test out.
The Traverse is one of those vehicles which really does accommodate as many people as the spec sheet says, without any of the occupants feeling like they were just too big to fit in one of the rear seats. There are 7 and 8 seat versions of the Traverse, depending on the configuration of the middle row. 7 seat models have a pair of Captains' Chair style seats, whereas the 8-seater has a conventional bench seat, albeit split asymmetrically 60/40 and mounted on sliders, so that it can be positioned in a different way on one side of the car from the other. There's ample space here, with generous leg room even when the front seats are set well back, and a completely flat floor across the width of the car. Headroom is plentiful, too, thanks to the tall body styling. You can vary the angle of the backrest, and there is a drop down central armrest.
The third row proved surprisingly spacious, though, as is usually the case with vehicles like this, it is not that easy to get in and out, certainly not with any grace and elegance. The seat cushion is high enough which means that you can sit with your legs feeling like they are in a well, as opposed to having your knees under your chin. There are three seat belts, and the seat is just about wide enough to get three adults in here, and with ample headroom and even – provided the middle row are not set right back as far as they will go –  sufficient knee room, they will not feel unduly cramped. There is quite a long backrest, so these do feel like proper seats. The headrests are now moulded into the top of the backrests, as opposed to being separate units as they were on the last model.
With all three rows of seats erect, there is a modest boot space. It certainly won't accommodate the luggage of 7 people, unless they are travelling very light, but it is bigger than what you will find in a number of other 7-seaters, and the boot floor is flush with the bottom of the tailgate, so getting heavy loads in would not be difficult. There is a useful extra stowage area under the boot floor, and there are plenty of hooks to allow you to tether things to the sides. As you gradually fold down rear seats, an easy task for the rearmost ones, where you simply pull on the releases that are on the back of the seat backrests, you get a flat floor, and with both parts of the rearmost row folded down, there is a very generous load area. Fold the middle row of seats down as well and there is a vast cavern of space, long, flat and deep. You would need to be trying to carry an awful lot of stuff for this not to be sufficient. There are plenty of places in the cabin for odds and ends. As well as the bins on the doors, there is a generous glovebox, a lidded cubby on the top of the dash, and an immensely deep cubby between the seats, which is under the central armrest. This has a slide on it so it can be right between the seats or almost behind them (and on which controls for the climate control and audio take up point for the rear passengers can be found). Those in the second row of seats have map pockets on the back of the front seats, and there are cupholders on the upper surface of the drop-down armrest. For those in the rear-most row, there are cupholders moulded into the sides of the car.
All versions of the Traverse share the same 3.6 litre and gearbox, with the sole mechanical choice being between front and all-wheel drive. There are three trim levels: LS, LT, and LTZ. The base Traverse LS comes with remote keyless entry, power-folding side mirrors, satellite radio, a 6.5-inch touch-screen display, two USB ports, and Bluetooth phone compatibility. As is the Chevrolet way, the LT trim is offered in two slightly different versions, 1LT and 2LT. The Traverse 1LT adds the MyLink infotainment system, tri-zone automatic climate control, remote start, heated front seats, a leather-wrapped steering wheel, a power rear liftgate, rear park assist, and an eight-way power-adjustable driver's seat with lumbar control. The 2LT has a few niceties in addition, including an electrchromatic rear view mirror, a remote tailgate release, and a Bose premium 10-speaker sound system. The top-of-the-line Traverse LTZ includes a touch-screen navigation system, forward collision alert, lane departure warning, second-row flat-folding captain's chairs, heated and cooled front seats, and leather upholstery in the first two rows.
When I tested a Traverse for the first time, back in 2010, I concluded it was indeed one of the best cars in its class. It really has not changed much since then, and six years have passed. And the design actually goes back a bit further than 2010, as the first of the GM Lambda products, the Buick Enclave, actually goes back three years before that. So you might fear that it would no longer be competitive. Whilst there are a few details which do indeed betray the age, the reality is that this is still a good product. It's not exciting, but cars of the type are not really intended to be. But it is practical. There's ample space for up to 8 people, it is nicely finished, and will prove comfortable for its occupants over a long journey. It drives well enough and is just the sort of car that would fit into many people's lives very easily. A new model is under development, but is likely still a year or two away, and it will doubtless introduce more of the latest technologies wrapped in the latest GM styling cues, but until it appears, this is a very worthy model of its type.