The Mille Miglia. One of the most evocative motor races in history, it was established by the young Counts Aymo Maggi and Franco Mazzotti, sports manager Renzo Castagneto and motoring journalist Giovanni Canestrini, apparently in response to the Italian Grand Prix being moved from their home town of Brescia to Monza. Together with a group of wealthy associates, they chose a race from Brescia to Rome and back, a figure-eight shaped course of roughly 1500 km — or a thousand Roman miles. Later races followed twelve other routes of varying total lengths. The first race started on 26 March 1927 with 77 starters — all Italian — of which 51 had reached the finishing post at Brescia by the end of the race.  The first Mille Miglia covered 1,618 km, corresponding to just over 1,005 modern miles. Entry was strictly restricted to unmodified production cars, and the entrance fee was set at a nominal 1 lira. The winner, Giuseppe Morandi, completed the course in just under 21 hours 5 minutes, averaging nearly 78 km/h (48 mph) in his 2-litre OM; Brescia based OM swept the top three places. Tazio Nuvolari won the 1930 Mille Miglia in an Alfa Romeo 6C. Having started after his teammate and rival Achille Varzi, Nuvolari was leading the race, but was still behind Varzi (holder of provisional second position) on the road. In the dim half-light of early dawn, Nuvolari tailed Varzi with his headlights off, thereby not being visible in the latter's rear-view mirrors. He then overtook Varzi on the straight roads approaching the finish at Brescia, by pulling alongside and flicking his headlights on.
The event was usually dominated by local Italian drivers and marques, but three races were won by foreign cars. The first one was in 1931, when German driver Rudolf Caracciola (famous in Grand Prix racing) and riding mechanic Wilhelm Sebastian won with their big supercharged Mercedes-Benz SSKL, averaging for the first time more than 100 km/h (63 mph) in a Mille Miglia. Caracciola had received very little support from the factory due to the economic crisis at that time. He did not have enough mechanics to man all necessary service points. After performing a pit stop, they had to hurry across Italy, cutting the triangle-shaped course short in order to arrive in time before the race car. For the rest of the decade, Alfa Romeo dominated, and would go on to win the Mille Miglia more times than any other marque.
The race was briefly stopped by Italian leader Benito Mussolini after an accident in 1938 killed a number of spectators. When it resumed in April 1940 shortly before Italy entered World War II, it was dubbed the Grand Prix of Brescia, and held on a 100 km (62 mi) short course in the plains of northern Italy that was lapped nine times. This event saw the debut of the first Enzo Ferrari-owned marque AAC (Auto Avio Costruzioni) (with the Tipo 815). Despite being populated (due to the circumstances even more than usual) mainly by Italian makers, it was the aerodynamically improved BMW 328 driven by Germans Huschke von Hanstein/Walter Bäumer that won the high-speed race with an all-time high average of 166 km/h (103 mph).
The Italians continued to dominate their race after the war, now again on a single big lap through Italy. Mercedes made another good effort in 1952 with the underpowered Mercedes-Benz 300 SL Gullwing, scoring second with the German crew Karl Kling/Hans Klenk that later in the year would win the Carrera Panamericana. Caracciola, in a comeback attempt, was fourth. Few other non-Italians managed podium finishes in the 1950s, among them Juan Manuel Fangio, Peter Collins and Wolfgang von Trips. In 1955, Mercedes made another attempt at winning the MM, this time with careful preparation and a more powerful car, the Mercedes-Benz 300 SLR which was based on the Formula One car (Mercedes-Benz W196), entirely different from their sports cars carrying the 300 SL name. Both young German Hans Herrmann (who had had remarkable previous efforts with Porsche) and Stirling Moss relied on the support of navigators while Juan Manuel Fangio (car #658) preferred to drive alone as usual, as he considered road races dangerous since his co-pilot was killed in South America. Karl Kling also drove alone, in the fourth Mercedes, #701. Similar to his teammates, Moss and his navigator, motor race journalist Denis Jenkinson, ran a total of six reconnaissance laps beforehand, enabling "Jenks" to make course notes (pace notes) on a scroll of paper 18 ft (540 cm) long that he read from and gave directions to Moss during the race by a coded system of 15 hand signals. Although this undoubtedly helped them, Moss's innate ability was clearly the predominant factor. Moss was competing against drivers with a large amount of local knowledge of the route, so the reconnaissance laps were considered an equaliser, rather than an advantage. Car #704 with Hans Herrmann and Hermann Eger was said to be fastest in the early stages, though. Herrmann had already had a remarkable race in 1954, when the gate on a railroad crossing was lowered in the last moment before the fast train to Rome passed. Driving a very low Porsche 550 Spyder, Herrmann decided it was too late for a brake attempt anyway, knocked on the back of the helmet of his navigator Herbert Linge to make him duck, and they barely passed below the gates and before the train, to the surprise of the spectators. Herrmann was less lucky in 1955, having to abandon the race after a brake failure. Kling crashed also. After 10 hours, 7 minutes and 48 seconds, Moss/Jenkinson arrived in Brescia in their Mercedes-Benz 300 SLR with the now famous #722, setting the event record at an average of 157.650 km/h (97.96 mph) which was fastest ever on this 1,597 km (992 mi) variant of the course, not to be beaten in the remaining two years. Fangio arrived a few minutes later in the #658 car, but having started 24 min earlier, it actually took him about 30 minutes longer, having engine problems at Pescara, through Rome and by the time Fangio reached Florence, a fuel injection pipe had broken and he was running on 7 cylinders.
The race was banned after two fatal crashes in 1957. The first was the crash of a 4.2-litre Ferrari 335 S that took the lives of the Spanish driver Alfonso de Portago, his co-driver/navigator Edmund Nelson, and nine spectators, at the village of Guidizzolo. Five of the spectators killed were children, all of whom were standing along the race course. Portago, already unsettled by doing a race he felt was too dangerous, waited too long to make a tyre change. The crash was caused by a worn tyre. The manufacturer was sued for this, as was the Ferrari team. The second car crash, in Brescia, took the life of Joseph Göttgens. He was driving a Triumph TR3. From 1958 to 1961, the event resumed as a rallying-like round trip at legal speeds with a few special stages driven at full speed, but this was discontinued also. Since 1977, the name was revived as the Mille Miglia Storica, a parade for pre-1957 cars that takes several days, which also spawned the 2007 documentary film Mille Miglia – The Spirit of a Legend. Only cars that were built in the years 1927 to 1957 are eligible to take part, and these days the event requires competitors to arrive closest to a time objective, as opposed to racing flat out. The route varies each year. I was able to see a special stage of the 2018 event when it passed by the Alfa museum in Arese and was captivated by over 300 fabulous cars that paraded past me over the period of around 3 hours, with a jubilant crowd cheering on everything, especially if it was Italian.
The Museum, dedicated to the 'Red Arrow' race, was brought to fruition by the Mille Miglia Museum Association. This was established in December 1996 by a group of Brescian businessmen known as the "Friends of the Mille Miglia". The Association today has 50 shareholders. The new Museum was opened to the public on 10 November 2004. Setting up this project involved restoring the Sant'Eufemia monastery complex, owned by the Brescia municipality, a property of huge archaeological, historical and architectural value and had for some time been undergoing relentless degradation. It is located, along with the Trattoria Mille Miglia restaurant, in the Via delle Rimembranze on the outskirts of Brescia. You know when you've arrived, as there is a big entrance archway typical of what you would find at the start or finish of a race like this.
After you pass through the entrance area, where you will find a well-stocked shop, offering all manner of temptations, you start a tour which covers three sides of the building, and is spread over two floors. First off, there is a massive mural which shows all the winning cars from 1927 to 1957.
Part of the ground floor is given over to a temporary exhibition, which was showing some evocative paintings celebrating many of the winning cars and drivers from over the years.
Once past that, you come to the main exhibition and display area. As well as a mouth-watering array of historic cars, there are period artefacts, ephemera and lots of photos, meaning that if you are going to study everything on site you need to allow a good couple of hours. In addition, when you buy your tickets, you are given an iPad like device which has a series of short audio and visual clips which help to tell the story of the race, the cars and some of the characters involved. The cars that you will see on display will vary, as all are perfectly preserved and restored and in working order, so many of them spend time away from the museum, competing in historic events. Here is what was on site at the time of my visit in November 2018.
The first collection of cars I came to turned out to be the most modern, and to many people, the most familiar, as most were well-known cars of the 1950s.
The first two cars were models that would be thought of as family saloon, albeit with rather different price points. These were  a 1957 Fiat 600D and a 1957 Alfa Romeo Giulietta Berlina.
This tiny little car is a 1956 Abarth 750 GT Zagato. Appearing in early 1956, Abarth's 750 Gran Turismo Derivazione was the first Abarth product to use standard Fiat bodywork, that of the little 600 saloon. Fiat delivered these cars incomplete, to make it easier and more cost effective for Abarth to carry out their performance modifications. Rather than the 633 cc original or Abarth's own 710 cc model, the engine now displaced 747 cc thanks to a one  millimetre wider bore and a stroke increased by four millimetres. Sharper cams, lighter flywheel, a bigger carburettor, and a myriad other traditional tuning tricks were employed; as a result power nearly doubled, up from 21.5 to 40 bhp. Claimed top speed was 80 mph. As well as the "standard" car, a  special model was then built with a Zagato body, known as the Fiat Abarth 750 GT Zagato. It was launched at the 1955 Salon di Torino. The original model was also offered in a more luxurious variant for export (called "America", as it was almost strictly meant for the United States) and a stripped down model with lower, uncovered headlamps and smaller taillights for the domestic Italian market. The "America" also has a different layout around the rear license plate.  The all-aluminium bodywork has Zagato's famous "double-bubble" design and Abarth's tuned derivazione engine with 43 bhp. Aside from the floorpan, not much of the Fiat 600 remains in use for these cars. It had a top speed of around 90 mph and proved popular. Around 600 were sold. By the time of the appearance of the Abarth Zagato Record Monza 750 Bialbero, the bodywork had been unified into a separate model with a rather large hump on the engine lid, made necessary by the taller twin-cam motor. There were then three distinct models 750 "Double Bubble", 750 Record Monza and 750 "Sestrieie", this last having a single cam pushrod engine and the majority built with a steel body and a very small number of Alloy cars, just one of which is known to exist today. he 750 GT Bialbero model appeared at the 1958 Turin Show; along with various alterations to the bodywork, it had the new twin-cam engine with 57 bhp at 7000 rpm. The first series constituted 100 cars, enough to homologate the car for the Gran Turismo competition category. The "Record Monza" was the most successful racing Abarth in the USA under the Franklin D. Roosevelt Jr Racing team, (Abarth cars winning over 700 races worldwide), including both Sebring with the 750cc Bialbero engine and Daytona under 1000cc races in 1959 widely believed to have had the first 982cc Bialbero engine. The Sestriere had upright headlights and two very large air intakes on the engine lid much wider than a double bubble. The Sestriere was believed to be the last model produced for Abarth by Zagato, due to disagreements between Abarth and Zagato, so Abarth developed the 750 GTZ with a twin cam engine and the body evolved by Sibona and Basono into the Bialbero 700 and 1000 models. which were first seen in 1960. They are equally rare these days.
This is a 1954 Fiat 1100 TV with Pininfarina coupe body. At the October 1953 Paris Motor Show Fiat launched a sporting version of the Type103, the 1100 TV—standing for Turismo Veloce, "Fast Touring". The TV was fitted with an improved engine (type 103.006), which developed 48 PS at 5,400 rpm rather than the 36 PS of the regular versions, mainly thanks to a twin-choke Weber carburettor and a higher 7.4:1 (instead of 6.7:1) compression ratio. Later in 1954, compression ratio was raised further to 7.6:1 and power reached 50 PS Top speed was 135 km/h (84 mph). Another notable mechanical difference was the propeller shaft, two-piece instead of one-piece in order to dampen torsional vibrations, intensified by the increased engine output. The TV's bodyshell, outfitted by Fiat's Carrozzerie Speciali special bodies department, differed from the standard in having a larger, curved rear window and prominent rear wings, supporting differently shaped tail lamps.[7] A distinguishing trait of the TV was a single front fog lamp, inset in the grille and flanked by two chrome whiskers. Specific exterior trim included thicker chrome spears on the sides with "1100 TV" and "Fiat Carrozzerie Speciali" badging, a taller bonnet ornament, special hubcaps, and whitewall tyres. As standard the TV was painted in a two-tone livery, with the roof and wheel rims in a contrasting colour. Inside it featured a tortoiseshell celluloid two-spoke steering wheel, two-tone cloth and vinyl upholstery, colour-coded fully carpeted floor, and until the end of 1954 reclining buckets which could optionally be fitted instead of the standard bench seat. At 1,225,000 Italian lire (1953 price) the 1100 TV was markedly more expensive than the standard Tipo A and B saloons, priced respectively 945 and 975 thousand lire. The TV was appreciated by Fiat's more sporting clientele, who entered it in numerous races in period; its most prestigious victories include class wins at the 1954 and 1955 Mille Miglia, and an outright win at the 1954 Cape Town to Algiers trans African rally.
First shown in prototype at the 1954 New York Auto Show, and was available with an optional removable hardtop, the Mercedes 190 SL (W121) presented an attractive, more affordable alternative to the exclusive Mercedes-Benz 300 SL, sharing its basic styling, engineering, detailing, and fully independent suspension. Both cars had double wishbones in front and swing axles at the rear. Instead of the 300 SL's expensive purpose-built W198 tubular spaceframe the 190 SL rode on a shortened monocoque R121 platform modified from the W121 small saloon. The 190 SL was powered by a new, slightly oversquare 105 PS Type M121 BII 1.9 L straight-four SOHC engine. Based on the 300 SL's straight six, it had an unchanged 85 mm bore and 4.3 mm reduced 83.6 mm stroke, was fitted with twin-choke dual Solex carburettors, and produced 120 hp. In detuned form, it was later used in the W120 180 and W121 190 models. The car was available either as a soft-top convertible (initially priced at DM 16,500/US$ 3,998) or with removable hardtop (DM 17,650/$ 4,295). A small third-passenger transverse seat was optional. During its first years the 190 SL was available as a sports-racing model with small perspex windscreen and spartan one-piece leather covered bucket seats and aluminium doors. In 1959, the hardtop's rear window was enlarged. Both the 190 SL and the 300 SL were replaced by the Mercedes-Benz 230SL in 1963.
There were two further examples from the 750 series of Alfa Romeo models, a 1955 Giulietta Sprint and a 1957 Giulietta Spider.
Heading upstairs, from the far end of the ground floor, I don't think I quite experienced the display in chronological order, but that hardly matters, Here is what I found:
This Alfa-Maserati Prete was built in Rome after World War II by Placido Prete, installing an Alfa Romeo engine from the 6C 2300B MM, brought up to 2442 cc and fed by three double-barrel Stromberg carburettors of aeronautical derivation, on a tubular frame of unknown origin, using Maserati parts. Prete wanted to show his name on the car and so designed the emblem with the AMP initials against the backdrop of the Colosseum. Prete's goal was to create a "Sport" car, so to be competitive in class, particularly in races like the Targa Florio and the Mille Miglia. The reworked Alfa Romeo engine produced 200 bhp, with a top speed of 240 km/h and was matched to its transmission. A powerful unit but reliable, above all. The frame and the Maserati components were in turn reworked and used to a tubular frame structure. Entrusted to Giovanni Rocco, Italian Champion for "Voiturettes" drivers in 1937, the car made its debut in 1948, ranking eighth on the Circuit of Pescara, an exhausting test at the time for the cars and drivers, due to the high speed sustained for a long time. Rocco led the car into an intense participation in the sporting events of the time, often with worthy of note results, in class and overall. With Prete he competed in the 1949 Targa Florio – Giro di Sicilia, obtaining a third place overall: an exceptional placement already at the time, for a car that was not prepared and brought to the races by an official racing team. At the 1949 Mille Miglia the Rocco-Sorrentino team, even if sixth at the Rome check-point, was instead forced to withdraw before the check-point in Pescara. Great commitment but little luck even at the 1950 Gran Premio di Napoli. Later, Francesco Santovetti bought the car from Prete, but continued to share the steering wheel with Rocco, who in 1952 was first in the Coppa dei due Laghi. Santovetti instead was third at the Vermicino-Rocca di Papa. In 1953 the car, led by Scarlatti, was second in the Coppa dei due Laghi. There are thirteen races "certified" by evidence, in the career of the Alfa Maserati Prete, but the history is certainly richer and the historical researches in progress are checking the other races reported. Throughout its history, the car underwent several bodywork variants: from two to four headlights, with wraparound, partial or missing mudguards, with air intake on the bonnet or without, with or without windshield for the passenger.
This is a 1953 Bandini 750 Sport International. Born in 1950, this new type marked the consecration of Bandini as an international challenger in the smaller classes. Tony Pompeo, an American car dealer of Italian origin, was pleased with the previous Bandini 1100 and 1100 sport he had purchased, so he explicitly asked Ilario Bandini for cars to run in the 750 cc engine capacity category. Pompeo sent a Crosley engine to Bandini for him to study and use. Lightweight and compact, this American engine was very versatile, having been used with boats, aircraft, and even in fire pumps. It had aluminium block with five main bearings, monoblock with to two valves per cylinder, gear driven single overhead cam, and more. Bandini immediately began making modifications for racing, including longer Stroke steel crankshaft (raising the displacement to 747 cc), new pistons, camshafts, and oil pump. With the modified Crosley engine, the 750 sports torpedo was launched, contesting scores of races: hill climbs, road courses, and airbase circuits, as well as challenging six- and twelve-hour endurance events, such as the 12 Hours of Sebring or Mille Miglia, both of which were World Sports Car Championship rounds. The 750 sports torpedo was competitive, versatile, and suited to competing in higher categories. Massimo Bondi finished ninth in the 1953 Mille Miglia in the car.
1948 Ermini 1100 Motto
A 1950 Giaur 750 Sport. Giaur was formed in 1950 by the great Berardo Taraschi (previously of Urania) and the Giannini brothers, the name coming from GIAnnini and URania. The engines were originally Giannini units, and Crosley engines were later used in America.  They raced throughout Europe in races such as the legendary Mille Miglia and also competed heavily in American SCCA racing.  Only 48 cars were made, 13 were the 750cc "Champion" which had removable wings and were therefore eligible for both the Italian formula 3 series (open wheel 750 cc) and sportscar races.  Only five Giaur Champions are known in the world today.
This 1948 Zanussi Fiat Fontebasso Sport is one of three cars built. In the post-war years Fioravante Zanussi race-prepared several small-capacity cars for private drivers, mainly using Fiat, Alfa Romeo and BMW engines. This barchetta was built on a Fiat 500 B chassis by Fioravante Zanussi in 1948. It was fitted out in a barchetta sport, in aluminium, by Tullio Vendrame of Mareno di Piave (Treviso). This particular sport barchetta is the only remaining of three built with this particular front and it is the only one uprated by Antonio Fontebasso, the first owner together Diego Zanotto. Fontebasso wanted to participate in several races. The work was completed in 1948 and the car ran the Coppa d'Oro delle Dolomiti in 1949 and in 1950. In this period Fontebasso decided to emigrate to Brazil and the car was driver by the co-owner Diego Zanotto. It was probably fitted with a 500cc engine with a Siata cylinder head. The original engine was replaced with an engine Lancia Ardea reduced to 750cc at an uncertain date in the past.
1930 Fiat 514 Spider
Among the many artefacts here are a large number of period petrol pumps. I was fascinated by the story that one of them was commissioned by Mussolini himself, and the glass chamber on it was so that people could see the purity of the fuel, it having become common practice for people to dilute the fuel with substances such as beetroot juice, With a clear chamber, it was easy to tell if that had been or not!
One of the more recognisable cars was this 1957 Renault 4CV, the small car offered by the French manufacturer. Launched in 1946 with a 750cc engine producing around 30hp, the 4CV was an instant hit. Indeed, a number of vehicles were entered into endurance contests, where they stood out for their agility and reliability. The Type 1063 was the sporting evolution of the Renault 4CV. It was modified so as to exceed 130kph and, from 1951 until 1954, it went on to achieve significant success in events as challenging as the Coupe des Alpes, Liège-Rome-Liège, the Tour de France, the Mille Miglia and even the legendary Le Mans 24 Hours in 1951 where it triumphed in the fiercely-disputed 750cc class.
1953 Fiat 508S
Rarest of the T Type range of MG sports cars is this 1939 MG TB, which replaced the TA in May 1939. It had a smaller but more modern XPAG engine as fitted to the Morris Ten Series M, but in a more highly tuned state and like the TA with twin SU carburettors. This 1250 cc I4 unit featured a slightly less undersquare 66.6 mm bore and 90 mm stroke and had a maximum power output of 54 hp at 5200 rpm. The oil-immersed clutch was also replaced by a dry-plate type and gear ratios revised. Available as an open two-seater or more luxurious Tickford drophead coupé, this is the rarest of the T-type cars, as production began just prior to Britain's entry into World War II; only 379 TBs were made before the MG factory moved into production of needed wartime assets. The post-war TC looked and indeed was very similar.
Needing no introduction was this 1926 Bentley 4.5 litre. Bentley replaced the 3 Litre with a more powerful car by increasing its engine displacement to 4.5 litres. As before, Bentley supplied an engine and chassis and it was up to the buyer to arrange for their new chassis to be fitted with one of a number of body styles, most of which were saloons or tourers. Very few have survived with their four-seater coachwork intact. WO Bentley had found that success in motorsport was great publicity for the brand, and he was particularly attracted to the 2 Hours of Le Mans endurance race, the inaugural running of which took place 26–27 May 1923, attracting many drivers, mostly French. There were two foreign competitors in the first race, Frank Clement and Canadian John Duff, the latter winning the 1924 competition in his personal car, a Bentley 3 Litre. This success helped Bentley sell cars, but was not repeated, so ater two years without success, Bentley convened a group of wealthy British men, "united by their love of insouciance, elegant tailoring, and a need for speed," to renew Bentley's success. Both drivers and mechanics, these men, later nicknamed the "Bentley Boys", drove Bentley automobiles to victory in several races between 1927 and 1931, including four consecutive wins at the 24 Hours of Le Mans, and forged the brands reputation. It was within this context that, in 1927, Bentley developed the Bentley 4½ Litre. Two cylinders were removed from the 6½ Litre model, reducing the displacement to 4.4 litres. At the time, the 3 Litre and the 6½ Litre were already available, but the 3 Litre was an outdated, under-powered model and the 6½  Litre's image was tarnished by poor tyre performance. Sir Henry "Tim" Birkin, described as "the greatest British driver of his day" by W. O. Bentley, was one of the Bentley Boys. He refused to adhere strictly to Bentley's assertion that increasing displacement is always preferable to forced induction. Birkin, aided by a former Bentley mechanic, decided to produce a series of five supercharged models for the competition at the 24 Hours of Le Mans; thus the 4½ litre Blower Bentley was born. The first supercharged Bentley had been a 3-litre FR5189 which had been supercharged at the Cricklewood factory in the winter of 1926/7. The Bentley Blower No.1 was officially presented in 1929 at the British International Motor Show at Olympia, London. The 55 copies were built to comply with 24 Hours of Le Mans regulations. Birkin arranged for the construction of the supercharged cars having received approval from Bentley chairman and majority shareholder Woolf Barnato and financing from wealthy horse racing enthusiast Dorothy Paget. Development and construction of the supercharged Bentleys was done in a workshop in Welwyn by Amherst Villiers, who also provided the superchargers. W.O. Bentley was hostile to forced induction and believed that "to supercharge a Bentley engine was to pervert its design and corrupt its performance." However, having lost control of the company he founded to Barnato, he could not halt Birkin's project. Although the Bentley 4½ Litre was heavy, weighing 1,625 kg (3,583 lb), and spacious, with a length of 172 in and a wheelbase of 130.0 in, it remained well-balanced and steered nimbly. The manual transmission, however, required skill, as its four gears were unsynchronised. The robustness of the 4½ Litre's latticed chassis, made of steel and reinforced with ties, was needed to support the heavy cast iron inline-four engine. The engine was "resolutely modern" for the time. The displacement was 4,398 cc. Two SU carburettors and dual ignition with Bosch magnetos were fitted. The engine produced 110 hp for the touring model and 130 hp for the racing model. The engine speed was limited to 4,000 rpm. A single overhead camshaft actuated four valves per cylinder, inclined at 30 degrees. This was a technically advanced design at a time where most cars used only two valves per cylinder. The camshaft was driven by bevel gears on a vertical shaft at the front of the engine, as on the 3 Litre engine. The essential difference between the Bentley 4½ Litre and the Blower was the addition of a Roots-type supercharger to the Blower engine by engineer Amherst Villiers, who had also produced the supercharger. W. O. Bentley, as chief engineer of the company he had founded, refused to allow the engine to be modified to incorporate the supercharger. As a result, the supercharger was placed at the end of the crankshaft, in front of the radiator. This gave the Blower Bentley an easily recognisable appearance and also increased the car's understeer due to the additional weight at the front.  A guard protected the two carburettors located at the compressor intake. Similar protection was used, both in the 4½ Litre and the Blower, for the fuel tank at the rear, because a flying stone punctured the 3 Litre of Frank Clement and John Duff during the first 24 Hours of Le Mans, which contributed to their defeat. The crankshaft, pistons and lubrication system were special to the Blower engine. It produced 175 hp at 3,500 rpm for the touring model and 240 hp at 4,200 rpm for the racing version, which was more power than the Bentley 6½  Litre developed. Between 1927 and 1931 the Bentley 4½  Litre competed in several competitions, primarily the 24 Hours of Le Mans. The first was the Old Mother Gun at the 1927 24 Hours of Le Mans, driven as a prototype before production. Favoured to win, it instead crashed and did not finish. Its performance was sufficient for Bentley to decide to start production and deliver the first models the same year. Far from being the most powerful in the competitions, the 4½ Litre of Woolf Barnato and Bernard Rubin, raced neck and neck against Charles Weymann's Stutz Blackhawk DV16, setting a new record average speed of 69 mph; Tim Birkin and Jean Chassagne finished fifth. The next year, three 4½ Litres finished second, third, and fourth behind another Bentley, the Speed Six, which possessed two more cylinders.The naturally aspirated 4½ Litre was noted for its good reliability. The supercharged models were not; the two Blower models entered in the 1930 24 Hours of Le Mans by Dorothy Paget, one of which was co-driven by Tim Birkin, did not complete the race. In 1930, Birkin finished second in the French Grand Prix at the Circuit de Pau behind a Bugatti Type 35. Ettore Bugatti, annoyed by the performance of Bentley, called the 4½ Litre the "fastest lorry in the world." The Type 35 is much lighter and consumes much less petrol. Blower Bentleys consume 4 litres per minute at full speed. In November 1931, after selling 720 copies of the 4½ Litre – 655 naturally aspirated and 55 supercharged – in three different models (Tourer, Drophead Coupé and Sporting Four Seater, Bentley was forced to sell his company to Rolls-Royce for £125,175, a victim of the recession that hit Europe following the Wall Street Crash of 1929.
1948 Fiat 1100 Marsala
One of the best-known of pre-war Lancia is the Lambda, an innovative car which was first shown in 1922. Built in 9 series over a 10 year period, the Lambda pioneered a number of technologies that soon became commonplace in our cars. For example, it was the first car to feature a load-bearing monocoque-type body, (but without a stressed roof) and it also pioneered the use of an independent suspension (the front sliding pillar with coil springs).Vincenzo Lancia even invented a shock absorber for the car and it had excellent four wheel brakes. The narrow angle V4 engine which powered is not something which was widely copied. Approximately 11,200 Lambdas were produced. Most of them had the open Torpedo style body, but some of the last Series 8 and 9 cars had Weyman saloon bodies. This one dates from 1926.
This is a 1927 Bugatti Type 37A. The Type 35 chassis and body were reused on the Type 37 sports car. Fitted with a new 1496 cc straight-4 engine, 290 Type 37s were built. This engine was an SOHC three-valve design and produced 60 hp. The same engine went on to be used in the Type 40. The supercharged Type 37A accounted for 67 of the Type 37's production slots. Engine output was up to 80–90 bhp. It also had larger shrouded brake drums.
Notable as an example of the brand that won the first Mille Miglia, this OM 469 S dates from 1930. Officine Meccaniche or OM was an Italian car and truck manufacturing company. It was founded in 1899 in Milan as Società Anonima Officine Meccaniche to manufacture railway rolling stock and car production began in 1918. It disappeared as such in 1975, subsumed into Iveco, but still exists as a forklift builder. The inception of the company resulted from the merger of two companies, Grondona Comi & C and Miani Silvestri & C in 1899. Originally, OM manufactured railway stock. Car production started in 1918, using the plant of the former Brixia-Zust (Brixia-Züst), just after OM took over Zust car company of Brescia, Northern Italy. The first OM car, Tipo S305, primarily an old Zust model, appeared in 1918 with a 4712 cc four-cylinder side-valve in-line engine. Further models were Tipo 465 (with a 1327 cc four) in 1919, Tipo 467 (1410cc) and Tipo 469 (1496cc) in 1921. 1923 saw an all new model, Tipo 665 'Superba' with a 2-litre six-cylinder engine. This model was extremely successful in racing, winning top five positions in the 2-litre class in 1925 and 1926 at the Le Mans but its greatest achievement was the victory in the first Mille Miglia race in 1927 where Ferdinando Minoia and Giuseppe Morandi led home an O.M. '123' at an average speed of 48.27 mph for 21 hours 4 minutes 48 seconds. Some cars were equipped with Roots superchargers. In 1925 OM began to build trucks and buses, using licensed Swiss Saurer engines and other mechanical components. Ties with Saurer persisted through all of OM's history. OM was taken over by the Fiat Group in 1938 and in the following year passenger car production ceased, and OM became a commercial vehicle and train part manufacturer.
This splendid 1938 Fiat 500A Fuorgoncino is an example of the car which put Italy on wheels. The Topolino was one of the smallest cars in the world at the time of its production. Launched in 1937, three versions were produced until 1955, all with only minor mechanical and cosmetic changes. It was equipped with a 569 cc four-cylinder, side-valve, water-cooled engine mounted in front of the front axle, which meant that it was a full-scale car rather than a cyclecar. The radiator was located behind the engine which made possible a lowered aerodynamic nose profile at a time when competitors had a flat, nearly vertical grille. The shape of the car's front allowed exceptional forward visibility. The rear suspension initially used quarter-elliptic rear springs, but buyers frequently squeezed four or five people into the nominally two-seater car, and in later models the chassis was extended at the rear to allow for more robust semi-elliptic springs. With horsepower of about 13 bhp, its top speed was about 53 mph and it could achieve about 48 mpg. The target price given when the car was planned was 5,000 lire. In the event the price at launch was 9,750 lire, though the decade was one of falling prices in several part of Europe and later in the 1930s the Topolino was sold for about 8,900 lire. Despite being more expensive than first envisioned, the car was competitively priced and nearly 520,000 were sold. Nowadays the car seen here is known as the 500A, and this shares its body with the later 500 Model B, but the later car had more power, a heady 16 hp. It was made between 1948 and 1949. The Model A was offered as a 2-door coupé, 2-door cabriolet and a 2-door van, while the Model B also introduced a 3-door estate under the name 500 B Giardinetta ("estate car"). The Model C was introduced in 1949 with a restyled body and the same engine as Model B, and was offered in 2-door coupé, 2-door cabriolet, 3-door estate and 2-door van  versions. In 1952, the Giardinetta was renamed the  Belvedere ("A turret or other raised structure offering a pleasant view of the surrounding area", referring to its sunroof). The Model C was produced until 1955.
Very splendid indeed was this 1954 Maserati A6GCS Barchetta. To compete in the World Sportscar Championship, the A6GCS/53 (1953–55) was developed (170 bhp), spyders initially designed by Colombo and refined by Medardo Fantuzzi and Celestino Fiandri. Fifty-two were made. An additional four berlinettas and one spider were designed by Aldo Brovarone at Pininfarina, their final design of a Maserati, on a commission by Rome dealer Guglielmo Dei who had acquired six chassises. Vignale also made one spider. The 1954 Mondial de l'Automobile in Paris showed the A6GCS/54, which came in berlinetta, barchetta and spider versions (150 bhp), with designs by Pietro Frua, Ghia and Carrozzeria Allemano. It was also referred to as the A6G/2000 and 60 were made.
1953 Zagato Fiat
1947 Fiat 1100 Stanguellini
Introduced at the 1950 Geneva Motor Show, the 1400 was the first unibody Fiat and had a 1.4 litre engine which generated a heady 44 bhp, giving it a maximum speed of 75 mph. In 1953 the Fiat 1400 also became the SEAT 1400, the first model produced by SEAT, and the first passenger car produced by Crvena Zastava in FNRY, the Zastava 1400 BJ. Equipped with a 2.0 litre Steyr engine, it was produced as "Steyr 2000" by Steyr-Daimler-Puch AG in Austria from 1953. The Fiat 1900, introduced in 1952, was an upmarket model that used the same body as the 1400, but came with a 1.9 litre engine and more standard features. The petrol-engined Fiat 1900 A, introduced in 1954, offered a claimed 70 bhp. It also featured a hydraulically operated clutch and, unusually for that time, a five speed column shifted manual transmission, as well as a radio and a rudimentary "trip computer" that showed the average speed.  In 1953 the introduction of a diesel version with a 1900 cc engine marked another Fiat first, although the diesel version was known as the 1400 Diesel. The Motor magazine tested one in 1954 and recorded a top speed of 63.8 mph (102.7 km/h), acceleration from 0-60 mph (97 km/h) in 45.2 seconds and a fuel consumption of 33.9 mpg. The car was not at the time available on the UK market but a price in Italy of 1,545,000 Lire was quoted which they worked out as equivalent to £909. About 179.000 1400s and 19.000 1900s were built. This is an early car, dating from 1950.
Ermini
The Fiat 8V (or "Otto Vu") is a V8-engined sports car produced by Fiat from 1952 to 1954. The car was introduced at the 1952 Geneva Motor Show. The Fiat 8V got its name because at the time of its making, Fiat believed Ford had a copyright on "V8".  With 114 made, the 8V wasn't a commercial success, but did well in racing. Apart from the differential the car did not share any parts with the other Fiats (but many parts were made by Siata and they used them for their cars). The 8V was developed by Dante Giacosa and the stylist Luigi Rapi. The engine was a V8 originally designed for a luxury sedan, but that project was stopped. The Fiat V8 had a 70 degree V configuration, displaced 1,996 cc and was fitted with two twin-choke Weber 36 DCF 3 carburettors. In its first iteration (type 104.000) the engine had a compression ratio of 8.5:1 and produced 105 PS at 5,600 rpm, giving the car a top speed of 190 km/h (118 mph). Improved type 104.003 had different camshaft timing for 115 PS at 6,000 rpm; finally type 104.006 with a 8.75:1 compression ratio, revised camshaft timing and fuel system put out 127 PS at 6,600 rpm. The engine was connected to a four speed gearbox. The car had independent suspension all round and drum brakes on all four wheels. Top management were preoccupied with more run of the mill projects, however, and only 114 of the high-performance coupés had been produced by the time the cars were withdrawn from production in 1954. Nevertheless, they continued to win the Italian 2-litre GT championship every year until 1959. 34 of the cars had a factory produced bodywork by Fiat's Reparto Carrozzerie Speciali ("Special Bodies Department"). Some cars had the bodywork done by other Italian coachbuilders. Carozzeria Zagato made 30 that they labelled "Elaborata Zagato". Ghia and Vignale also made bodyworks. Most were coupés, but some cabriolets were made as well.
Not quite such an obvious competitor as the out and out sports cars was this 1953 Lancia Aurelia B22S. Designed by Vittorio Jano, the Lancia Aurelia was launched in 1950 and production lasted until the summer of 1958.The very first Aurelias were the B10 Berlinas. They used the first production V6 engine, a 60° design developed by Francesco de Virgilio who was, between 1943 and 1948 a Lancia engineer, and who worked under Jano. The first cars had a capacity of 1754 cc, and generated 56 hp. During production, capacity grew from 1.8 litres to 2.5 litres across six distinct Series. Prototype engines used a bore and stroke of 68 mm x 72 mm for 1569 cc; these were tested between 1946 and 1948. It was an all-alloy pushrod design with a single camshaft between the cylinder banks. A hemispherical combustion chamber and in-line valves were used. A single Solex or Weber carburettor completed the engine. Some uprated 1991 cc models were fitted with twin carburettors. At the rear was an innovative combination transaxle with the gearbox, clutch, differential, and inboard-mounted drum brakes. The front suspension was a sliding pillar design, with rear semi-trailing arms replaced by a de Dion tube in the Fourth series. The Aurelia was also first car to be fitted with radial tyres as standard equipment. Aurelia was named after Via Aurelia, a Roman road leading from Rome to France. The B21 version was released in 1951 with a larger 1991 cc 70 hp engine and a 2-door B20 GT coupé appeared that same year. It had a shorter wheelbase and a Ghia-designed, Pininfarina-built body. The same 1991 cc engine produced 75 hp in the B20. In all, 500 first series Aurelias were produced. This is generally believed to the first car to use the name GT, or Gran Turismo. The B20 GT Aurelia had a successful career in motorsport, too. In the 1951 Mille Miglia the 2-litre Aurelia, driven by Giovanni Bracco and Umberto Maglioli, finished 2nd beaten only by the Ferrari America. The same year it took first in class and 12th overall at LeMans. Modified Aurelias took the first three places on 1952's Targa Florio with Felice Bonetto as the winner and another win on Lièges-Rome-Lièges of 1953.
One of few non Italian cars in the display was this 1955 AC Bristol. AC came back to the market after the Second World War with the 2-Litre range of cars in 1947, but it was with the Ace sports car of 1953 that the company really made its reputation in the post war years. Casting around for a replacement for the ageing 2-Litre, AC took up a design by John Tojeiro that used a light ladder type tubular frame, all independent transverse leaf spring suspension, and an open two seater alloy body made using English wheeling machines, possibly inspired by the Ferrari Barchetta of the day.Early cars used AC's elderly 100 bhp two-litre overhead cam straight-six engine (first seen soon after the end of the First World War), which, according to a 1954 road test by Motor magazine, gave a top speed of 103 mph (166 km/h) and 0–60 mph in 11.4 seconds and a fuel consumption of 25.2 mpg. It was hardly a sporting engine, however, and it was felt that something more modern and powerful was required to put the modern chassis to good use. Joining the Ace in 1954 was the Aceca hard top coupé, which had an early form of hatchback rear door but used the same basic timber framed alloy body. From 1956, there was the option of Bristol Cars' two-litre 120 bhp straight-six with 3 downdraught carburettors and slick four-speed gearbox. Top speed leapt to 116 mph (187 km/h) with 0–60 mph in the nine second bracket. Overdrive was available from 1956 and front disc brakes were an option from 1957, although they were later standardised. In 1961 a new 2.6-litre (2,553 cc ) straight-six 'Ruddspeed' option was available, adapted by Ken Rudd from the unit used in the Ford Zephyr. It used three Weber or SU carburettors and either a 'Mays' or an iron cast head. This setup boosted the car's performance further, with some versions tuned to 170 bhp, providing a top speed of 130 mph (209 km/h) and 0–60 mph in 8.1 seconds. However, it was not long before Carroll Shelby drew AC's attention to the Cobra, so only 37 of the 2.6 models were made. These Ford engined models had a smaller grille which was carried over to the Cobra. With the engine set well back in the chassis, the Ace handled well and was successful in competition.
1952 Siata Dana Grand Sport 1500. Like all Siata cars, the Daina was based on heavily modified Fiat mechanics. In this case it was the Fiat 1400; the frame was reinforced and shortened while the engine was developed with new head valves, new manifolds, carburettors, and on some models, Abarth exhaust systems. The Daina could be had with a 1.4 litre,  1.5 litre or 1,817 cc overhead valve I4 engine, all of which were sourced from Fiat. It featured independent front suspension and a live rear axle with coil springs all around, as well as 4-wheel drum brakes. It could be had with either a 4-speed or 5-speed manual gearbox. From 1950 to 1958 there were approximately 50 Daina Series cars produced. However, only a few of the Series were produced after 1953. About 20 Daina Sport (coupes) are thought to have been built, only six are known to exist today. A cabriolet version called the Gran Sport comprised most of the Daina Series cars. The Gran Sport had a steel body with an aluminium bonnet designed by Stabilimenti Farina (3 all aluminium bodied Gran Sports were made as well) but when they closed in 1953, Bertone took over production with a coupe model of their own design called the "Sport". The most well known Dainas were the Gran Sport (convertible) versions used in racing, with many calling it the "little Ferrari". The car was built to take part in the International Grand Prix and the Mille Miglia. The Daina's most notable finish was at the 12 Hours of Sebring in 1952 when Dick Irish and Bob Fergus piloted a 1,500 cc Daina Gran Sport to first in class and third overall.
This is a Giannini. Giannini Automobili S.p.A. is an Italian-American tuning company and a former producer of cars. Their focus has mainly been on Fiat cars. It was founded in 1920 by brothers Attilio and Domenico Giannini. The company headquarters were in Rome. In 1922 Giannini became part of Itala's service network. Through this collaboration and the skills acquired thereby, Giannini was able to enter and win its class with an Itala Tipo 61 in the first edition of the Mille Miglia (1927), commissioned by Marquis Pellegrini. Giannini expanded their scope during the 1930s by working on smaller cars, in particular the popular Fiat 500 "Topolino". In addition to engine modifications, the brake arrangements were also changed. In 1938 Giannini broke a number of world records with a single seat racer powered by one of these 499 cc engines, equipped with a Siata head. After World War II, the Giannini brothers began building their own engines. In 1947 they built a three-cylinder direct injection diesel truck engine, called the "3A". This produced 40 PS at 3,000 rpm. It was not a huge success, only selling a few hundred. In 1948, the Giannini brothers abandoned the transport sector, preferring instead to focus on something closer to their hearts: competition. Building on over a decade's experience with Topolino engines and with the aid of young engineer Carlo Gianini (sic), who began the CNA Rondine motorcycle project, the 750 cc "G1" engine was developed. The G1 met with considerable success at the 1949 Mille Miglia. Gianini then developed the twin-cam "G2" engine which saw use in the Giaur, an acronym for Giannini and Urania. The Giaur project was codeveloped with Berardo Taraschi. Giannini engines were also used by other "Etceterinis" such as Gilco and Stanga. The G2 powered Giannini's entry in the 1950 Mille Miglia, which led to a class victory in the hands of Maggiorelli and Magior. In the 1950s Giannini opened a number of new ventures across Italy, such as Fiat sales outlets and garages. For various reasons, and in spite of good sales, the company found itself in serious financial difficulties which led to its closing in 1961. The two brothers and their children disagreed on which direction to take and thus created two new separate companies: Attilio's Costruzioni Meccaniche Giannini S.p.A. (Attilio) and Domenico's Giannini Automobili S.p.A.
There were two examples of the supremely pretty Cisitalia 202 GT here. Cisitalia was an Italian sports and racing car brand. The name "Cisitalia" derives from "Compagnia Industriale Sportiva Italia", a business conglomerate founded in Turin in 1946 and controlled by the wealthy industrialist and sportsman Piero Dusio. The Cisitalia 202 GT of 1946 is probably the best known of the firm's products. Dusio commissioned several automobiles from Europe's leading designers. He provided Pinin Farina with the chassis, on which an aluminium body was handcrafted. When first presented to the public at the Villa d'Este Gold Cup show in Como, Italy, and at the 1947 Paris Motor Show, the two-seat 202GT was a resounding success. The 202 was an aesthetic and technical achievement that transformed postwar automobile body design. The Pinin Farina design was honoured by New York's Museum of Modern Art in 1951. In the MOMA's first exhibit on automotive design, called "Eight Automobiles", the Cisitalia was displayed with seven other cars (1930 Mercedes-Benz SS tourer, 1939 Bentley saloon with coachwork by James Young, 1939 Talbot-Lago by Figoni teardrop coupé, 1951 Willys Jeep, 1937 Cord 812 Custom Beverly Sedan, 1948 MG TC, and the 1941 Lincoln Continental coupe). It is still part of the MoMA permanent collection. It was not, however, a commercial success; because it was coachbuilt, it was expensive, and only 170 were produced between 1947 and 1952. Most cars were coachbuilt by Pinin Farina with some by Vignale and Stabilimenti Farina. Building on aerodynamic studies developed for racing cars, the Cisitalia offers one of the most accomplished examples of coachwork conceived as a single shell. The hood, body, fenders, and headlights are integral to the continuously flowing surface, rather than added on. Before the Cisitalia, the prevailing approach followed by automobile designers when defining a volume and shaping the shell was to treat each part of the body as a separate, distinct element—a box to house the passengers, another for the motor, and headlights as appendages. In the Cisitalia, there are no sharp edges. Swellings and depressions maintain the overall flow and unity, creating a sense of speed.
Final example from the Lancia Aurelia family was this 1955 Aurelia B24 Spider. Produced only in 1954-1955, 240 of this stunningly attractive Pininfarina styled cars were built. They are easily distinguished from the later (and cheaper) Cabriolet model, by their panoramic front windscreen, distinctive 2 part chrome bumpers, removable side screens and soft top. 181 LHD cars with B24S ('sinistra') designation; the remaining 59 cars were right-hand drive. All were equipped with 2451 cc engines. The dashboard features one prominent and two small dials. They are worth a big multiple more than any other Aurelia model these days.
Final duo of cars were Moretti models, a 1953 Moretti 750 Sport and a 1954 Moretti 750 Gran Sport Michelotti. In 1925, Giovanni Moretti founded the Moretti Motor Company so he could design and build motorcycles himself, as well as in conjunction with other companies. During the late 1920s and early 1930s, Giovanni began to dabble in the design and production of microcars. During World War II, he manufactured various commercial vehicles, most notably a range of small electric trucks. Following the war, in 1946, Moretti moved to the production of conventional cars. The first conventional car built by Moretti Motors was the Cita. Shortly afterwards, Moretti released the 600 and then, in 1953, the 750. These cars were available in various iterations, including taxis, berlinas, coupés, and single-seat race cars.
Tucked away at the far end of the upper floor was an area dedicated to some Classic Mercedes.
Largest and most imposing of them was an "Adenauer" 300. The Mercedes-Benz W186 model 300 was a four-door luxury tourer produced by Mercedes-Benz between 1951 and 1957. The company's largest and most prestigious automobile, it was the Maybach of its day, elegant, powerful, exclusive, and expensive. Three versions were produced in succession, known informally as the 300a (or simply 300), 300b, and 300c. An enlarged "300d" variant built on the W189 chassis succeeded it in late 1957. Also referred to as a "Type 300", the W186 was equal in features and price but superior in performance to the rival Rolls-Royce Silver Cloud. Favoured by statesmen and business leaders, it offered options such as a glass partition, VHF mobile telephone, and dictation machine. All but hand-built as the company flagship, the W186 is often identified as an Adenauer after Konrad Adenauer, the first Chancellor of the Federal Republic of Germany, who employed six custom cabriolet, hardtop saloon, and landaulet versions of the W186 and its successor W189 during his 1949-1963 tenure. Among the custom features in these "parade cars" were writing desks, sirens, curtains, dividing partitions, sunroofs, and half-roof "landaulet" configurations. Technologically advanced, the 300 was regarded as a "driver's" car, sharing numerous design innovations and mechanical components with the iconic Mercedes-Benz 300 SL "Gullwing", including engine, suspension, and chassis. The four door 300 (W186) was introduced at the Frankfurt Motor Show in April 1951 and entered series production in November 1951. It had no "a" designation, which was informally added, along with the "b" and "c", by later enthusiasts seeking to distinguish the three W186 generations. Available as both a saloon and cabriolet, it featured graceful modernist bodywork atop Mercedes' proven X-frame chassis. An all new 3.0 L (2996 cc/182 in³) overhead cam, aluminium head M186 straight-6 was coupled to a 4-speed all-synchromesh manual gearbox. Twin downdraft Solex carburettors and an innovative diagonal head-to-block joint that allowed for oversized intake and exhaust valves produced 115 PS at a 6.4:1 compression ratio. Designed to give reliable service under prolonged hard use, the engine featured deep water jackets, thermostatically controlled oil cooling, copper-lead bearings and a hardened crankshaft. With no natural cruising speed, the car could sustain anything up to its maximum speed all day, road conditions permitting. The combination of a rigid X-shaped ovoid steel tube frame and four-wheel independent suspension provided surprisingly nimble handling. Double wishbones, coil springs, and a stabilizer bar were used up front and Mercedes' typical double coil spring swing axle in rear. An innovative dashboard-operated rear load-leveling suspension engaged a torsion bar to increase stiffness by one-third when needed, and a pedal-operated central lubrication system kept friction points silent. Brakes were hydraulic drum all around, steering worm-and-sector, replaced in 1952 by recirculating ball. A total of 6,214 saloons and 591 Cabriolet Ds, retroactively referred to as the "300a" series, were produced through September, 1955, including a brief 300b run incorporating elements of the 300c's partial facelift prior to its debut. The 300b (W186) was introduced in March 1954, adding vacuum assisted power brakes and front door vent windows. Engine power was upped to 125 PS via different Solex carburetors and an increased compression ratio of 7.5:1. The 300c (W186) made its debut in September, 1955, adding a larger rear window and optional 3-speed automatic transmission. It was priced at $10,864 in the United States (DM 22,000 on the home market), with the convertible almost a third more at $14,231 (DM 24,700). A special Innenlenker limousine (also called the Type 300 Lang) with on a 20 cm (7.9 in) longer wheelbase became available from July, 1956, priced at DM 25,000. A total of 1,432 300c saloons were produced through July, 1957. Only 51 300c series Cabriolet D's were built through June 1956, when the model was dropped.
Joining it was this 300S, known by is development code of W188, a two-door luxury sports tourer produced between 1951 and 1958. The company's most expensive and exclusive automobiles, the elegant, hand-built 300 S (1951-1954) and its successor 300 Sc (1955-1958) were the pinnacle of the Mercedes line of their era. The pair's conservative styling belied their technological advances, sharing numerous design innovations and mechanical components with the iconic Mercedes-Benz 300 SL "Gullwing", including engine, suspension, and chassis. The hand-built two-door 300 S (W188) was Mercedes-Benz's top-end vehicle on its introduction at the Paris Salon in October 1951. It was available as a 2-seat roadster, 2+2 coupé, and cabriolet (with landau bars, officially Cabriolet A). Although mechanically similar to the contemporary 300 (W186), the additional craftsmanship, visual elegance, and 50% higher price tag elevated the W188 to the apex of its era's luxury cars. The 300 S was fitted with a high-performance version of the W186's 2996 cc overhead cam, aluminium head M189 straight-6. Designed to give reliable service under prolonged hard use, the engine featured deep water jackets, an innovative diagonal head-to-block joint that allowed for oversized intake and exhaust valves, thermostatically controlled oil cooling, copper-lead bearings, and a hardened crankshaft. Triple Solex carburettors and 7.8:1 compression and raised maximum output to 150 hp at 5000 rpm. From July 1952 to August 1955, a total of 216 Coupés, 203 Cabriolet As, and 141 Roadsters were produced. The 300 SC appeared in 1955, featuring upgrades to both its engine and suspension. Following the high-performance 300SL Gullwing's lead a year earlier, the SC's inline-six received a version of its mechanical direct fuel-injection, which delivered a slightly detuned 173 hp at 5400 rpm. Mercedes-Benz's "low-pivot" independent suspension was fitted in the rear. Only a pair of chrome strips on either side of the hood visually distinguished it from its precursor. Prices rose to DM 36,500, and 98 Coupés, 49 Cabriolet As, and 53 Roadsters were built through April 1958.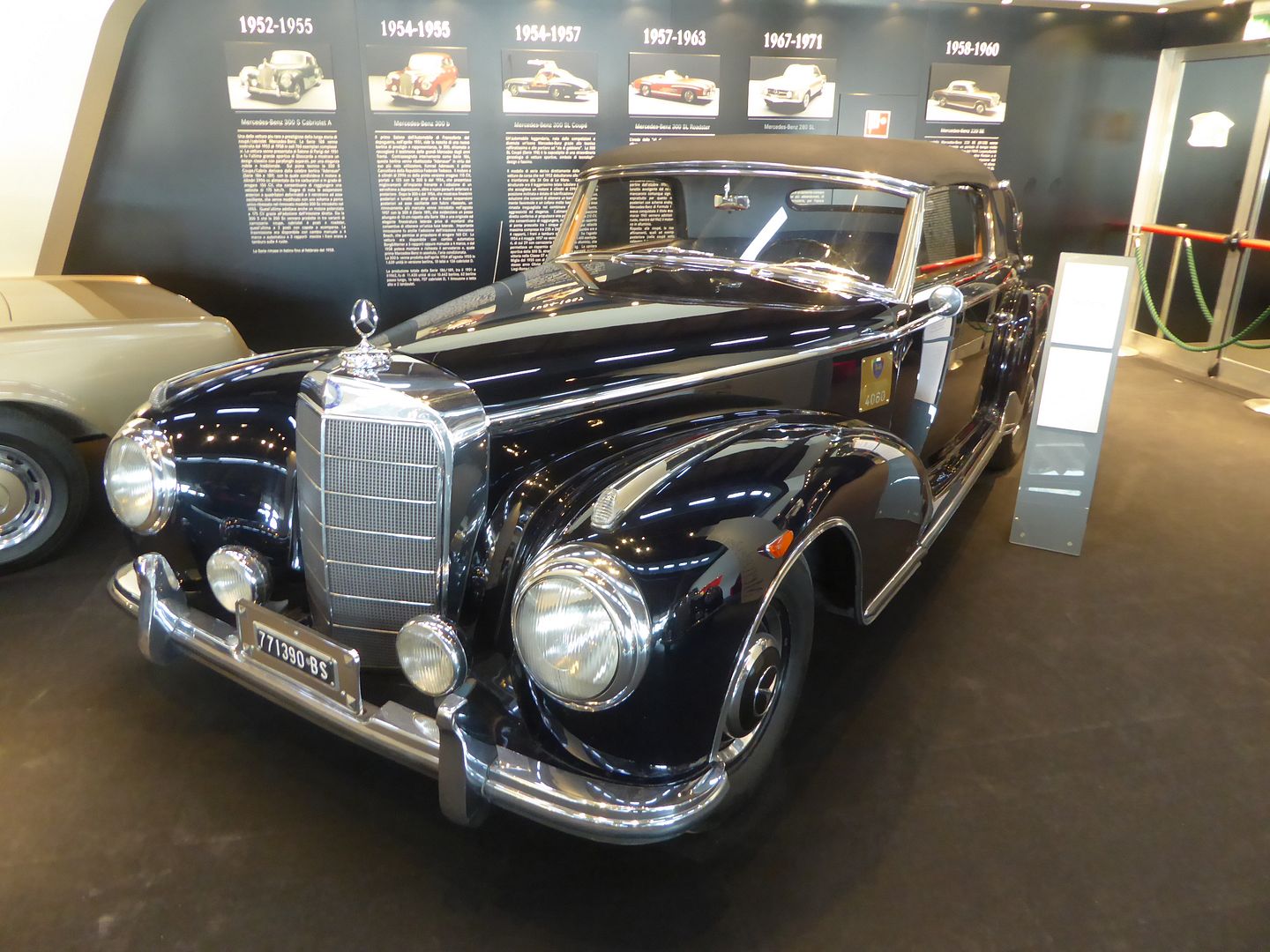 The most valuable of the cars here was this fabulous 300SL. Known under development as the W198, this was the first iteration of the SL-Class grand tourer and the fastest production car of its day. Introduced in 1954 as a two-seat coupé with distinctive gull-wing doors, it was later offered as an open roadster. Built by Daimler-Benz AG, the direct fuel injected production model was based on the company's highly successful yet somewhat less powerful carburettor overhead cam straight 6 1952 racer, the W194. The idea of a toned-down Grand Prix car tailored to affluent performance enthusiasts in the booming post-war American market was suggested by Max Hoffman. Mercedes accepted the gamble and the new 300 SL – 300 for its 3.0 litre engine displacement and SL for Sport Leicht (Sport Light) – was introduced at the 1954 New York Auto Show rather than the Frankfurt or Geneva gatherings company models made their usual debuts. Immediately successful and today iconic, the 300 SL stood alone with its distinctive doors, first-ever production fuel injection, and world's fastest top speed. Even with the upward opening doors, the 300 SL had an unusually high sill, making entry and exit from the car's cockpit problematic. A steering wheel with a tilt-away column was added to improve driver access. The 300 SL's main body was steel, with aluminium bonnet, doors and boot lid. It could also be ordered with an 80 kg (180 lb) saving all-aluminium outer skin at tremendous added cost; just 29 were made. Like the W194, the 300 SL borrowed its 3.0 litre overhead cam straight-6 from the regular four-door 300 (W186 "Adenauer") luxury tourer introduced in 1951. Featuring an innovative diagonal aluminium head that allowed for larger intake and exhaust valves, it was canted to the right at forty-five-degrees to fit under the SL's considerably lower bonnet line. In place of the W194's triple two-barrel Solex carburettors, a groundbreaking Bosch mechanical direct fuel injection was installed, boosting power almost 25% over the Grand Prix car's. Derived from the DB 601 V12 used on the Messerschmitt Bf 109E fighter of World War II, it raised output from 175 hp to 215 hp, almost double that of the original Type 300 sedan's 115 hp. An optional, even more powerful version, with radical camshaft developed 240 hp @ 6100 rpm and a maximum torque of 217 lb⋅ft @ 4800 rpm, but was rough for city use. The result was a top speed of up to 260 km/h (160 mph) depending on gear ratio and drag, making the 300 SL the fastest production car of its time. However, unlike today's electrically powered fuel injection systems, the 300 SL's mechanical fuel pump would continue to inject gasoline into the engine during the interval between shutting off the ignition and the engine's coming to a stop; this unburned gasoline washed lubricating oil from the cylinder walls, which not only left them unprotected in affected areas during start-up but would dilute the engine's entire oil supply if the car was not driven hard or long enough to reach a sufficient temperature to evaporate the fuel out of the oil. Exacerbating the problem was the engine's large racing-oriented oil cooler and enormous 10 litre oil capacity, which virtually guaranteed the oil would not get hot enough. In practice, many owners would block off airflow through the oil cooler and stick rigidly to the appropriately low 1,000 mile recommended oil change interval. An auxiliary fuel pump provided additional fuel for extended high speed operation or cold starts; overuse would also lead to dilution of the oil., Clutch operation was initially very heavy, remedied by an improved clutch arm helper spring which reduced pedal force. From March 1963 to the end of production later that year, a light alloy crankcase was used on a total of 209 vehicles. Aerodynamics played an important role in the car's speed, with Mercedes-Benz engineers placing horizontal "eyebrows" over the wheel openings to reduce drag. Unlike many cars of the 1950s, steering was relatively precise and the four-wheel independent suspension allowed for a reasonably comfortable ride and markedly better overall handling. However, the rear swing axle, jointed only at the differential, not at the wheels themselves, could be treacherous at high speeds or on imperfect roads due to extreme changes in camber. The enormous fuel tank capacity also caused a considerable difference in handling depending on the quantity of fuel on board. More than 80% of the vehicle's total production of approximately 1400 units were sold in the US, making the Gullwing the first Mercedes-Benz widely successful outside its home market and thoroughly validating Hoffman's prediction. The 300 SL is credited with changing the company's image in America from a manufacturer of solid but staid luxury automobiles to one capable of rendering high-performance sports cars. It should be noted initial sales were sluggish due to many things, of which the price was one. Initial prices were about $6,400, a new Chevrolet Bel-Air could be purchased for $1,700 in the same year. Then there were few mechanics, even at the dealers, who understood the fuel injection system enough to do repairs. Nonetheless, 1400 were built by 1957, at which point Mercedes introduced a roadster version which was broadly similar, but with conventional doors. It was produced until 1963, and achieved sales of 1858 units.
Most recent of the quartet was the 280 SL, sometimes referred to as the "Pagoda" series, and officially known as the  W113. By 1955, Mercedes-Benz Technical Director Prof. Fritz Nallinger and his team held no illusions regarding the 190 SL's lack of performance, while the high price tag of the legendary 300 SL supercar kept it elusive for all but the most affluent buyers. Thus Mercedes-Benz started evolving the 190 SL on a new platform, model code W127, with a fuel-injected 2.2 litre M127 inline-six engine, internally denoted as 220SL. Encouraged by positive test results, Nallinger proposed that the 220SL be placed in the Mercedes-Benz program, with production commencing in July 1957. However, while technical difficulties kept postponing the production start of the W127, the emerging new S-Class W112 platform introduced novel body manufacturing technology altogether. So in 1960, Nallinger eventually proposed to develop a completely new 220SL design, based on the "fintail" W 111 sedan platform with its chassis shortened by 11.8 in, and technology from the W112. This led to the W113 platform, with an improved fuel-injected 2.3 litre M127 inline-six engine and the distinctive "pagoda" hardtop roof, designated as 230 SL. The 230 SL made its debut at the prestigious Geneva Motor Show in March 1963, where Nallinger introduced it as follows: "It was our aim to create a very safe and fast sports car with high performance, which despite its sports characteristics, provides a very high degree of travelling comfort". The W113 was the first sports car with a "safety body," based on Bela Barényi's extensive work on vehicle safety: It had a rigid passenger cell and designated crumple zones with impact-absorbing front and rear sections built into the vehicle structure. The interior was "rounded," with all hard corners and edges removed, as in the W111 sedan. Production of the 230 SL commenced in June 1963 and ended on 5 January 1967. Its chassis was based on the W 111 sedan platform, with a reduced wheelbase by 11.8 in, recirculating ball steering (with optional power steering), double wishbone front suspension and an independent single-joint, low-pivot swing rear-axle with transverse compensator spring. The dual-circuit brake system had front disc brakes and power-assisted rear drum brakes. The 230 SL was offered with a 4-speed manual transmission, or an optional, very responsive fluid coupled (no torque converter) 4-speed automatic transmission, which was popular for US models. From May 1966, the ZF S5-20 5-speed manual transmission was available as an additional option, which was particularly popular in Italy. The 2,308 cc M127.II inline-six engine with 150 hp and 145 lb/ft torque was based on Mercedes-Benz' venerable M180 inline-six with four main bearings and mechanical Bosch multi-port fuel injection. Mercedes-Benz made a number of modifications to boost its power, including increasing displacement from 2,197 cc, and using a completely new cylinder head with a higher compression ratio (9.3 vs. 8.7), enlarged valves and a modified camshaft. A fuel injection pump with six plungers instead of two was fitted, which allowed placing the nozzles in the cylinder head and "shooting" the fuel through the intake manifold and open valves directly into the combustion chambers. An optional oil-water heat exchanger was also available. Of the 19,831 230 SLs produced, less than a quarter were sold in the US. Looking identical, the 250 SL was introduced at the 1967 Geneva Motor Show. Production had already commenced in December 1966 and ended in January 1968. The short one-year production run makes the 250 SL the rarest of the W113 series cars. The 250 SL retained the stiffer suspension and sportier feel of the early SLs, but provided improved agility with a new engine and rear disc brakes. Range also improved with increased fuel tank capacity from 65 litres to 82. Like its predecessor, the 250 SL was offered with a 4-speed automatic transmission, and 4-speed or ZF 5-speed manual transmissions.  For the first time, an optional limited slip differential was also available. The main change was the use of the 2,496 cc M129.II engine with a larger stroke, increased valve ports, and seven main bearings instead of four. The nominal maximum power remained unchanged at 150 hp, but torque improved from 145 lb/ft to 159 lb/ft. Resiliency also improved with a new cooling water tank ("round top") with increased capacity and a standard oil-water heat exchanger. The 250 SL also marked the introduction of a 2+2 body style, the so-called "California Coupé", which had only the removable hardtop and no soft-top: a small fold-down rear bench seat replaced the soft-top well between passenger compartment and boot. It is estimated that only 10% of the 250SLs that were brought into America were California Coupes. Of the 5,196 250 SLs produced, more than a third were sold in the US.The 280 SL was introduced in December 1967 and continued in production through 23 February 1971, when the W 113 was replaced by its successor, the entirely new and substantially heavier R107 350 SL. The main change was an upgrade to the 2,778 cc M130 engine with 170 hp and 180 lb/ft, which finally gave the W 113 adequate power. The performance improvement was achieved by increasing bore by 4.5 mm (0.2 in), which stretched the limits of the M180 block, and required pairwise cylinder casts without cooling water passages. This mandated an oil-cooler, which was fitted vertically next to the radiator. Each engine was now bench-tested for two hours prior to being fitted, so their power specification was guaranteed at last. The M130 marked the final evolution of Mercedes-Benz' venerable SOHC M180 inline-six, before it was superseded by the entirely new DOHC M110 inline-six introduced with R107 1974 European 280 SL models. For some time, it was also used in the W 109 300 S-Class, where it retired the expensive 3 liter M189 alloy inline-six. Over the years, the W 113 evolved from a sports car into a comfortable grand tourer, and US models were by then usually equipped with the 4-speed automatic transmission and air conditioning. Manual transmission models came with the standard 4-speed or the optional ZF 5-speed, which was ordered only 882 times and thus is a highly sought-after original option today. In Europe, manual transmissions without air conditioning were still the predominant choice. Of the 23,885 280 SLs produced, more than half were sold in the US.
In addition to the main displays, there is a huge archive kept here, containing around 130,000 documents that Reno Castagneto and his staff held at the Brescia Automobile Club between 1927 and 1957. The Archives are an excellent resource for researching and studying classic car races as they contain all sorts of materials pertaining to the organisation of the races, including competitor registration cards, correspondence with the race teams and car manufacturers, standings, starting grids, tables, press clippings (including contemporary articles, newspapers and magazines) and the famous "Numeri Unici" yearbooks. Everything has been scanned and digitised so that the digital archives at the Mille Miglia can be explored via a search engine.
For those who are interested in motor racing history, this is a fascinating place, and is highly recommended. More details about how to visit are on the museums own website: https://www.museomillemiglia.it/en/