America really does not do Estate Cars, or Station Wagons, as they typically call them, and it's a long time since they have. Their needs for a vehicle that is more accommodating of people and luggage came to be satisfied by what they call the MiniVan, and Europeans know of as the MPV, from the mid 80s onwards and then a decade or so later by the SUV and Crossover. Whist these genres have also seen a huge increase in popularity in Europe, there is still plenty of interest in the traditional Estate Car – or whatever else the marketing types decide to call it, names as Touring, SportsWagon, Avant, Kombi, Variant – with sales of this body style sometimes exceeding those of the saloon car from which the body is derived. Their once utilitarian roots and execution have been replaced by luxury trim and an image that is as much about lifestyle as it is about cargo capacity and versatility. But in America, most of these vehicles are forbidden fruit, cars that Americans can read about in online sources, but not actually buy. BMW don't sell the Touring versions of the 3 and 5 Series, and have not done so for years, Audi only sell the AllRoad versions of the A4 and A6 and not the Avant, and Mercedes deny American buyers their Estate versions of the C and E Class. There are exceptions, and one of them is Volvo, who have achieved steady but not spectacular sales from their V-badged cars over the years, though even they canned the V70 some years before it was obsoleted in Europe, focusing solely on the XC70 version instead. Volvo is not a volume brand, even in the premium sector of the market in the US, but it does enjoy a steady following, so it should perhaps not surprise me that when the latest batch of their cars appeared in the Hertz fleet in Los Angeles and Phoenix, it should include not just the S80 Saloon, but also some V60 models. Having sampled the S80 on a previous trip, I decided to seek out one of the slightly smaller V60 models this time around, and managed to find an Ice White one that was available to rent. Although California plated in the closing weeks of 2016, by the time I got to it in early April, some 4 months later, it had already covered 18.500 miles, which seemed a lot. Closer inspection revealed that it had actually been built in September 2015, as a 2016 model year car, so I am guessing that it had seen service elsewhere, registered in another of the 50 States and on arrival in California, had been re-plated, just as had proved to be the case with the S80s which arrived after the model had ceased production.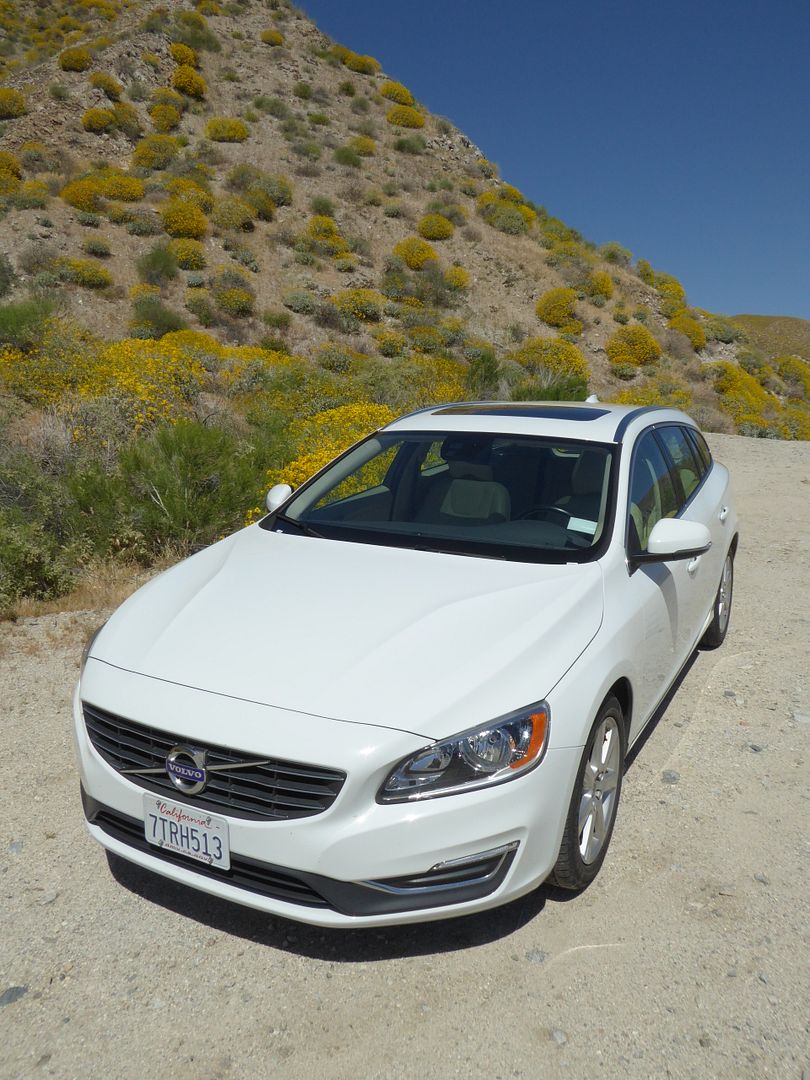 Don't be fooled by the T5 badge on the back of the V60 in to thinking that there will be a 5 cylinder engine under the bonnet. That changed in Europe a while back, when Volvo standardised on 4 cylinder units across their entire range, with the number simply being a relative indication of power, and T meaning petrol and D for diesel. It applies to US market cars as well, so this T5 was a 4 cylinder, developing 240 bhp and 258 lb/ft of torque at a very low 1500 rpm. Whilst many will rue the passing of the old 5 cylinder engines, there is no denying that this later unit  goes very well, feeling plenty powerful enough and thanks to that torque and where the maximum is developed, very low in the rev range, lots of mid-range acceleration. Just on occasion there was the slight feeling of turbo-lag, but once this was overcome, the engine pulled strongly, and delivered good performance, and with a rather more pleasing sound track than you usually get from a modern turbo 4. The engine is also very smooth, again smoother than a lot of 4 cylinders. So smooth, that I did have another look under the bonnet to check that this was indeed a 4 cylinder unit, and it is. I note that I had exactly the same thoughts when driving the S80 and had to check that one, too. It is, of course, the same engine in both cars. As was the case there, in the V60, it is coupled to an 8 speed automatic, which did a great job at always being in the optimum ratio for what you needed, without you ever being aware that it was doing anything. The reason for moving to modern 4 cylinder units was a quest for more efficiency, both lower emissions (not that America cares about these in the same way as the fiscal regimes of Europe do) and fuel economy. I think Volvo can declare success here. I drove the V60 for 287 miles and it needed 9.31 gallons to fill it up, which calculates to be 30.82 mpg US or 36.83 Imperial, a very impressive figure indeed for a petrol unit of this potency. Granted that much of that test mileage was a steady speed on the freeway, but even so, this has to rank as good, and probably not a figure that the Stop/Start system would have augmented very much, though it does have one of these, and I did not disable it (as most Americans do!). It cut in and out very smoothly and quickly on those occasions when I was crawling in the inevitable Los Angeles traffic queues.
I also give very good marks to the V60 for its combination of steering, road-holding, handling, grip and ride. Volvo seem to have found an apposite combination here, which means that the car is very good to drive, without feeling the need to be a slightly raw sports sedan (or estate!). There is a nice consistent weighting to the steering, which applies whether you are straight ahead or turning the wheel, the car corners well, with minimal roll, and plenty of grip evident. It will eventually understeer, as you would expect from a powerful front-driver, but in ordinary motoring, you are not going to rue the fact that the front wheels are the steered ones. There were 215/50 R17 wheels fitted, slightly higher profile and smaller in diameter than you might find on the German trio of rivals, and no doubt these helped to give the Volvo a nicely compliant ride. It all added up to a car which whilst being good to drive was also very comfortable and relaxing. It stops well, too, with powerful brakes. There is a button in the dash to the left of the wheel for the parking brake. I had no issues with visibility. Although there is no rear-view camera, judging the back of the V60 was not hard. There is a good field of view from the door mirrors.
Volvo do interiors very well. Second only, perhaps to Audi, in terms of design, choice of materials and overall quality, and they have found their own style which is quite distinctive from all other brands. The interior of the V60 is the same as the S60, and has barely changed since the introduction of the cars back in 2010. You could well argue that this is because it did not need to. The upper surfaces of the dash and door casings of the test car were black, and the lower ones a sort of oatmeal colour. Sadly, the exigencies of rental car life had made this look a bit grubby, though I am sure it would clean up easily enough. There is a grained metal inlay on the centre console and judicious use is made of some rather classy matt chrome finishers on the steering wheel and around the instruments and gearlever and the steering wheel is a two tone, with an outer dark rim of leather and inner one which matches the lighter oatmeal trim. The instruments are all grouped together under a curved binnacle. There is a single large dial, which is used for the rev counter, with a digital speed reading being presented in the middle of this. To either side of this, at the extremities of the cluster are vertically positioned displays, that on the left being for fuel level and the one on the right to show the selected gear. Between these outlying dials and the rev counter are another pair of displays, and you can cycle through the options for these by rotating the inset thumbwheel on the left hand column stalk. The one on the right shows "power", but the digital reading at the bottom changes through various trip computer readings such as range and fuel consumption. The background colours to this inner pair of dials change as you cycle through the options. All the gauges are very crisply marked and neat looking. There are two column stalks, for indicators and wipers. Lights function from a small rotary dial on the dash to the left of the wheel. Repeater functions for the audio system are on the steering wheel hub as is the cruise control. To the right of the wheel, there is the Start Engine button and the slot where you put the key. The middle of the dash starts with a recess for the colour display screen for the infotainment system and then has a pair of central air vents before it starts to slope down obliquely towards the centre console, with a unit which combines the buttons for the audio and climate control all in a single group. A human form pictogram is at the centre, and parts of this are selected to direct air, and there is a numeric telephone-style keypad, as well as knobs for audio on/of and tuning. Although there is a lot of function in this small area, it is very easy to use. This part of the dash then slopes down in a floating console, to give oddments space behind it, as has become a Volvo tradition.
The seating in the test car was leather, something that you get as part of the Premier package. For the driver, not only is it electrically 8-way adjustable (height and angle, as well as fore/aft and backrest), but there are 3 memory settings available. The front passenger gets electric adjustment, too, but no memory. The steering wheel has an in/out capability as well as an up/down. Even with the sunroof that was fitted to the test car, there was ample headroom, though I do set the seat pretty low compared to some people. Needless to say, the seat itself proved supremely comfortable, something which has been a Volvo trademark for years.
Even the European press have commented about it, but the Americans make a big thing about how the V60 is not a Big Thing, saying that it is too small inside. Certainly as cars have grown with every generation, there is a bit less space in every direction in the rear of this than in an equivalent 2017 model A4 or 3 Series, but there is still no particular shortage of space. Leg room is plentiful with the front seats set well forward and adequate even if they are well back. Three adults across the rear bench would probably be a bit tight, but perfectly manageable and there is ample headroom. There is a large drop down central armrest with a pair of cupholders in the upper surface. Rear seat occupants get their own air vents in the B pillars and there are both bins on the doors and map pockets on the seat backs for their odds and ends.
The V60 is all about extra versatility compared to the S60 saloon. Gone are the days of the very boxy Volvo Estate models, so with the rear seats erect, there is a good amount of luggage space, but it is not cavernous as that elegant sloping rear does limit the space of bigger items that could fit in, and it is not that deep especially if you keep the load cover in situ. There is some space under the boot floor for bits and pieces. More room can be created by dropping the asymmetrically split rear seat backrests down, and when you do, they fold flat with the boot area to create a much longer load platform. It is all nicely carpeted, and there are plenty of hooks to allow you to secure items. Inside the cabin, there is a good sized glove box, a cubby under the central armrest, bins on all four doors and there is that space behind the floating console, though it is always a bit awkward to reach for the driver. There are a pair of central lidded cupholders.
Volvo do not sell the V60, or indeed any of their cars, in the US with a diesel engine, so you only get petrol powerful plants. For the V60, there is a choice of two engines, the 240 bhp T5 as tested here and the more potent T6 which adds a supercharger to the turbo to get more power. There are a total of six trims: T5, T5 Premier, T5 Platinum, T5 Dynamic, T6 R-Design, and T6 Polestar. The first four trims come standard with front-wheel drive, though all-wheel drive is available for $2,000 in models that don't come standard with it. There's also the V60 Cross Country. This version is similar to the regular V60, but the Cross Country rides higher and has lower-body panelling that makes it more rugged than the standard model. This is preferable if you plan on traversing rougher terrain, which may kick up debris that could scratch the paint. The Volvo V60 starts at $36,150, which brings you an eight-speed automatic transmission and front-wheel drive. On the inside, it includes features like dual-zone automatic climate control, power-adjustable front seats, and a power moonroof. The Sensus Connect infotainment system gives you a 7-inch touch screen, USB ports, satellite radio, HD Radio, and Bluetooth for streaming audio and phone calls. All V60s come with low-speed forward collision warning with automatic braking. The V60 T5 Premier adds features like leather upholstery and navigation, for an extra $1,950. Next up is the T5 Platinum, whose standard spec include remote start, a rearview camera, and a grocery bag holder. This trim also comes with plenty of advanced safety features, like adaptive cruise control, lane departure warning, all-speed forward collision warning with automatic braking, and a driver attentiveness monitor. You can also get the V60 Cross Country in the Platinum trim, starting at $45,550. Final model with the 240 bhp T5 engine is the V60 T5 Dynamic, which builds on the Premier trim, adding sport leather seats, paddle shifters, and front and rear styling enhancements, including black roof rails and side trim. For $48,950, the T6 AWD R-Design trim replaces the base engine with a twin-charged four-cylinder engine, meaning it is both supercharged and turbocharged, delivering 302 bhp. It also comes with all-wheel drive, steering wheel-mounted paddle shifters, leather upholstery, navigation, and a 12-speaker Harman Kardon audio system. Top of the range is the V60 T6 Polestar. This performance-oriented model offers a more powerful 360 bhp twin-charged four-cylinder engine, a wide range of suspension upgrades which included special dampers made by Öhlins, 6-piston brakes by Brembo and new anti-rill bars. Cosmetic changes include custom 20″ alloy wheels with performance tyres, a different front and rear splitter and contrasting coloured interior stitching. When first introduced the only available paint colours were black metallic or "Rebel Blue", later white and silver metallic colours were added. Across the range, there are various Options packages available. One which will appeal to those in colder climes will add heated seats in the front and back, heated windscreen and washer nozzles, and a heated steering wheel for $1,550. For safety features like blind spot monitoring, front and rear park assist, rear cross traffic alert, and lane departure warning, you should get the BLIS package for $925. Add parallel parking assist onto that package for an additional $500.
The V60 has been on the market for longer than all its competitors, and is indeed due for replacement in the next few months. However, despite the views of the US reviewers who seem to think that it is bested by the Audi AllRoad for a lot more money or the much cheaper and less powerful Subaru Outback (which barely registers sales in Europe, let's be honest!), I still think it has much to commend it. Indeed, you could argue that the current V60, in America, does sit in a market segment by itself. With no rivals from Germany, unlike the case in Europe, and the other pretenders to the compact executive crown such as the Jaguar XE, Alfa Giulia, Infiniti Q50 and Lexus IS, all being saloon only, the fact that V60 does not sell that strongly in America is more of a comment on the market's preference for Crossovers rather than any particular slight on this Volvo. Indeed, Volvo's own XC60 finds far more buyers in America thus proving the point. Whether buyers really need the extra bulk of a Crossover is debatable, but also a somewhat academic point, as they have largely convinced themselves that they do. As such, the V60 is and will doubtless remain something of a niche choice. But it is a good niche and a good choice. I liked it a lot.