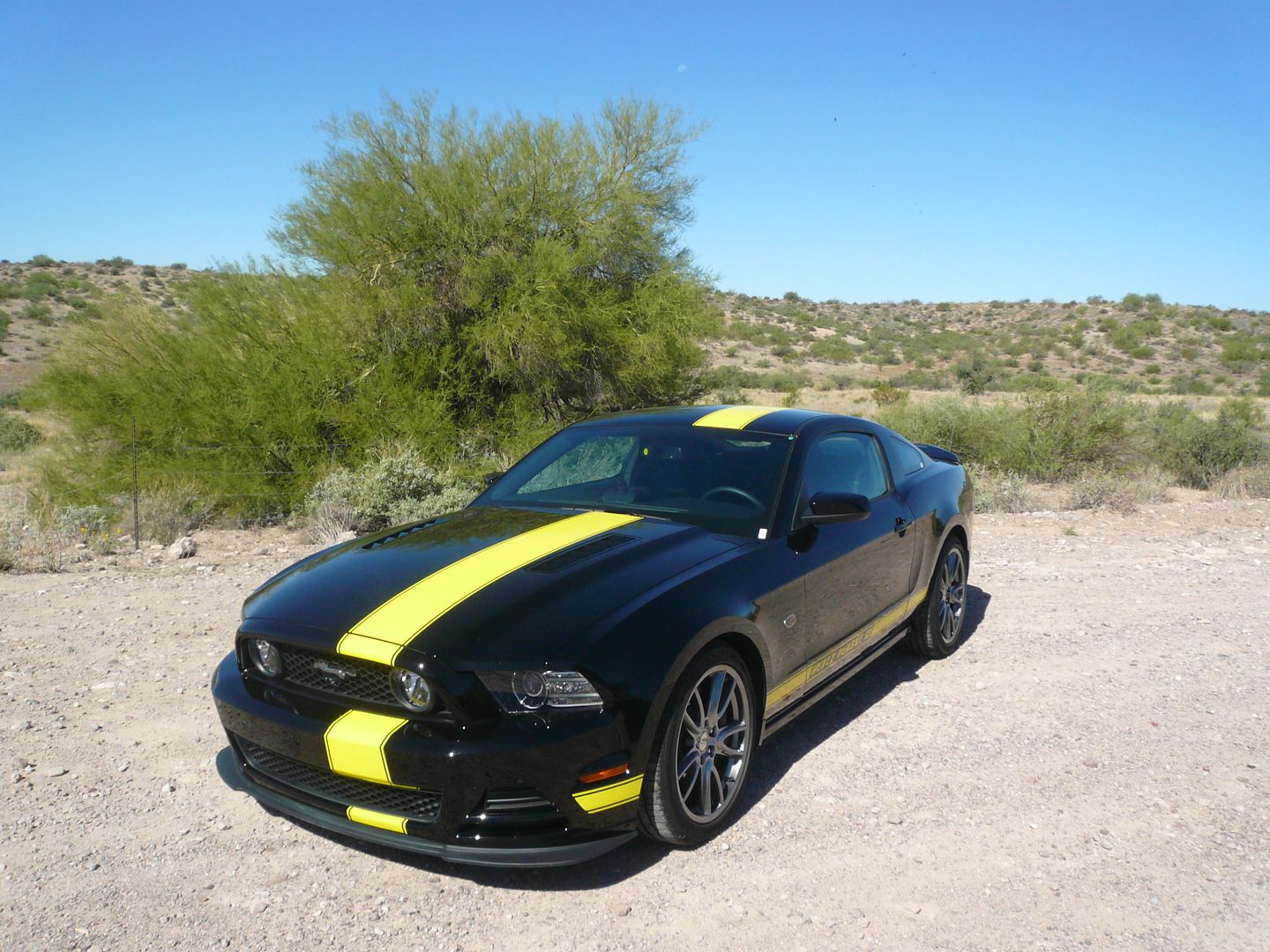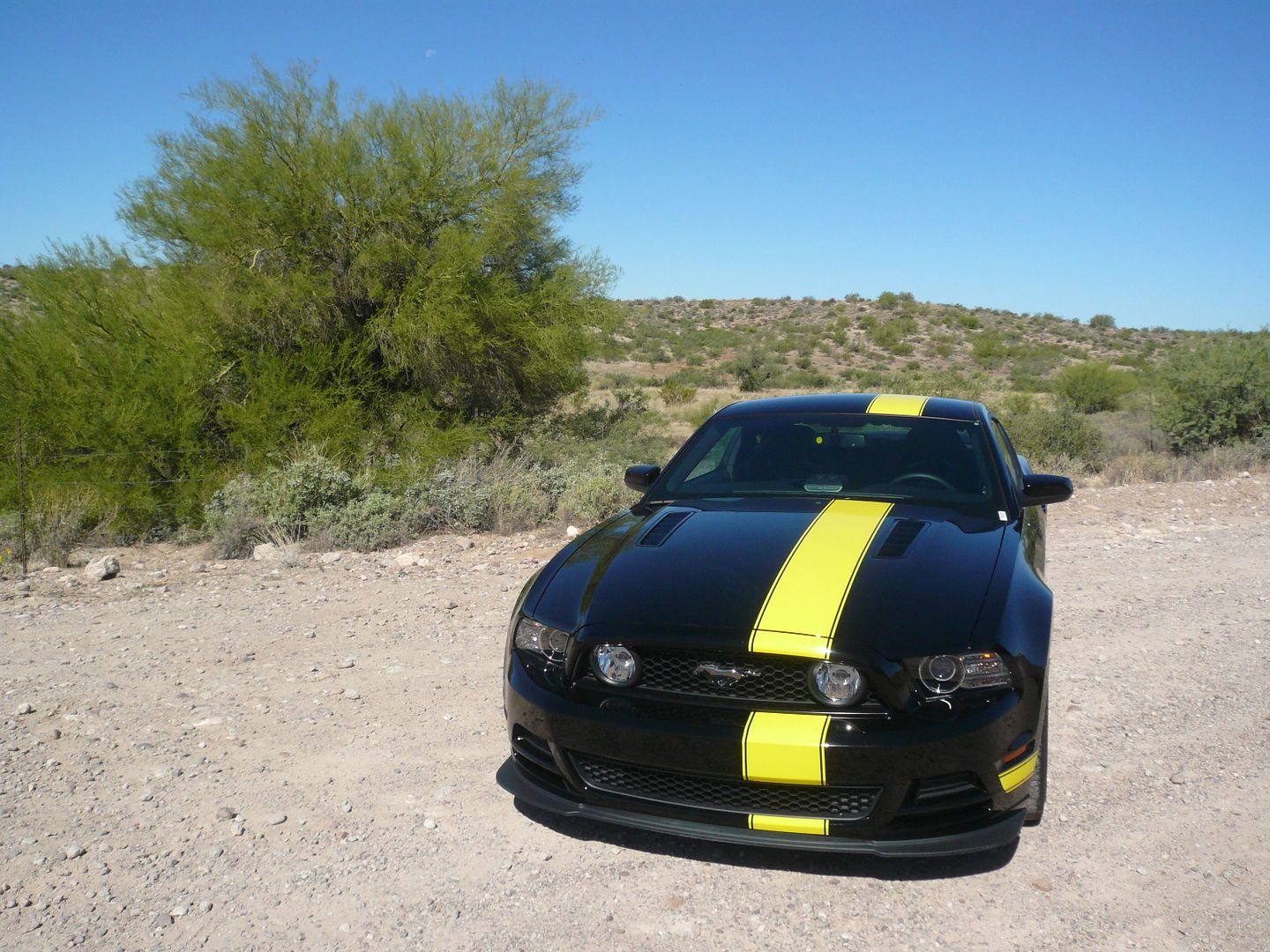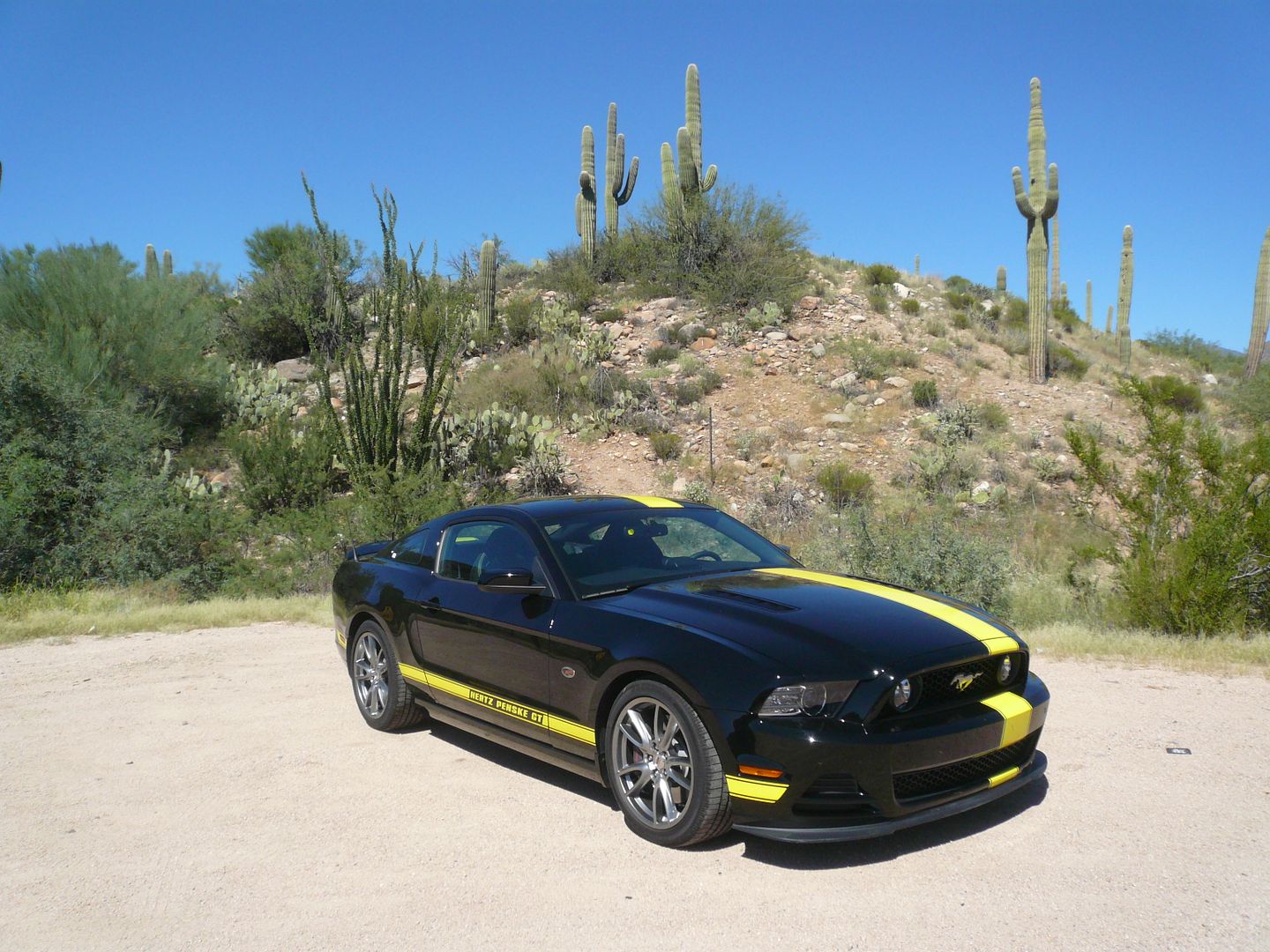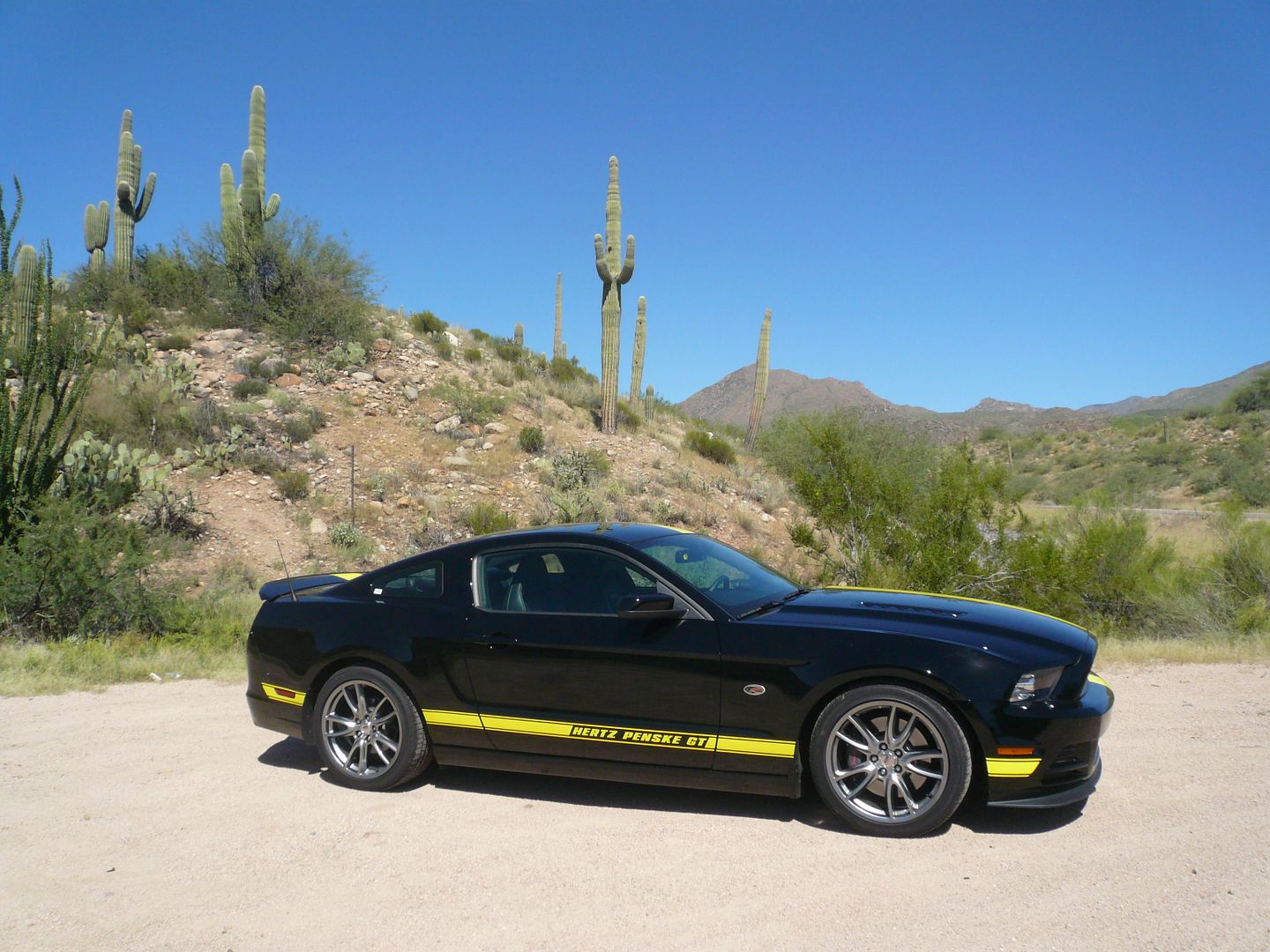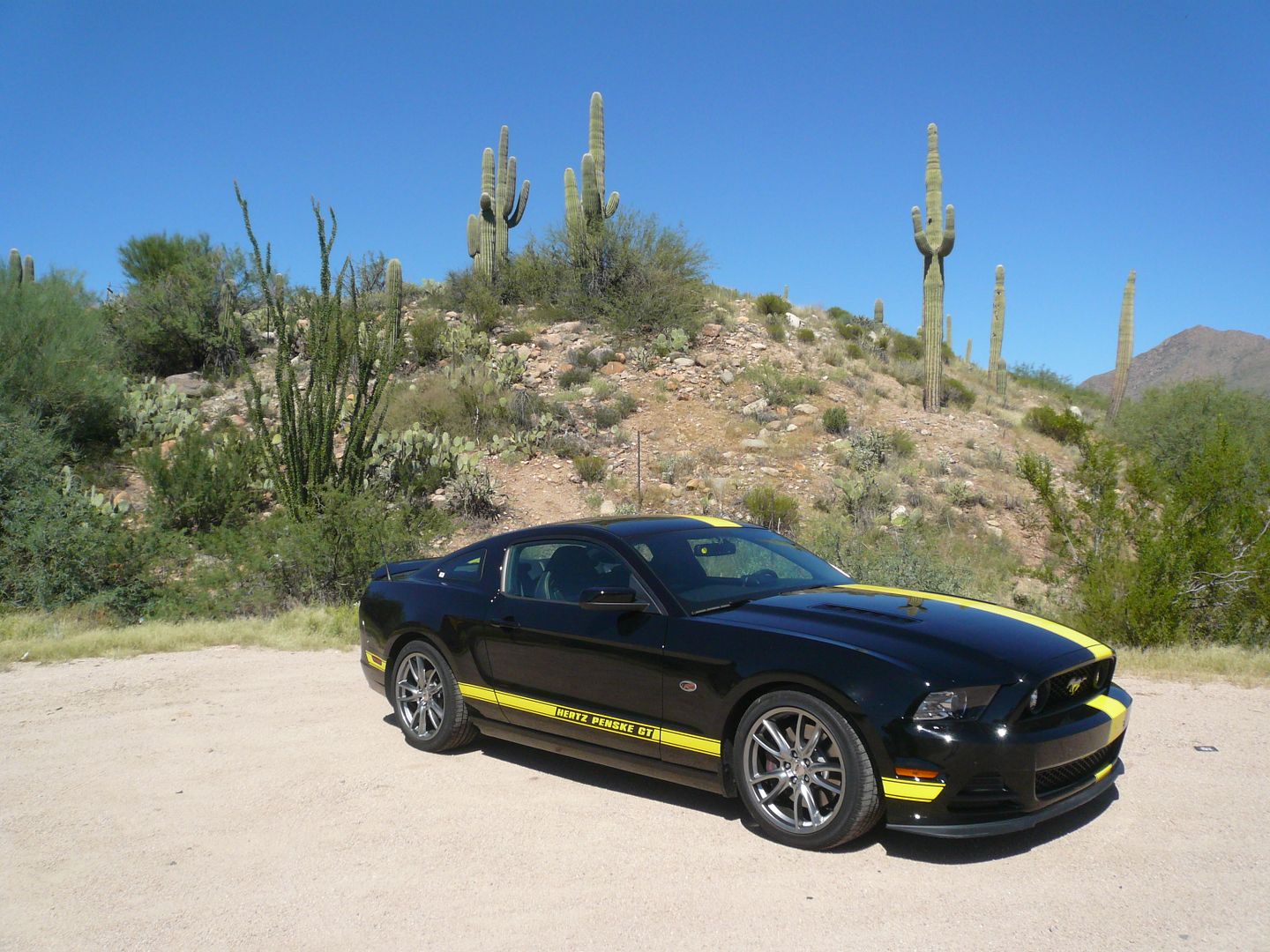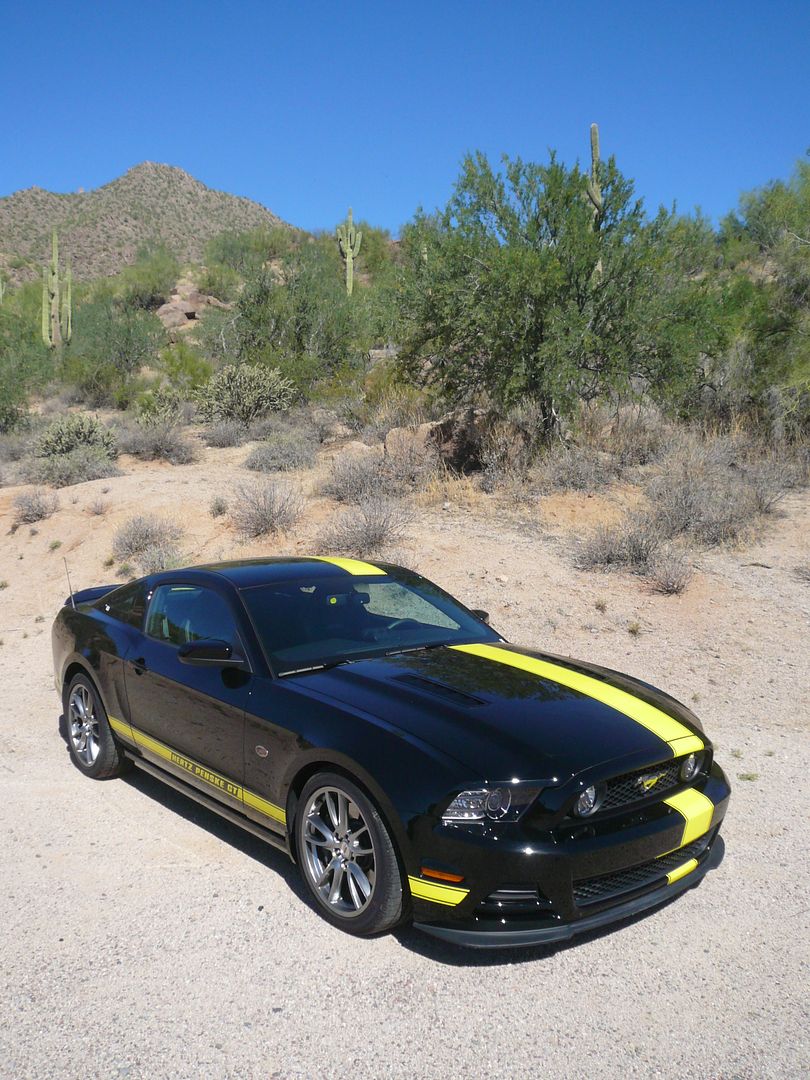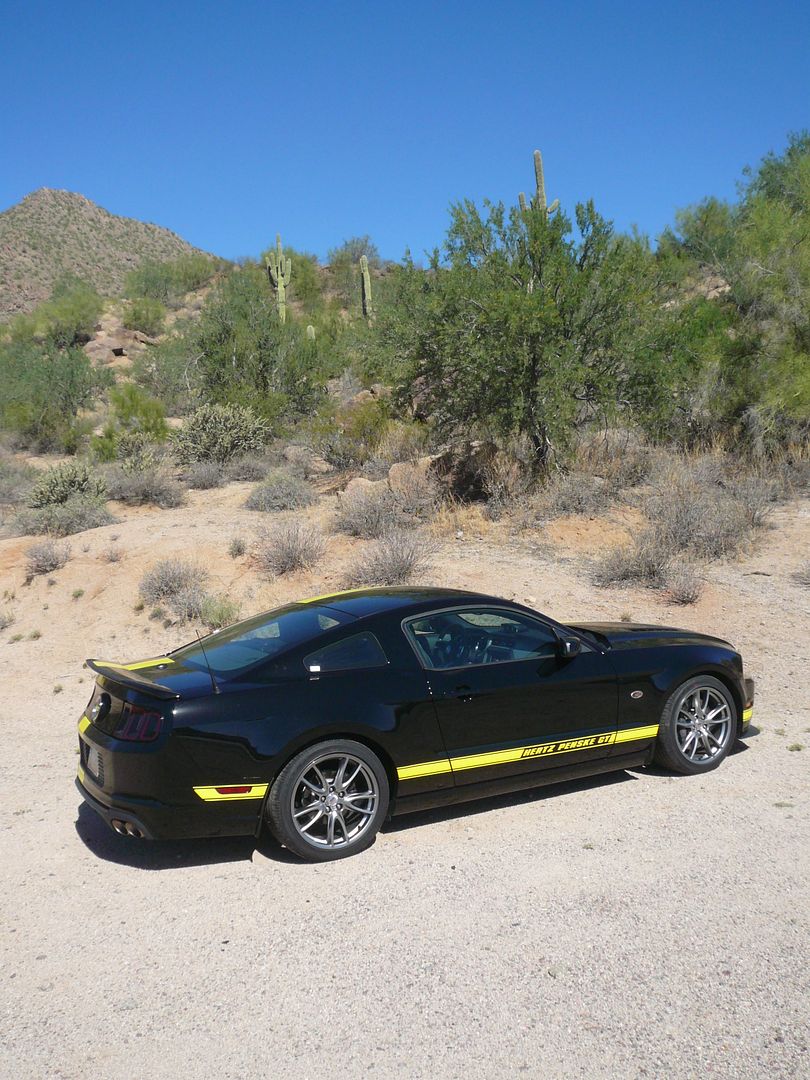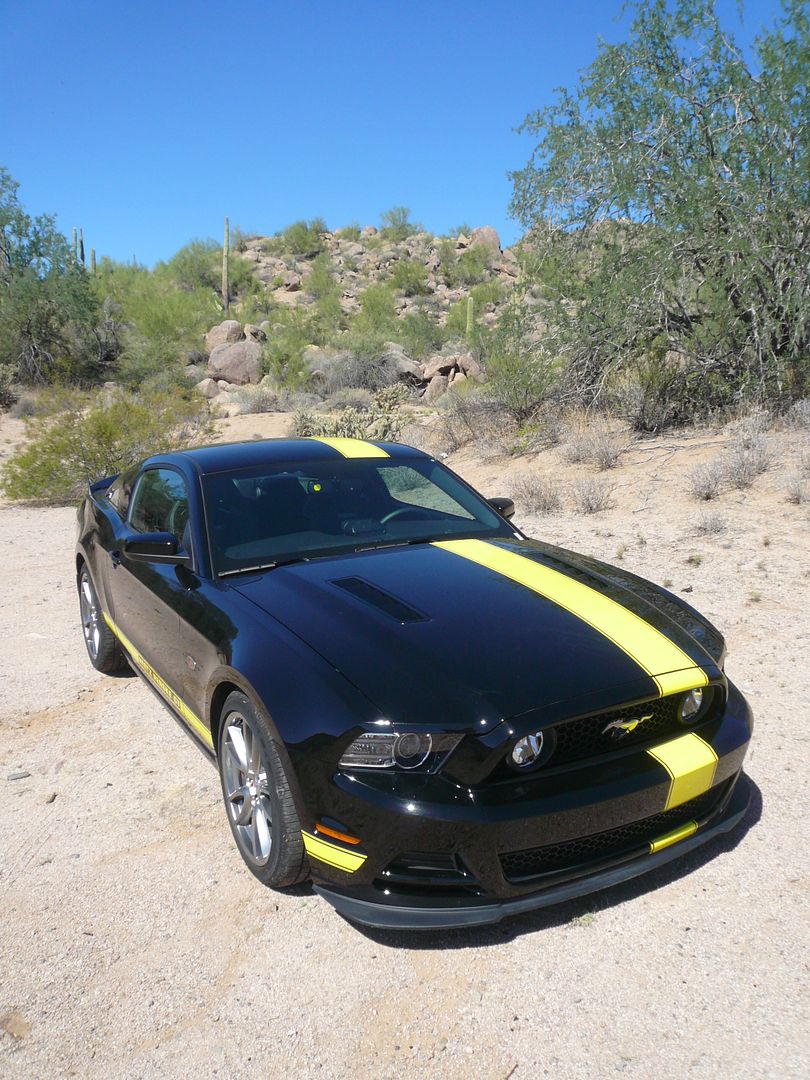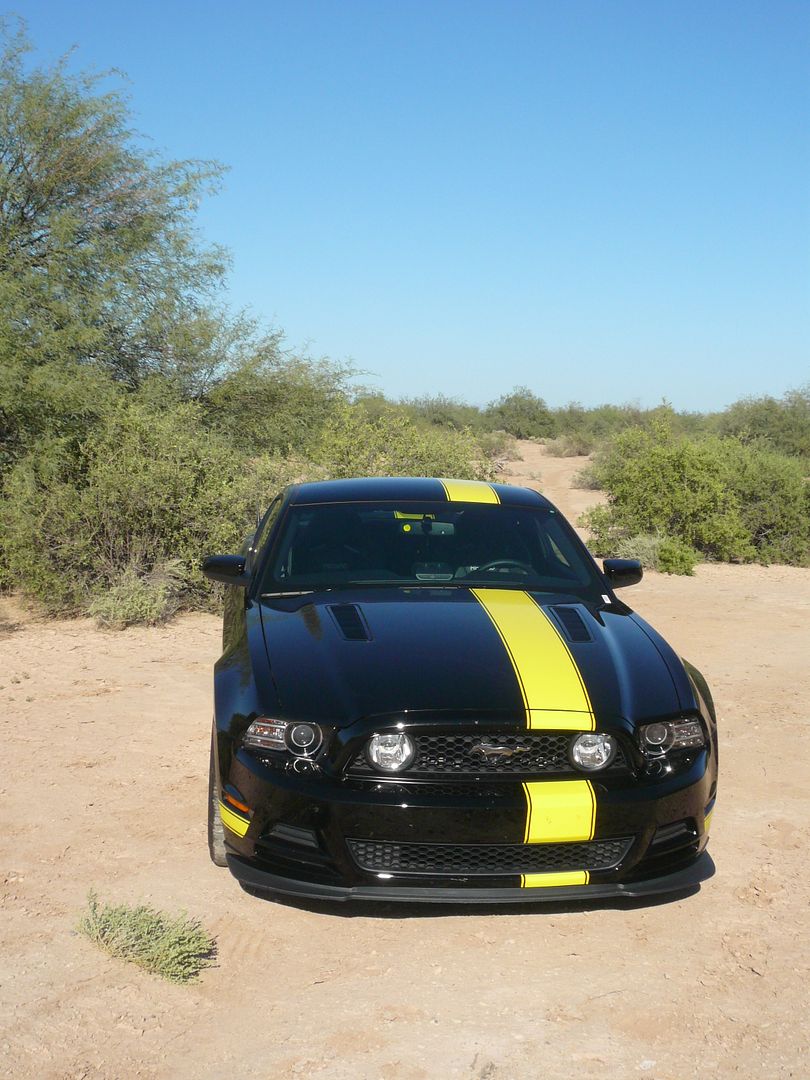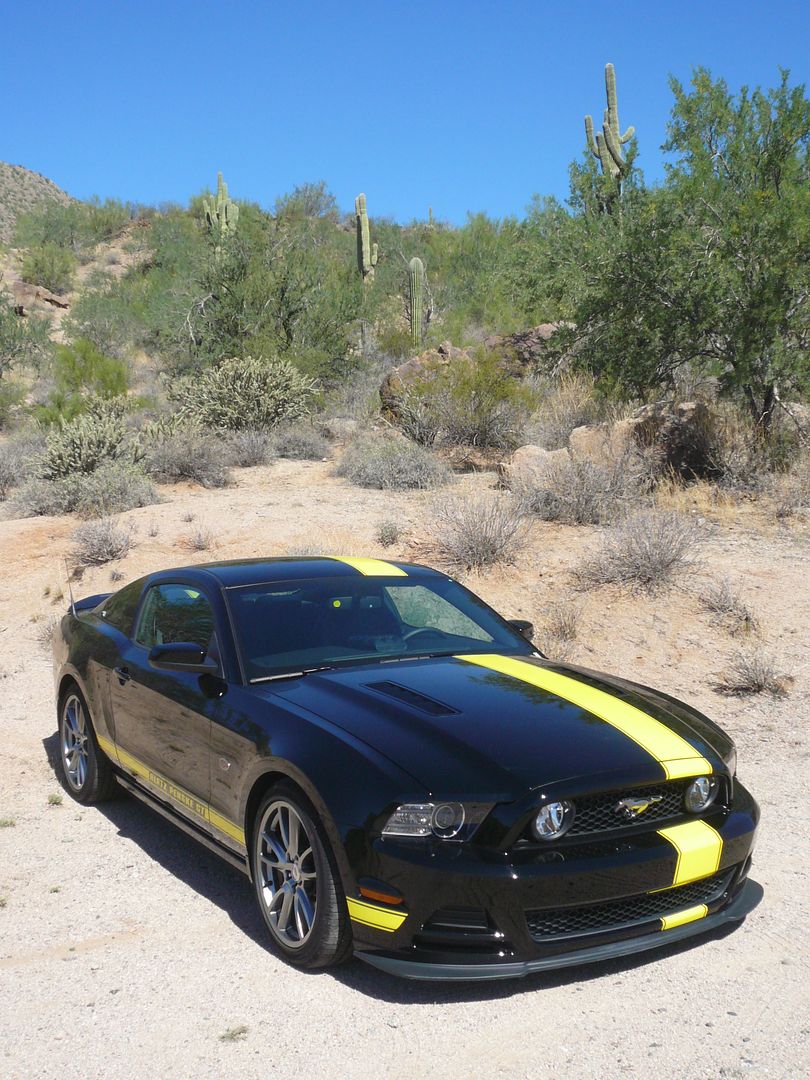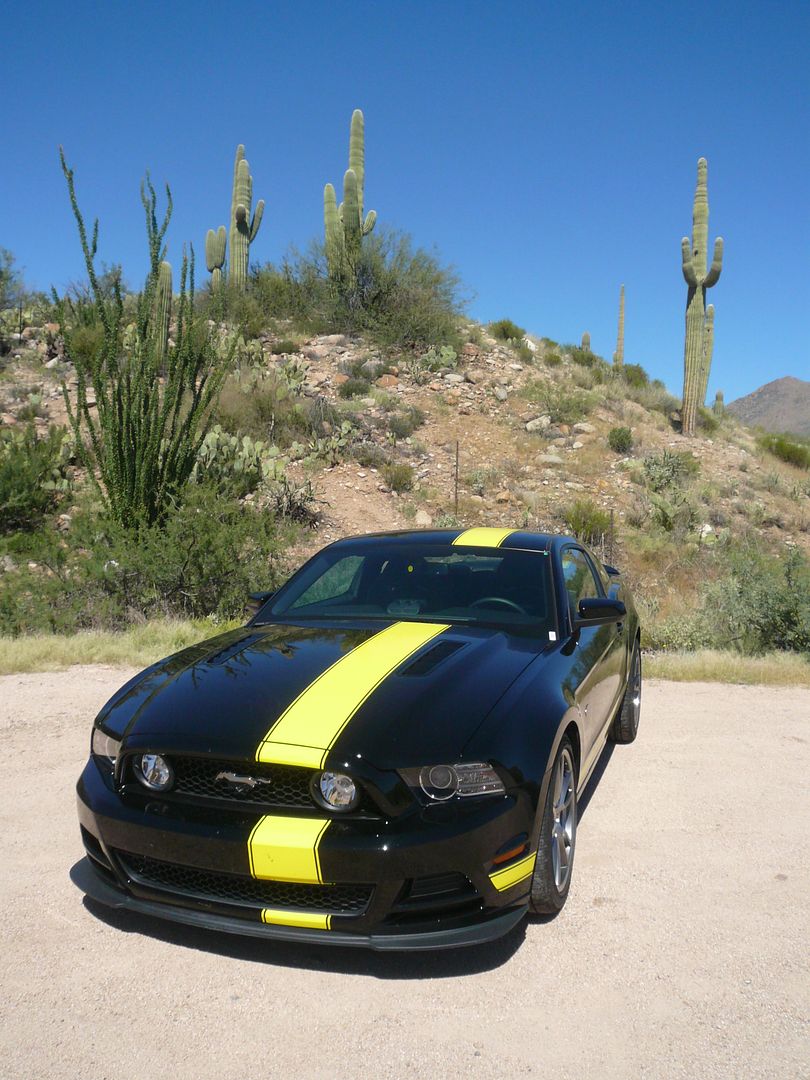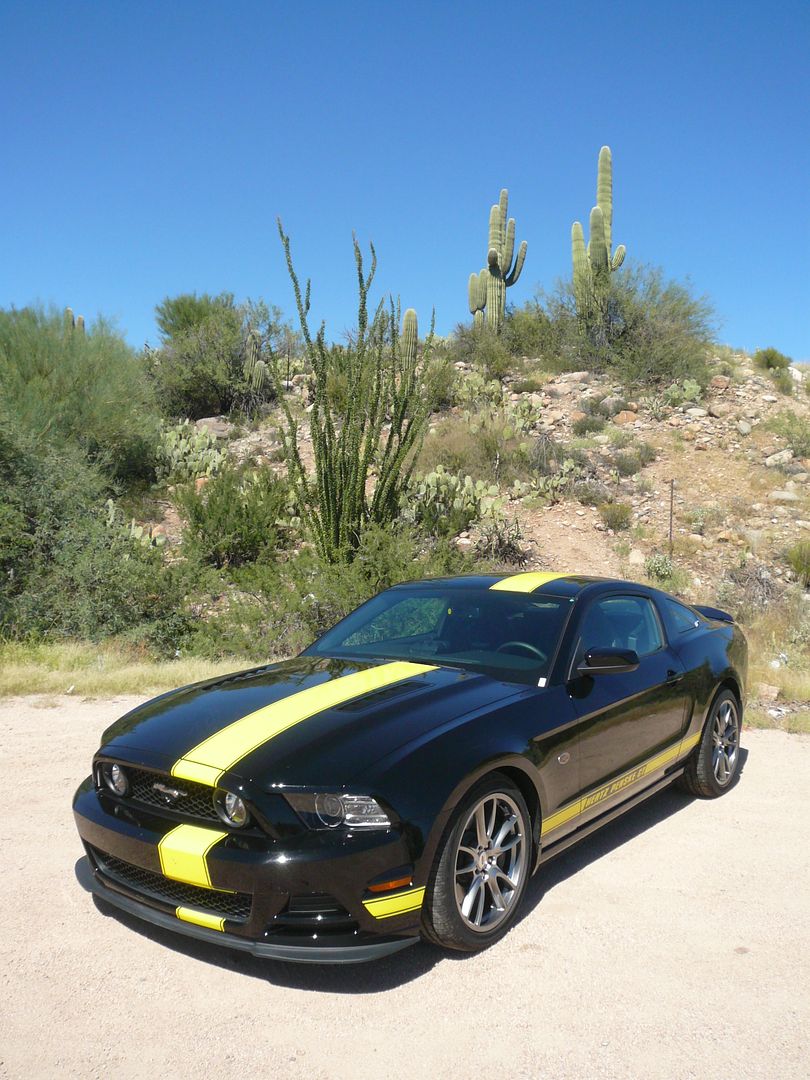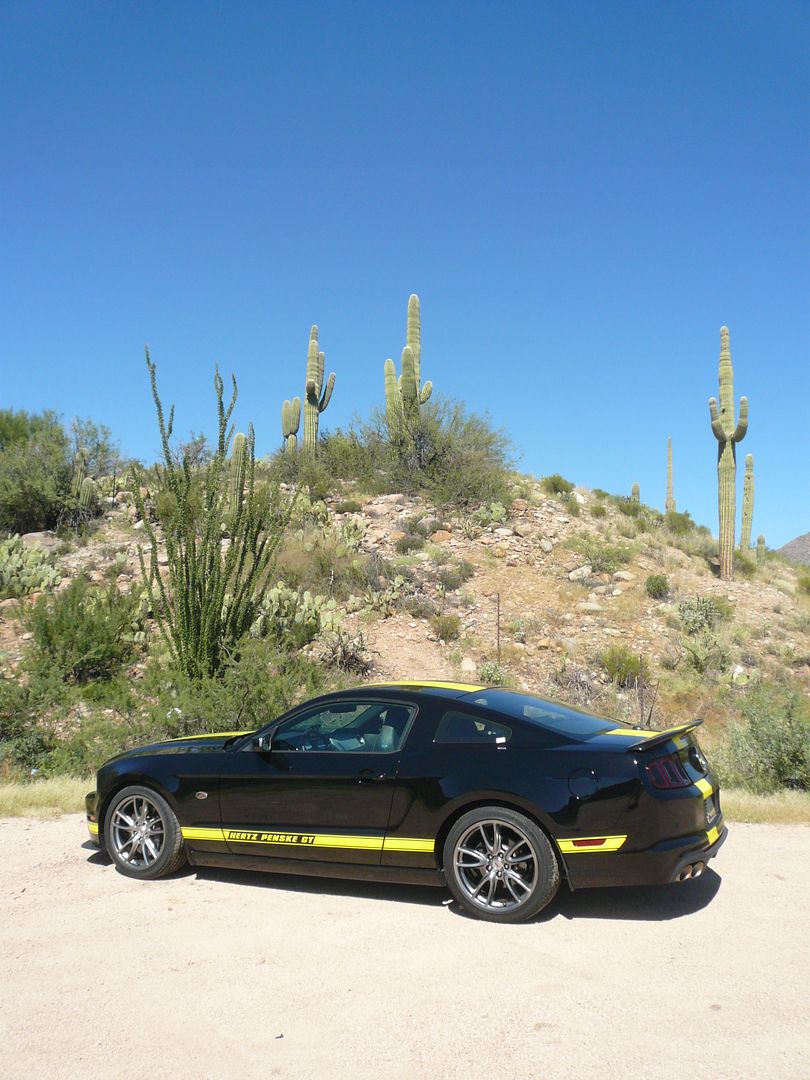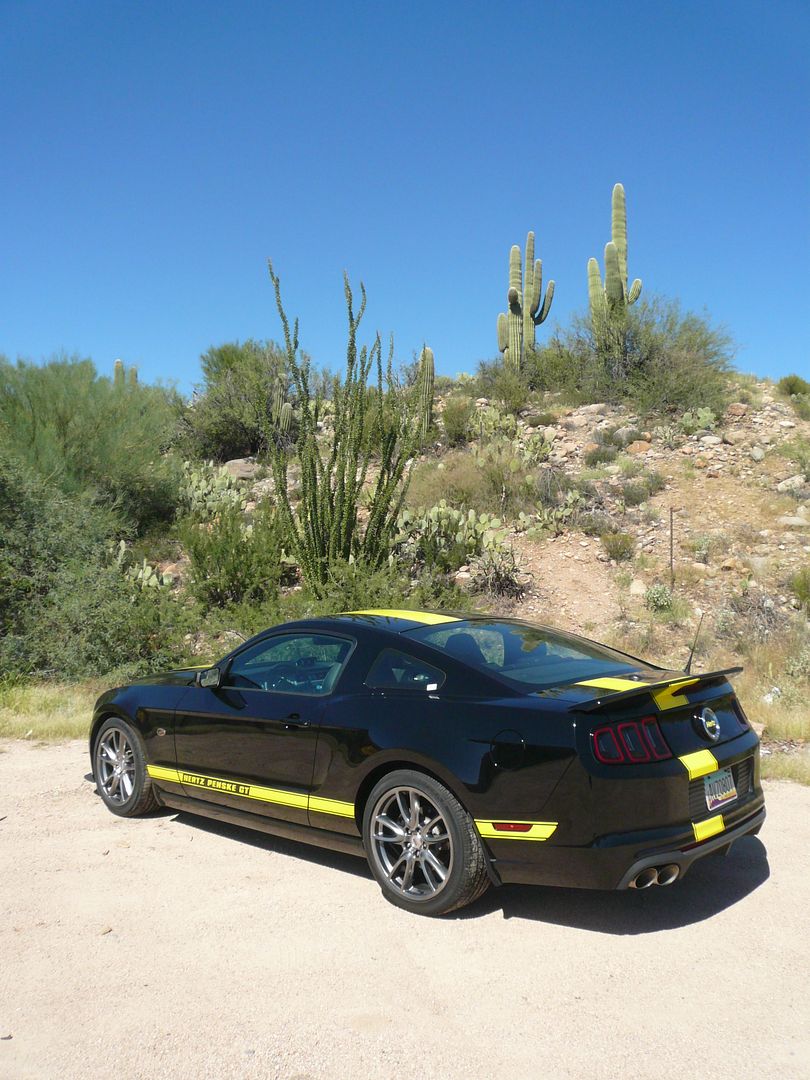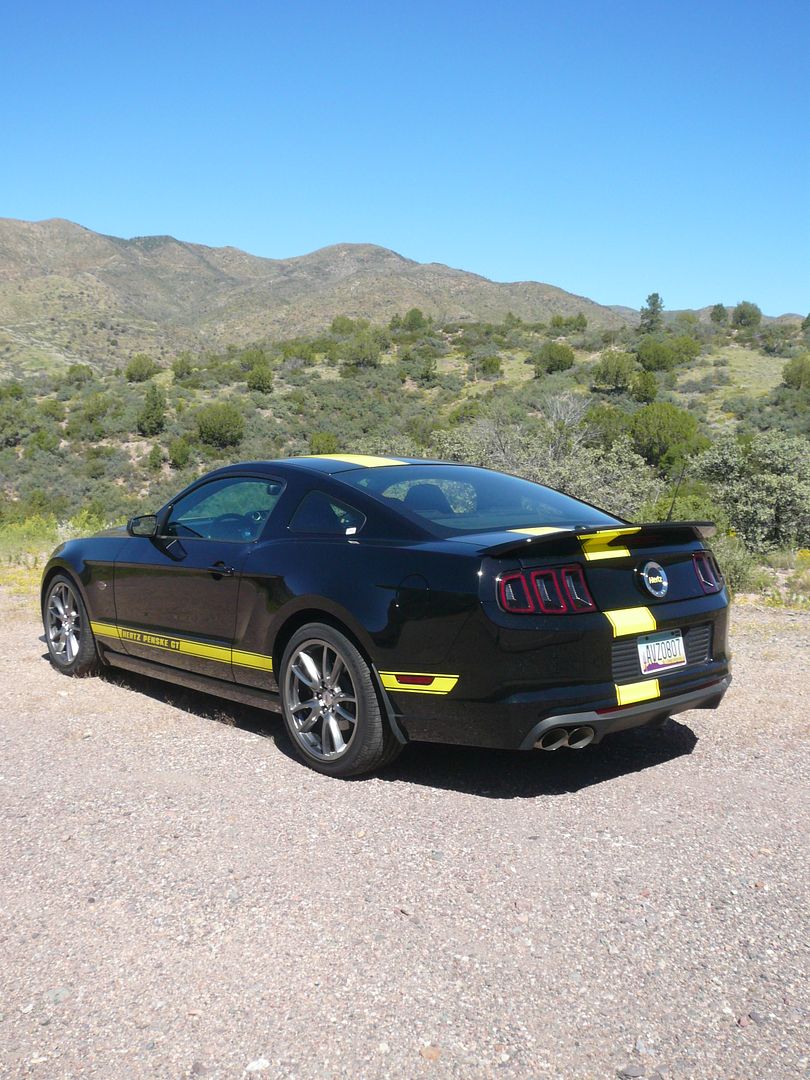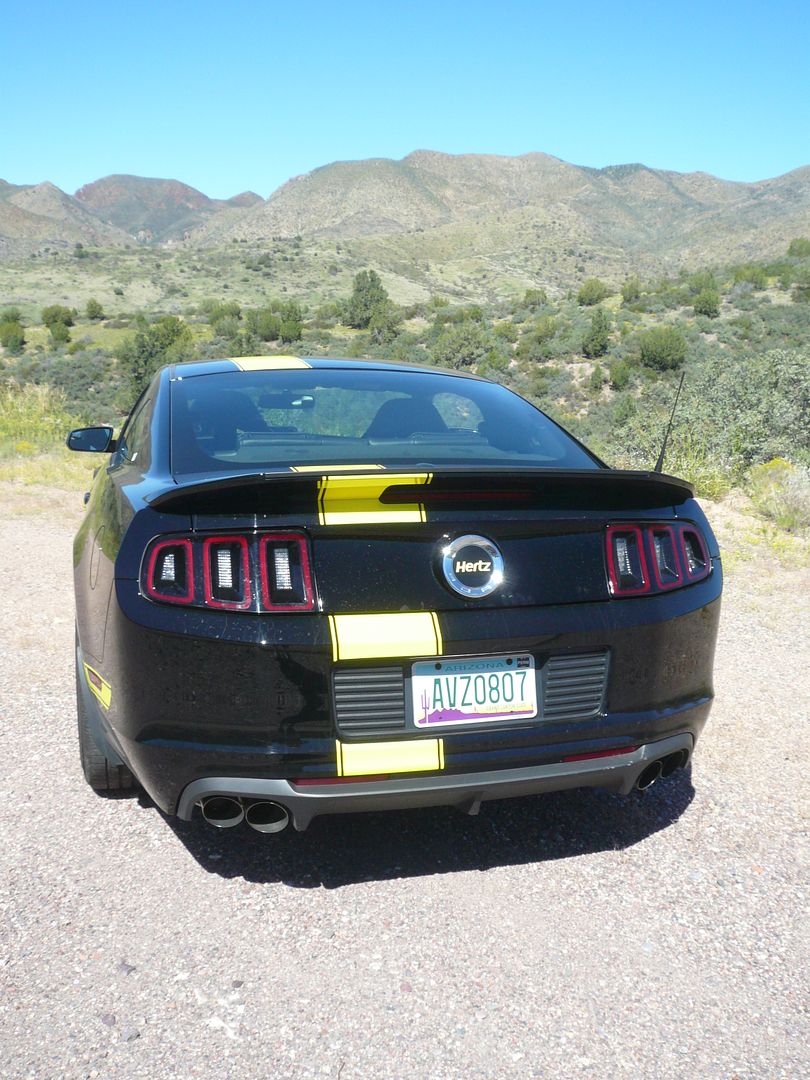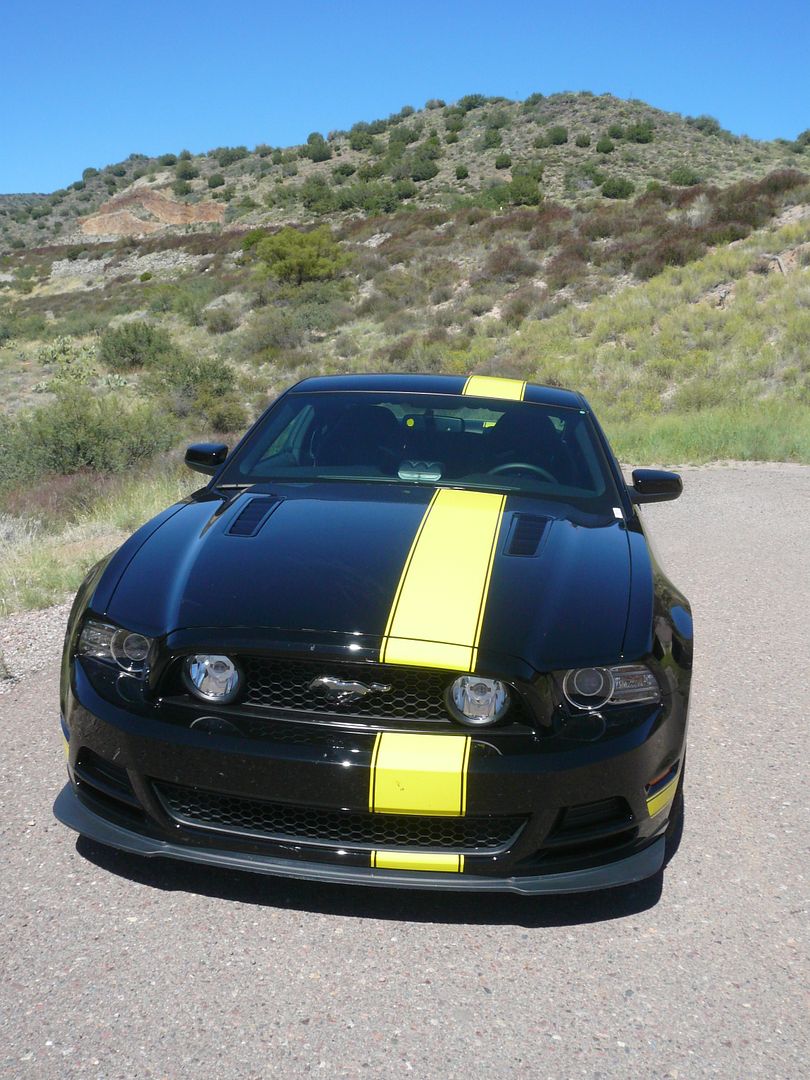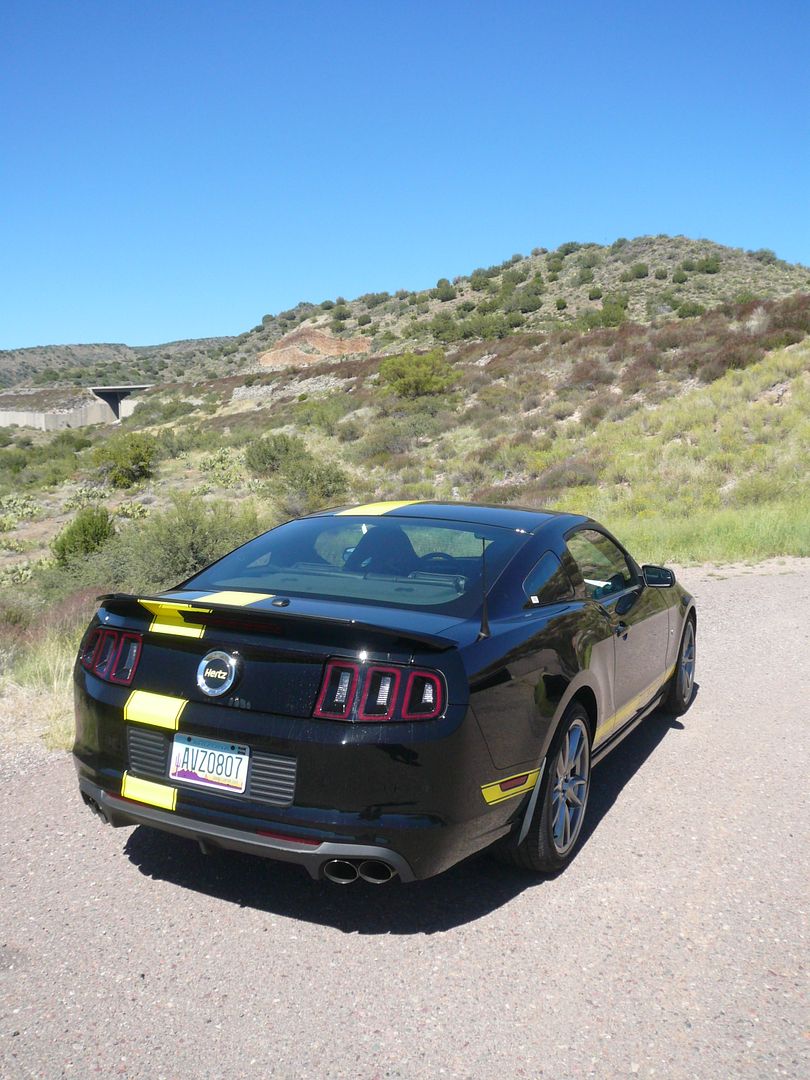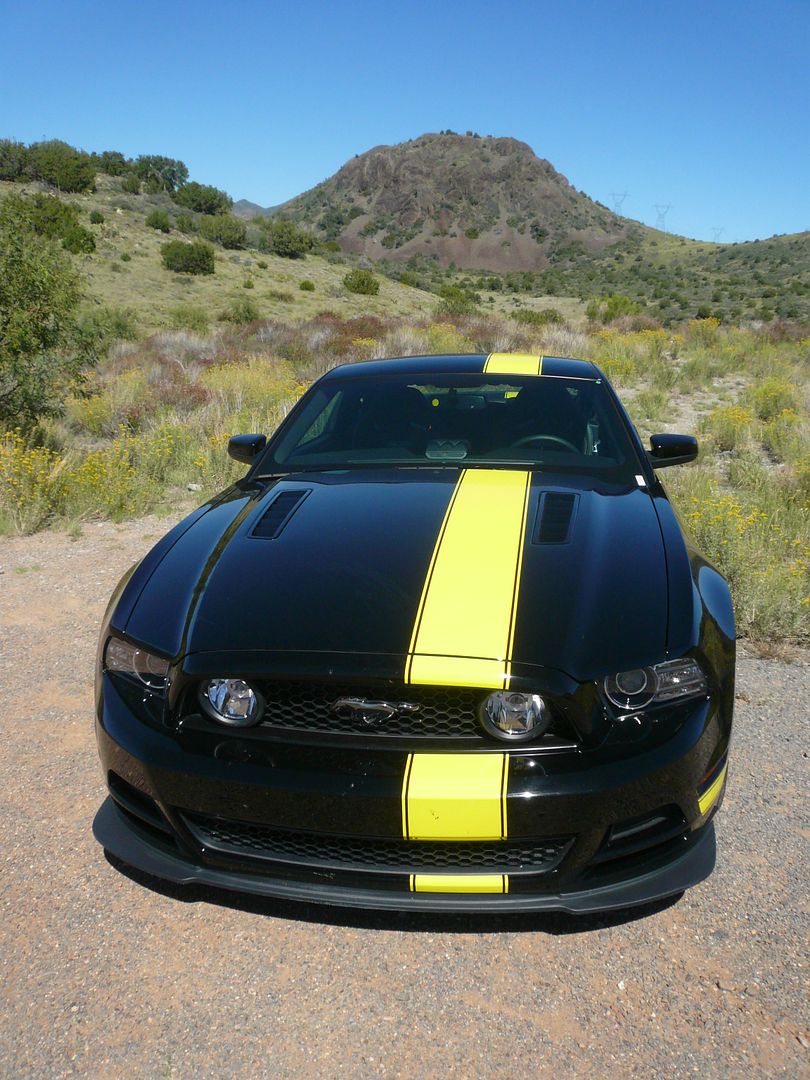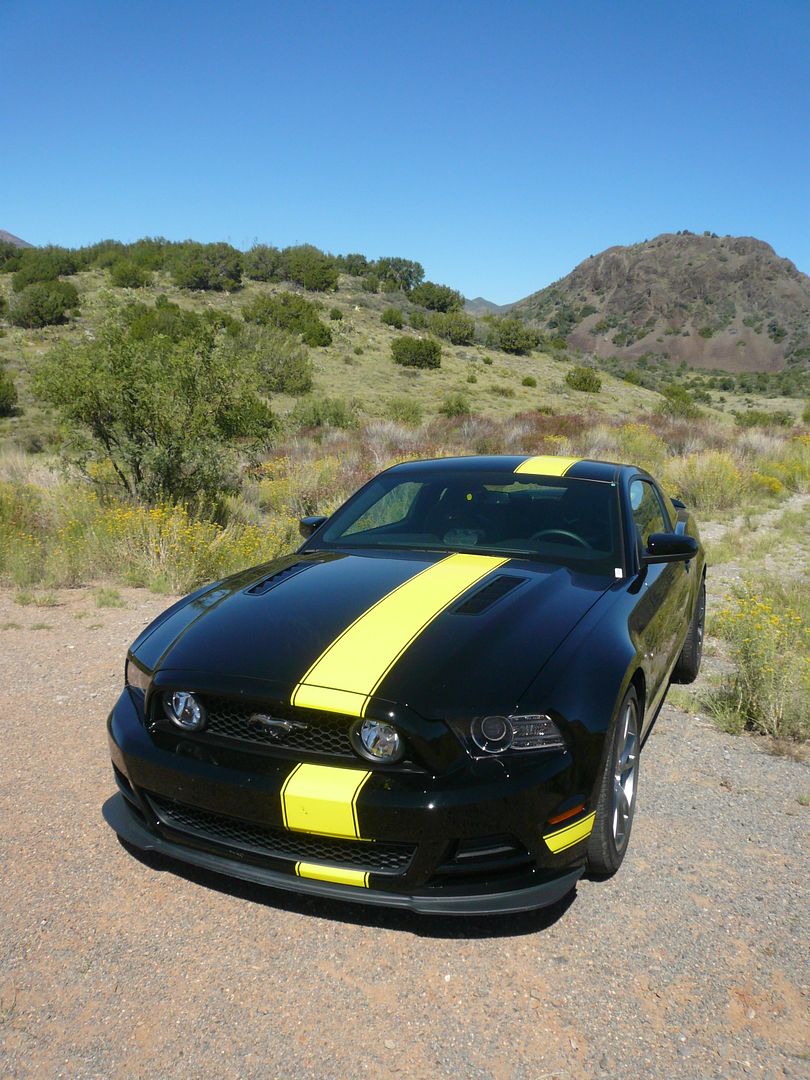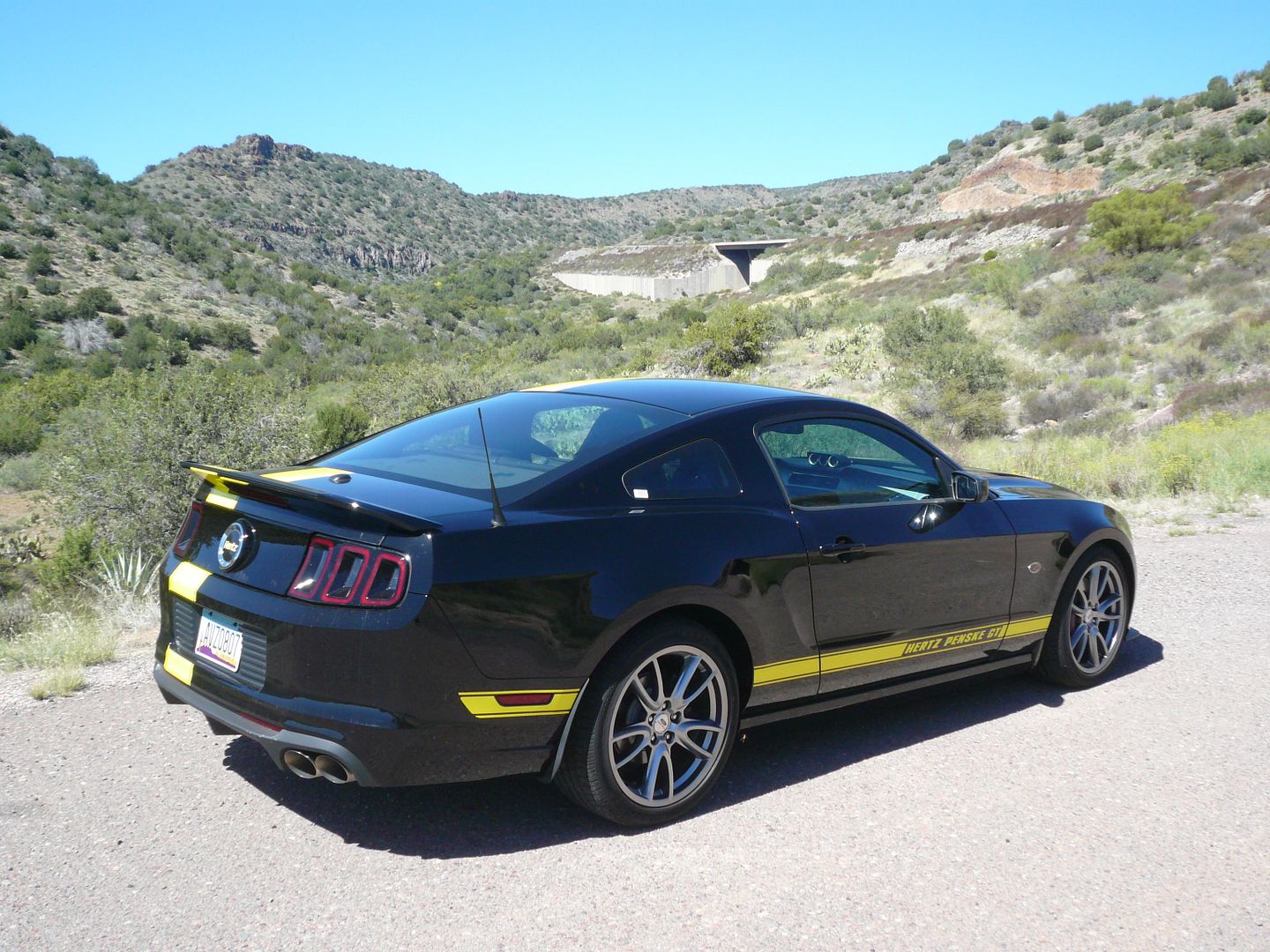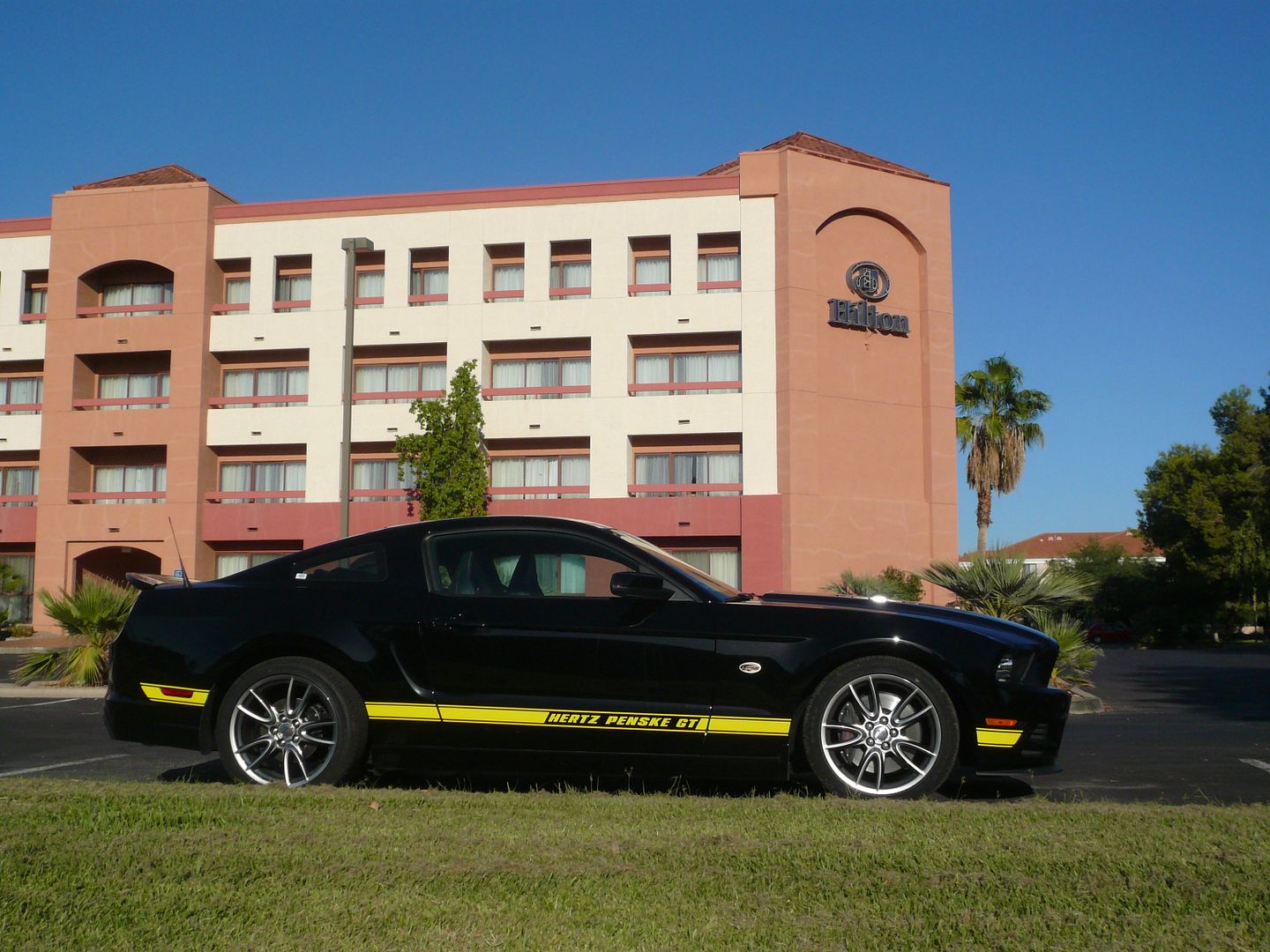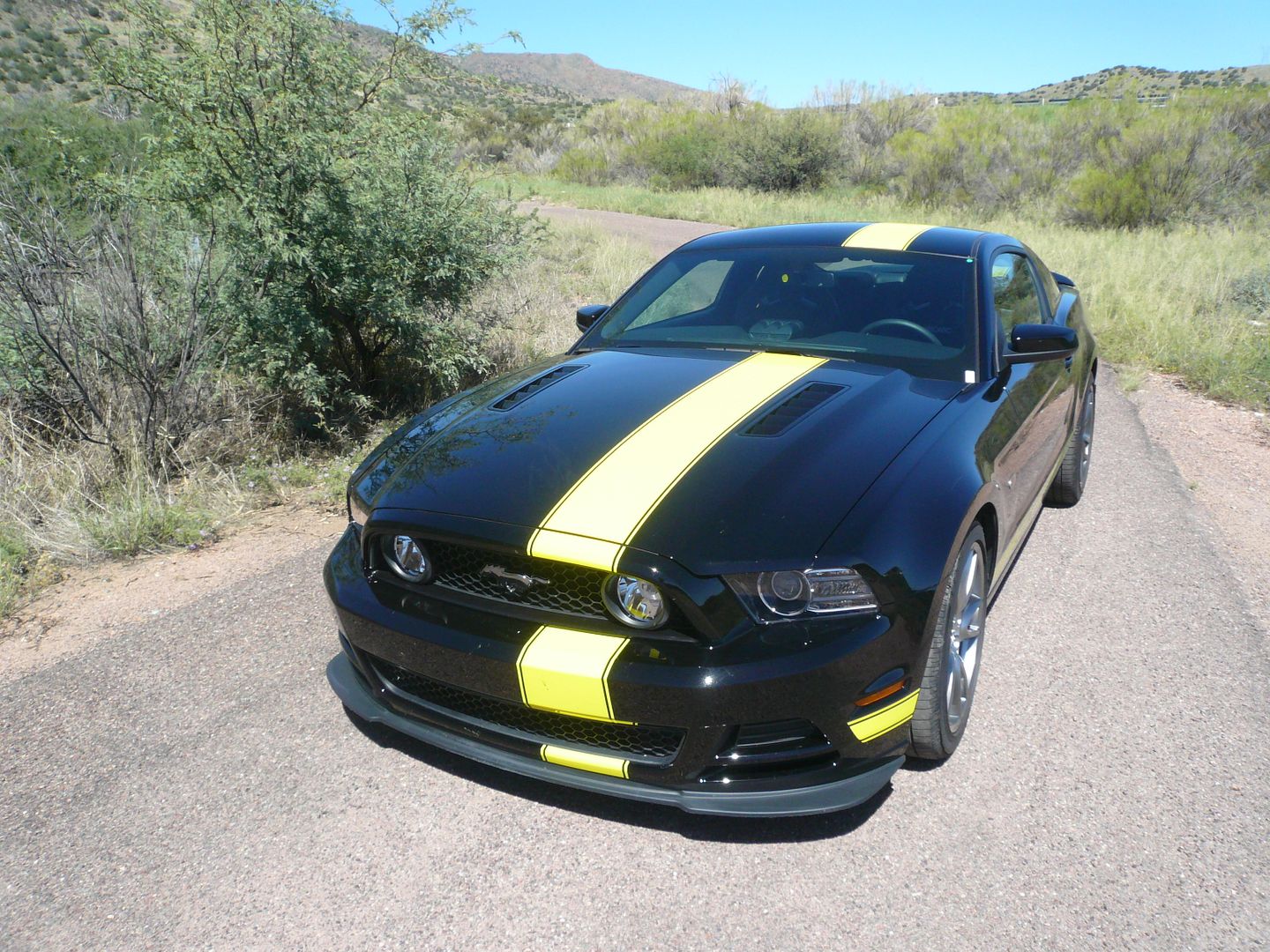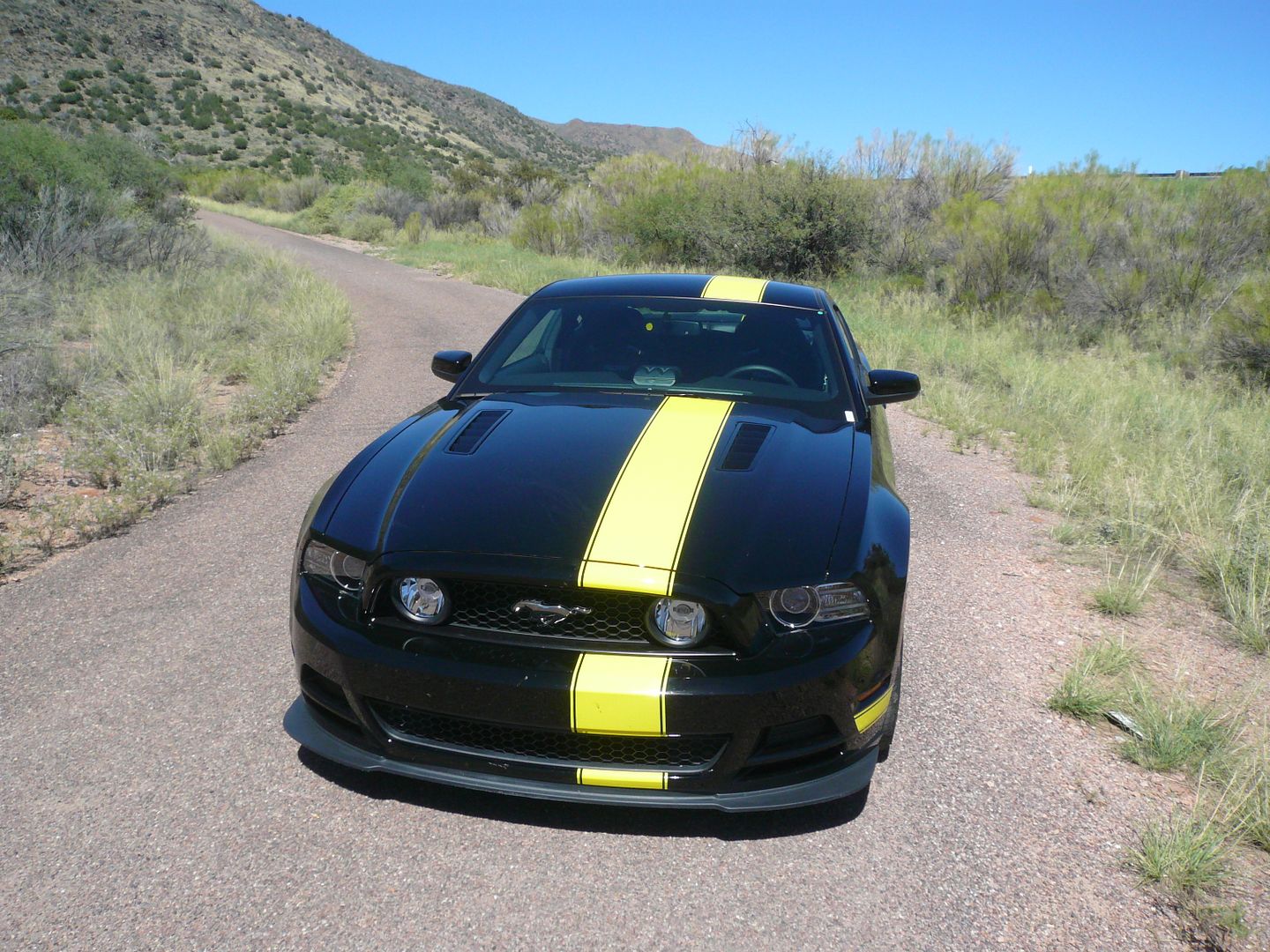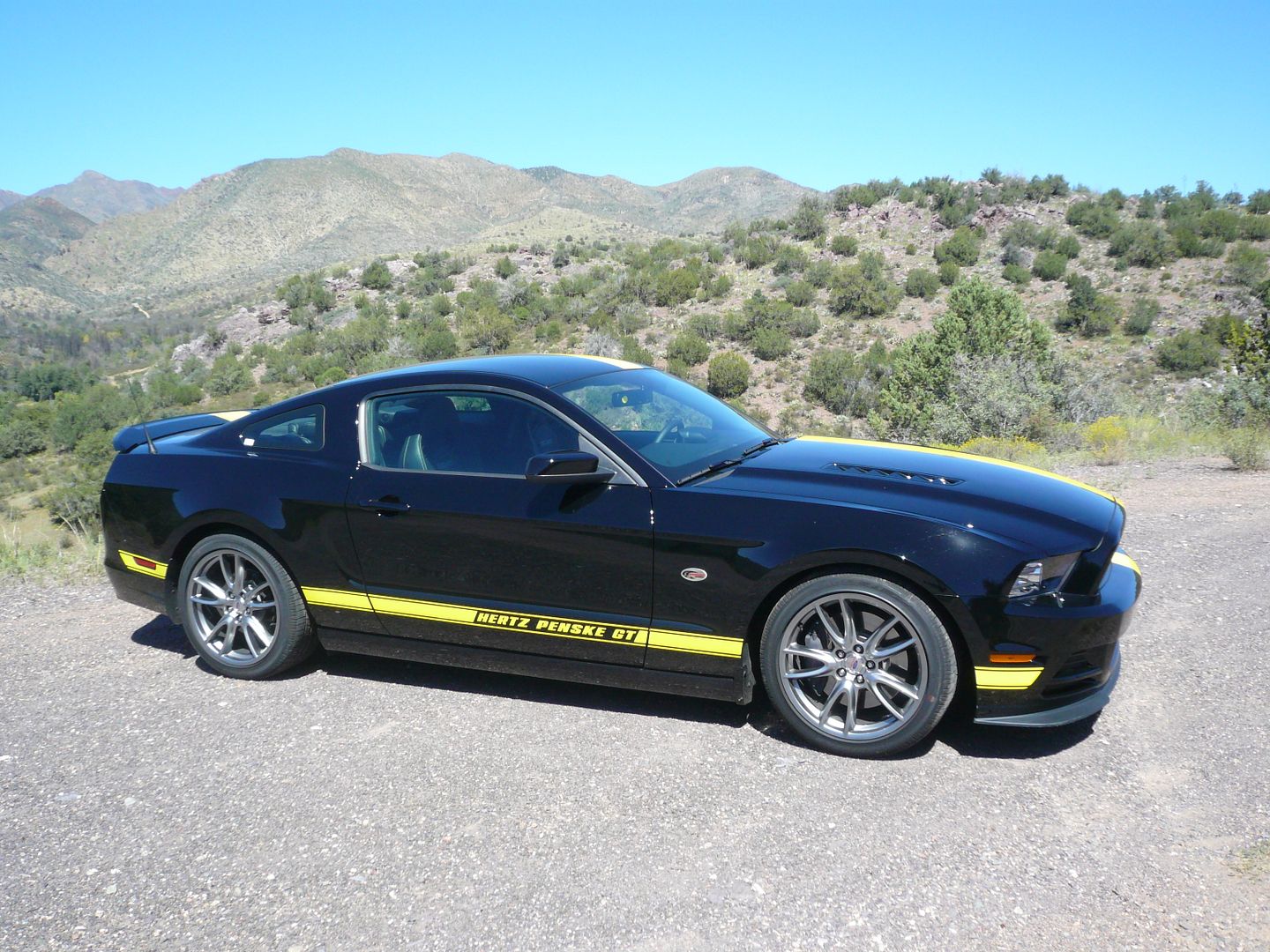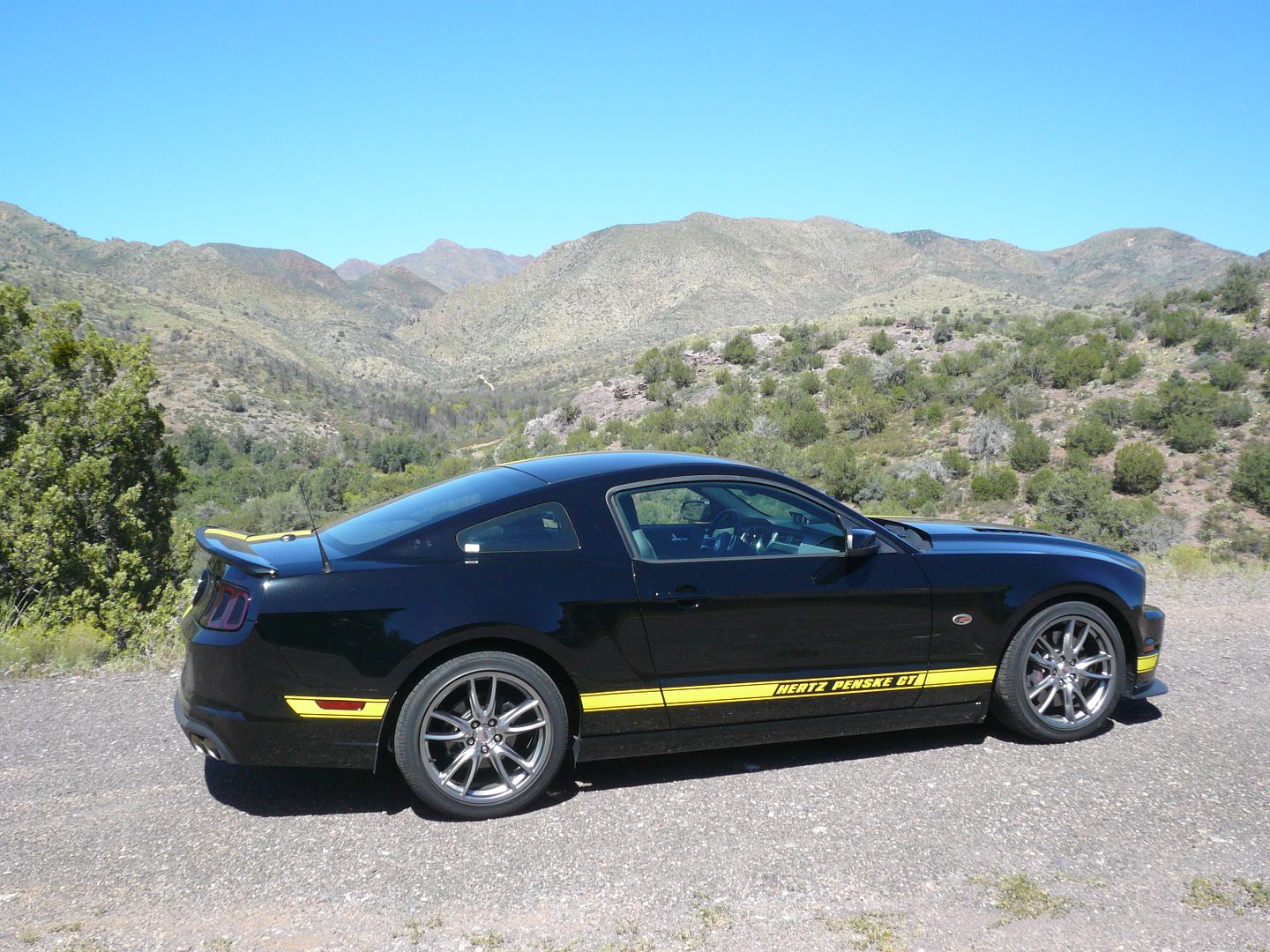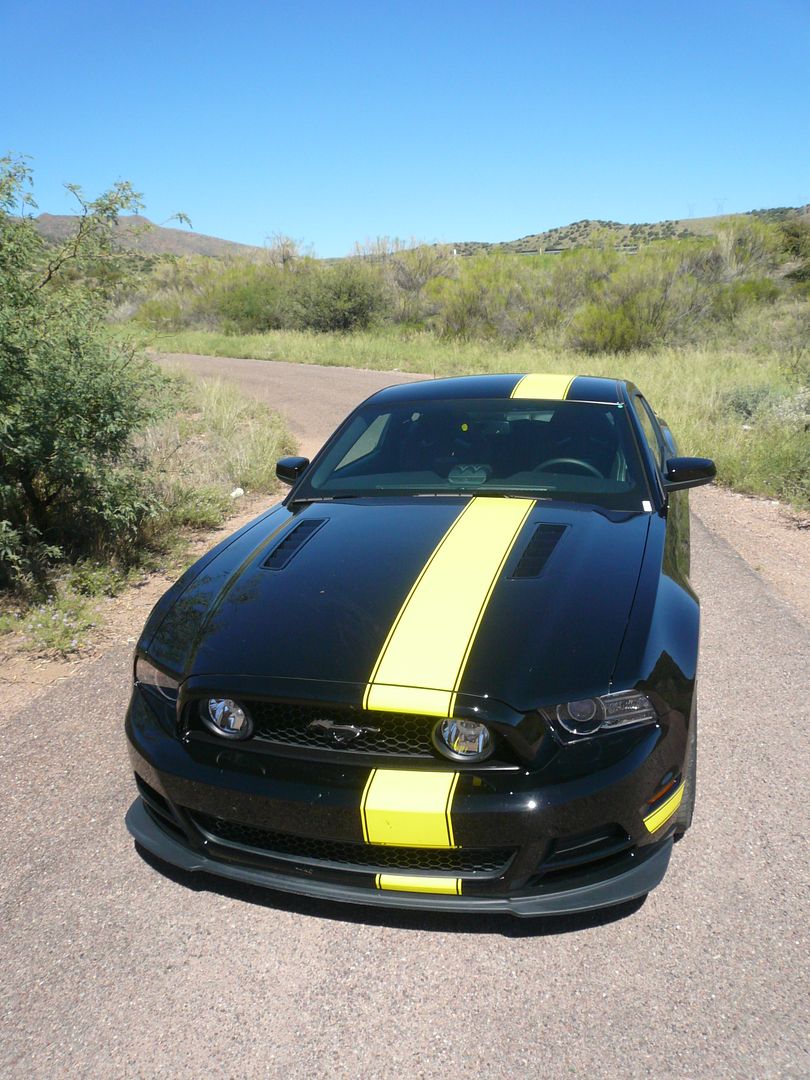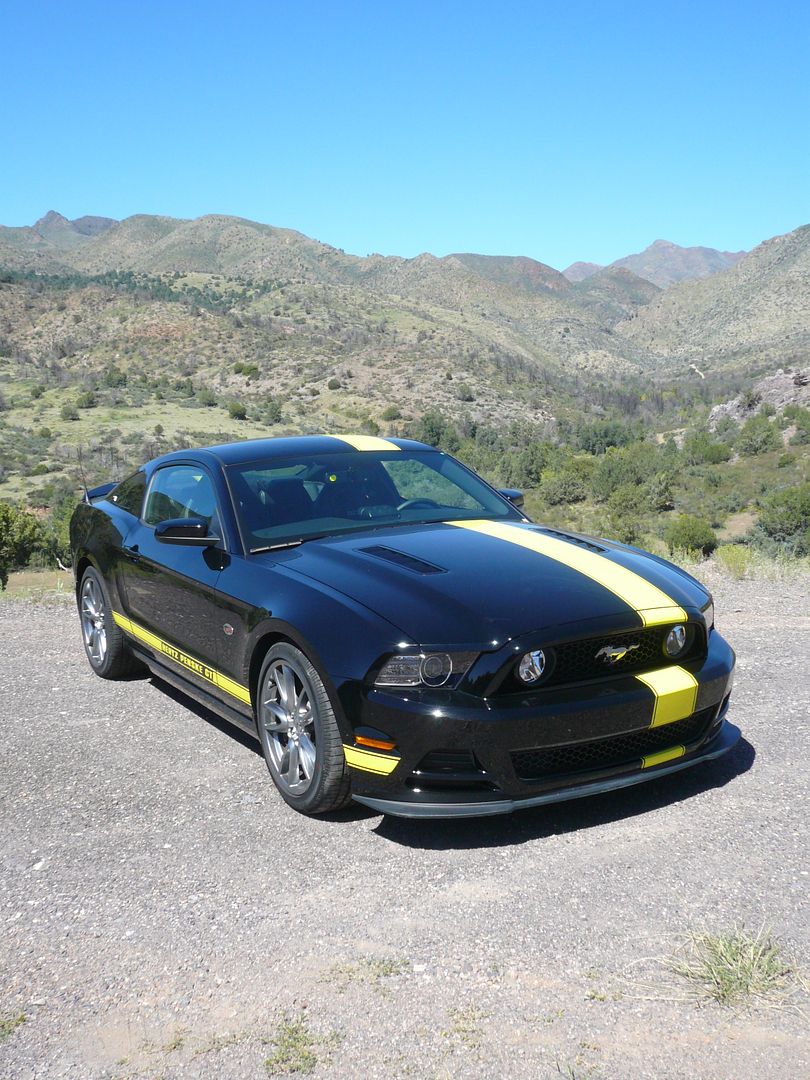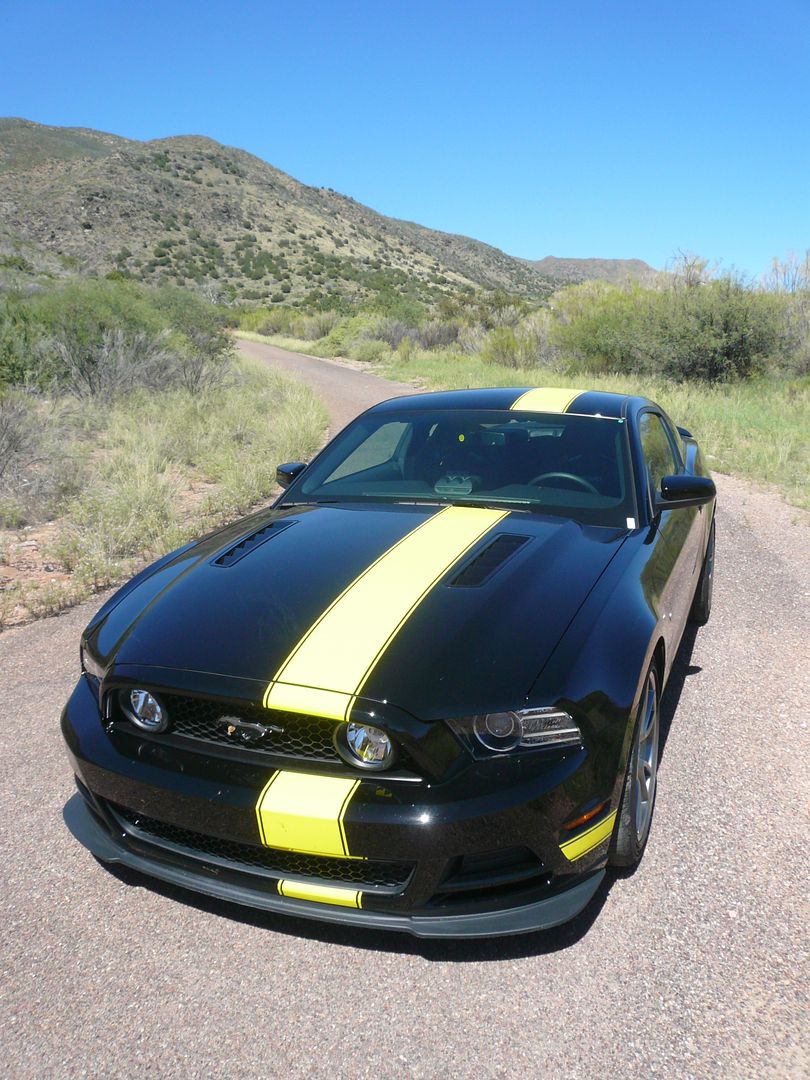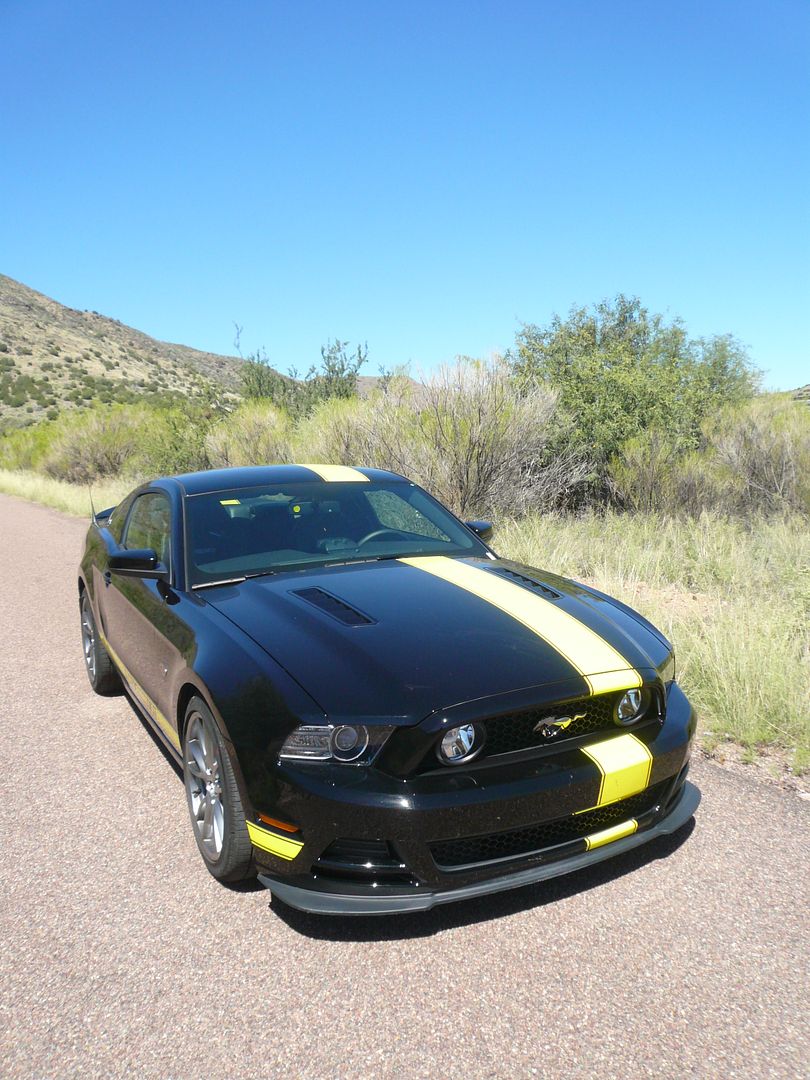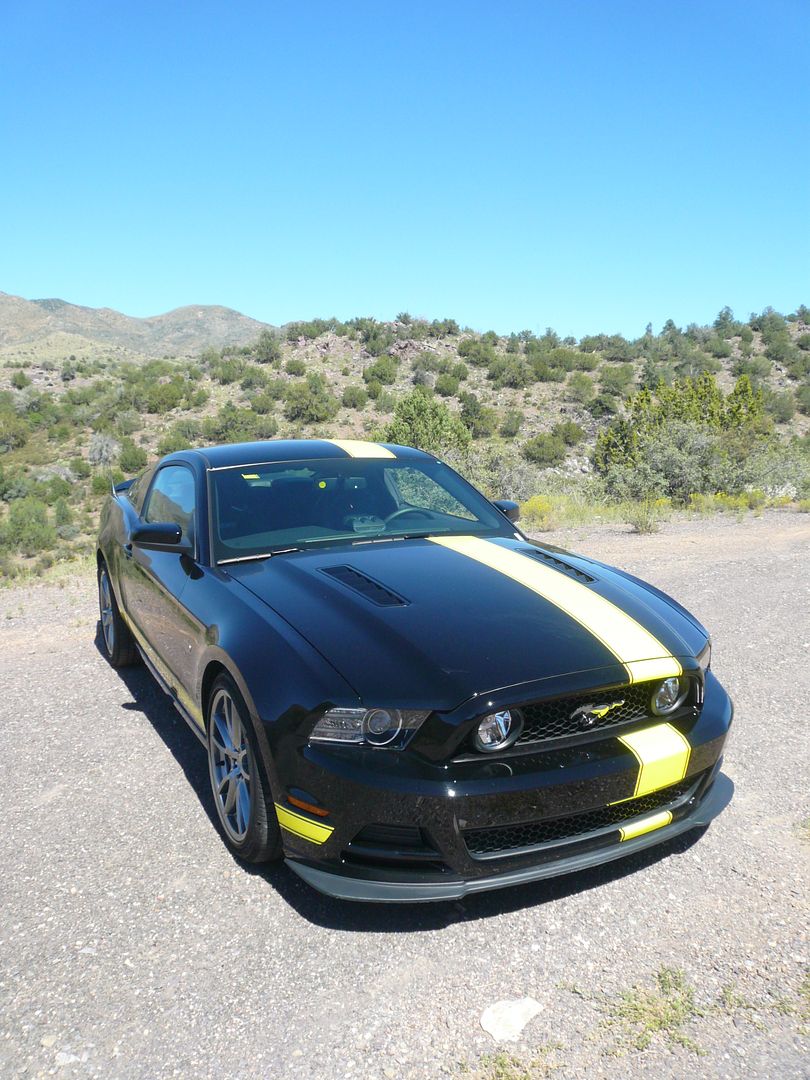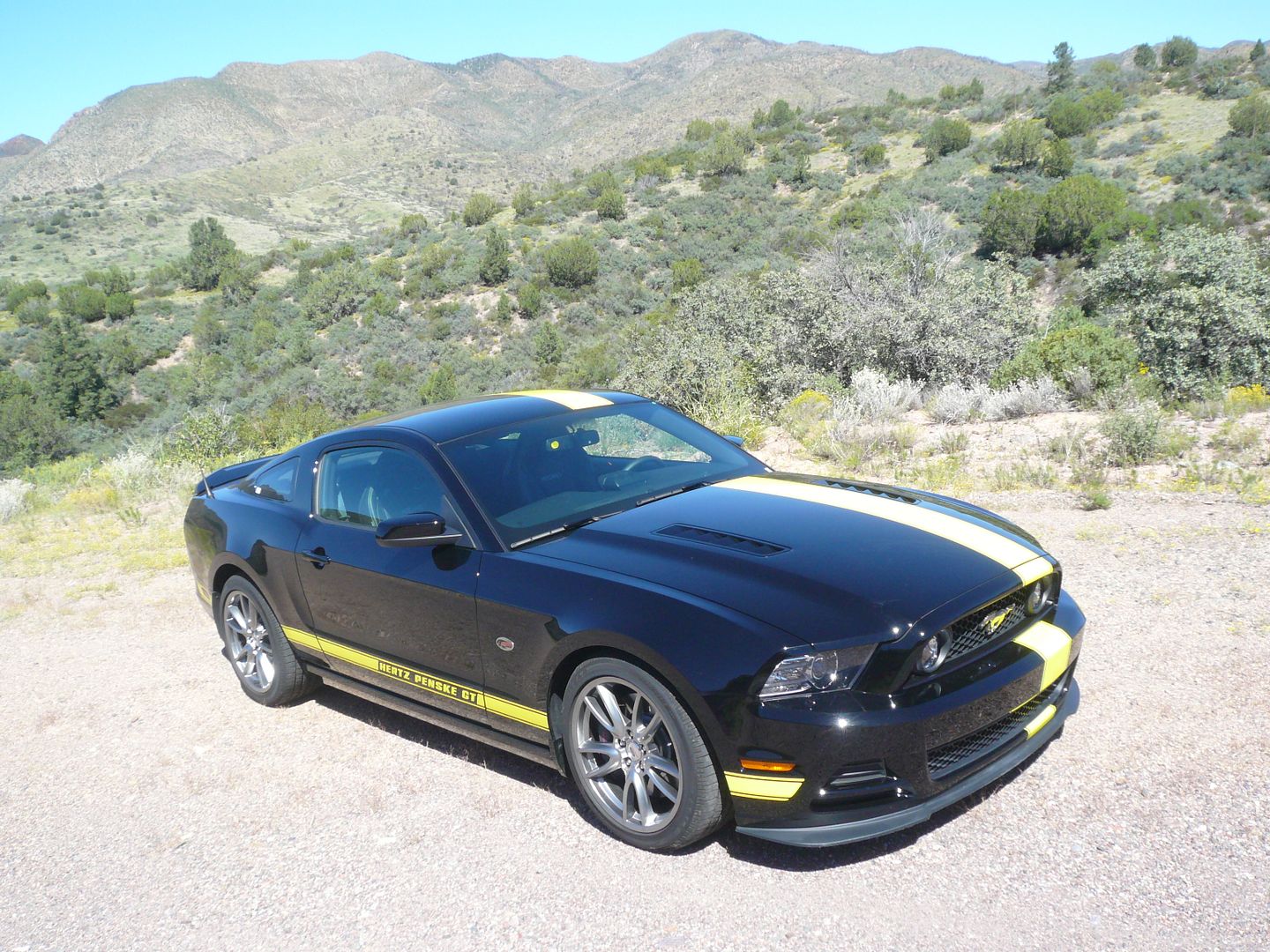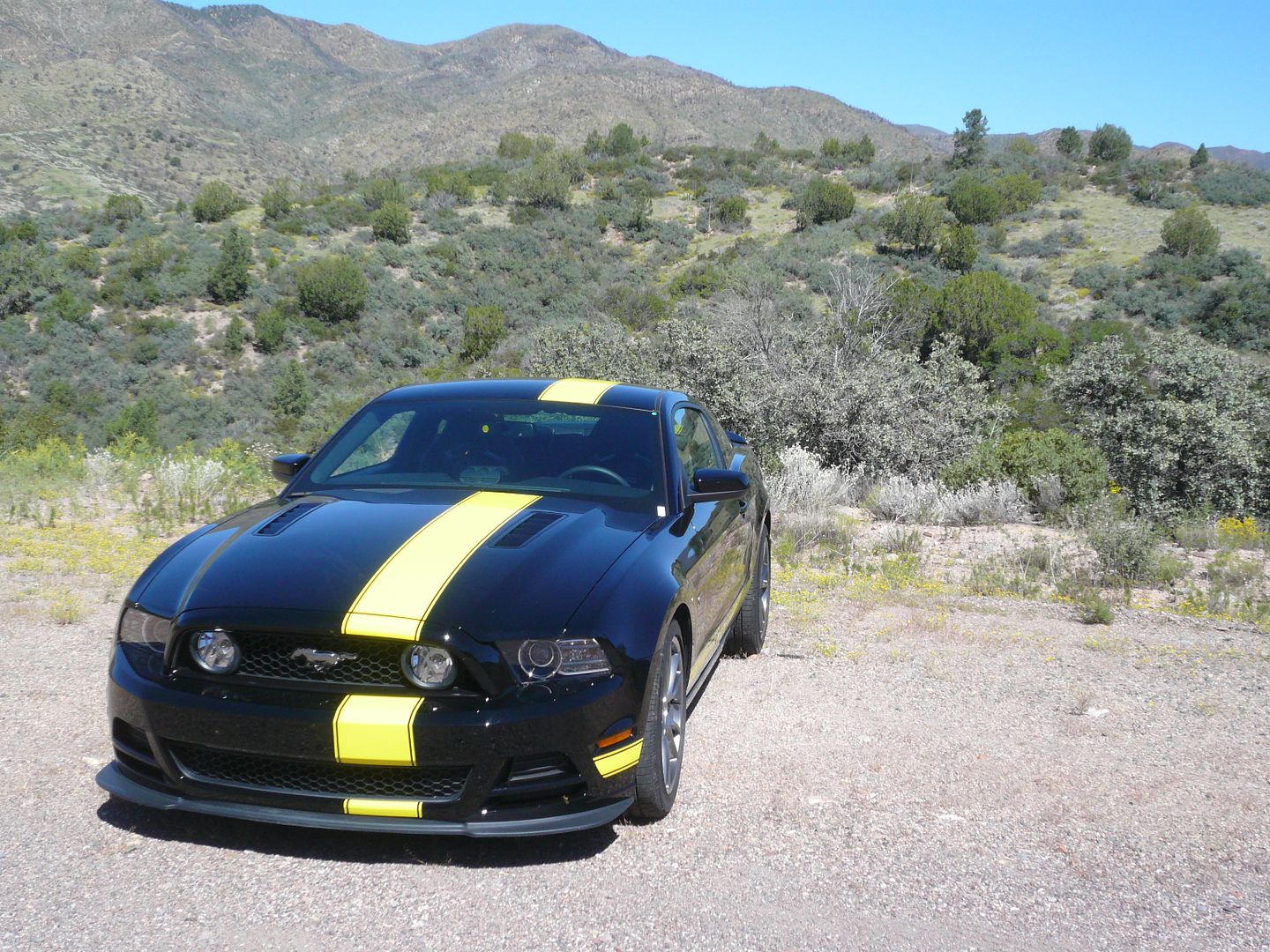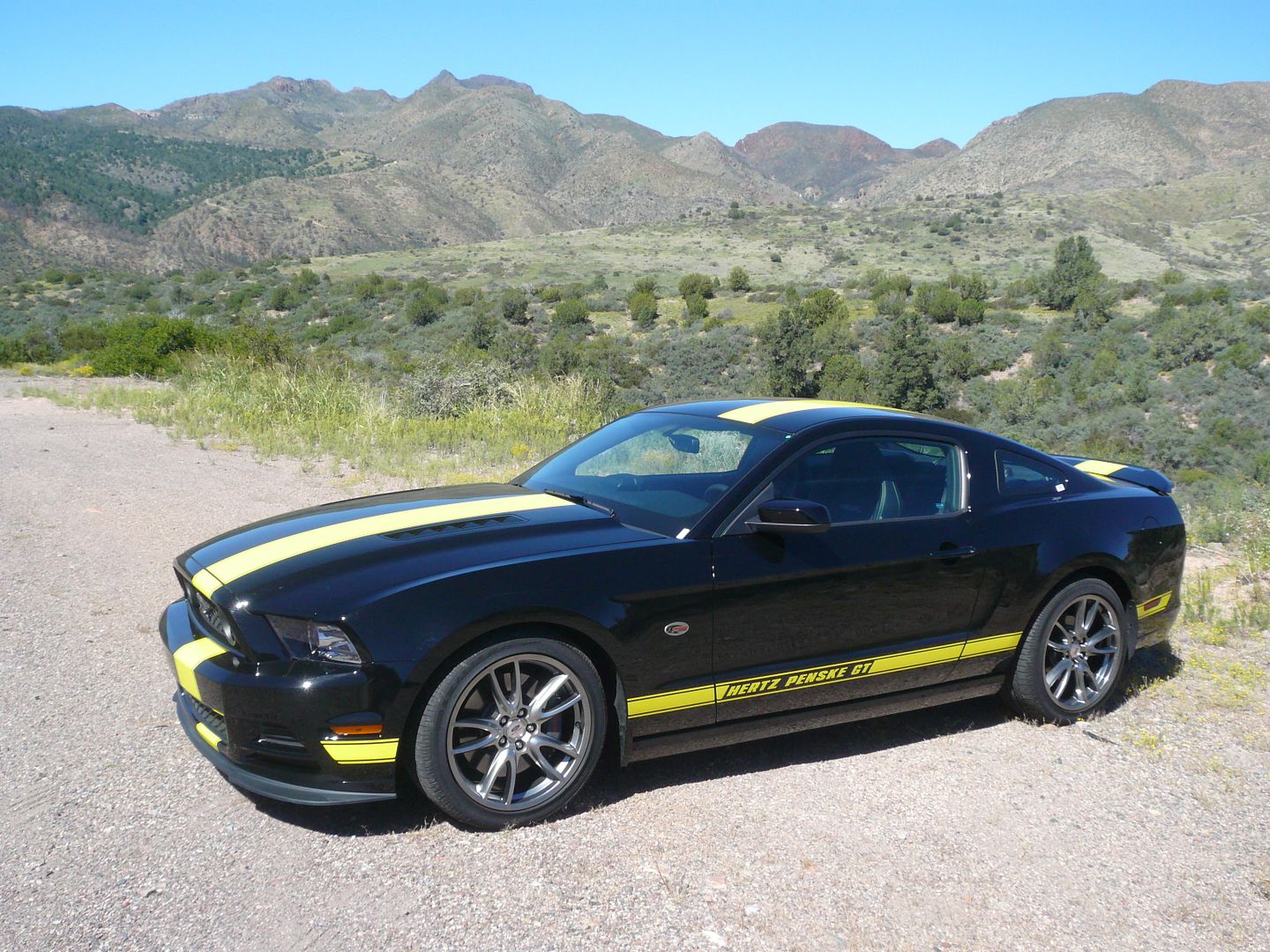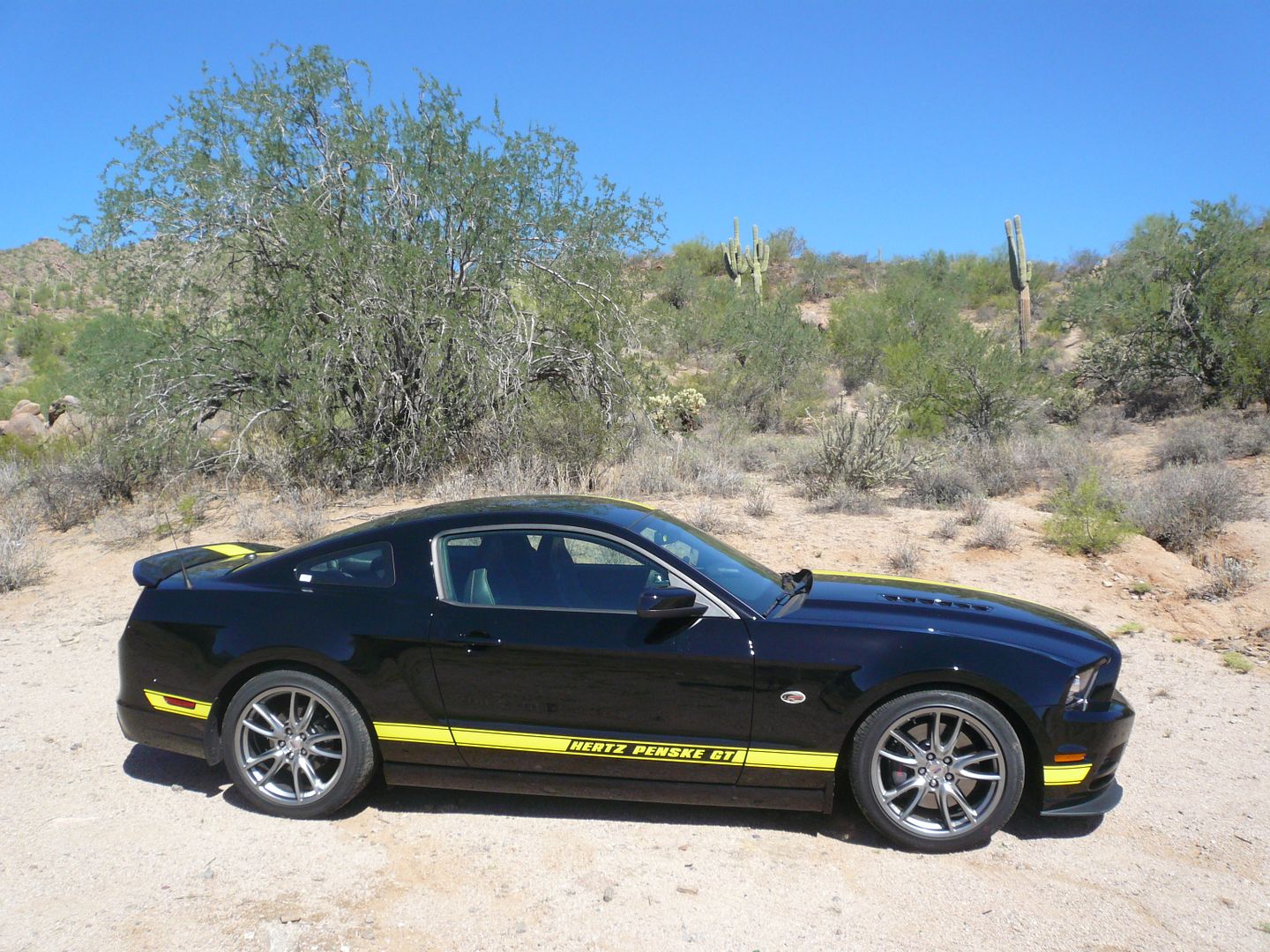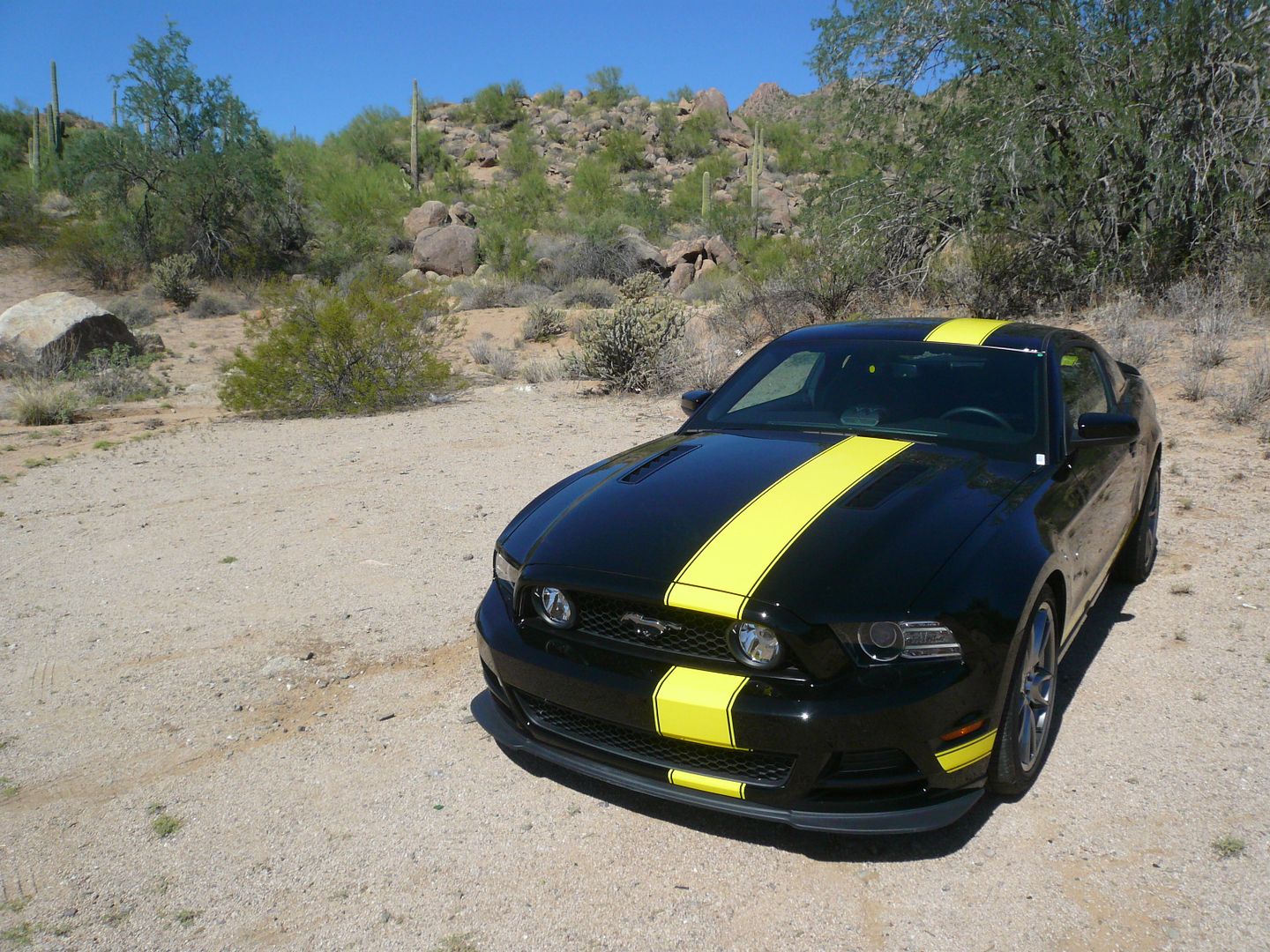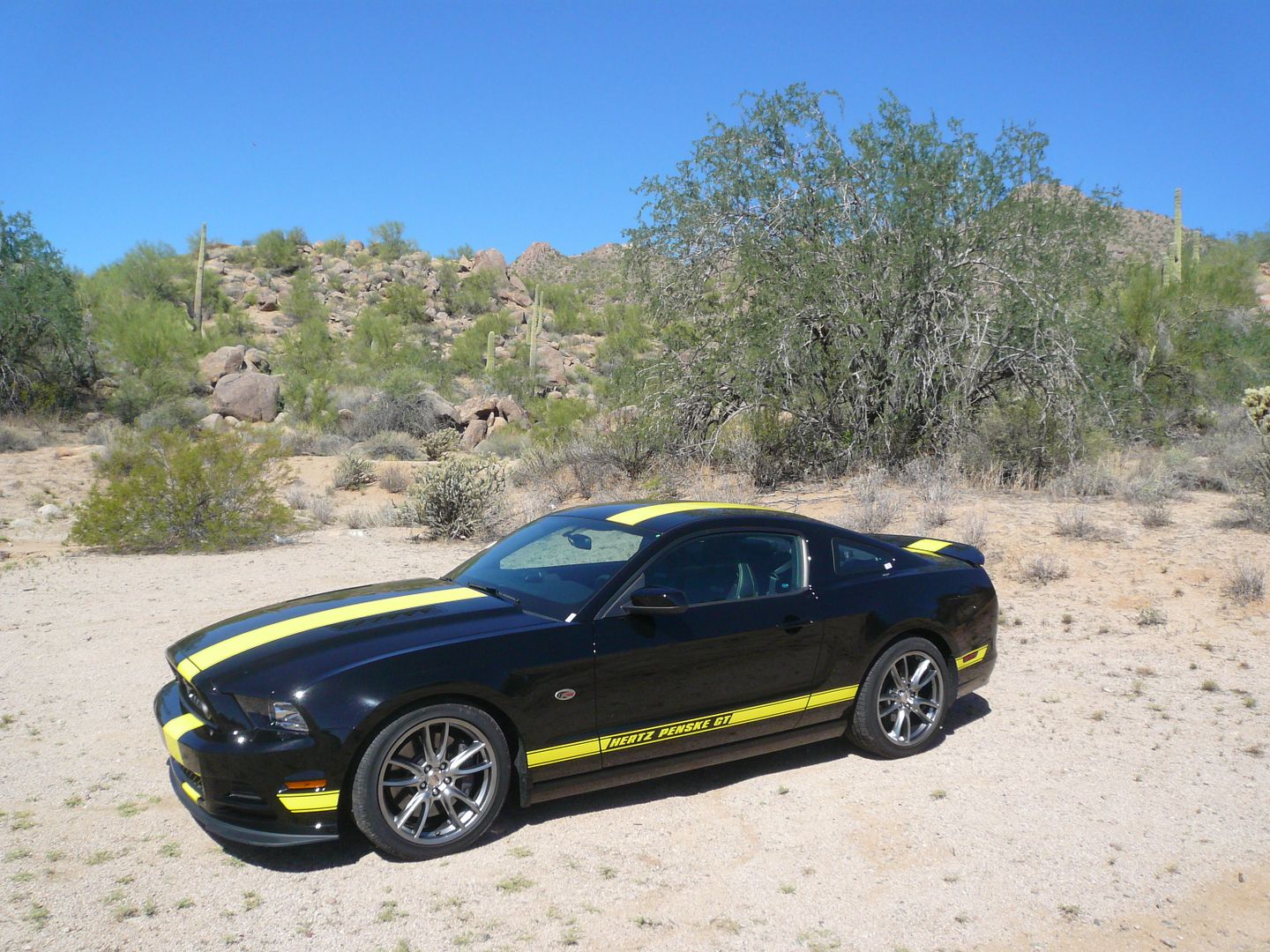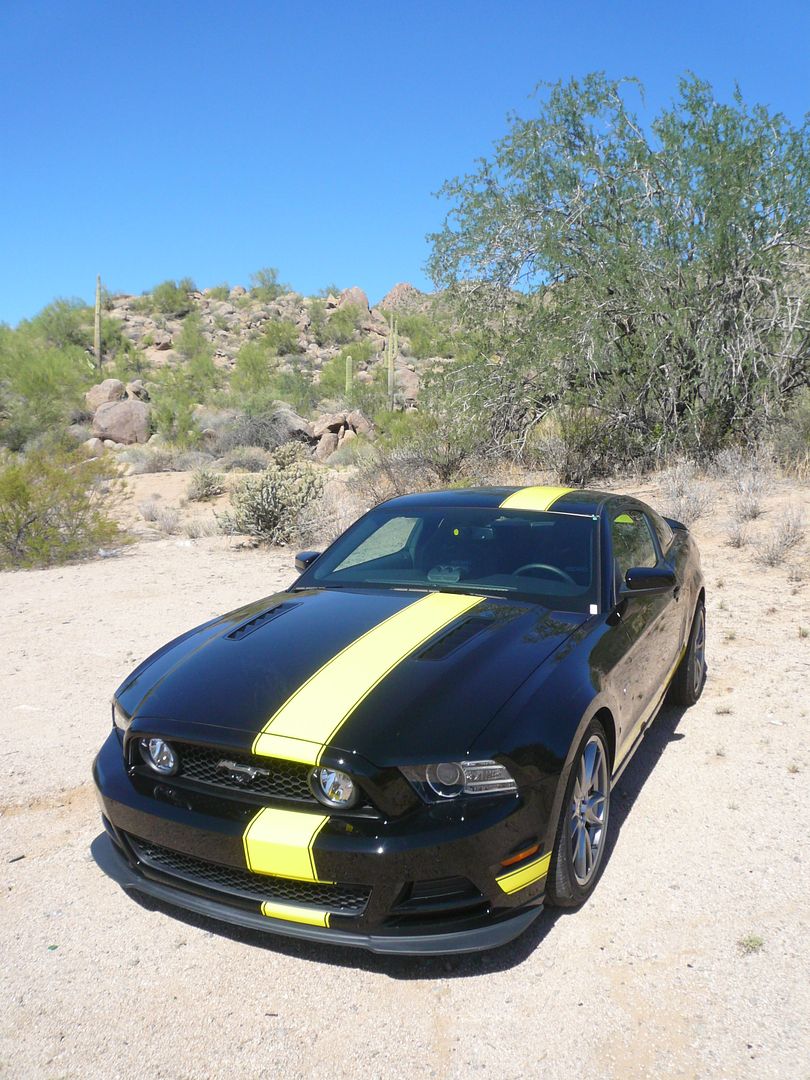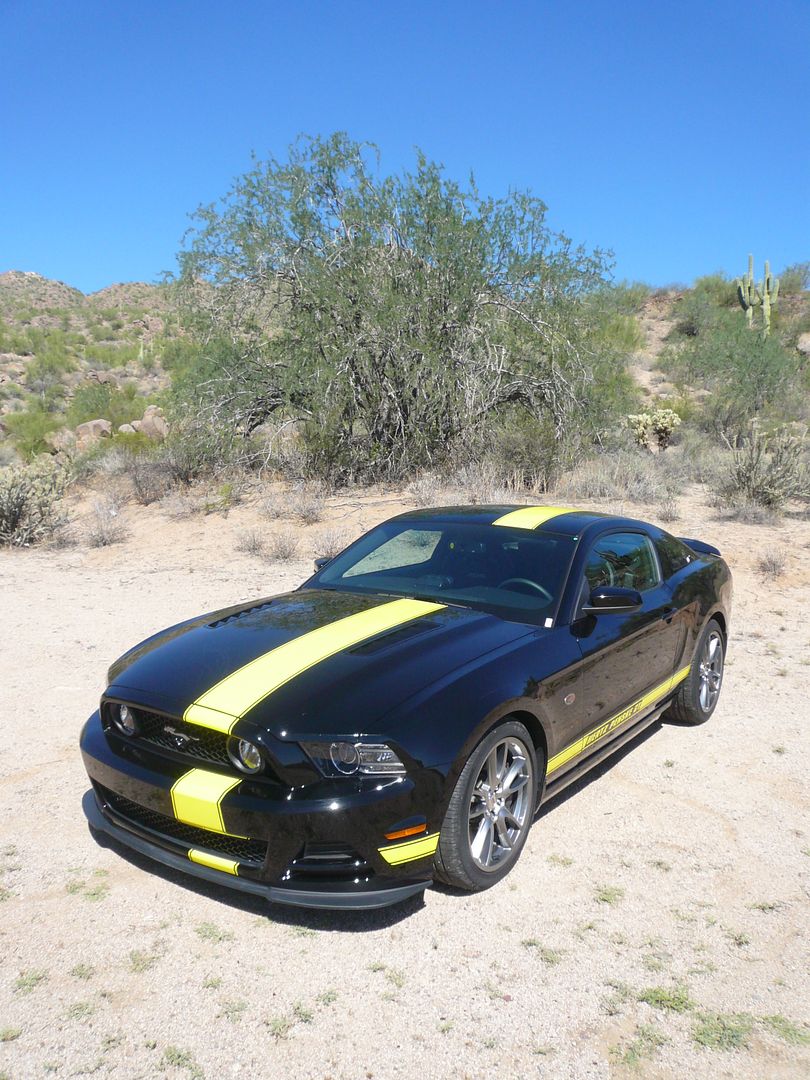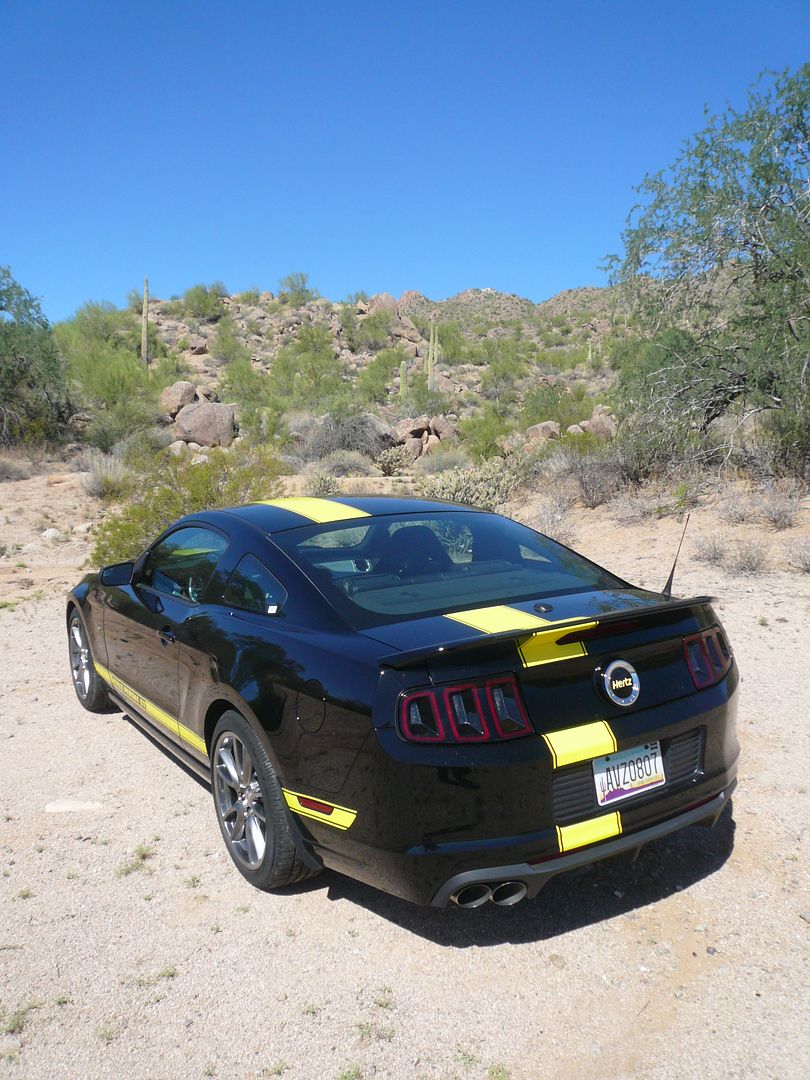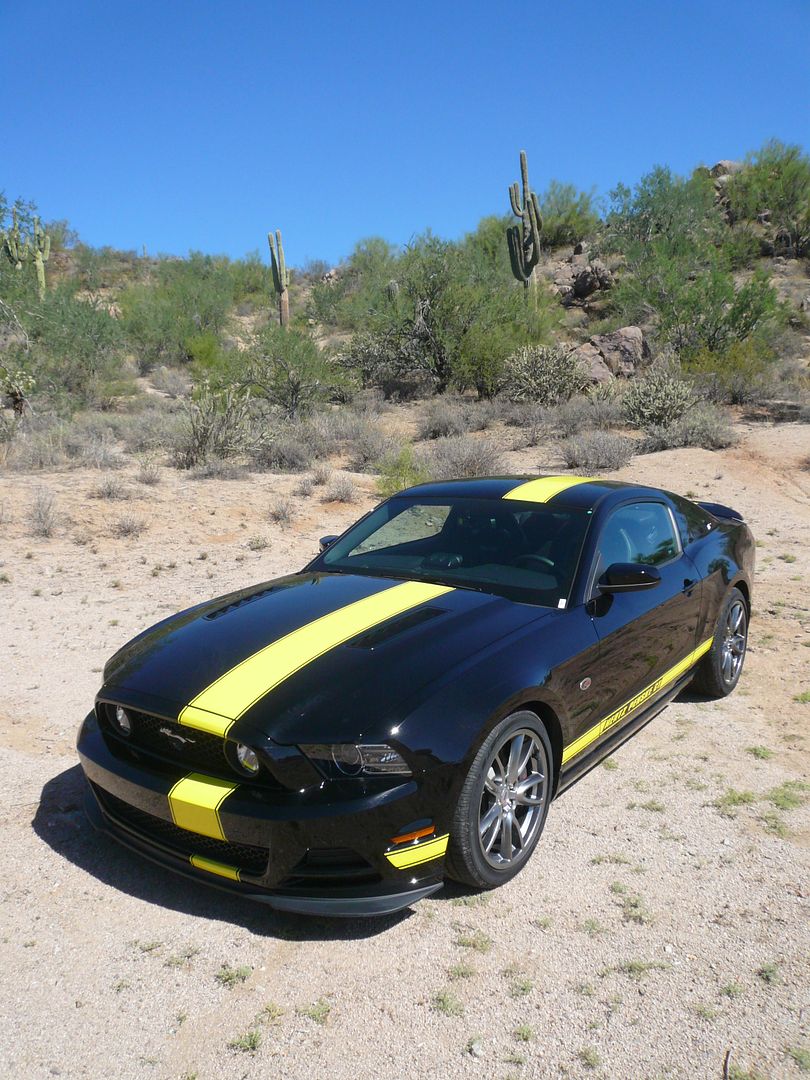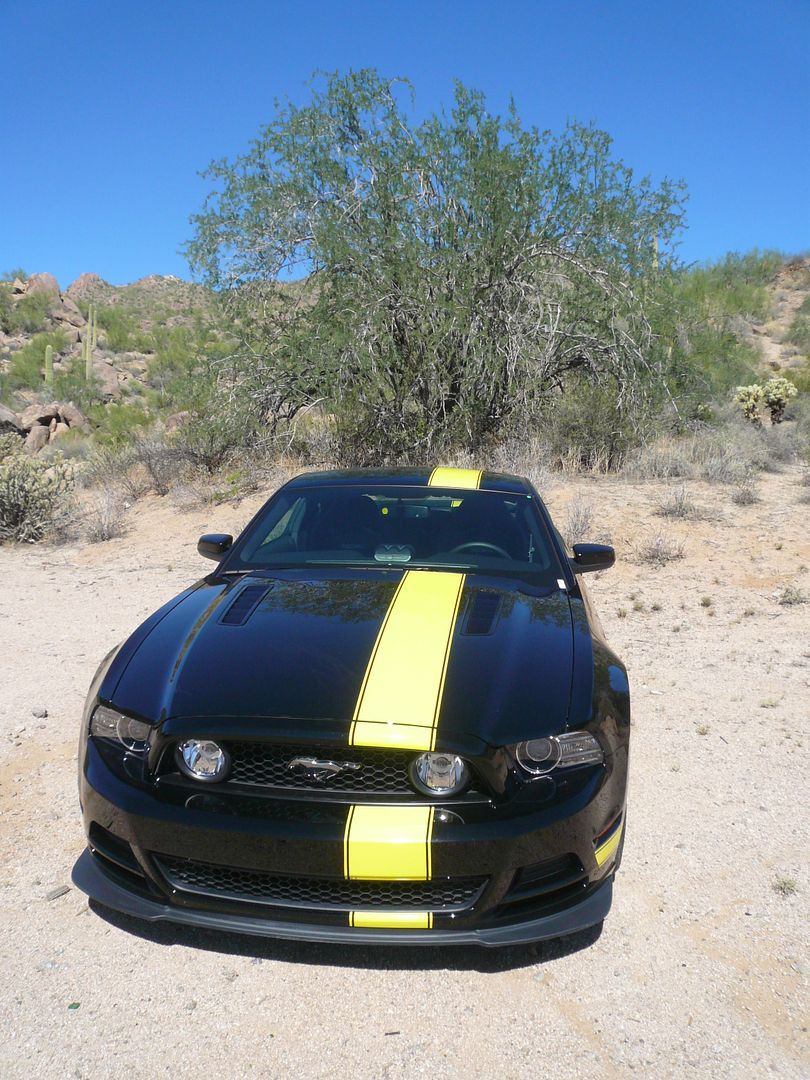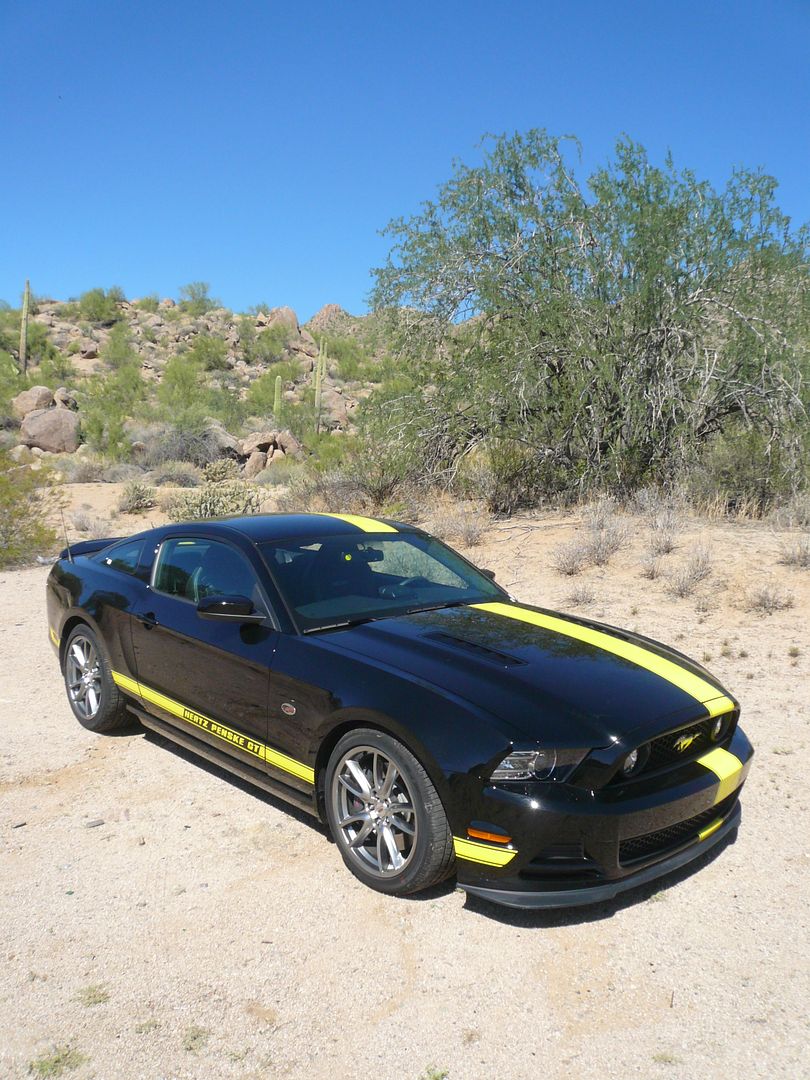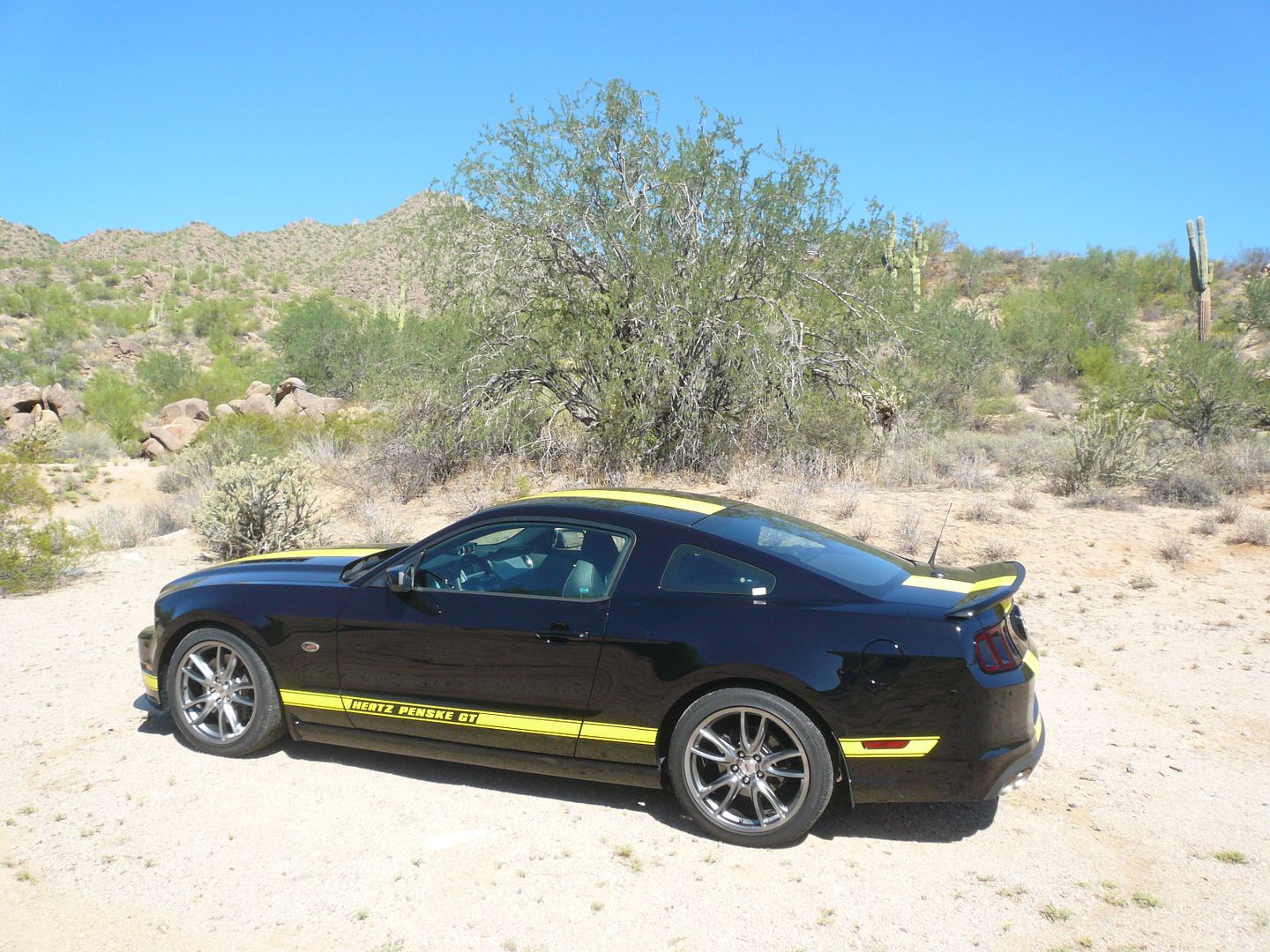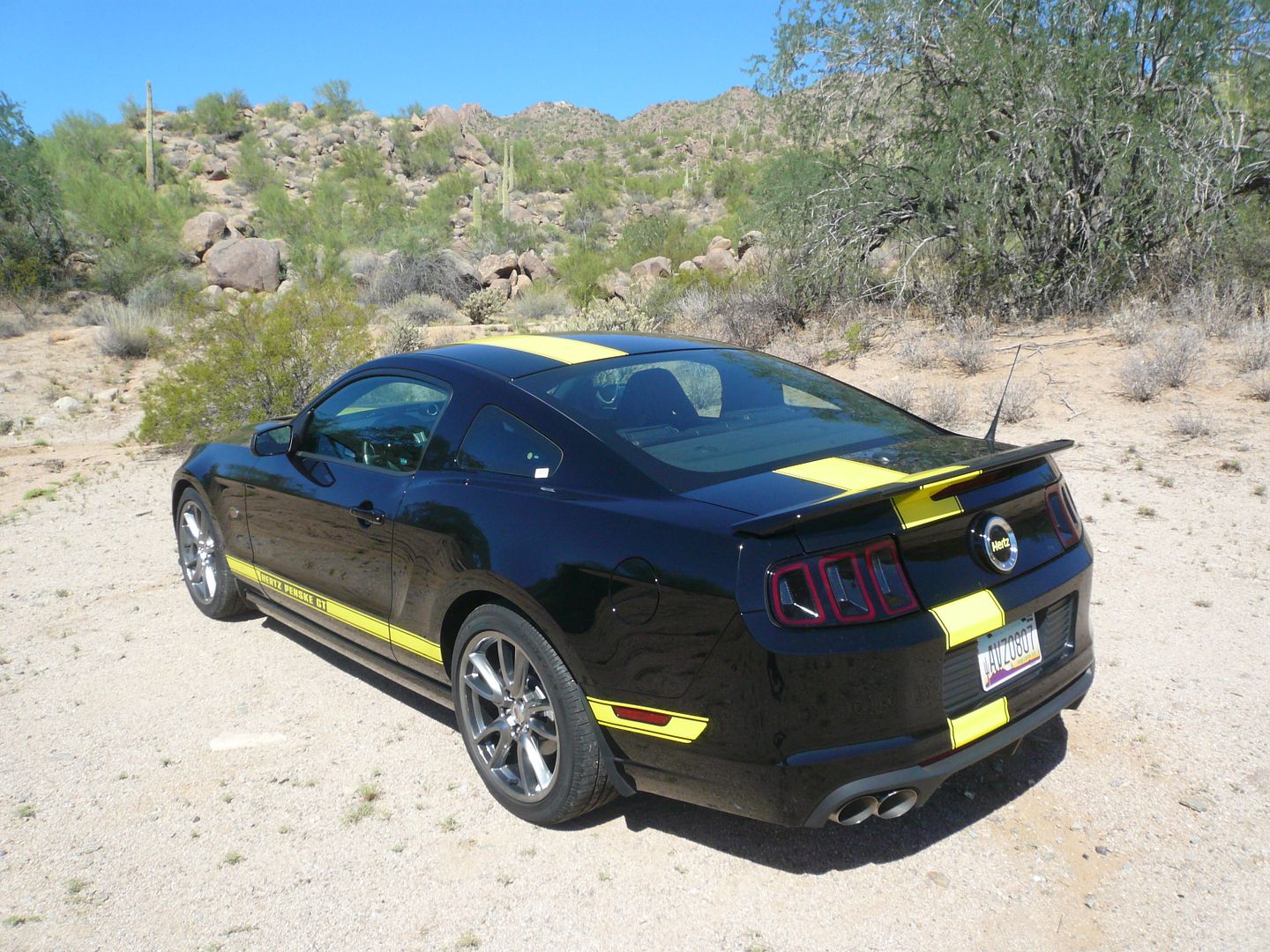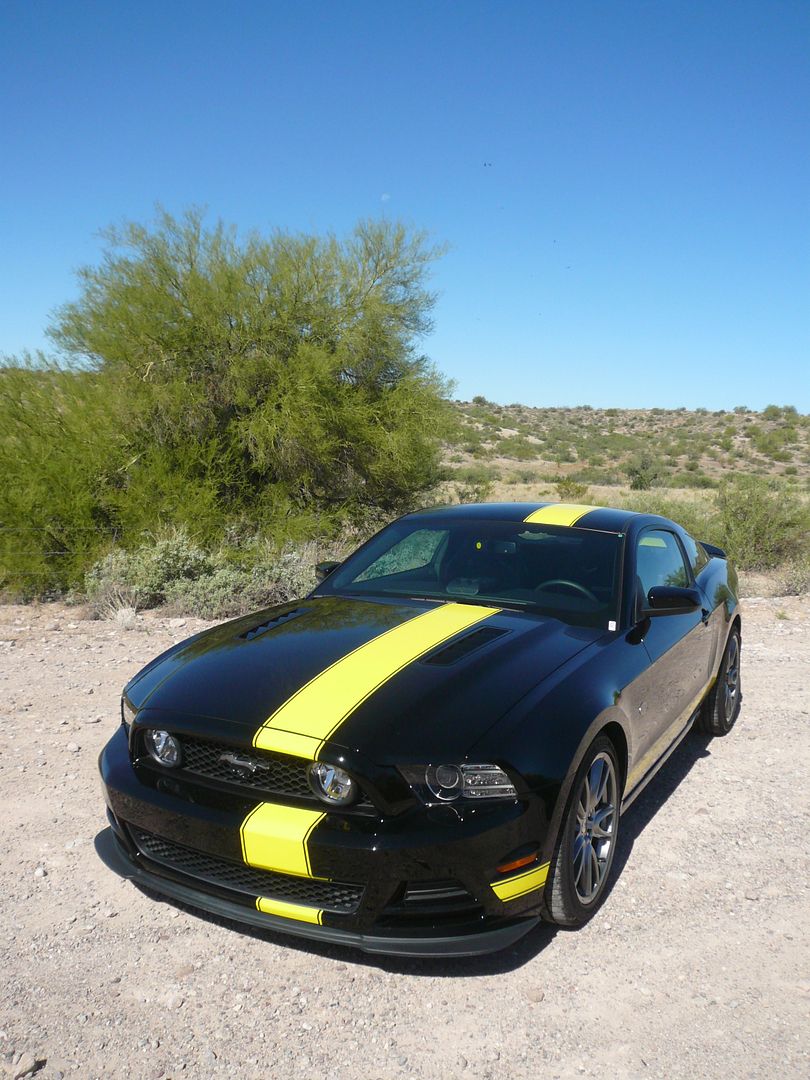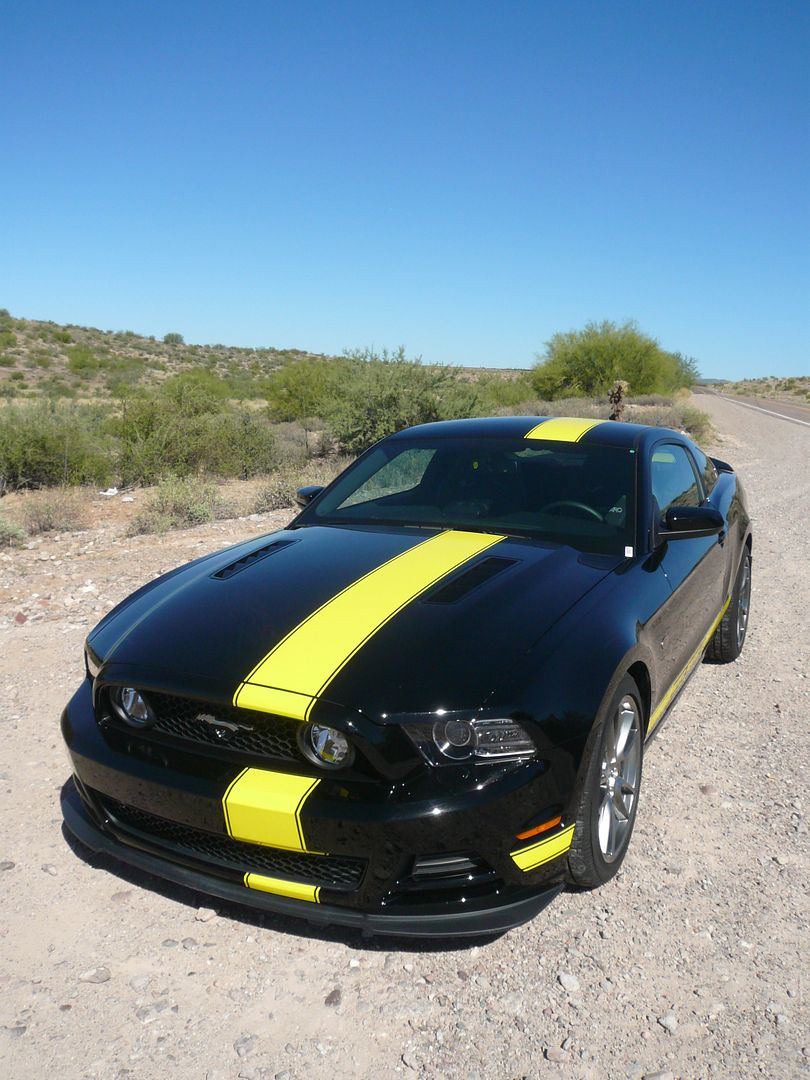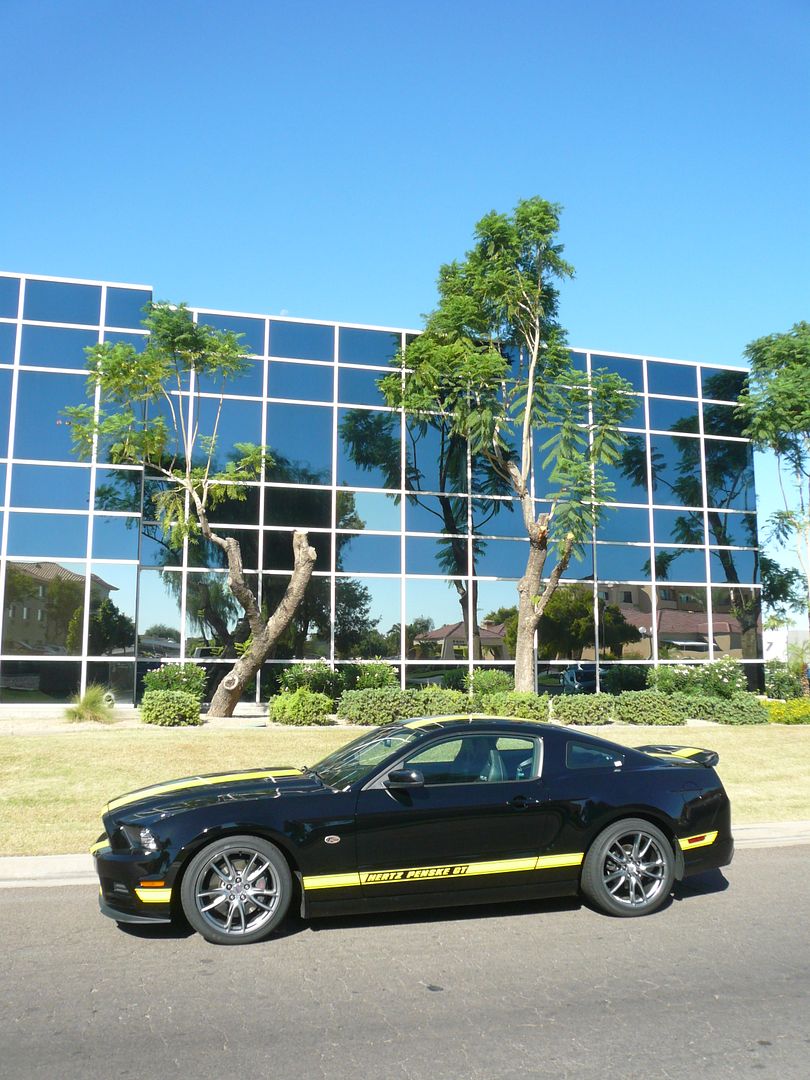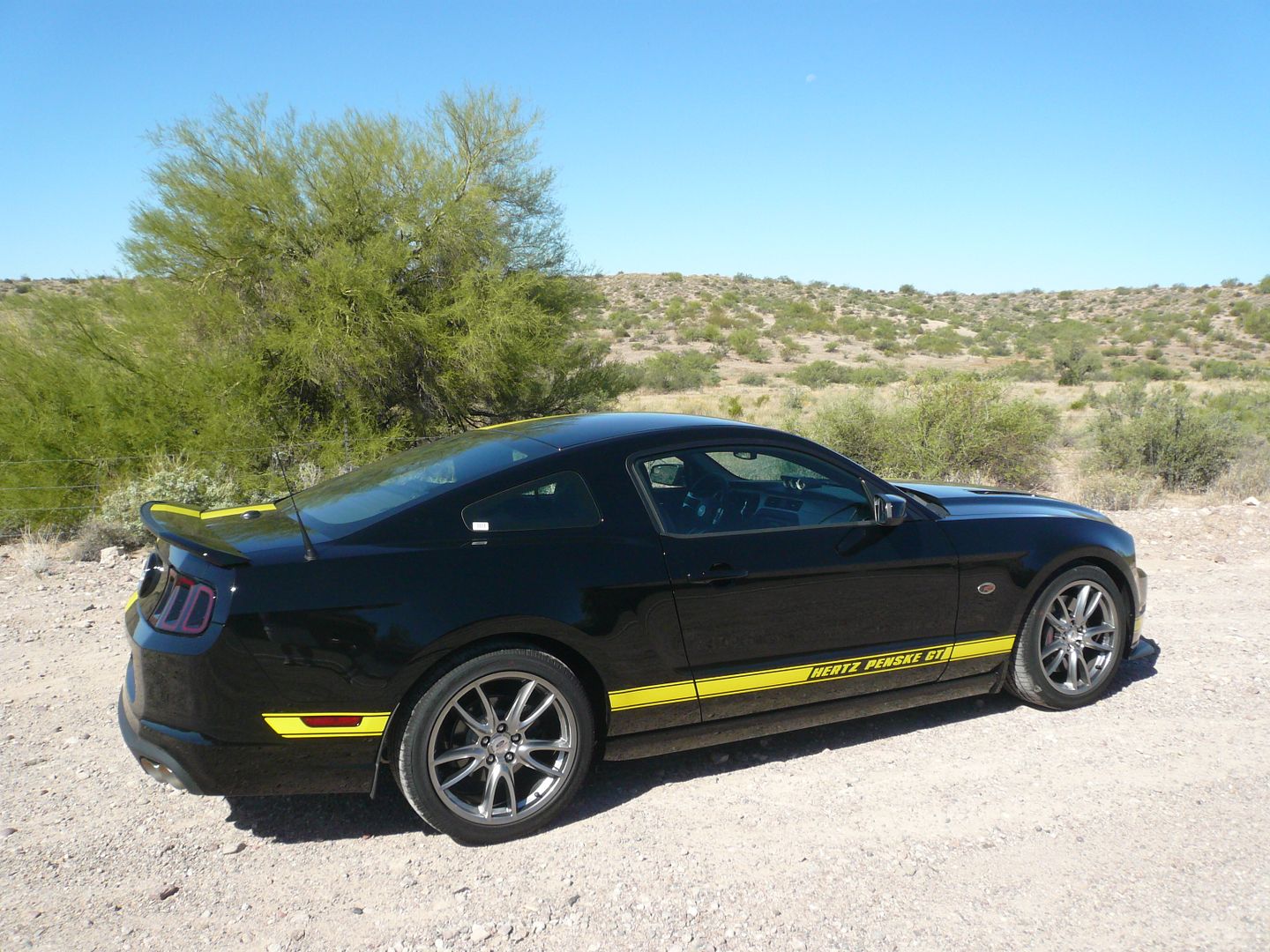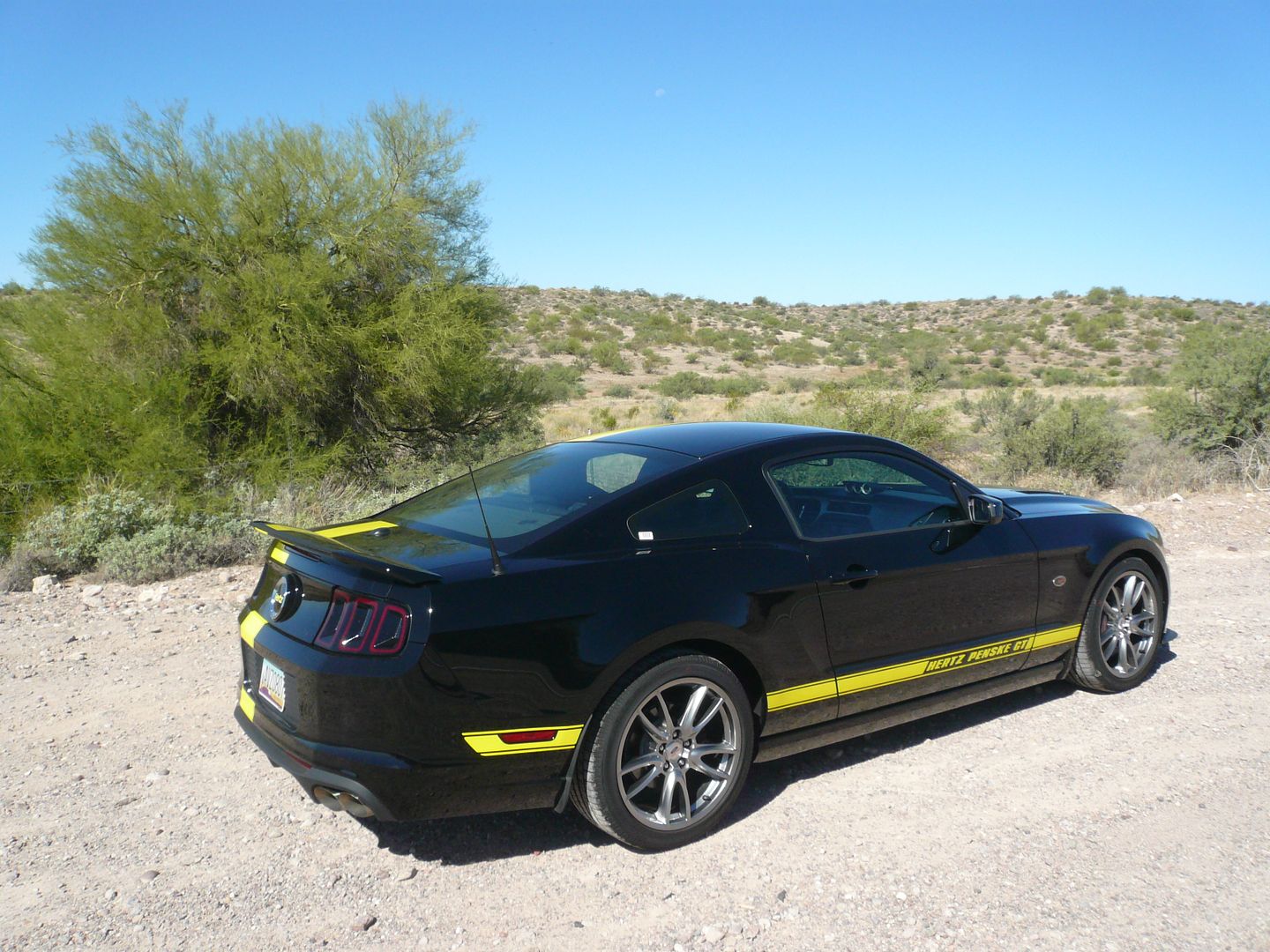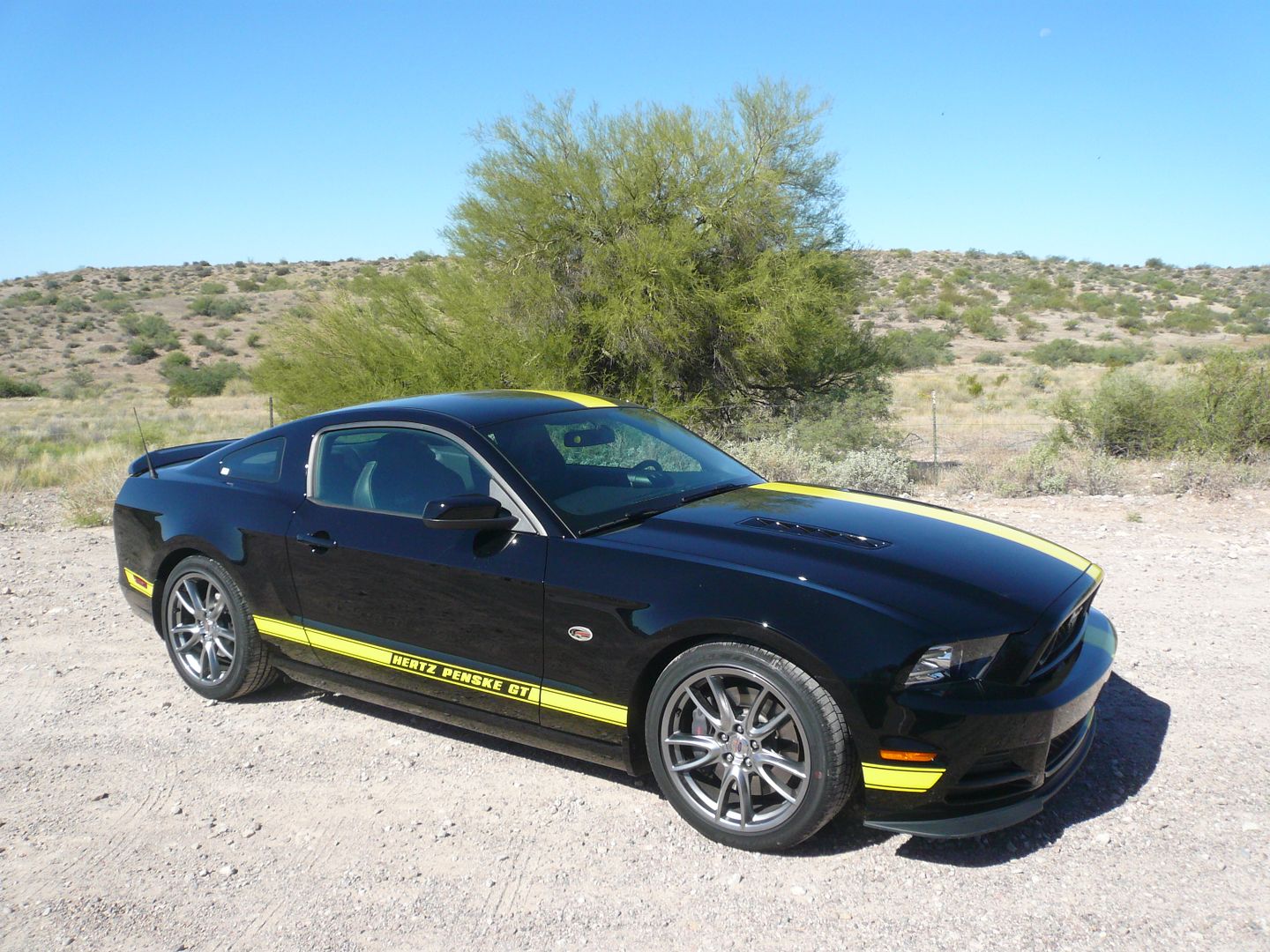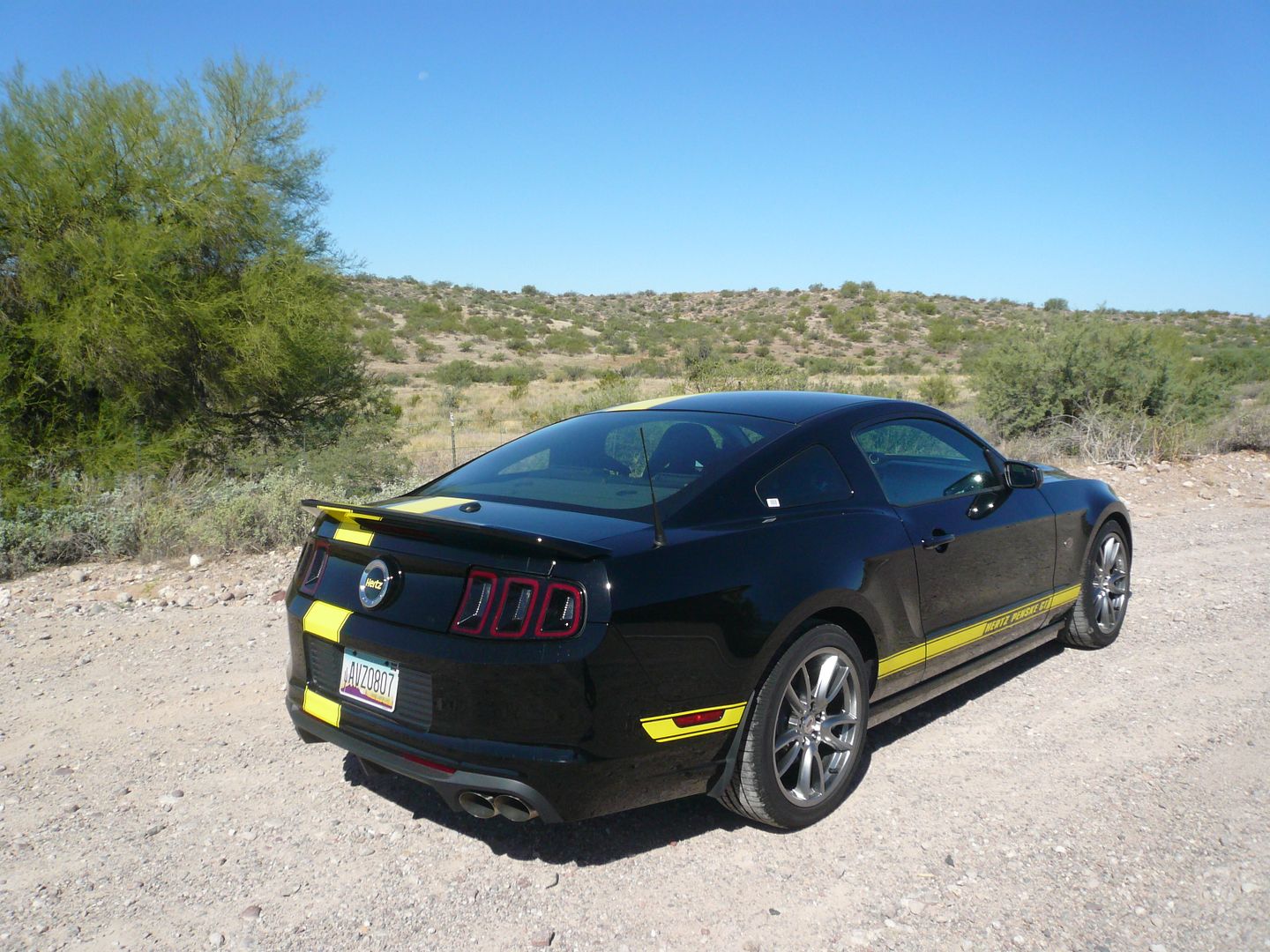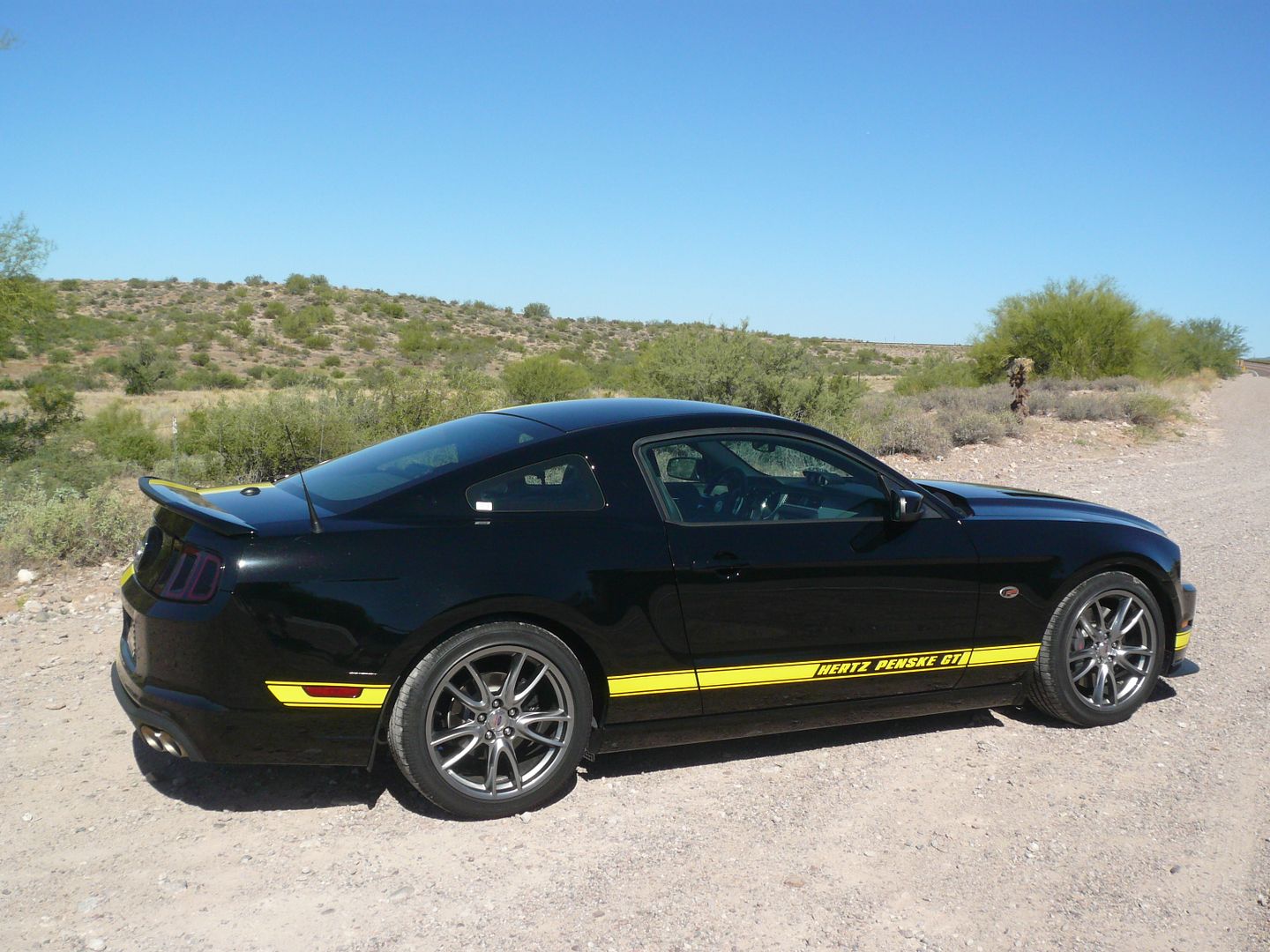 When John Hertz founded his eponymous car rental business in the 1920s, he built his own cars. He quickly realised that it would be much more cost effective to buy cars that others made and simply offer them out to hire, and so what soon became the world's largest car rental organisation grew and grew. Every now and then, Hertz has gone back to the business of, well not quite designing and manufacturing of cars, but certainly that of specifying something unique, available only from Hertz. Most notably, a partnership with the late Carroll Shelby in 1966 gave rise to the Mustang GT350-H, the so-called "rent-a-racer" program. 40 years later, Hertz entered into another partnership with Shelby and produced another Mustang based rental car, the Mustang GT-H, of which 500 cars were produced, all in black, with a large central gold stripe. These were followed by a convertible version, and then in 2008 there was a special yellow painted Chevrolet Corvette ZHZ. All three of these unique series of cars were extremely popular, as they were relatively affordable, and yet something far more exciting to drive than standard rental offerings, and this success prompted Hertz to launch something a little more mainstream, their Adrenaline Collection, which they populated with the recently launched 5.0 GT Mustang, the Camaro SS and the Challenger R/T as well as the Corvette. On Independence Day 2013, they announced the latest addition to the Collection, which linked back to those original "special to Hertz" cars, the Hertz Penske Mustang GT. With only 150 such cars made, and no guarantee how long they will stay on fleet, I vowed that I should try to get behind the wheel of one at the first available opportunity, and when I found no fewer than 8 of them parked up at Phoenix' Sky Harbor airport, with a surprisingly affordable upgrade cost, and no mileage restrictions (unlike what would appear if you try to book the car directly on Hertz' web site), it was clear my luck was in. I hastily swapped my existing rental for a day of fun behind the wheel of this most special machine
And special it most certainly is, as this car comprises a unique combination of parts that Ford, Hertz and Penske Racing jointly worked on when conceiving these machines.
Penske racing are involved, as Hertz sponsors the Penske Racing Ford Mustang driven by Joey Logano and Brad Keselowski in NASCAR's Nationwide Series. So the Hertz Penske Mustang GT takes its colour scheme from the race car, though they are reversed for these road cars, as the predominately yellow with black trim for Logano's racer becomes black with yellow stripes for the rent-a-car. But there is far more to it than that. Starting with a regular 5.0 GT Mustang, mechanical changes include a quad-tip exhaust system, high airflow intake system, special engine computer tuning, Powered-by-Ford valve covers, a 3.55 rear axle ratio, Brembo brakes and a handling package that includes wheels, Goodyear Eagle F1 tyres, and suspension components — shocks, struts, bars, mounts, bearings and shims — that lower the car's ride height by an inch. In addition to the exterior colour and stripes, the cars are different from standard models in that they combine a Boss 302 front splitter with a GT500 rear valence. There are lots of other neat touches, which include Penske Racing badges, and a retro-style and Hertz-badged faux rear fuel cap. Changes inside include Recaro racing seats, Mustang Laguna Seca gauges, custom floor mats, lighted door-sill plates, and a plaque in front of the gearlever that indicates this is car No. X of 150, and Ford's Touchscreen Entertainment System with GPS and back-up camera. Oh, and when you start the car, that screen displays a special welcome and provides a photo gallery showcasing Penske Racing and the build of the Hertz Penske GTs. The whole ensemble is a unique combination of modifications and they create something very distinctive.
Enough of what it is, though, as the burning question is what is it like to drive. In a word "awesome". In another word, "epic". In yet another "fantastic". No, I'm not going to work my way through the entire Thesaurus finding all the synonyms for this conclusion, though I can't promise that  such epithets will be absent from the rest of this report.  I was expecting to be impressed by the sound that would emanate from the car when I fired the engine, not least because the rental car facility at Sky Harbor is in an enclosed multi-storey garage. I was not disappointed. There is a deep rumble that sounds like the Penske means business. Unlike most cars where once the engine has warmed up and the noise lessens a lot, in this one, the noise level does not reduce much even at idle. It is a very pleasing noise, and it was late in the day before I even bothered to turn on the stereo system at all, preferring to listen to the engine note. That said, once cruising at a steady speed, although wind and road noise are well suppressed, there is an element of boominess that you may find wearing over a long journey, so be warned. Even just moving off-site on to the surface street that connects to the 10 freeway, I could tell that this a rapid car. Quite how rapid, you would need a private track to find out, as the one disadvantage of such a special car is that you are extremely conspicuous. Suffice to say that even a gentle press of the accelerator will see the Penske rocket forwards, and if you press it a bit harder, then you quickly realise just how phenomenally rapid this car is. I have not been able to find any definitive statement on the bhp developed, or even the performance figures, but when you consider that it is based on the 412 bhp regular 5 litre car, which is far from a slouch, it is no surprise that it is really rather swift. Wherever I was during the day of my test, I got the impression that this car was just waiting for me to let if off the leash properly, and the frustrating thing is that even where there is little traffic (and once outside Phoenix that is generally the case), I just did not dare give it its full head. On a very quiet road I know where you can count the passing traffic per hour on the fingers of one thumb, I did let rip from nought to, well, space ran out at 100 mph, and that came about very quickly.
What is even more impressive than the astonishing levels of performance is that this car is remarkably easy to drive. Many super fast machines are more than a little intimidating, but not this one. All you need do is get in, adjust the seat, put the key in, engage D and drive off. Slowly if you want, and it will be OK. You can crawl in traffic without worrying about the weight of the clutch or whether it will overheat, and then when you want a little adrenaline rush and conditions allow it, you just flex that right foot, open your ears, and away you go. When I tested the Shelby GT-H back in 2007, I remember that the very low front spoiler was a major problem, causing lots of angst when approaching even fairly shallow turnings such as entrances to fuel stations and even on ramps into car parks, but despite the fact that the front splitter on the Penske looked pretty low, there did not seem to be any difficulties, and I never once heard it catch on the ground. American muscle cars have traditionally all been about straightline speed, with far less attention paid to how they handle. I could get nowhere fast enough on public roads to find any sort of limits of adhesion or limitations in the still live rear-axle suspended suspension, but I can tell you that you might need to be careful putting your foot down too hard, as on one moderately tight turn, I could feel the back end slide more than I was expecting, at only fairly moderate speed. Similarly, I was never going fast enough to give those large Brembo brakes anything other than a relatively gentle test. I can observe that as you slow down, say for traffic lights, you really could feel the Mustang coming down through the gears in a way that you cannot in almost any other modern automatic. There is a price to pay, though, and that is the ride. Which is frankly terrible. Arizona's roads are pretty smooth, but this car picked up imperfections and transmitted full details of them to me in places where I have never felt them before and indeed where you cannot see anything too obvious on the road. This more than anything else may ultimately limit your enjoyment of the Penske.
If you care about fuel economy, you really should not be driving this car, but when I got in it and the readout on the dash said that the range was just 225 miles, and the needle showed a full tank, I did wonder. 225 miles really is not a lot. Steadily the needle did go down, but I was clearly a little lighter footed than then previous renter, as when I filled it up, the range was indicated to be 300 miles. Doing the maths revealed that I had achieved 18.5 mpg US, which is 22.1 mpg. Just as well that fuel is about 70 cents a gallon cheaper in Arizona than it is in California!
Look beyond the Penske modifications, and what you are getting is mostly the "standard" Mustang experience. The current shape model has been around for some years now, and this is the sixth one I've driven. They've all been different, and over the years, they show how Ford has continued to improve the model from that very good looking car that premiered in early 2004. One of the areas that took some criticism on launch, and justifiably so was the interior, which was castigated for being rather low rent in feel. Although the basic retro-inspired design has not changed, Ford have made lots of changes to some of the details of the design, incorporating the advances in technology that have come about in the model's lifetime, as well as upgrading some of the plastics and other materials. They've only partially succeeded, with the 2014 cars on the just about acceptable side of "not that good". I guess only a complete redesign can address this, and that will come with the 2015 model expected to be launched on Mustang's 50th birthday.
The main part of the dash is inlaid with a brushed aluminium effect silver plastic which is orders of magnitude nicer than the horrid stuff that Ford of Europe still inflict on their cars, but is miles off the sort of nice finish with which the likes of Audi would endow it. It does provide some welcome relief from what otherwise would be quite a dark place with its all black finish. You get more variety at night, with the ability to choose from a palette of colours what hue you would like for not just the instrument lighting, but also the halo ring around them. Whereas before this was an easy button to find, now it is buried somewhere that I never found (I confess, I did not go looking). The two main dials have not changed with the various upgrades, with two large cowled and deeply recessed instruments for speedo and revs presented on the left and right respectively. The speedo bears kilometre markings on an inner arc which are particularly small and crammed together. Even the mph markings are an issue at a quick glance, as only even increments of 20mph are shown, so interpolating to judge 50 or 70mph, is hard, let alone 65 mph, which you will need when you are being followed by a police car, as I was for some distance. Remember this is the sort of car that will attract attention from Mr Plod. Unlike in the "standard" car, where there are separate gauges between the two main dials, a small fuel level and water temperature gauges are in the lower portion of the rev counter. What is new in this Penske model is what sits between the main dials. Using navigation buttons on the left steering wheel spoke, you can choose between a tabular or graphical display of all sorts of things that you never usually find out about: an instant reading of the air/fuel mix (around 14:1 most of the time); the cylinder head temperature (around 214 degrees); the oil temperature and the like. If you select a different set of options, you can get things like the trip meter and average fuel consumption, though you would probably scare yourself and your bank manager looking at that one too often! Also new on this model are the three dials mounted in a pod on the top of the centre of the dash, which show oil pressure, water temperature and there is a lap timer. There is one column stalk, to the left, which does indicators and wipers. That means that the wipers are operated by turning the end of the stalk through a number of intermittent settings before getting to continuous wipe. As my test coincided with a period of perfect Arizona weather, I had no need to use the wipers, but I know from my last test of a Mustang, in some unseasonal Californian rain, it was awkward compared to a separate stalk. Lights function off a rotary dial to the left of the dash. The middle of the dash unit contains the integrated display unit, which has a touch sensitive screen which contains the much criticised MySync functions. Used to control the audio functions, or satellite navigation, it was fine, proving easy to operate. There are conventional buttons for the audio system as well, some of which may prove easier than finding the right menu option. Below this the dials and buttons for the air conditioning system. The temperature one is a small rotary to the right at the bottom, and quite awkward to reach around the gearlever. There are repeater buttons – very small and fiddly ones – for the audio unit on the right of the steering wheel boss, and the cruise control settings are on the left hand side.
Unlike the last Mustang I drove, where I never managed to get completely comfortable, the Recaro seats in this model were excellent, and fitted me just perfectly. Adjustment is all manual, with levers on the side of the seat for backrest angle and height of the seat, and although this means a stepped series of positions, I was able to get the perfect driving position. You don't want to sit too low in the car, as then you would struggle with visibility, which is not a strong suit anyway. Looking forwards, there is less of a hump in the bonnet than in the standard GT model, where I found it to be pretty dominant and the view in the rear mirror contains a large slice of rear spoiler. The door mirrors do feature Ford's simple addition of a second smaller piece of glass in the door mirrors to give a separate field of view, effectively removing any blind spots. Annoyingly, if you tip the seat forward to allow someone access to the rear, the backrest does not return to the angle at which it was previously set. The seat did prove very comfortable, with perfect support, I got the feeling that you could drive a long distance in this car (at least until the tank ran dry or your ears got fed up with the noise or your body with the ride) without problem. I am not sure that those who were asked to sit in the back would be quite so keen, though this is a feature of all Mustangs, of course. The first challenge is to get in, as only the back rest tilts forward, leaving quite a narrow space through which to clamber. Once in, the amount of leg room will depend on the sacrifice or not that you get from front seat occupants. Even with the seat set for me to drive, there is not much leg room, but if you set the front seat well back, it all but disappears. Head room, whilst far from generous, is less of a problem, and as the rear is only ever meant for two, there is ample shoulder room.
I knew from the past that the problem with the boot is not so much its capacity, which is not bad for a car of this class, but the small slot through which access is gained. However, as my test was in the middle of my stay in Phoenix, the suitcase was firmly staying in my hotel room so I had no need to use the boot at all. I know from the last rental that I was just about able to get my suitcase in, and there would have been space for quite a lot more soft luggage as well had I needed it. Oddments space in the cabin is pretty limited. There is a surprisingly small glove box, and some useless door pockets which are hard to reach, and not worth the effort when you do contort to get to them, but there is a deep cubby between the seats behind the twin cupholders.
Having previously sampled all three of the muscle car protagonists in Hertz' Adrenaline Collection, I have concluded that although all of them are a lot of fun, if I were asked to choose just one, I would probably have gone for the one with the bow-tie badge, the Camaro SS. Sadly, Chevrolet seem to have ruined the looks of that car with a rather gauche facelift applied to both front and back. And now, I've driven the Penske Mustang GT, my answer would anyway be different. Be in no doubt, this is a very special car indeed, and I enjoyed driving it a lot. Even more than the Camaro, or the Challenger and certainly than the regular 5.0 GT Mustang. That I managed to secure it for a $75 dollar upgrade fee on top of the price of renting a Corolla sized car (around $50, typically) was just icing on the cake. It's worth more than that. Getting a deal without a mileage restriction on it is a good idea, though, as you will want to drive it all day long. If you get the chance to try one: Just Do It. You will not regret it.