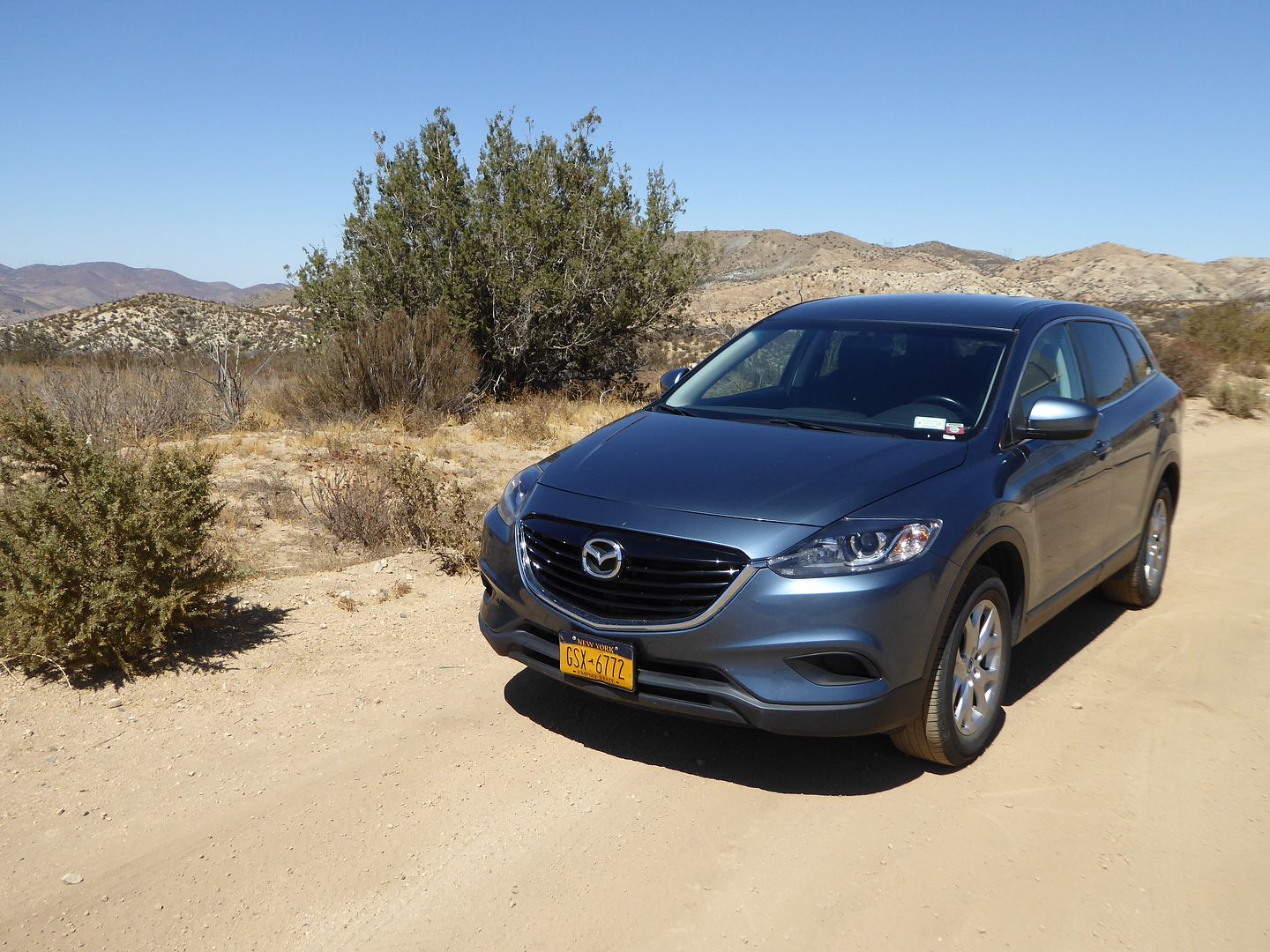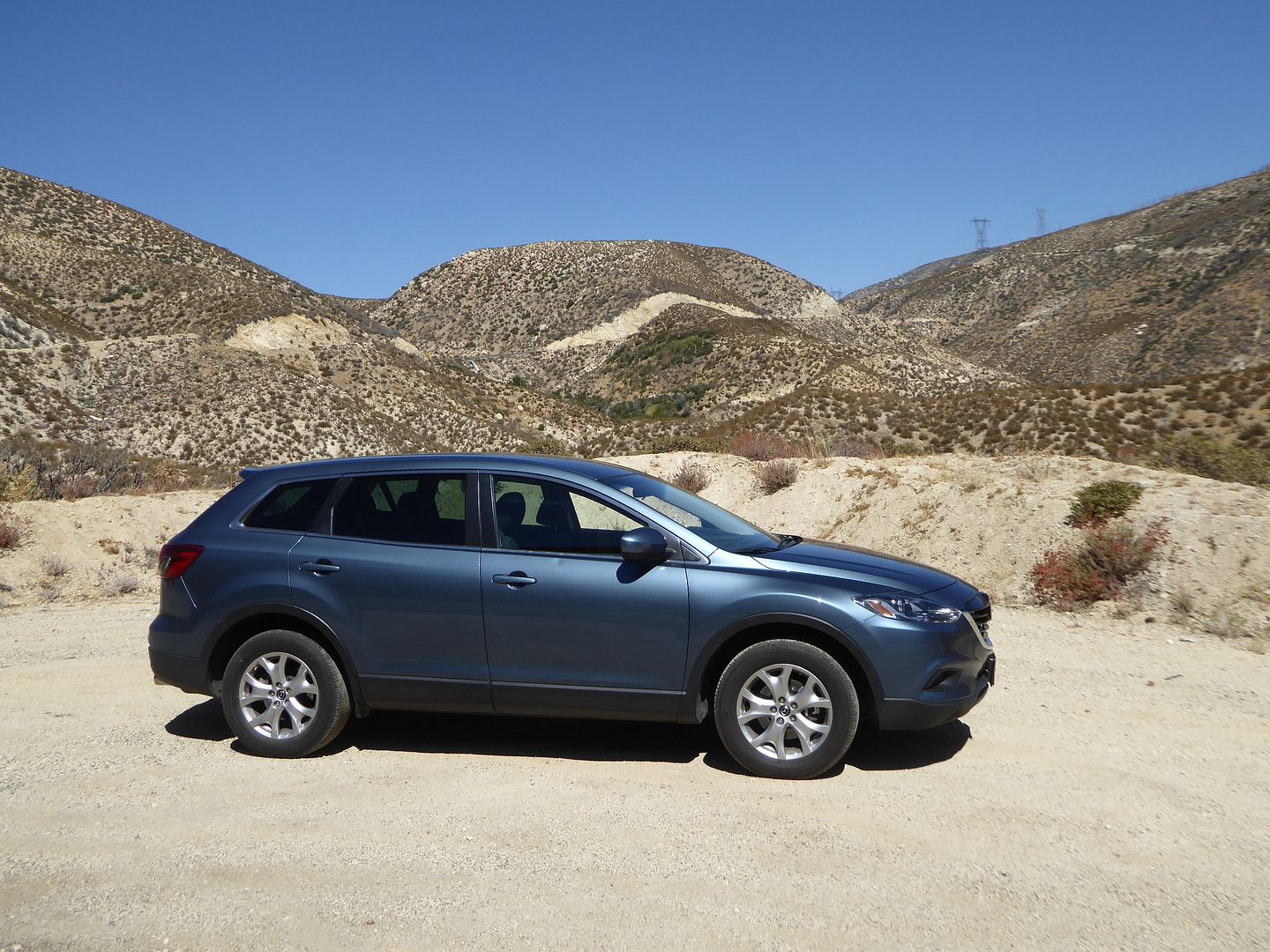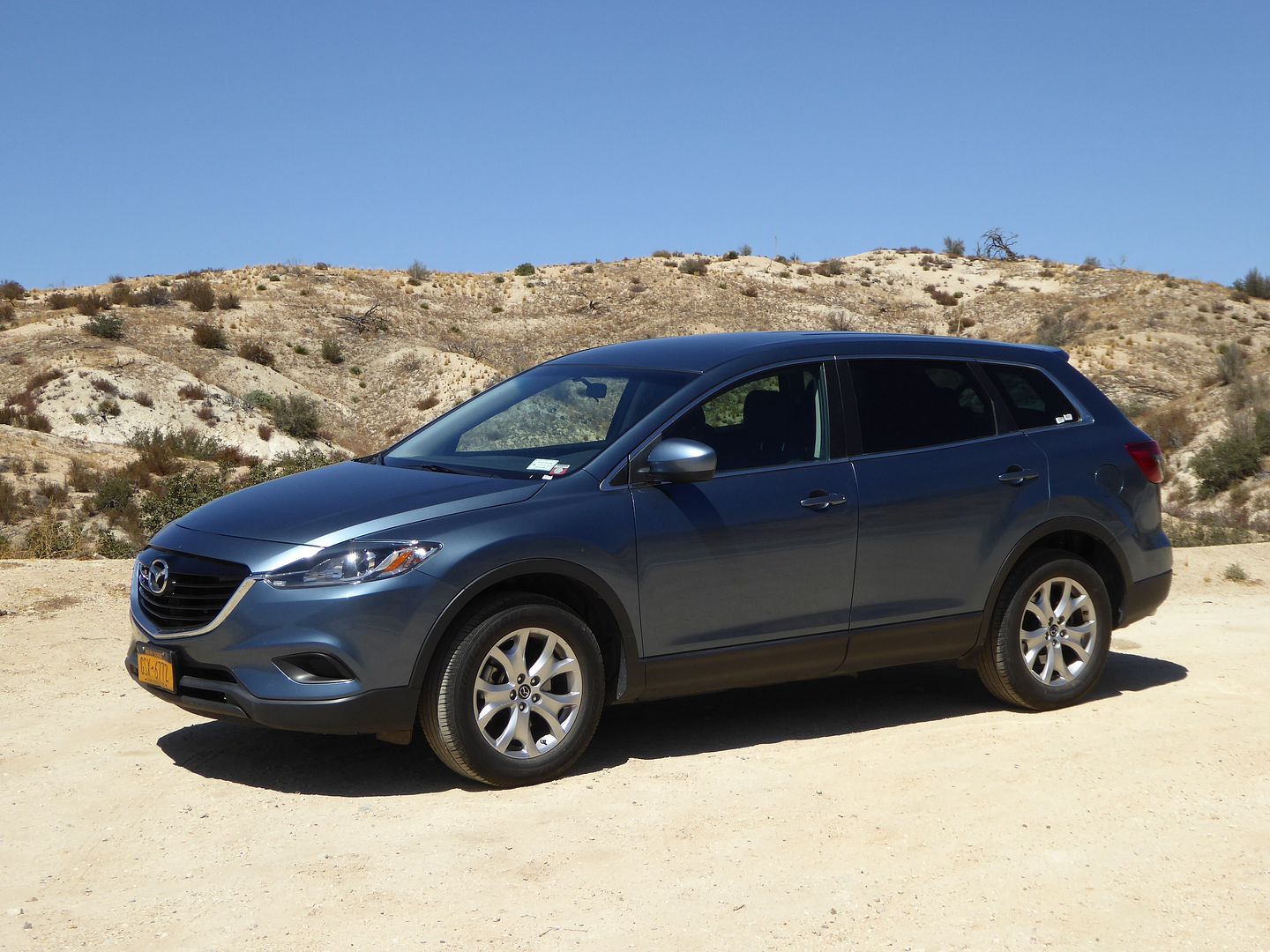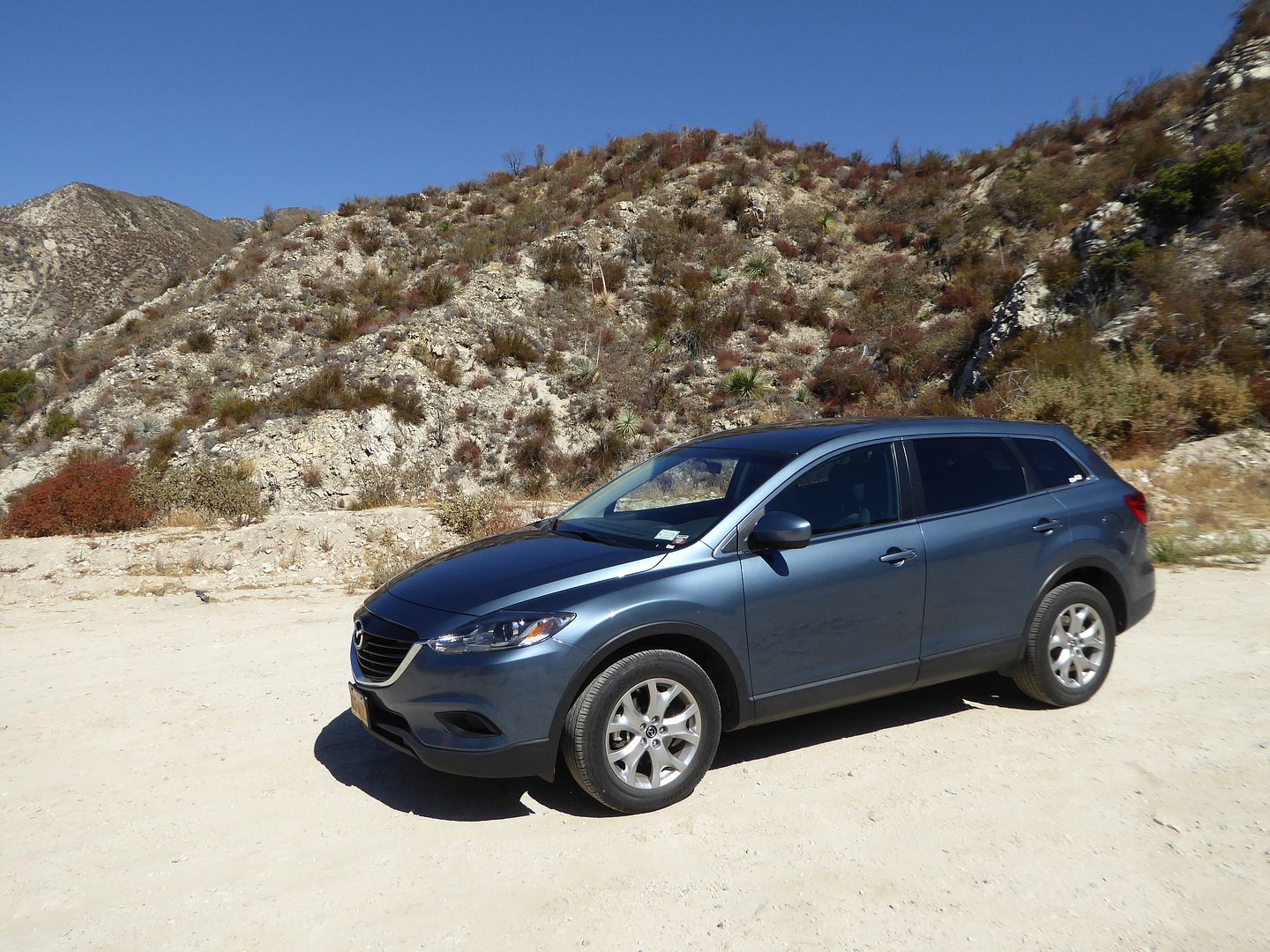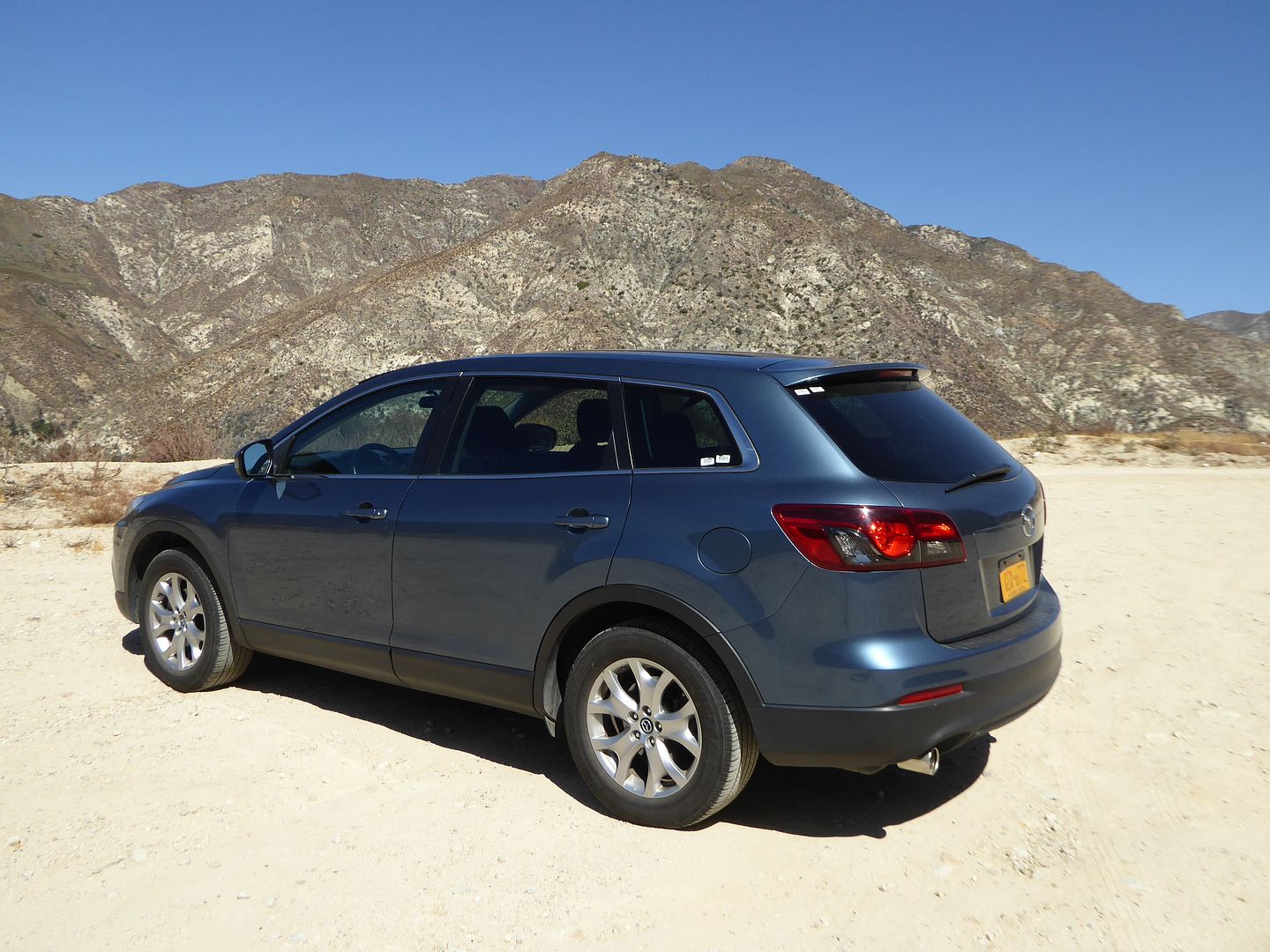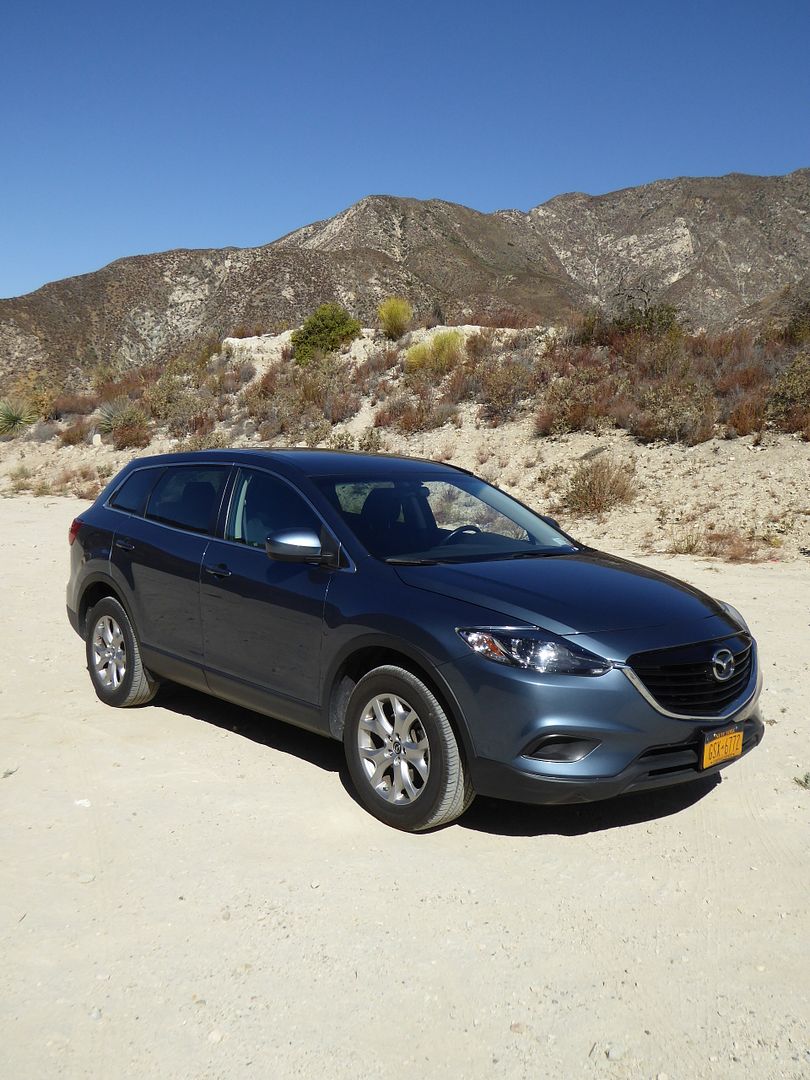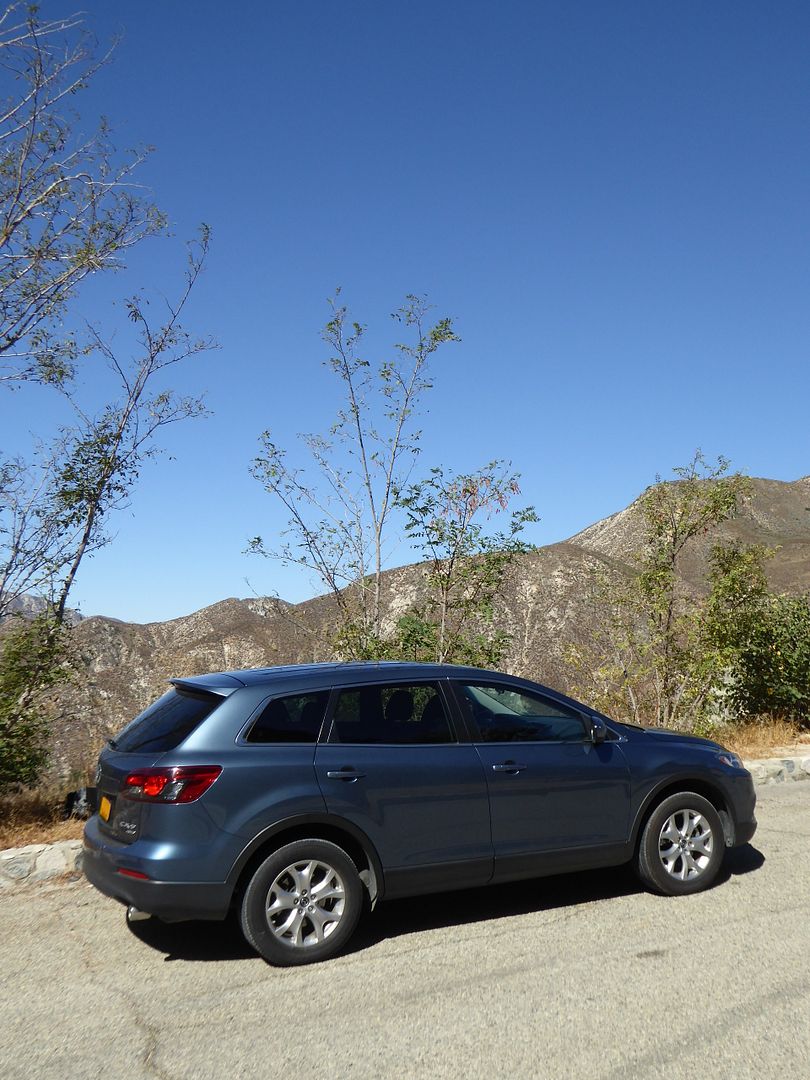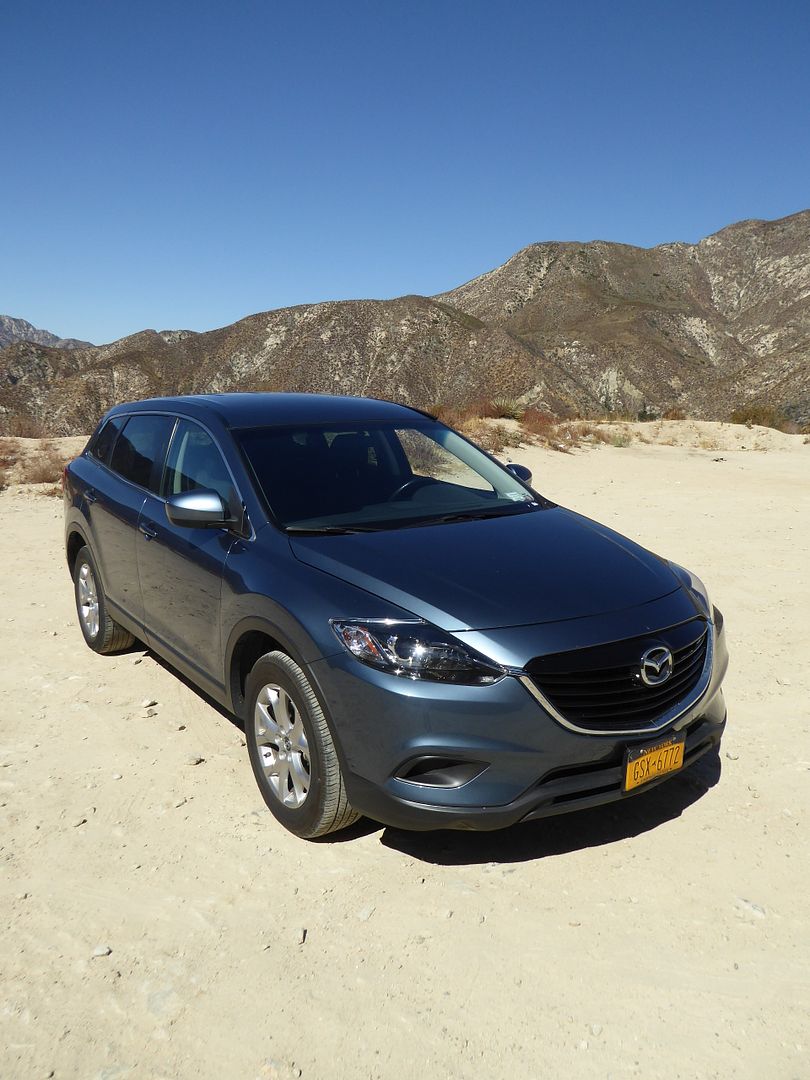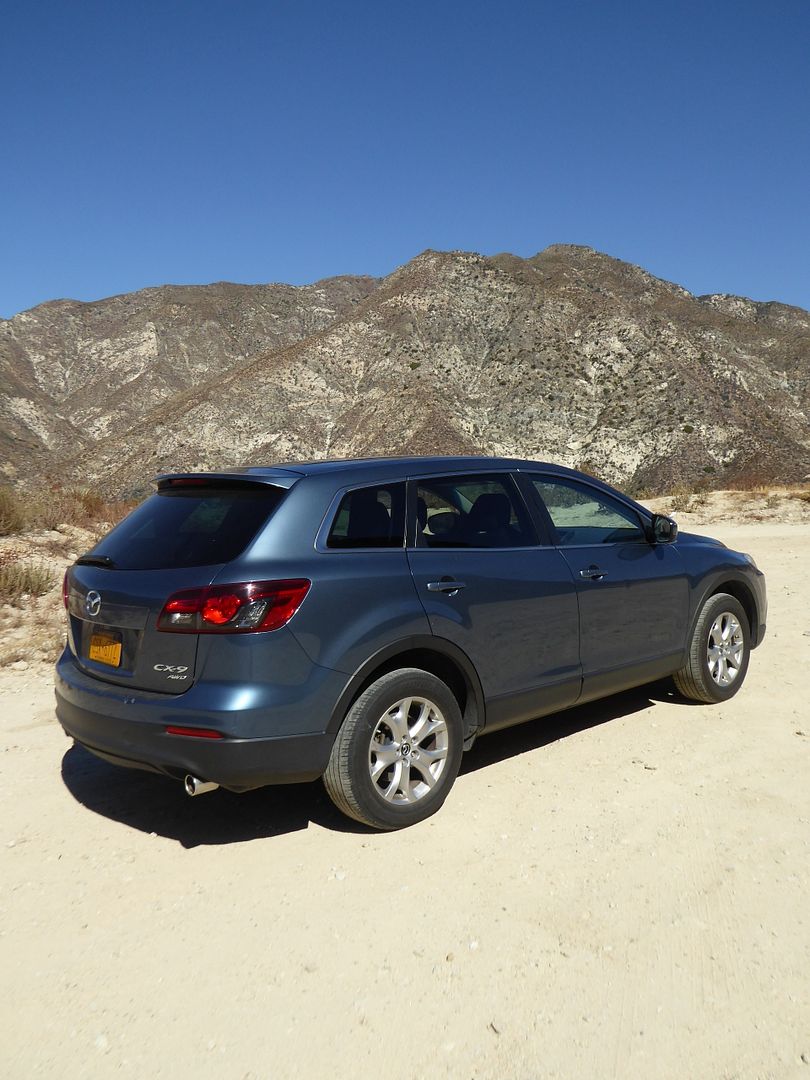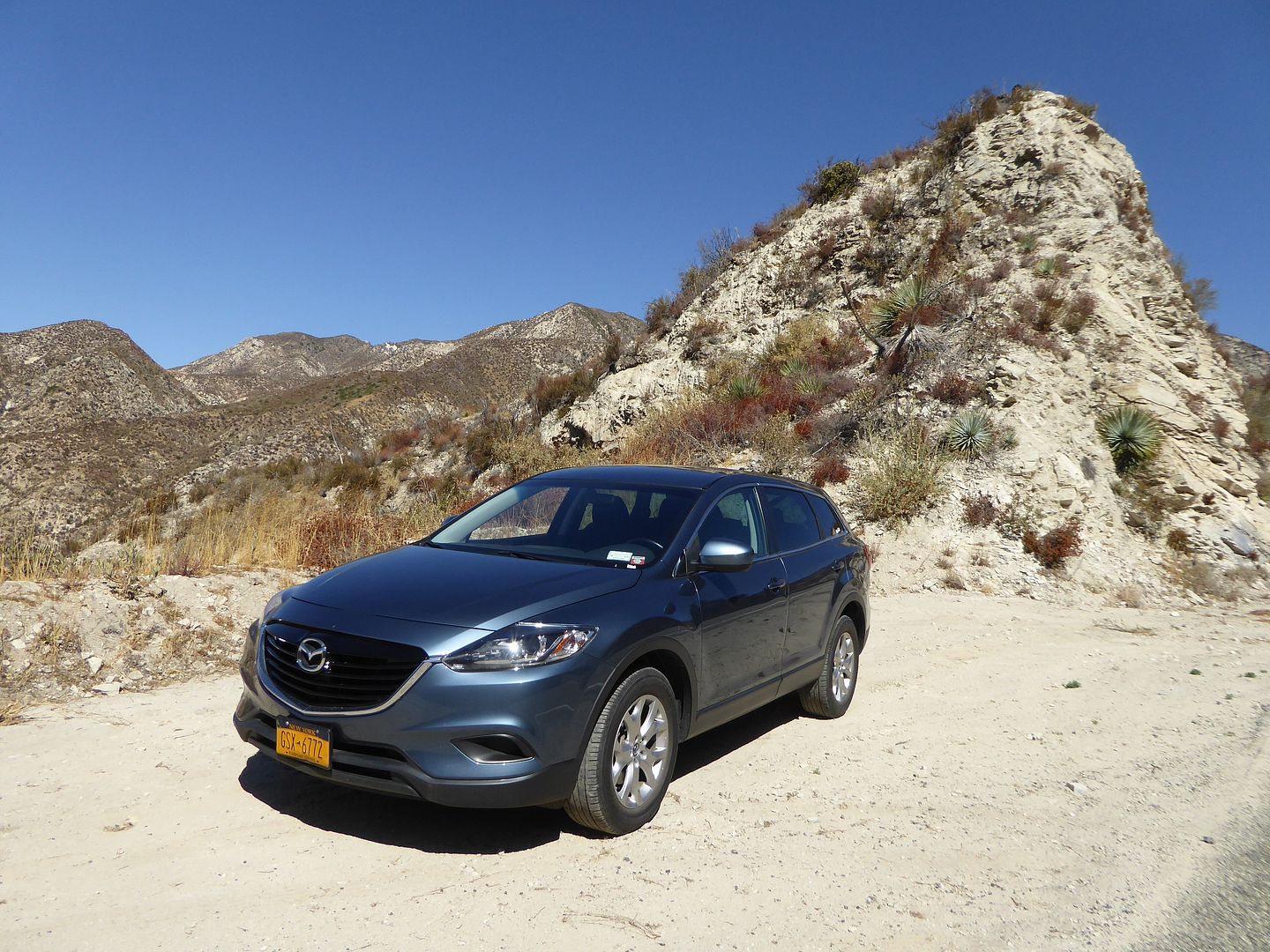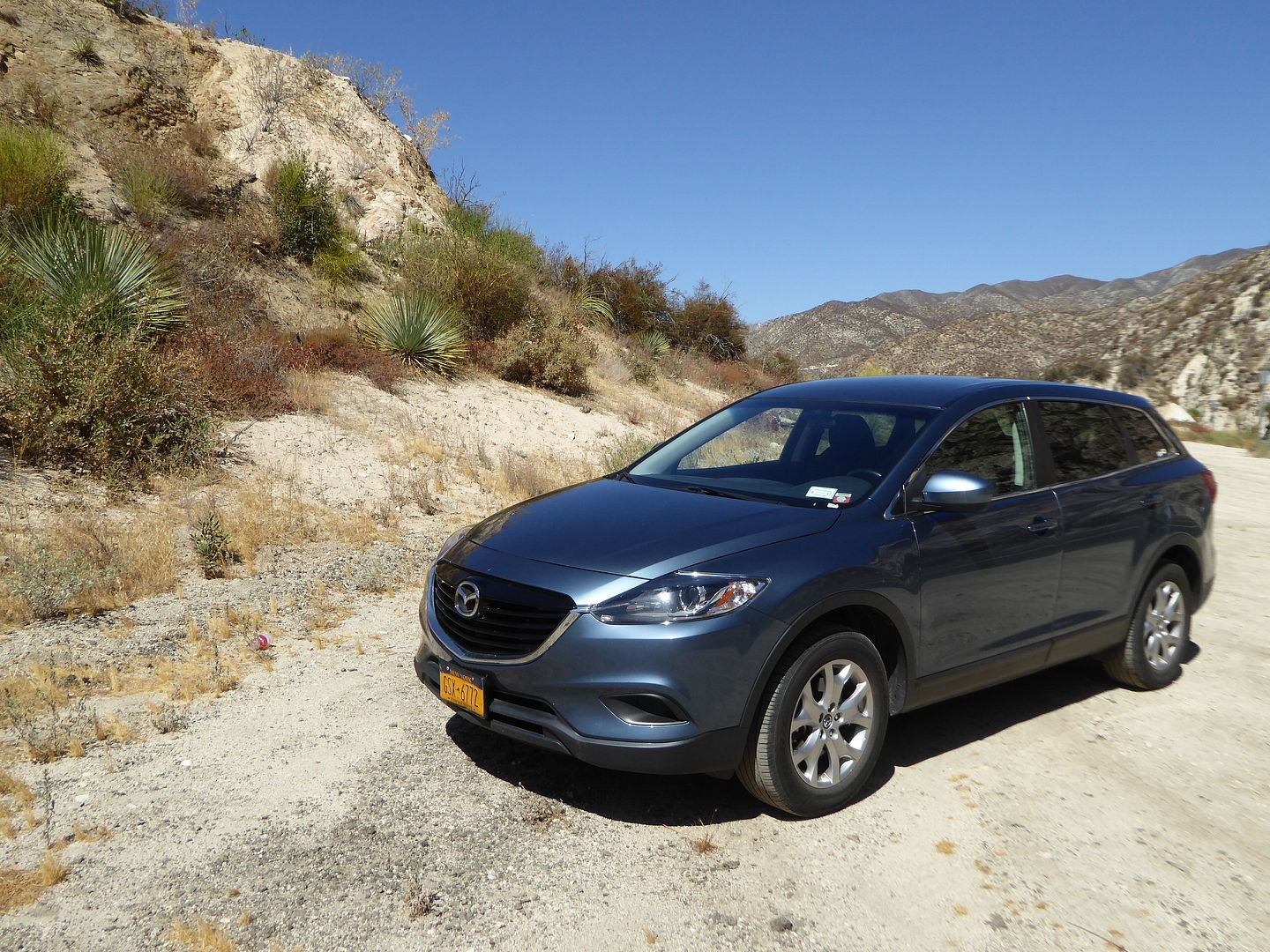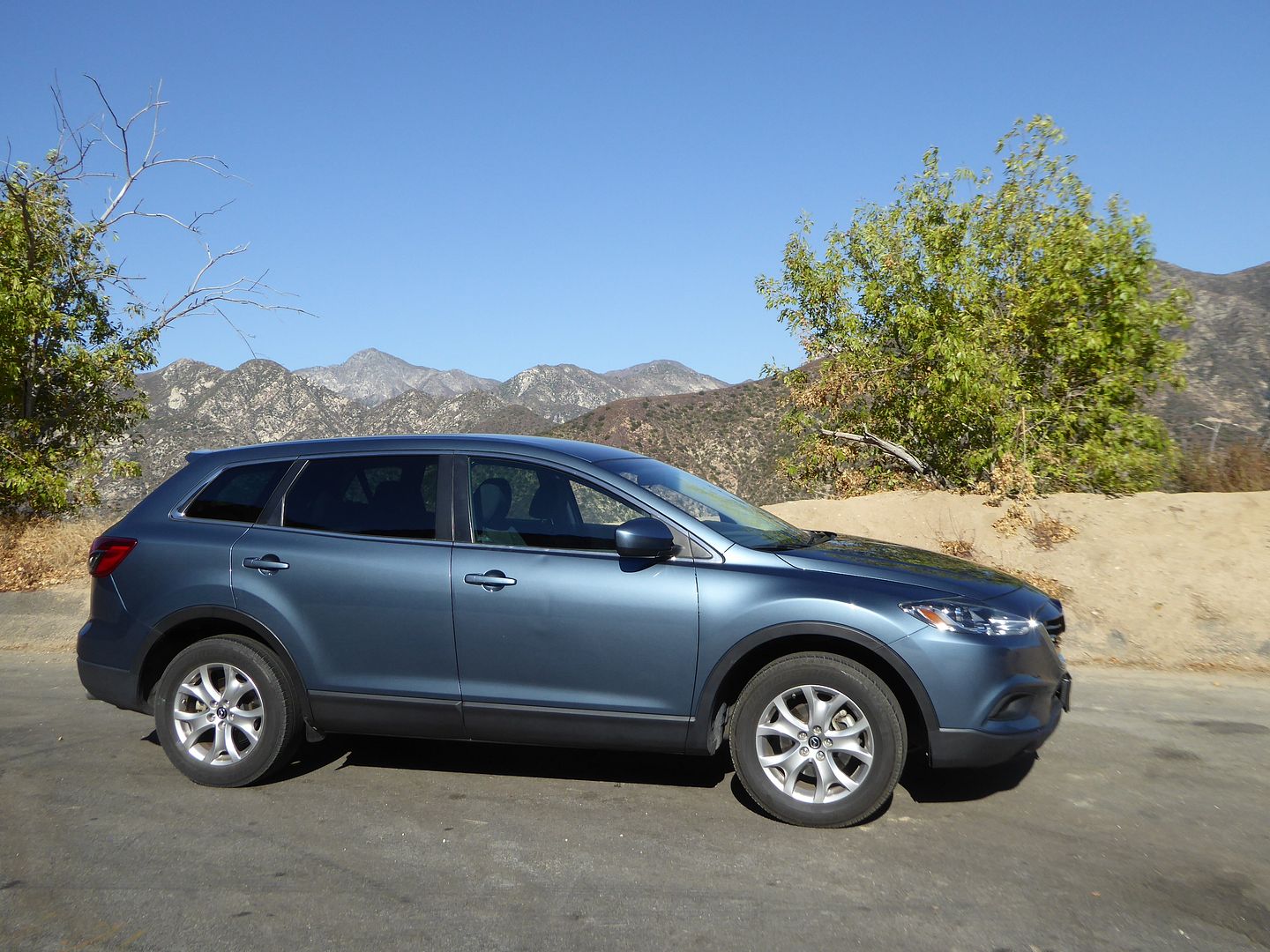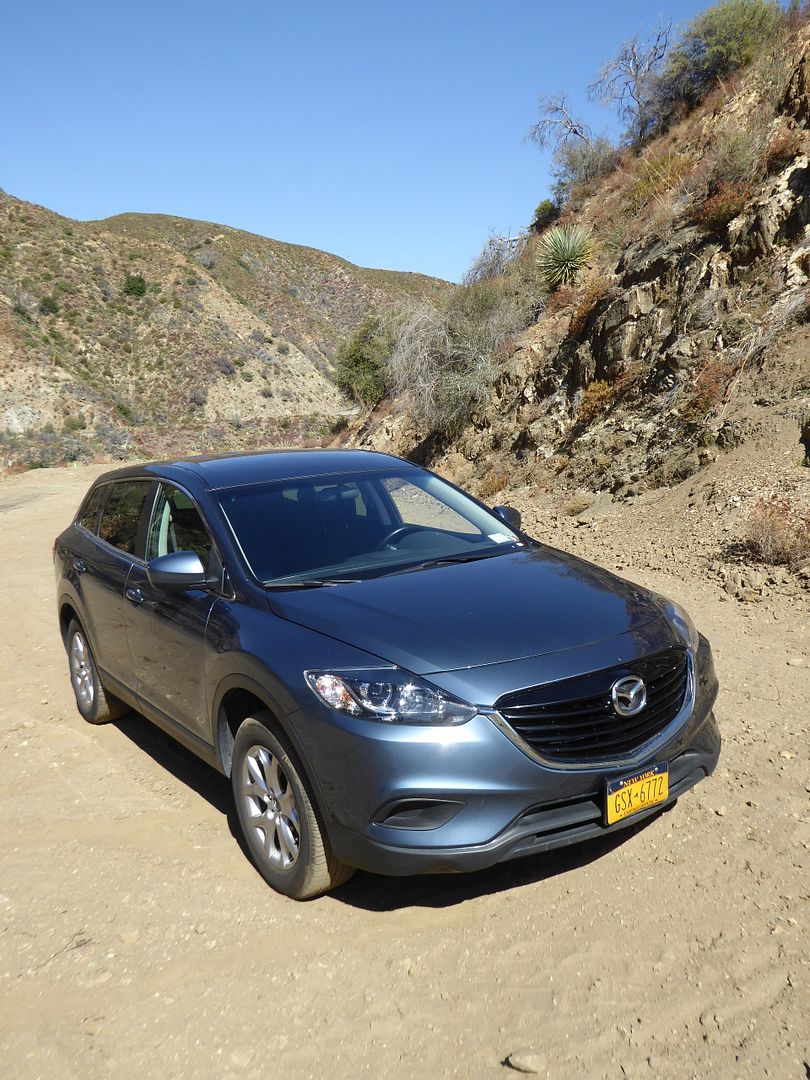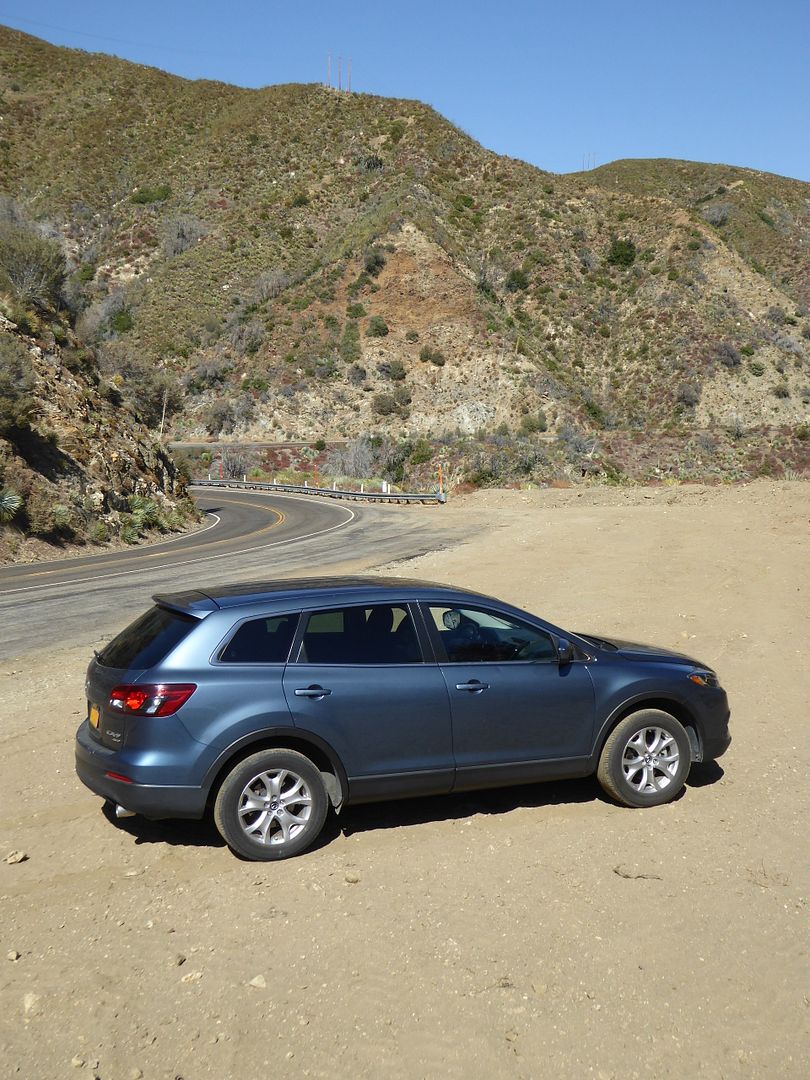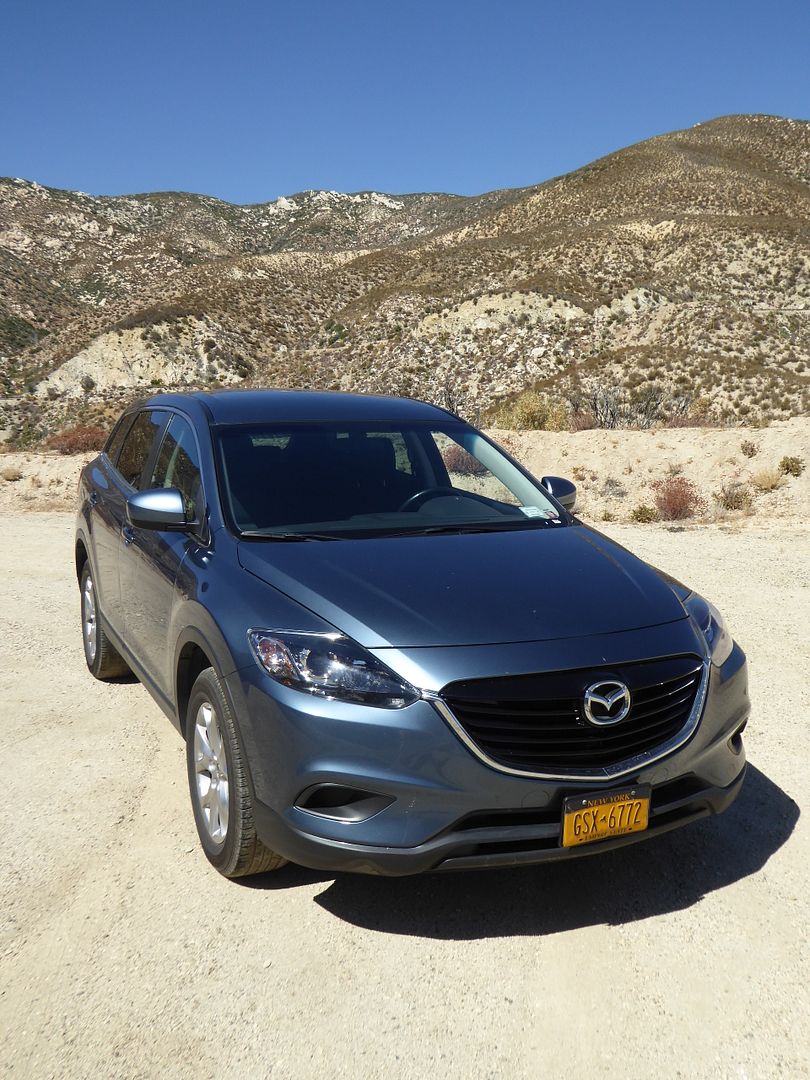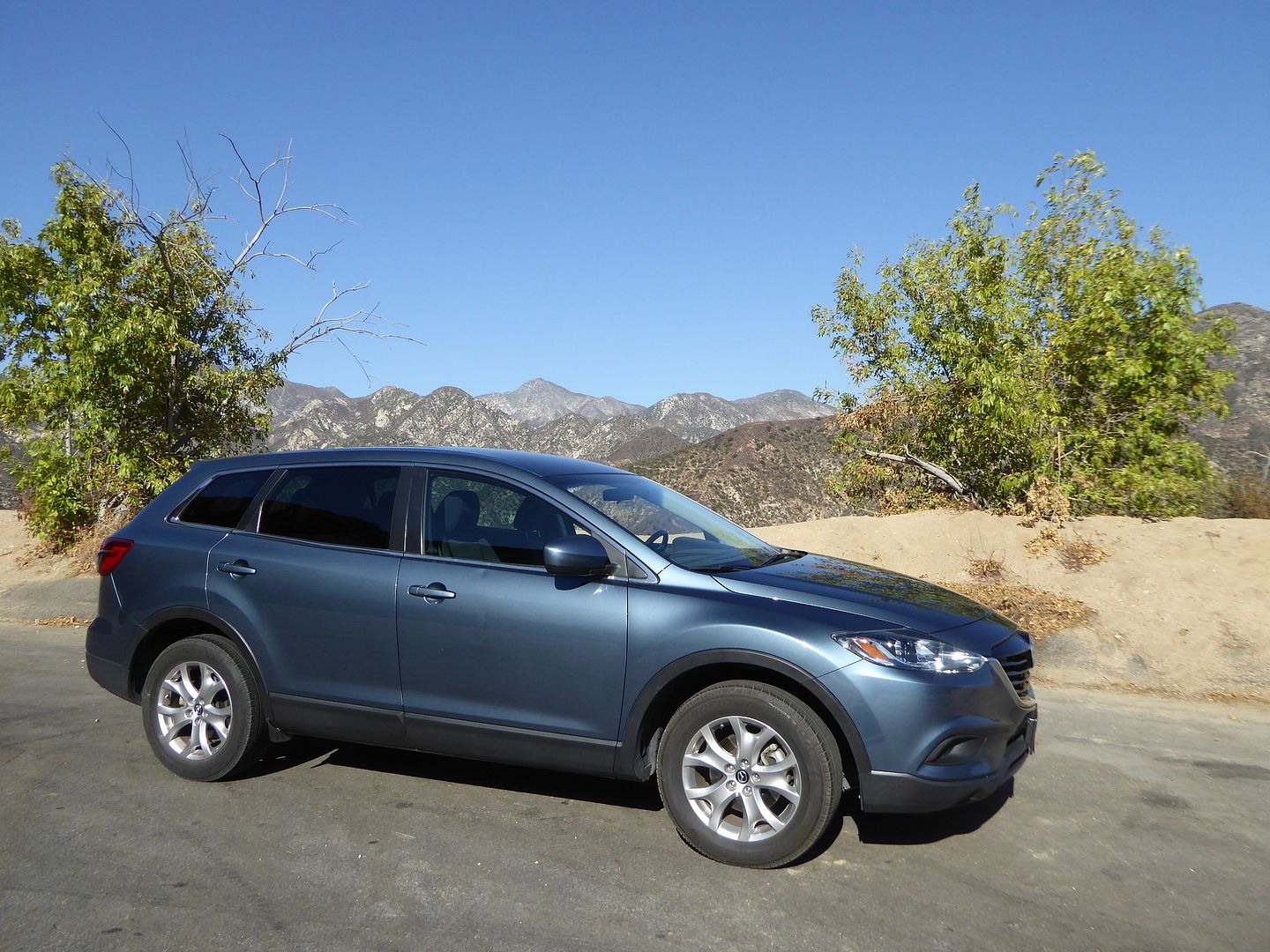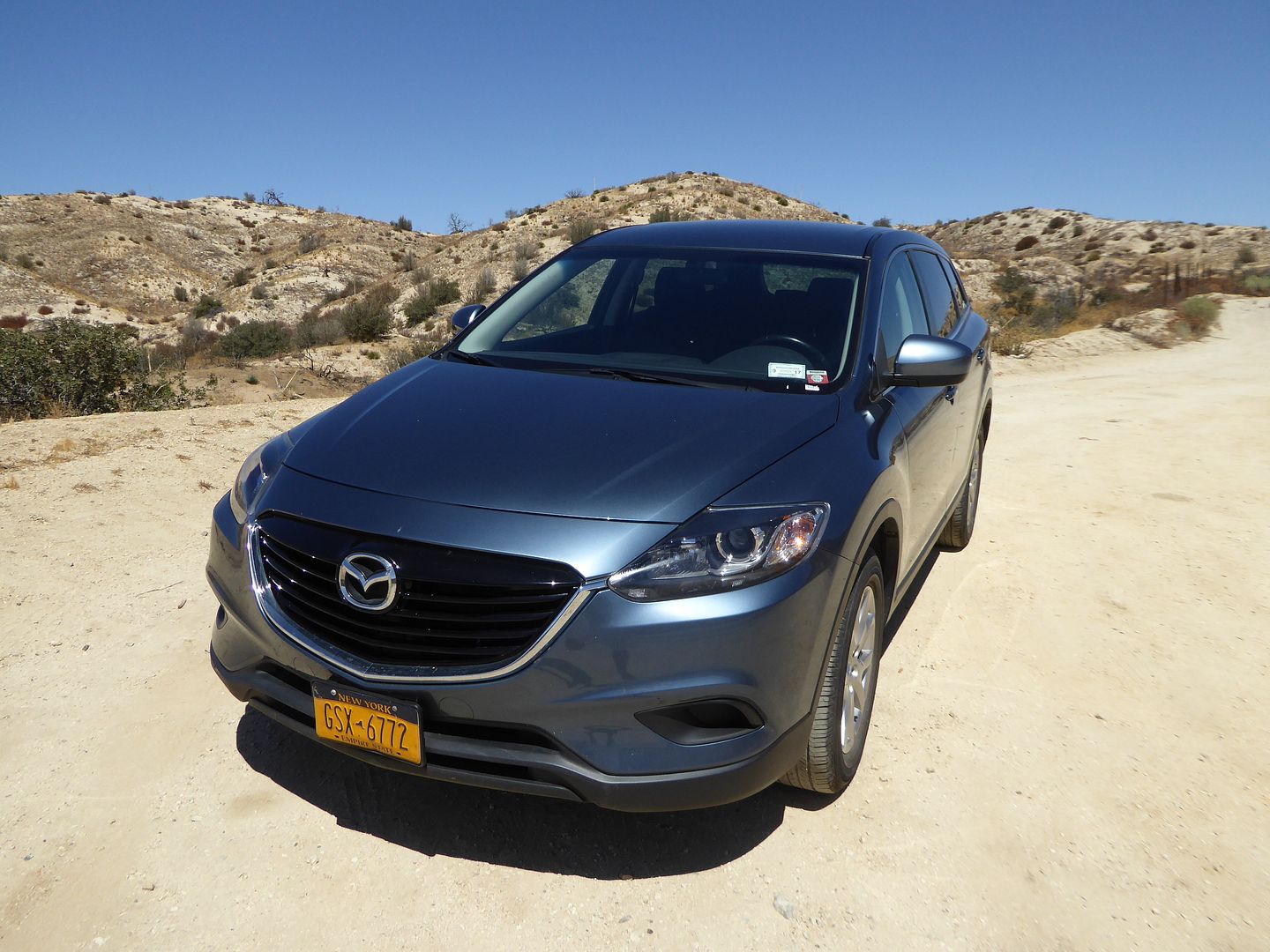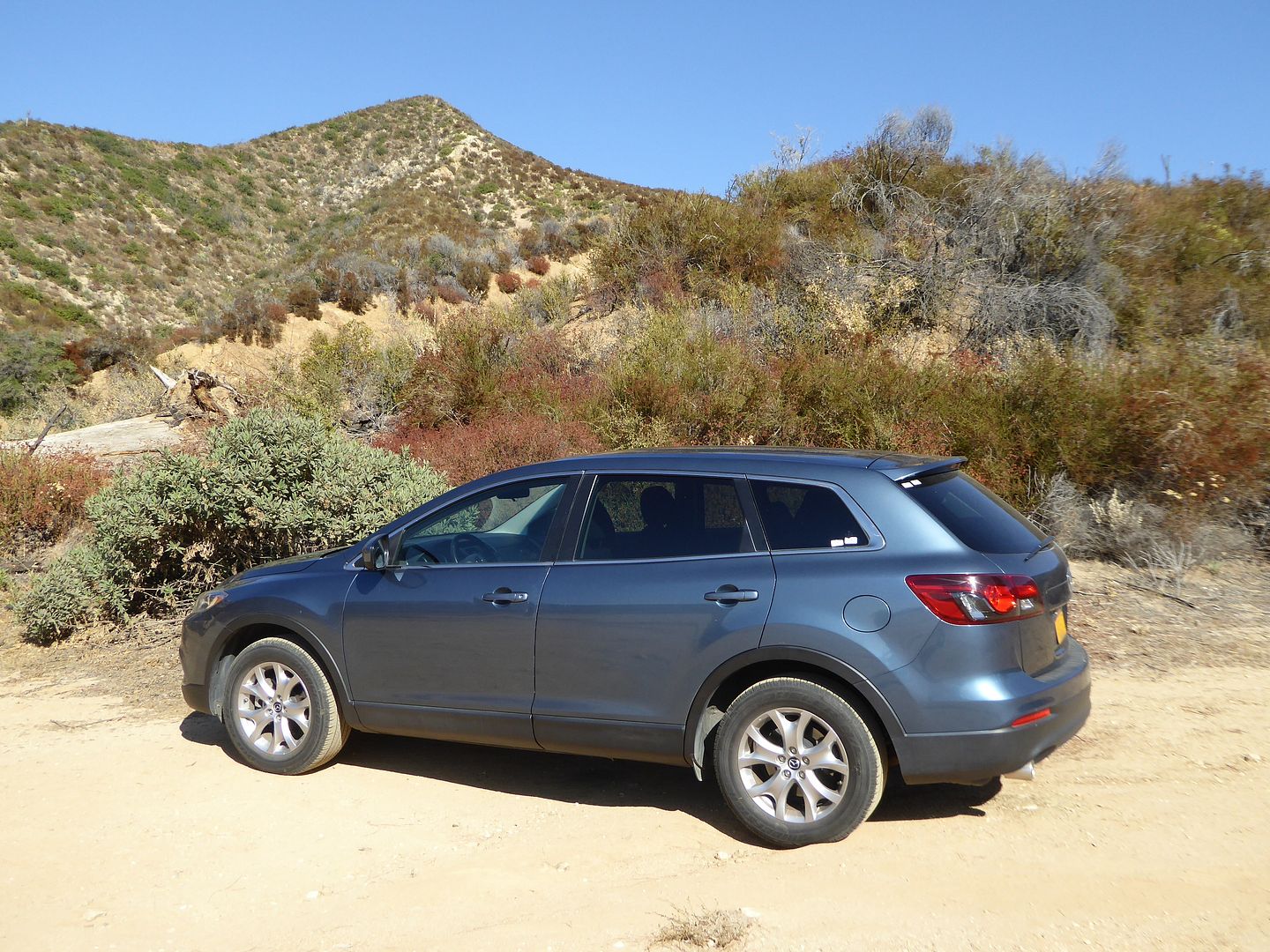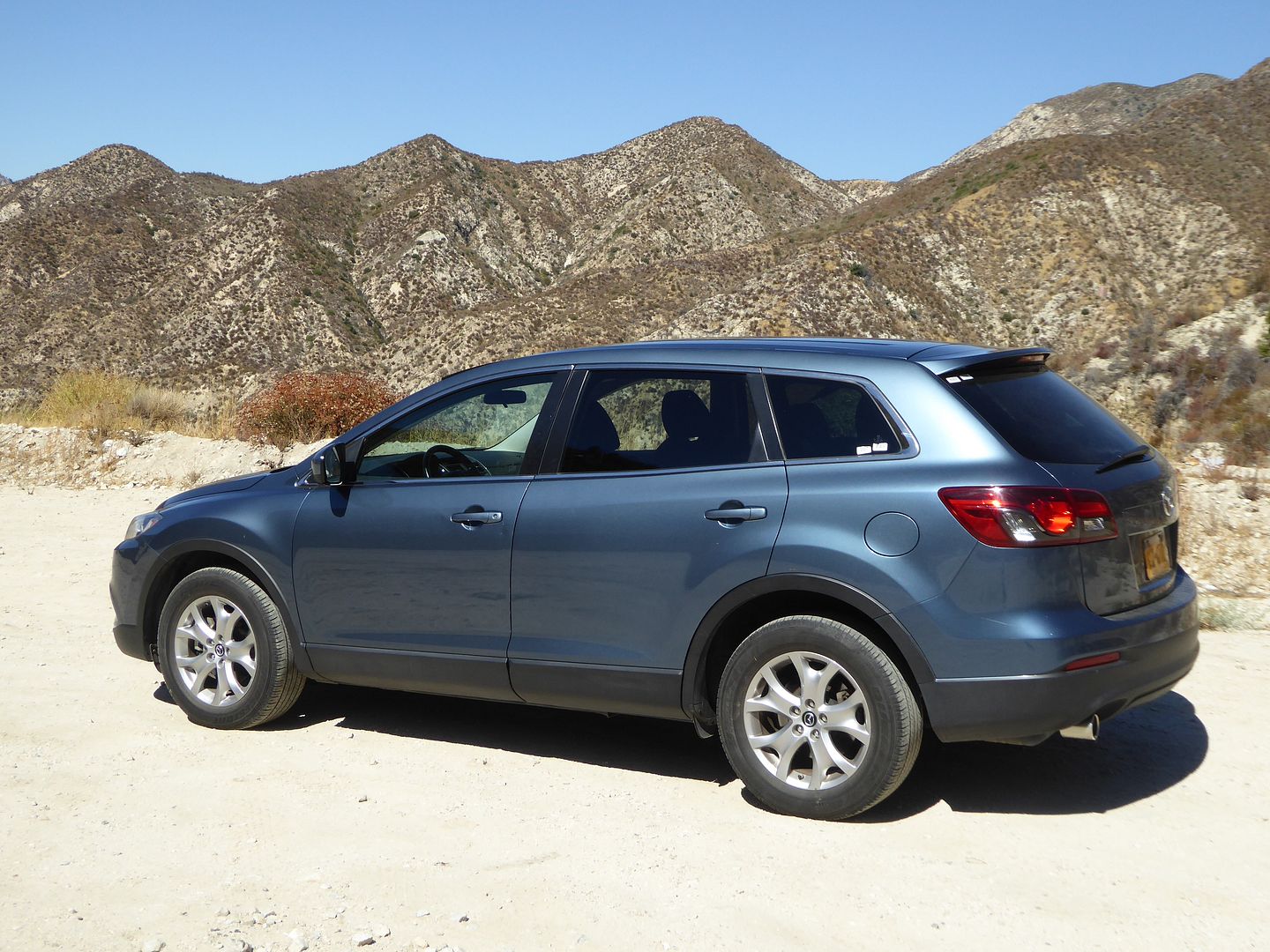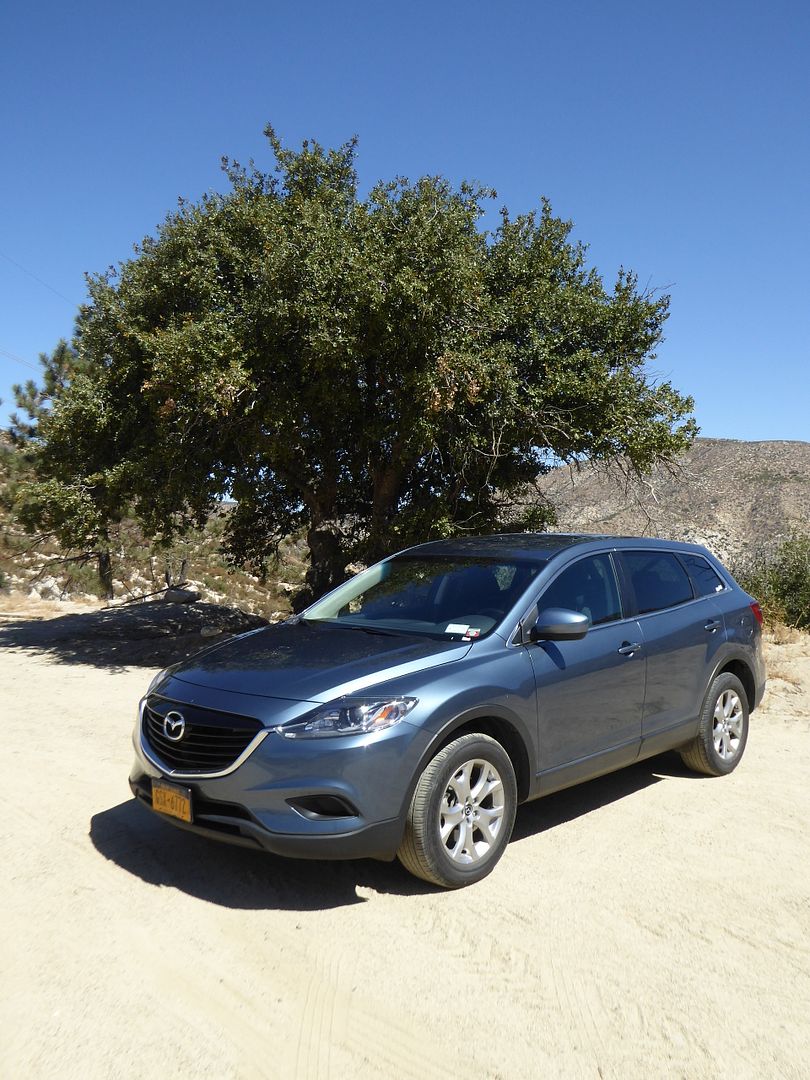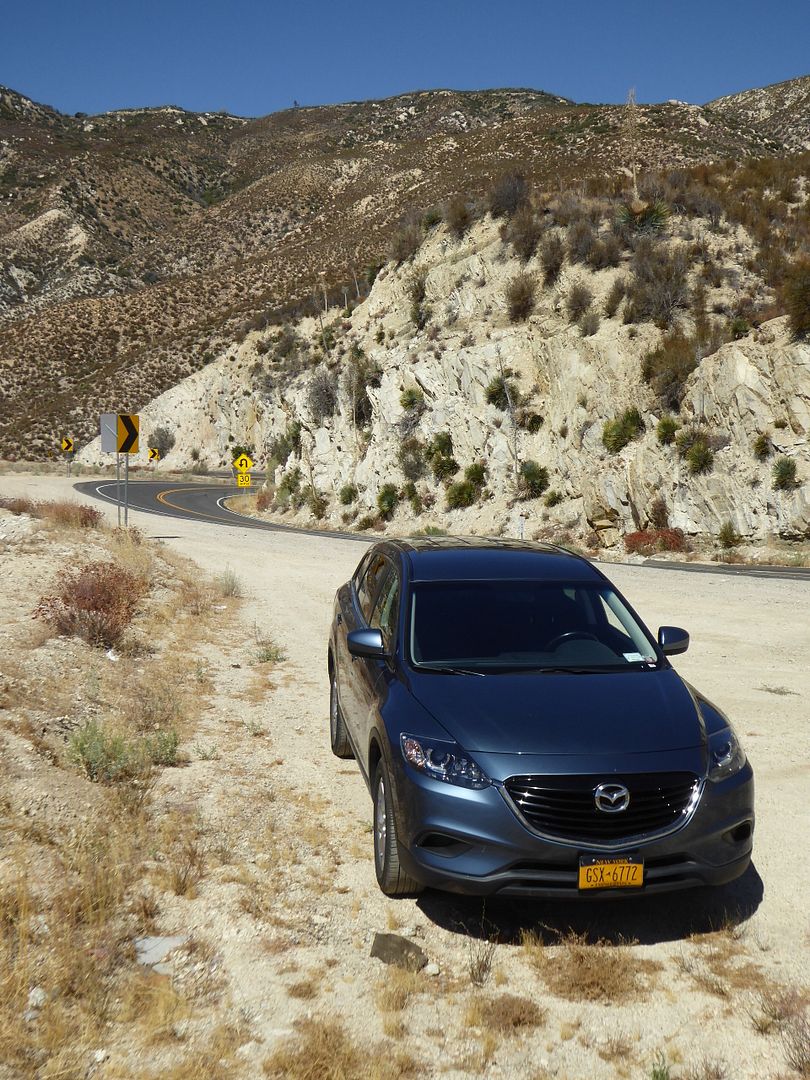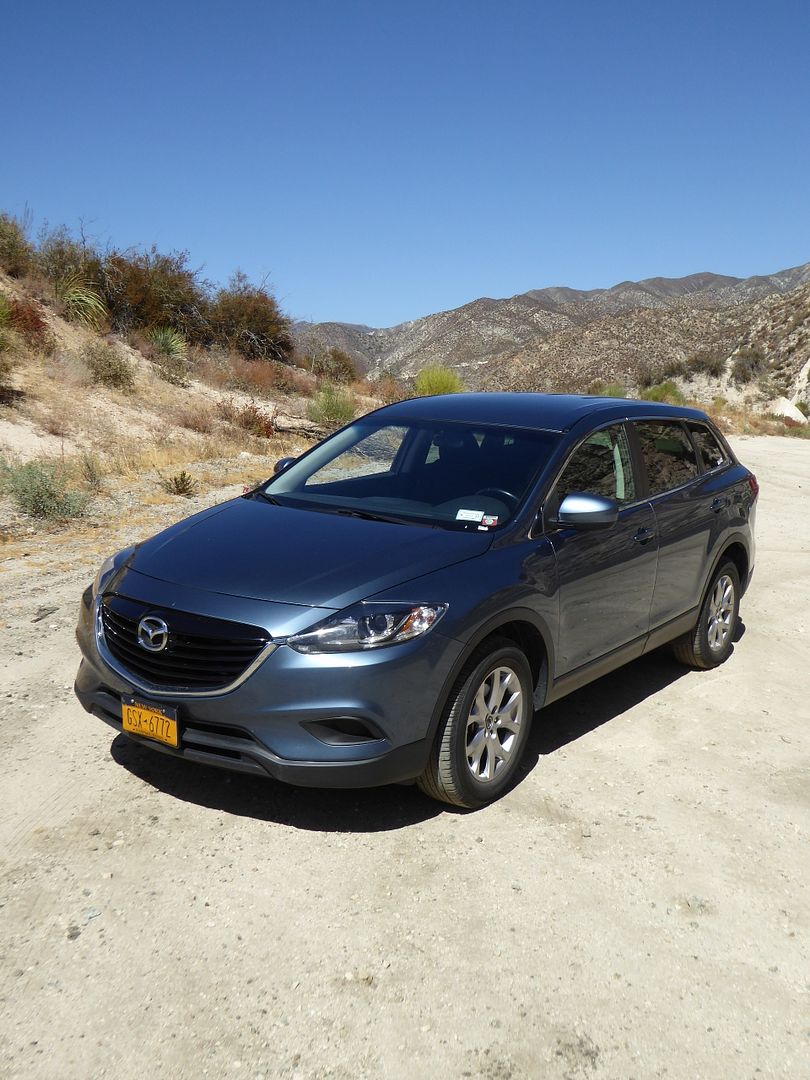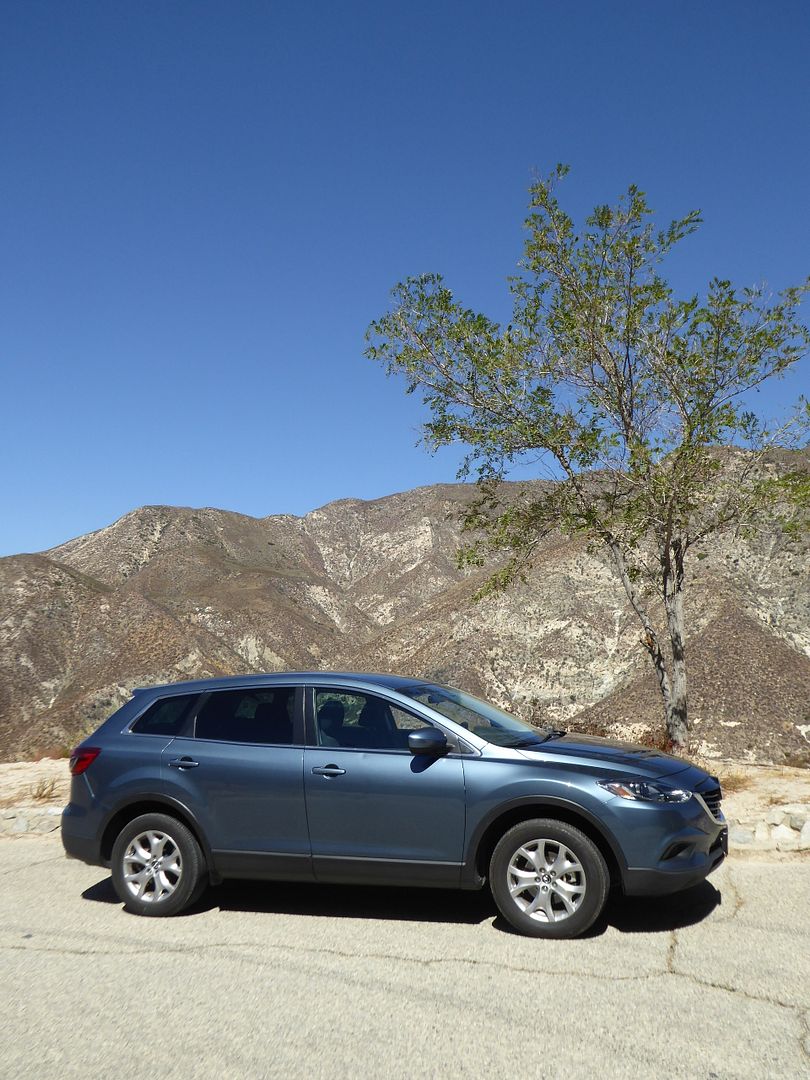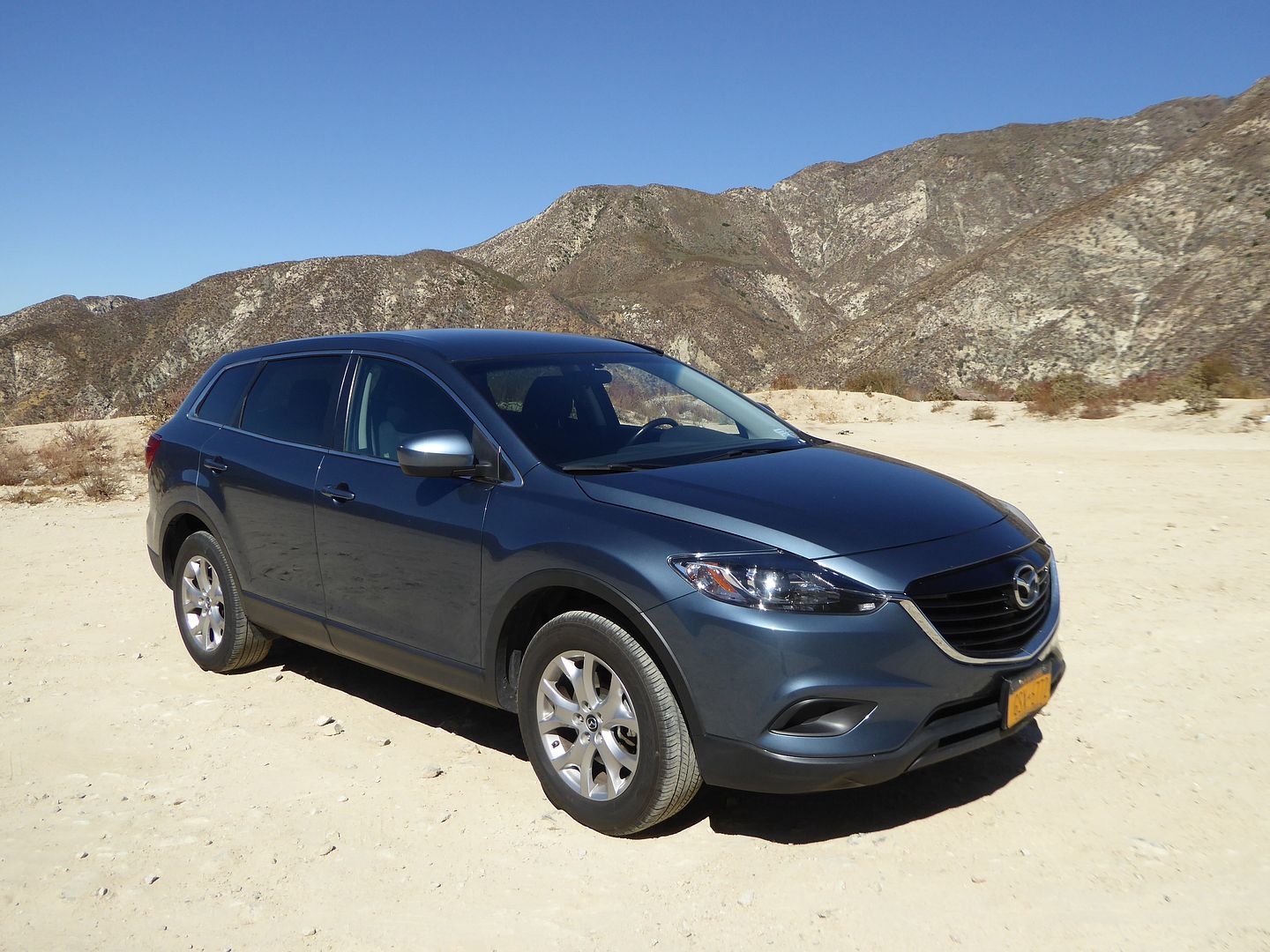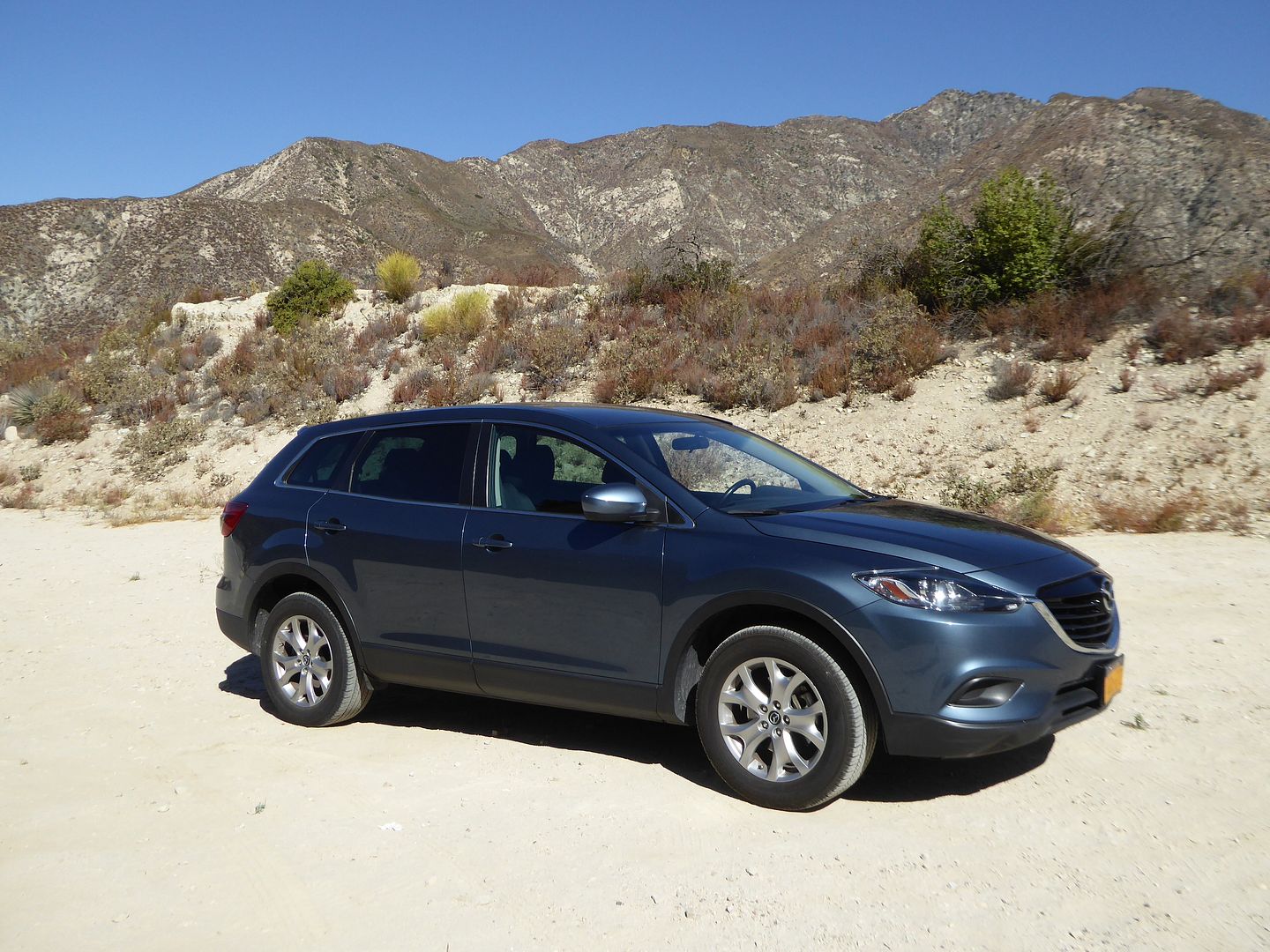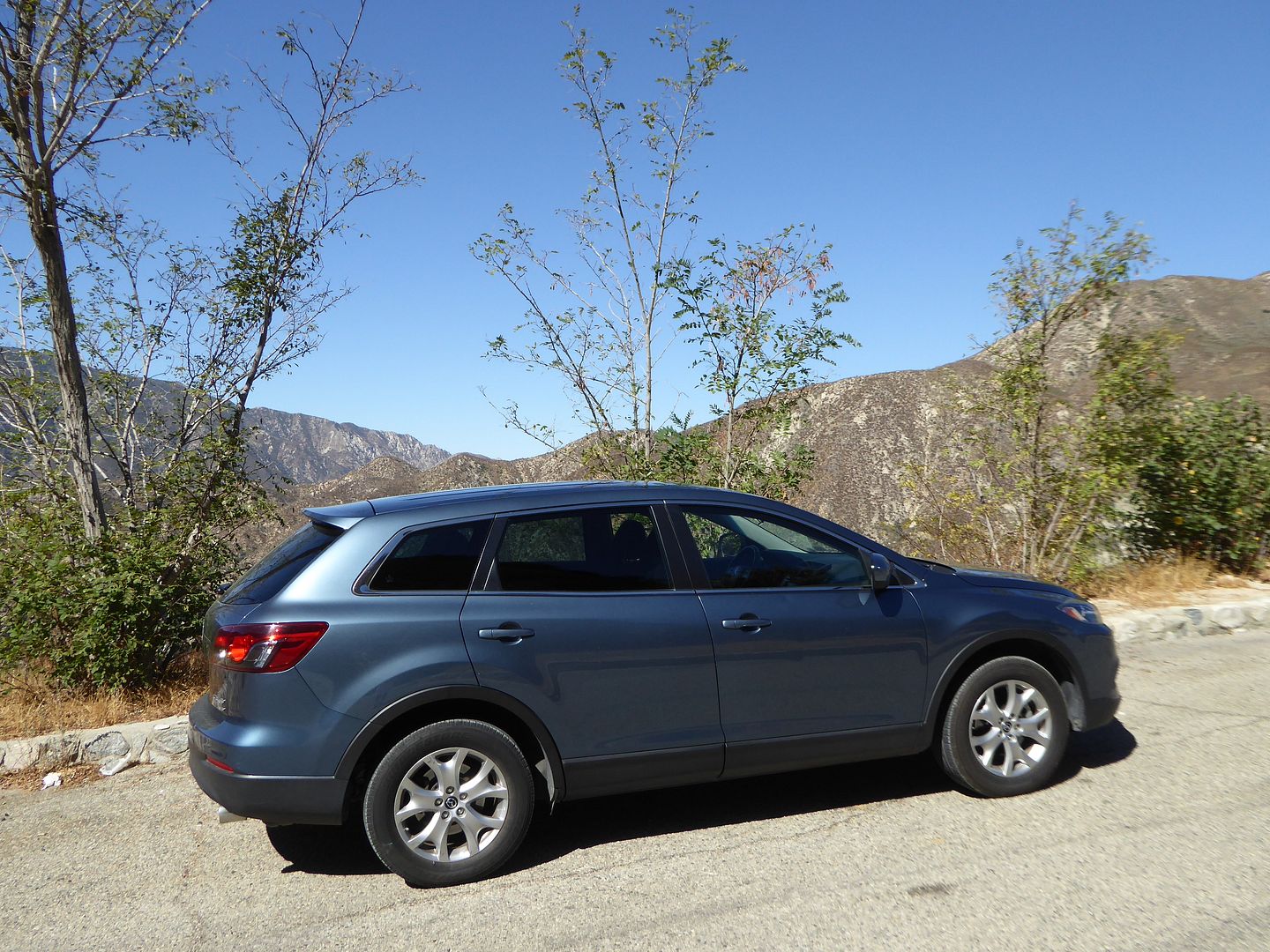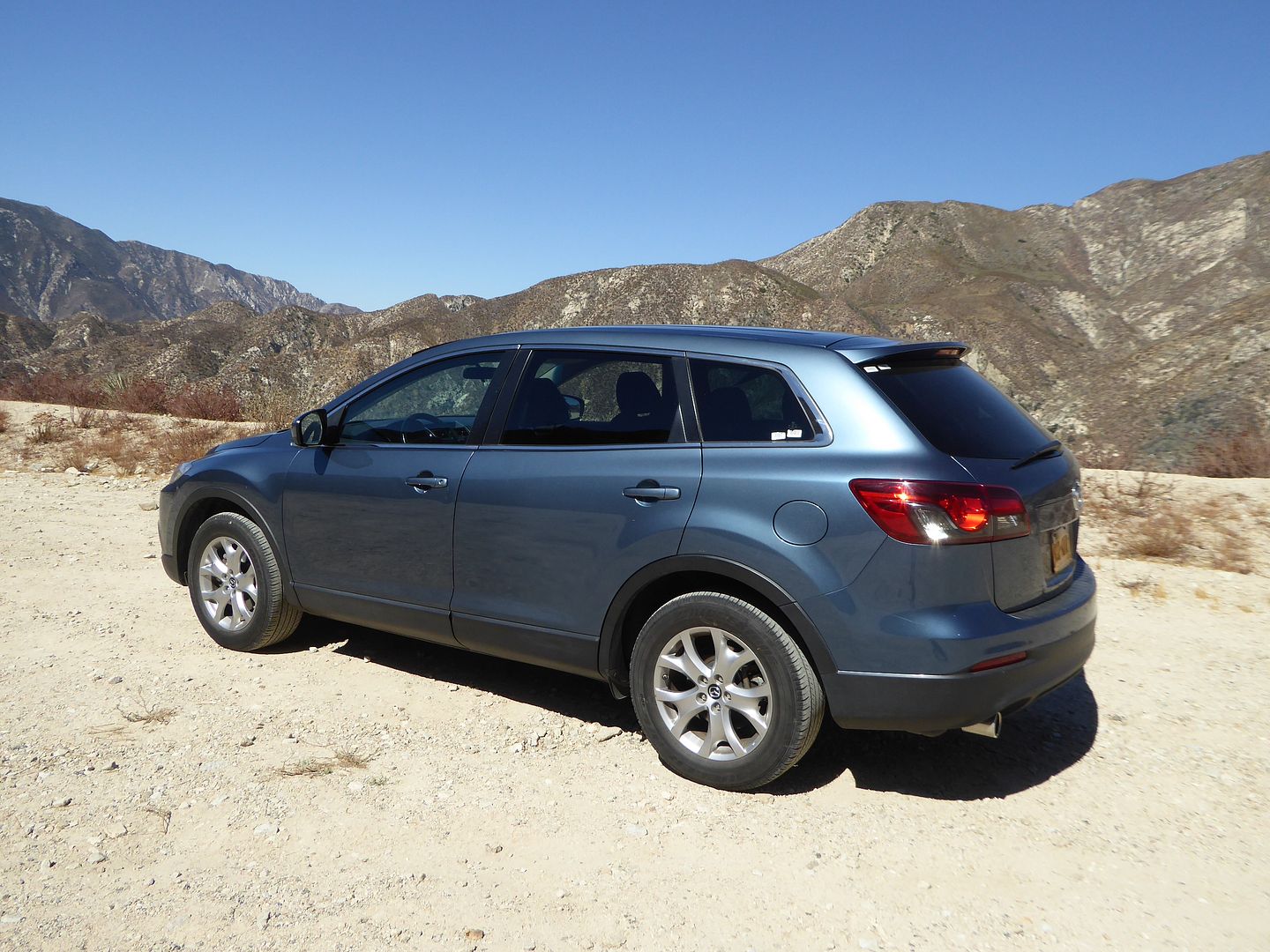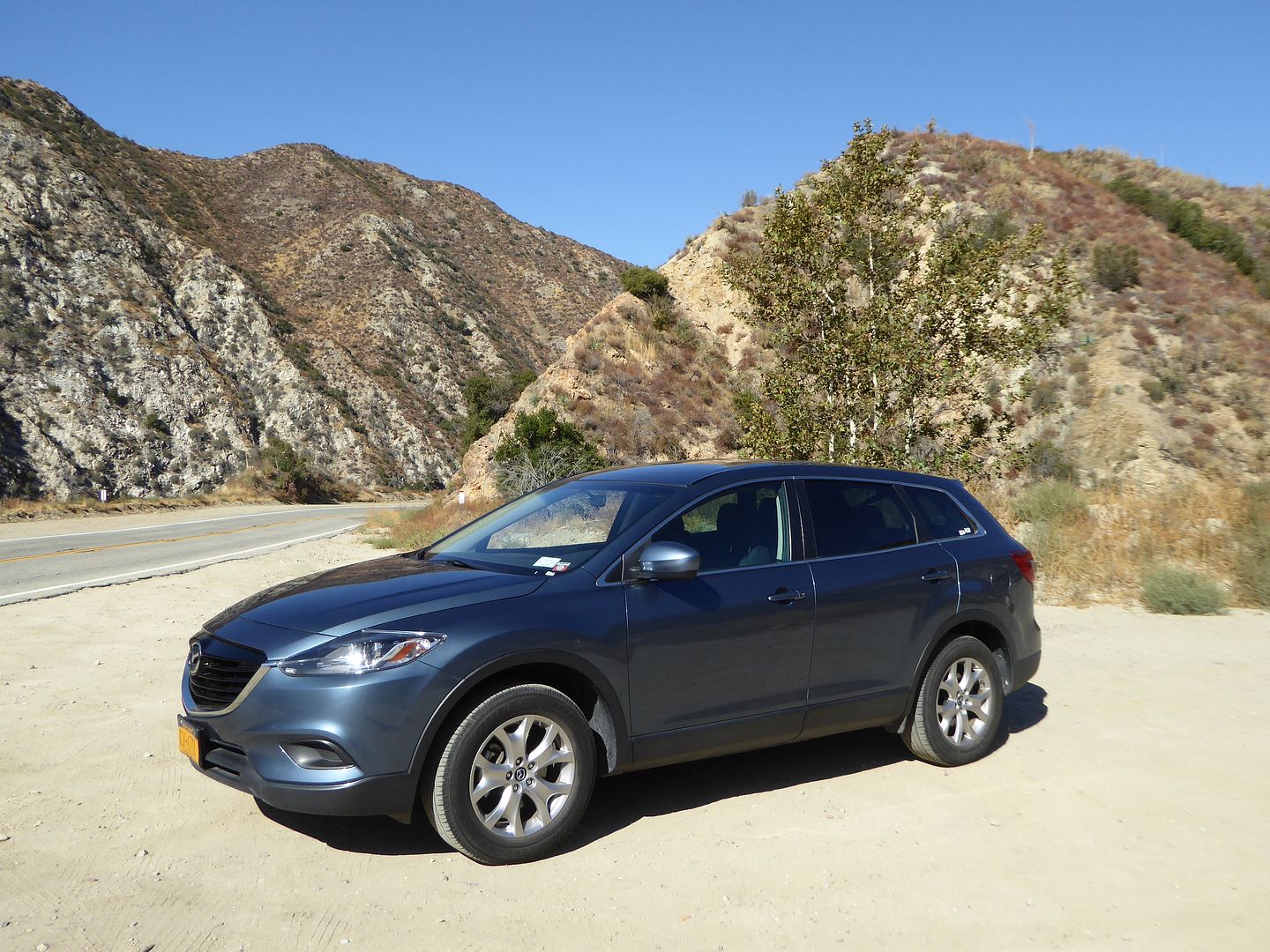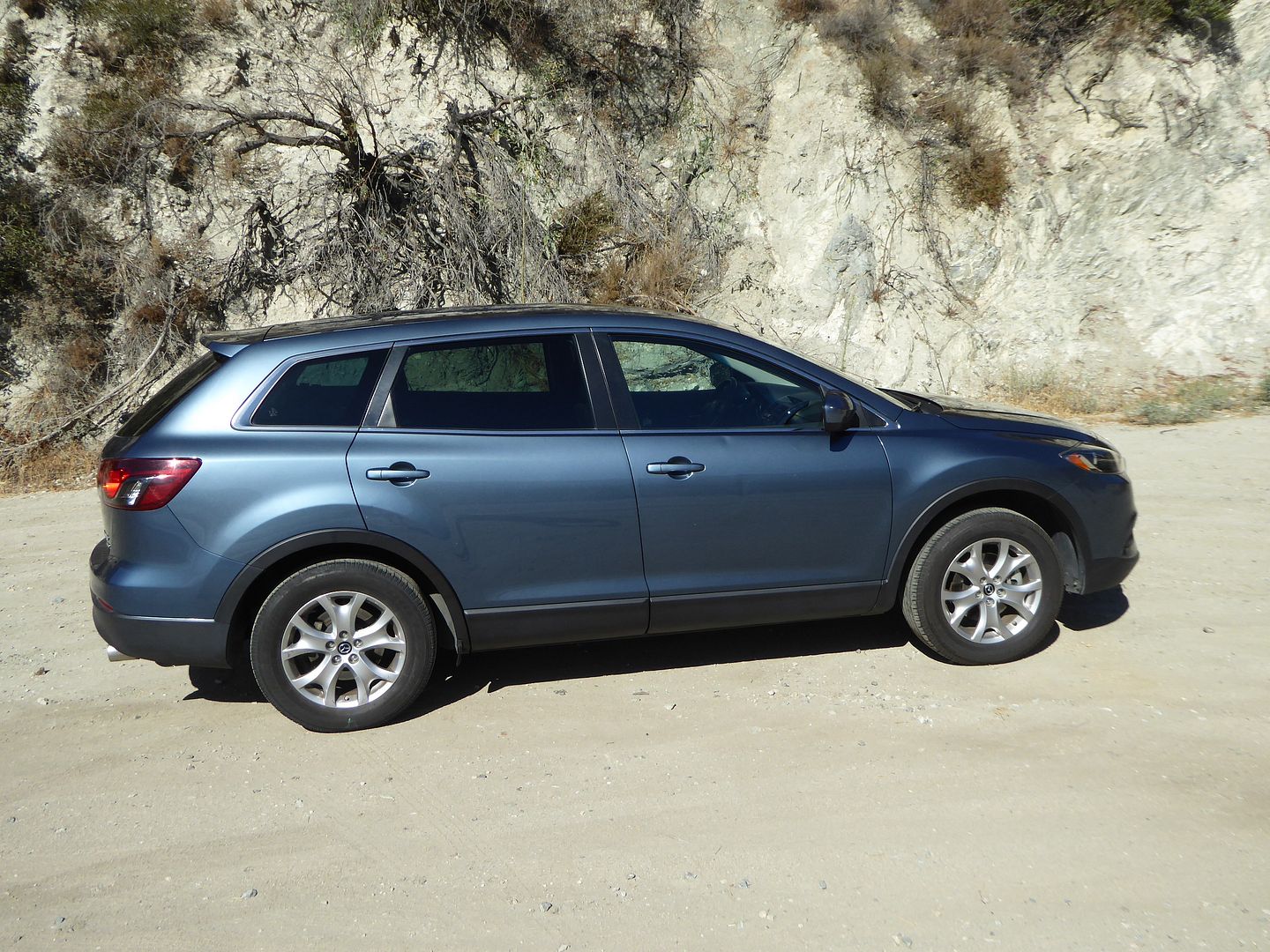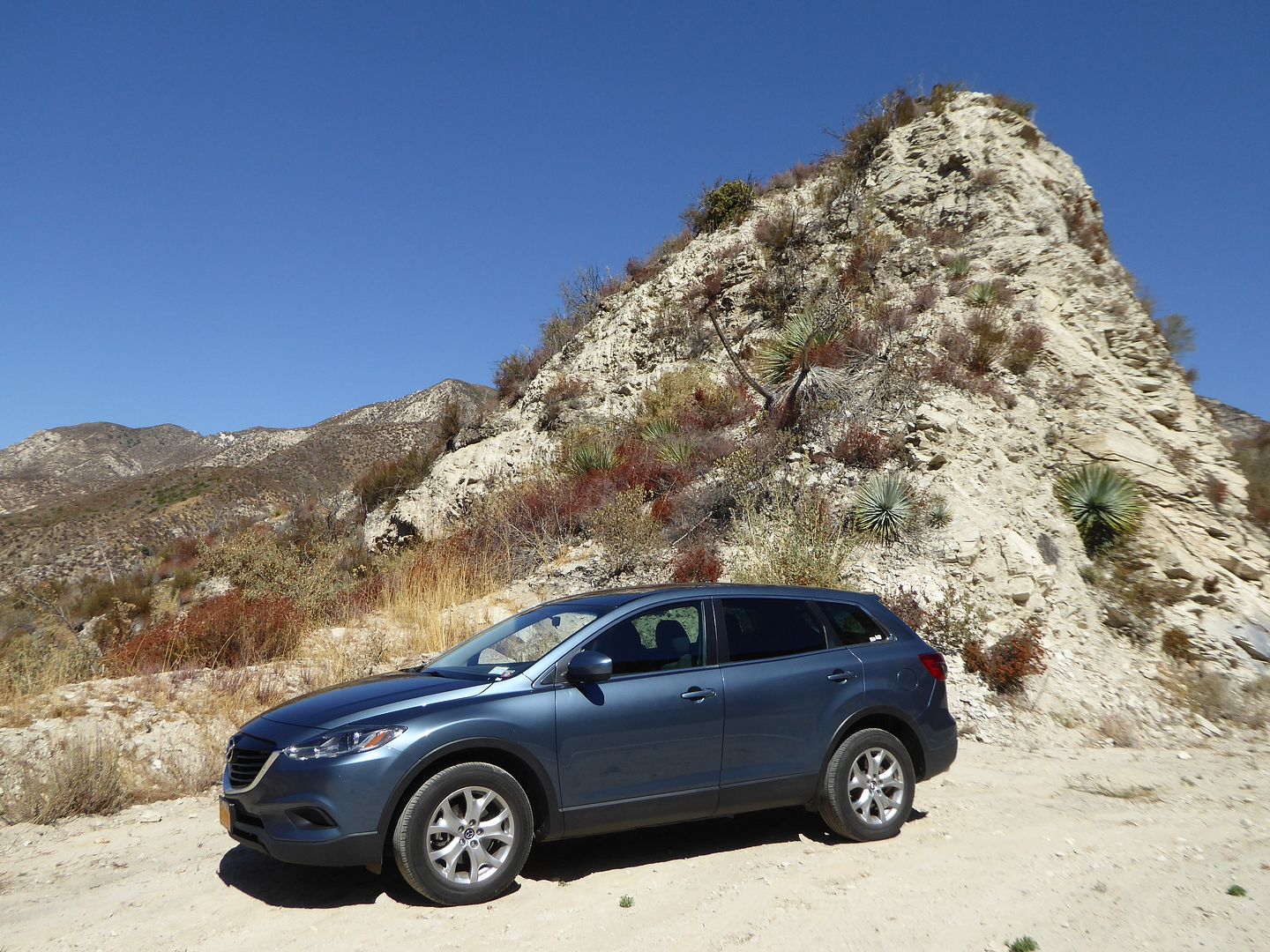 When Mazda unveiled the CX-9, their first full-size SUV, at the 2006 New York International Auto Show, many observed that it looked very similar to the CX-7 model which had been on sale for a few months. Not that this was a Bad Thing, as plenty of people thought the smaller CX-7 to be the best looking car in its class. It was one of the best driving, as well. This was the time when Mazda was still partly owned by the Ford Motor Company, and the Zoom Zoom generation of products, which started with the acclaimed Mazda6 of 2002, found an apposite combination of Ford platforms and componentry, with Mazda's own flair for styling which made them the producer of the best-looking and the most interesting volume-selling Japanese cars. Conceived as a 7 seater to rival the Toyota Highlander, Honda Pilot and the upcoming GM Lambda cars (Chevrolet Traverse, Buick Enclave and GMC Acadia), the larger CX-9 shared little with the CX-7, as it was built off the stretched Ford ED3 platform, which underpinned the Ford Edge and Lincoln MKX. It came as standard with front wheel drive, all wheel drive being an option. The first cars, which went on sale in March 2007, used a 3.5 litre V6 engine which Ford called the Cyclone, but this was enlarged for 2008 to a 3.7 litre unit which put out 273 bhp. The CX-9 soon gained an excellent reputation, winning Comparison Test after test at the hands of US journalists, though – and this seems to be Mazda's fate generally – sales did not reflect the all-conquering nature of the vehicle. I got behind the wheel of a CX-9 in September 2009, and was very impressed. Having experienced the likes of the Ford Explorer and Chevrolet Trailblazer, which were crude and in the case of the Ford, plain scary if you tried to brake in the wet, the Mazda was a revelation. I vowed I would return to it, but  not long thereafter, they all seemed to disappear from the Hertz rental fleet. Mazda updated the car for the 2013 model year. The most obvious changes were at the front, where new headlights and grille gave the car the family look which aligned it closely with the rest of the range, and there were some interior updates as well, reflecting the ever-changing market expectations around comfort and usability features. Early in 2015, the CX-9 reappeared in the Hertz fleet, with most of the cars finished in a rather dreary grey-green colour, but even then, the model seemed to elude me. Those cars are still on fleet, getting near to their second birthday, even though a second generation CX-9 went on sale in the summer of 2016, having been launched at the 2015 Los Angeles Show. I've seen a couple of these latest and very stylish looking cars on the roads, but none have yet made the rental fleets, so with a reservation for a Full-Sized SUV, I decided to ask for the old CX-9 that I found parked up at Hertz' LAX facility. It was on New York plates, and, as I later found out, appeared to have been built in December 2014 and registered in January 2015, so had been in service for nearly 2 years, with a few battle scars to prove it, with dents and dings all round (the lower front spoiler was out of shape, as you will see in the photos, and there was a sizeable indentation in the rear bumper, I would guess from some one's very heavy luggage). Mechanically, though it bore its 45,000 miles with no apparent issues, as I would find out during my test. Would it still impress, like that 2009 test example, though?
My over-riding recollection of that last CX-9 was that it was good to drive, far more so than any SUV of its size that I had experienced at the time. That was several years ago, and I have driven several hundred vehicles since then, and Mazda has done little to change the driving characteristics of this car. And actually, they did not need to. My conclusion at the end of this test was that it is still good to drive, still better than all its rivals. All CX-9 models are powered by a 3.7 litre V6 engine which generates 273 bhp, with a 6 speed automatic gearbox being the only available transmission. Both are good choices. The engine is potent, smooth and simply goes about its job delivering all the performance you could need from a vehicle of this type. There's strong acceleration available, and the engine does not get rough or coarse, as the CX-9 gathers momentum, it just gets on with it. The gearbox is super-smooth, too. There is a manual over-ride, if you push the lever leftwards from D, you can then flick up/down the 6 gears manually, if  you really want, but frankly, the transmission will do it better and more smoothly than you will.
What makes the CX-9 particularly good from behind the wheel is that this car has the same excellence of steering and handling  as you will find in smaller Mazda products. The steering is well judged, with just the right amount of feel. It is light enough to make manoeuvering this large and heavy car very easy, but on the move, it gives you a great feeling of what the steered wheels are going to do, and there is a nice linear progression as you turn the wheel. The CX-9 handles well, too. Mindful of this, I planned a day in the canyons north of Glendale, which have lots of swooping and bendy roads and the CX-9 was as much fun to point down (or up) these roads as many a sports saloon. As the bends tighten, you will eventually get a bit of understeer, needing a bit more turning of the wheel than you had expected, but there is minimal body roll, and the CX-9 feels very secure and safe, as the driver can have a bit of fun in something which is primarily designed for utility. There is no penalty with the ride, either. The CX-9 was on relatively high profile 245/60 R18 wheels and these helped to smooth out the varied and often terrible surfaces to make for a comfortable progression on the test route. My ears were not troubled much, either. The engine is very quiet and there is no discernible road noise. There was some wind noise, which I think could have been down to a slightly detached seal in the door (the test car had plenty of battle scars, including a piece of the frame for the door mirror that was missing), as it only seemed to emanate from the driver's side of the car. The brakes were strong and powerful, responding well to a gradual increase in pressure. There is a foot operated parking brake pedal. There were no aids like parking sensors or a rear-view camera to help with reversing and parking, but this was not a difficult car to see out of and to manoeuvre. There was a good field of vision from the door mirrors and judging the back was easy, the rear of the CX-9 is relatively vertical. There was a lot of stop and start motoring, which was hardly going to help the fuel economy. The gauge moved almost immediately off the "full" mark once I left the Hertz facility, so I suspect the tank was maybe not that full. I put in 8.76 gallons after having driven 160 miles, which computes to 18.26 mpg US, or 21.82 mpg Imperial, which is not brilliant, but acceptable by the standards of the class. This aside, top marks, still, then for the driving experience.
To be honest, though, it does not matter how good an SUV is to drive if it fails in the prime aspects of its genre. Pleasingly, the CX-9 is not found wanting here, either. This is quite a big vehicle – it is around 200 inches long – which means that the rental car companies class it as a full-size SUV, along with the Ford Explorer, Toyota Highlander and the like, all of which are deemed 7 seaters. Although technically correct, the challenge with all of them is that none are quite large enough for 7 people and any significant amount of luggage, and in many cases the rearmost seats are not really acceptable for adults on anything other than short journeys. The CX-9 has this issue, though it is more commodious than some. Those in the middle or row of seats will certainly have nothing to complain about. The seats, split asymmetrically, are on sliders, which means that there is quite a lot of travel from their most forward to their rear-most position. Even with the seats set well forward, leg and knee room is good, and there is a completely flat across the cabin. The Mazda is wide enough that three people should easily fit across the width of the car, too. There is a drop down central armrest, with twin cup holders in the upper surface when it is folded down. The backrest angles can be varied, too, though the range of inclination is not that great. Even when they are at their least reclined, the seating position seemed comfortable, and there was masses of headroom.  There are separate controls for the climate control system mounted on the rear face of the centre console.
The rearmost row of seats are definitely designed for two, with only two belts provided, and they are split 50/50. The seats are mounted high enough that there is a well for passenger legs to sink down in somewhat, avoiding the problem of knees in your chest that you get in some 7 seaters. Adults could sit here. and feel less uncomfortable than in some rivals, as there is ample shoulder width and plenty of head room. Getting in and out is not going to be particularly dignified. The middle row of seats do not tip forwards as they do in some rivals, but simply fold flat, so provided you have slid them well forward, you have a flat but quite high area over which to clamber. One further obstacle is the middle seatbelt, which is mounted on the roof and comes down to the seat, so you need to ensure you do not get caught up in this.
With all three rows of seats erect, there is not much luggage space. There would be room for a large suitcase, standing upright, as the space is quite deep, but that's about it. Fold down seats progressively, though, and you get a good amount of room with the rearmost row folded, and a vast long cargo area if the middle row are folded down as well. The space is flat, and there folded seats line up nicely to give a complete floor with no awkward gaps. There is a small underfloor stowage area under the boot, and a couple of side compartments, which would be useful for odds and ends. Inside the passenger compartment, there is a modest drop down glovebox, a cubby under the central armrest, an small area in front the gearlever, bins on all 4 doors and map pockets on the rear of the front seats. Enough, but not overly generous.
Looking at pictures of the CX-9 from my 2009 test, it is clear that the basic cabin design and dashboard layout has not changed, but it was updated to incorporate a display screen for the Infotainment system as part of the 2013 model year facelift. Although there is a lot of black plastic in the cabin, and some of it is a bit hard to the touch, the texture is good and the use of gloss black inlays around the display screen and going down the door casings give the CX-9 a neat and unassuming appearance that avoids the fussiness of some rivals. A single cowl covers the instruments. There are two large dials, for rev counter and speedometer, with smaller fuel gauge out to the left and water temperature to the right. In the centre is a small display area which shows the selected transmission position and beneath it the trip mileometer and odometer. There are no long sets of menus for other functions here, as these were not common when the Mazda was designed. The centre of the dash has a thin line of digital display info at the top which show selected climate control temperatures and instantaneous fuel consumption, above a couple of central air vents at the top and then below this a relatively small touch sensitive 5.8″ display screen for the Infotainment system. Although there was a button marked "Nav" on one side, this feature was not fitted, so in reality the unit is really there for the Audio system. This had some of the more recent developments such as Pandora and HD radio, but lacked the more useful Satellite XM wave-band. Below this unit are three rotary dials for the front compartment zones for climate control and a few other buttons. Cruise control is set and operated from small buttons on the right hand steering wheel spoke and the audio repeater functions are on the left hand spoke. Twin column stalks, with the lights operated from the left hand one along with the indicators complete the minor controls.
In the trim level of my test car, which is called Sport, and is the entry offering in Mazda-speak, you do get a leather wrap for the steering wheel and gearlever. The former was quite smooth, but that could be that 45,000 miles of rental car abuse have taken their toll! Seat adjustment is all manual, with a bar under the seat for fore/aft and two levers on the side of the seat for backrest rake and height. The steering column adjusted in/out and up/down, so it was easy to get comfortable. The seats were trimmed in cloth, with a velvet-like material used on the outer parts and a harder cloth in the middle. Both were nice to touch and seemed unscathed by the time on rental duty. The seat itself was comfortable, though I did not spend long periods of time sat on it, as I was in and out of the car all day long.
There is no badging to tell you, but Mazda offer the CX-9 in three trim variants: Sport, Touring and Grand Touring. The test car was the first of these. All three are mechanically, the same, with the 273 bhp 3.7 litre V6 and the 6 speed auto. All are available with the option of All Wheel Drive for $1590. You would not describe the Sport as lavishly equipped, though the basics are covered, with 18″ alloy wheels, tri-zone automated climate control, a leather wrapped steering wheel and gearlever, cruise control, an AM/FM audio unit with Pandora, HD radio, CD slot, MP3 player and Bluetooth. Starting price in 2015 was $29,985. Upgrade to a Touring, listed at $32,480, and you also get a a power-operated tilt/slide sunroof, rear-view camera and rear parking sensors, heated mirrors, leather seats, a heated driver's seat and power-adjustable front seats. The $35,035 Grand Touring also gains an alarm, auto headlights, rain sensing wipers, a universal garage opener, a power-operated tailgate with remote release, mirror memory, and a blind spot monitor.
In the last couple of years, the CX-9 has been dethroned from its position as Group Test champ in US comparisons, and I think I can see why. It is nothing to do with the way that the CX-9 drives, which – disappointing fuel economy aside – remains exemplary, but everything to do with the list of comfort and convenience features which are now standard on all its newer rivals. It says a lot about buyer priorities, when a series of technology features, several of which will probably not ever be used – are deemed more important than how a car drives and how it seats its occupants. But if you are to compete and succeed in the competitive market place of 2016, this is what you have to do, and which is why the all new 2016 CX-9 addresses all these things, as well as shedding weight, in an effort to make the car more economical. Hopefully, I won't have too long to wait before sampling one of the second generation cars, but until then, I can tell you that the 2015 car is still, in my opinion, a very good car indeed, just one that got a bit old in the equipment stakes. It proves that you can make an SUV that looks good and drives well, something which few of its rivals have managed to do even though they've had 10 years since the CX-9 first debuted, to try to do so.